Day 117 of Asia 2019 trip / Day 19 in China

Tuojiang River, Fenghuang
Time to move on from Zhenyuan and Guizhou province. It has been lovely but we're off to Fenghuang 鳳凰 (literally: Pheonix) in Hunan province. I do not have many happy memories of its capital, Changsha, and look forward to never visiting again. I braced myself for future encounters with rude people.
We were visiting Hunan province to see two things - Fenghuang and the famous Zhangjiajie. Initially I said I didn't want to see Zhangjiajie but in the end I relented because "we may as well". And it wouldn't be that bad of a detour before we headed to Chongqing, which was our last "major stop" before heading south. We were going to take advantage of the new Chongqing - Hong Kong high speed rail line to get to Yangshuo, then to Shenzhen (not HK, as we were going to cross the border the "old" way).
Fenghuang is another ancient water town, but the town as you see today, which has retained Qing dynasty features, is roughly 300 years old. After seeing Zhenyuan and Lijiang, I knew it was going to be a bit touristy, but there's just something about the idea of seeing an old timey town set by a river. Yes, even though I had just seen one. Well, it was on the way to Zhangjiajie anyway!!
The Journey to Fenghuang
Heading to Fenghuang required us to take the train from Zhenyuan to Huaihua, then swap to a bus to Fenghuang. The train at Huaihua was 3 hours late, which was fantastic. Didn't have much choice but to sit at the concourse at Zhenyuan station. We ate some Hong Kong/Western style buns that we bought from a bakery yesterday.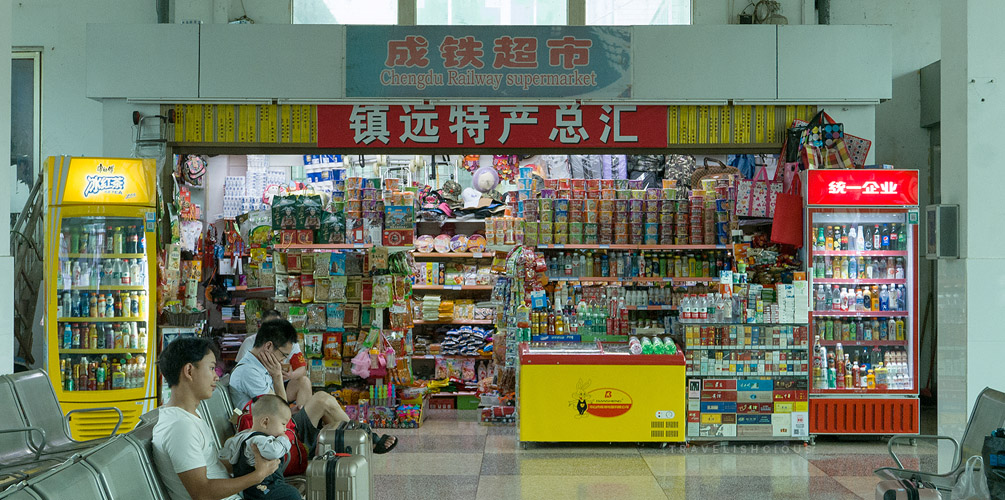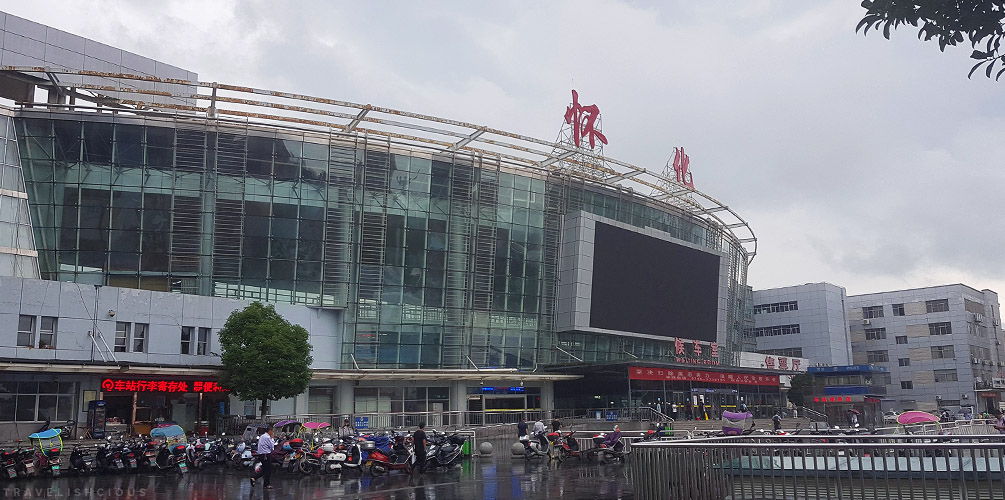 At Huaihua, it was raining, so getting to the bus station was a little annoying. But it wasn't too far from the station, thankfully. The woman behind the ticket counter at the bus station sold us tickets for 84 yuan (42 each) for bus to Fenghuang. Later we realised she charged us 2 yuan extra, each, for some sort of "insurance". I'm not really sure what kind of insurance 2 yuan would get you but I can't imagine it to mean anything substantial.
Throughout the journey, beeping noises from seat belts kept blaring from all the people who didn't put on their seat belt whilst the bus was moving. Great journey.
To top it off, we managed to forget both of our umbrellas on the bus. It was raining in Fenghuang as well. And finally, there was a severe lack of local buses AND taxis. It seems the wet weather bought out all the unpleasant things that could possibly happen. At the bus stop we were waiting at, there was ANOTHER hot pot dog restaurant. I stared angrily at the people going inside to have a meal whilst bitterly standing around with all my bags. After 90 mins we managed to flag one down after walking to a main road (but we followed the bus route in case a bus happened to turn up). The taxi cost us 20 yuan, which was pretty steep. Didi seemed non existant.
At the hotel (Pozhou station 鳳凰泊舟驛站), we discovered our room was teeeeny. It literally fit the bed and not much else. We did get the "budget room" after all (AUD 28.74). It was also located on the eastern end of Tuojiang River (the river that runs through Fenghuang), which is sort of away from the action and the main historical parts of the town. This ended up being a good thing and we were able to get a good nights' rest.
All in all, a wonderful and exciting day to report.
Here is a map with the "best" historical sights circled. Unfortunately I did a shit job of capturing this map. You will need to view the large version and even then…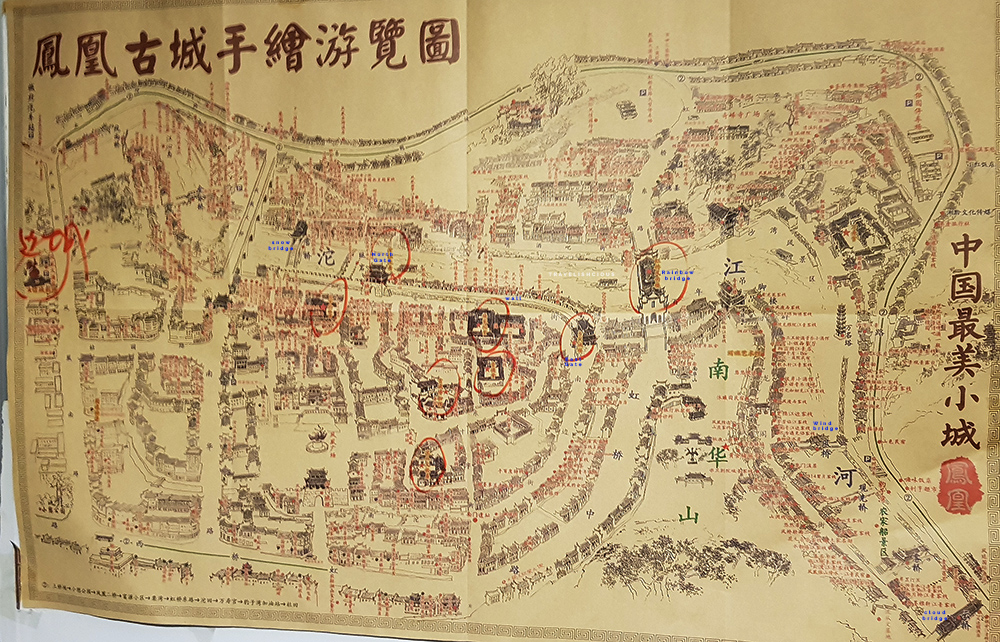 Dinner at 百味閣
We set out in the evening to get some dinner. The man at the hotel recommended a place nearby, so we didn't have to hit up Dianping. At the restaurant we asked for a suggestion and the waitress pointed to the first dish on the menu, duck (CNY 48). We didn't even bother translating the rest. The dish was a bit funky but not too bad. Afterwards I realised the rest of the Chinese characters said "Fenghuang blood cake duck" 血粑鴨. Whoops.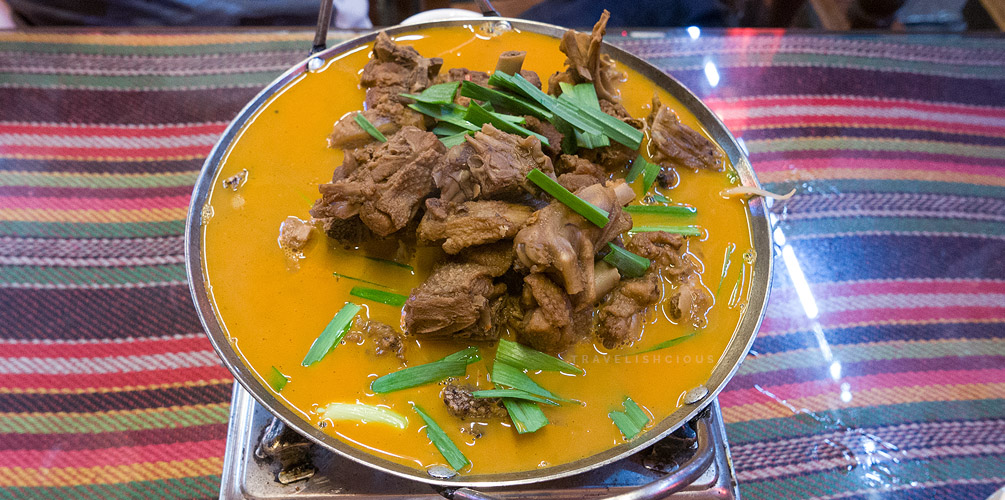 We also ordered stir fried Wombok/Napa cabbage/Chinese cabbage - some of the cheapest veg on our trip (and so it should be) CNY 8 and Peppered sausage 幹椒香腸 CNY 30. Truthfully, it was too much food but we did manage to finish it all.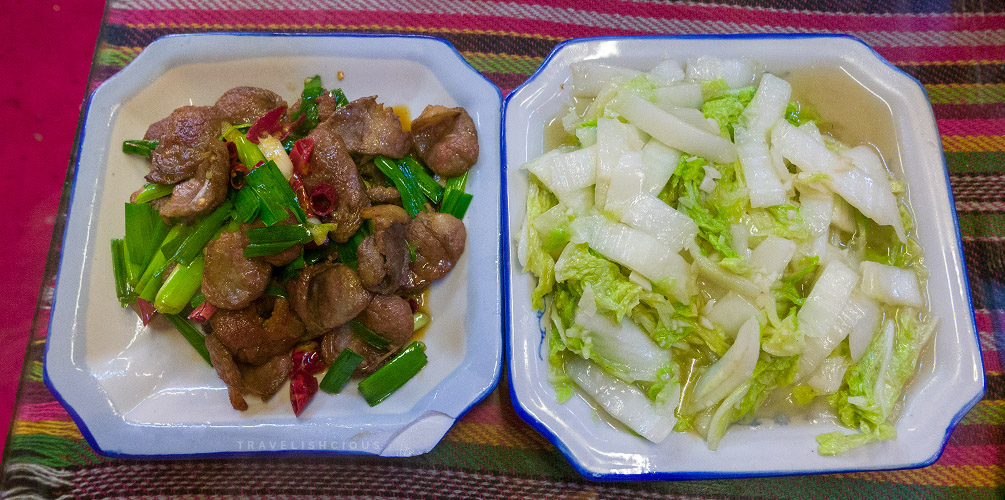 Rice and sanitised bowls cost CNY 8 total.
Fenghuang at night
After dinner we made our way upstream, walking along the river. The streets were far more packed with people compared to Zhenyuan, unfortunately. This was made more uncomfortable because of the rain, where people felt the need to actually use their umbrellas amongst close quarters. You have to make sure you don't get stabbed in the eye. It didn't help that it was Saturday, so no doubt there was an influx of domestic tourists. Unfortunately Fenghuang seemed pretty over commercialised. There were boats that took you down the river. There was SO much bad and loud karaoke. So many shops and restaurants. There were not one but TWO KFCs (I told you the Chinese love KFC). That said, plenty of locals still live in the area, unlike, say Venice. I can't decide whether I like the illuminated buildings, although I must admit it's done better here than in Zhenyuan. The fog machine is a hard no. As a noob photographer, it made it hard to focus. And it was just ridiculous trying to recreate fog.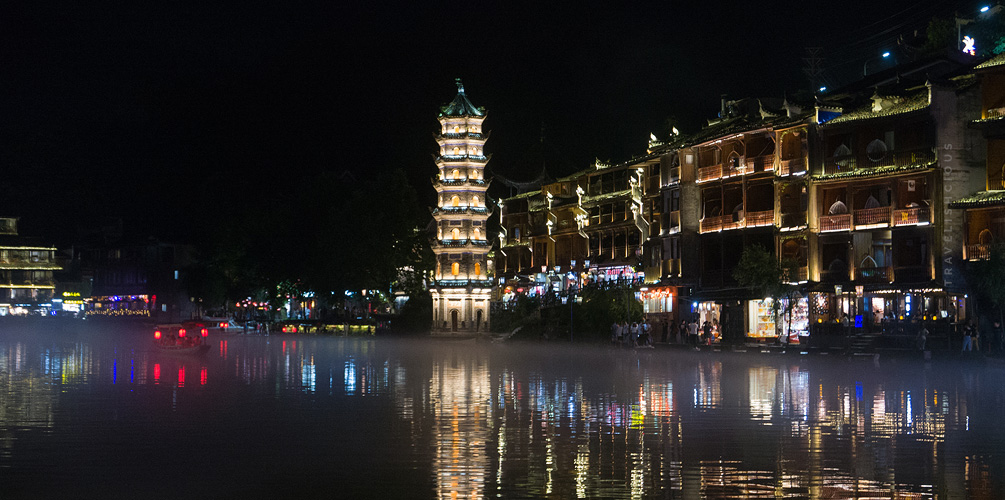 The various bridges in Fenghuang were quite a sight, well I could do without the fog: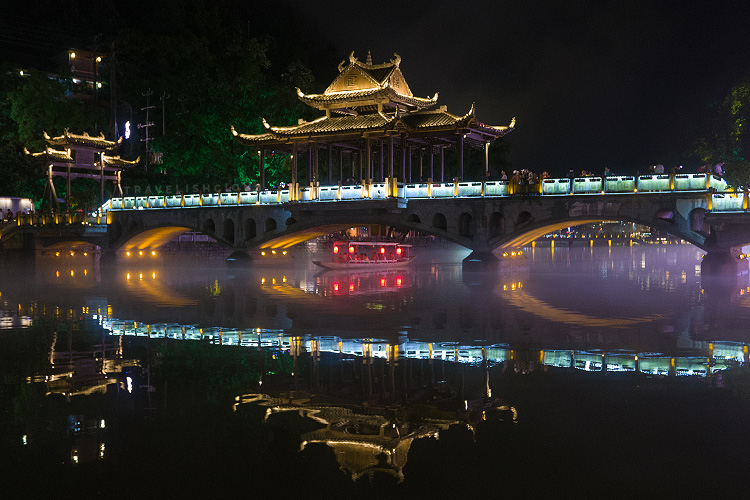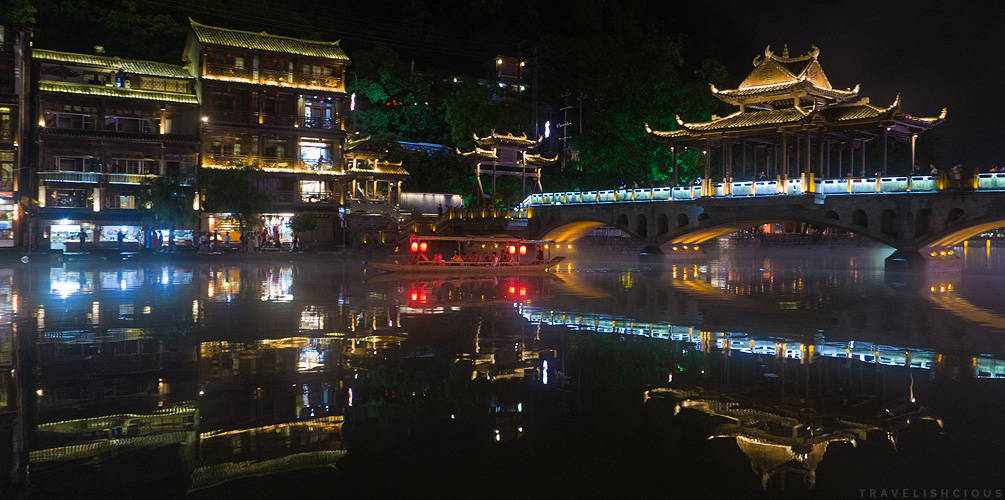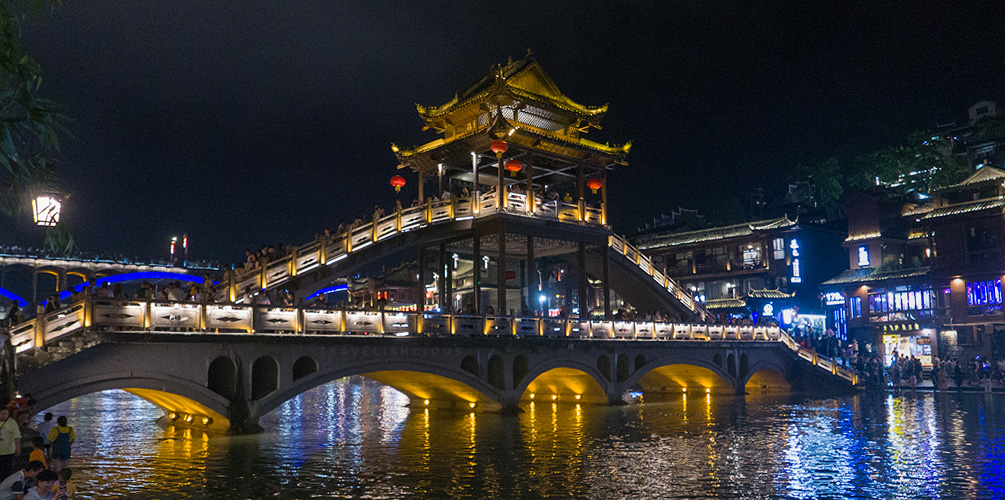 Hong bridge 虹橋 (Rainbow bridge) is the symbol of Fenghuang. It's the largest bridge in the town. I hate to make comparisons but it did remind me a bit of Rialto bridge in Venice. And yes, just like the Rialto, it was full of shops selling tourist knick knacks…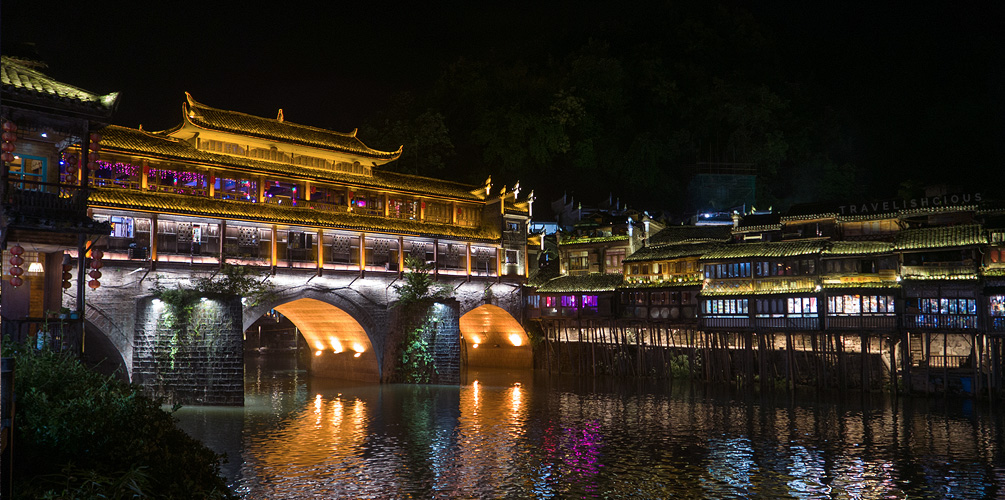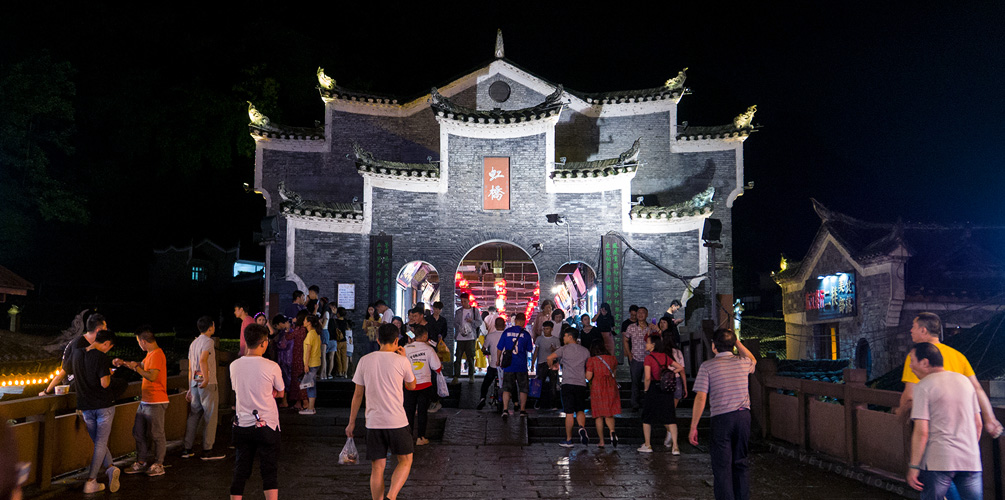 Stilt houses are a famous feature of Fenghuang. There were no such houses in Zhenyuan!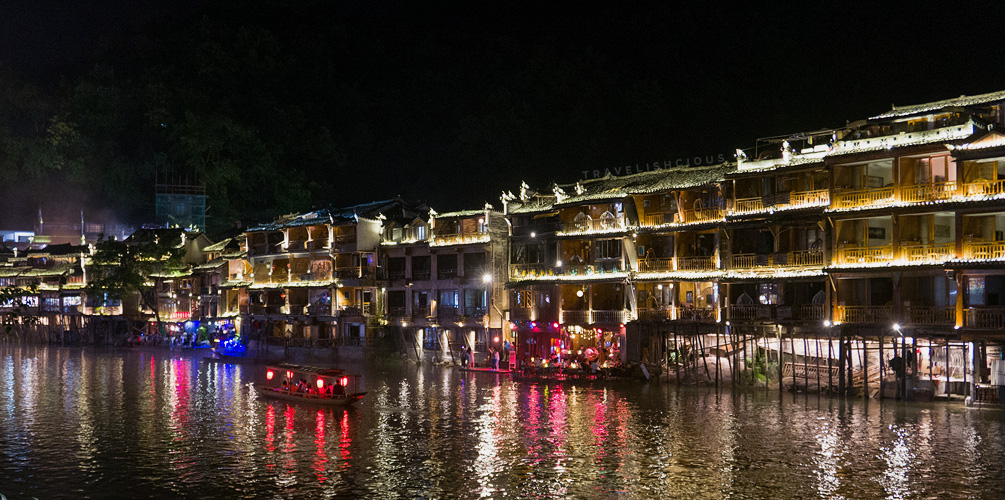 Wanming Pagoda 萬名塔 was first built in Qing dynasty. Unfortunately this is a recreation from the 80s: