Day 116 of Asia 2019 trip / Day 18 in China

Zhenyuan
Seeing as there was no Dragon boat racing we just were left with exploring the town. We took the opportunity to bypass "official" ways to get to get a viewpoint (not the first time in China on this trip!)
We had lunch at a bit of a dodgy looking tofu joint. A complained that the tofu stank of cigarettes again. We had tofu, noodles and some "deep fried shit" (whoops, I didn't write very good notes and it's not pictured below, so I have no idea what "shit" refers to). I suppose this meal was not worth mentioning. The noodles were ok, however.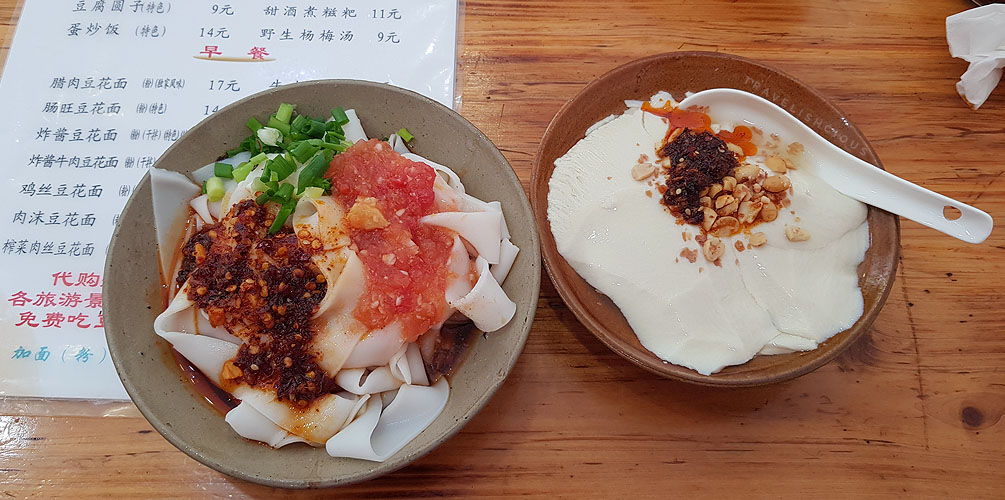 At 5pm we had planned to gonna go climb the Shiping mountain 石屏山 for free as I had read that they don't sell tickets after this time. They must've caught on because there was a gate, and it was locked.
Fortunately I had encountered a comment from someone on TripAdvisor that mentioned that we could access Shiping mountain via other means. See, sometimes TripAdvisor can be handy!
The comment, in case it gets taken down, said:
…you can access the wall from the other end of town via an alley near Longquan Inn (龙泉客栈). Walk the steps until you reach a T junction, turn right you can reach a temple which is near the Shipingshan end of the wall. Turn left and continue to go up and you will find the other end of the wall and a fantastic view of the Zhenyuan town.
We had a bit of trouble with the latter sentence but it was enough to go off of. It took us through a residential area and basically you need to aim to climb up the hill, which isn't hard to do. There's a paved footpath the entire way.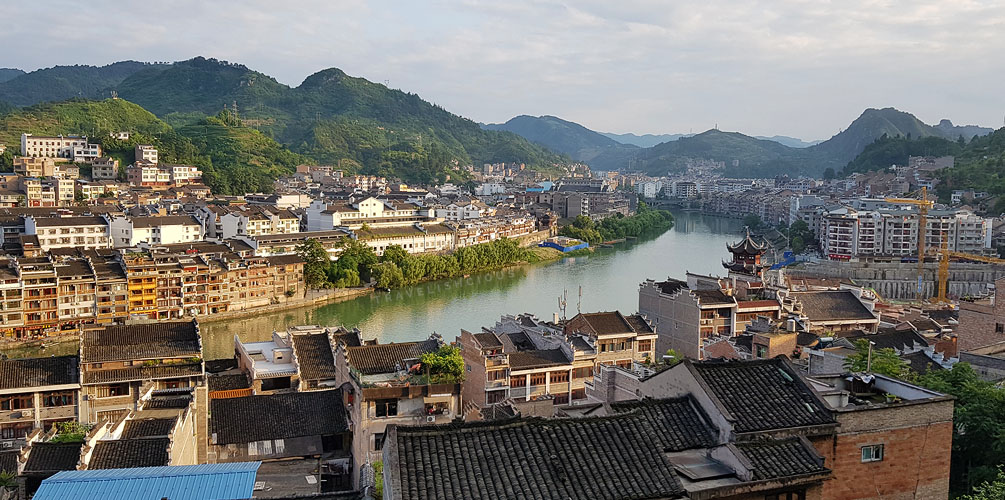 Eventually you got out of the residentual area and above the houses and into a more green setting.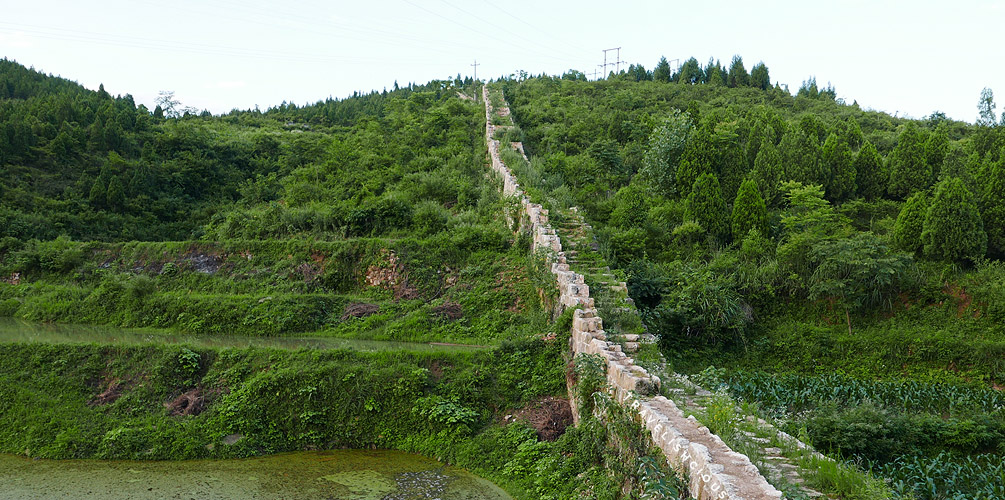 We came across the wall finally. There wasn't much left of it. You had to be careful as there were no railings or any safety features. A lot of the rocks were very loose. We chose a steep section overlooking Zhengzhou and the river and wow…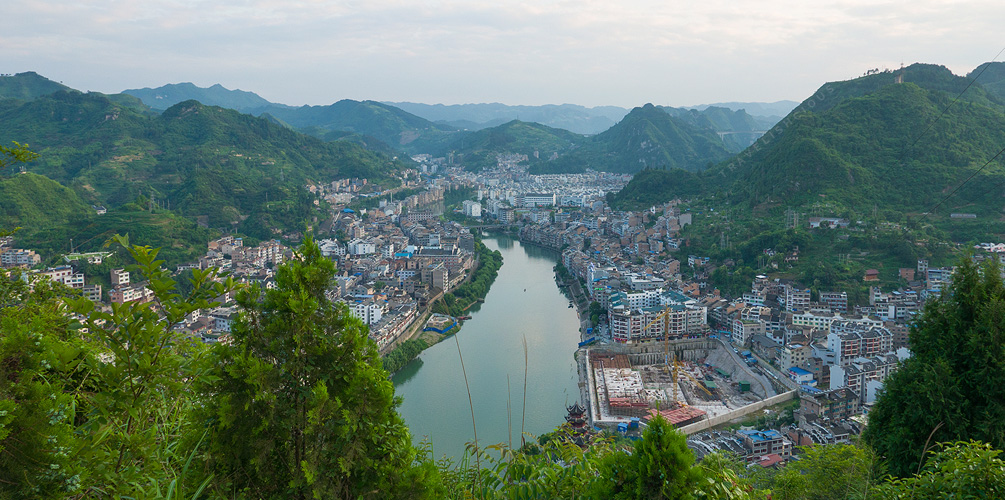 The sun was setting fast and unfortunately I had a filter on on my camera :( but this panorama sums up the view:
(Best viewed on desktop and in full screen mode)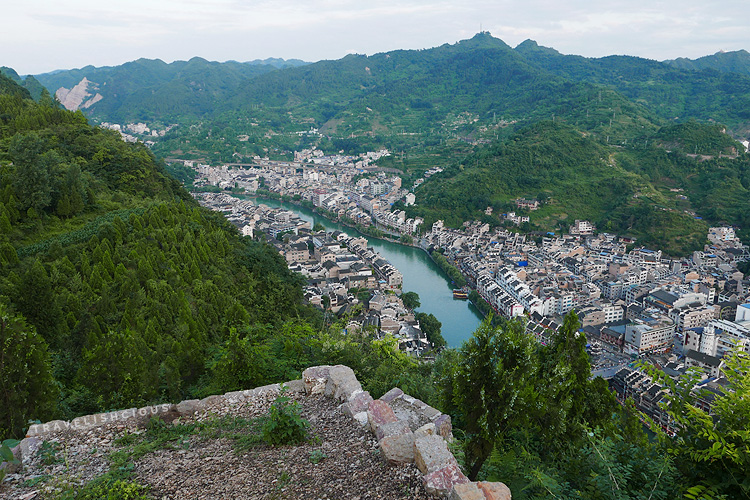 Overall, we didn't walk on the wall much unfortunately as the sun was setting. If we had attempted this earlier, no doubt we would've headed east, towards the "proper" entrance of Shipingshan. But you can see that would be quite a trek, see how steep a section near where we hung about for photos was: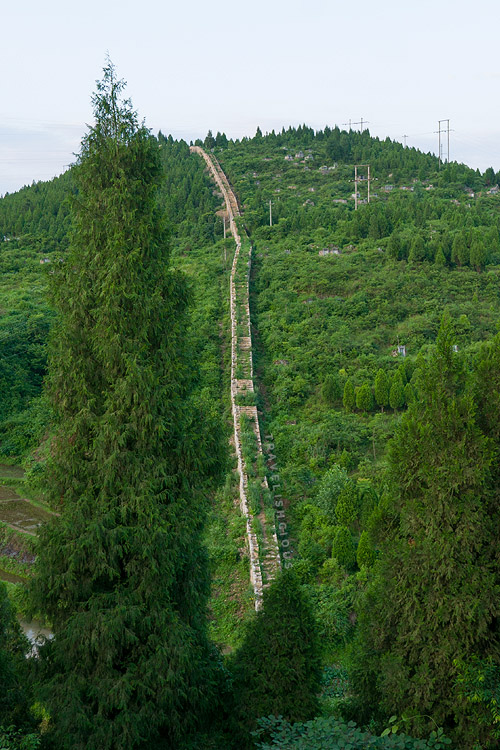 Honestly this would've been quite dangerous but we did see someone walking along this section. But we did not see many people at all, perhaps due to the hour.
Coming down from the mountain, the lights were coming back on: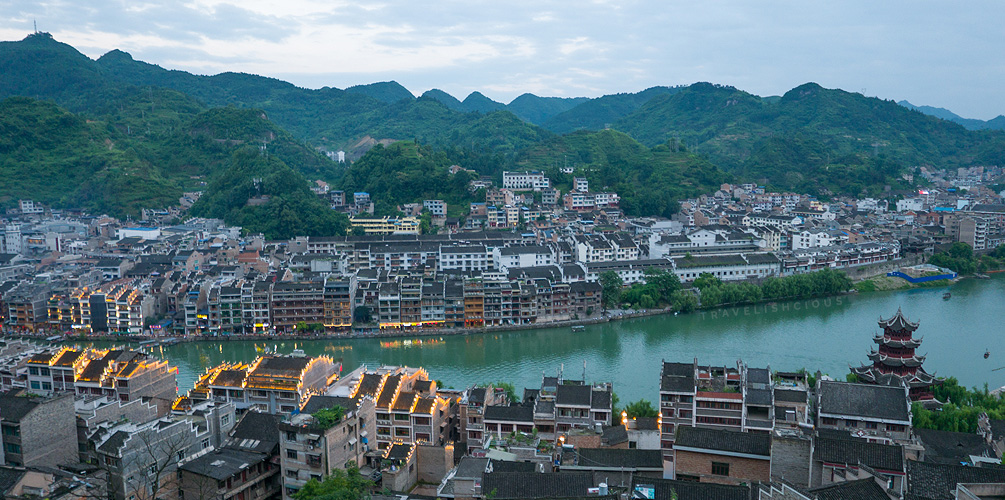 Dinner
For dinner we had what everybody else was having, which was fish with tofu 豆花烤魚. It seemed every restaurant by the river was serving it. I think the restaurant we went to was called 彭秉蘭, I didn't make very good notes (as you saw previously). The fish was pretty "expensive" so it was our only dish for the night. It was pretty tasty but not as spectacular or special in any way. Our fish was 2.8kg, we didn't get much of a choice but we did finish the entire thing. (2.8 * CNY 48 = CNY 134, but they only charged us CNY 125, including rice).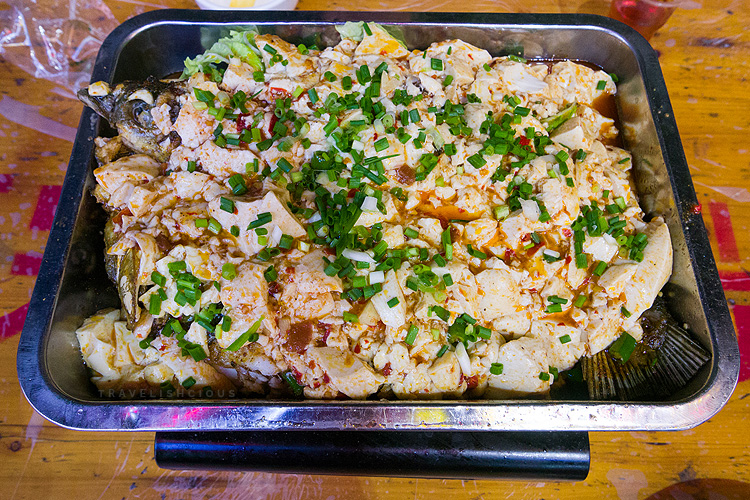 Even Zhusheng bridge didn't escape the neon light treatment: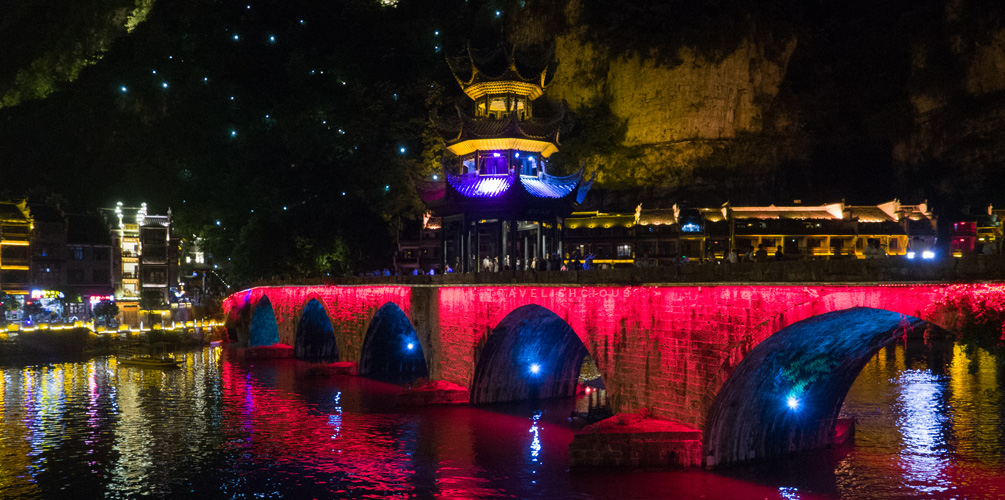 Final thoughts on Zhenyuan
Very pretty town, pleasant and a good place to relax but not a whole lot to do. Viewing the dragon boat racing here would've been excellent :( Could've been worse but overall we had a good time.
The food here was a bit average; maybe this is because it is a tourist town.
Not sure I would recommend fellow western travellers to go out of their way to visit Guizhou province, although it has been nice. If time was no issue (like it was for us, but it was also on the way to other things) then sure, go for it.