Day 115 of Asia 2019 trip / Day 17 in China

Zhusheng bridge over Wuyang river, Zhenyuan
Zhenyuan 鎮遠 ancient water town, supposedly with 2000 years of history, was yet another destination I had found whilst on the road. It had been years, decades since I had seen dragon boat racing in person. And when I found out that the dragon boat festival was coming up on 7th June (i.e. the 5th day of the 5th month on the lunar calendar) AND that Zhengyuan was a famous place to view the sport, I declared to A that we HAD to go.
The first red flag should've been the ease at which we were able to book accommodation at such short notice…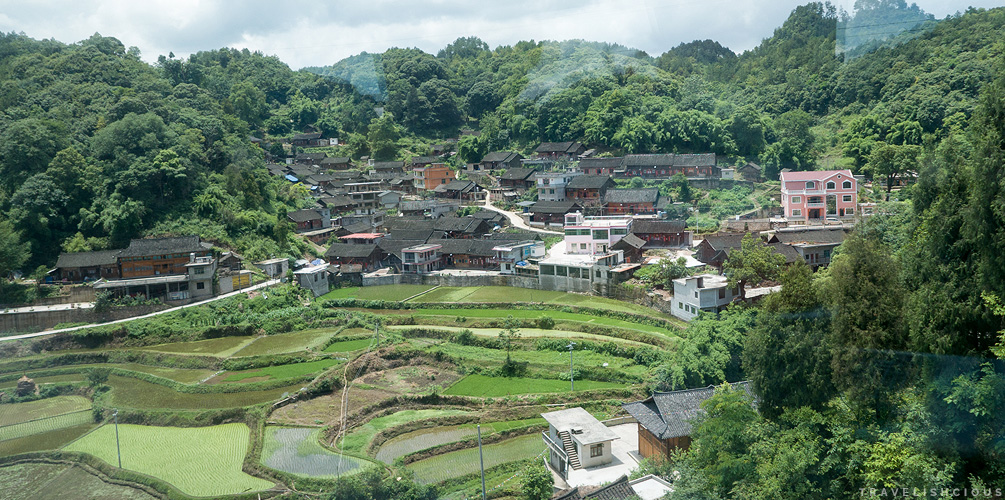 Despite choosing accommodation that was close to Guiyang station, we still managed to be late for the train. We caught a taxi for the ridiculously short journey of less than 1km and lined up for tickets, which of course, took ages. With ticket in hand, we ran to the platform gates but the station lady wouldn't let us through. Gates closed 5 mins before departure.
Thankfully, this was China and we were able to go back to the ticket counter and refund our tickets and buy new tickets. Even though it was completely our fault. The thinking is that they would potentially get snapped up down stream anyway, so why have empty seats?
When we finally boarded our train, A noticed something strange about our train; we were in carriage 16 but the carriage before ours was 15+1 and the carriage before that was carriage 15. Not sure what this means…
Zhenyuan 鎮遠
Zhenyuan station wasn't very big and was a bit outside of the "main" part of town. Everyone was in a hurry to get off and out on to the street, where there was a bus stop. There was a shitfight getting on to the bus with hordes of people trying to get on. Even the almost elderly people had no qualms elbowing you to get ahead.
Being a water town, this meant that the town was built up around a river (Wuyang river 㵲阳河), which runs east-west. There were mountains on both sides of the river, with the north side having larger mountains (Shiping mountain, 石屏山) and the south side was where the train line ran. There were three bridges that crossed the town with one of being pedestrian only.
We were staying on the Eastern side of town, which seemed like where lots of hotels were located. Well, to be fair there seemed to be hotels everywhere along the river. We had booked a room directly facing the river, which we had paid extra for. The bus took us all the way to the end of the line, located at Zhusheng Bridge 祝聖橋 and we had to walk the rest of the way, but the hotel wasn't too far from this.
We settled in the room for a bit and already, we could hear dragon boat racers practicing! How exciting! I walked out on to our balcony to take a look: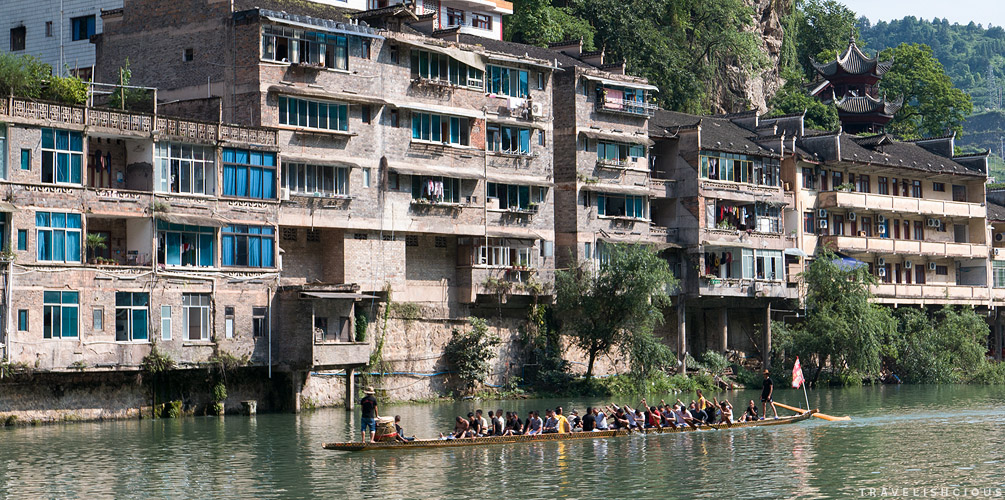 By now, it was mid arvo, so we set off to explore the town. It was so very photogenic and I of course took many photos: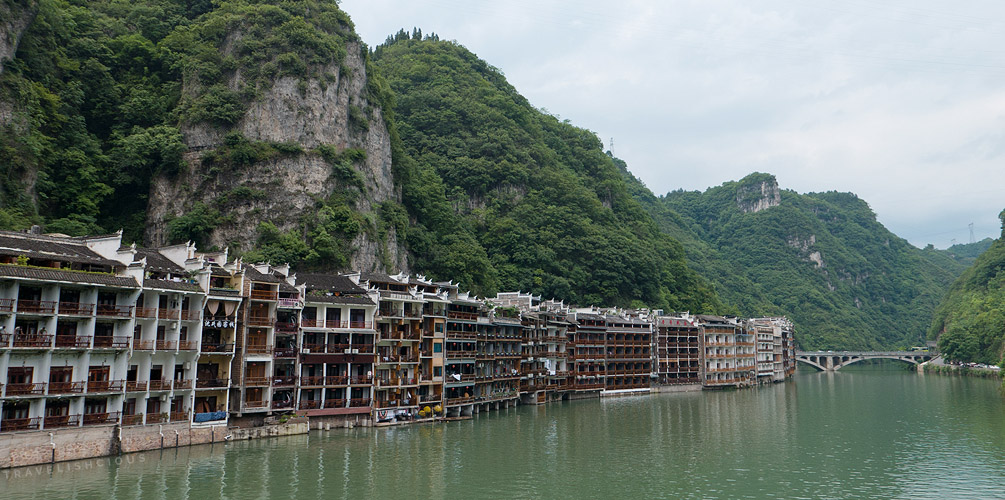 Zhusheng bridge was first built in 14th Century and the current iteration of it was finished in 1723.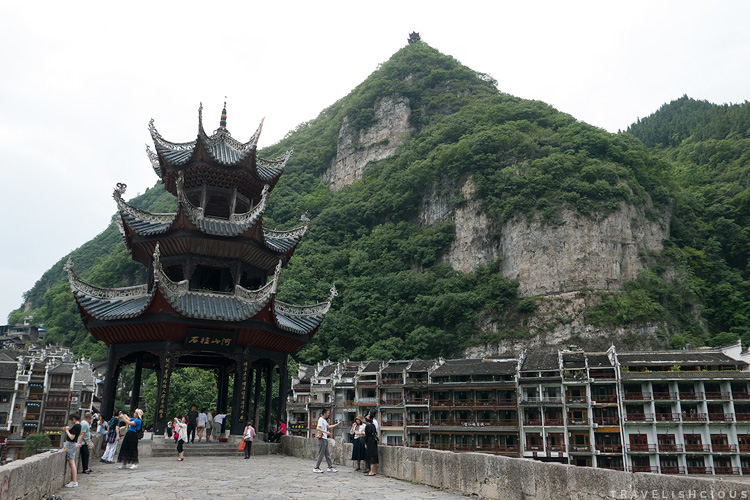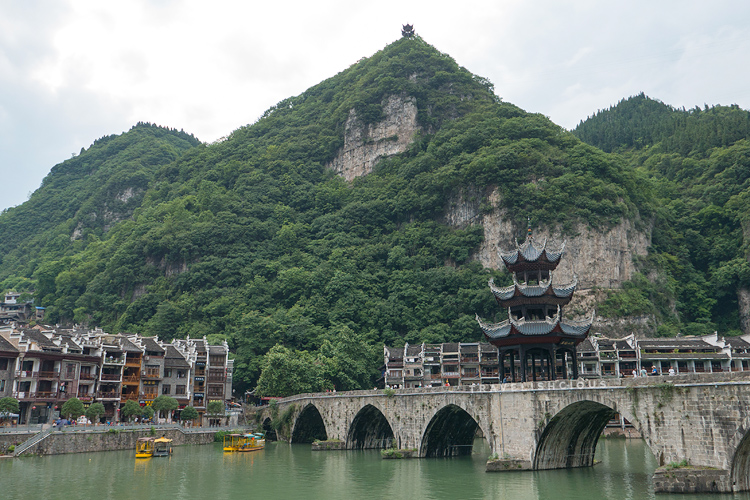 Unfortunately, because of all the dragon boat practice, the water was never really still. But I still managed to capture some great "symmetry" shots: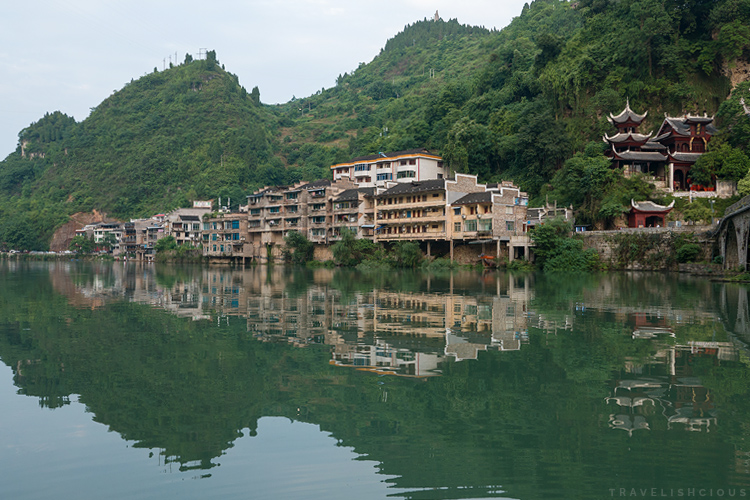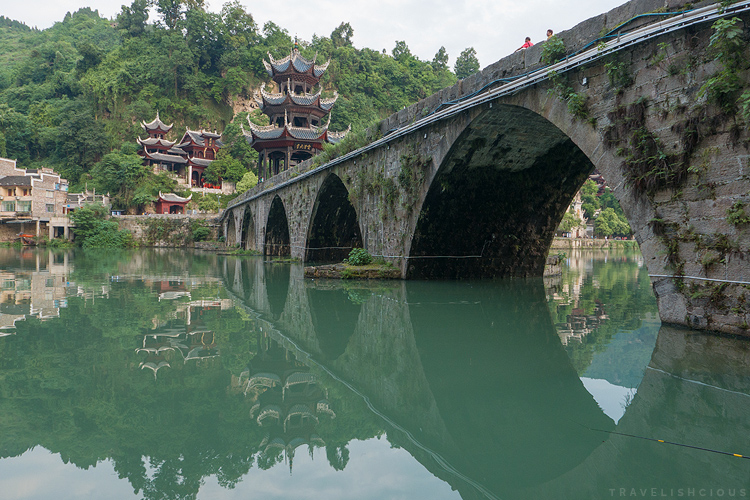 Qinglongdong Ancient Architectural Complex, established in 1388 is a site where Taoism, Buddhism and Confusian meet. It consists of 40 buildings (temples, caves etc) sitting on a cliff. Aaaand of course it had a not so nice entry fee so we gave it a miss. We are not big on religious sites.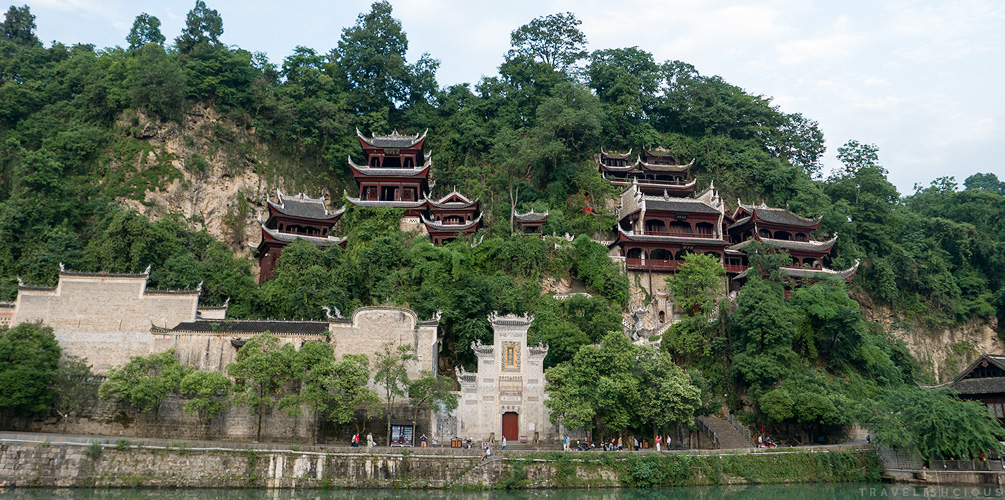 Viewpoint
Whilst aimlessly walking around town, we encountered a bunch of stairs that took the user up a hill, but from the street level, you couldn't see what was up there. Following the stairs, you reach a point where you are above the train tracks. This would've made a very good location for trainspotting. But look at the view, we're above the rooftops now: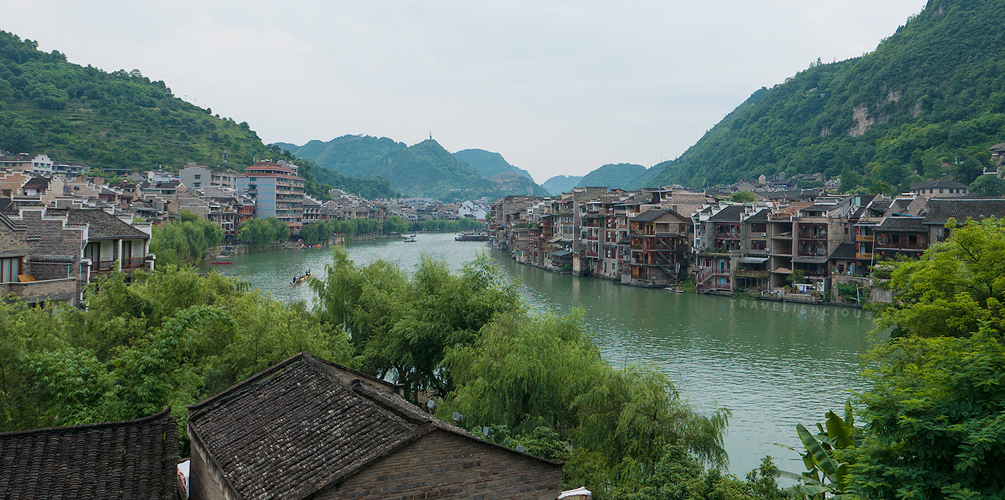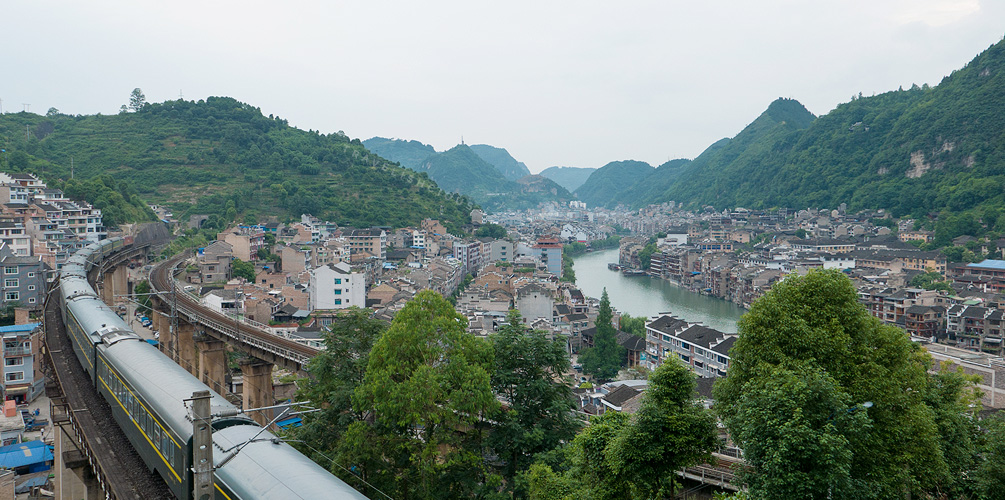 But wait, there's more. More stairs led you up the hill, to a clearing, where it was clear that this was a grave yard. We were up on a hill and in Chinese culture, graves faced the water, so….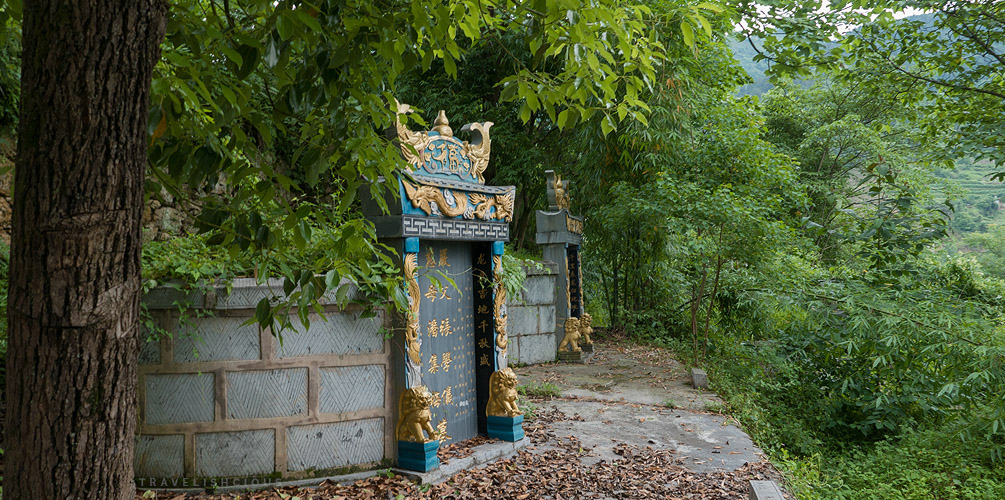 Check out the view:
You have the river, Shiping mountains (stretches for 2.2km and highest peak is 668m), and a pagoda up on the mountain. This pagoda is the start of where the city wall lies, and stretches over the peaks of the mountains you see in the photo.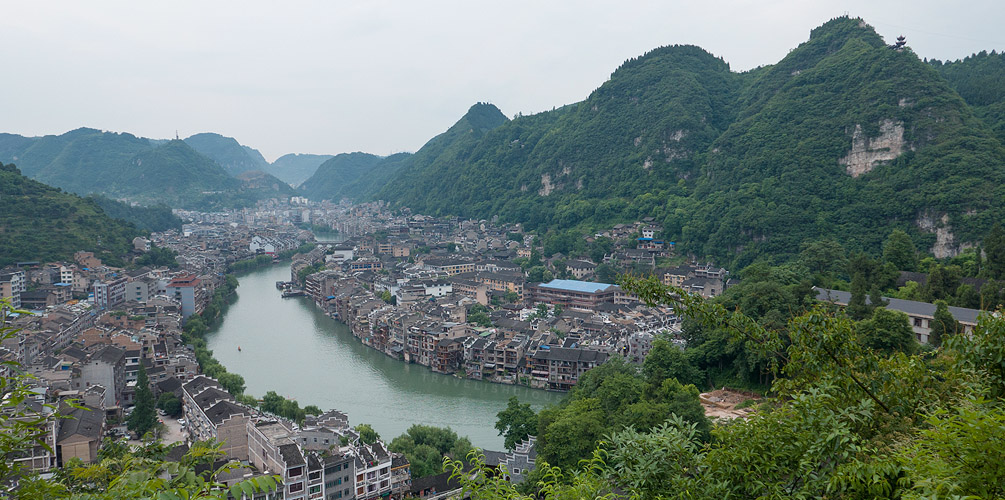 Yay, we found our very own viewpoint! A added it to OpenStreetMap, where you can see it at the bottom of the page.
We walked around some more, and headed west into the main part of town. I'm pretty happy with this panorama I captured (steady hands!):
(Best viewed on desktop and in full screen mode) Original image - might look better instead of in the pannellum viewer
Dinner at 三春酿谷
Eventually we settled for a restaurant near the river. Again, it seemed all restaurants were alongside the river. We ordered a la carte at a hot pot restaurant… well to be fair it wasn't obvious it was a hot pot restaurant from Dianping and from outside looking in. We sat outside to take in the view of all the riverside buildings trimmed with bright neon lights.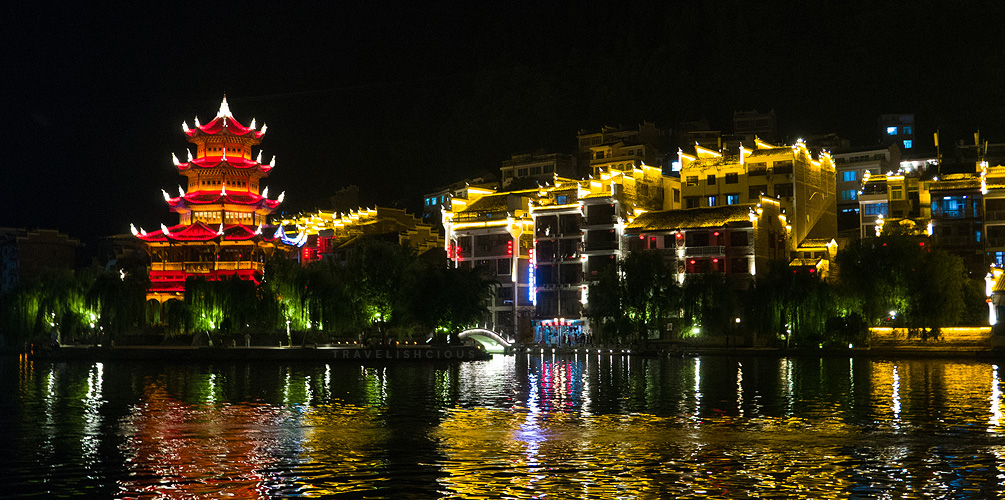 We ordered (clockwise from right) cold jelly in chilli oil (CNY 28), pork with bamboo 嫩筍燒肉 (CNY 48) and tomato egg (CNY 28). The food was decent, but I wasn't used to seeing bamboo like that.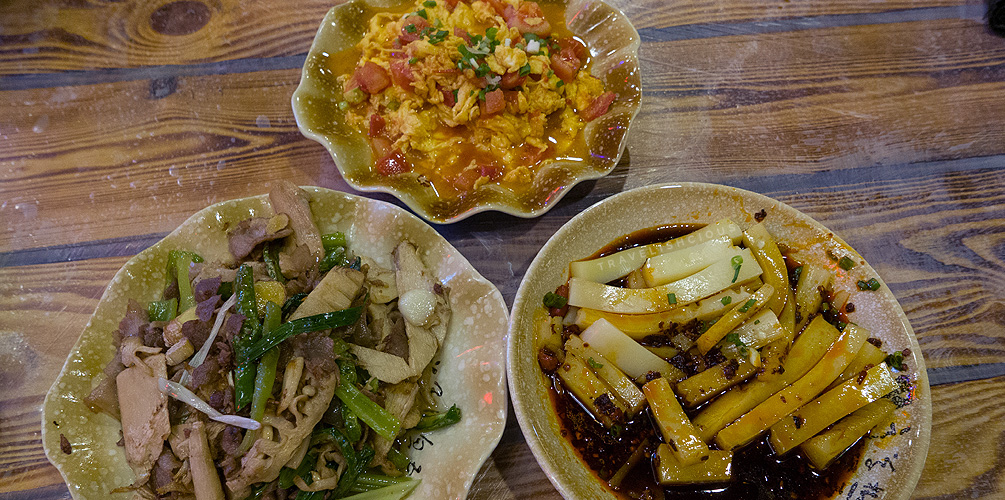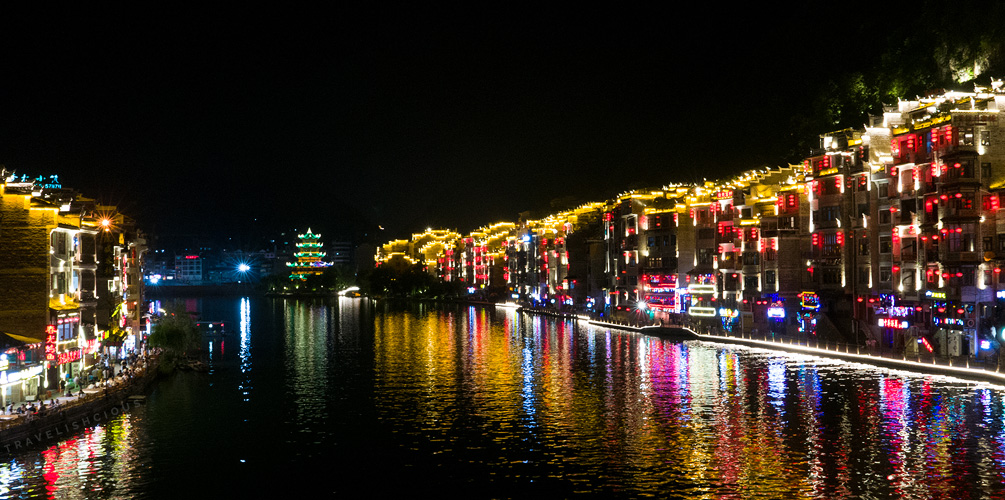 Back at the hotel, I decided to ask the reception about the dragon boat race and it was there we got bad news - it was postponed until next week due to university entrance exams. Of course we had no idea but now that we knew what keywords to search for, I found a couple of articles confirming this.