Day 114 of Asia 2019 trip / Day 16 in China

Dingguan Gate and the outer city wall at Qingyan ancient town
Guiyang 貴陽, the capital of Guizhou Province, means "South Side of Gui Mountain". I cannot confidently say why we stopped here but it was in between Anshun and our next destination of Zhenyuan, an ancient water town.
We dragged ourselves down the road to the train station. It was so close! We lined up at the ticket counter to buy tickets to Guiyang. The guy at the ticket counter stuggled to decipher our passports.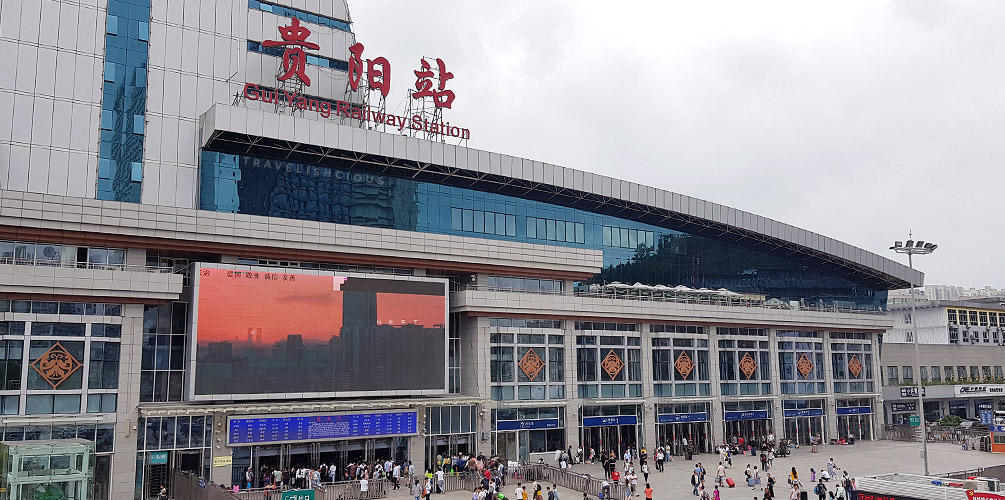 At Guiyang, the busses cost CNY 3 to ride. So expensive! :P It was already obvious we were in the big smoke. It turns out we accidentally took an express bus, which is more expensive than a regular bus (which costs CNY 2). We had to get off after one stop and walk back to get to our accommodation as the bus stop overshot it. This time our accommodation was at Home Inn, at Jiefang Rd. Home Inn was like a 7 Days Inn (which was like a Holiday Inn) but this one was quite shabby and needed more love and attention.
There was a shopping centre nearby (haven't seen one of those in a while), called "A-Mall" (鴻通城購物中心) so that's where we went to get some lunch. It was quite big and had a lot of familiar shops.
Lunch at 小雅家常菜 (Xiaoya home dishes?)
Lunch was a bit average. We ordered three things: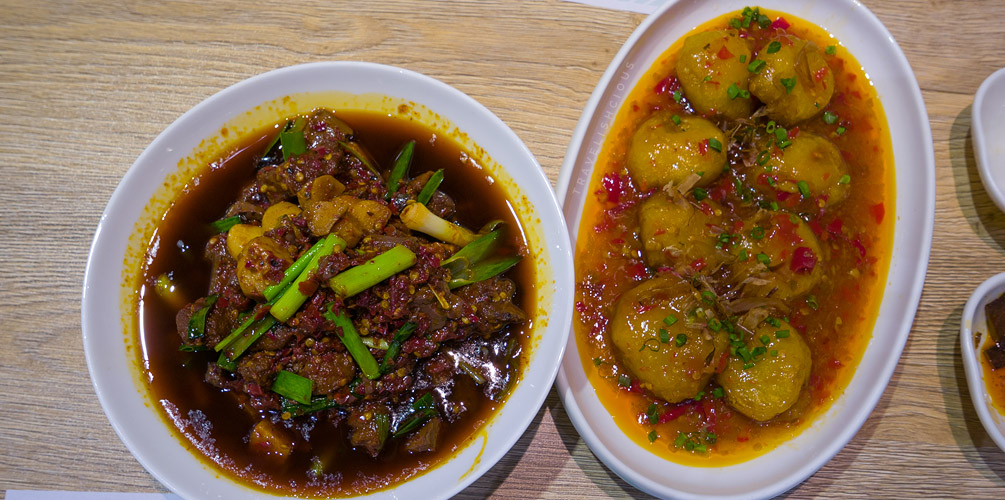 Spicy chicken 旺旺辣子雞 (CNY 39) - This strangely had blood jelly in it, which wasn't obvious in the photos on the menu. Not a fan.
Eggplant 魚香茄夾 (fish flavoured eggplant?) (CNY 26) - This looked and tasted like little eggplant tempura things, which was not what I anticipated at all. It was swimming in sweet chilli sauce…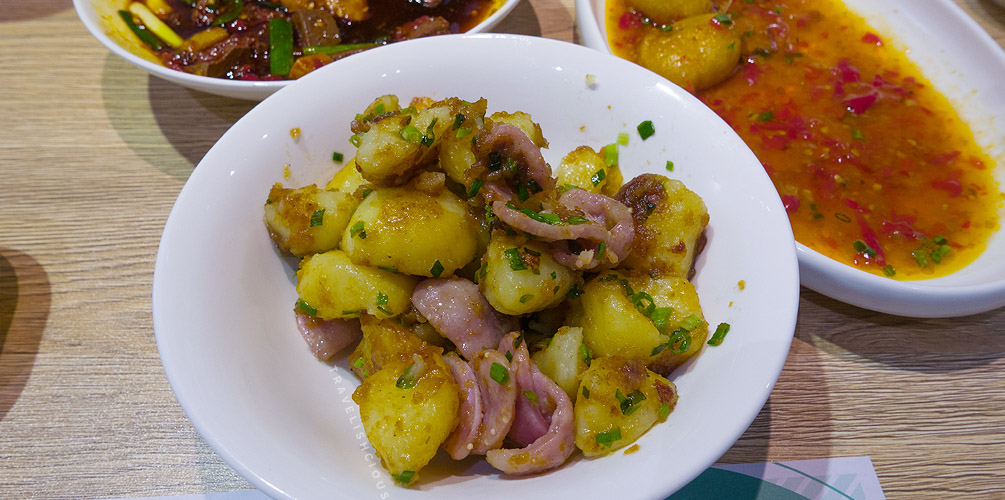 Fried potato with Taiwan sausage (CNY 29) - This was the best dish of the lot. I love potatoes and meat though. Overall, I would rate this meal 6/10 #ipinions
After lunch we got milk teas from happy lemon - an Oolong tea with pearl (added pudding) (CNY 15) and milk tea with red bean and pudding (CNY 12)
Qingyan ancient town 青岩古鎮
From the shopping centre, we took a very long bus ride to Qingyan Ancient town. The bus actually had a good number of seats for once, in 2 by 2 configuration. The seats were not great though, they were just skeletons hidden under a cloth cover so it didn't actually have much of a back to them. So you have the privilege of getting kneed in the back by person behind you. I had to shoot some dirty looks at the guy behind me who was trying to rest his knees on the back of my chair but ended up kneeing me in the back.
Qingyan was some 30 km south of Guiyang, and was founded in 1378 during the Ming dynasty as a military outpost. That said it is hard to tell if anything standing is original and from that time. Bit of a controversial statement there with not much factual grounding except my own intuition… well you will see photos of the city wall and see what I mean…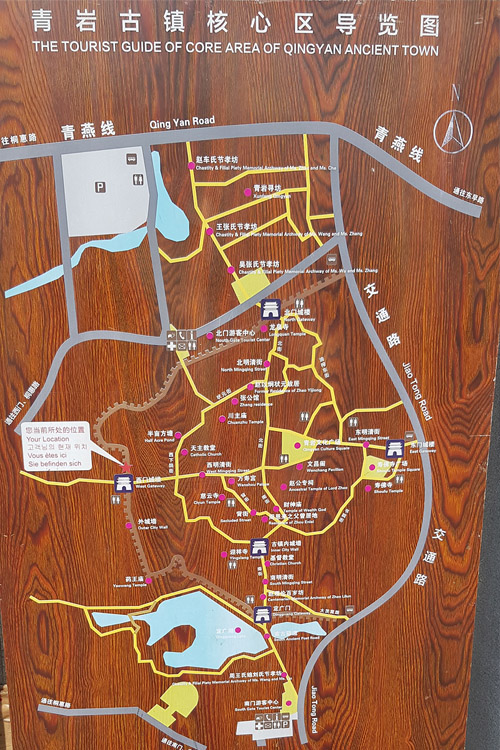 Tickets were 10 yuan for entrance to the town only or a whopping 60 yuan for a combo ticket that allowed access to other historical sites in the small town, which included lots of preserved homes and ancestral halls and a city wall.
The town wasn't very big. We managed to walk around past all the historical sites in not much time at all. It was very commercialised. Many shops selling berry juice and the Qingyan speciality pig trotters. Unfortunately we didn't have any pig trotters because we were concerned with the fact that looked like they were mostly lying out all day.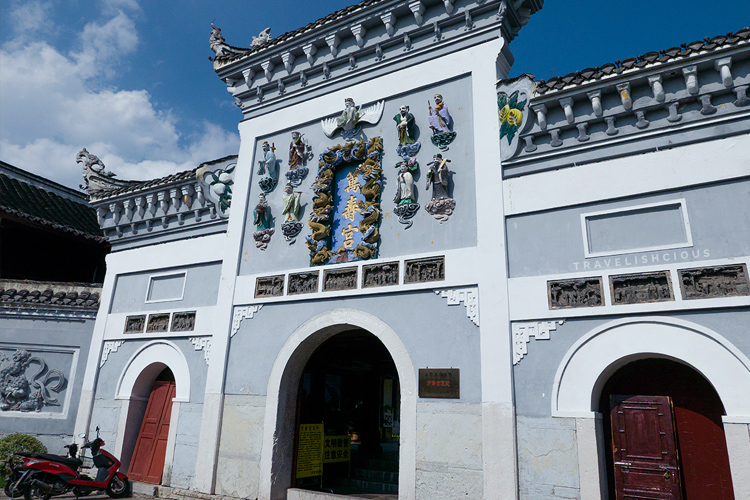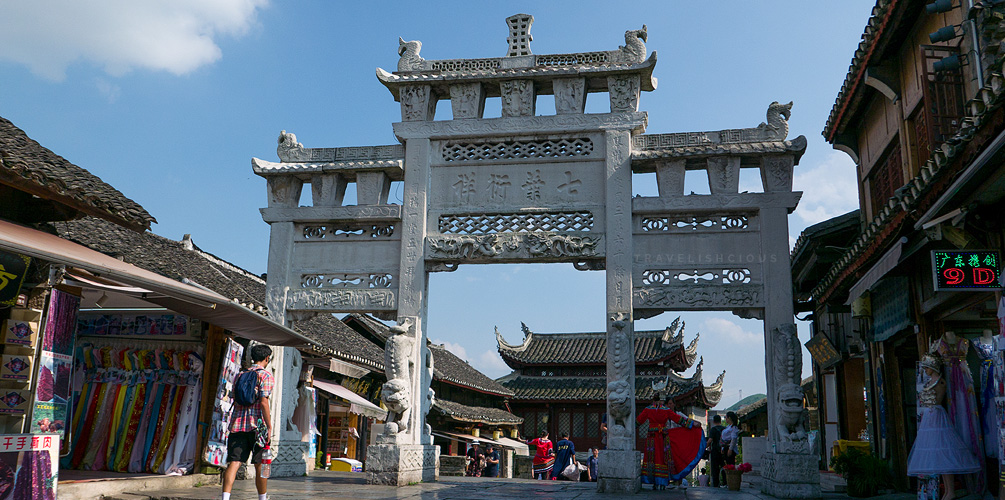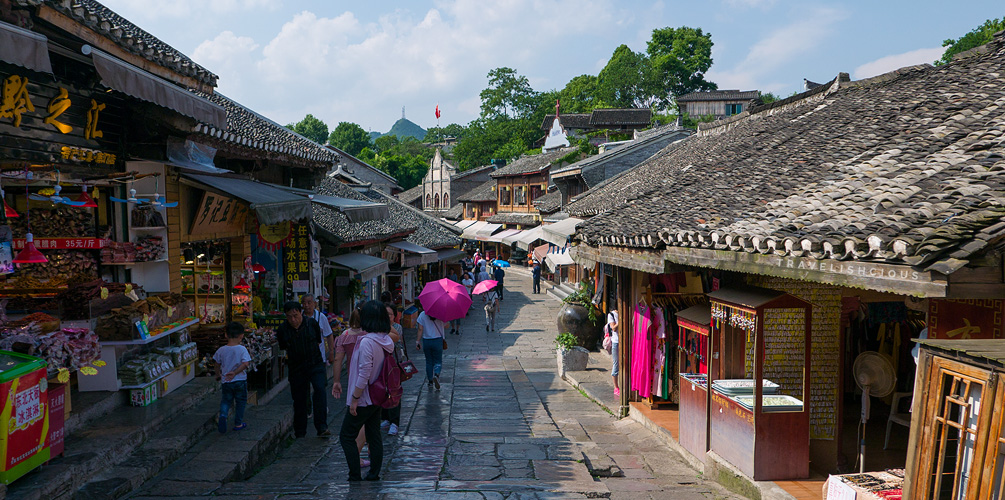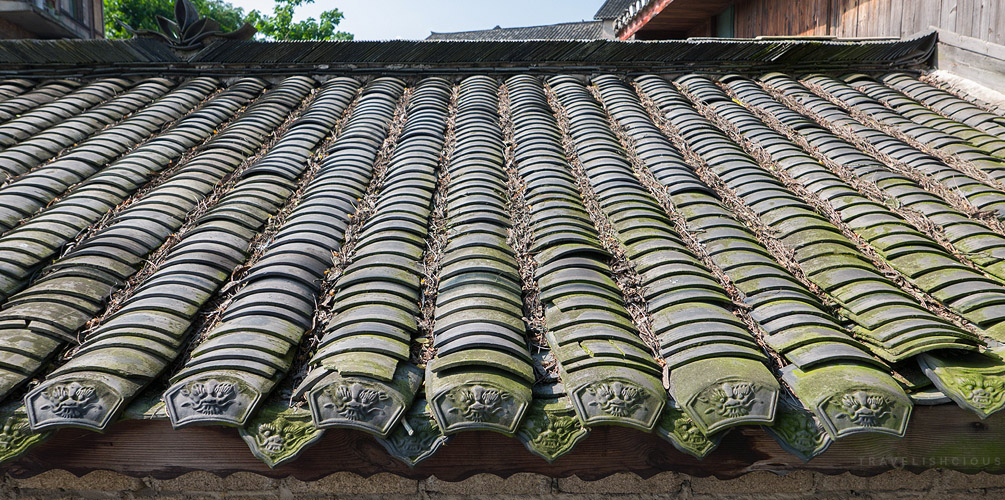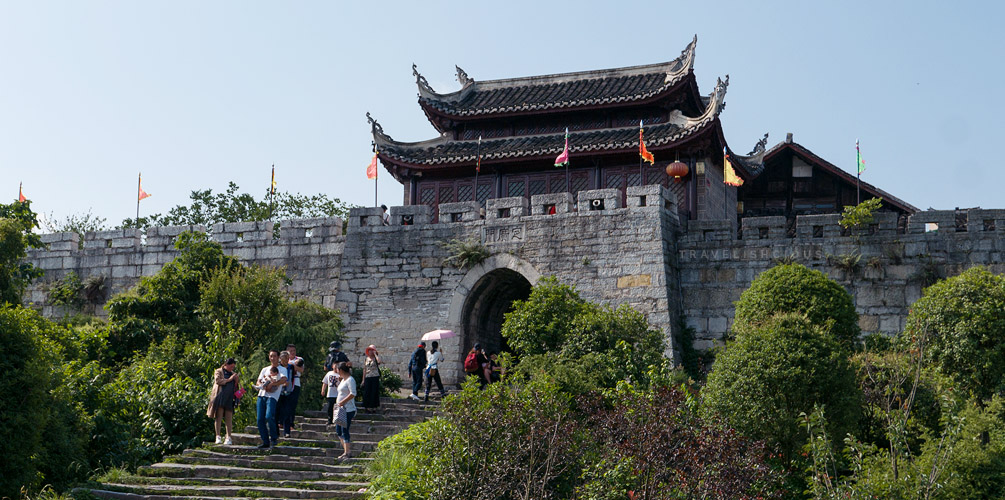 The most exciting thing we did was sneak onto the city wall via an unmanned section, which was actually the end of the wall. So we came in from the exit and walked "the wrong way". However, there weren't many people (and there were also a few people doing the same thing as us), so it wasn't that bad. The view was alright but the trip out here wasn't really worth it. So much for AAAAA attraction. It probably earned this due to the existence of many facilities and multilingual signs in English/Japanese/French/Korean/German, rather than the actual quality of the site.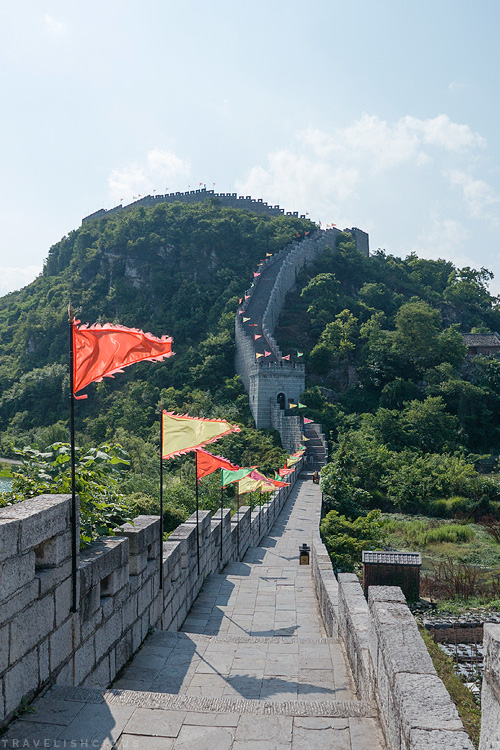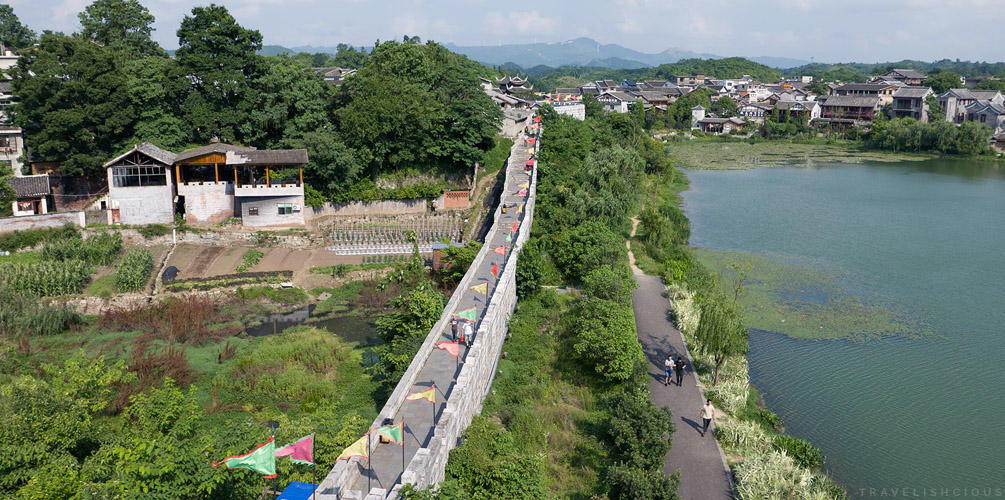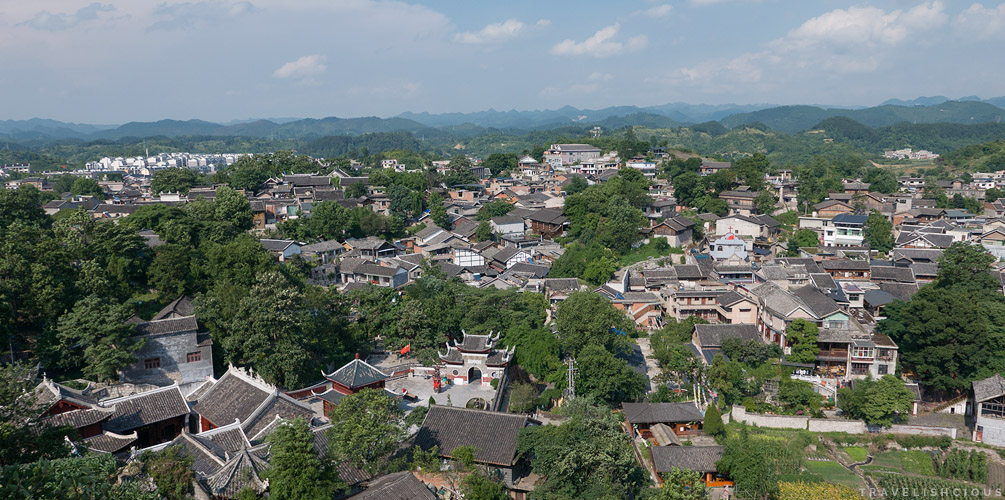 Sorry, but look at this. The wall looks way too new and pristine.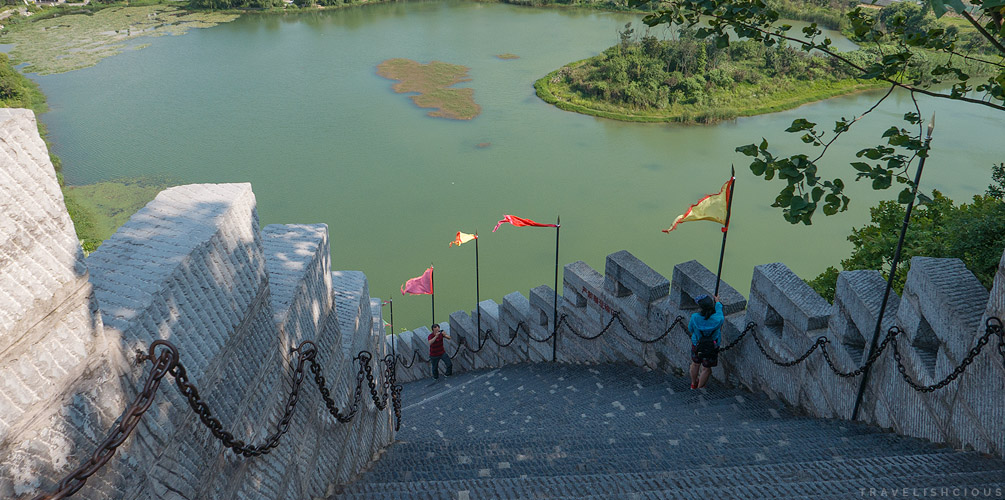 We took long bus back. It was rather comfortable this time, with less people on board and better seats. It was raining hard in Guiyang and there were lots of overflowing gutters.
Dinner at Miss 絲戀紅湯絲娃娃 (鴻通城店)
For dinner we went back to A-Mall and ate a Guizhou restaurant, which looked quite popular. We had to wait a little bit outside before we were able to be seated. The maitre'd looked a little unsure with what to do with us foreigners but in the end hand gestures prevailed. The service was quite good. We ordered a Guizhou specialty called Siwawa (silk babies) 絲娃娃 (CNY 20) which were essentially a sort of soft spring roll that you had to construct yourself. Out came all these different fillings and sauces and I just sat there looking puzzled. The waitress went to get some gloves and taught me how to assemble one. She also told me how to put together dipping sauce. I had no idea was in it but it tasted pretty familiar, so I think it had vingear, soy sauce, chilli, spring onions - pretty normal stuff. (Later I read there was some type of soup in the mix too). She was speaking to us in Mandarin a little, maybe in the hopes we were just people who could comprehend Mandarin even if we couldn't speak it. It didn't matter, but I thanked her for her efforts.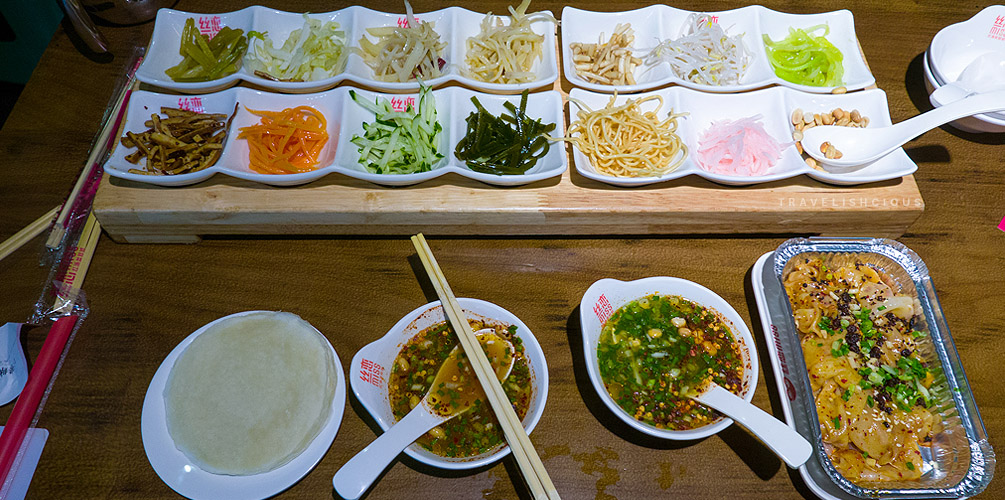 The spring rolls weren't bad. They were vegetarian, and as you can see in the photo below, the fillings were things like vegies (bean sprouts, carrot, radish, seaweed, cucumber, wombok), tofu and noodles. You may notice there is a spoon in the dipping sauce saucers. This is because after you've wrapped uo your little spring roll, you spoon some sauce into the roll before devouring it!
We also had some chilli flat noodles (CNY 20) (bottom left, above photo), which were quite greasy, unfortunately.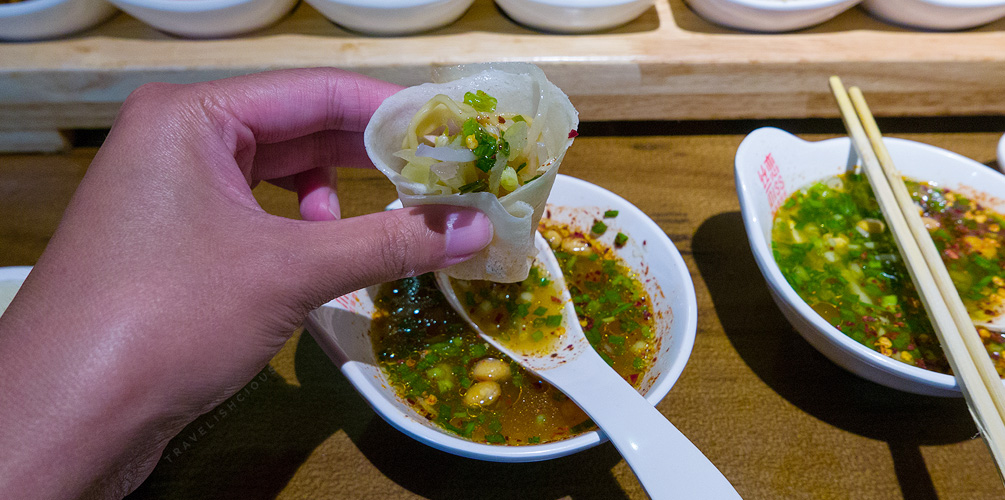 Also hadsome crispy bottom potstickers (CNY 23) but they werent really crispy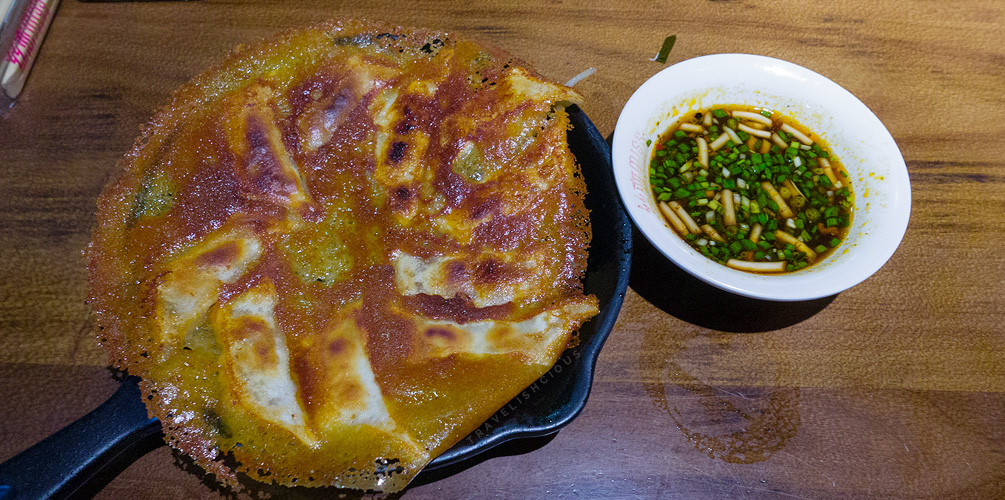 For drinks we ordered an expensive bayberry juice (CNY 18) which was a little sour and not that great.
Later I read on some gweilo blog post on this restaurant and it turns out refills of fillings were FREE. Sigh, this is what happens when you don't speak the language. Overall the meal was a 6/10 #ipinions
After dinner, we walked around the shopping centre and found this sad tank with sharks, turtles and stingrays: