Day 113 of Asia 2019 trip / Day 15 in China

The top of Huangguoshu Waterfall
Huangguoshu (literally: Yellow Fruit Tree) Waterfall 黃果樹瀑布 is one of China's largest waterfalls at 67m high and 83m wide. It is also known for having a pathway dug into the cliff face, meaning you are able to walk behind the curtain of water that comes gushing over the cliff. How exciting!
To get to Huangguoshu waterfall, we took a bus from the toruist bus terminal just 25m away from our hotel. There was a friendly man readily willing to translate what we said which paled in comparison to the shy girl selling us the ticket. She pretty much refused to talk into our translate app.
The bus arrived soon after and we were the only ones to board. It made a stop at the East bus station, where more people boarded. We met a dude from Hangzhou called Larry. His English was impeccable. He said he was only person learning English in his city which was a bit hard to believe seeing as lots of people knew the value of learning English in the 21st Century. He spoke English with an American accent.
Huangguoshu Waterfall scenic area
The entry to the falls was a whopping 160 yuan each. There was a tour bus that took you around a circuit (in one direction only), that took you to the three main spots in the scenic area:
Doupotang 陡坡塘 waterfall scenic spot
Tianxingqiao 天星橋 scenic area
Huangguoshu 黃果樹 waterfall scenic spot.
The above are highlighted in yellow below: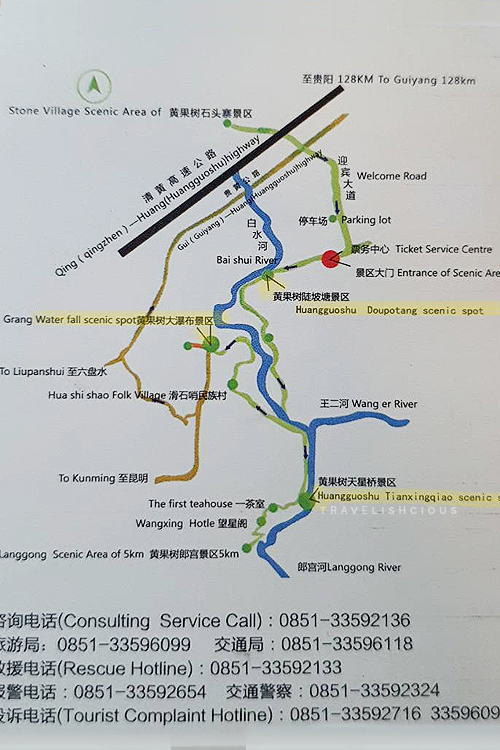 We didn't buy a bus ticket because we thought we could walk around the scenic area ourselves. We asked Larry if this was possible and he had a chat with some shopkeepers, who they said it would take 2-3 hours to walk. It was already 1pm so we opted to walk back to ticket booth to buy our tickets. The lady selling us bus ticket laughed because she originally tried to sell it to us but we had declined. It cost 22 yuan for the bus ride to Huangguoshu, but 50 yuan for an all day bus ticket in the park. Pricey. We had lost Larry as it seemed he didn't wait for us, which was ok.
We opted to ride the bus all the way to the end to Tianxingqiao first.
Tianxingqiao 天星橋 scenic area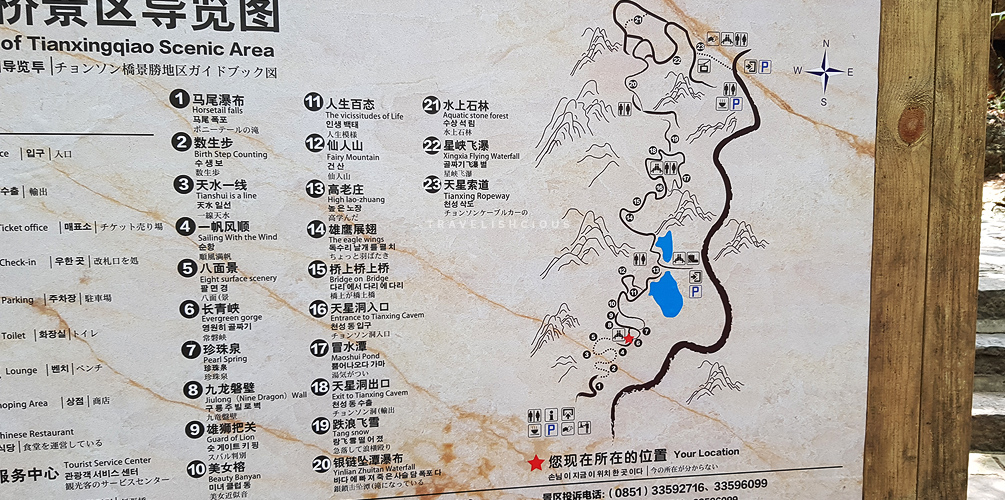 This area featured a trail that took you around "nature". There were lakes, lots of greenery and boulders. It seemed very fake and I had a feeling this is what someone cobbled up when they were told to recreate "nature". The path took you into narrow caves and stepping stones in bodies of water. A "more natural" national park would not have any of this.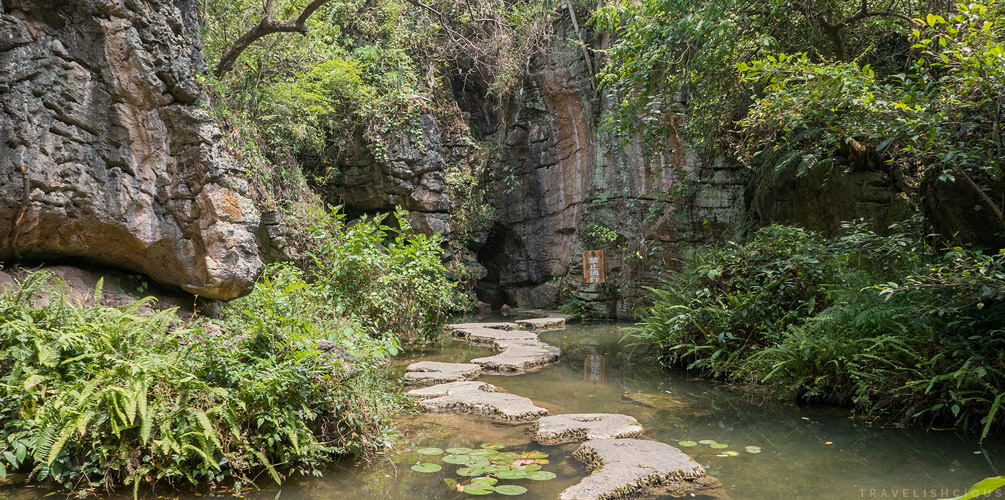 There were also lots of tour groups. It was very slow going in the beginning. Ippy was saying "qu qu qu" (go go go) whilst in a queue under her breath and a man caught her and told her that her Mandarin was good. I suppose he knew we were foreigners as he must've overheard us conversing in English. She was embarrassed and said, "no" and zipped it after that. But this spawned a new joke - "qu qu mother fucker".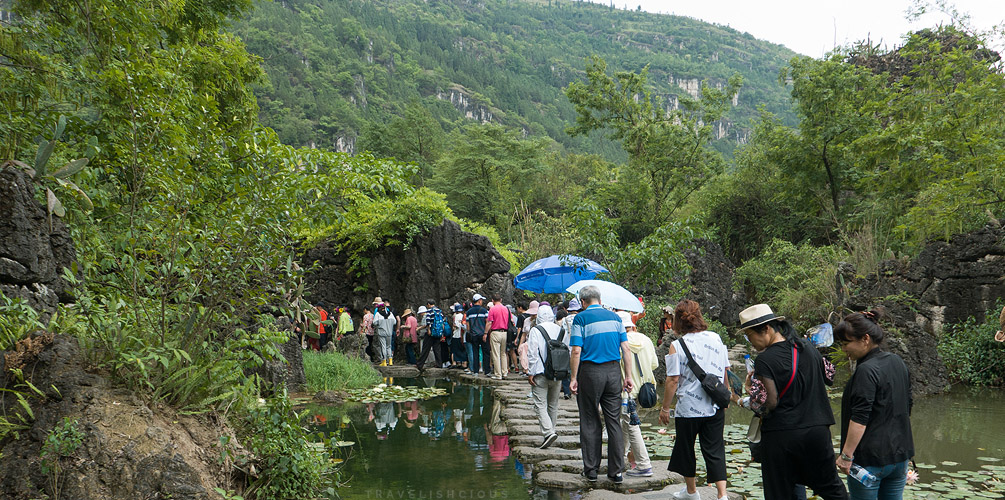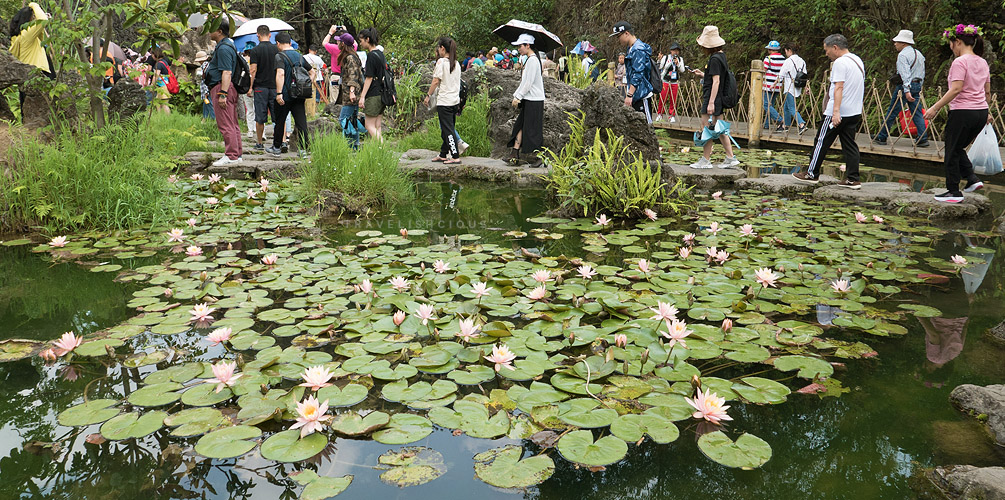 We passed the halfway mark, where 95% of the people didn't continue as there was conveniently an exit back to the main circuit. So, the rest of the trail was empty. Unfortunately, it really was quite unremarkable, so maybe the crowd had the right idea.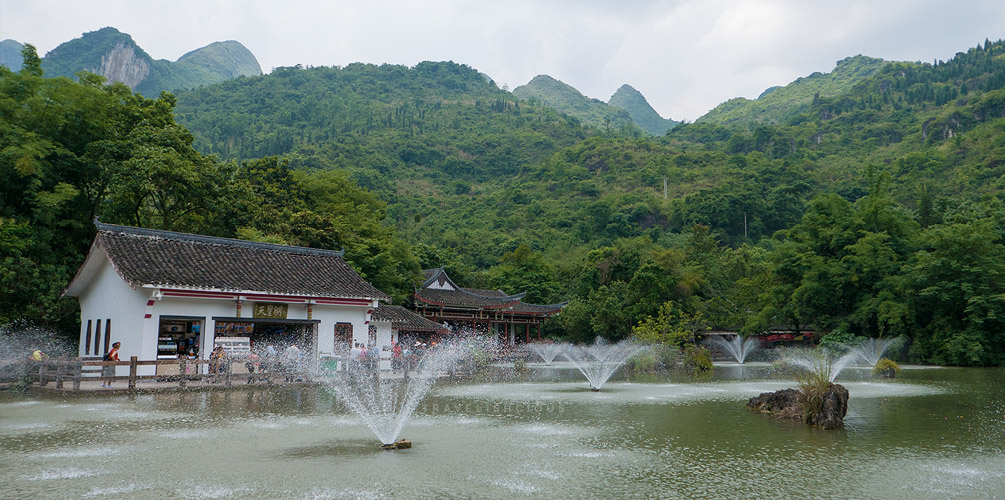 There was a fake "natural bridge":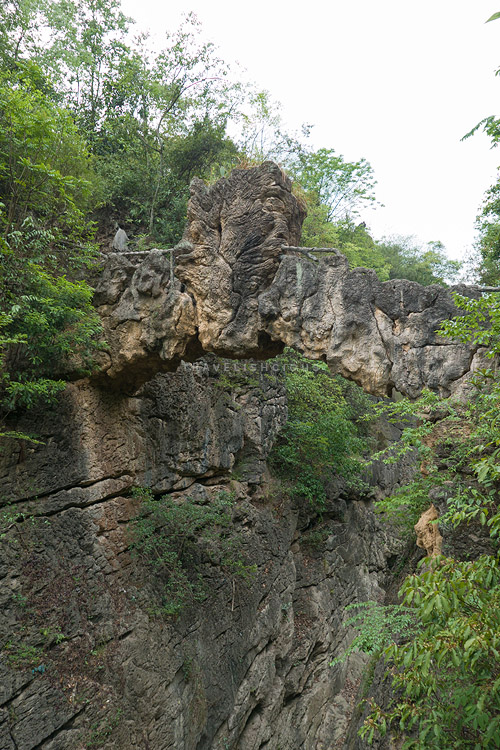 The best thing we saw was towards the end of the trail - Yinlian Zhuitan 銀鍊墜潭 (rough translation: silver chain falling into the pool) Waterfall: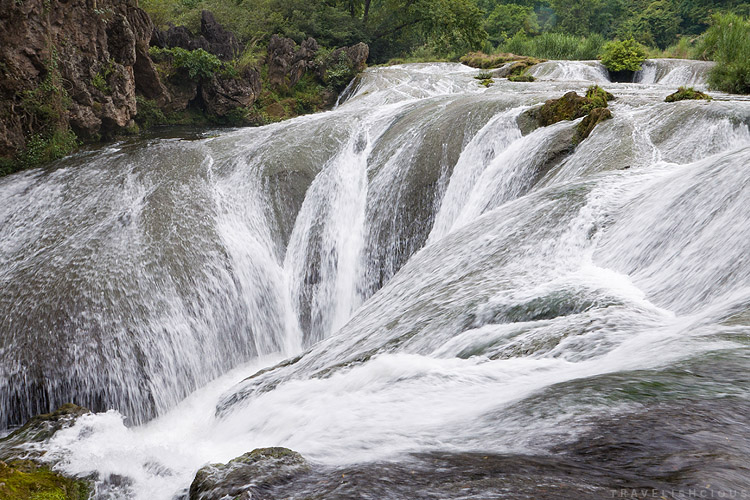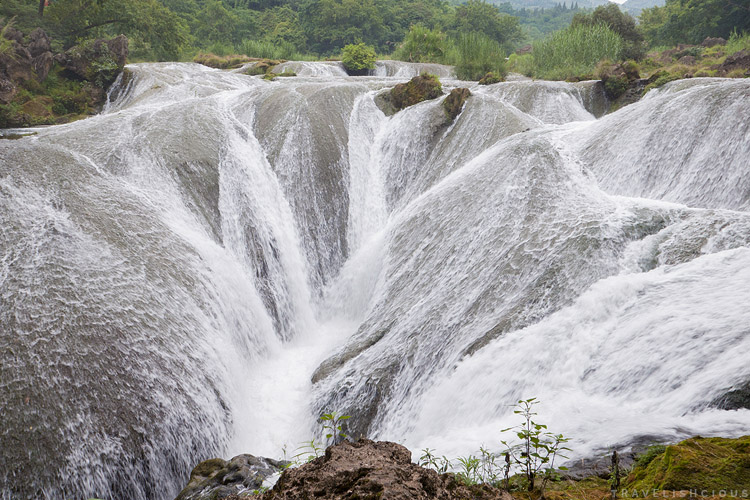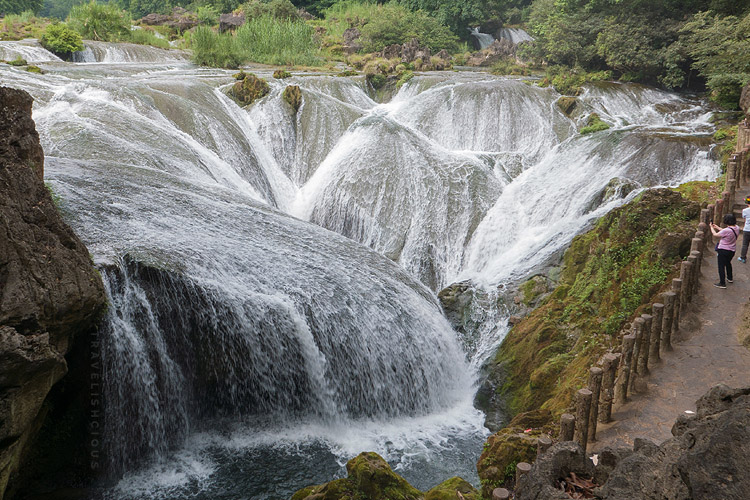 At the end of the Tianxingqiao trail, we had to take a cable car back to the main circuit, which was also interesting. Overall, this trail was a waste of time, unfortunately. We walked back to the bus station to ride the bus to the actual Huangguoshu waterfall.
Huangguoshu 黃果樹 waterfall scenic spot
Surprisingly, there was quite a walk to get to the waterfall from the Huangguoshu bus stop. But at the same time, there was an escalator that got you to the where the river was for the lazy visitors. It was 50 yuan for a return trip. We skipped this.
The trail took you to a viewpoint facing the waterfall. From here you could get to the "Water-Curtain Cave", which was the trail that took you behind the falls, but unfortunately it was closed today. It looked like it was under maintenance. The path then down to the river for more viewing opportunities. Then you could go across the river to get up close.
The waterfall was big and magnificent, however the water levels were low-ish (much like Maling River Gorge) so the falls themselves weren't at their peak.
There were lots of people taking photos, as to be expected. There were also people playing dress ups, wearing minority costumes from the Miao people. Tacky.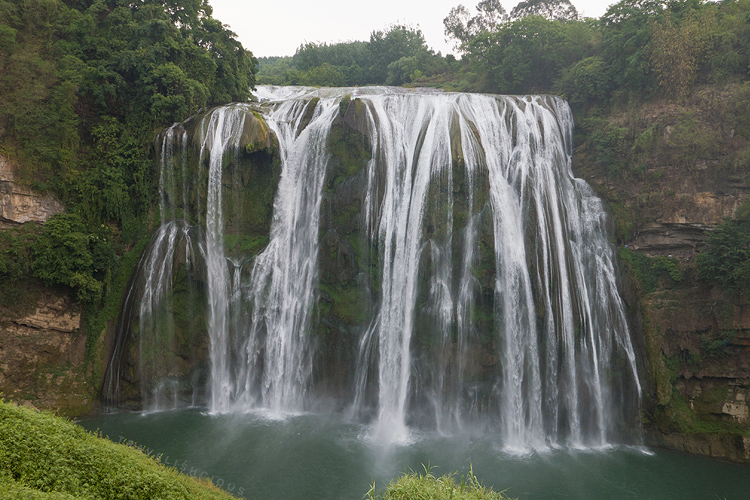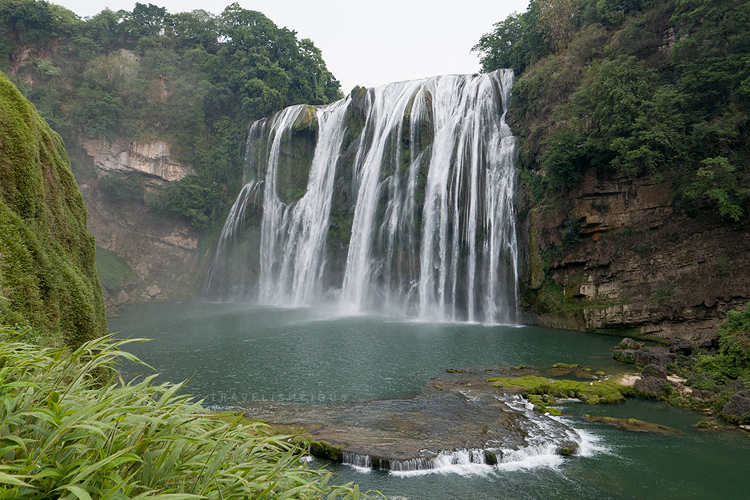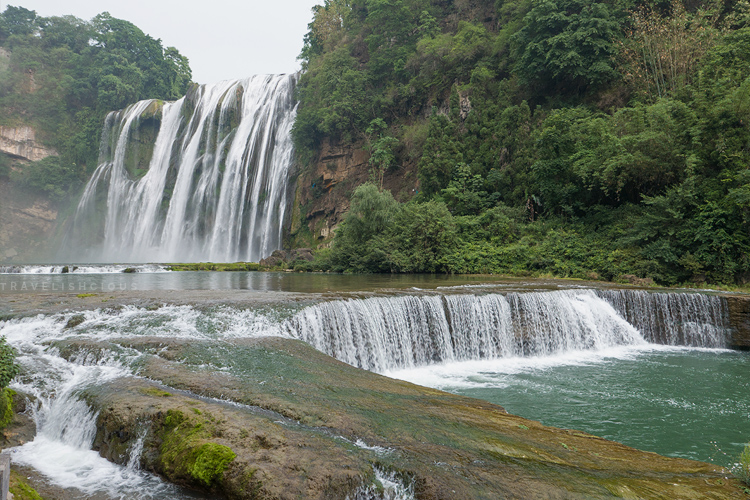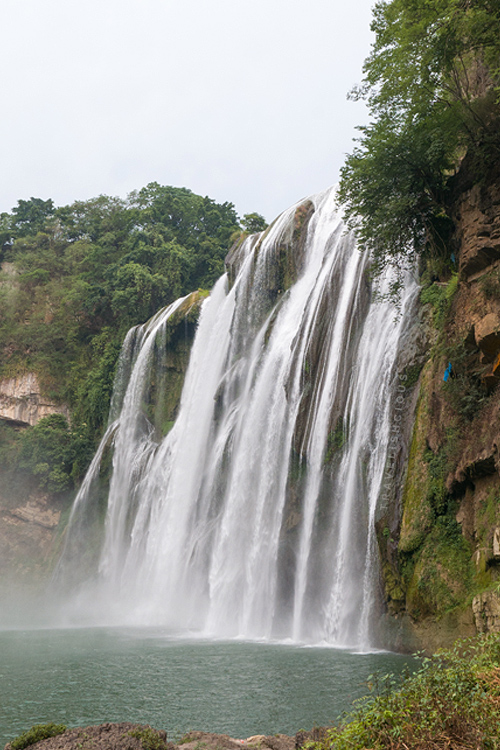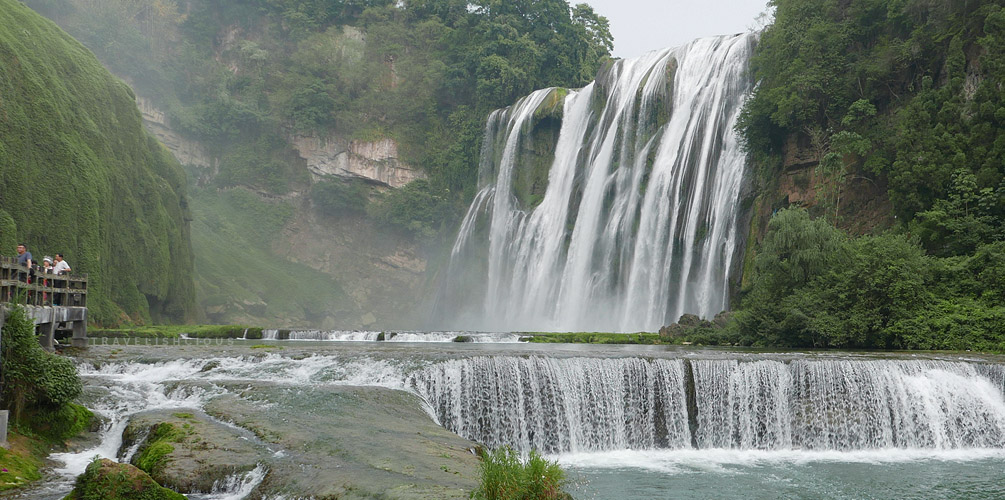 This photo below is not the best photo, but it depicts what the area around the waterfall looks like. The Rhinoceros Pool is at the bottom of the photo. Just above it on the left are the river-level viewing platforms and in the top-middle there, you can see some people (they're quite small) at the viewpoint directly facing the waterfall at the top of the cliff. The waterfall itself is obscured and on the right, of course.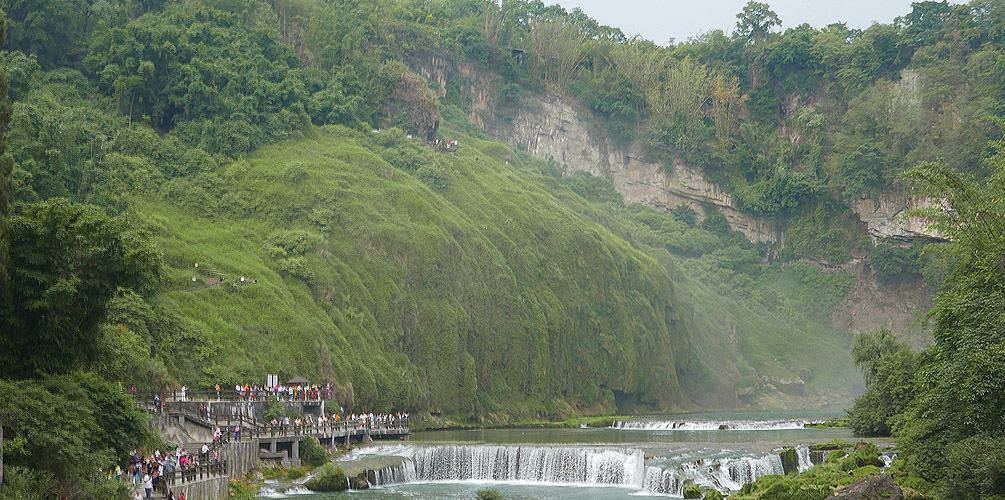 When we were done, we headed back to the Huangguoshu bus stop, where there was a Dicos (Chinese KFC) and stepped inside for a snack of large chips. We hadn't had any food all day. We should've just starved because by the time we finished and went back on the bus for our third and final stop, Doupotang waterfall scenic spot, it was closed :(
The Huangguoshu Waterfall scenic area entry ticket was actually good for two days, so we could have come back but we felt we had seen enough. At CNY 320 (= AUD 66.26) for two people and not even including the mandatory bus ticket, it was not good value, even if we did see the last waterfall. I looked up photos online and it did look impressive; I just wished we had properly researched this and prioritised better.
We left the park not long after and took the bus back to Anshun. This time the bus did not stop at the East Bus Terminal and went straight to the Tourist Bus Terminal. I imagine one could actually do Huangguoshu as part of a day trip rather easily. They could hop off the train at Anshun, leave luggage at left luggage, take the bus to Huangguoshu then come back all on the same day.
Dicos 德克士 (安順餐廳)
Dicos is China's homegrown KFC clone. KFC is actually really popular in China and the locals love fried chicken. So much so that it is more popular than McDonald's. But China being China… well they had to imitate the best and thus Dicos opened its doors. Whilst it did begin as a KFC knock off, it has come into its own and developed into its own.
We decided to have Dicos for dinner as well, why not? It would be quick and easy and hopefully they would have English available :P
Dicos was rather quiet when we walked in. The manager was friendly and helpful. We were struggling with the menu and she allowed us to order food through her phone on WeChat, which was a pretty intuitive experience. it actually gave us some discounts haha! Yay for more nice Guizhou people!
Ippy got a katsu rice meal (CNY 15) and I got a Fried chicken burger with pineapple meal (CNY 33). We also got 2 wings (CNY 10) and a chicken maryland (CNY 22), which we did not anticipate to be huge. The fried chicken was fresh and was different to KFC. They definately had their own recipe, which was in tune with the local taste. It had a bit of heat from Sichuan chilli and five spice. It was really tasty and good value. The chicken in the burger was quite juicy and we both enjoy eating pineapple in our chicken burgers. 7/10 #ipinions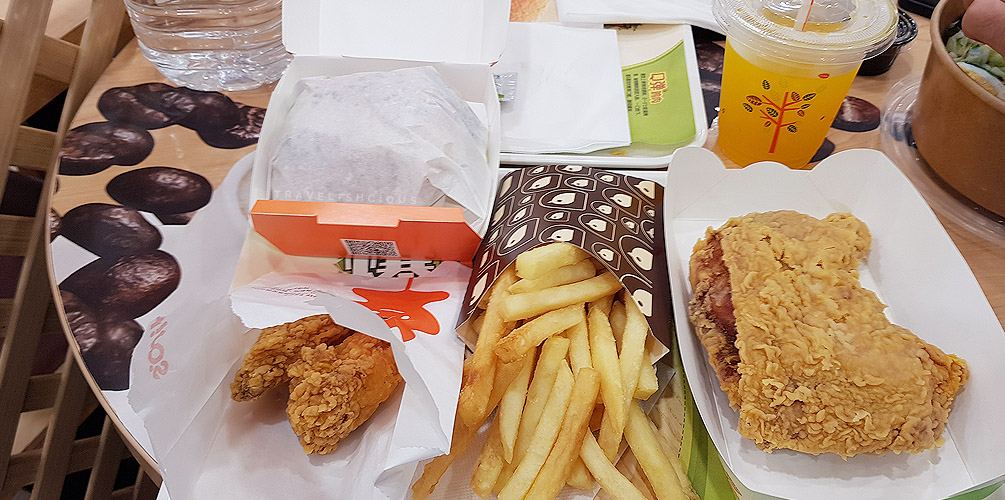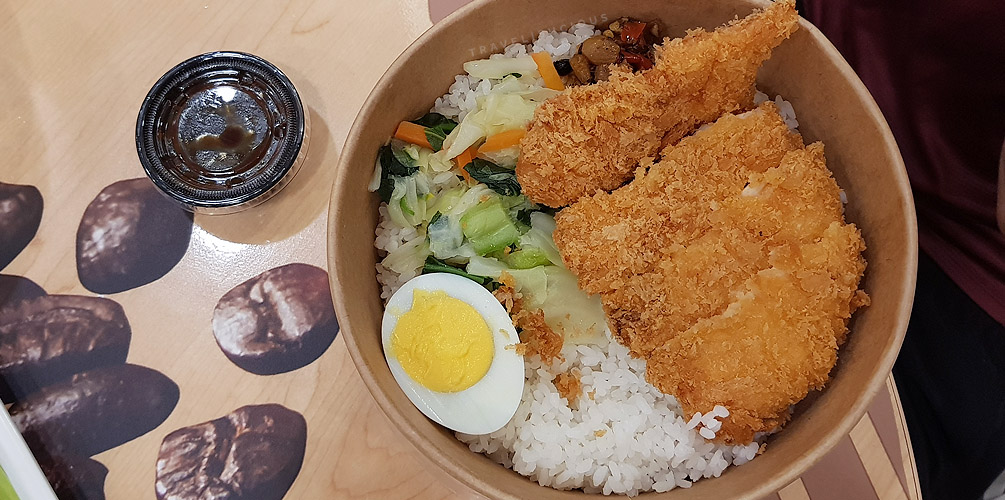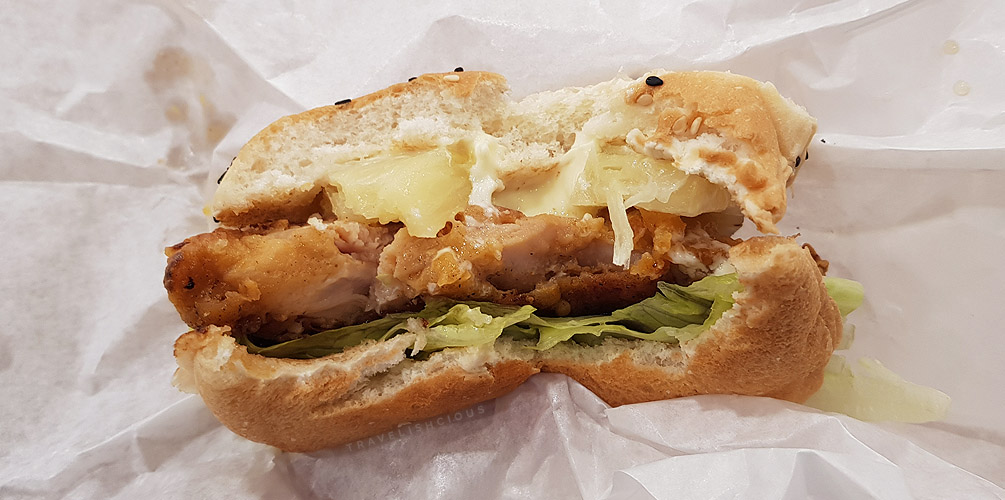 Final thoughts on Anshun
Anshun was an okay stop overall. I wouldn't recommend it for first time travellers; I think it's reasonable to say that Huangguoshu waterfall should be lower on the priority list. I've seen more impressive waterfalls around the world. Tianxingqiao scenic area was a real waste of time, hard pass.
The city itself seemed a little dirtier than the newer Xingyi, where we hung out the most
A is still in love with the duck dry pot, but it seems to be a chain restaurant, so maybe one day we will encounter it again.