Day 112 of Asia 2019 trip / Day 14 in China

The rolling mountains near Yunshan village, Anshun
The title sounds kinda hippy, hey?
More Karsts were in store for us today at a small historic village called Yunshan 雲山 (literally: cloud mountain) near Anshun. I just think Karst scenary is so interesting and beautiful. Ippy cannot completely remember how she stumbled across this small village, but she does remember seeing drone photos taken from the village on Google Maps and being inspired to visit - sad but there's the truth!
Lunch at 趙記鹵粉 (Zhaoji stewed noodles?)
We discovered today that Anshun's bus fares were only CNY 1. So we probably overpaid a few times yesterday. We went into town by bus to have lunch at yet another simple looking noodle place. The menu was another overwhelming list of items: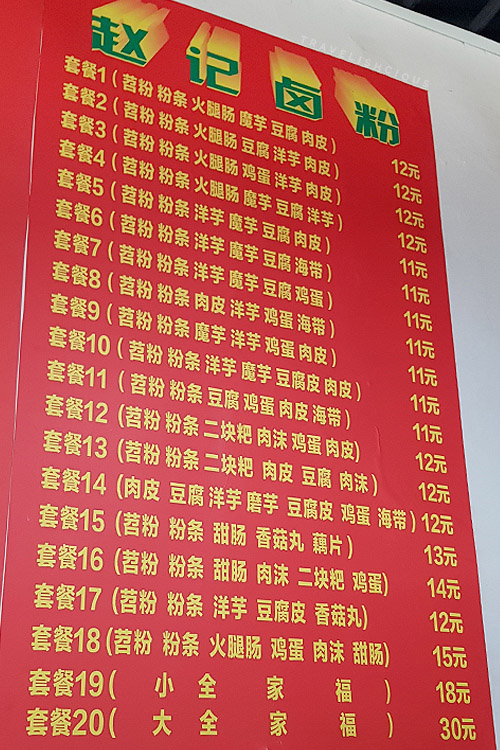 Ippy got a Number 3 (莒粉, 粉條, 火腿腸, 雞蛋, 洋等, 肉皮) - my translation would be: ?? some kind of noodle?, vermicelli, pork sausage, egg, ??, chicharon: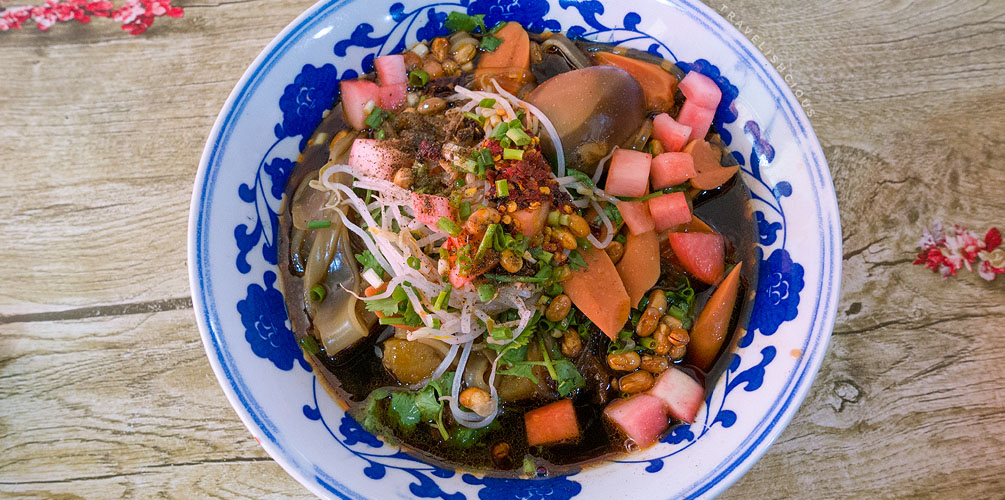 And for me, a Number 11 (苕粉, 粉條, 豆腐, 雞蛋, 肉皮, 海帶)- my translation would be: sweet potato flour noodles, vermicelli, tofu, egg, chicharon, kelp: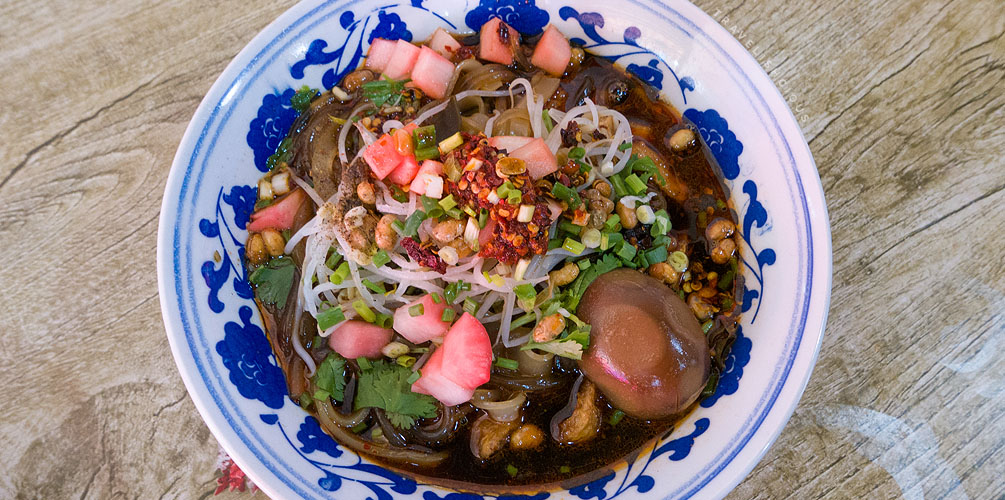 It seemed like it was saucy noodle dish with numerous toppings. It was ok, nothing to write home about, a bit low quality. The tofu tasted strangely of cigarettes. But what do you expect when each dish cost only CNY 12? We really needed to find "expensive" noodles. It did the job but was very forgettable. 5/10 #ipinions
Yunshan village scenic area 雲山屯
After lunch, we took a bus back to the East bus terminal. The staff there went out of their way to assist us in finding the bus to take us there as we had a bit of a communication blocker with Baidu translate. We were escorted outside and directed to where the minibuses to Yunshan village were going to depart from. Baidu translated this as "windmills". Kudos again to Guizhou's helpful locals. The bus ride was only CNY 7 each.
The bus dropped us off at an intersection about 1 km from Yunshan and continued on its route (forgot where it went). So we walked along a road to reach the village. There were a few other people from the same bus as us seemingly walking the same way. I could already see the star of the village, Yunjiu Temple 雲鷲寺 (literally: cloud eagle temple), sitting on the peak of Yunjiu Mountain. This was our destination and viewpoint from which to take in the views of the surrounding area.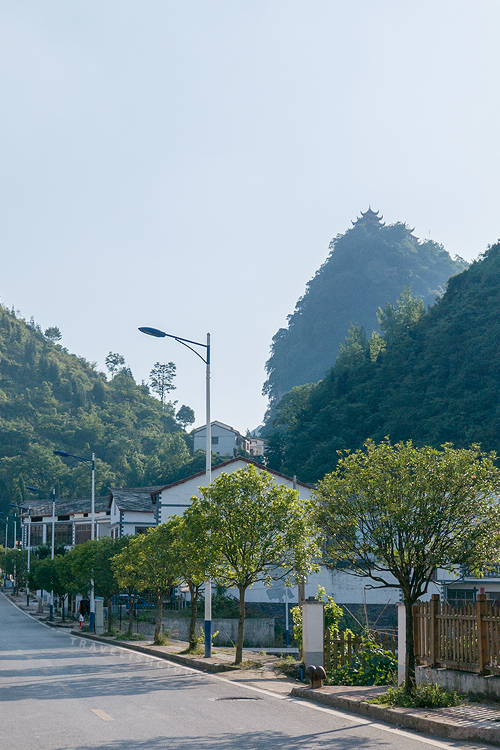 At the entrance of the Yunshan village scenic area was a fake Chinese arch, where there was a ticket booth. The village was some distance behind the entrance and a road ran left to right at the entrance. It was CNY 50 to enter, which was pretty exorbitant. Well, this was China and there always seemed to be another way, so we made an educated guess and turned right and followed the road for a while, which seemed to ring around Yunjiu Mountain. We walked about 2-3km, in the hot sun. Yunjiu Temple was in full view in no time.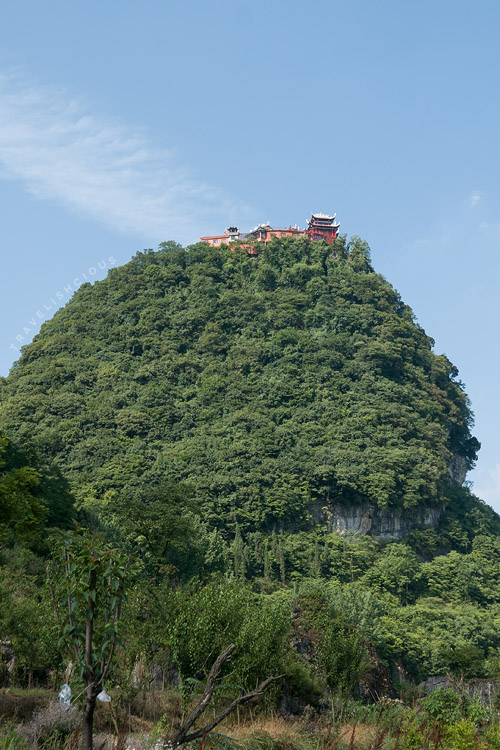 Only one car passed us on this road. And sure enough, there was a back entrance to the village which was unmanned!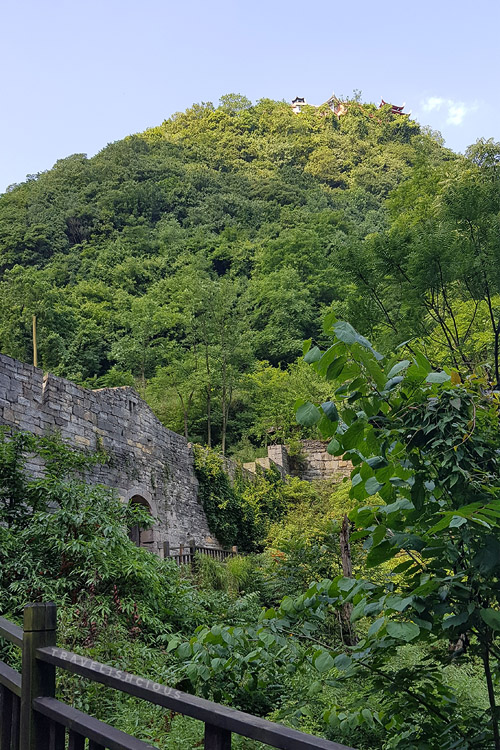 Yunjiu Temple 雲鷲寺
We followed the path that would take us up Yunjiu Mountain. To no one's surprise this was the only path and it led straight to Yunjiu Temple. We spent some time walking all around the temple, gazing out at the surrounding landscape and taking photos. The temple is apparently circa 1616. I think it was a Taoist temple…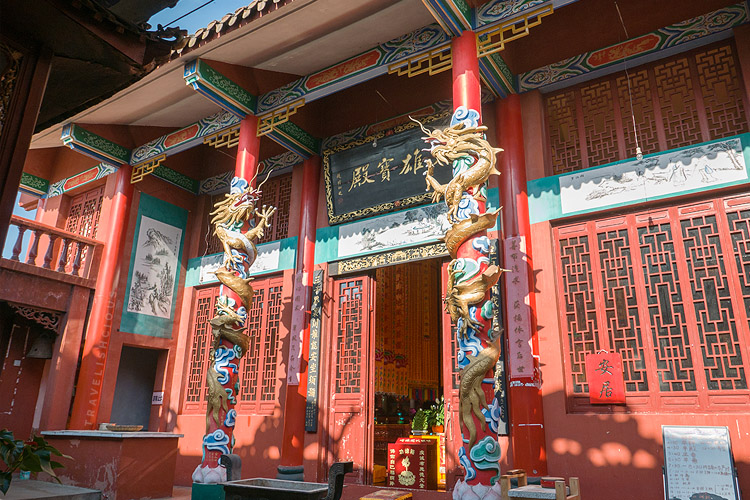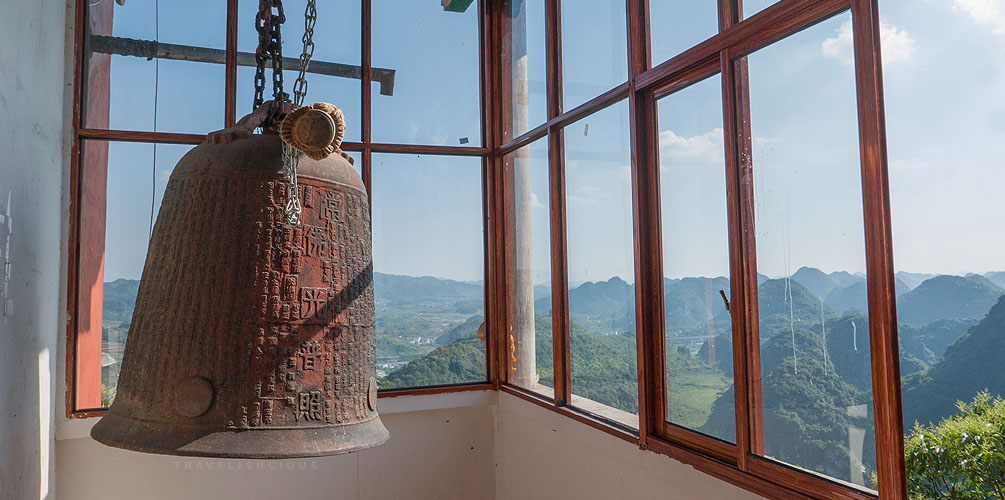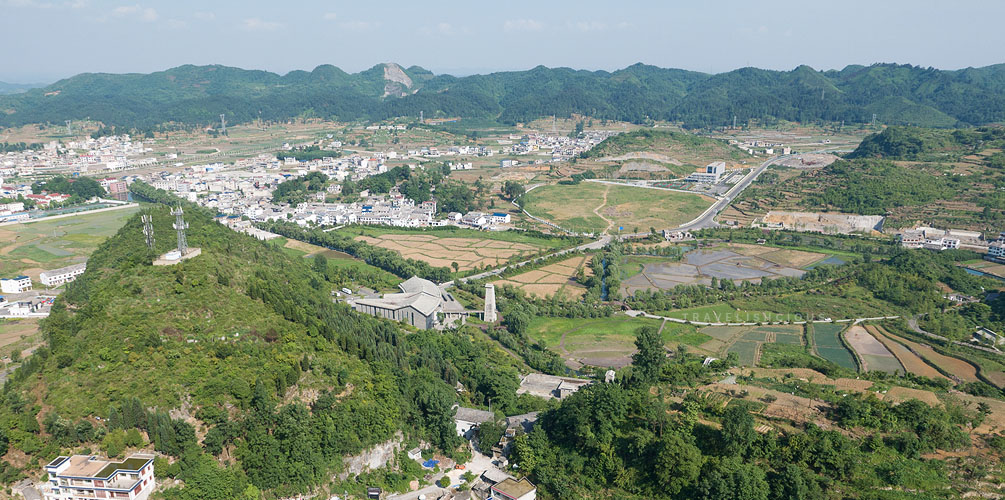 .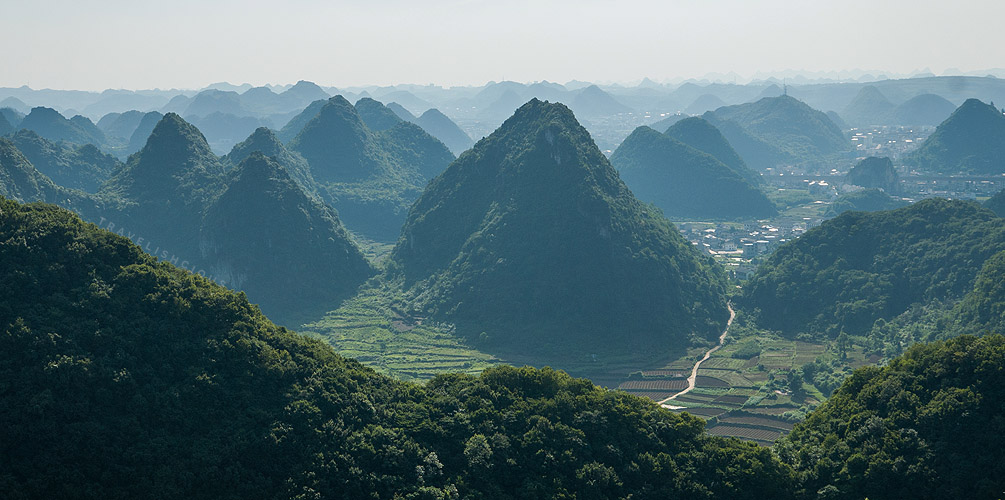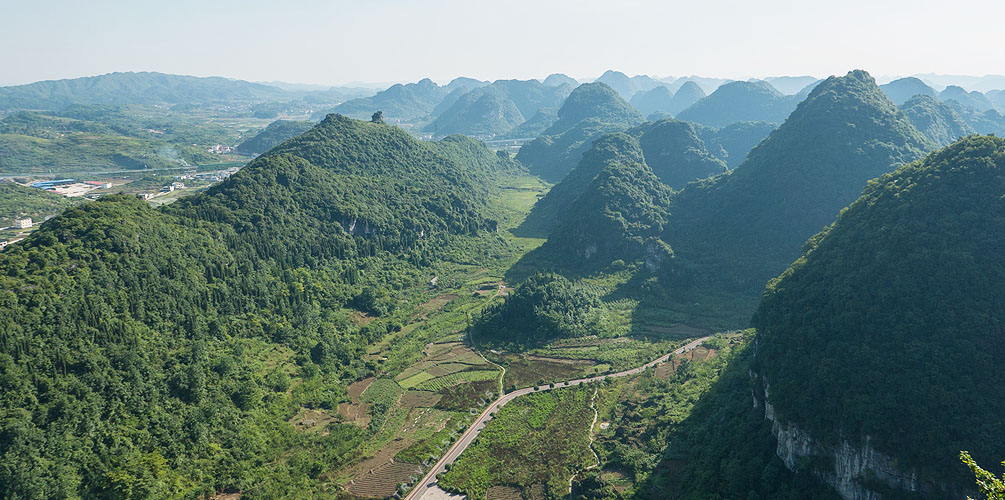 (Best viewed on desktop and in full screen mode)
Yunshan village
After taking numerous photos, we headed back down the path and into Yunshan village itself, which seemed to be made up of a lot of charming old buildings. Yunshan is a fortified village, one of many that were built up in Anshun after the first Ming dynasty emperor defeated his predecessors in Yunnan province. The village itself seemed pretty empty. It was hard to say whether there was a significant population actually living there.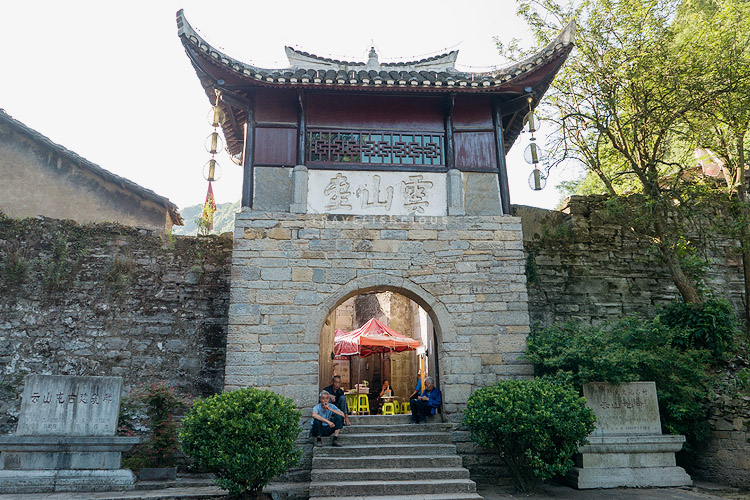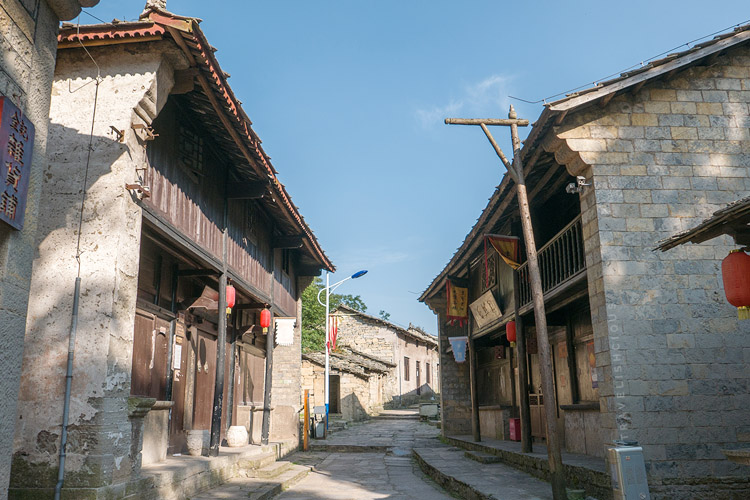 Leaving Yunshan village
We walked back down to the main road (to where the bus dropped us off) via the main path that would take us down the mountain and straight through the fake arch entrance. No one battered an eyelid. Back at street level, there was a shady looking guy that looked like he was following us in his car. We weren't important so it seemed a little weird to think this was even a possibility but we kept our eyes peeled. Maybe someone was going to get us for not paying the entrance fee
We didn't have to wait long at the intersection for a bus back to Anshun. There were a few other waiting as well. On the bus, the ticket man tries to pull a dodgy by trying to charge us CNY 8. A local girl said there were 2 prices via her translation app. But the man quickly accepted 7 when we said that's what we paid before. Lol, looking back, I cannot believe we were splitting hairs over CNY 2 but it was a matter of principle for us. I don't like the idea that they think we are stupid and will just do whatever they say (ok this really depends on the situation, if he had gotten violent that's another story, yes take my 1 yuan).
Hong Shan Lake 虹山湖
After arriving back in Anshun, we decided to go check out Hong Shan Lake (literally: Rainbow Mountain Lake), the star of Anshun city. It is actually an artificial lake used as a reservoir and given a makeover in 2017, with the government installing toilets, boardwalks, paths and seating for the locals to enjoy. The lake was free and actually was nice to walk around. Pity the path was starting to crumble in some parts but I suspect it is because they drive their heavy work trucks over the top of it.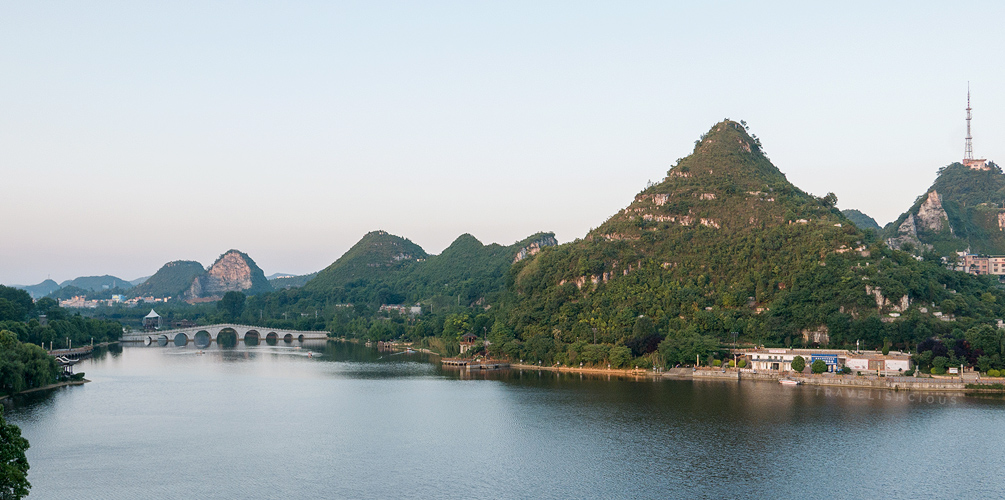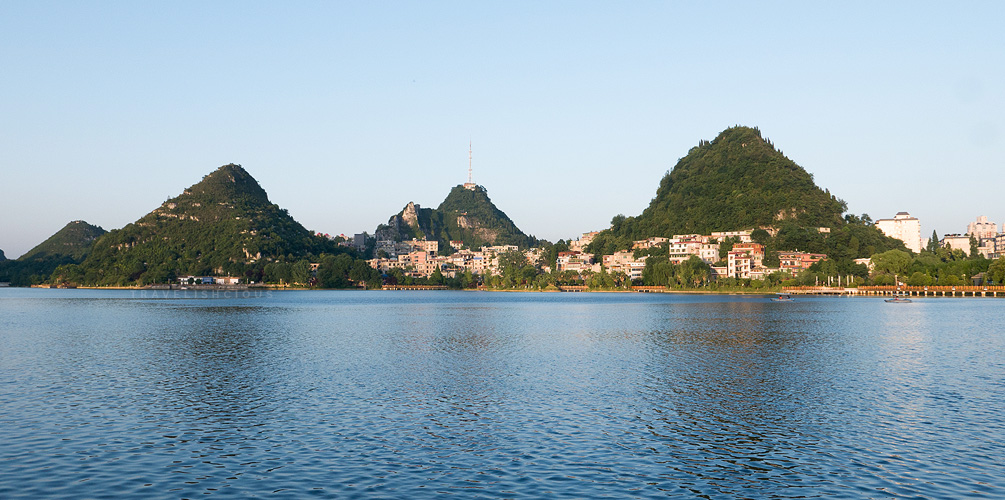 There's a massive monolithic Hilton Doubletree overlooking the lake which was very imposing and didn't really fit in with the surrounding aethetic.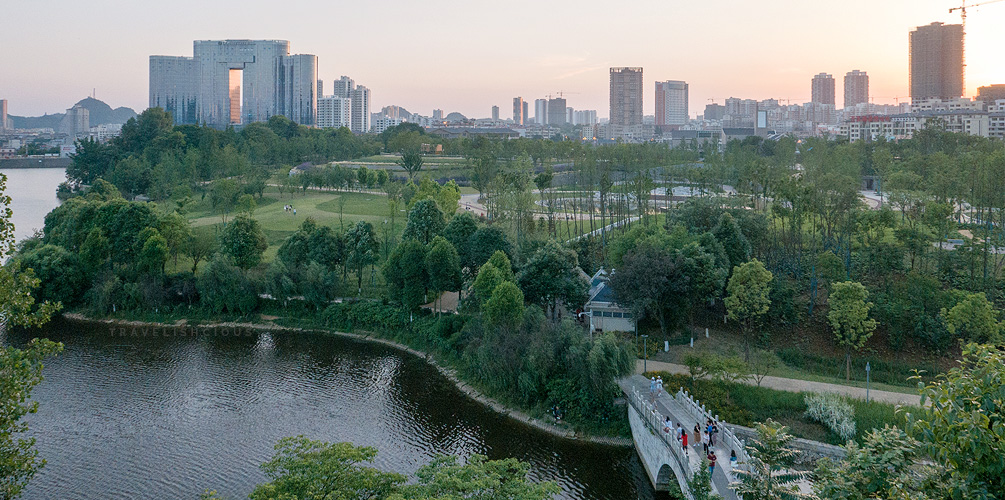 Dinner at 馨亮廚
For dinner we dianping-ed (yes I have now invented this verb) and found there was a well rated and well presented restaurant nearby called 馨亮廚 (literally: fragrant bright kitchen). It was a pretty big place and had lots of customers inside. The manager was very helpful and patient. We ordered some fried potatoes, a pork Kung Pao equivalent and stir fried greens: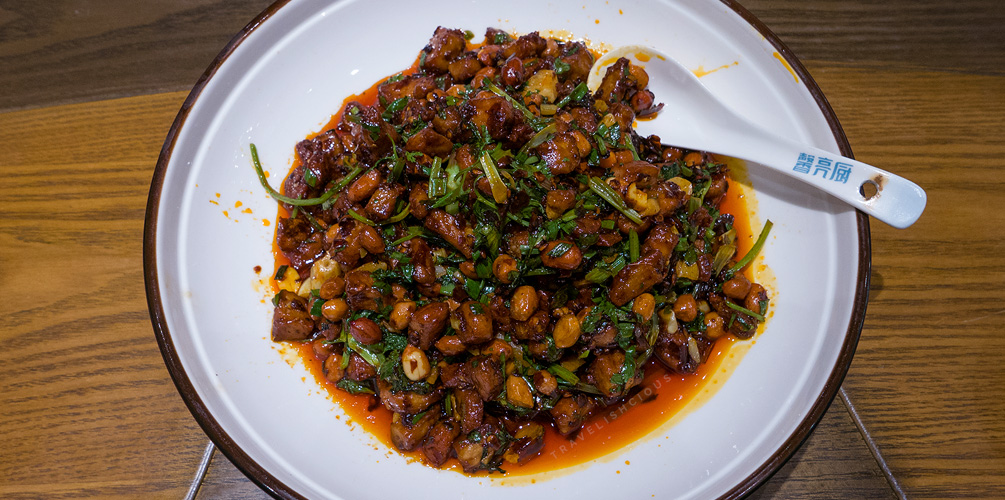 The pork was excellent and was served with plentiful peanuts and a spicy chilli oil. Ippy really liked the potato dish, which was cubed and fried, which resulted in a crispy exterior for each cube. We were enjoying both these dishes, which were quite sizable already with the bucket of rice we had ordered on the side when finally a gigantic serving of veg appeared. Damn, our spread could easily feed a family of 6 and yet here we were trying to scoff it all down between two.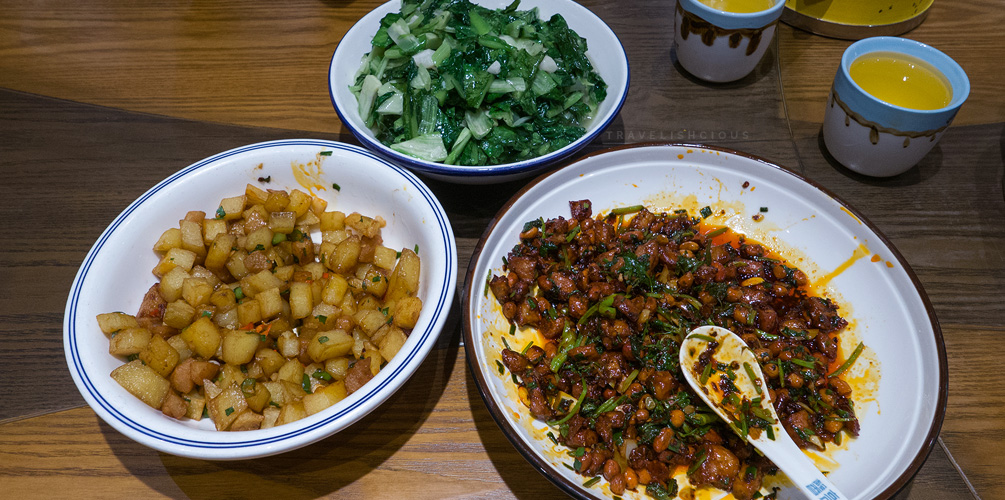 Surprisingly, our meal only set us back CNY 80 (AUD 16.06) and this was after a CNY 10 discount for reasons we could not comprehend. It was a pretty cheap feed, even if we did over-order. Super cheap if we had 2 others to help us polish it all off. 7/10 #ipinions
We took a Didi back to our accommodation, but before entering the hotel, we bought yet another 5L of water and an ice cream that tasted cheap.