Day 111 of Asia 2019 trip / Day 13 in China

A very spicy duck 'dry pot'
Off to Anshun, where a delicious duck "dry pot" awaits us. We see more Guizhou scenary along the way.
We woke up a bit late today and it was time to move on from Xingyi. We had lunch at a cheap noodle restaurant just around the corner.
Ippy had chicken noodles whilst I had dumpling soup. I found it tasty but Ippy found hers a bit basic, unfortunately. What little chicken was present was all chopped up into little bits, bone included. All up it cost CNY 16 so you couldn't really expect a whole lot. 5/10 #ipinions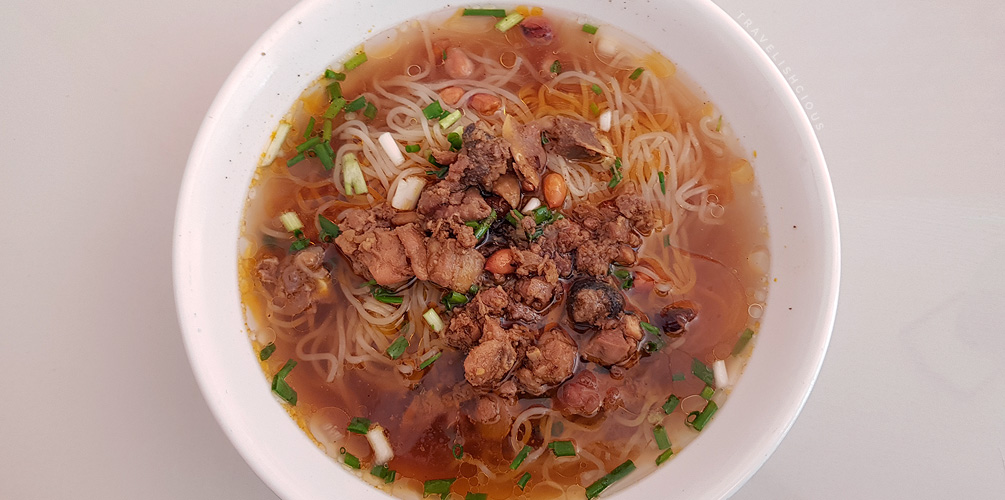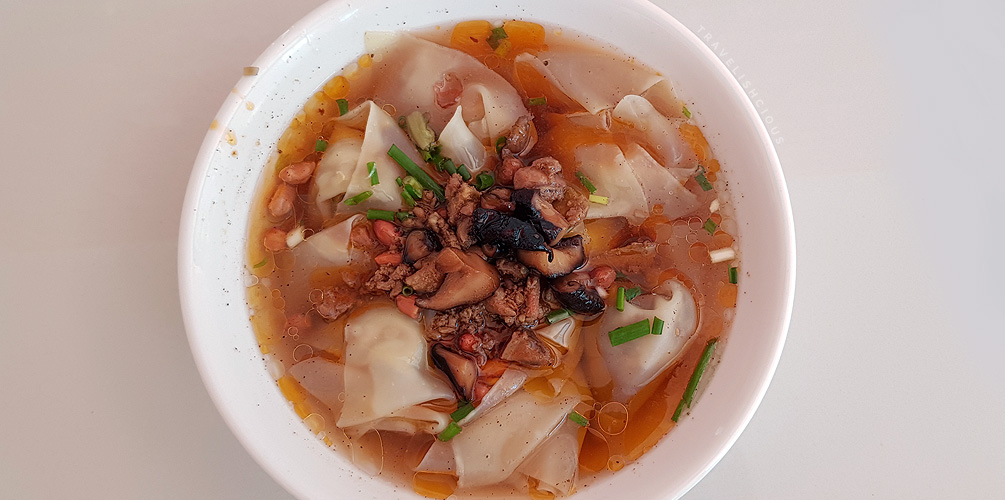 Leaving Xingyi
We took a bus to the west bus terminal (興義客運西站) and bought tickets for a bus to Anshun. I was not quite sure if we were significantly ripped off or not because the bus ticket cost CNY 109 each. It was significantly more expensive than a travelling on a train at a similar distance.
The scenery along the bus ride was amazing. Guizhou has some of the world's largest bridges and many of its bridges end up on lists like this and this. The environment is extremely hilly, with flat ground suddenly becomes huge mountains, so the Chinese have disregarded this completely and built highways straight through mountains. Meanwhile the Europeans would simply opt for switchbacks instead. Whilst the Chinese have achieved great engineering feats, it is to the detriment of the natural environment.
Anshun 安順
Anshun's main bus terminal (East Bus Terminal, 東客運站) is about 10km away from the train station. We had to take a local bus to the train station, to get to the nearby 7 Days Inn. The strange thing we found was that there were western hotels (like the Double Tree) but they were located near Hong Shan Lake 虹山湖. We decided to stay at the 7 Days Inn again, simply because we knew what we would be getting if we did. It was akin to a Holiday Inn. Better the devil you know, etc. This time, we did not book online, so we walked in and asked for a room. A helpful woman from reception was very well prepared with her translation app ready to go. She had a friendly demeanour and was patient with conversing with us via translate apps. She showed us a room and told us the price and we were happy to take it. We thought it would be useful to stay near the station but we later found that the area was a bit of a dead zone and was very quiet at night.
Master Feng Duck Claw Hot Pot 馮大師鴨爪爪特色火鍋
For dinner I used Dianping to help us find dinner. We took the bus to take us to a different part of town. It seemed livelier. We assumed the fare was CNY 2, as that's what it was in Xingyi. You simply drop money into a box when boarding.
We settled on a "hot pot" place, except it was no ordinary hot pot. They offered "dry pot". The outside of the restaurant raised some eyebrows for Ippy, but I managed to persuade her that it would be ok. As soon as we sat down the hostess was immediately spruiking us a duck dry pot dish. During my research on Dianping I knew this was the most popular item. Indeed, many other tables were also eating it.
Here's the menu: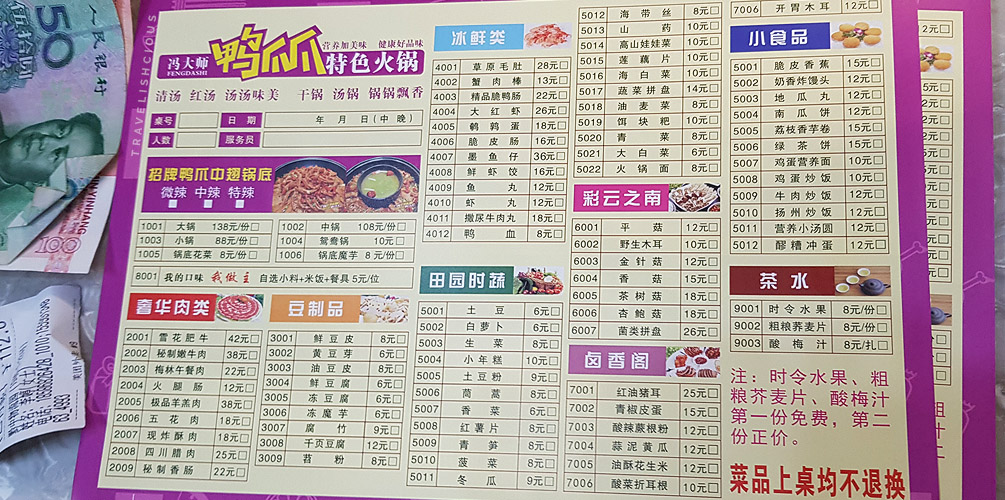 You choose which dry pot you want (first category on the left) and everything under that is just extras you can order, like extra protein (e.g. fish, beef), extra veg (e.g. wintermelon, greens) and other things like rice cake. We didn't bother with any of this and simply ordered a dry pot with duck wings and feet, medium spiciness. The hostess upsold this with a set which included noodles and potatoes that you need to cook yourself, by simply adding it to the dry pot. Whilst there was no soup, the pot was still placed on an electric plate which would keep everything hot. There was a lot of sauce to go around, so it wasn't like anything would burn to the bottom of the pot. All up it was CNY 88 plus CNY 10 for the set. This also came with some free sides like deep fried soy bean chips, spicy jelly, watermelon and shredded potato. We also got a prune juice in a jug as part of the deal, which would be important for later.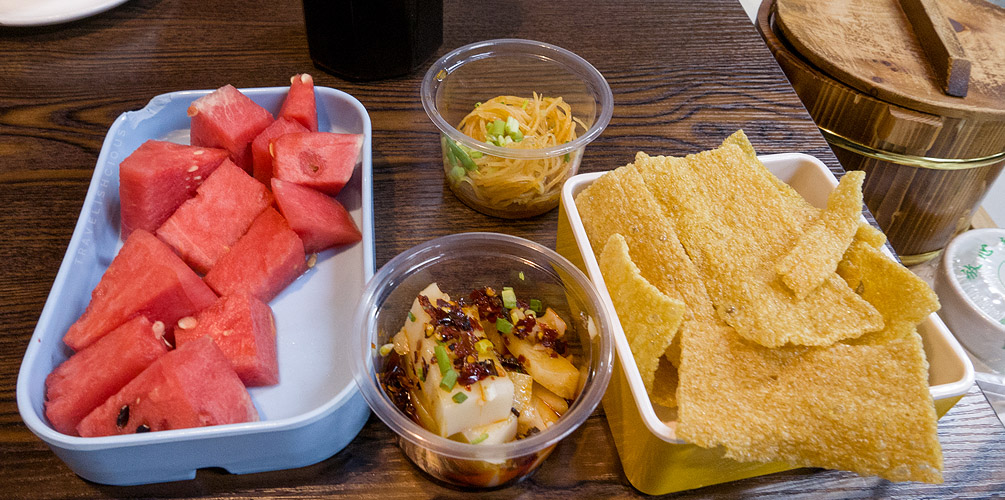 A huge pot came out from the kitchen. We had ordered medium spiciness but everything was tinged red. In terms of spice, I found it was not too bad. However, Ippy was struggling and finishing all the prune juice too quickly. She didn't even like prune juice normally. She has come a long way in terms of chilli tolerance but I suppose Sichuan spice would be easier to down as it's more flavourful.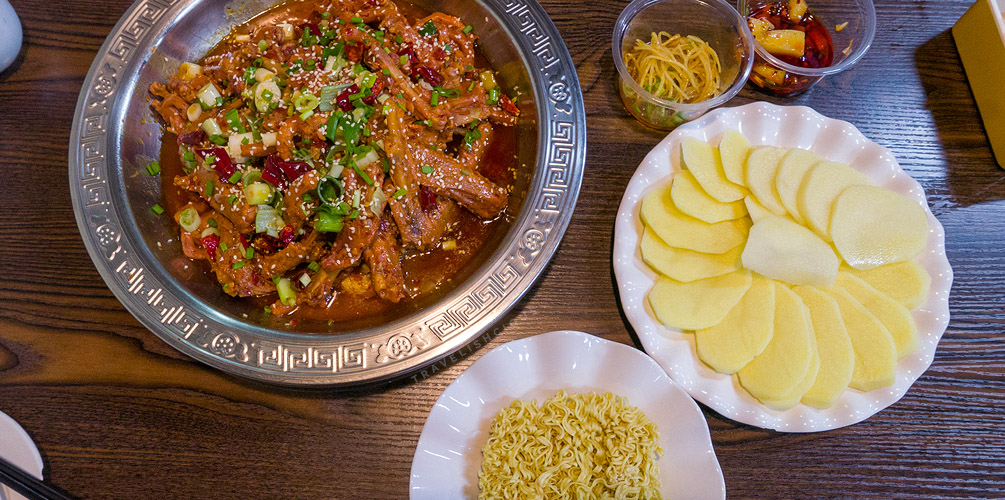 The duck tasted spectacular. There wasn't much meat but it was juicy. The tendons were quite prominent and provided good texture. The sauce was spicy but slightly sweet (not that Ippy could taste any sweetness). There were definitely quite a few chilli seeds scattered throughout the dish. I was delegated to eating duck feet because Ippy doesn't really enjoy eating them. I actually love feet! She looked on, slightly amazed at this. She ordered a Vitasoy lemon tea, one of her favourite drinks, to flush her spice troubles away. It was too small and was finished quickly.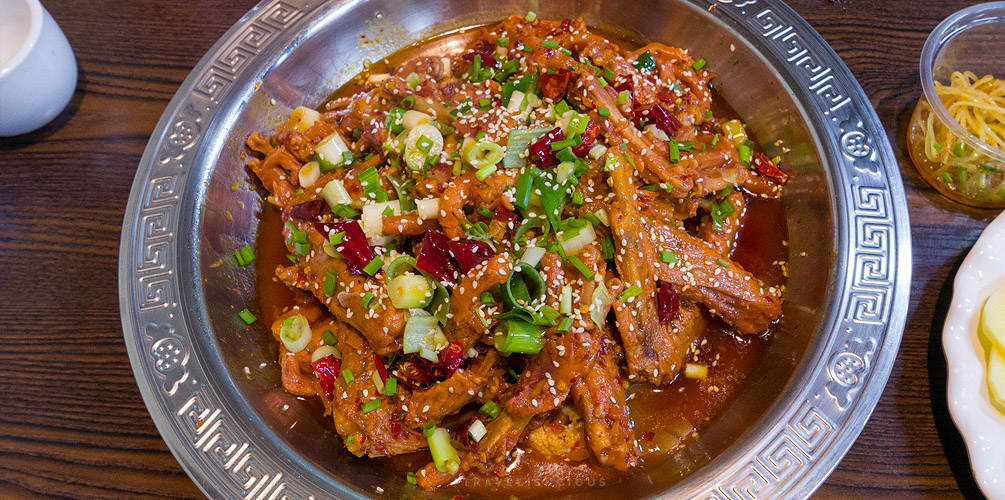 What made eating this dish interesting was the fact that I had to hold this duck foot in my mouth for at least 60 seconds with chilli burning the insides of my mouth whilst I attempted to extract the bones from the foot.
We ordered another jug of prune juice. It helped immensely but I was getting sweaty at that point. Ippy was slowing down and I was left to finish the huge pot of wings and feet. She said she did enjoy the flavour and the wings, but it was just too spicy. Had it been a little tamer, it would've been a satisfying experience. Finally we ordered a water to finish off the night. Yes, we finished TWO jugs of prune juice!!!
After dinner we needed to go to the supermarket but unfortunately everything was closed at 10pm. Even the busses had stopped. So we had to take a Didi back to the 7 Days Inn. There were a few mum and pop stores open so we grabbed an ice cream and some (more) water.
Final thoughts on Xingyi
It wasn't a total Tier 44 shithole. I mean, there wasn't a whole lot to the city but a hole does not have KFC and McDonalds.
Good detour. A was initially against it, but he was glad we stopped.
Unexpectedly encountered nice people which was great.
It seems OSM is a bit crap for Anshun too, the restaurant position is approximate.