Day 110 of Asia 2019 trip / Day 12 in China

Mountains in Wanfenglin
Finally, we were off to see the two natural beauties that drove us to stop at Xingyi in the first place - Wanfenglin and Nading stone forest.
We stopped by a bao (bun) shop around the corner from the hotel before we set off to the southern bus terminal, where we would take a bus to the village of Nidang. We got three baos:
red bean bun CNY 1.5
meat bun CNY 1.5
mantou CNY 1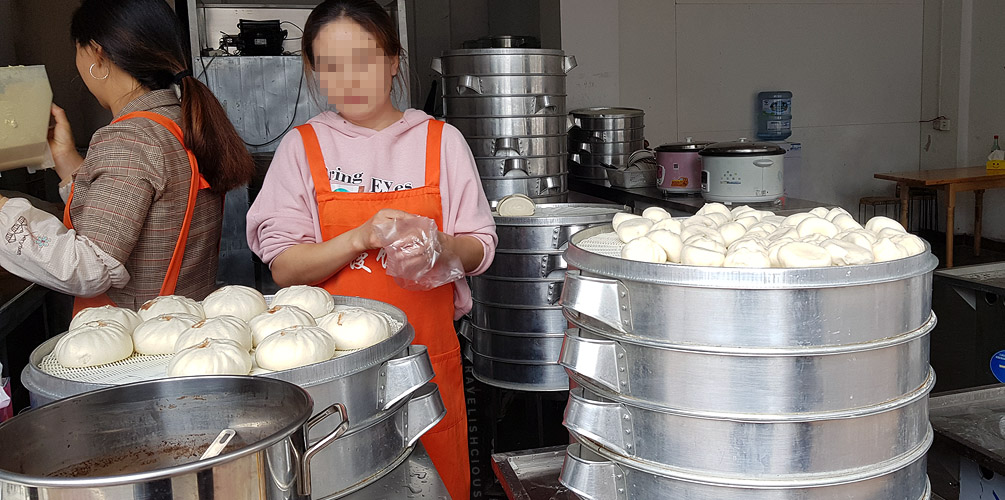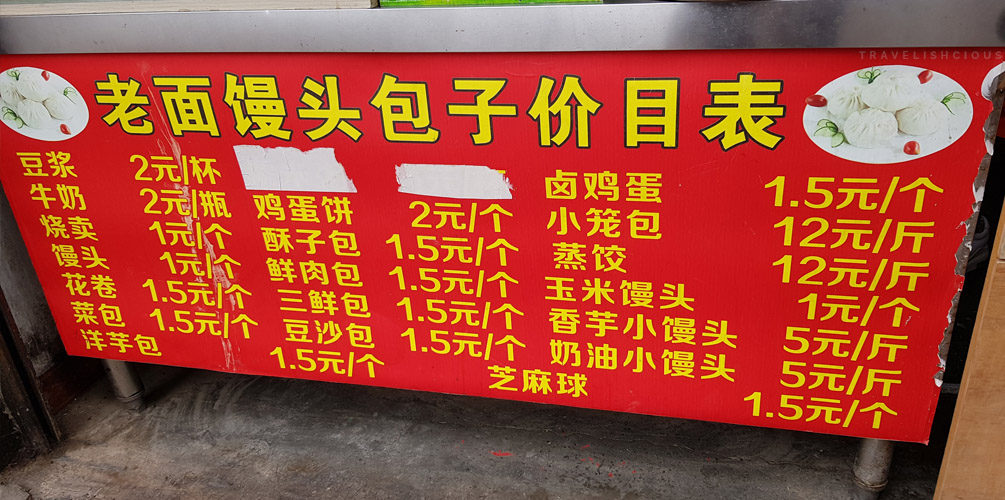 They were extremely cheap and did the job, but I prefer southern Chinese style baos where the bun itself has a hint of sugar, which makes it a bit more palatable. The baos were fine but were a bit bland when you didn't get any filling along with your mouthful of bao.
Getting to Nidang Stone Forest
We walked to the main road to catch the bus south. According to Baidu maps, we had to take two busses to get there. We later found out this was WRONG and we could've just taken the tourist bus straight there to reduce time.
At the bus terminal, the staff/hustlers hanging outside the station were quick to help us out on a bus to Nading. There was a bus leaving soon, so I was able to get tickets quickly, even though there was a minor hiccup with the woman behind the counter wanting me to pay with WeChat. Nidang is about 50km from Xingyi so we had a bit of a long journey ahead of us, and we had absolutely no idea where to get off the bus.
We quickly got into the waiting minibus and sat down. The bus was about a third full, and there was a young boy wearing a school uniform sitting across the aisle from us. The ticket lady who had served me came charging on to the minibus, with her phone displaying her WeChat payment screen, seemingly telling us we didn't pay. We were already holding tickets and despite showing them to her she kept yelling and waving her phone with WeChat open. I told her many times I couldn't speak Mandarin. I showed the tickets to the boy near us and he spoke up but of course I had no idea what they were all saying (and I didn't have Baidu translate out to overhear the conversation). She let up pretty quickly though and left. Hopefully she was the one looking silly and not us. I wasn't sure if she was trying to pull a scam on us but it was a pretty piss poor effort seeing as we BOTH KNEW I paid and if you're gonna scam someone, you better be able to communicate with them… in order to scam them. So bizarre.
The driver took off after that. I tried to communicate with the boy via baidu translate but it didn't go well, so I could not find out what she was trying to achieve.
The bus took an hour to get to the Nidang area. We asked for help from the boy (who then asked his fellow passengers) about where the get off the bus in order to get to the stone forest. I think I was confusing people with my pronounciation of stone (shi); I had my tones all wrong. But it seemed we got there in the end, and the driver was yelling "Shi lin!!!" and stopped at an intersection. It seemed we were at the edge of the village. We hopped off and so did the boy. The bus sped off in the direction of Nidang village. We said goodbye to the boy and headed in the direction of the stone forest and he walked off in the opposite direction.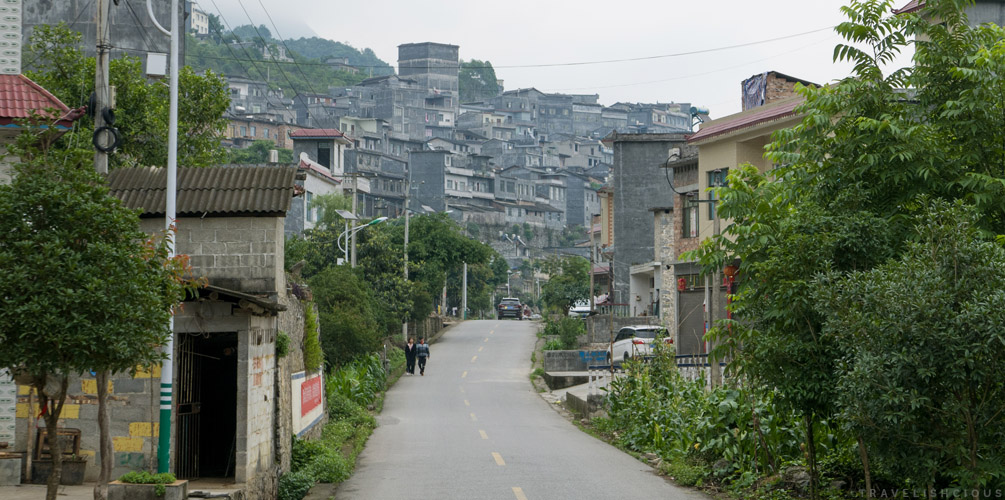 Looking at the map, we were about 4kms away from the stone forest. I had anticipated that in the worst case scenario, we would have to walk. 4km would take roughly 45 mins or so, depending on the terrain. Not ideal but what else were we to do? A looked mildly shocked but settled in quickly to reality. But then I went, "Hey, let's hitchhike". A sedan was coming in our direction. I stood on the edge of the road and threw out my thumb.
THE CAR STOPPED FOR US.
I have never hitchhiked in my life before. Sure, it was only 4kms but still.
I said, "Ni hao, Nidang shi lin" and I was still butchering the pronounciation but he understood me pretty quickly and let us in. I also had to tell him I couldn't speak Mandarin, of course.
He went out of his way to take us all the way to the "entrance" or the end of the road. We were so grateful and I was trying to give him money, but he refused. We thanked him a lot and he was on his way.
Nidang Stone Forest 泥氹石林
There was a path leading into some trees from the car park where the man had left us. There were no signs, no obvious place to pay for entry and we were completely alone. I suppose they tried to make this a tourist attraction, which was why there was some infrastructure - the car park, the path and there were bins dotted throughout. There was no map however, so we just followed the path. At forks, we would just pick a side.
The stone forest, which are essentially clusters of limestone "stalagmites" was great. It was so bizarre seeing these formations protrude from the ground. They looked rather untouched and there were overgrown greenery all over the place, you know, like nature intended. Much unlike the stone forest near Kunming, which is very manicured, where there is nothing but green grass surrounding these clusters of limestone protrusions.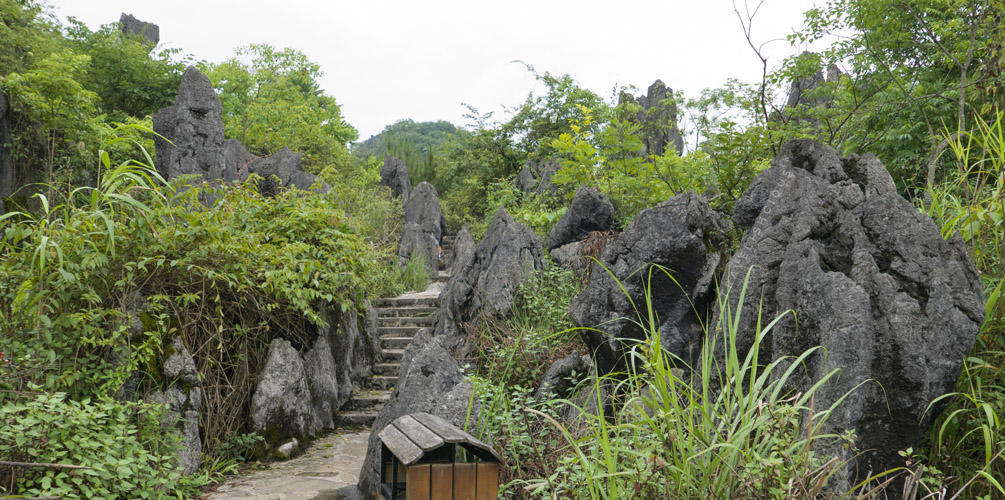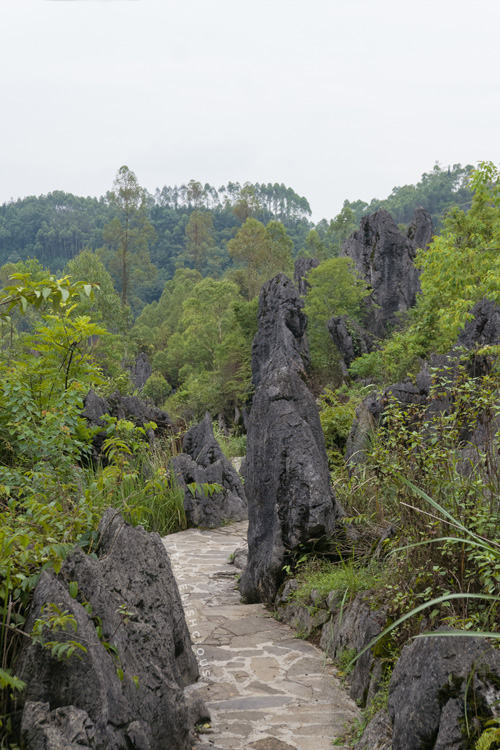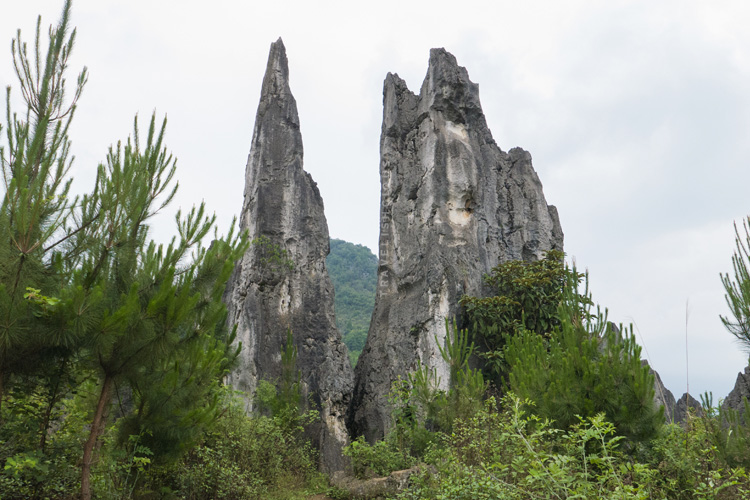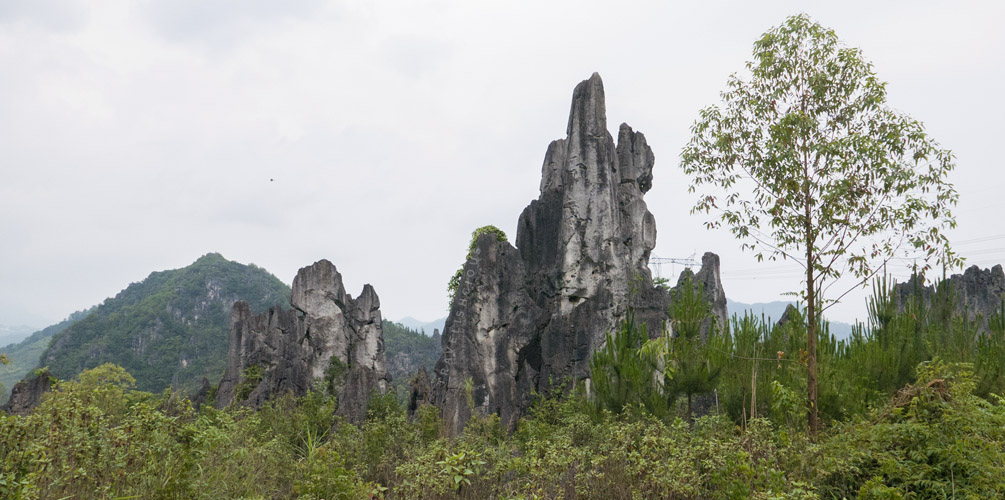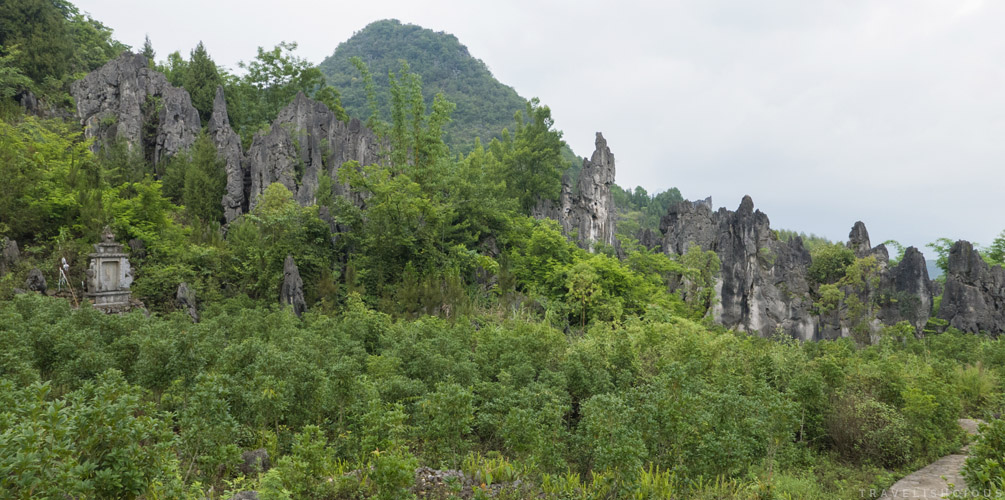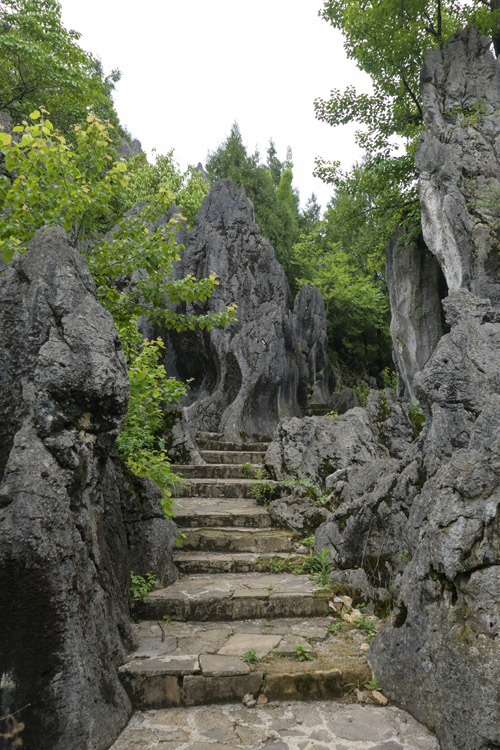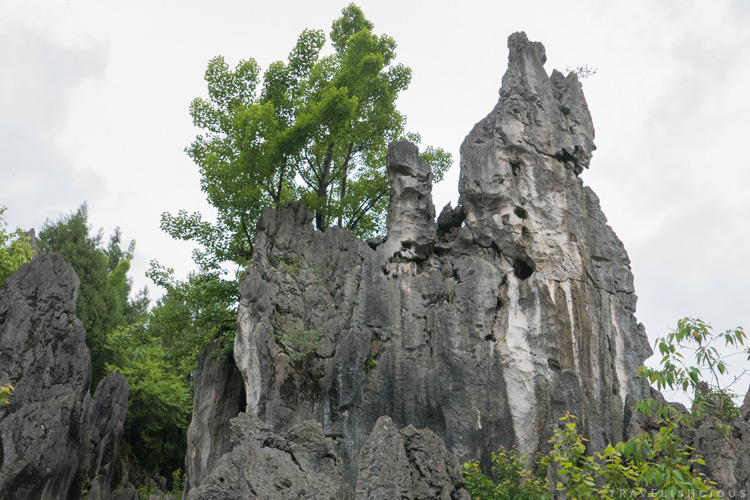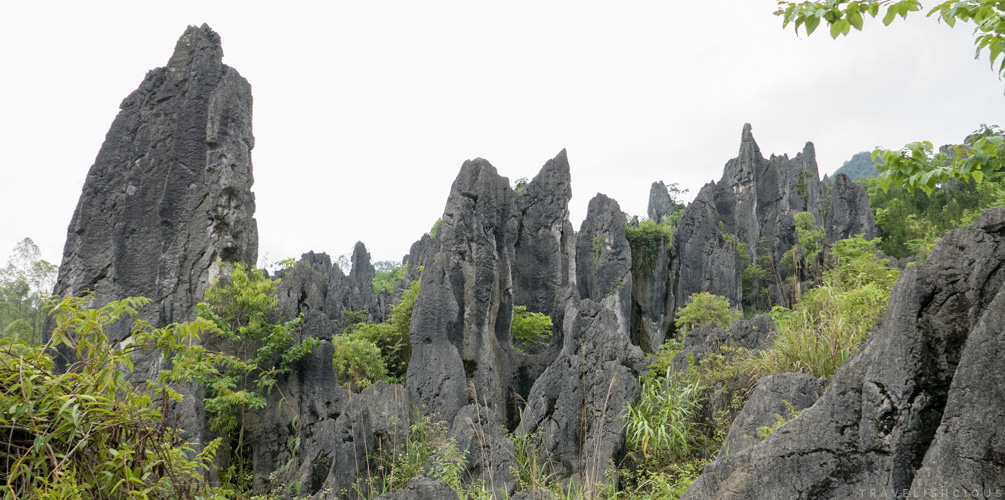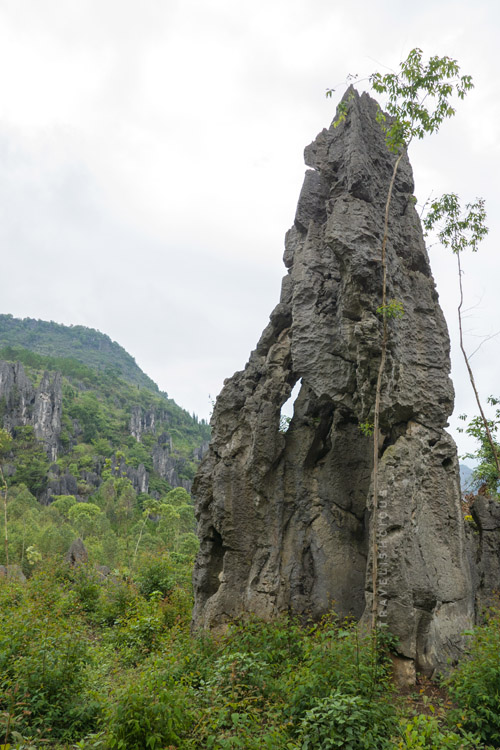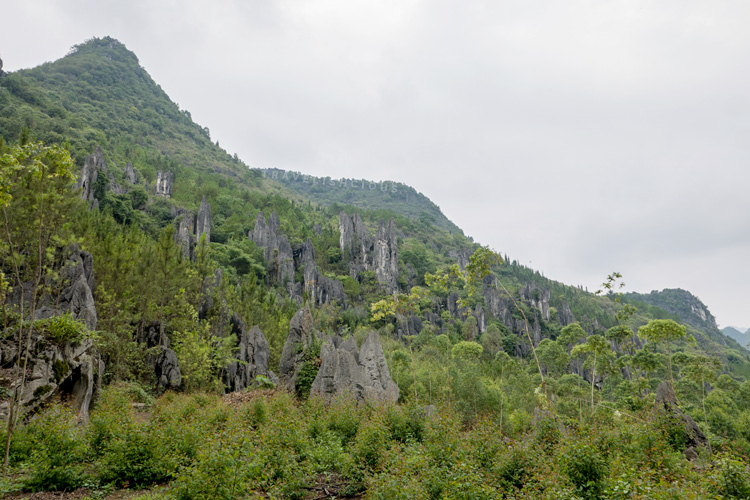 During our entire stay we encountered a cleaner who was emptying bins. He looked surprised to see us. We also encountered a small group of people who were also taking photos but they didn't quite look like tourists as they didn't have backpacks.
We stayed about an hour as we seemingly exhausted the path we were on, and we ended up in another car park (which was up the road from the car park near where we entered). There was probably more we didn't see, but we thought we had seen enough. We sighed and started our 4km trek back to Nidang.
ANOTHER CAR WAS COMING.
I threw out my thumb.
THEY STOPPED TOO!!!!!! It was a small van with a family inside. They looked at us curiously when I said "Ni hao, Nidang". They let us in and we sat in the back. Unfortunately we couldn't really converse with them. I had them stop at the same intersection the bus dropped us off at. I tried to pass them money and they too rejected me.
We started walking up the hill towards Xingyi, looking for food. I was trailing behind when I noticed a minibus coming up the road. We ran back to the intersection and waved madly at the bus.
IT WAS THE SAME DRIVER AS BEFORE. We were only gone for an hour or so, so it wasn't really a surprise. He was yelping with laughter as we boarded the bus. He probably thought we didn't get to the stone forest. BUT WE DID, DRIVER, WE DIIIIIIDDD. :( wo bu hui shuo :_( This time there was no one to scam us and we paid for tickets with no trouble.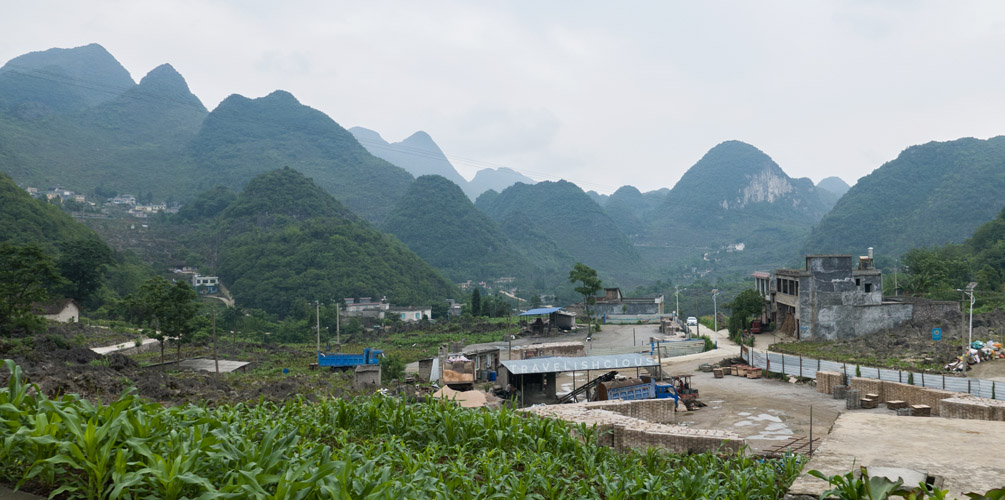 We got off the minibus before we got to the Southern bus terminal and headed to what we thought was the entrance of Wanfenglin. We were wrong; the entrance was further down the road and we had to take a local bus to get there. The bus ended its route at Wanfenglin, at a huge carpark. It was pretty obvious that this was it.
Wanfenglin 万峰林
Wanfenglin translates to "Forest of Ten Thousand Peaks", referring to the numerous limestone karst formations in the area. We had already seen karsts in Vietnam and were also going to go to the famous Yangshuo but I thought this would be a nice excursion too. As we did in Ninh Binh, we would hire bikes and check out the scenary. We spent some time trying to find out if we had to pay for entry and wasted time doing so. Entry was free unless you wanted to take a buggy up on higher ground to potentially take in better views of the karsts (as you were higher up). We had no interest in being carted around, so off we went to find a bike hire stall. We rented bicycles for 2 hours (CNY 20 each) and we were off.
The road in Wanfenglin scenic area was a circuit and kind of vertical ellipse shaped, so the plan was to ride down the eastern side road, get to the other end of the "southern" vertex (where a temple was located) and then come back up north on the western side.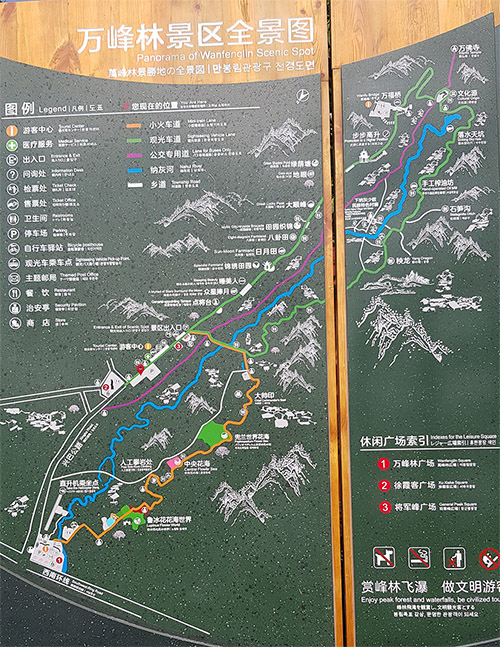 The scenic area was a valley home to lots of farms and rice paddies which would sprawl in between karsts. Everything was quite green and peaceful. The road was well maintained and it was wasn't too crowded. The area was indeed touristy but it seemed most people were taking the buggy but we did encounter a good number of people on push bikes and electric bikes, who would stop every now and then to take photos.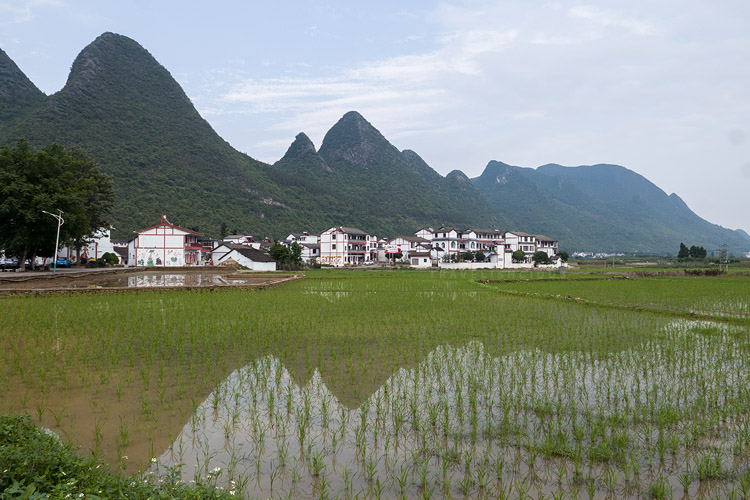 (Best viewed on desktop and in full screen mode) (Best viewed on desktop and in full screen mode) (Best viewed on desktop and in full screen mode)
We reached the southern most point of the scenic area, and as you would have it, it also ended in a very large carpark. In the distance was a very big temple, including a section that was built into a karst >:( We had no interest in seeing any of it so we headed back north, but not before having a rest and watching youngins do wheelies and other tricks with their bicycles. One of them crashed pretty hard.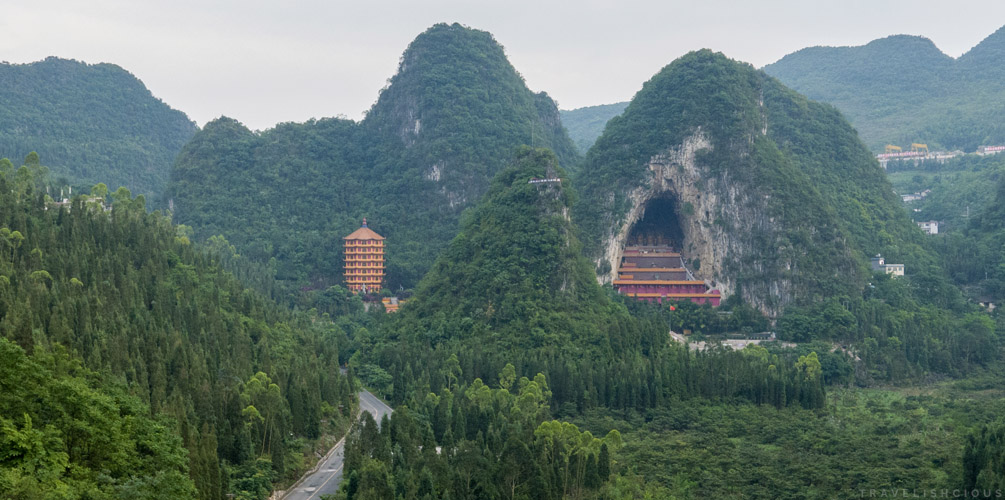 To get back to our accommodation, we FINALLY took the tourist public bus, which looked a bit like a retro tram. Whilst it was CNY 5 a head (pft which is cheap for us anyway), it was SO much faster.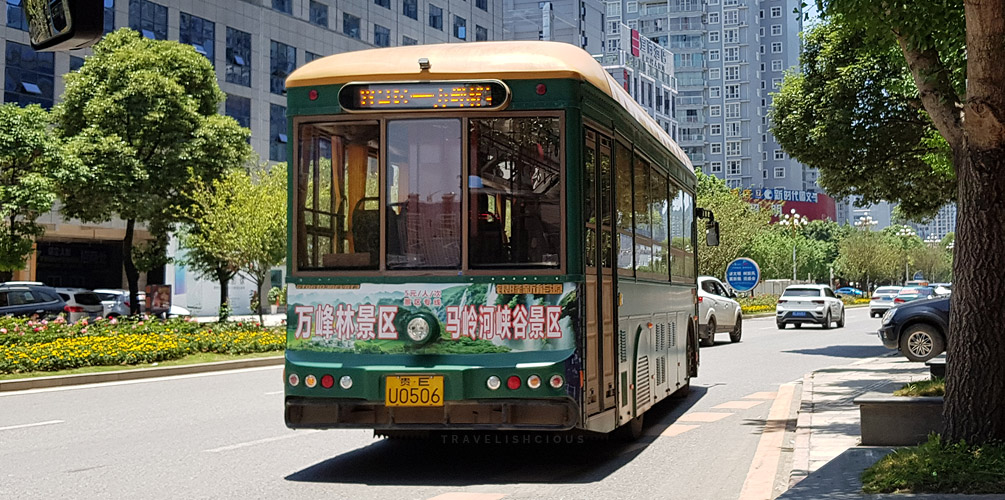 Chef Peng 彭厨
For dinner A found a restaurant rather quickly using the trusty Dianping. The restaurant looked alright, had lots of wait staff and had a rather big "book" for a menu, with large photos printed on glossy pages. We later found out that it was a chain of restaurants and that they had presence in many provinces.
We ordered three dishes - a chilli pork stir fry (CNY 36), sliced tofu stir fry (CNY 26) and a veggie dish (CNY 26) that consisted of chopped up choi sum and celery, which was really odd. The former two dishes were quite delicious though.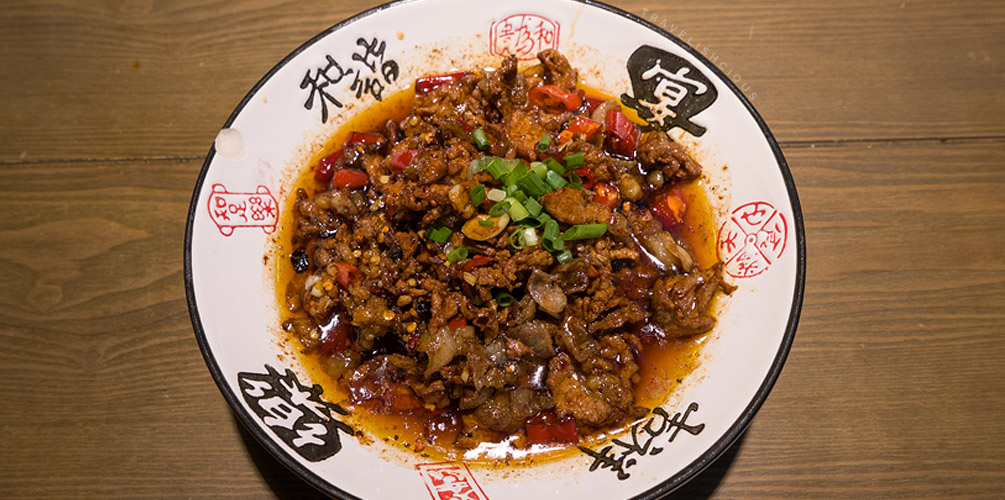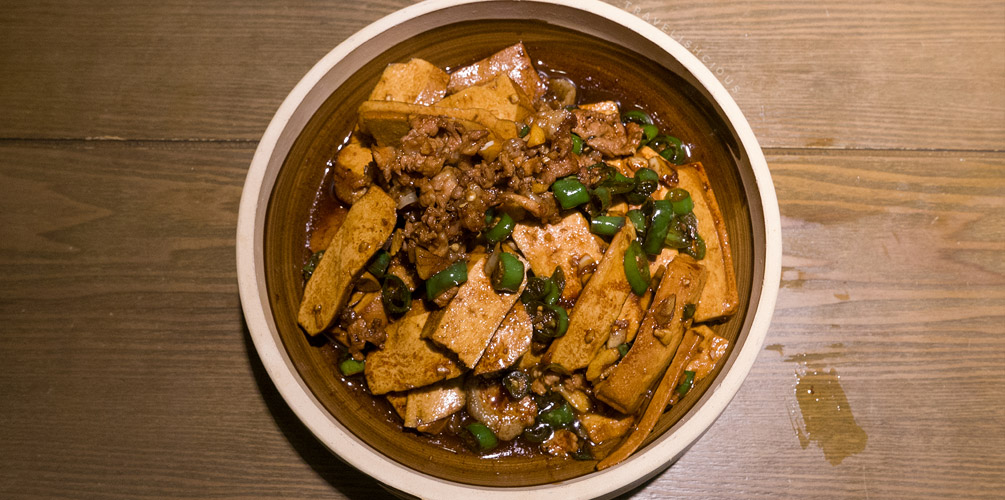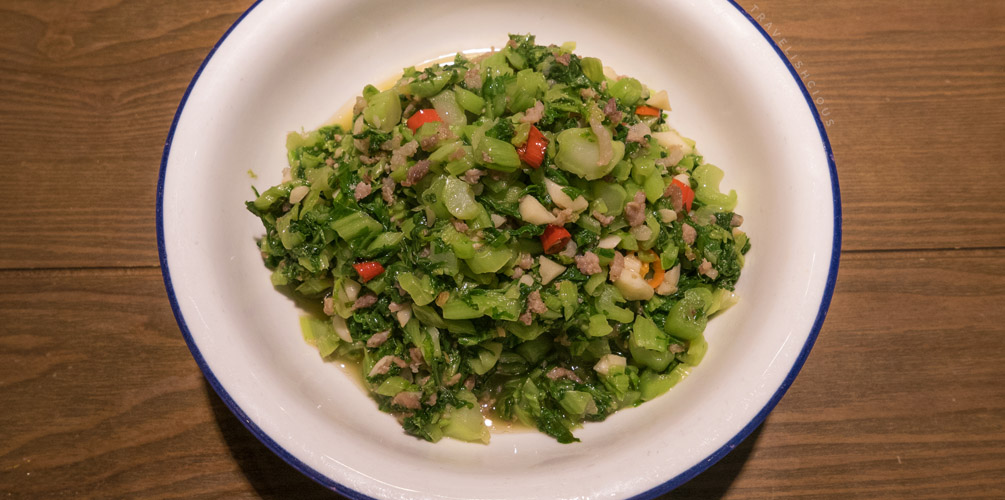 For dessert we went to KFC for a soft serve.
Baidu Maps
.