Day 99 of Asia 2019 trip / Day 1 in China

Rooftops of Lijiang Old Town
Lijiang (麗江 or if you prefer the bastardised version: 丽江) means "beautiful river". I'm pretty sure the name refers to the Jinsha river (Gold Sand river), which is quite a signifant river as it flows into and forms the Yangtze river (a.k.a. Chang Jiang/Long river) in Sichuan province. The Jinsha itself is formed in Qinghai province and is used heavily for hydro power. Interestingly, Lijiang is bordered in the East and West by the Jinsha river.
Sleep on the sleeper train was ok. It helped that we didn't have neighbours above us but people did smoke and have extremely loud conversations in the early morning.
I was woken up quite early and caught a glimpse of Dali and its lake Erhai. I had to be quick so I used my phone, which is why the pics aren't that great!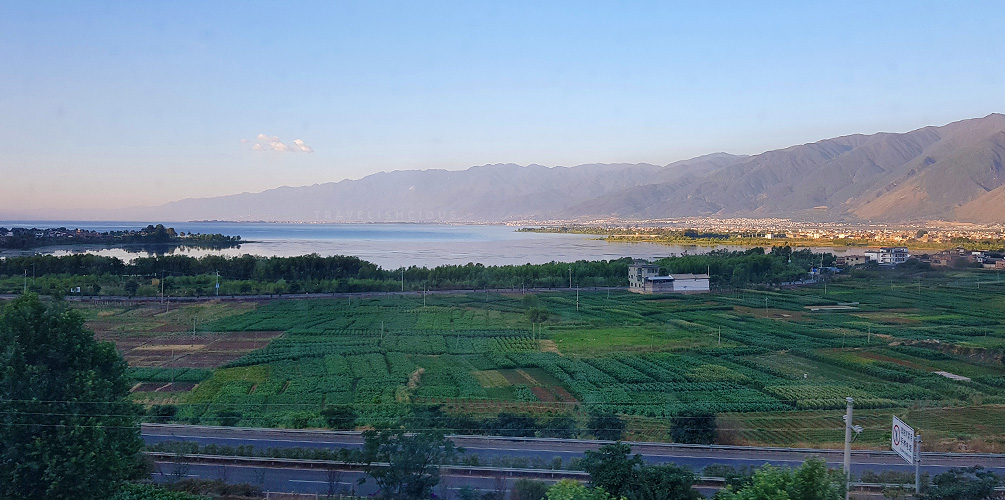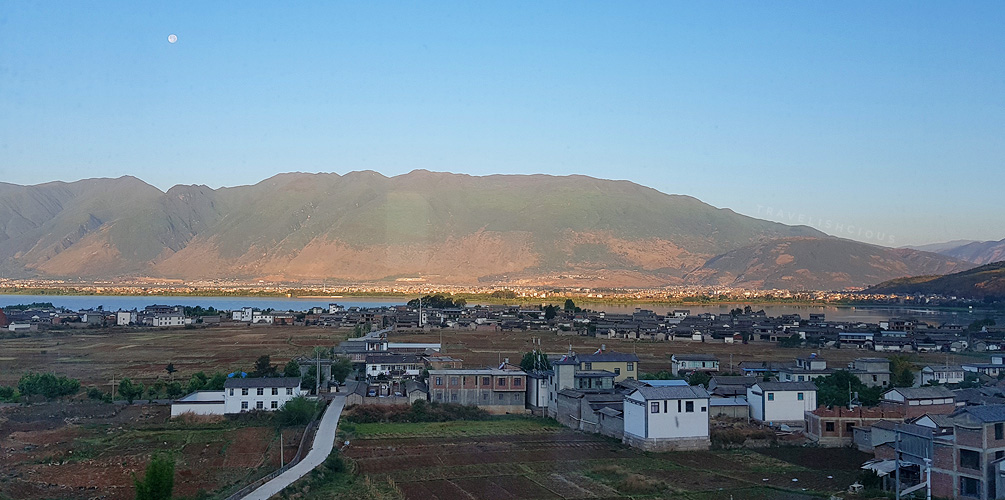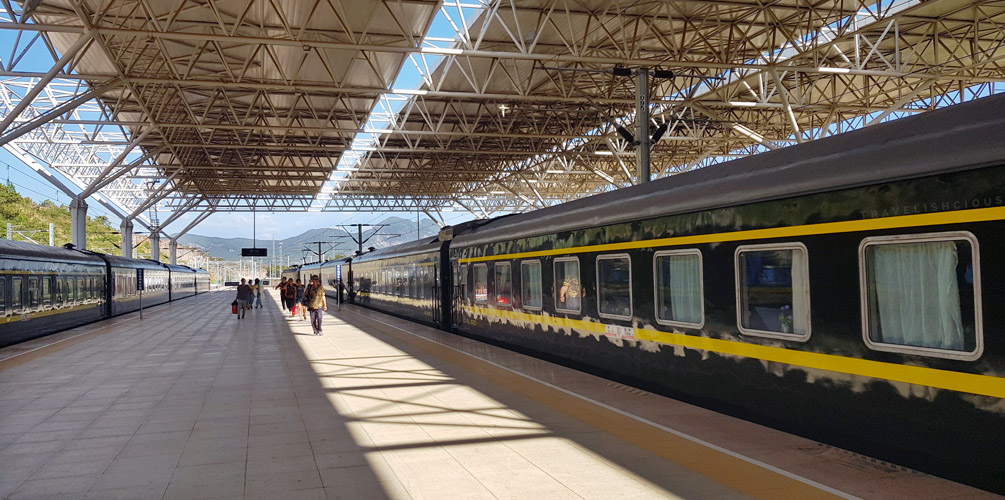 The train arrived at Lijiang station at 9am. The air was crisp and cool and the sky was clear; a nice bright blue. It was a nice sunny day. We could very clearly see the peak of Yulong mountain (Jade snow mountain) which looked fantastic. The mountain was quite big!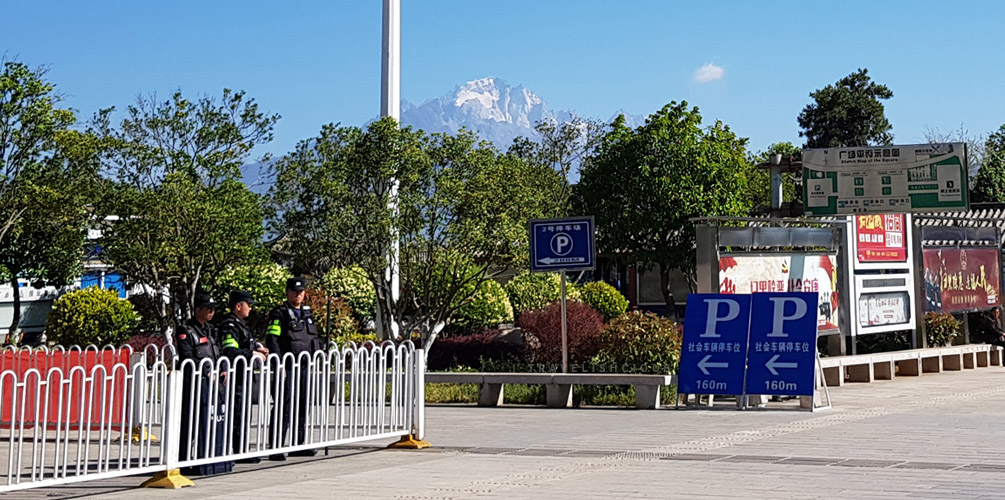 The bus stop was right outside the train station and there were lots of busses coming and going. Even if you'd miss a bus, there'd be one a couple of minutes later. What excellent frequency for such a city. We took a bus as close as we could to our accommodation and took a taxi the rest of the way. Ultimately we had to walk a kilometer or so, as our hotel was within Lijiang old town and cars are not permitted inside.
We checked into Dreamer Inn, our home for the next couple of days. The staff working there were really eager to help us and very comfortable with using Baidu Translate to talk to us. They also answered all our questions.
I felt filthy and had a shower and a nap. We also did laundry and had to hang it out in their courtyard. The power of the sun would have to dry our clothes :(
Shang's Dumpling House 商氏饺子馆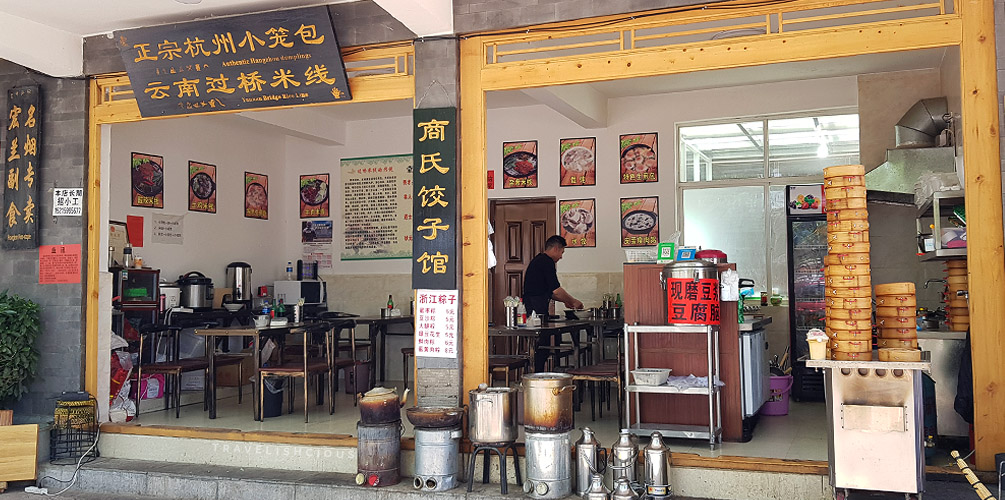 For lunch we went to a noodle place that we had walked past on the way to Dreamer Inn. It was just inside old town. We sat down and the guy handed us a menu - a double sided A4 piece of laminated cardboard with 2 columns of Chinese characters. Sigh, hard mode begins. I told the guy I couldn't speak Mandarin. The place had photos up on the walls and we knew we wanted noodles and dumplings, and I could read the characters for "noodle" and "dumplings" so I just focussed on that part but even then, I gave up afer reading "beef rice noodle" and we settled for that. Old mate only had one kind of dumpling available, so that made it easy for us.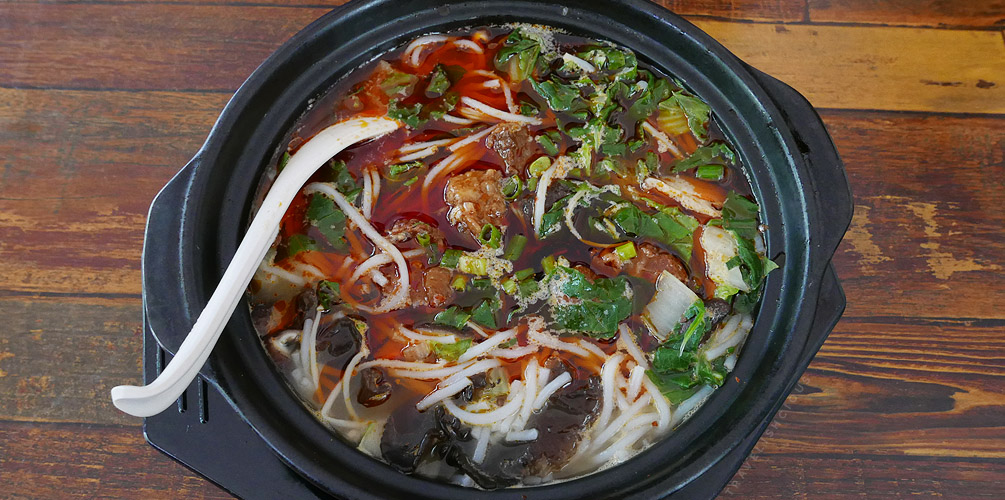 The noodles (CNY 25) were ok. The broth was a bit plain but had some chilli oil to make it a little more exciting. I immediately realised after ordering that we would be getting a type of rice noodle you only really see in parts of Southern China - a rice noodle very similar in shape to its Italian cousin, the spaghetti. I don't really enjoy this kind of noodle; unlike spaghetti, which is made of wheat, this noodle is made of rice flouer and is slippery and provides very little texture. There wasn't much beef, which was to be expected.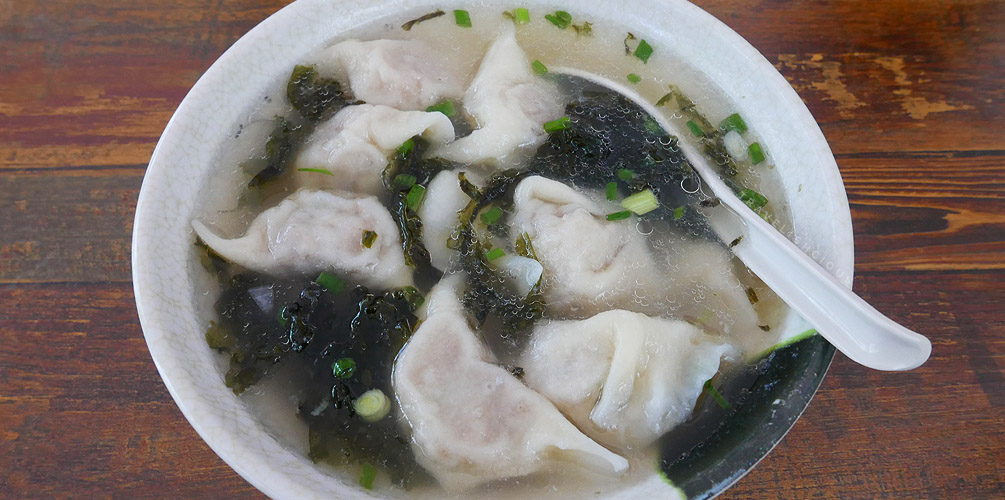 The pork dumplings (shui jiao 水饺) were better; the filling was quite tasty. I enjoyed this a lot more.
Old mate asked us where we were from and I told him "Australia". That bit of information was well recieved. He had a friend who came up to him to have a chat and I was able to hear him tell his mate that he had Australian customers. We got the bill shortly after and he knocked off a few yuan and rounded it down :)
We took a taxi in search of a China Unicom. We needed internet!! This took ages - the first China Unicom we went to didn't exist anymore and we had to walk for ages to another. Then we had to communicate what we wanted with the girl working there. We eventually settled for 20gb plans for the each of us.
Black Dragon Lake 黑龙潭 - attempt 1
Spoiler alert/TL;DR: we failed.
I had read on Wikivoyage and noticed on Maps.Me that you could bypass the entry gate (and therefore, not buy a ticket, which was an expensive CNY 50 = AUD 10) to the Black Dragon Lake, which was a nice lake that had a Chinese style bridge and pagoda. This, combined with Yulong mountain in the background, would give you the quintessential Chinese photo. However, by now, the sky was littered with clouds and the peak was barely visible :( Bypassing the entry gate required you to make a massive detour north, essentially you overshoot the lake by a lot and come down south to the lake, which has a handful of paths in and out of it. Our plan was foiled when we saw that this north-south path was manned. There was a lady sitting there and she asked to see our tickets. Poo, what a waste of time. Well, I was able to get a photo of Yulong Mountain and a Chinese style bridge as part of the detour. But I'm pretty sure that that is not the peak.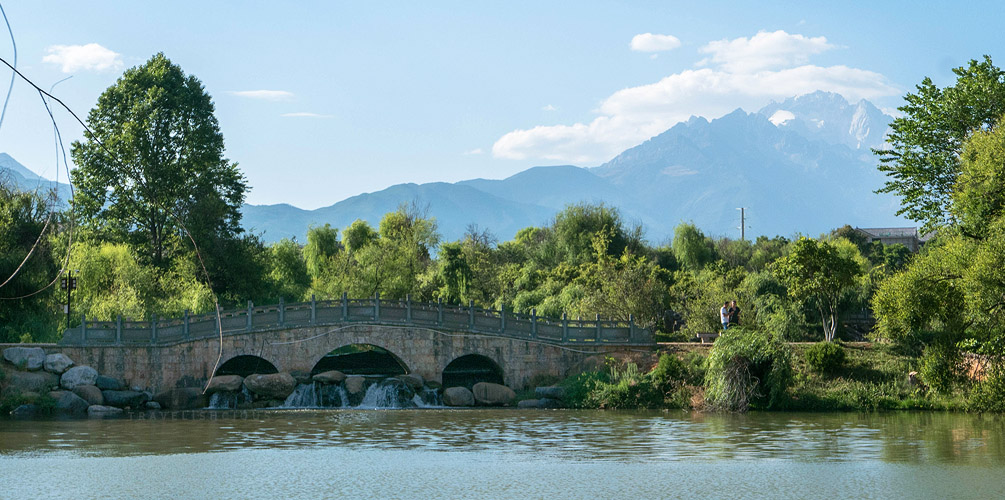 So we walked to Old Town to have a gander. On the way, we saw this: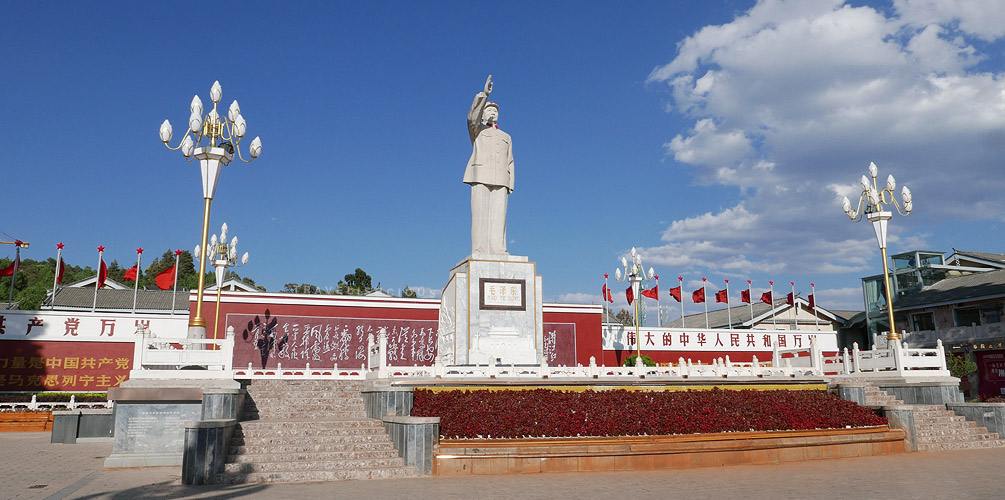 Old Town 麗江古城
Lijiang Old Town has a history stretching back 1000 years and was once a major stop on the Tea Horse trade route, where tea was traded for Tibetan horses, amongst other things.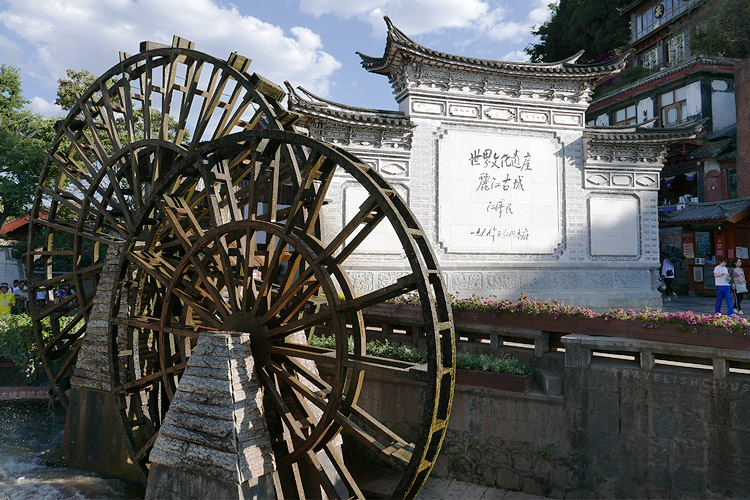 It was actually a really big ancient town and there was no way we'd see all of it, not that we would want to. It was very over commercialised with tonnes of shops all seemingly selling the same things - souvenirs and snacks.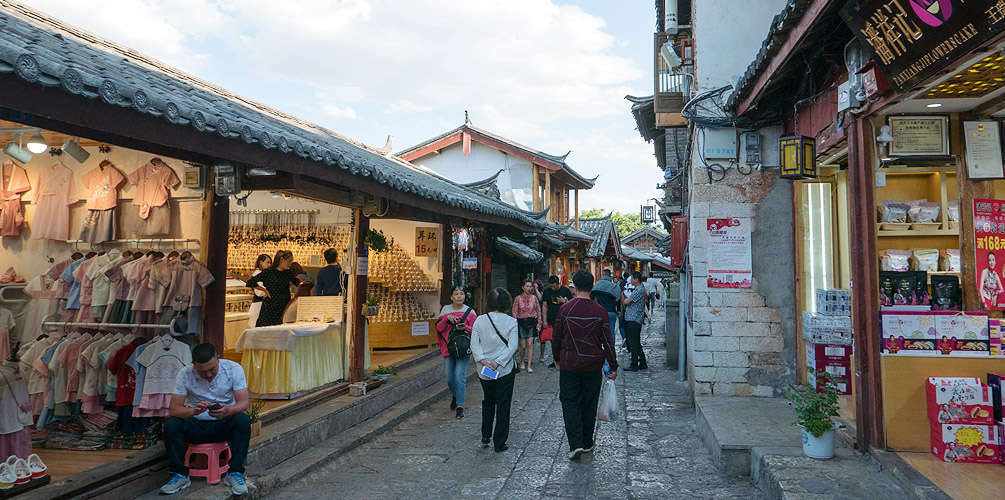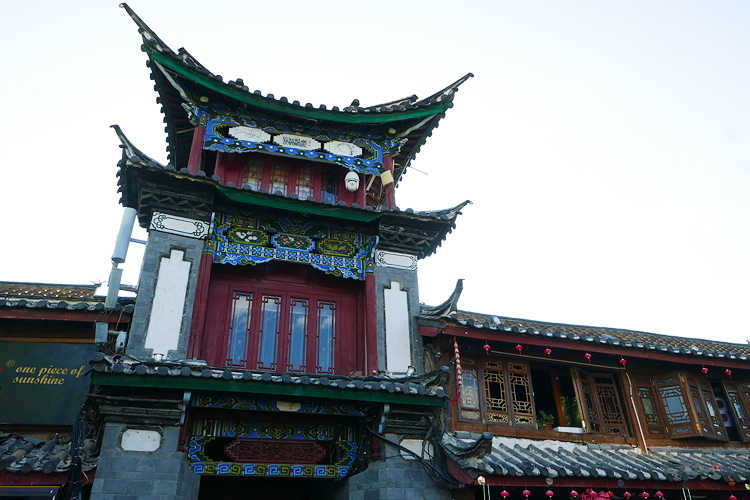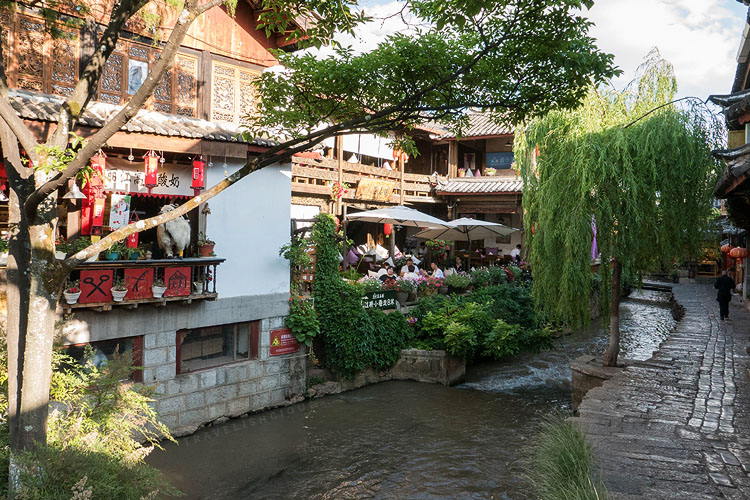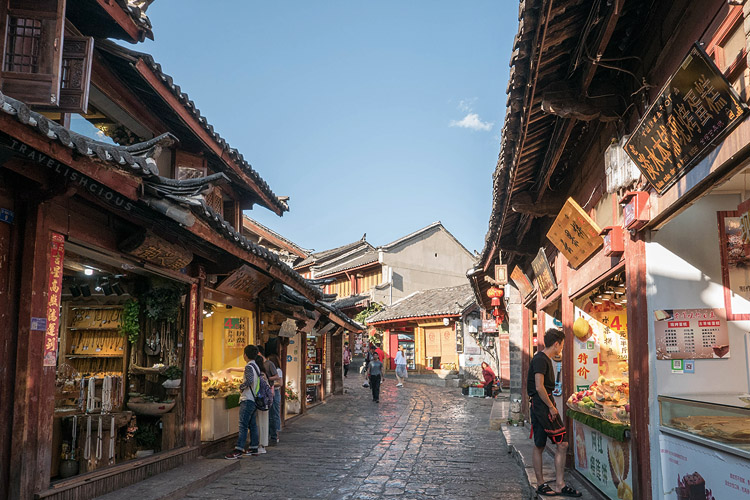 A insisted on trying a pastry after walking past what seemed to be the 30th pastry shop. They all looked like they were all stocked by the same bakery (they all had references to the same shop). I had no idea what they sold but eventually discovered it was some kind of rose flavoured pastry. A had some samples, including one which he was happy with. When he went to purchase the one he liked, the sales assistant gave him something else, lol. I tried this and did not like it at all, but then I do not like rose or rosewater things. A was a little disappointed with his purchase.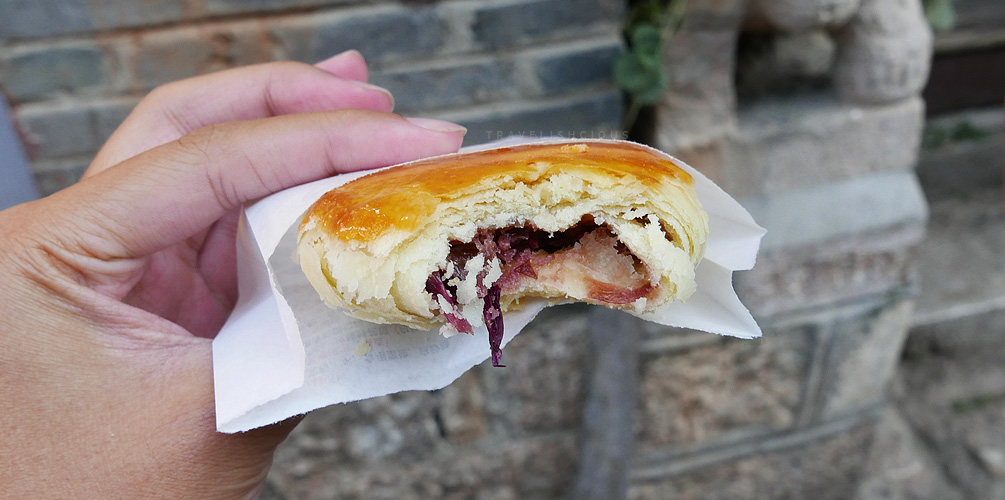 We made it to the main square, called Square Market (四方街/ Sifangjie), which was immensely crowded. There was a nice stream with a bridge over it running alongside the square: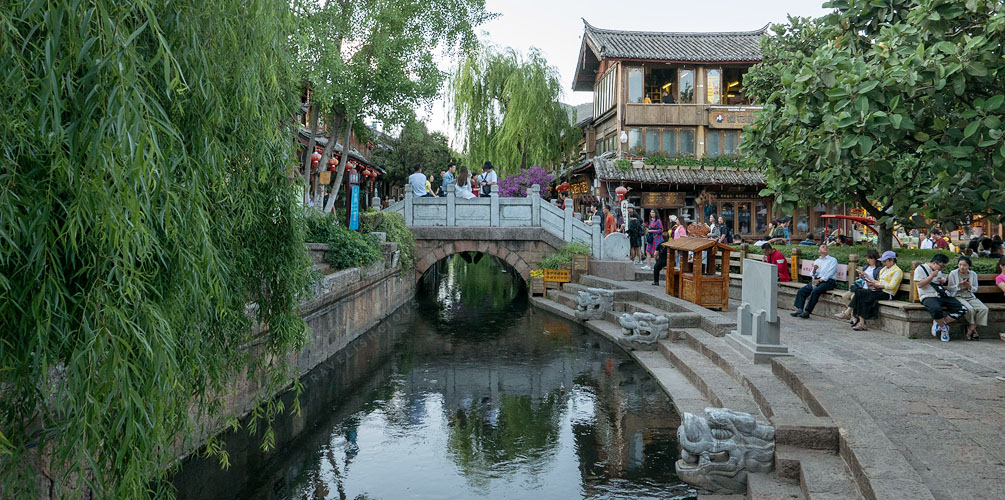 Nearby, there was a row of "clubs", which looked really odd to me. Inside all of them were lots of tables facing a stage with people playing music in some cases. All the tables would be decorated in an elaborate yet childish way - think streamers and big balloons. There were also girls dancing solo on tables. They were the ONLY ones dancing. Patrons sat at tables. Just bizarre.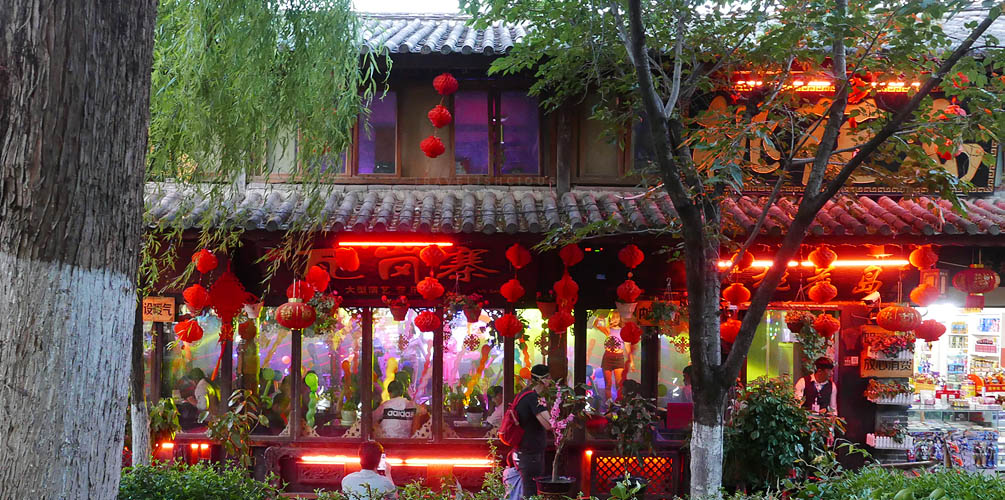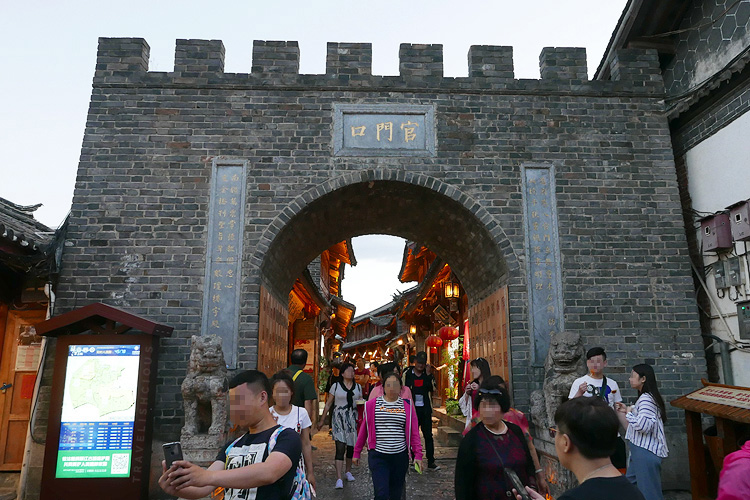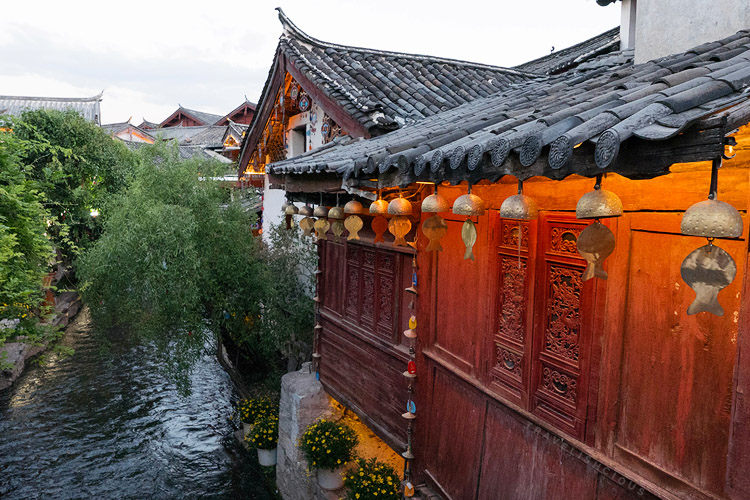 Viewpoints
We attempted to go to Lion Hill for sunset but it was already closed by the time we arrived. Not to mention, there was an entry fee. Far out, I climbed a lot of stairs for this. But no matter, consulting Maps.Me informed us that there were other viewpoints nearby. There was one marked specifically for sunset which was only about 100m away: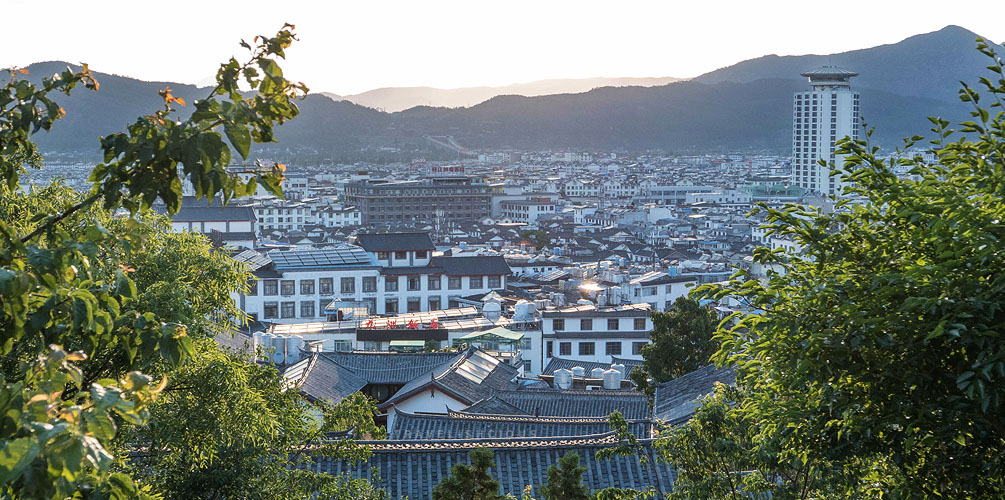 This was alright, but it gave a view of Lijiang city rather than of the old town. It was a little overcast in this direction but there was still a tonne of light and it was really glarey (i.e. not a real sunset) for a noob photographer such as myself so we moved on quickly to another viewpoint.
Yep, this was exactly what I was after. A sweeping panorama of the rooftops of Lijiang Old Town. Bonus for the mountains in the background! I snapped away.
(Best viewed on desktop and in full screen mode)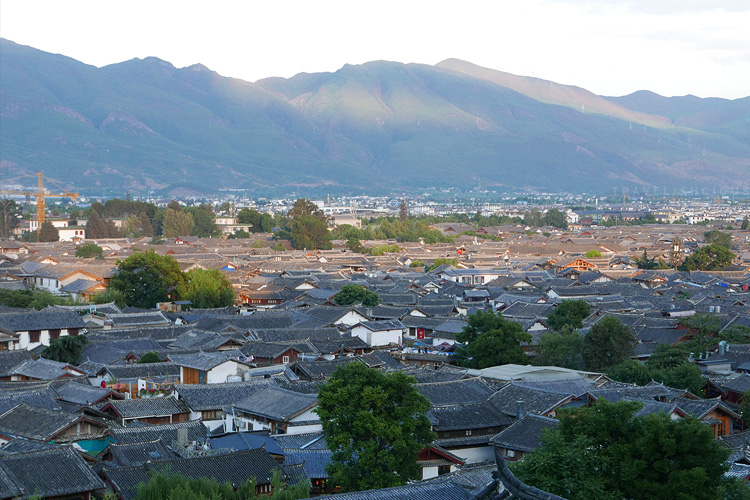 Always Fresh 天天鲜
For dinner I found a place that was in the Lonely Planet that sounded good. It was a Naxi (an ethnic group from Northern Yunnan/Tibet) restaurant and apparently it was popular with locals. When we arrived, there was a lot of people standing outside. I went in and got us a number and we patiently waited… close to an hour. Ugh, and I hate waiting but I get sucked in when I hear things like this.
The menu had English, praise be! It just makes our life easier but I was fully prepared to spend 20 minutes pouring over it. We ordered:
Chickpea jelly with chilli oil (CNY 12)- the last time we were in China, we discovered green bean (mung bean) jelly but in Naxi culture they use chickpeas to make the same kind of jelly. A enjoyed this but I like the green bean one more.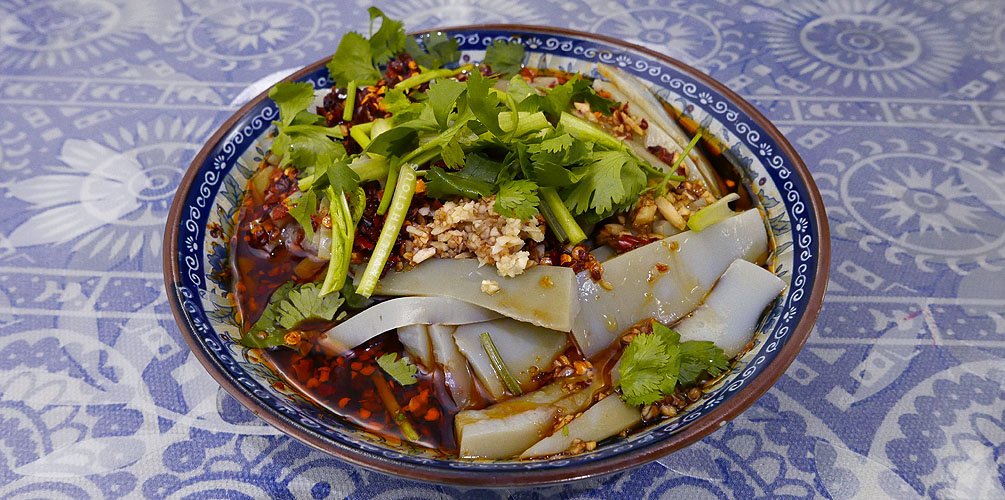 Naxi cured pork (CNY 30) and Naxi bacon with broccoli (CNY 20)- these two dishes were quite similar actually, but the latter was better as it was less fatty. It did taste rather smokey but ultimately not that special. The cured pork was way too fatty and to be honest, I could hardly taste the "cured-ness" because I was basically eating fat only.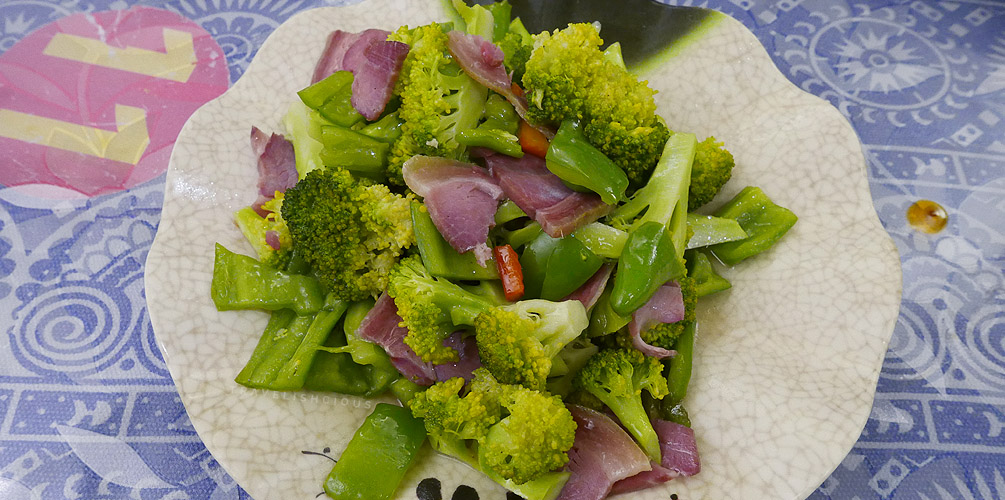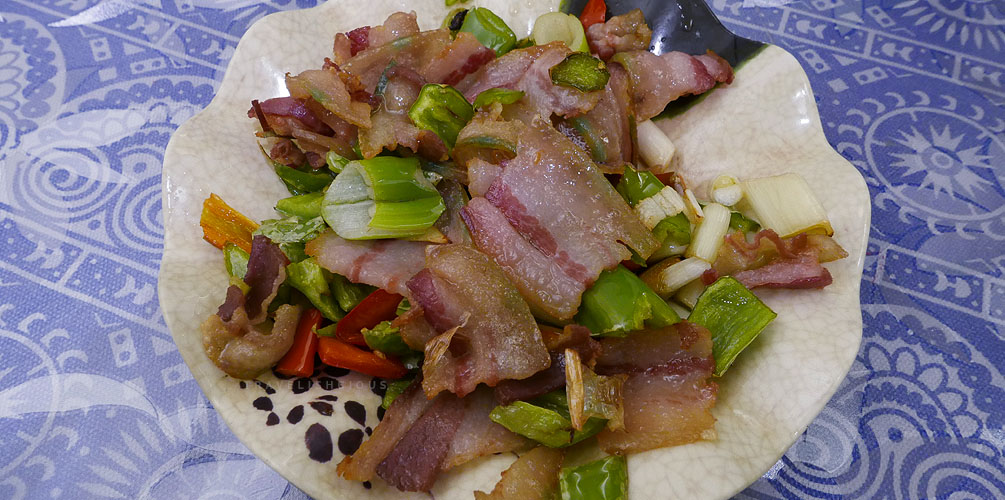 At the time, I thought the meal was better than what it really was. Retrospectively, I would give this a 6/10. #ipinions (mild spoiler: there was so much better out there, waiting for us :p)