Day 100 of Asia 2019 trip / Day 2 in China

Yulong Mountain on a bad day. Overcast and lots of clouds hovering around the peak
We were supposed to stay in Lijiang for one night and move on to Tiger Leaping Gorge. We stayed another night as the power of the sun was not enough to dry our clothes, which meant that it would need another day! It's a bit of a silly reason but I didn't mind so much, as this meant we could climb Elephant Hill, which was right beside Black Dragon Lake and had an elevation of 2700m. Lijiang itself has an elevation of 2400m.
The staff at Dreamer Inn told us they were happy to have us for another night but we would have to change rooms, which I was ok with. They even let us choose which room! We were to move up stairs to one of their themed rooms, which were all a bit strange but I appreciated the effort. I picked the nautical themed room, which wasn't too bad. The fake fireplace was funny though: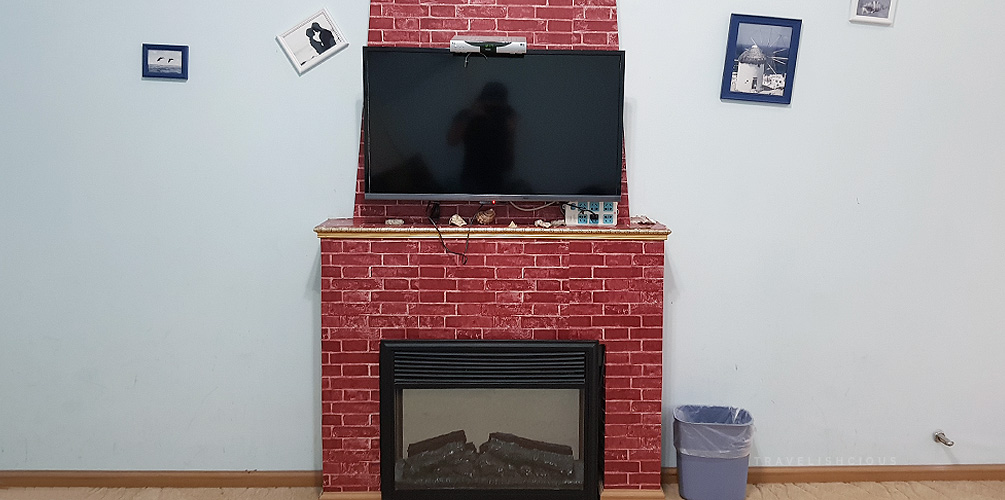 Lunch
For lunch, we first stopped at a restaurant very close to our accommodation. The sign had some English, which said "Sichuan Paper Fish" but I wasn't really sure what this meant. Upon sitting down, a lady handed us a menu which had some photos on it. There was a photo of a fish in a metal tray which was lined with baking paper. The price was 150 yuan and we decided to leave. It didn't look like they sold much else apart from this. I'm sure it was nice, but it was far too expensive for us!
Elephant Hill was north of where we were staying, so we walked in that direction. We stopped at a noodle place and again, they sold the same kind of rice noodle as the day before. We both orderd a bowl but neither were worth talking about. Lacked protein. I didn't even get the name of the place and none of the signed adorned on the front of the shop is a name, just names of dishes.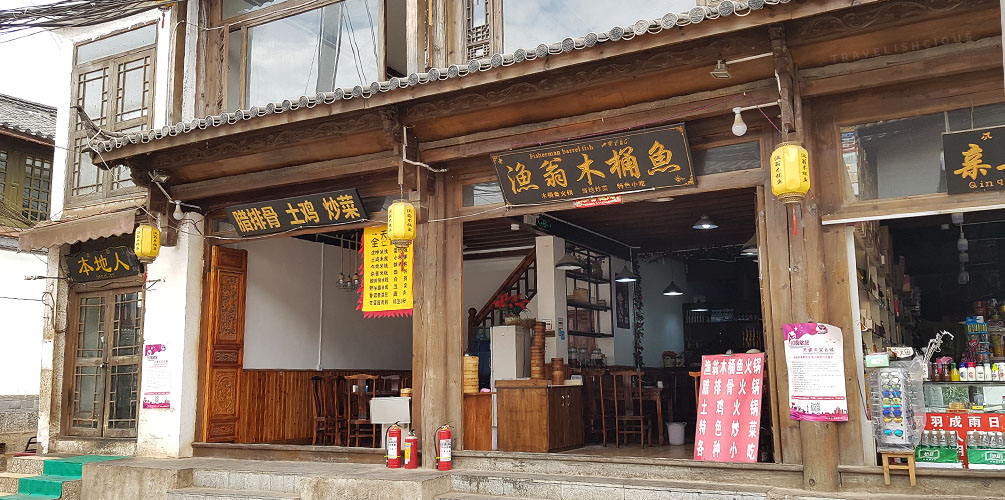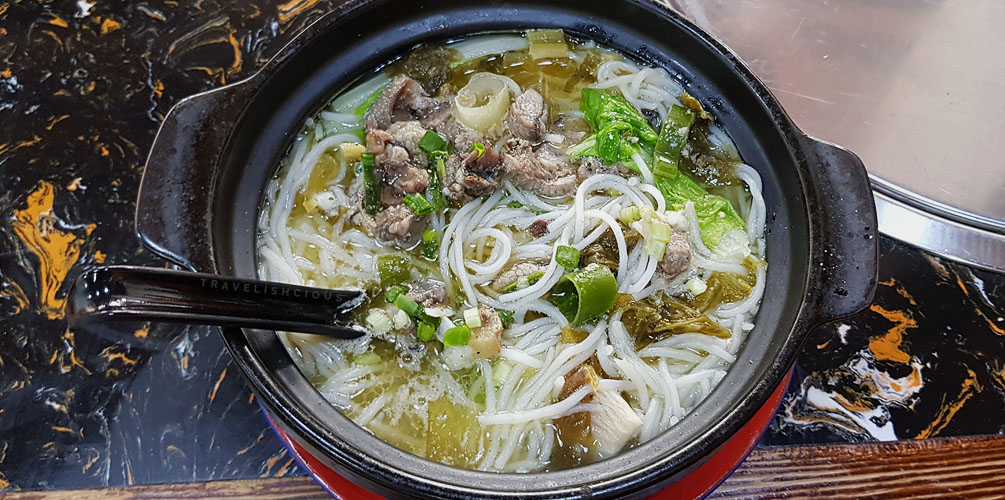 Elephant Hill 象山
There were many paths to Elephant Hill and we took one that was directly south of it. We followed Maps.Me, which was quite accurate. There was no entry fee but we were required to write our names down on their roll. The guy manning the entrance demanded it. We were the first foreigners to sign in today.
The path up the hill was well maintained but a little slippery due to the rocks they decided to use. The hike wasn't hard, but there were a decent amount of stairs.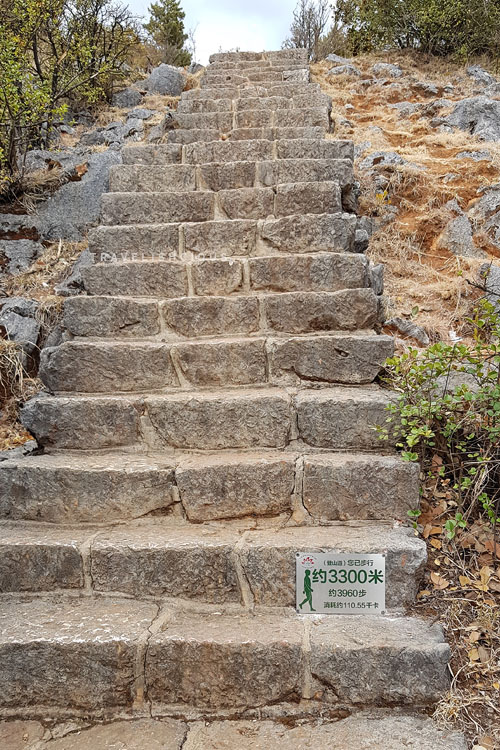 We encountered a friendly stray along the way too!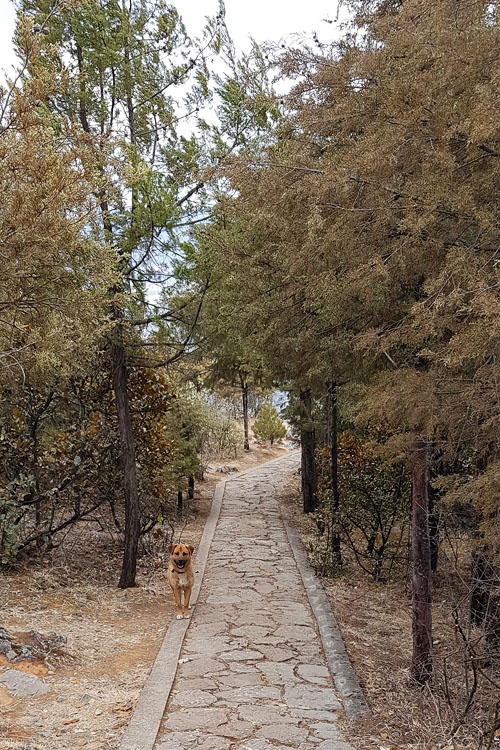 There were a handful of lookouts scattered across the hill. We came across about 8 people in total during our whole hike to the top.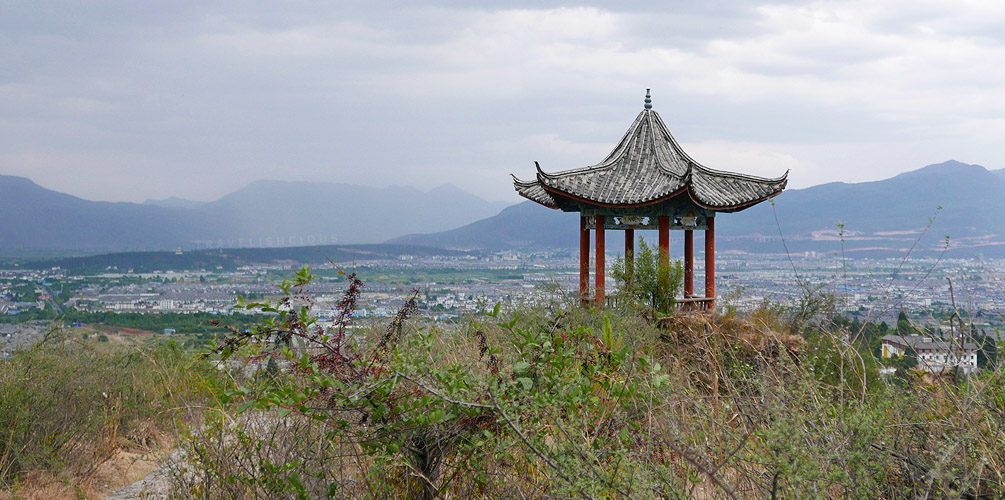 Leading up to the lookout had the best views of Old Town (in the middle, on a hill). Black Dragon Pool is obsecured by the large amount of trees in the bottom of the pic: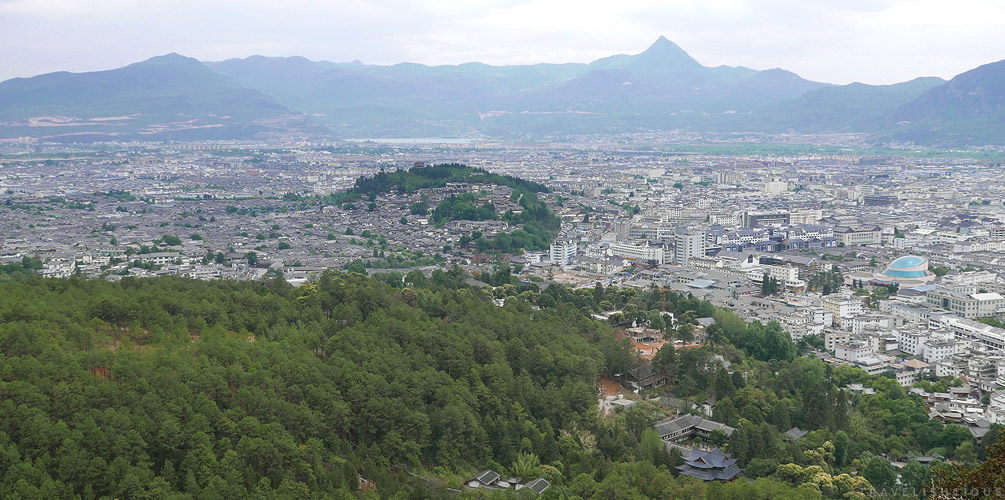 The main lookout at the peak of Elephant Hill gave you a panorama of Lijiang and Yulong Mountain. Unfortunately, it was quite cloudy, so you could only just see the peak.
(Best viewed on desktop and in full screen mode)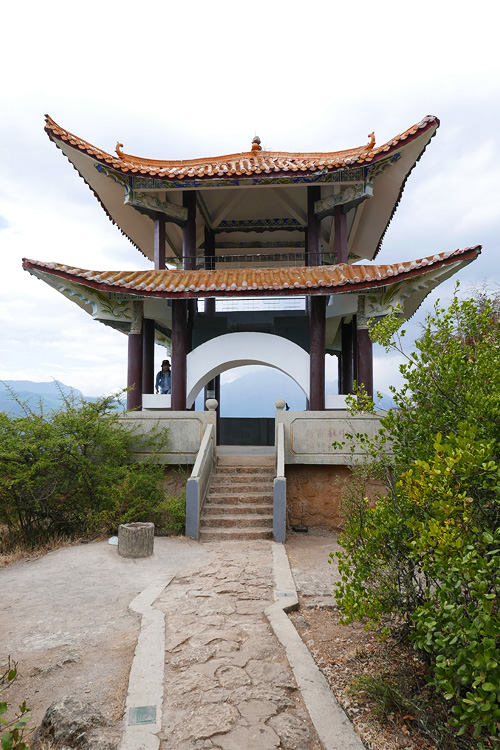 There were many paths down the hill and we decided to risk it by taking the western path that lead into the east side of Black Dragon Lake. I had read online that this was manned and might require a ticket into the lake. It was suck if this was the case. I really did not want to pay as it was quite expensive for what it was (50 yuan).
The path down was pretty nice; you could see the lake from above.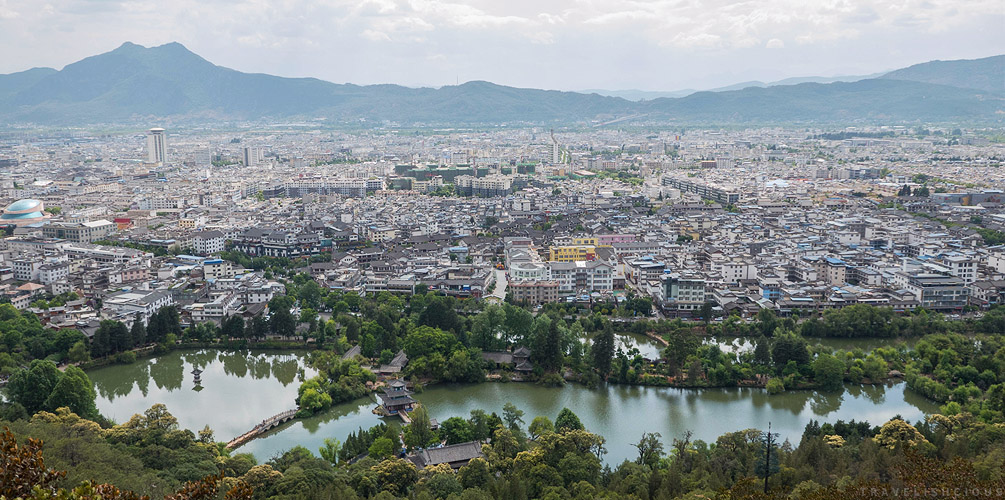 At the end of the path, there was NO ticket seller! There was a guy having a lie down 10 meters away and another roll on a table. We walked past and we were in! The lake was right there! Hahaha. It pays to take the long way!
Black Dragon Lake 黑龙潭
Well here it is, kids. You can barely see Yulong Mountain because most of it is obscured by cloud. No, that peak you can barely see is hardly the actual peak of Yulong. Compare with this. What a disappointment.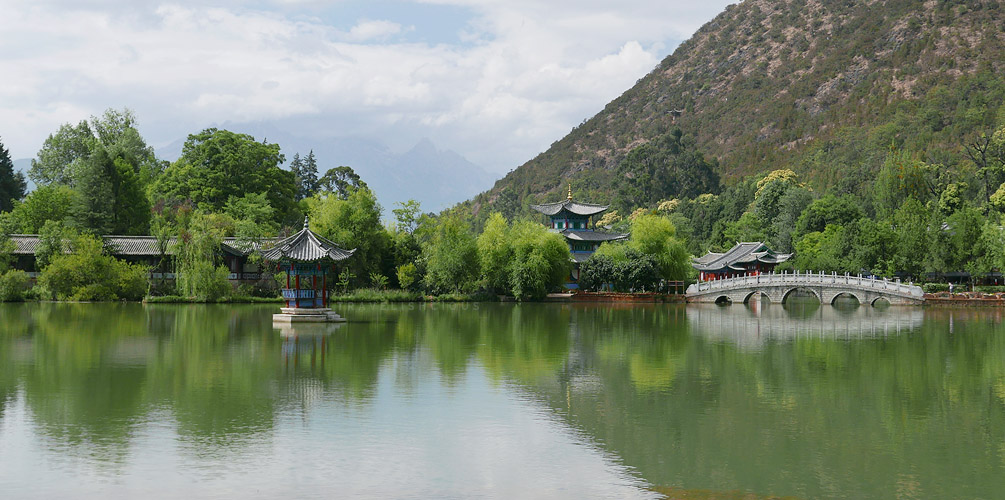 And here is a panorama, because the lake is kind of nice. You can clearly see Elephant Hill.
(Best viewed on desktop and in full screen mode)
It was a good thing we didn't pay. The above photo is rather unremarkable without full view of Yulong Mountain in the distance. After taking a few photos, we decided to go to Lijiang bus station to buy tickets to Hutiaoxia (Tiger Leaping Gorge town). There wasn't much else to see at Black Dragon Pool. It really was a rip off if you had paid.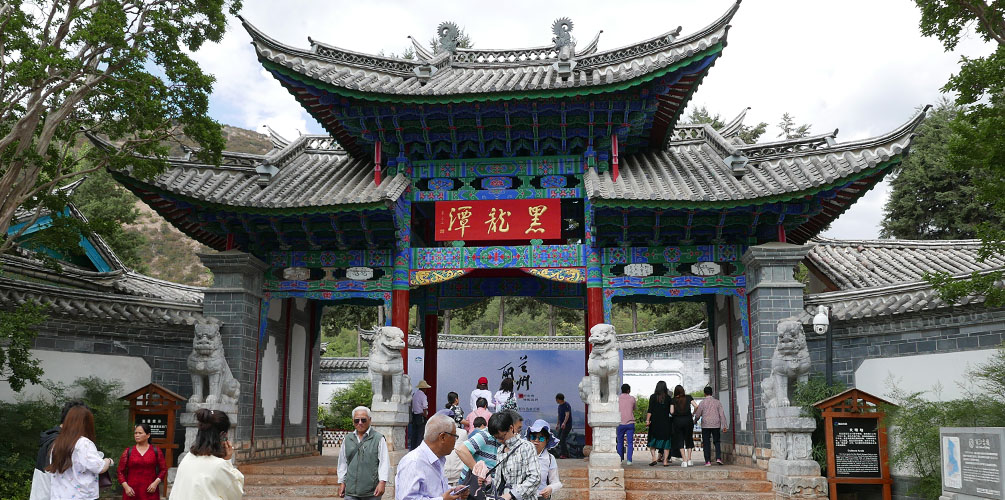 It started raining so we took refuge inside the bus station. We were feeling a bit peckish, so we had a snack at the KFC nearby. We had popcorn chicken (which was a little spicy!) (CNY 14.50) and an ice cream (CNY 7). The first (and only time) we had KFC ice cream in our previous China trips was in Nanjing, and it was actually really good. It was of a higher quality than your usual Maccas soft serve. Unfortunately this one did not live up to the one in Nanjing.
V Sherry 云雪丽 (木府店)
For dinner, we hopped on to Dianping yet again and found V Sherry, another Naxi restaurant. This restaurant had at least two branches and A LOT of reviews. I have no idea what "V Sherry" means but the Chinese name literally means "Cloud snow beautiful" or maybe the third character "jiang" refers to Lijiang, so Cloud Snow Lijiang?
V Sherry was much nicer than Always Fresh. There was a small line out the front and they gave you plastic chairs to sit on. The manu had English and photos for every item, which made it easy :)
They had fried yak cheese (乳餅 rubing, CNY 19) which I had read was a must order. It came with a liberal serving of rice wine and brown sugar sprinked on top. Unfortunately, all I could taste was the rice wine, which I found rather strong. A really enjoyed it though. I also found the cheese to be unremarkable. It was like a tame version of haloumi or a feta that didn't crumble at all. It lacked the flavour and texture that haloumi had.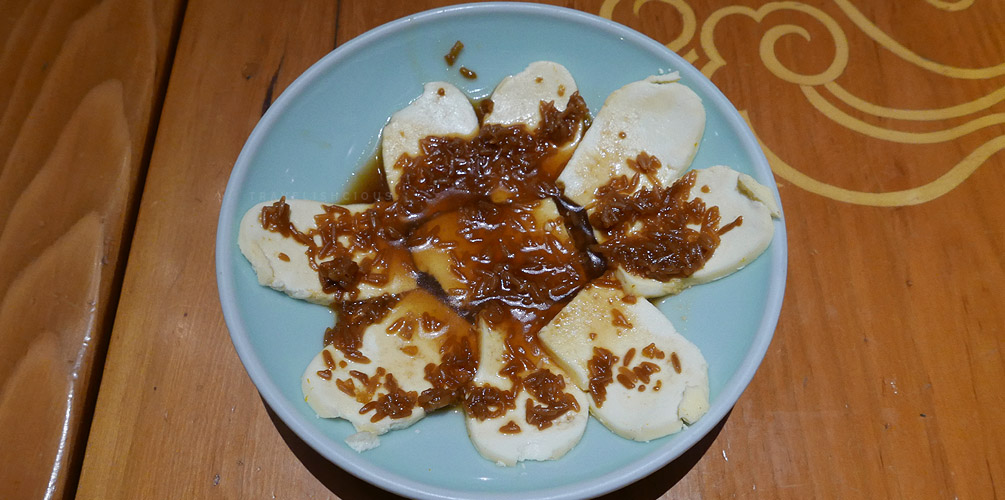 We had the signature fish dish (秘制雪山魚 literally it just means secret snow mountain fish, CNY 88) which we both enjoyed. It was savoury, like soy sauce savoury with a bit of chilli but had a little sour undertones, and rounded out with sweetness. It was great and I'm glad we ordered it as we weren't going to initially but then we noticed that every other table had ordered it, so do as locals (local tourists :p) do.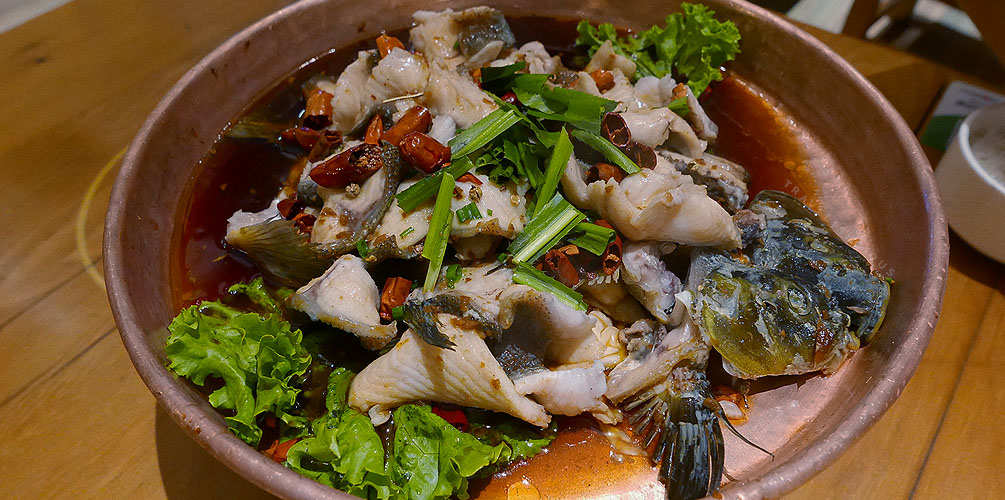 Finally we had half a serving of tofu with wild mushrooms (CNY 22), which I really enjoyed. The tofu was perfectly soft but had a nice crispy exterior. Wasn't oily at all. Came with a nice sauce and mushrooms on top to give it a bit of umami flavour.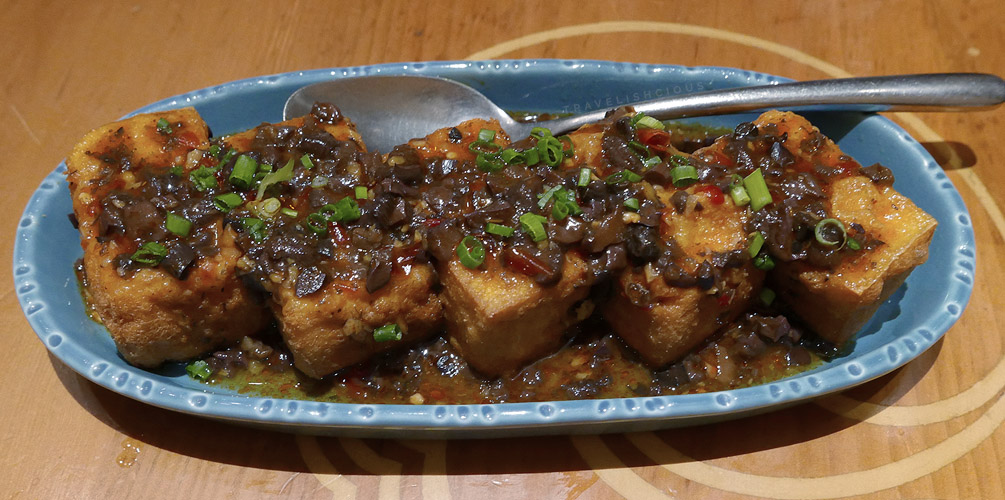 We also had a milk tea (CNY 15), which was very different to the popular Taiwanese style. I guess it was Naxi style. I didn't like it very much, I thought it was bland but A was ok with it.
Overall, this was a fantastic meal, much better than the previous night! 8/10 #ipinions