Day 101 of Asia 2019 trip / Day 3 in China

The peaks of Yulong Mountain (5596m elevation), seen from Upper Tiger Leaping Gorge
Hiking Tiger Leaping Gorge (虎跳峽, hutiaoxia) was something that was on the top of A's list for this trip. This was his number one.
Tiger Leaping Gorge is an impressive gorge in between two huge mountain ranges - Haba Snow Mountain (5396m elevation) and Yulong Snow Mountain (5596m elevation). These two mountains are some of the tallest mountains in Yunnan province. The river that runs in the gorge is the Jinsha river (Gold Sand river).
The name of the gorge comes from an old legend that where a tiger jumped across the Jinsha at the narrowest point (about 25 meters wide). The tiger did this using a large rock sitting in the river. This rock is of course present today! The story is probably not true though.
There are a few ways you can visit Tiger Leaping Gorge - join a local tour which will take you out to the lower trail (by car on a nice sealed road, so no hiking), get driven to the end of the upper trail using the middle trail or hiking the upper trail yourself. All of these trails are on the side of Haba mountain, which means you're facing Yulong Mountain at any given time. We were going to hike the upper trail which would take us about two days. The trail allows you to meander as the Jinsha does but the river is not always in view as you are pretty high up. Someone on TripAdvisor reported that they did it in one but there was no way we would be able to do that.
To Tiger Leaping Gorge 虎跳峽!
We took a Didi (Chinese Uber/Grab) to the bus station and hopped on the 8 am bus to Hutiaoxia (Tiger Leaping Gorge town). It was a good thing we bought the bus ticket the day before as the minivan was full. Apart from us, there were 2 other white guys and a minibus full of Chinese. Sitting across the aisle from me was a girl who turned out to be really helpful. On the minibus we were all given maps provided by Teacher Zhang's guesthouse, which is located at the end of the upper trail. It's not the best map in that the estimates are all wrong but it was a little useful. Here it is, courtesy of Wikipedia. I've highlighted our path in yellow.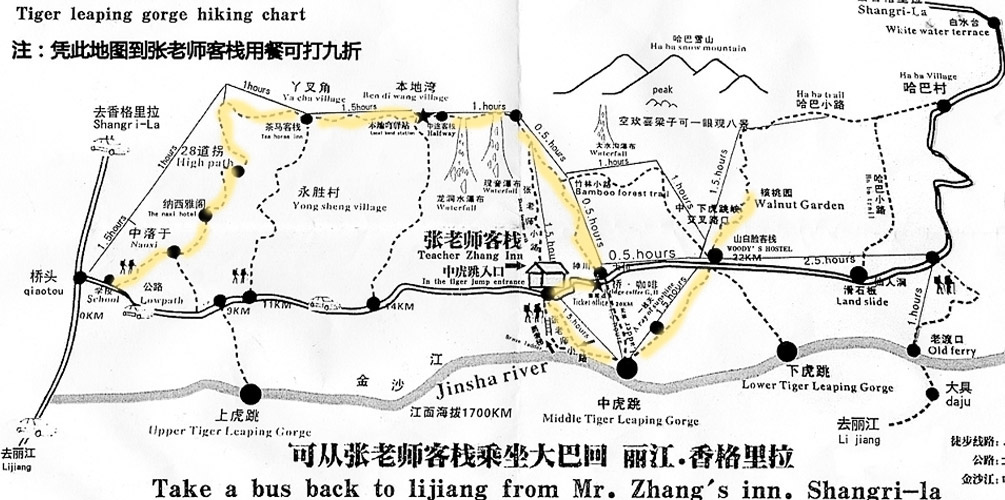 Source (and full size available at): Infinitinature from Wikimedia Commons
We used Maps.Me to help us navigate: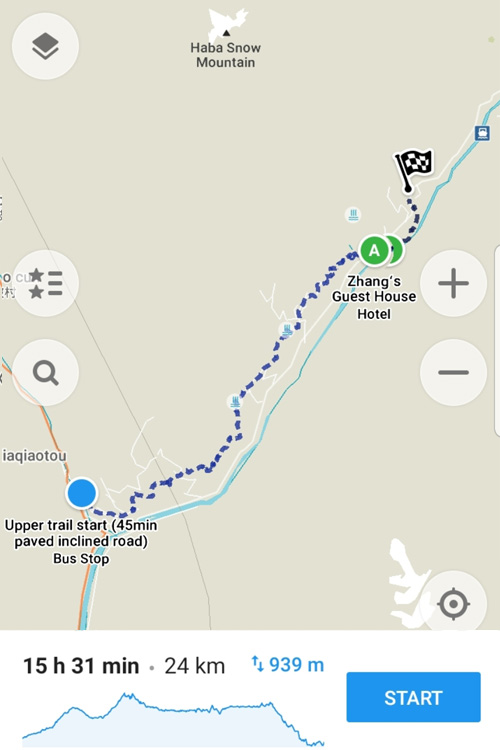 939m elevation is going to be no joke :|
The minivan strangely had a break stop close to the Tiger Leaping Gorge trail. We didn't get off here, but probably should've, to buy a banana. We hadn't had any breakfast. Everyone hopped back on and within 20 minutes, we arrived at the ticket office. Everyone got off to buy tickets (CNY 45 each). Most people stayed here but we got back on the minivan (including the helpful girl, who told us to get on) and they took us to the start of the upper trail. It was 10 am by the time we reached this point.
The Upper Trail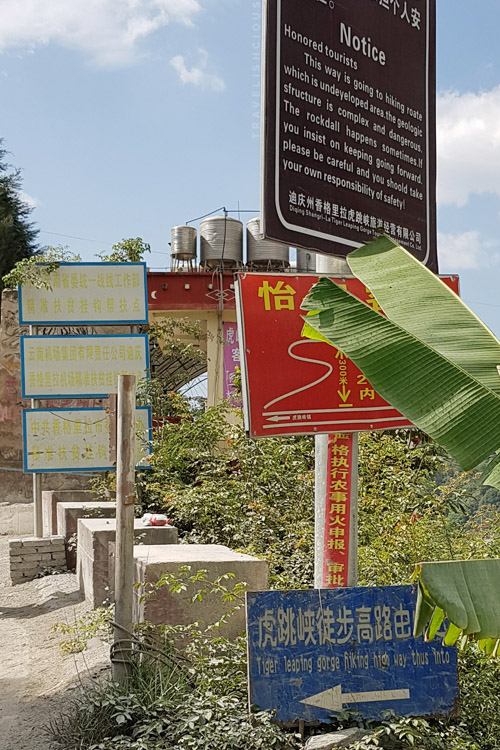 Sorry, I cut off the Chinese to make room for the English.
This section was a paved road which lead up to the real start. There were lots of huge trucks coming up and down the road. It seemed like there was construction going on at the end of the road.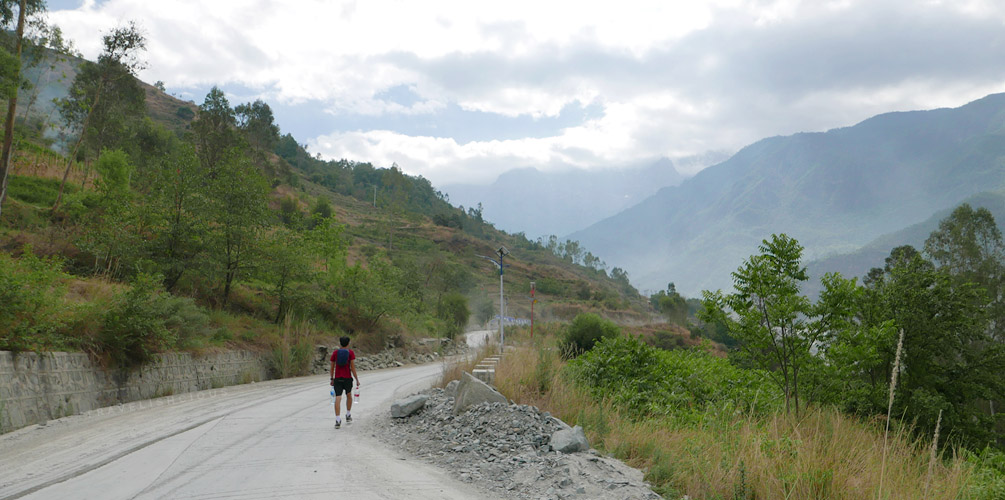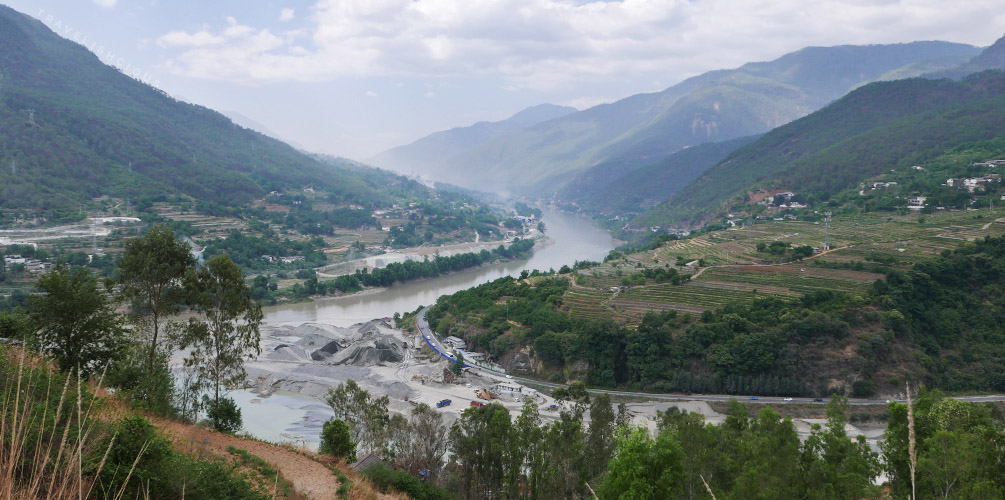 After about 40 minutes of walking in dust kicked up by the trucks, we finally got to the real start of the upper trail. There were also a few elderly people trying to sell drinks and crappy looking walking sticks. We walked straight past and got right into it - there was no stuffing around, it was immediately STEEP!
Honestly, it was really tiring. The trail was mostly just rocks and dust (or soil) and it was steep. My feet were constantly upright. Combine that with no breakfast, ugh, I do not recommend that.
We could see construction happening on both sides of the gorge. They were building a bridge over it and it looked like the beginnings of an eyesore.
The scenery didn't change for quite some time but eventually we couldn't see the construction anymore. It wasn't very exciting, to be honest.
At a natural rest stop (it was flat and high above the trail we had just hiked on), we saw a group of European tourists. A man on a horse leading more horses behind him approached us and asked if we wanted a ride. We declined; I forgot the price he was after but it wasn't cheap. Not that I felt like "cheating". We were going to do this trail with what we were born with!
Note: The rest of this recount is written by A.
Eventually the trail sort of levelled out and the environment changed a bit. We got some trees as shade and climbing wasn't as steep as before. The path started to resemble some really rural trail through forest. The view started to disappear behind the trees. We were going inland for a bit.
I read that there were meant to be people selling stuff along the trail but hadn't come across them until this forested section. An old man had set up a shop, basically a tin shed with a display. He was selling water, snickers bars and had green balls of herbs displayed on the counter with a sign saying "Marijuana". It was a bit brazen and I definitely would not trust his goods.
Naxi Guesthouse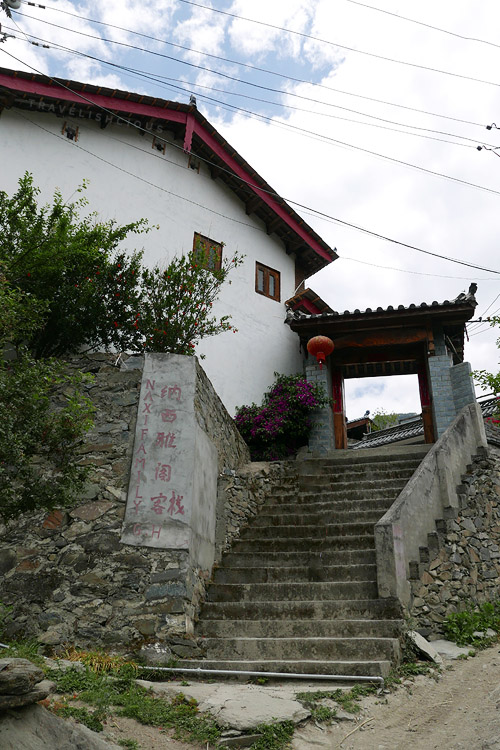 We moved along and at 1pm we finally reached Naxi Guesthouse, where we stopped for lunch. Sweet sustenance! I was looking forward to some good old home style cooking but alas, it was unmemorable.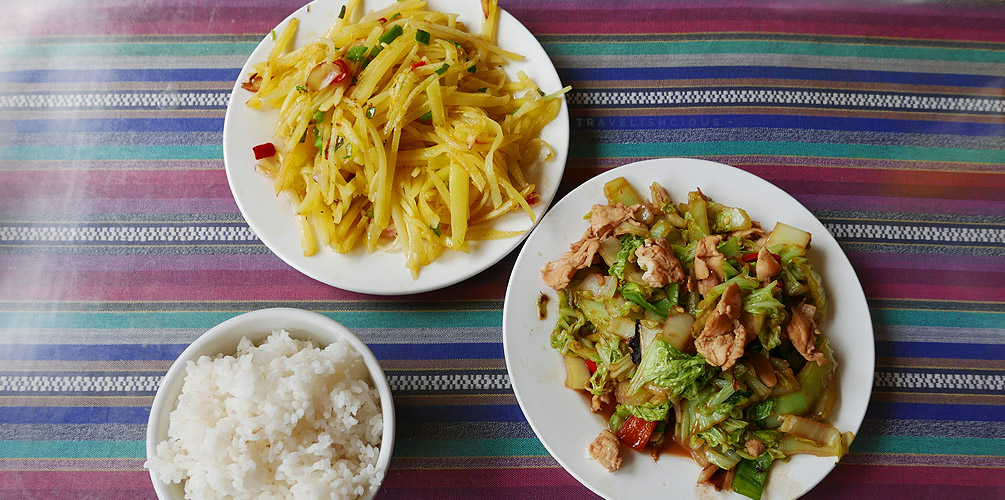 We had shredded potatoes (CNY 15) and a chicken and veg stir fry (CNY 25). Lots of carbs!
We set off at 1:30 pm after Ippy decided she was not going to use the toilet. She had found that the toilet was basically a (tiled) trench with virtually no running water and no privacy.
A reoccuring thought seemed to be that the good stuff was just around that corner. Just around the corner. Just keep trekking forward. Along the trail there were suprisingly quite a few foreigners. There was a large Spanish speaking group and also quite a large Korean group. The helpful girl had long passed us. She was solo, but hiked with a young Chinese man. They were both quite fast.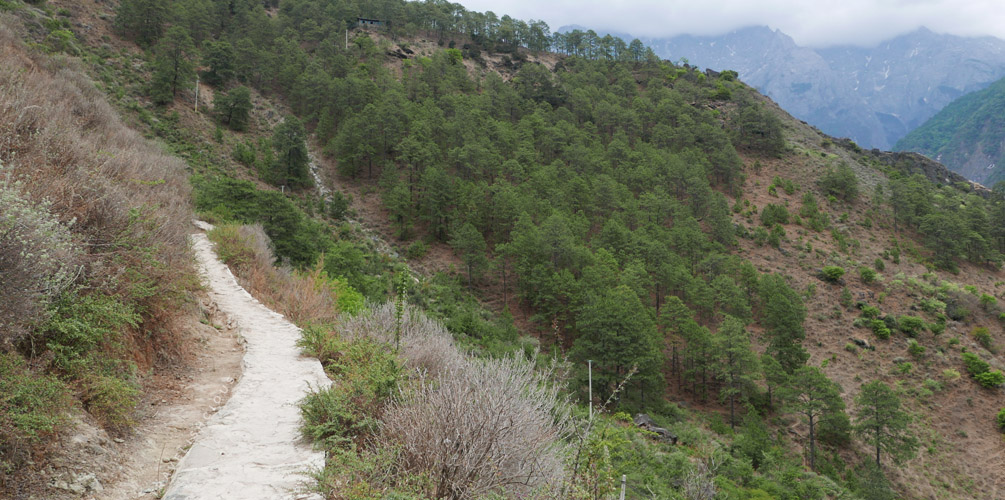 We started coming across these bad Chinglish signs warning against starting a fire in the woods: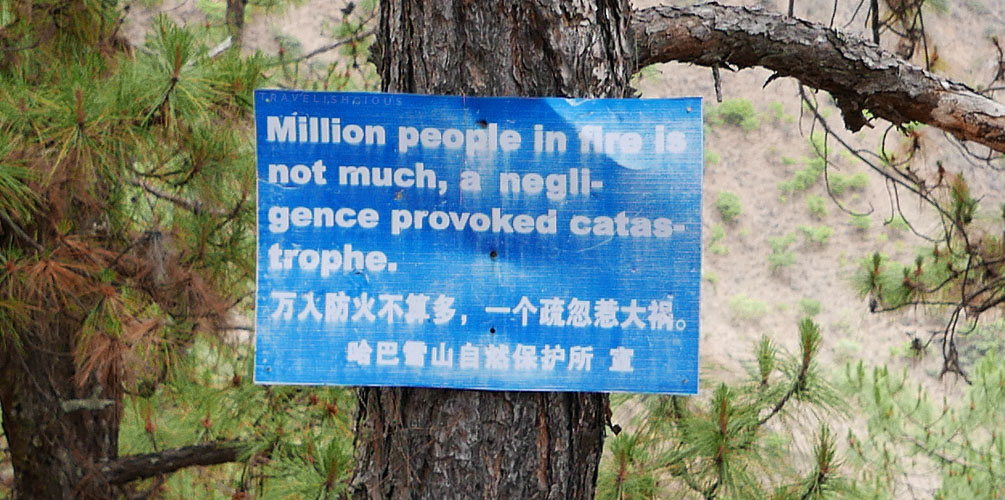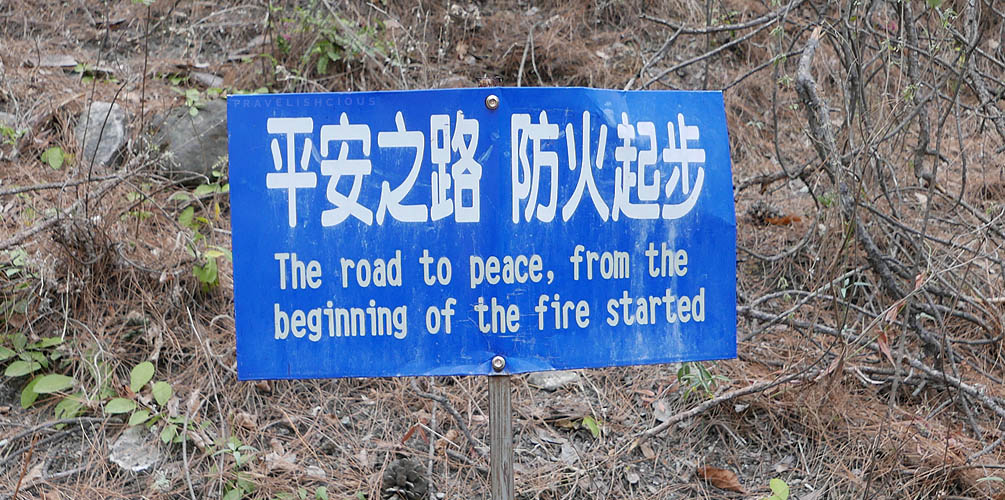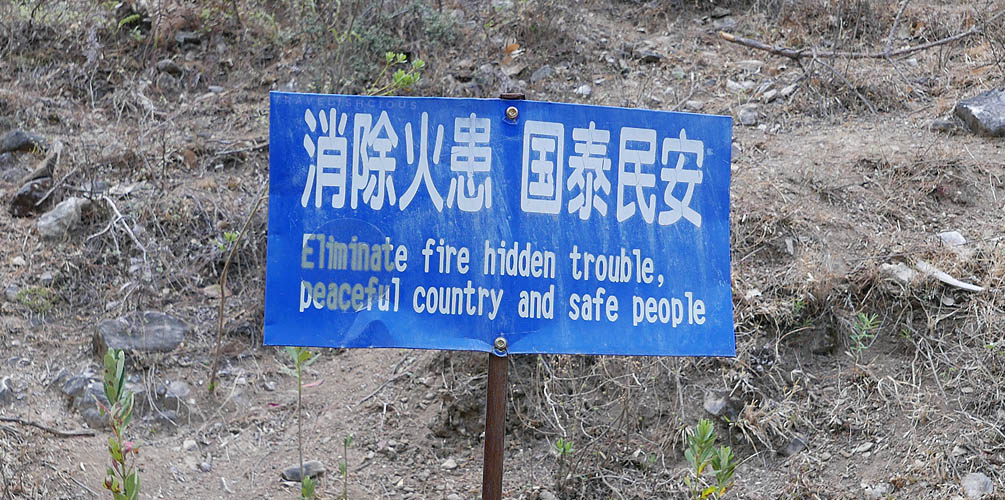 The 28 bends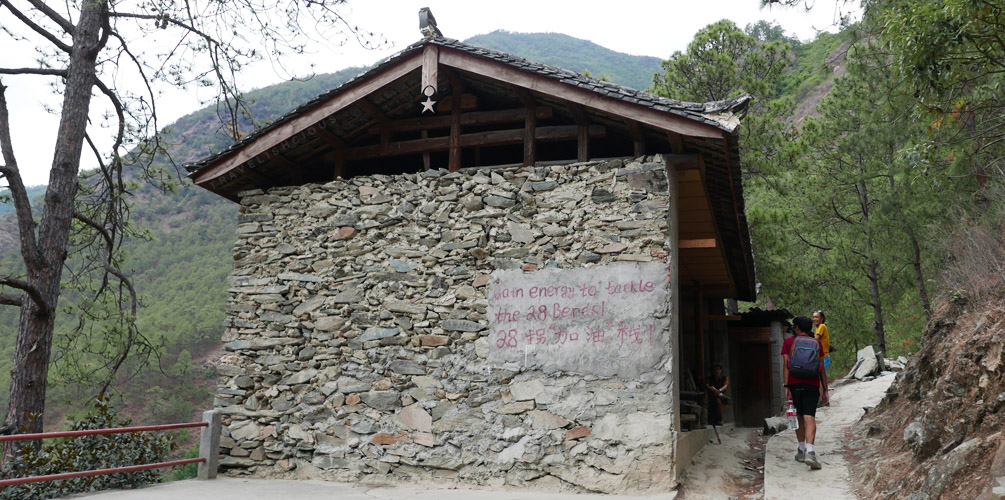 It was at this stage about a kilometre or two out of the town where Naxi Guesthouse was located, the dreaded 28 bends began. This was meant to be the hardest part of the entire climb. 28 switchbacks in order for us to gain (even more) elevation. It was brutal and it didn't help that there was not much scenery to see apart from the gigantic Yulong mountain towering just across from us. The path was very steep and rocky, not a comfortable path at all.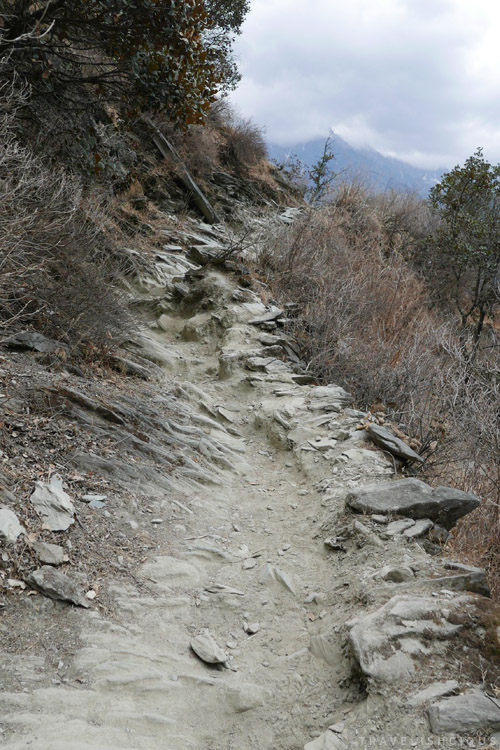 The bends were definitely a tough climb. The Korean group of middle aged hikers caught up to us and overtook us! They were all decked out with walking poles and gloves.
After about an hour of continuous non stop climbing elevation we reached the top of the bends and saw a viewpoint manned by a local. He was charging 10 yuan to have a look. The viewpoint was perched on this rocky outcrop which jutted out from the trail. Presumably it had good views of the valley as again, we still had the issue of this giant corner that never disappeared that blocked the view. So the prospect of getting to jut out a bit just to see something was really tempting. The Korean group had already had a good look with most of them having a rest while some of them were still at the viewpoint. They had taken photos and we asked to have a look but they were really reluctant to really tell us whether the viewpoint was worth it or not.
We caved and Ippy went first to go see the viewpoint. She was going to tell me whether the view was good or not. According to her it was worth it, so down I went to join her. The view was a lot better than the trail in that I could now see a bit of the valley properly for once. No trees or giant corners blocking the way. We were also at a significantly higher elevation. 800m vertical elevation gained since the start.
Below are some images taken from that viewpoint, but they really do not do it justice. A fisheye lens may have. The view of Yulong Mountain was MASSIVE and couldn't possibly be captured on camera properly.
(Best viewed on desktop and in full screen mode)
You can barely see the river on the right side there, so here is a bit of a close up: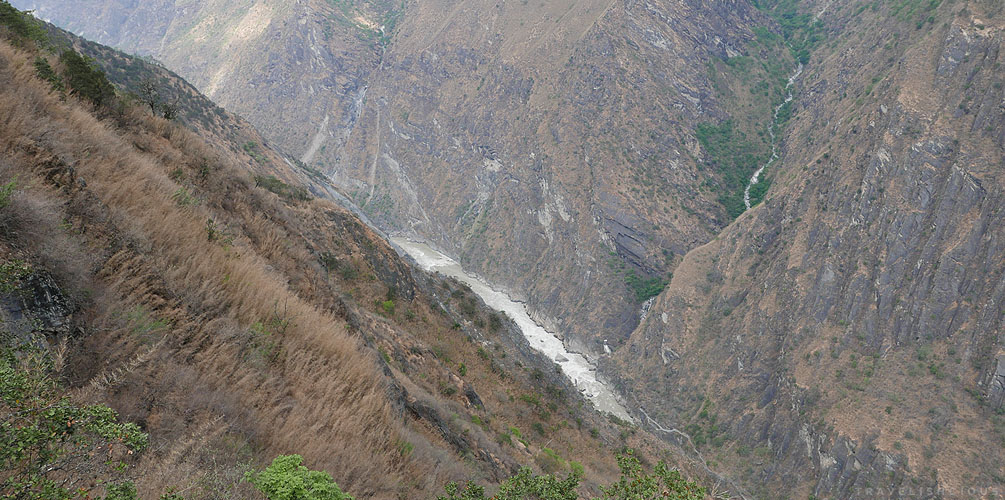 CNY 20 (= AUD 4.20) may not seem much, but it just left a bit of a bad taste seeing as it wasn't land they owned. The locals were just taking advantage of something that was already there and charging for it because they were there first.
After the bends, honestly the trail was much easier. No real hills or anything. The view was starting to look gorgeous too, check this out:
(Best viewed on desktop and in full screen mode)
Yongsheng village (永勝村) was where we planned to stay for the night. Yulong Mountain looks absolutely incredible on the right there.
The Tea Horse Guesthouse
About 7 hours had passed since we started the trail and the sun was going down and we needed a place to stay.
Back in the old days this trail was used as a trading route and was part of what was called the Tea Horse Road. Tea was traded for horses from Tibet. Yunnan is famous for their Pu'er tea and some of that tea would travel along the same trail that we were hiking on. It was incredible to think that people would hike with numerous bricks of tea on their backs to South Asia on the same trail we were on. And to think, Ippy was complaining with only the medium sized backpack on her back!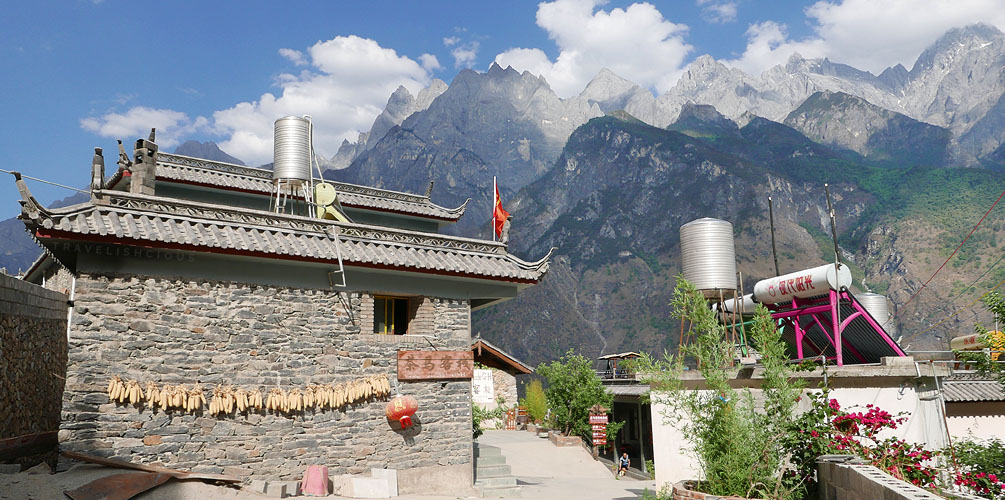 It was 5 pm when we finally arrived at the Tea Horse guesthouse. We were both quite tired and needed rest and dinner. Coincidentally, the Spanish speaking group and the Koreans were also stopping here for the night. We inquired about a room at their reception, which was also the kitchen. A woman led us to the two types of rooms they had - dorms and private double. The guest house was rather basic but the dorms didn't look so bad. Except for the fact that it meant we had to use the shared bathroom, which was in a different building altogether, not to mention the "toilet" was again a trench. Ippy wasn't having any of that. Instead, we went with the private double, which ensured we had a bathroom to ourselves. It was one of those bathrooms with no shower screen so we were bound to spray water everywhere but at least we had a real toilet.
We were very mindful of the water situation and noted that there were lots of guests that night, so it might be prudent for us to shower early. I noticed the guesthouses had a couple of solar panels, which didn't look like much.
Above the guesthouse kitchen and restaurant was a courtyard filled with lounge chairs and swing chairs. We spent some time relaxing here as the view was incredible.
At the restaurant, they had a Korean menu in addition to their regular menu. It kinda looked like this particular guest house catered to Korean tour groups. Later, we found out the Koreans were big on trekking.
For dinner we had beef noodle stir fry (CNY 17) and rice with chicken and peanuts (CNY 25). Neither were remarkable but edible. Ok, better than edible. Again, I had been looking forward to some tasty home style cooking but was a little disappointed. Perhaps we ordered the wrong thing.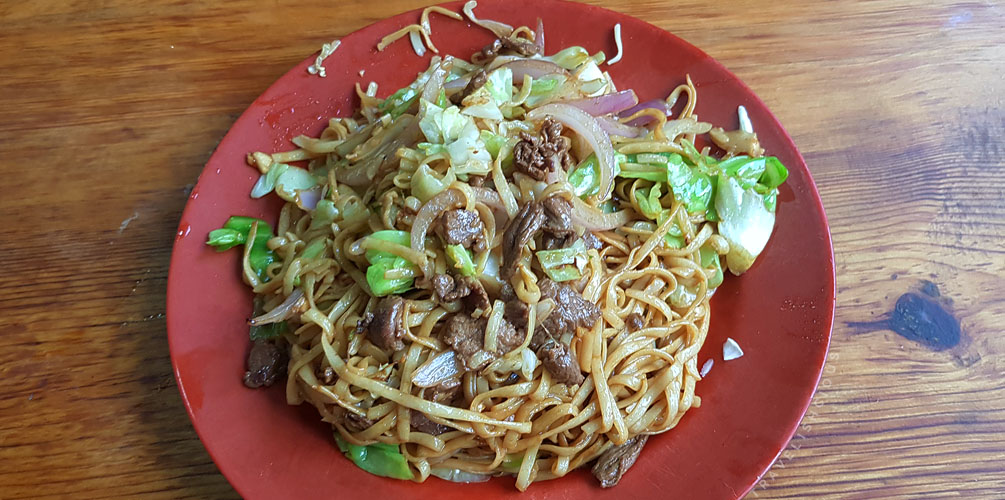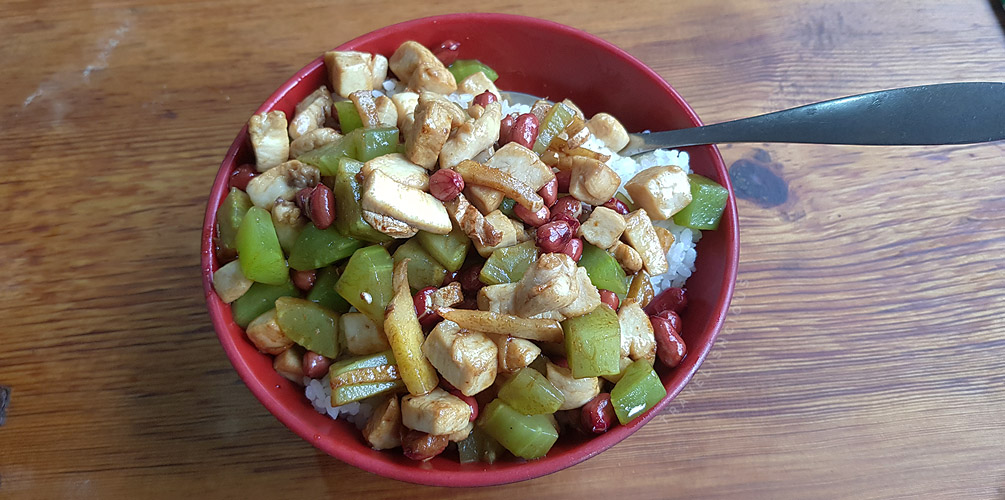 OpenStreetMap is more reliable in China than Google Maps, especially for hikes such as Leaping Tiger Gorge. (For the uninitiated, Maps.Me's source is OSM). So below is a OSM embed: