Street in Hekou, China
A had checked the weather for Lijiang, China and the horizon was not looking good. The rain was forecast to start on Sunday, and he really really wanted to do Tiger Leaping Gorge in good weather (well, there's just no other way to do it, really) so we have to vamos and get out of Vietnam. It's supposedly rainy season around this time of the year for Lijiang (which looked like it would start this Sunday). Sigh, there goes my plan of staying in Sa Pa town for 2 more days :\
So… goodbye South East Asia. It's been fun. I'll miss you!
HELL-OH China! We will be spending a TONNE of time in the Middle Kingdom.
We packed everything up and headed down to ask for a taxi. The lady working there said it would take an hour - jeez, seriously? In the end it took her 20 mins to tell us that a taxi driver was coming in 30 mins (the amount of time it takes to drive from Sa Pa).
The guy who showed up did so in a Toyota Hilux. I asked him how much it would cost (in reality I showed him my calculator on my phone) and he responded with "250". Well, I wasn't really going to argue with that, we had to get the hell out and the car was in good shape. The AC actually worked. I popped in the front seat and put all our bags in the back. He gestured for us to put it in his tray but no chance buddy, it was dusty as hell back there.
The ride back was pretty uneventful. I had thought I would ask the man to stop for pics but unfortunately it was really really hazy (which is also why all the pics in this post are kind of yellow), so no point. I suppose it was a good thing we were leaving? And we were probably pretty lucky yesterday to see what we saw.
The taxi man dumped us at the main square. We walked around looking for postcards but nada -_- no souvenir stores. I swear every shop was a restaurant or cafe. In a town that's supposed to be touristy, you'd think you wouldn't have such a hard time looking for postcards.
Our Last Hour in Sa Pa
I gave up and said we should just go. By then it was 12:30 pm. The overnight train from Hekou (the border town on the Chinese side) to Lijiang left at 4:30 pm (Vietnamese time, 5:30 pm Chinese time). However, the public bus (which was an air conditioned mini van) to Lao Cai left at 1 pm so A told me to go look for postcards again. But honestly, I was just hungry and needed a bakery…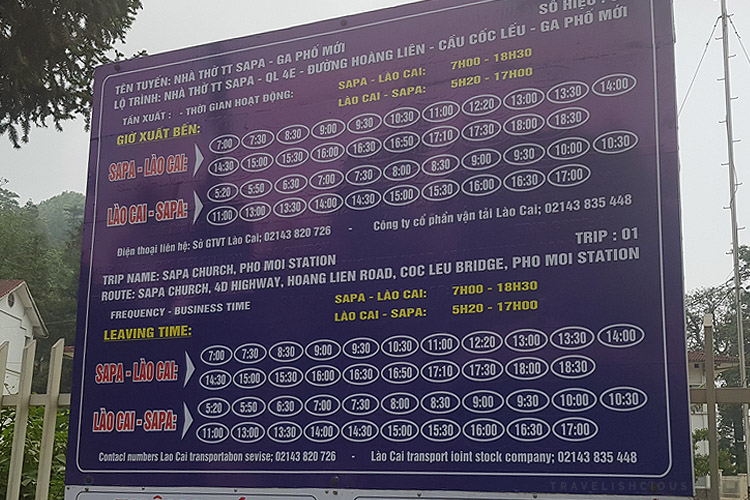 I walked over to the tourist information centre but surprise surpise they were closed for lunch. So I walked to Sun Plaza and entered the monstrosity. It was really empty and for a building that tall, the ceilings were quite low. I think the third floor was completely vacant. The "shopping centre" section was pretty weak; just full of small stores selling fake clothing and low quality souvenirs. Kind of looked like those old, low budget malls in Malaysia or Hong Kong.
One guy selling souvenirs had a massive pile of postcards, but none of rice fields. What is the damn point?!
After this, I walked into a bakery and bought a massive bread thing. It was like a croissant but in loaf form. It smelt like asian bread though. I hopped on the public bus and we waited for its departure.
The bus ride (VND 30,000 each), like the ride to Sa Pa was a little windy but no problem. I didn't take any travel sickness pills this time. Just kept my eyes on the road and everything was ok. As we were cruising around Lao Cai letting passengers off, the "conductor" man asked if we wanted to be let off at the Lao Cai train station. We asked him if he could let us off at "China" and he said yep. Yay!
The border and immigration checkpoint was a bit out of town and we thought we would have to get a taxi or pay the driver a little extra to take us there. But no need. However, they let us off about 500m away (at the end of Cốc Lếu Bridge), and we of course walked ourselves to the end of the road. Damn, it was hot.
Vietnam-China border at Lao Cai/Hekou 河口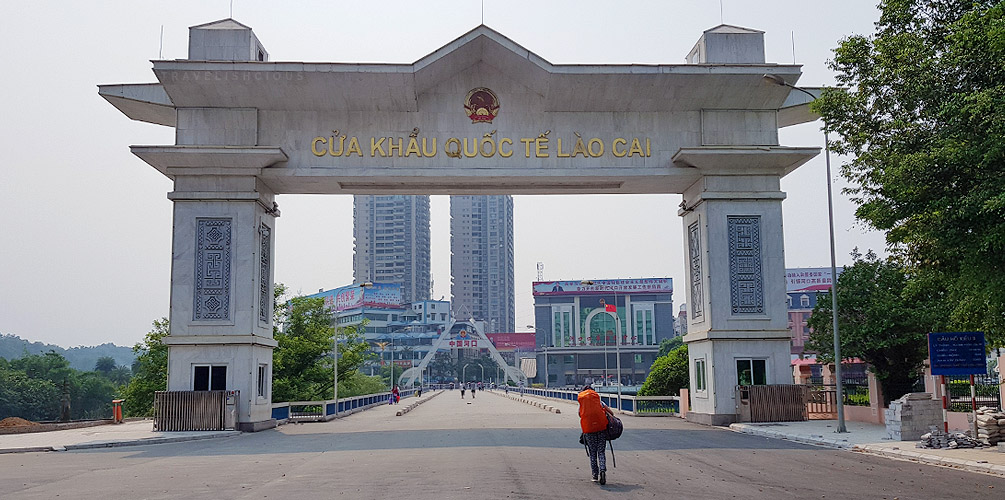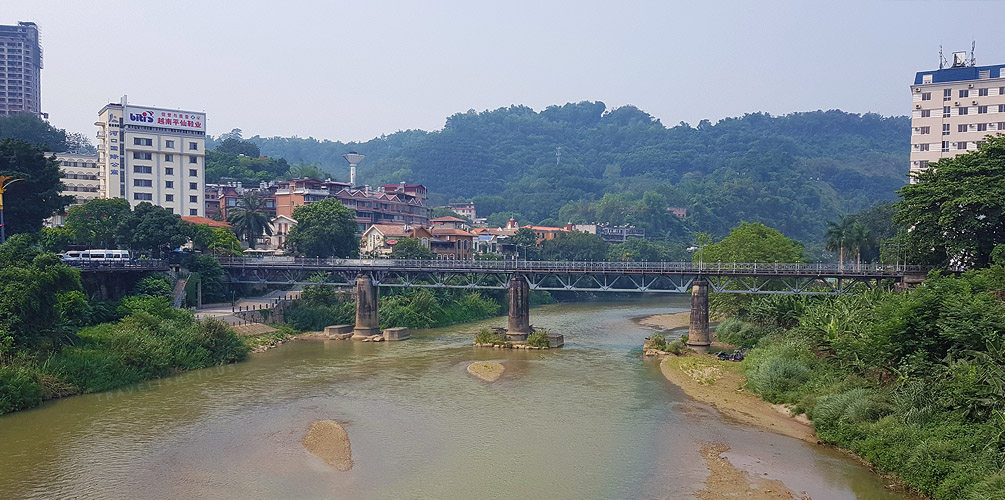 At the border there was a massive immigration building on the left of the Hekou–Lao Cai bridge that would get you over to China. Both sides had a fancy gateway denoting which country you were in. We stamped out of Vietnam, walked over the short bridge (probably the shortest international bridge I had ever seen so far) and walked into China's immigration building. Filled out arrival cards and lined up. Didn't take long. The immigration guy asked me (in English) how many days we were staying in China and I said "40". He asked me where we were going and I told him that we were going to "Lijiang, Leaping Tiger Gorge, Kunming and Guilin". Then I quickly added "Sichuan" as well. Yes, I realise Sichuan is a province. But errrybody loves Sichuan, including Westerners. He then asked if A was with me and I said yes. That was the end of question time and I gave them all 10 fingerprints and posed for a photo :'(
A was spared of any questioning. Perhaps the guy was lazy and couldn't be bothered to corroborate our story!
Our bags were then xrayed and we were out of there.
Immediately, guys were yelling at us. One asking us if we needed a taxi. One asking if we needed a moto. One saying he has money to exchange. Oh, is that right? Well, we do have extra dong! I told him we had 330k dong. He pulled out a bunch of yuan from his bum bag and said he'd give us 82 yuan for that. I already had my phone in my hand with XE telling me today's rate. Pfffttttt VND 330k = CNY 97, piss off! The AUD is doing SOOO bad, AUD 1 doesn't even buy CNY 5 anymore so sorry if I'm a bit tight.
A said, "Let's go to the bank". To which the guy said, "bank no change", which I was sure was a lie but I laughed and said, "Oh come on!!! 90 at least."
He said, "ok ok 85."
I turned away and he immediately buckled as other guys appeared behind him, all with bum bags. All ready to pounce at his leftovers. But it was a done deal, 90 yuan for me. He handed it to me and I scrutinised the notes. A gathered his dong to give to the guy.
Taxi man was patiently waiting for this exchange to end. He nagged at us, saying, "Taxi??!?!?"
Well, to be honest, we did need a taxi. We didn't have Didi set up and the station was pretty much out of town. A was pretty keen so I said "Hekou North" in my shit Mandarin to the taxi man. He wanted 30 yuan. Uhhhhmm no. The guy with the moto was observing us and he could see the distaste from me. He actually had better English than the taxi man so he was kind of talking for him. He said, "30 is the price!".
I brushed him off and asked the taxi man "20?" again in my shit Mando. He didn't really give me much of a response but opened his boot, so I had to ask again. Moto man answered for him. We put our bags in the trunk and drove off.
Hekou North Railway Station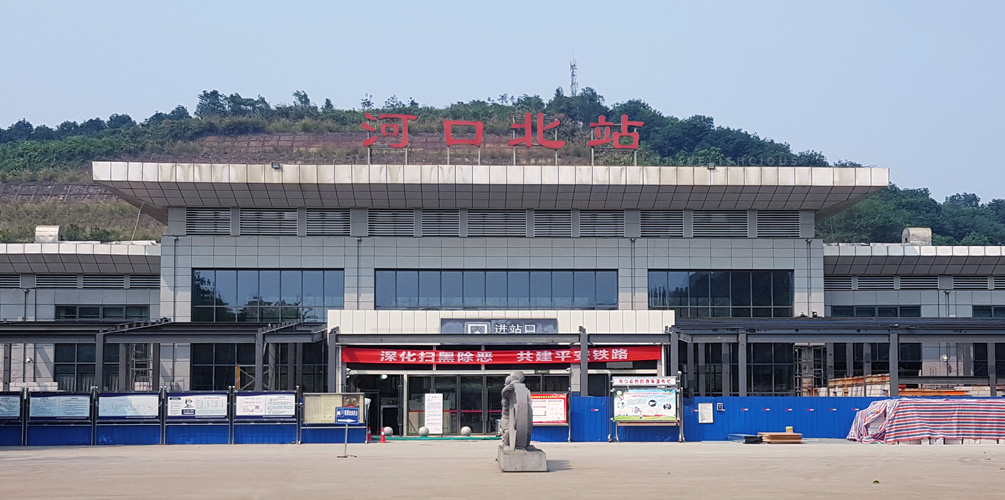 We got to the station, which looked so stupidly isolated and walked to the ticket counter. Thankfully, the lady could understand English. Unfortunately, they didn't take credit card. The ATM outside the train station wouldn't accept our 4 number PIN so we were forced to go back to town… what a wonderful way to spend AUD 12….
We were looking for a taxi when one rolled up. I asked him for "China bank" (My pronounciation of bank was so bad I had to hand him my phone with Plecco showing "bank" in Chinese). He wanted 20 yuan (so I guess that really was the going rate) but I gestured we have to go there and come back and he said 40 and I tried to bring him down to 30 to no avail. At least he understood that we wanted to go to Bank of China. A went to get money while I waited in the car.
Finally we got tickets for 2 bottom soft sleepers. We boarded the train at 5pm, and it left on time at 5:30pm.
The soft sleeper berth was kinda average. On par with Vietnam. Here I was, thinking it would actually be nice (or at least without the daggy decor) but I suppose all the nice stuff is on the East coast. There were NO power outlets inside the berth, only in the corridor. What a pain. I did sit out there for a bit and for some reason, this amused the copper who patrolled the train, who walked past me at least three times. The second time he stopped and tried to have a conversation with me. I think he was baffled at the idea that this girl who looks Han Chinese couldn't even construct a sentence in Mandarin. According to A, he took selfies with me in the background whilst I wasn't looking…. ugh. I retreated back into the berth when he told me this.
Another thing to note was we couldn't find the restaurant car. But the good thing was our berth was all ours for the entire trip.
Final Thoughts on Sa Pa
Beautiful place, but we will probably never return.
Was good to get some fresh air but then it did get smoggy on our last day.
Lots of butterflies :)
Definitely very touristy, but easy to get away from the relative hustle and bustle. The main town was looked hastily built, just one concrete building after another plus a tacky mall in the middle.
Food kind of sucked, both in town and in the village.
Unfortunately it seemed the people working and living in the villages were very poor.