Day 118 of Asia 2019 trip / Day 20 in China

Xue bridge over Tuojiang River, Fenghuang
We spent the day exploring Fenghuang, this time during the day, before heading to Hunan's most famous attraction, Wulingyuan.
It was raining again, so yet again we were at risk of having our eyes injured. And because I'm a noob photographer, my photos were probably not the best due to the glare.
Lunch at 老宅粉館
We had lunch at a noodle restaurant and ordered two noodle dishes each (CNY 30 for 2). The beef was alright and the soup was fragrant with spices. Good rice noodles! We also orderd Youtiao (fried dough sticks) but the ones offered was not fresh and so I prepared a few sentences describing this into Baidu translate. I showed this to the waitress, who let us return it without any dramas, and we did not have to pay for them.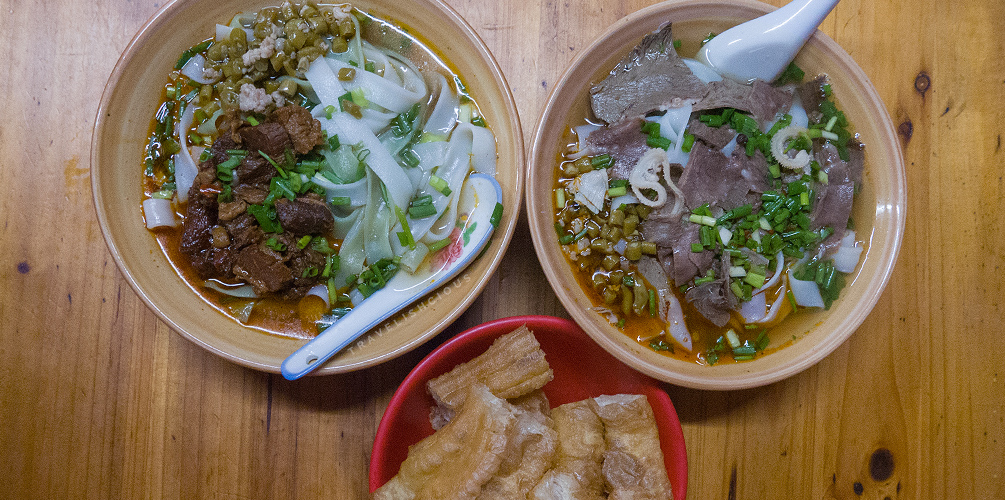 Exploring Fenghuang
Fenghuang, like a lot of other tourist attractions, offered a single tourist ticket that would gain the ticketholder access to a bunch of attractions. As usual, we were not really interested in seeing temples, old residences of famous people and other buildings. We were happy to admire them from the outside. The ticket cost a whopping CNY 150 and we didn't think it was worth it. Not to mention, everything would be in Chinese and we would probably not be able to appreciate anything anyway. Here are some of the aforementioned attractions: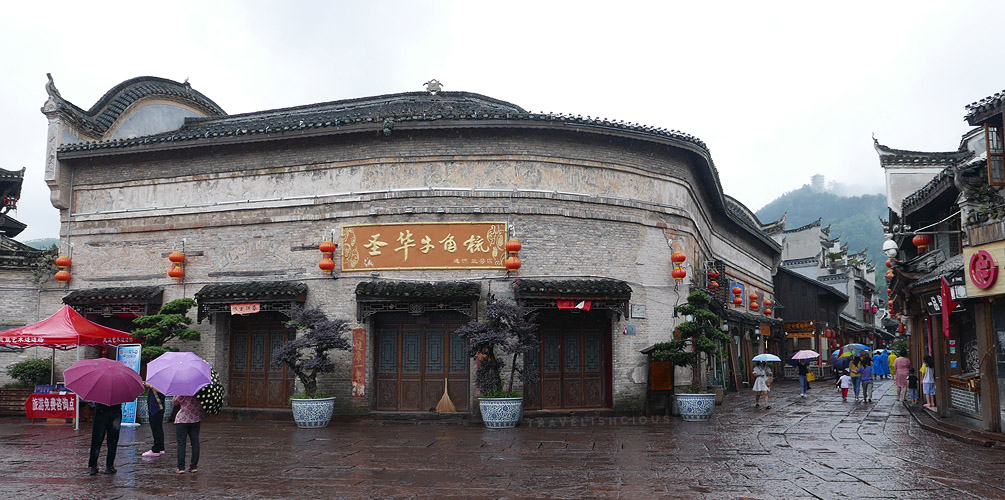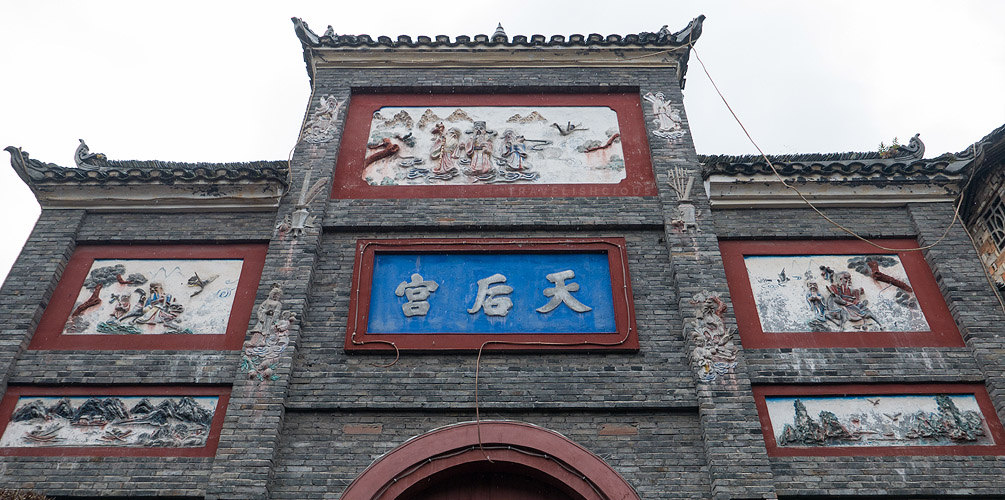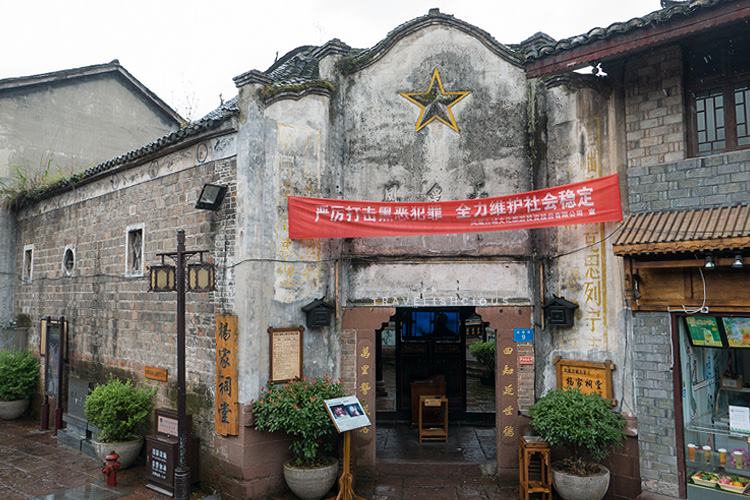 We walked around town, firstly away from the river and into the back streets: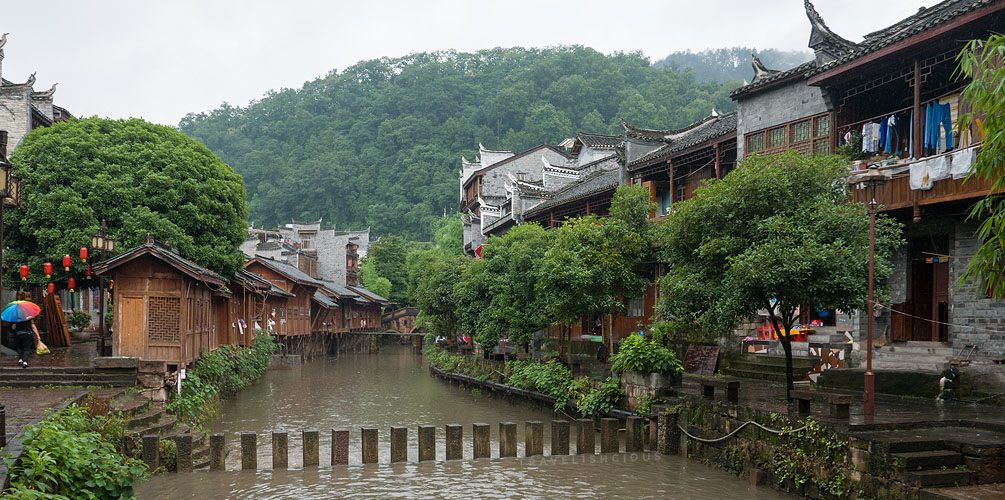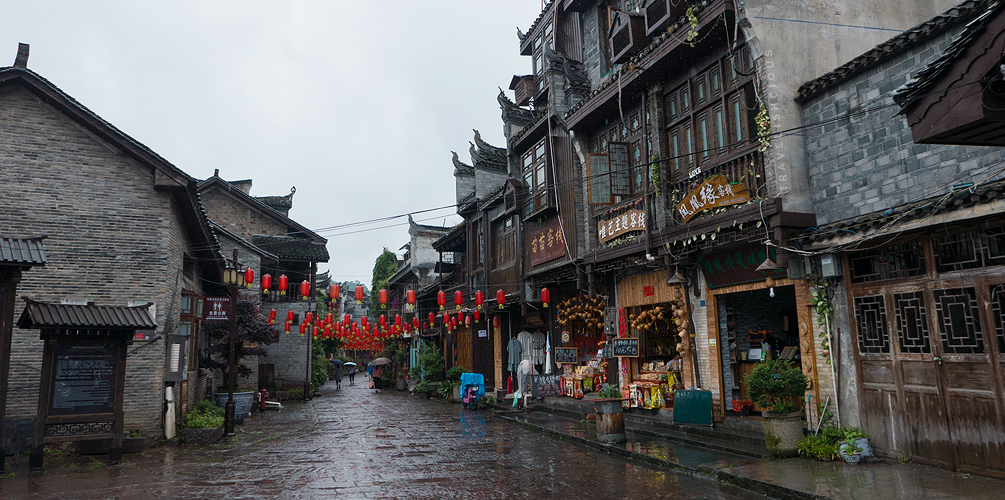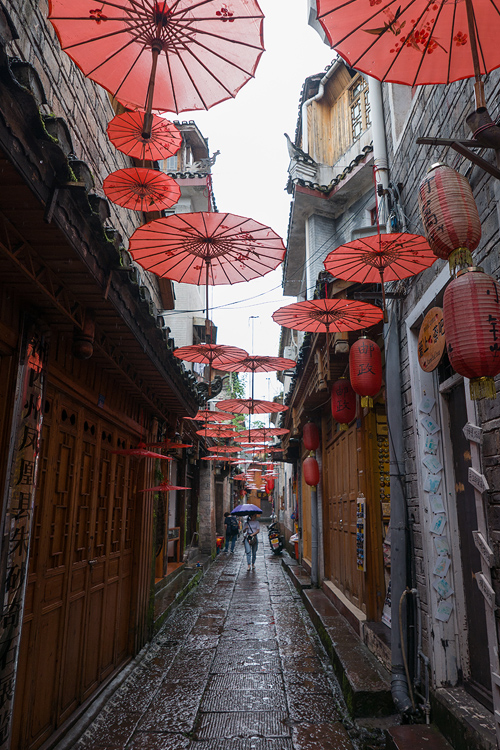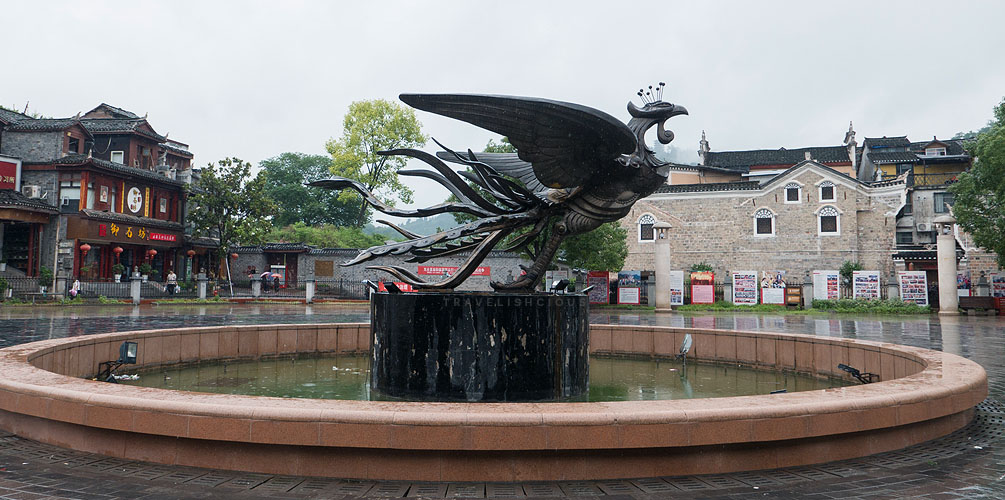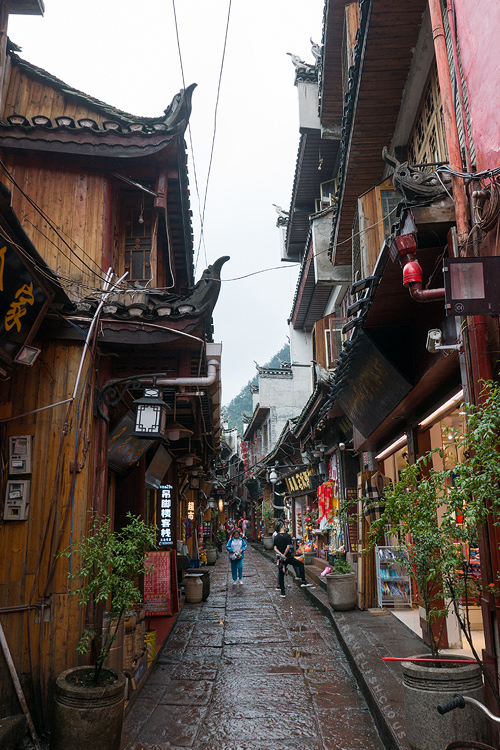 Eventually we ended up back at the Tuojiang River. This is what it looks like upstream, in the western side of town: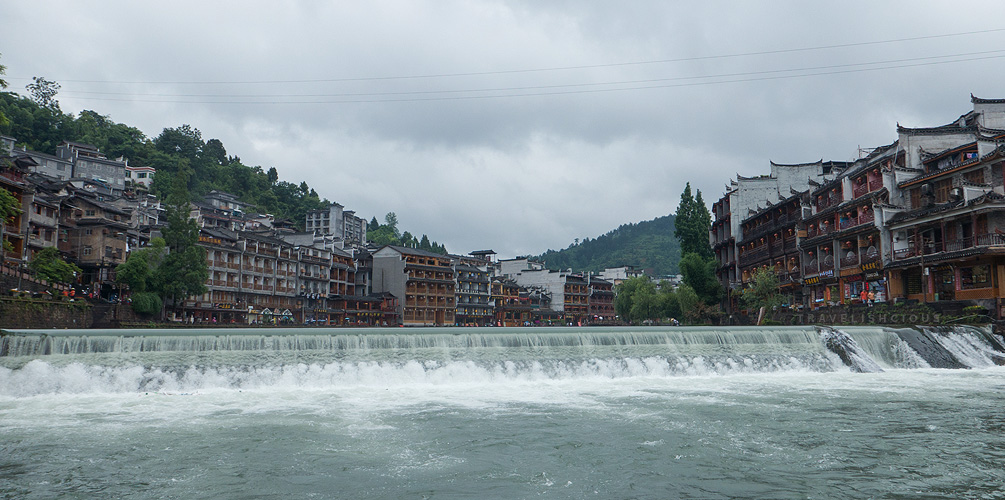 There was a modern bridge for cars 鳳凰一橋 (Fenghuang First bridge?):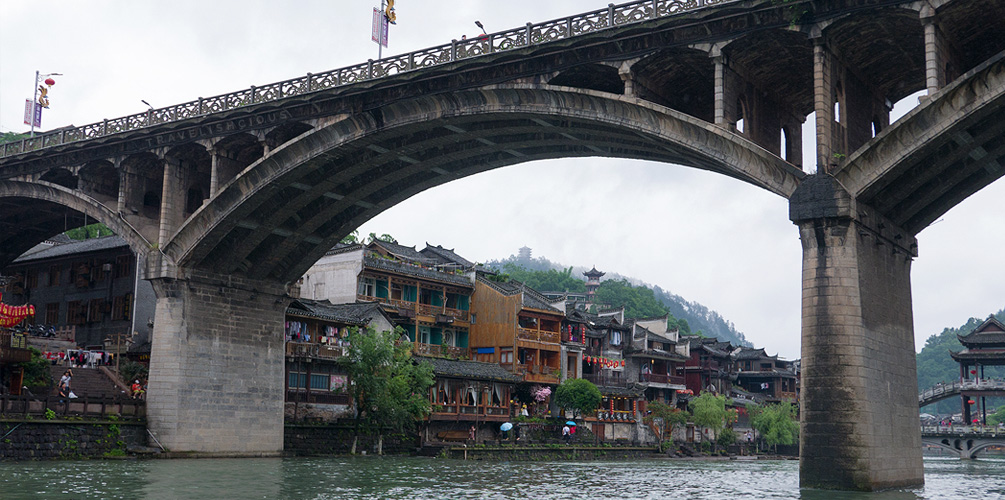 The bridge was pretty useful for photography: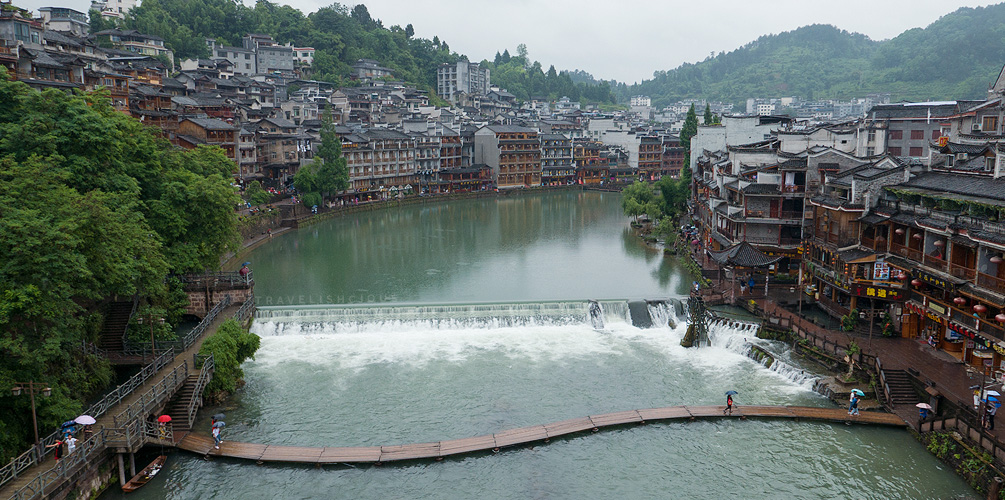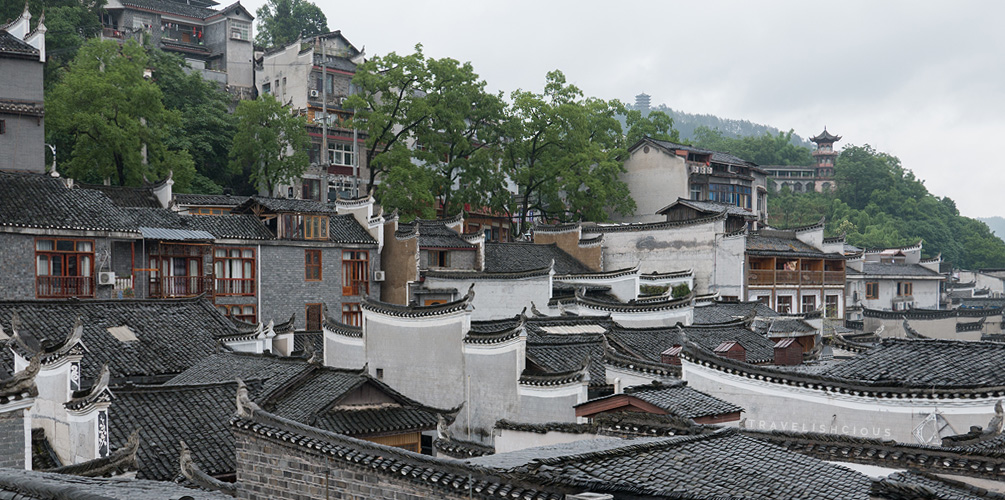 Crossing the bridge took you to a park 筆架山公園 (Beacon Hill park). OpenStreetMaps indicated there was a lookout here. We had been trying to find a viewpoint but apart from OSM, there wasn't much information about this. The park did seem rather elevated so there was hope for a good view. There were older women singing daytime Opera karaoke. My ears!
There was no official "viewpoint" per se but we did see this view: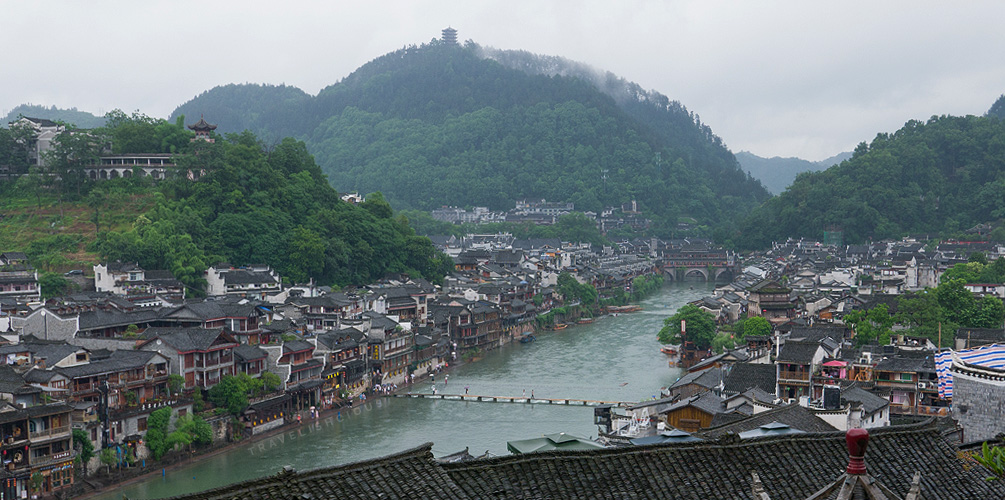 As you can see from this photo, there are two pavilions in the distance that could potentially provide a good view. We had no idea how to get to either and couldn't find much information (but we didn't dig too deep).
We decided to have a snack before we left for good. had a mango and durian platter (CNY 48) which ok except we didn't realise there was durian in the waffle until we were almost done! I hadn't bothered to translate the menu properly and I did when we were wondering why there was a strange undertone to each bite. Fortunately, the durian was not very strong. Had it been, we wouldn't have been able to finish the platter!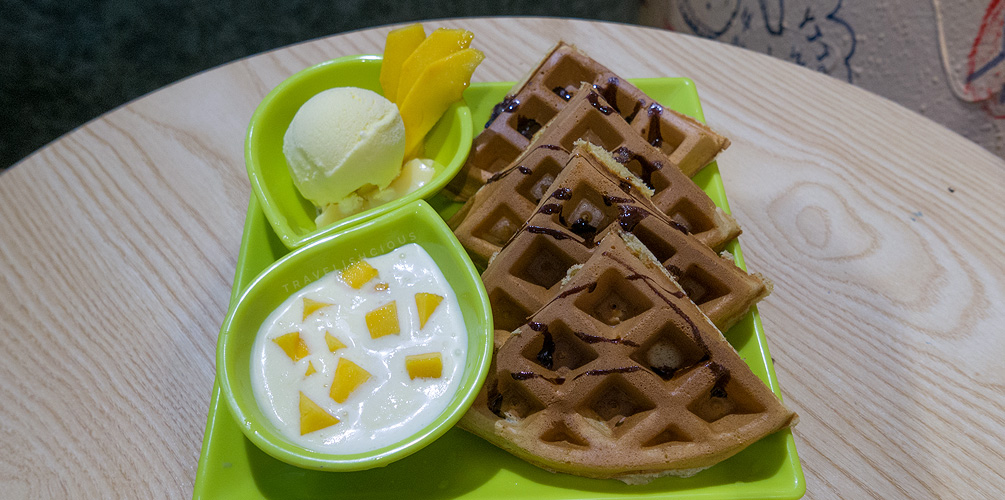 And finally here are some photos of the Tuojiang River during the day time: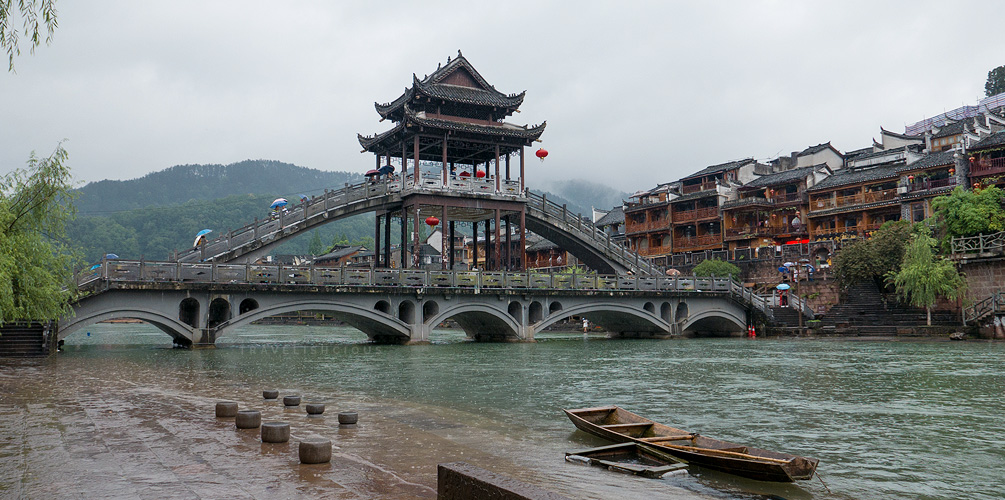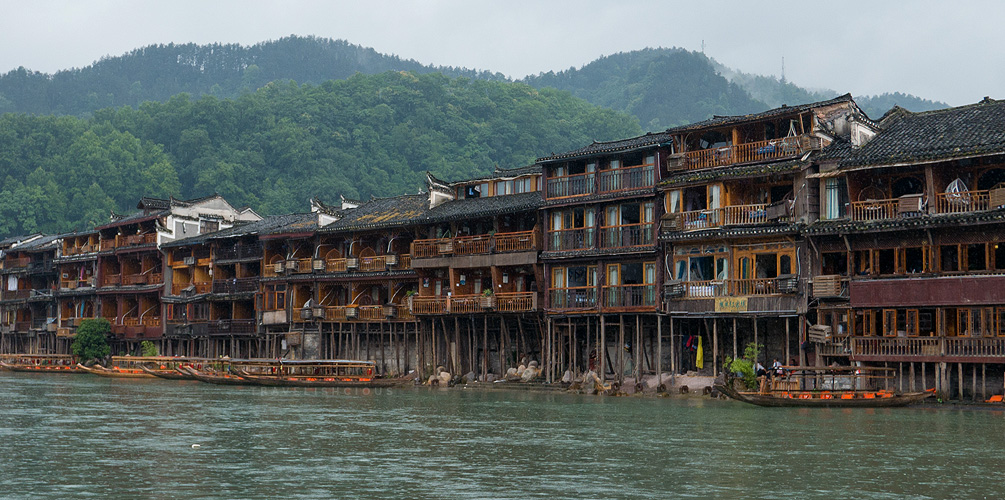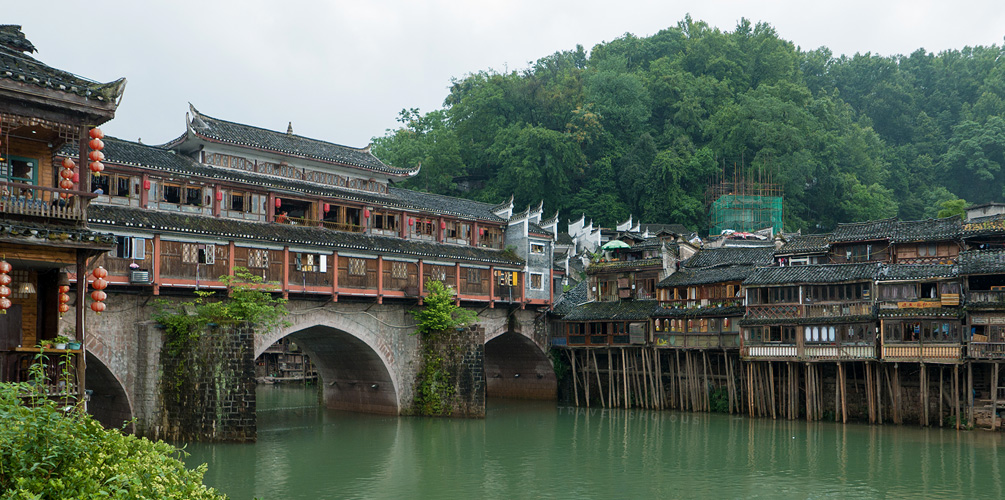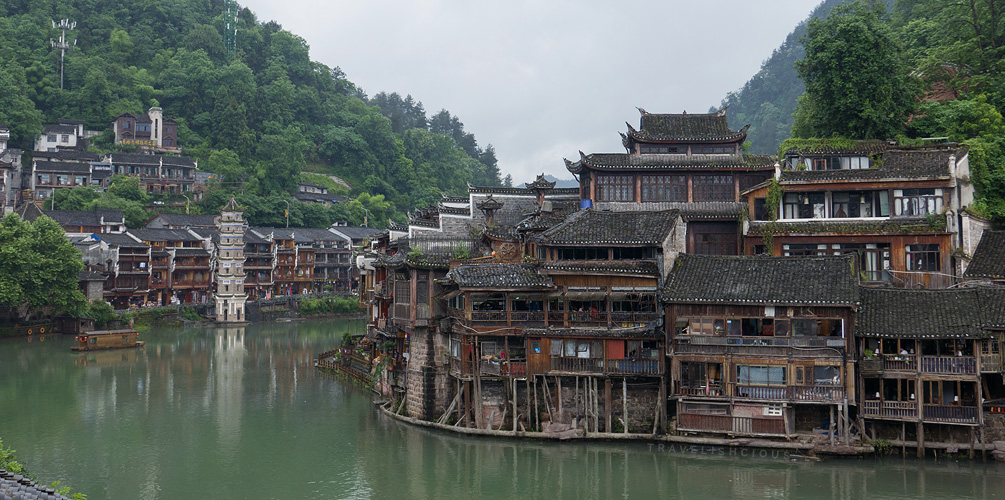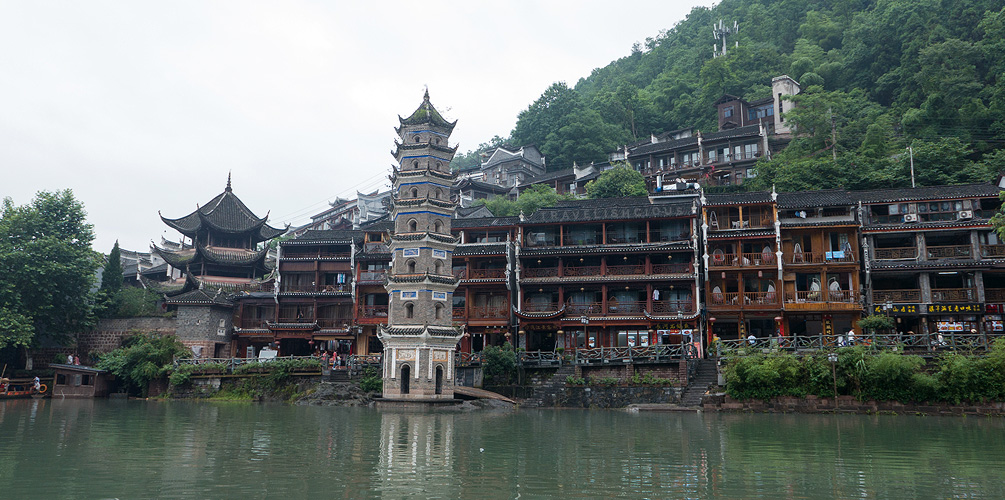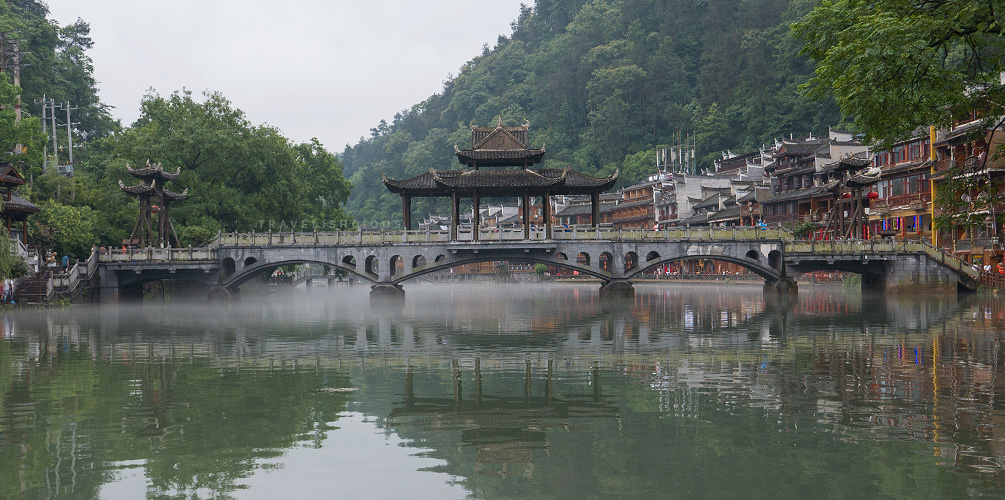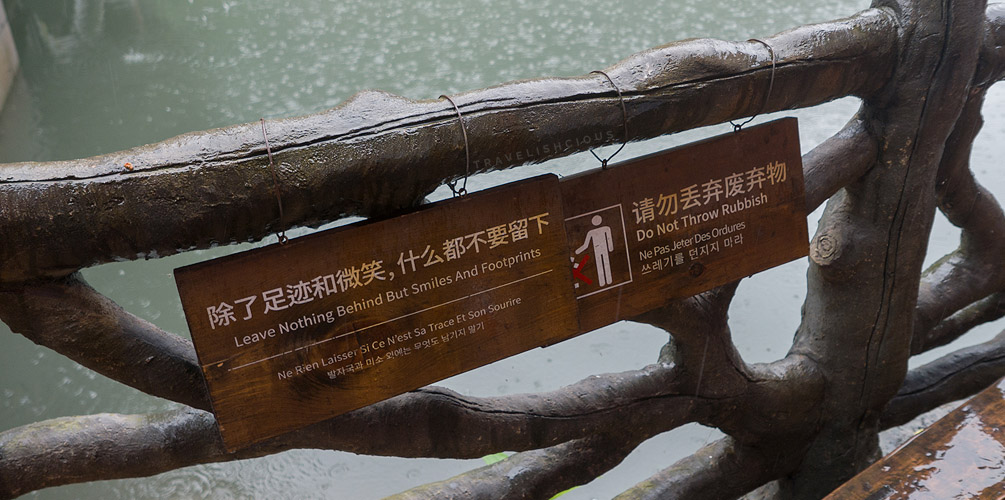 To Zhangjiajie city 張家界
In the late afternoon, we had to set off for Zhangjiajie city, which used to be called Dayong 大庸, but was renamed in 1994 when Wulingyuan scenic area gained fame. Zhangjiajie refers to Zhangjiajie National Park, which is within Wulingyuan and is the most famous site within the scenic area. In my opinion, it is kind of silly to do this as this confuses people. If you were to say, "I'm going to Zhangjiajie!" People are going to think of the national park, but what if you meant the little city near it? I think the locals still call it Dayong.
After we retrieved our luggage at the hotel in Fenghuang, the woman at reception was trying to make conversation with us but I couldn't speak Mandarin of course, and I told her so. I was able to understand it when she said that my Mandarin sounded really good and she was surprised. To be honest, I can pronounce Mandarin quite well, and by that I mean I can mimic the "text to speech" audio very well. My tones can be pretty spot on. Anyway, the lady was nice and helped us with getting a taxi back to the bus station in the rain.
The bus to Zhangjiajie was ok (CNY 80 each). Towards the end, a lady with a microphone got up and talked non stop with no punctuation about various things including attractions and items she was selling for about 20 mins. It was impressive because she did it all without pausing. Everyone on the bus clapped when she finished her spiel. I recorded it 5mins in and A sent it to his Mandarin speaking friend for laughs. The lady also gave numerous samples of snacks out to everyone. We were impressed with the pork jerky sample and bought a bag.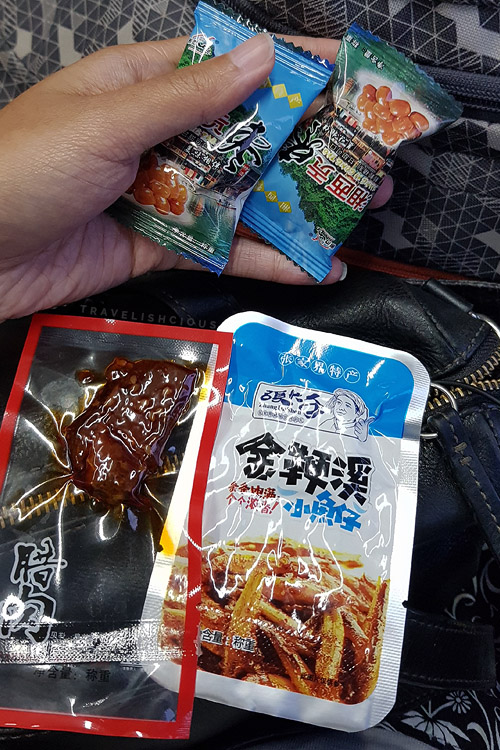 The bus dropped us off at the Zhangjiajie main bus station, located right next to the Zhangjiajie train station. We walked to our hotel nearby, the "Mini Inn" 張家界覓你客棧 by foot and dropped off our things.
HELLO 鯢好 (Ni Hao)
For dinner we went to HELLO 鯢好 restaurant. 鯢好 is pronounce ni hao, just like hello. Except, 鯢 means "salamander", not "you". Yes, this was a salamander restaurant, where salamander is a Hunan delicacy, TIL. We found it on Dianping and it had loads of good reviews and looked so trendy and fresh and had cute branding. I suppose you gotta make salamanders look cute to entice people to eat them. A didn't need convincing though.
The waitress was really helpful and spoke a bit of English. She said salander was "similar to fish" and that they eat it in Hunan and Hubei provinces. And yes they had live salamanders on site. This poor thing doesn't have much water to live in. It was a bit disturbing seeing it wobble around but I am so used to seeing other live seafood at Chinese restaurants.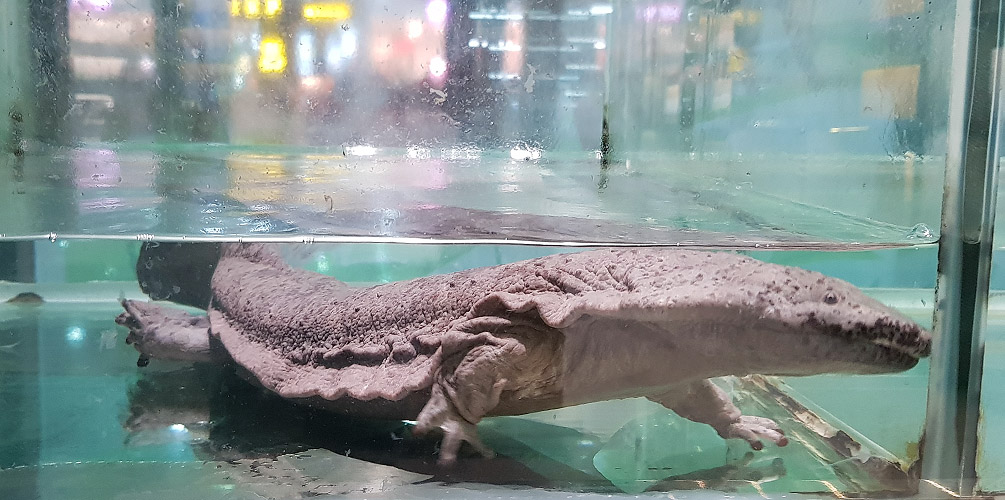 I had the braised spicy beef noodles 紅燒牛肉麵 (CNY 18) as I wasn't game. It was fine, but I could've used more beef. A had the braised salamander noodles 紅燒娃娃魚麵條 (CNY 28). Again, it lacked… protein. A said it was fine so eventually I did try a little bit of salamander. I felt it was more like tender pork than fish. Ultimately, it was fine, although "expensive", relatively.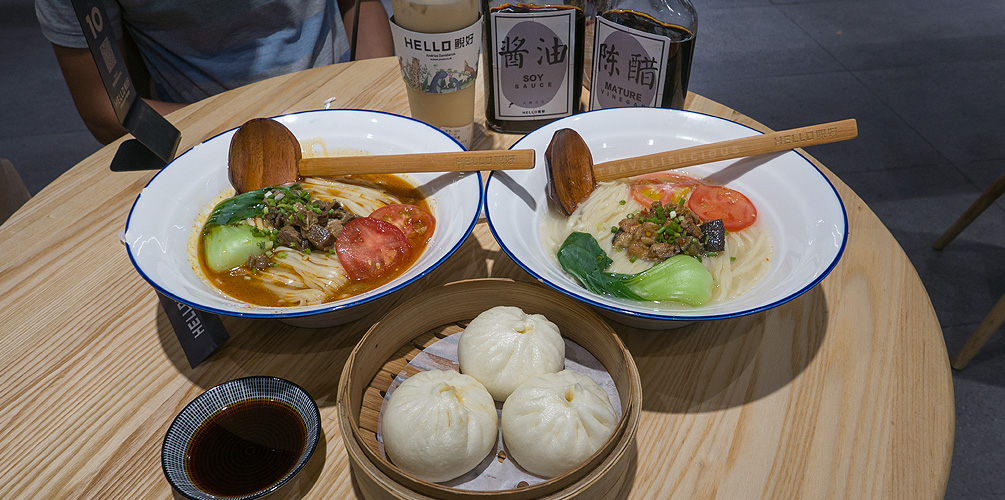 We also had Hunan bacon bun 湘西臘肉包 (CNY 12) which had a veg and Hunan bacon filling. They were quite good and bacon was fragrant. We also had a fresh milk tea (CNY 16) which was probably the best one we've had in mainland China so far. Great tea flavour. They also added cheese foam on top for free, which was a surprise. It went down well! Overall, 7/10 #ipinions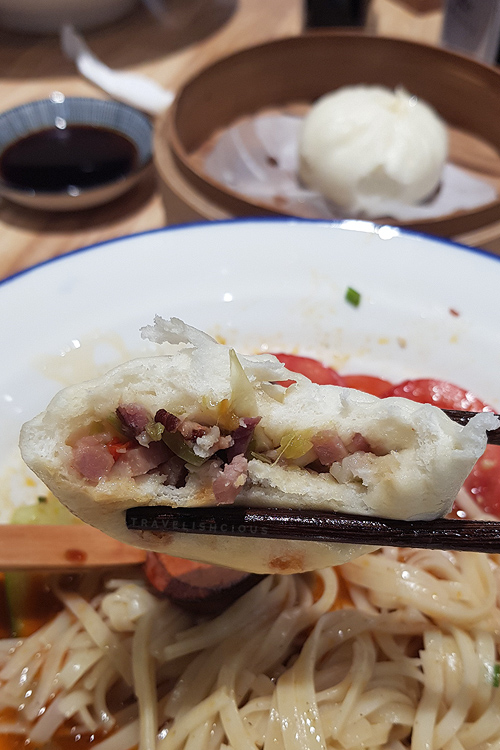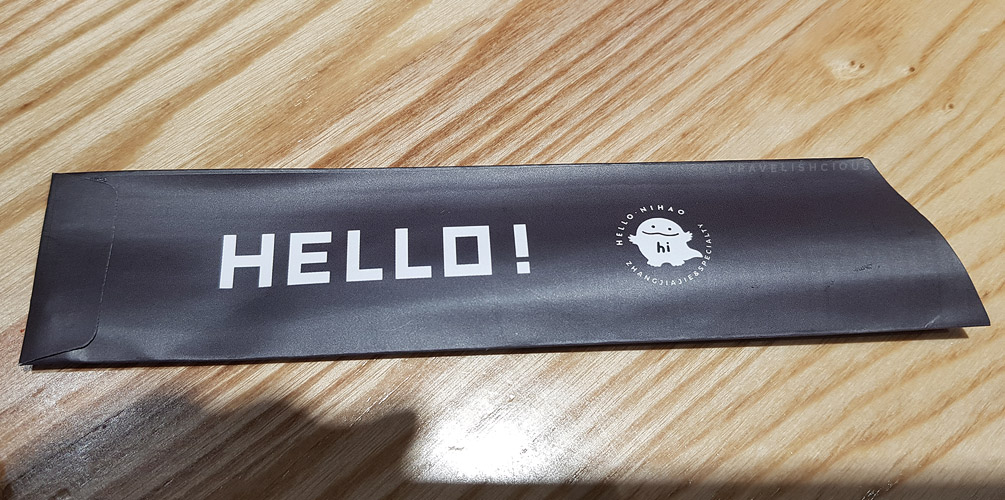 Final thoughts on Fenghuang
Nice, scenic town but I think I preferred the quieter Zhenyuan, which had more photogenic river bends.
There was no easily accessible lookout here. There was a pavilion that looked quite far away but we didn't make any effort to find out how to get there.
Public transport sucked majorly and Didi was practically non existent.
We missed the Southern Great Wall, which was built in the Ming Dynasty to keep the minorities out. I later found out that this was quite a well preserved section and a good example of a "Great Wall".
Fenghuang was too touristy and a bit of a party town for younger Chinese people but this meant the locals are used to tourists and will not treat them like shit like they do in Changsha (forever bitter about this) because they bring money to the town.
Avoid going to Fenghuang on the weekend.