Day 3 of Asia 2019 trip / Day 1 in Malaysia

I <3 Kuching street art
Kuching means 'cat' in Malay. But we weren't here for the cats (or dogs, for that matter) - Kuching was to be our base to exploring Borneo. I was pretty excited to go to Borneo to see an orangutan and hit up some national parks.
To Borneo!
Crossing the Singapore-Malaysia Border
We left our accommodation in Singapore at 7am and took the MRT to Kranji station, which was pretty much as close as it gets to the border. It took almost an hour to get there. Outside the station was a bus terminal. When we arrived, there was a long line for the 170X bus, which had to be the bus going over the border to Malaysia. A claimed the bus stop was on the other side of the road but I asked a local (after all, we all spoke English).
We got on the next bus, paid our fare in cash and stood for the short journey over the border. Buses got their own lane to the border checkpoint and over the bridge to Malaysia so we were able to get to the border checkpoint pretty quickly. The traffic jam for private vehicles looked pretty horrific.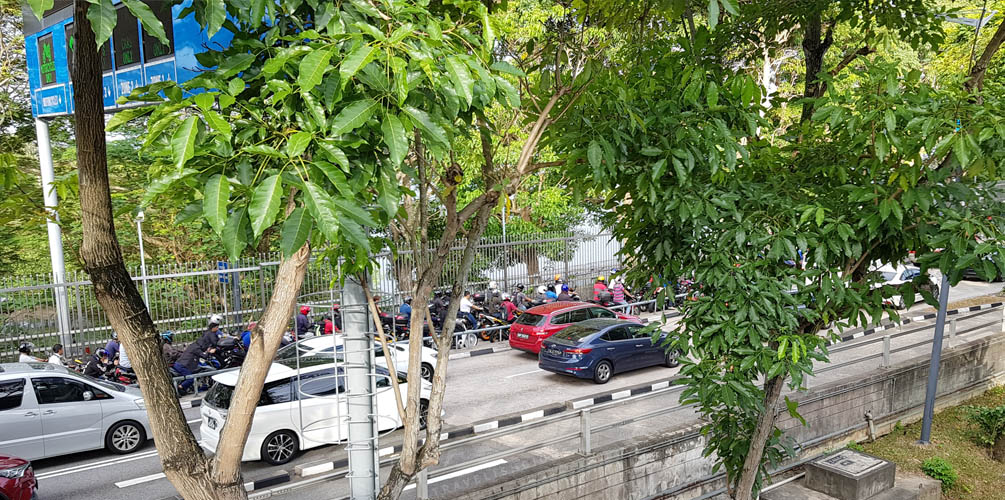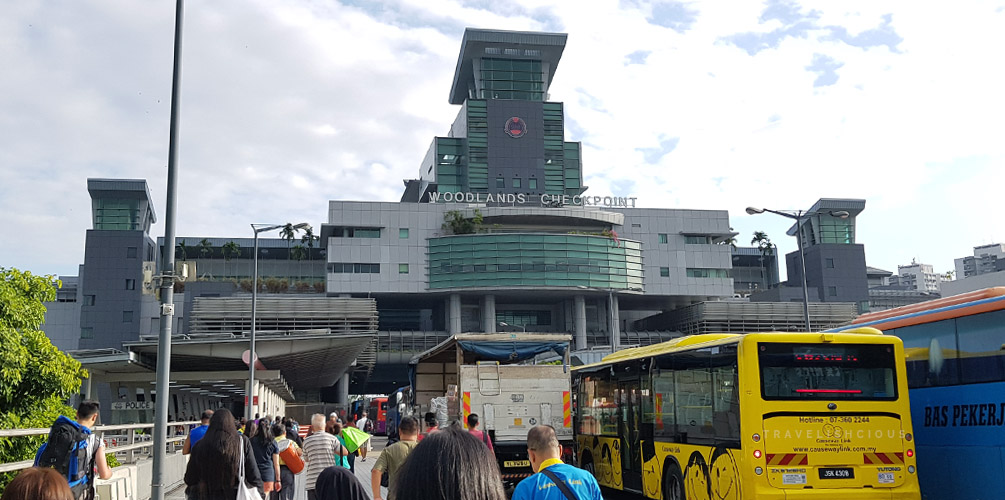 Everyone got off the bus and into Singapore's immigration checkpoint. Didn't take long. The immigration man didn't even ask me any questions. A got a guy that asked him a bit about our trip but he wasn't interrogating him. He even wished him well.
We went back downstairs to get back on the same bus as before. It took us into Johor Bahru, Malaysia. There was no border marker, unfortunately, none that I could find. The bridge was quite short so we were off the bus quite quickly and into Malaysian immigration. Again I wasn't asked any questions.
To the airport
After immigration we arrived at the JB Sentral building. It was 9:30 am by now and we really needed to get ourselves to Senai airport. We found a kiosk for the bus but the lady behind the counter informed us that the next bus was at 10 am, which was cutting it a bit fine, so we decided to take a taxi :/
Walking to the taxi rank, we were approached by a taxi driver who was offering to use the meter. I asked him how much he thought the fare would cost and he told me 40-50 ringgit. He claimed if we went to the taxi rank, it would be "3 or 4 dollars more". Whatever that meant, seeing as they didn't use dollars? Maybe he meant Singapore dollars.
At the taxi rank, we were required to pay a set fare of MYR 60. Initially I thought this may be a rip off but we agreed. The taxi ride was quite uneventful. The driver did actually turn on the meter and when we arrived, it said MYR 52, which didn't count the airport fee of MYR 12. So I guess the flat fare was slightly cheaper after all.
Later we plugged the trip into Grab, South East Asia's answer to Uber and found that it would've been MYR 40 at most :(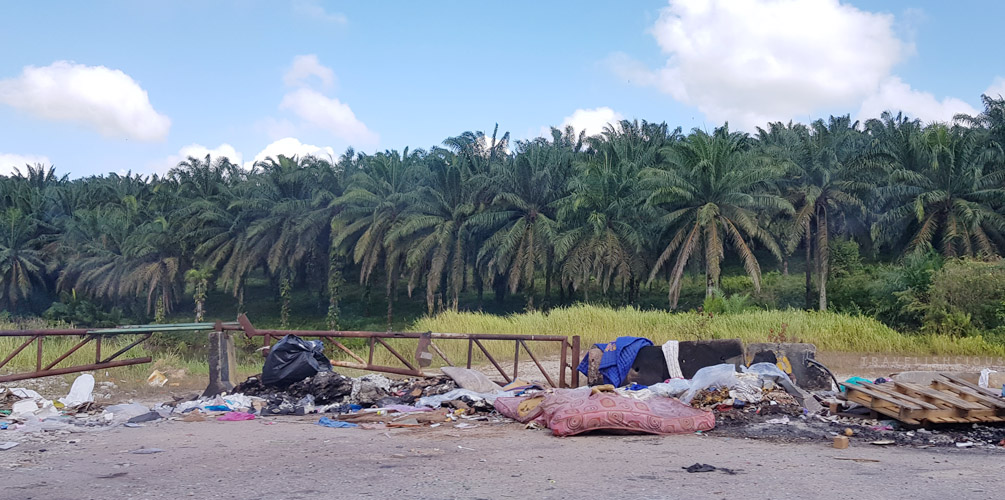 Senai Airport (JHB)
The airport was a pretty small one, kind of basic but I have seen worse. Our flight was with Air Asia, flight number AK5416. There was no real check in counter, just a couple of kiosks where you checked in and printed out your boarding pass as well as baggage tags. There was one guy standing around in case you needed help.
We jiggled with our bags, stuck our baggage tags and took them to baggage drop off. There were proper counters here, but they were unmanned so the drop off process was all done by the flier! You had to scan your own tag and follow the prompts and place your baggage on the conveyor belt and off it went. I suppose Air Asia is really into the business of cost cutting.
It was time for breakfast so we popped into OldTown White Coffee and ordered Kaya and butter toast (MYR 6.30) and a Teh Tarik (MYR 5.90), which was full of ice :( The toast was pretty good.
JHB -> KCH (AK5416)
This was my first flight with Air Asia. I had heard horrific things about them but to be honest, it was so freaking cheap and it was the best way for us to get to Kuching, so I couldn't say no. It was only a short flight after all.
The flight was half full, so we were able to leave a little early. We were the only ones seated in the middle of the plane (row 15), which I think is because we checked in late. They usually sit people in the back and front first to balance out the weight. I was able to get my own row and I had a short nap. There wasn't much of a view anyway, the flight was mostly over the South China Sea.
Overall it was ok, no complaints. The staff didn't seem miserable.
KCH
At immigration, we got another Malaysia stamp. But this one was specifically marked for Sarawak. I had a look back at my original Malaysian stamp and noticed it says clearly that I was "Permitted to enter and remain in West Malaysia and Sabah for ninety days…" The Sarawak stamp says "Permitted to enter and remain in Sarawak/Malaysia for ninety days…"
Kuching airport was nicer than Senai. Kuching is a bigger tourist draw than JB, I suppose. Look how welcoming it is, ha ha: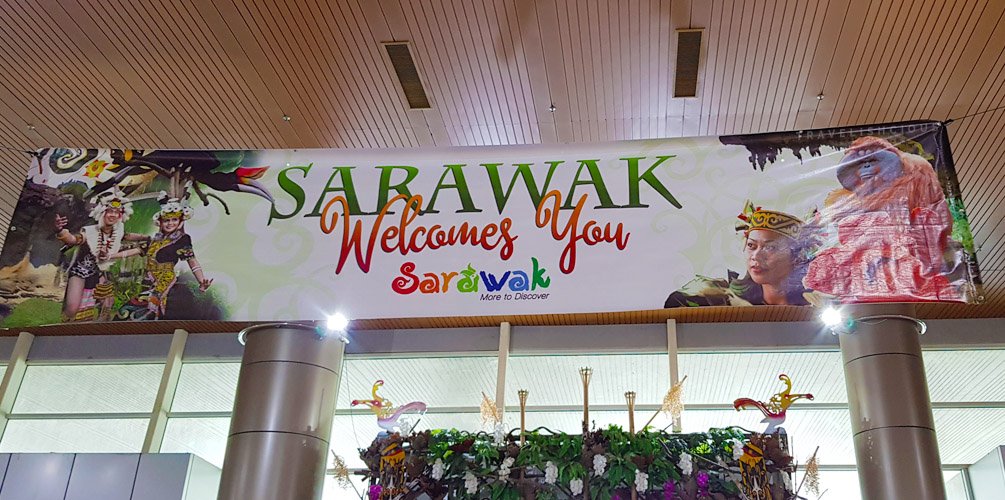 Right in front of the exit was a stand for TuneTalk, a telco we were interested in purchasing a SIM and prepaid product from. The guy manning the counter showed us the TuneTalk "Traveller" options, which were not quite what I wanted, so I asked him if he had any prepaid options that would last us 1 month. He brought out a different list of prepaid options from a different telco (U Mobile, but maybe they're affiliated?). I quickly Googled U Mobile and found that they were a decent provider. He had an unlimited 4G for a month prepaid option for only MYR 39 (AUD 13.40), which was cheaper than Tune Talk prepaid! The guy even told us he was using the same unlimited option. He set us both up and we were off. He seemed nice.
Kuching
The first order of business was to get to the accommodation. We stood around installing Grab and looking for promo codes, but couldn't find any. A ordered a grab and it came pretty quickly. It was a 25 minute trip into town, which only cost us MYR 12 (AUD 4.12). The driver was pretty nice and told us a bit about Sarawak cuisine.
This time we were staying in a "guest house" rather than a hostel. I had specifically asked A to find a place nicer than the last one. The guest house, Lima Tujoh guest house was situated above a cafe of the same name. The cafe seemed nice and trendy. Our room was small but cheap and yes, it was nicer than a dorm as we had our own room and ensuite.
Lau Ya Keng Food Court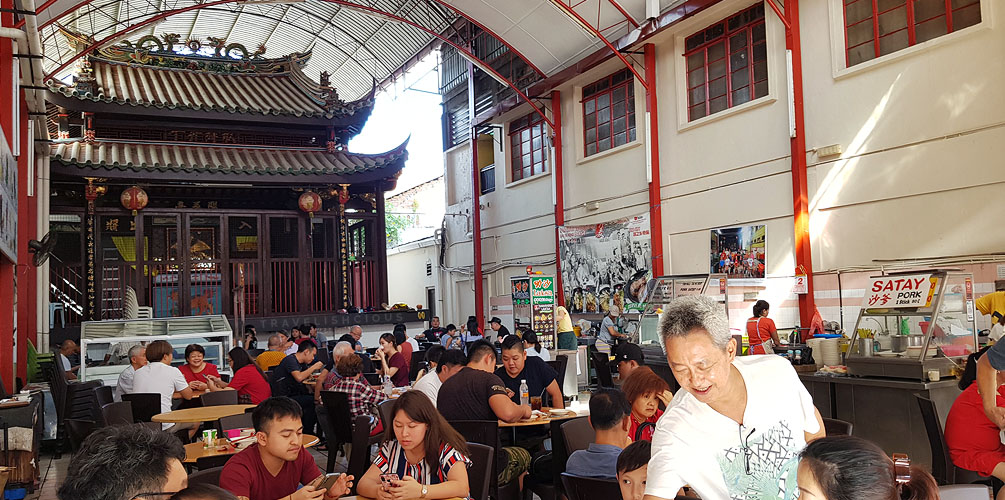 For lunch we headed to a food court about 30 meters away. There weren't many stalls here (only 4) so there wasn't much choice. I ordered a fish ball soup and some chicken satay sticks and A ordered a Sarawak Laksa. We ordered at each respective stall and then went to sit down. I was looking the other way when this old lady approaches us and asks us what we would like to drink. I turn to look at her and I'm sorry to say that she freaked the shit out of me but I did my utmost best to keep a straight face (which I did). She was super confronting. I stammered, A quickly chose something (Teh C Special) but the lady had moved on to the next table. She came back after taking their order and I told her what I wanted (Chrysanthemum honey tea).
The food came rather quickly after that. My fish ball noodle came in a clear, simple broth, which was decent. The satay was quite tasty but not spicy at all. A enjoyed his Laksa, which was very different to the Laksa we had yesterday. It was very aromatic (lots of spices I think) and the soup wasn't thick. All in all, decent food but nothing outstanding. 6/10 #ipinions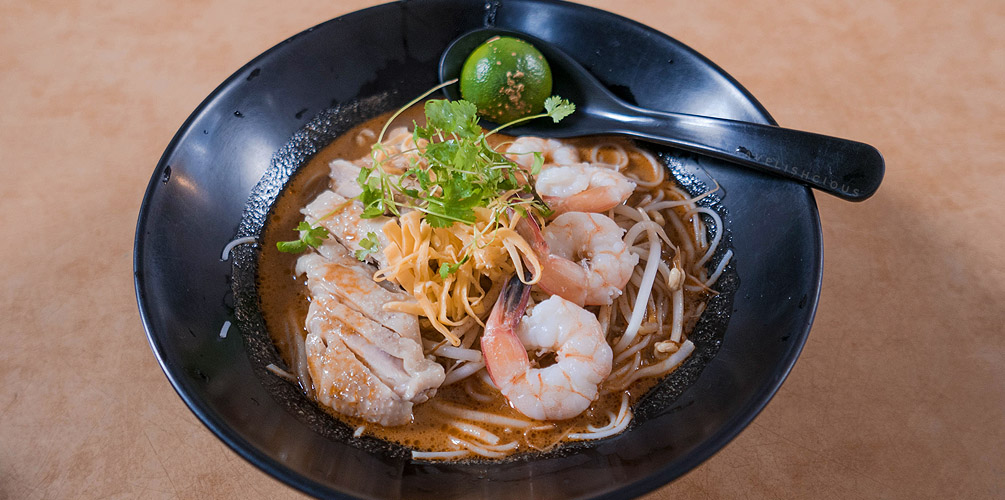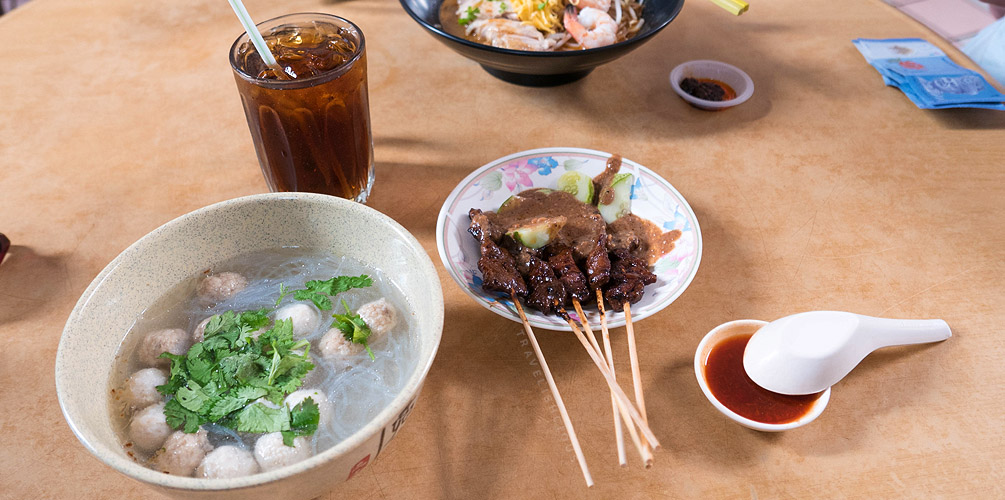 It turns out that A's order of Teh C Special (also known as 3 layer tea) is a Sarawak special. The three layers refer to gula melaka (or palm sugar), evapourated milk and red (or black) tea, which looks quite nice, but you must mix the layers well before consumption. It was quite sweet but delicious.
Kuching waterfront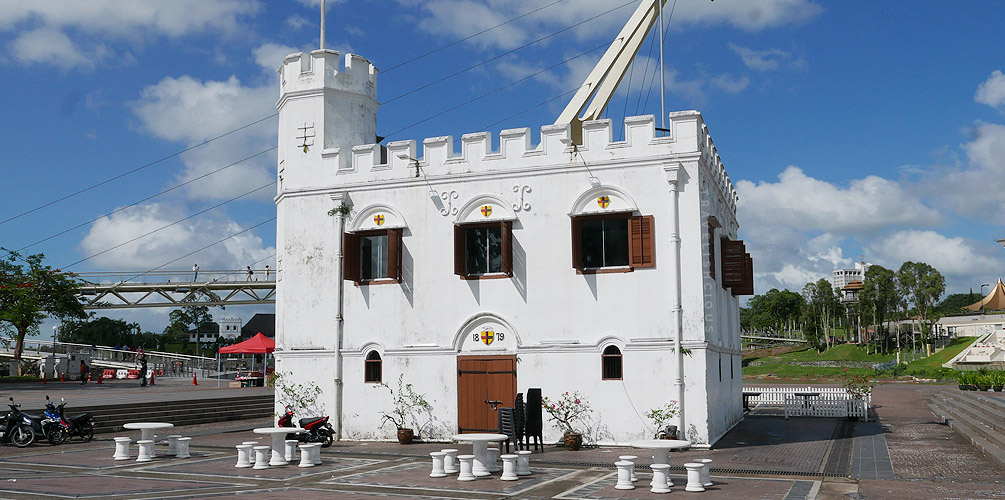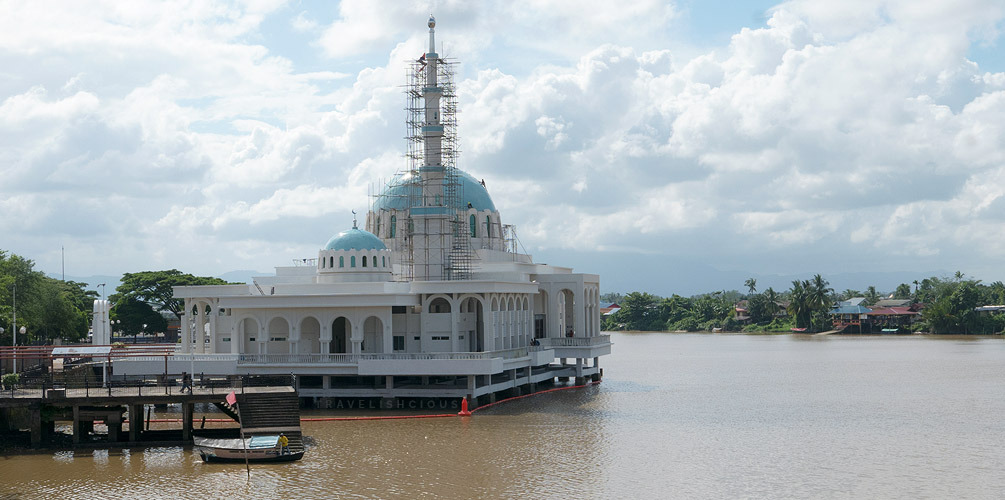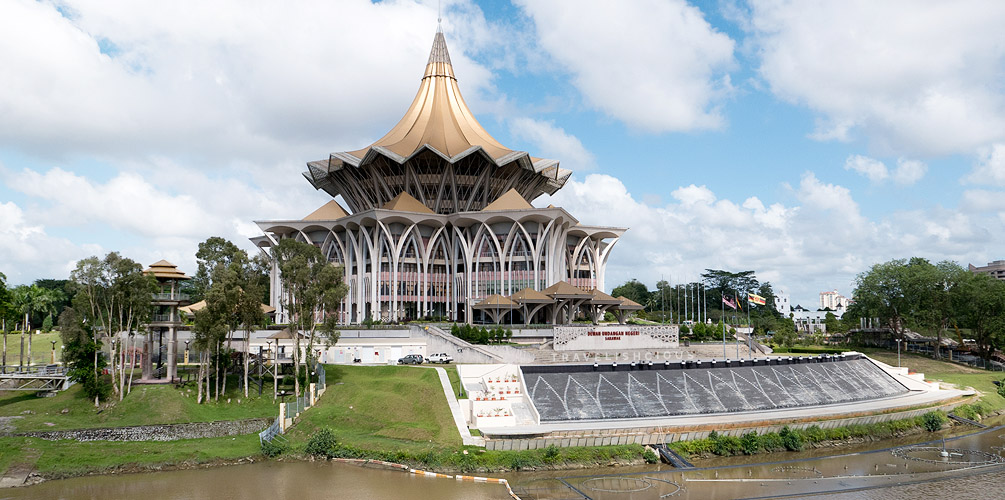 After lunch we walked to the waterfront and the Darul Hana Bridge. The waterfront was pretty unremarkable except for three rather interesting buildings, one on the current side (Square Tower) and two located on the northern side - the Sarawak State Legislative Assembly building (i.e. parliament) and the Astana (official residence of the Governor). Square tower was built in 1897 as a prison then it became a fortress. I suppose it's a souvenir from time passed but it looked SO out of place.
A really wanted to cross the bridge to get to the other side to see if we could go inside parliament, or even get close to it but alas there were high fences everywhere.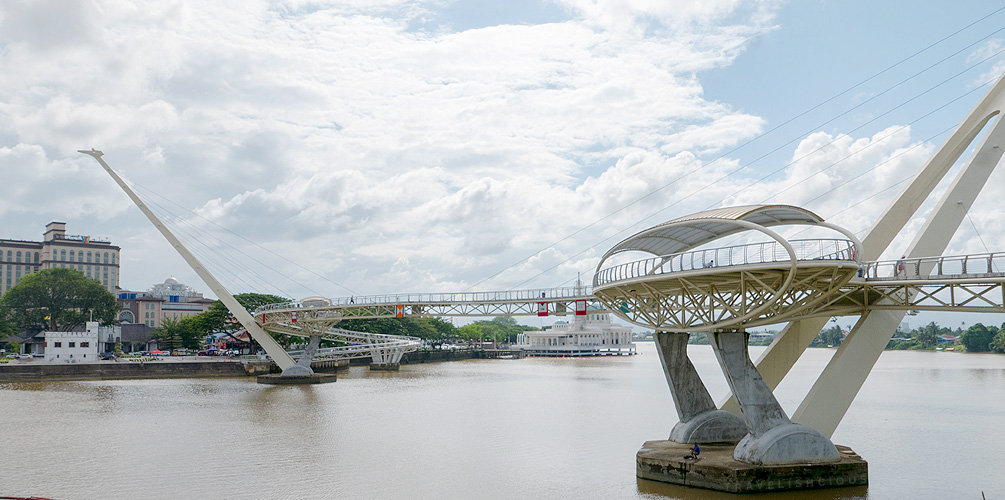 The bridge, whilst sparkly new and vaguely impressive, is a bit useless. It takes you to parliament and the Astana but you cannot go inside or close to either. It felt like the only people on the bridge were tourists who didn't know any better (yours truly included).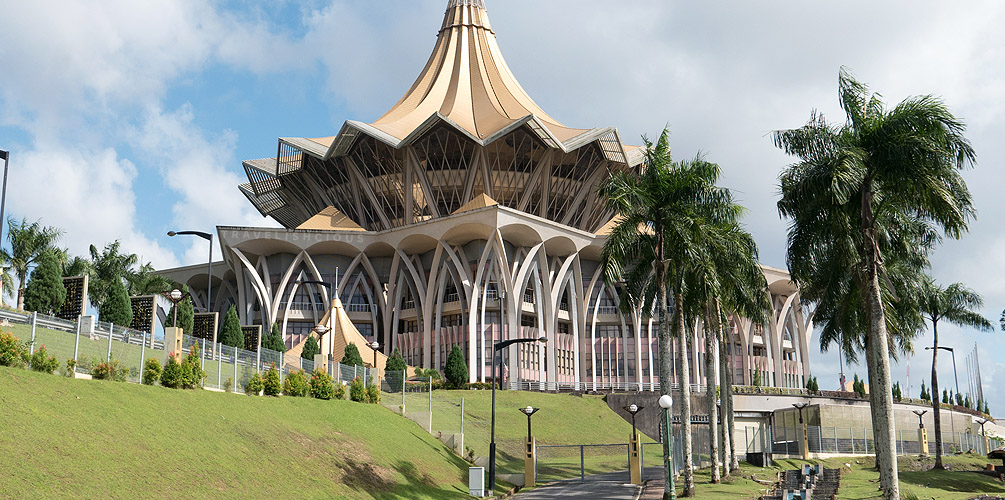 Orchid Park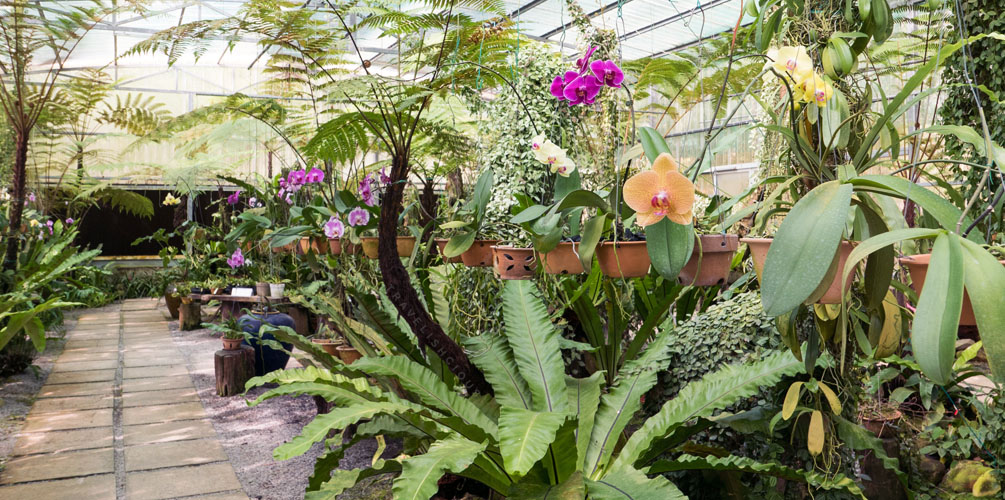 That said, we did find something to do on the northern side; there was an Orchid Park located nearby so we decided to go inside to have a look. It was really really bloody hot and humid. The park was quite sizable but unfortunately I think it was the wrong season as there were very few orchids in bloom. But it wasn't all a waste, the ones that were in bloom were quite nice.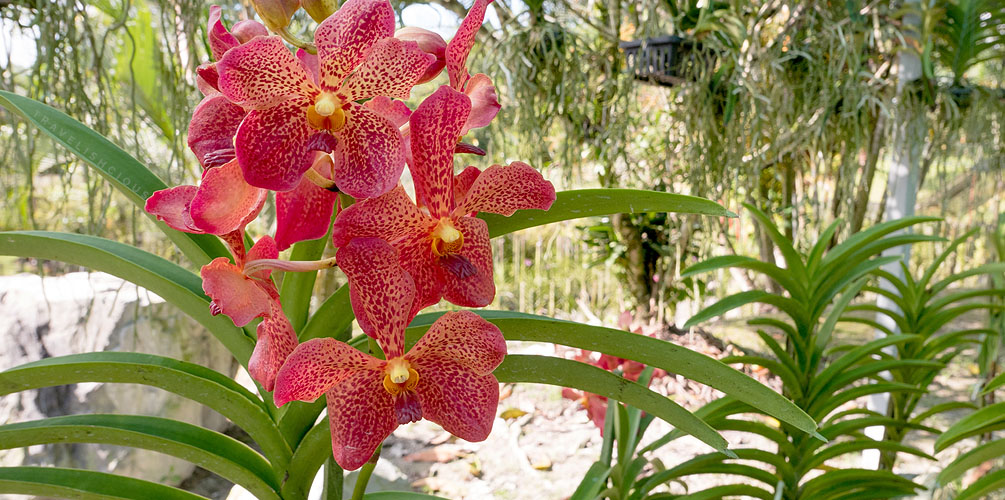 Mira Cake House
After walking around the park we did a Google search to see what else was in the area. A found a Sarawak layer cake (kek lapis) place nearby but unfortunately it was too far to walk and especially in the heat. We called a Grab to drive us the 3 or so kilometers. It cost MYR 5.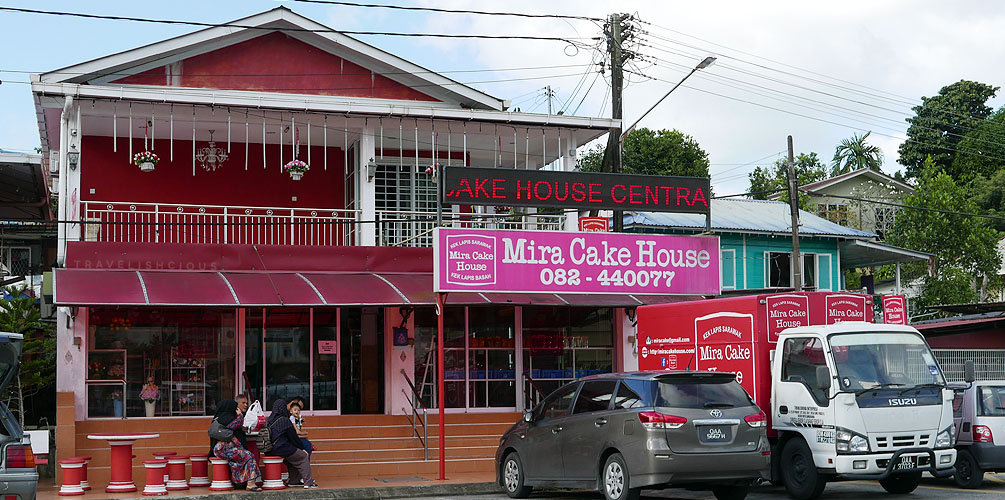 Mira Cake House seemed to be a Kuching institution. They had many branches but we were at their main store/factory, which was right on the north side of Kuching river. There were lots of customers holding baskets full of goodies. I was a bit overwhelmed with the selection of layer cakes (kek lapis) they had. They even had samples but they all tasted the same to me, like a basic but nice vanilla sponge cake with a tad too much oil (or butter) used. Eventually we chose based on aesthetic, lol. We settled on a watermelon looking cake, which did not taste like watermelon whatsoever.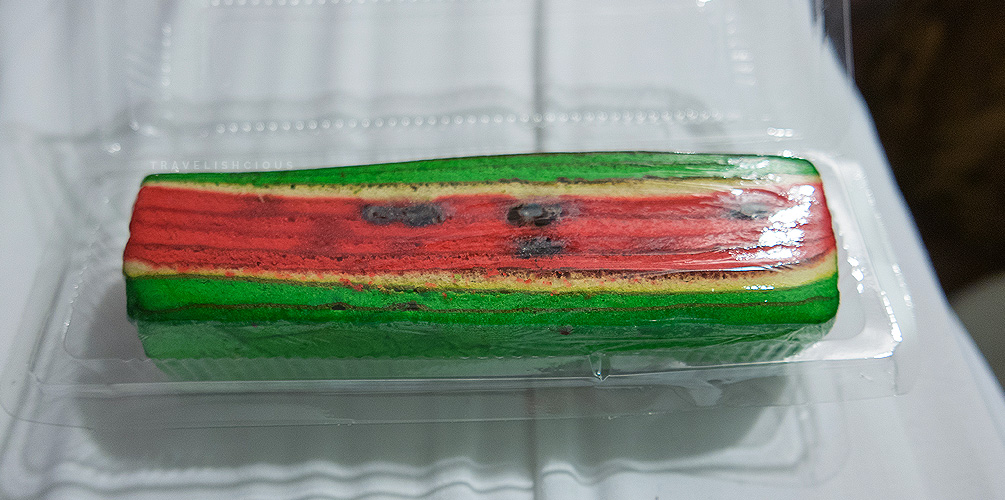 More waterfront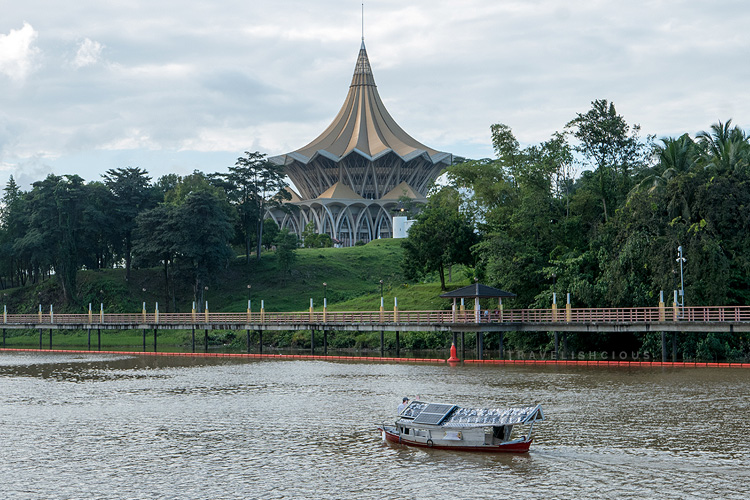 We walked back to the foreshore and took a boat across the river as it seemed impractical to walk back to the bridge. The 30 second boat ride cost MYR 1 each. There were 5 or 6 other locals in the boat with us.
Our next stop was to a cat family statue, which was nearby. It was a funny looking statue to be honest…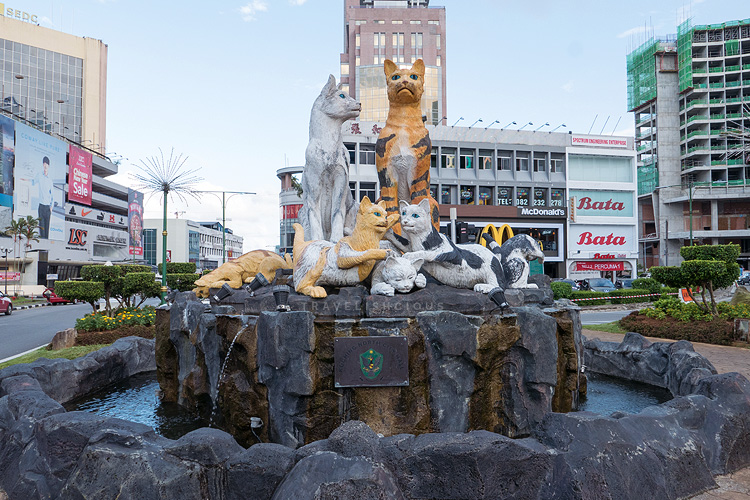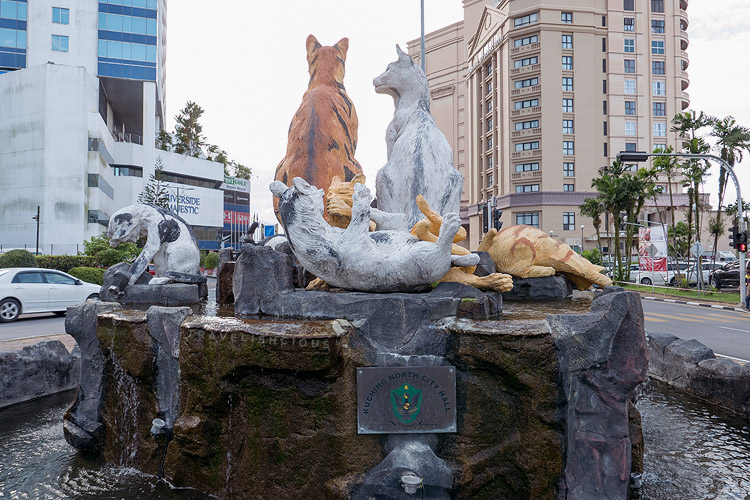 We headed west along the waterfront, just taking the sights and smells in. Along the way we encountered a stall selling a bunch of drinks. They had a really long list of drinks and my interest was piqued as I read the different ways Milo could be served. They even had "Neslo" which was Nescafe and Milo. We purchased a Milo Tarek, which was basically where the guy expertly pours Milo so that it becomes aerated. It was nice but again… too much damn ice.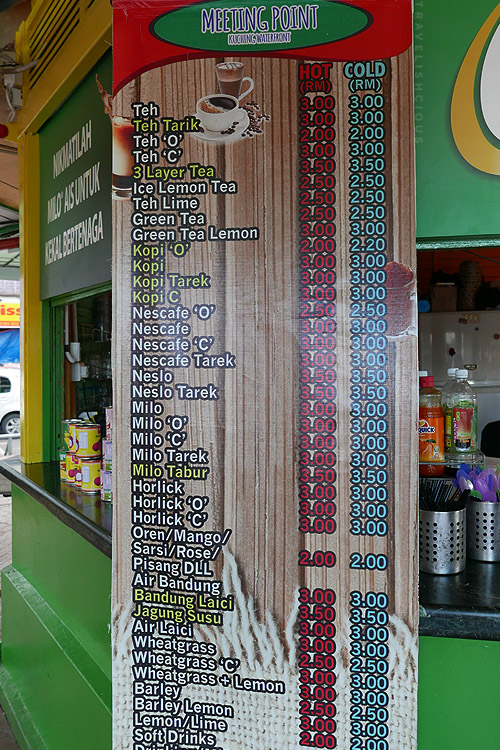 We kept walking west and stopped and admired some things along the way: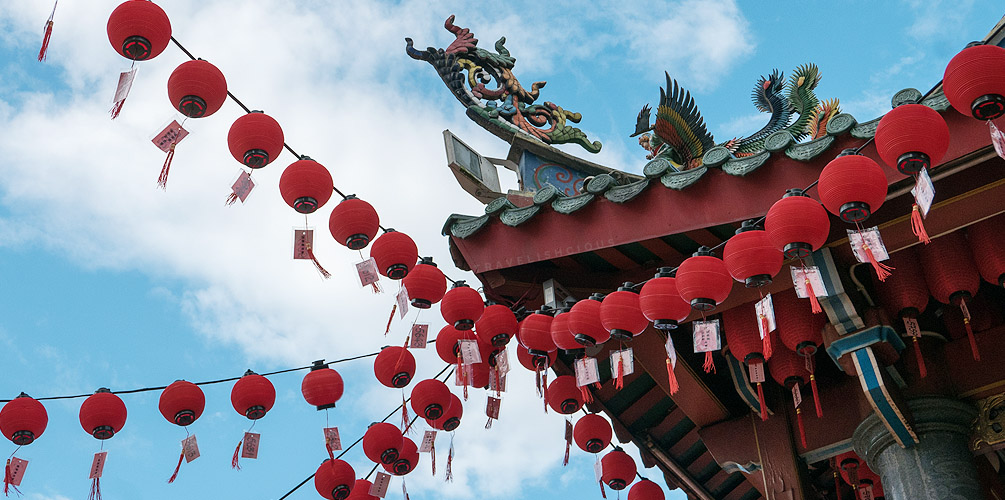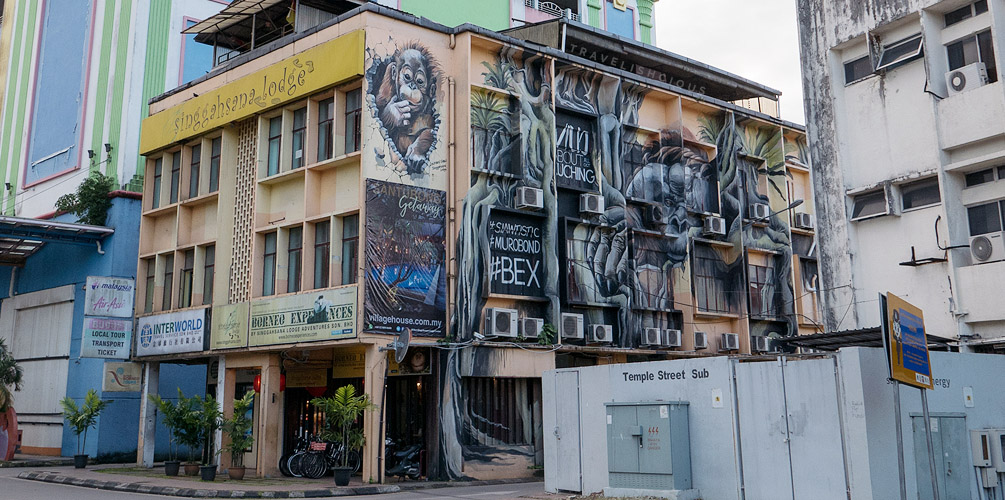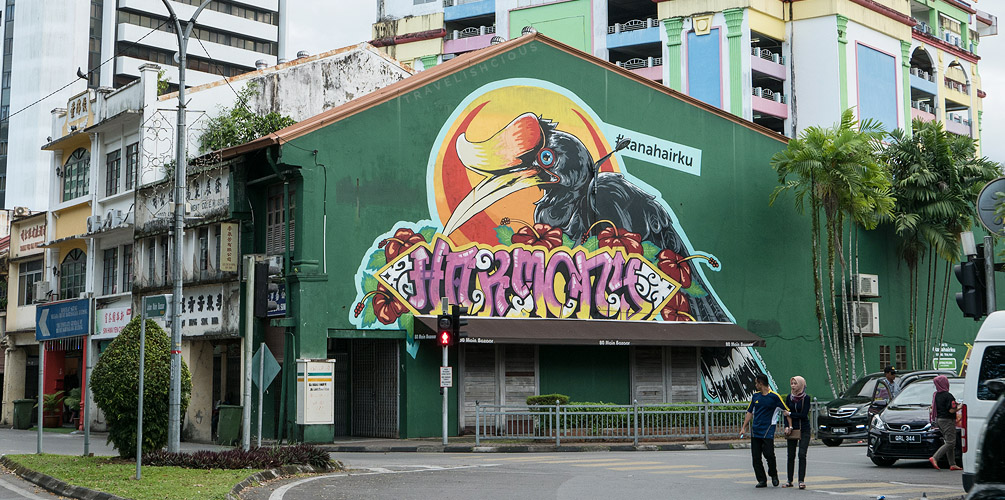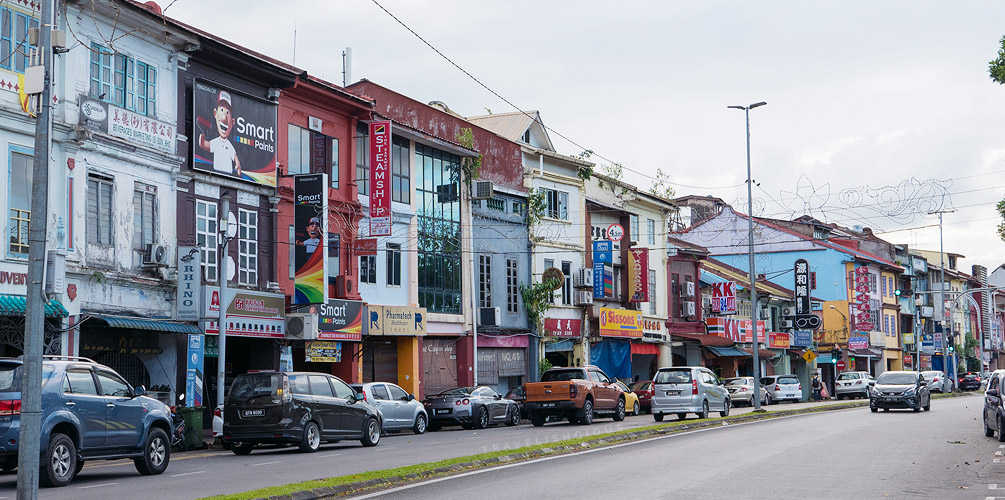 The next stop was to some street art, near the India Street pedestrian mall.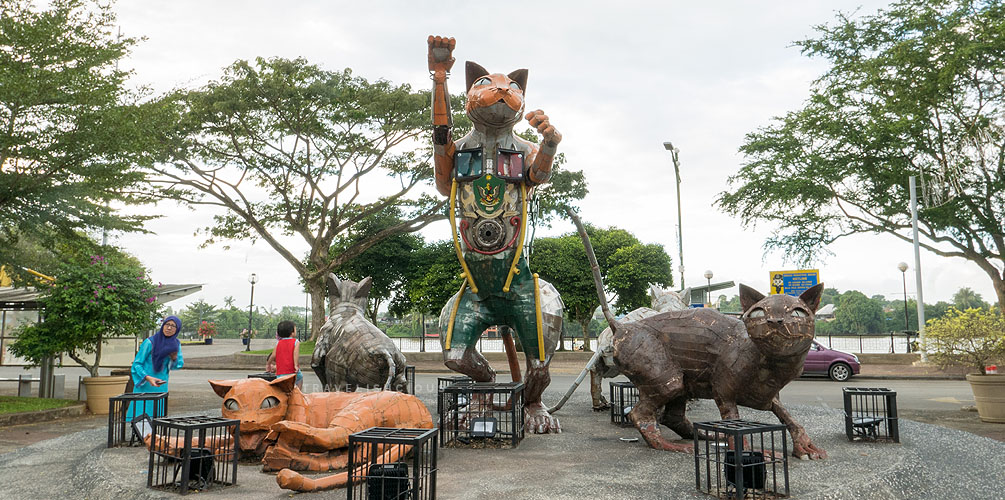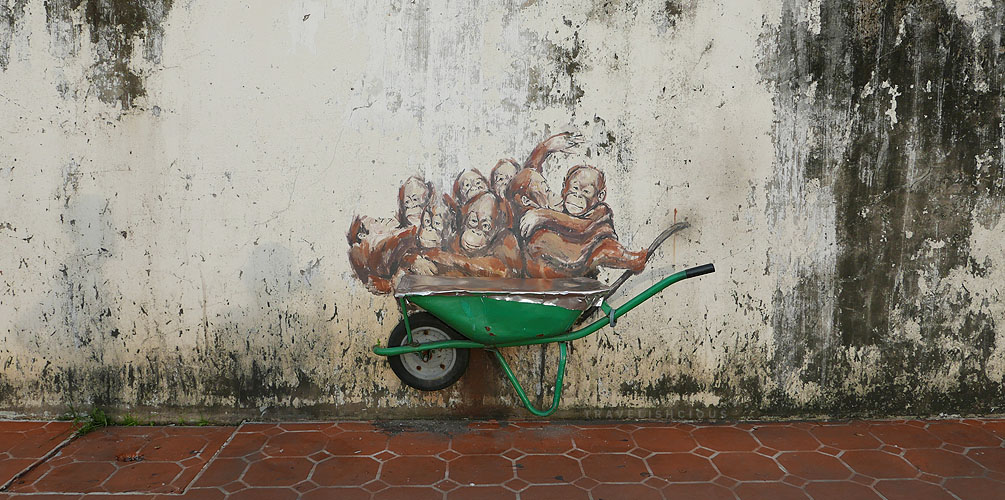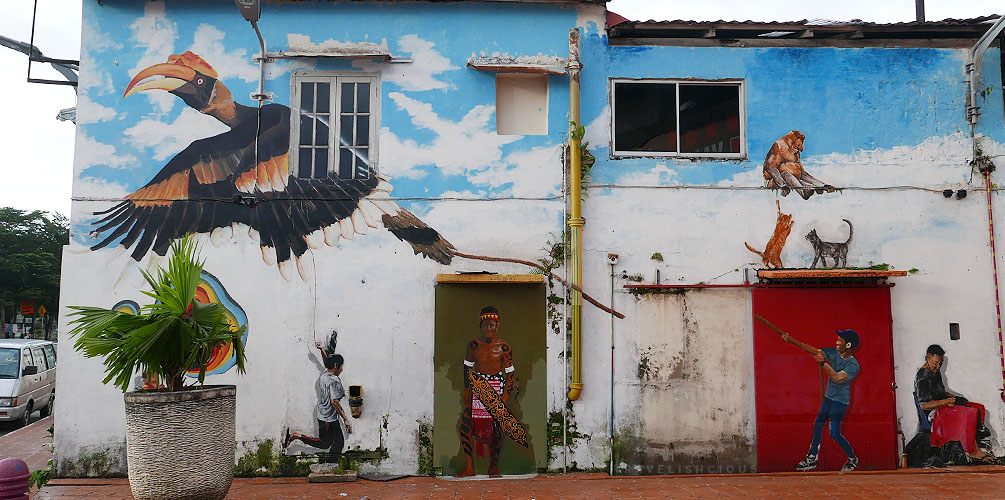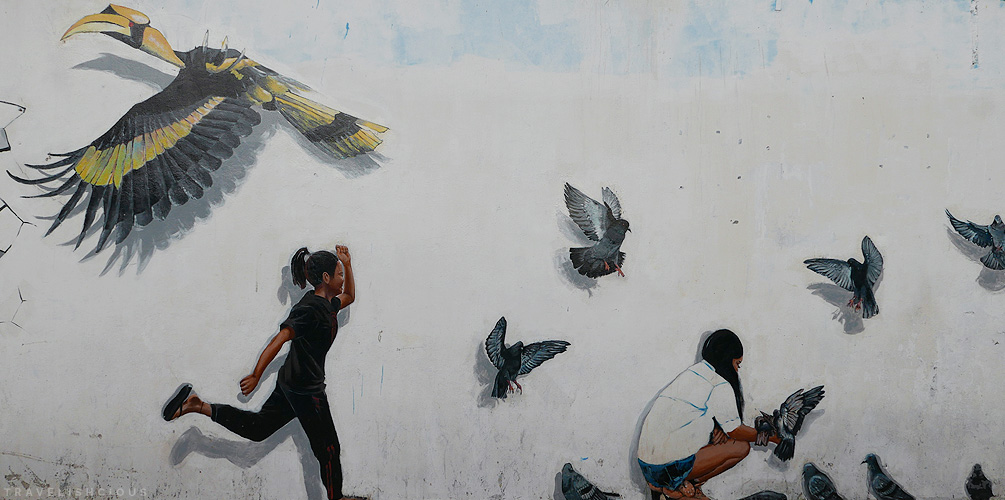 After admiring the murals, we walked through India Street Pedestrian Mall where most of the stores were packed up and went to chill in our accommodation.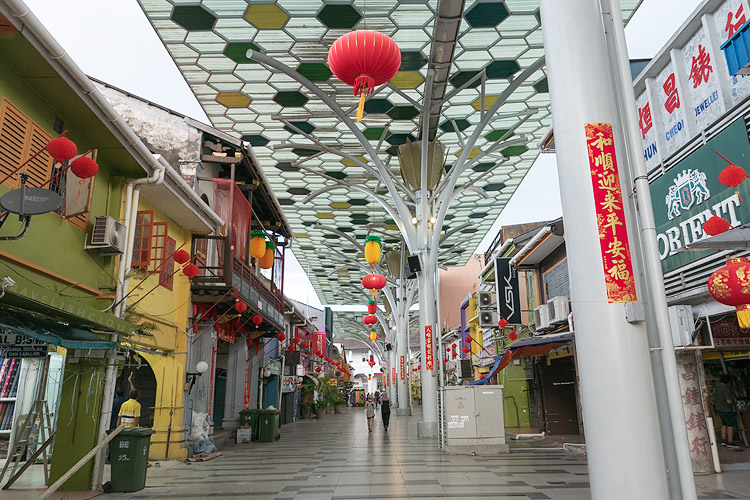 Topspot Food Court
For dinner we went went to Topspot Food Court, which had a bit of a double meaning. The food court was located on the 6th floor of a car park. It was kind of open air but most of it was under some sort of shelter (which was great as it started raining after we arrived). The food court was very popular with locals. It was mostly full of families sharing a meal together.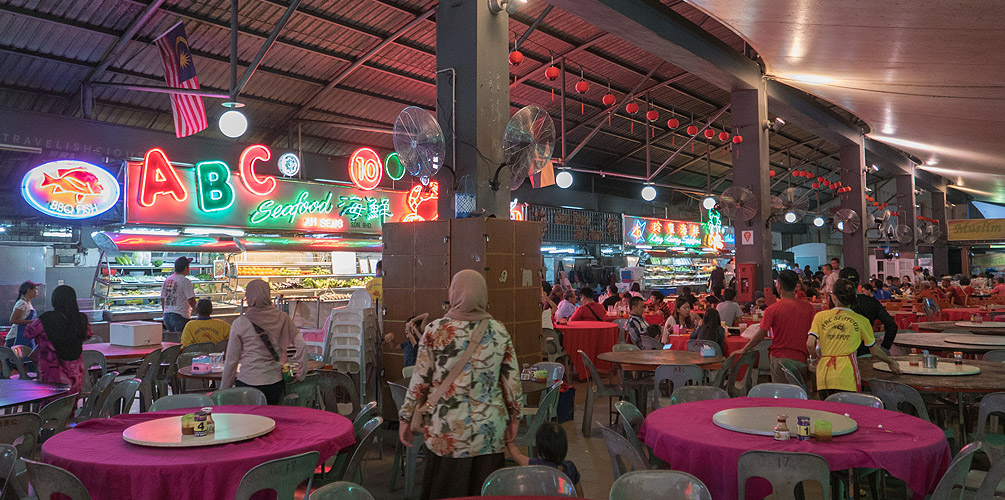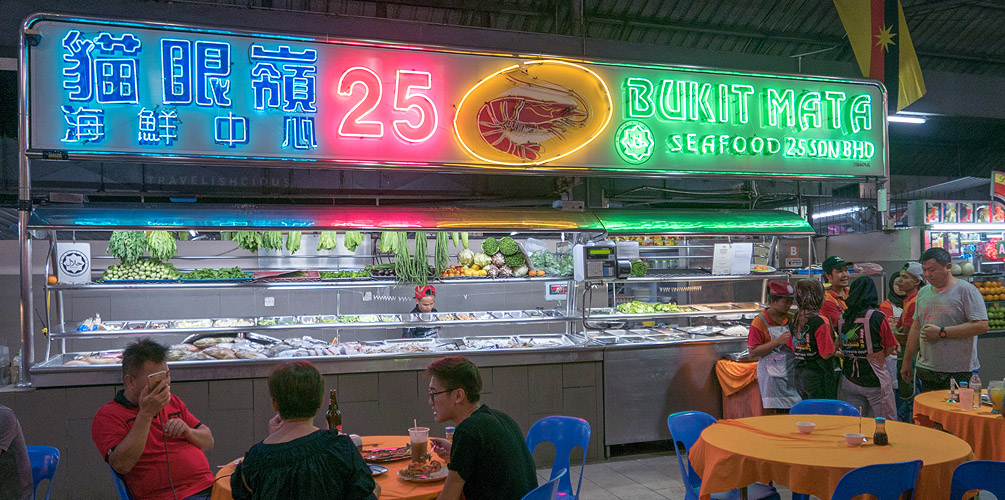 Topspot was a seafood oriented food court; most of the stalls sold seafood and proudly displayed both live and fresh seafood, mostly crabs and fish. We decided on stall #25, Bukit Mata Seafood. We stopped in front of the stall and a waiter flourished a laminated menu, quickly but friendly explained some things on the menu. We were taken to a table and given some time to decide what we wanted to order -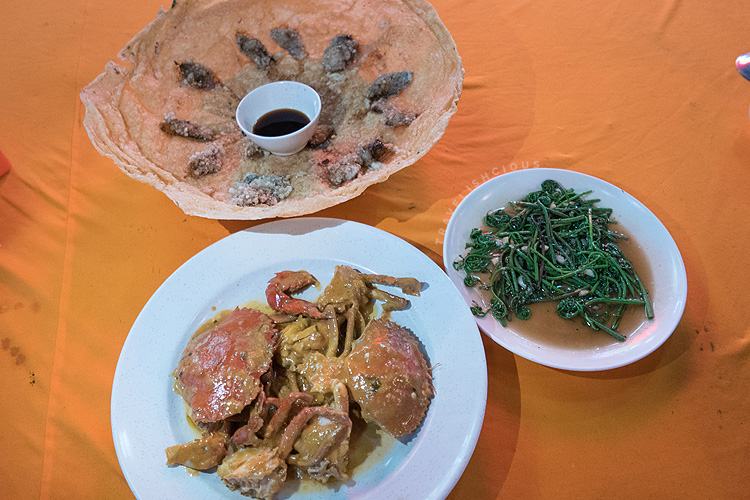 Flower Crab with signature butter and salted egg (600g): The crab cost only MYR 5 per 100 grams. I'm trying not to think about where it came from, it seems too cheap. That said, it was pretty tasty. Plenty of meat. The sauce was really good, I really enjoyed it. It was rich and slightly sweet, even with the salted egg.
Kuching Oyster Omelette: The omelette was huge (like 40cm diameter huge). It was wafer thin, super crispy and made with many oysters. This was not like any oyster omelette I've ever had before (that being, a real omelette, but deep fried and stuffed with oysters). It was quite oily but not bad. The oysters were juicy and plump. MYR 20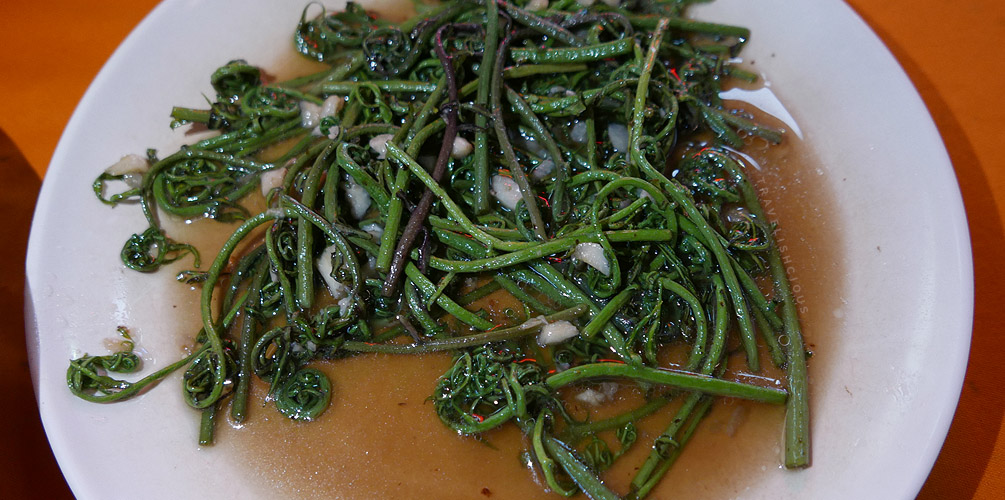 Midin with garlic: Too scared to order this with belacan (shrimp paste) as I knew it was really pungent and I might not like it. I had tried Laos style fermented shrimp paste before and that was crazy strong and not very pleasant. (Edited to add: Belacan is the BEST what the hell was I smoking? We ate it all the time later on). The midin was actually really tasty and rather tame. I could eat a whole bunch of it. We had ordered a small size just to try because you never know, there are green veg that isn't nice at all. The waiter had informed us that midin is found in Borneo only. Later, a Grab driver told us that it grows wild everywhere and you can find it quite easily. You shouldn't eat it raw, however.
After ordering food, a lady from the beverage stall capitalised on us and gave us drink menus. I ordered a Ribena and sprite (yes, this is a drink!) and A had yet another 3 layered tea.
Our seafood dinner only cost MYR 60, which is pretty cheap in the scheme of things. Enjoyable meal. 8/10 #ipinions
After dinner it was pouring rain so A ordered yet another Grab to get us back to our accommodation (MYR 5).