Day 2 of Asia 2019 trip / Day 2 in Singapore

Kueh from Chong Wen Ge Cafe
We had another day in Singapore but I can't say we did a whole lot. Met up with a mate and did some shopping and that was it, really. You'll notice the only pics below are of food ;)
Chong Wen Ge Cafe
We woke up really late and headed out to lunch with a mate, T, who is Singaporean. We met him at Telok Ayer MRT station and walked over to Chong Wen Ge Cafe, a Nyonya (the OG Chinese/Malay ethnic group) establishment. It was right next to Thian Hock Keng Temple, which we had visited yesterday.
T said we were here for the Laksa ("you guys have never had a real laksa before") but the curry chicken was good too. In the end we all ended up getting Laksa and Teh Cs to go with it.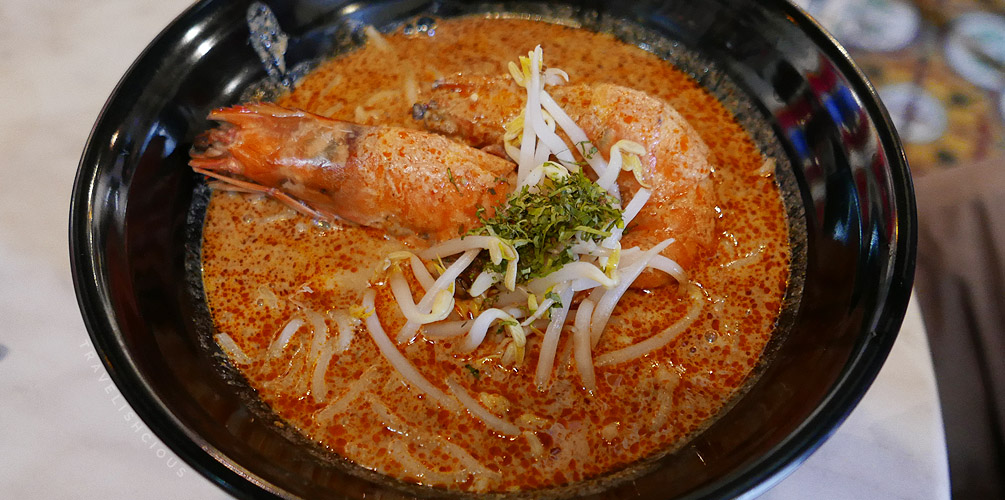 The Laksa was DELICIOUS. A damn good lunch. It really was like no other "Laksa" I've ever had back home. The soup was super rich and thick; there was definitely a good serving of coconut milk in each bowl. There was zero chicken in this laksa, only those huge prawns, sliced egg, tofu and fish cake. It wasn't too hot either. The negative was that at SGD 11.80, it was a pretty pricey bowl of laksa (for Singapore standards). But in Sydney, you'd easily pay more for an imposter.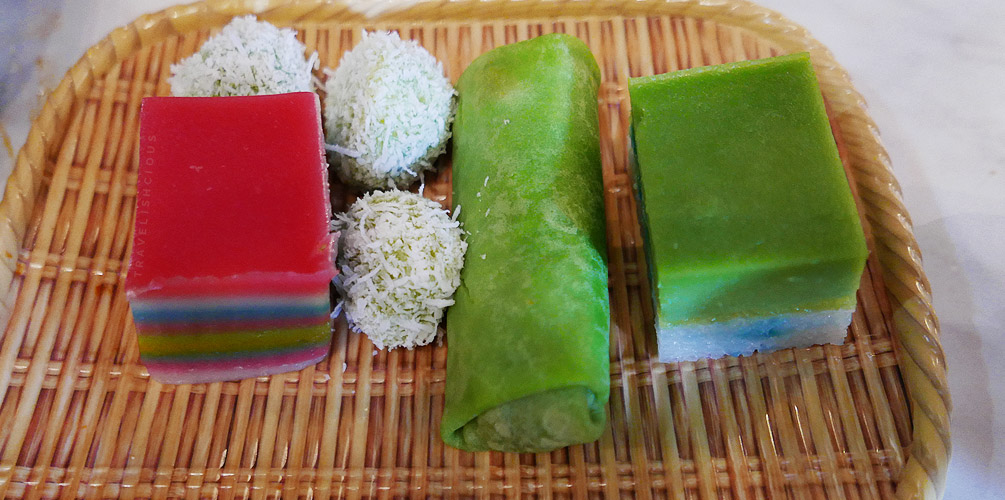 T also ordered some kueh to try. Most of these are made of rice flour and so they were quite glutinous and a little chewy but nothing too unfamiliar to me. They were all pretty yummy and quite sweet. From left to right:
Kueh Lapis - T sat there and peeled each layer off and ate it layer by layer!
Onde Onde (the round things) was filled with Gula Melaka (Malaysian palm sugar syrup).
Kueh Dadar is a rolled up pandan pancake filled with grated coconut mixed with gula melaka
Kueh Salat consists of two layers - a glutinous pandan layer on top of pressed sticky rice.
We're definitely getting more Kueh in Malaysia!!
I didn't take a pic of the Teh C but it was made with Gula Malaka and was therefore quite sweet! Tasty, but diabetes inducing!
9/10 for everything :) #ipinions
After lunch, T took us Maxwell food centre, a hawker centre to show us where we could have the best Hainan Chicken in town. There was quite a long line and we were quite full (although I had originally thought we might be able to sample some despite the laksa) so we left pretty quickly.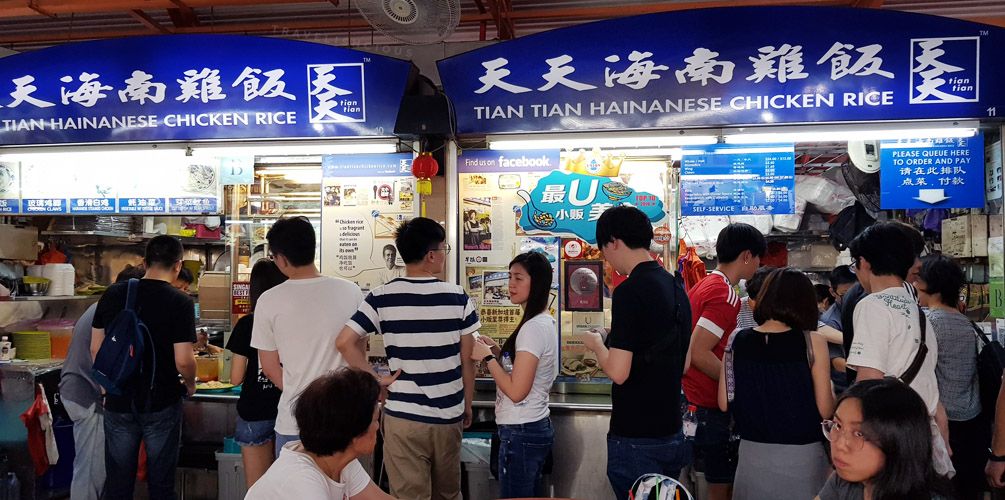 We bit T farewell after that as we had to meet A's cousin again. He was going to help us by taking us to some camera shops. I had expressed that I wanted a tripod for my camera and a gimble for our action video camera. We met him at City Hall MRT station. Going up to street level, we noticed St. Andrew's Cathedral and took a look inside. It was big and had some nice and colourful stained glass.
Shopping
Across the road from the Cathedral was Peninsula Plaza, which looked didn't look unlike any old shopping mall I've been to in Hong Kong, strangely enough. A's cousin led us to some camera stores he liked and we made enquiries. Eventually we moved on to the mall across the road, Peninsula shopping centre. Here, I bought a rather lightweight tripod for SGD 36.00. We gave up on looking for a gimble, as all the shops wanted ridiculous prices for it.
Hoshino Coffee
A's cousin needed to go to work soon but he wanted us to have a coffee with him first, so we went to a cafe of his choosing. We took the MRT to Orchard, where we would finally take a glimpse of the famous Orchard Road. He led us to ION Orchard Mall and to Hoshino Coffee which turned out to be quite a pricey Japanese style cafe. We all ordered - A's cousin ordered a souffle and lemonade, a royal milk tea for A and a matcha latte for me. No pictures unfortunately. I have to say, my drink was a very well done matcha latte. I couldn't fault it at all, except for the pricetag of SGD 9.00. The souffle also looked quite good, very fluffy and soft looking. A didn't enjoy his drink much, which disappointing as it was quite pricey!!
It turned out that A's cousin had planned to shout us but we insisted on getting the bill since he paid for dinner the night before. He left for work and we decided to hang around Orchard road. I still needed that bikini top.
Orchard road
Orchard road is a main road in Singapore and houses a large shopping area with lots of malls. Every city has one and this was Singapore's. Nothing unusual or spectacular about it, to be honest. I spotted some ice cream vendors selling ice cream sandwiches (ice cream housed in either a wafer or rainbow bread). It was a hot day after all, so why not indulge ourselves with a little ice cream?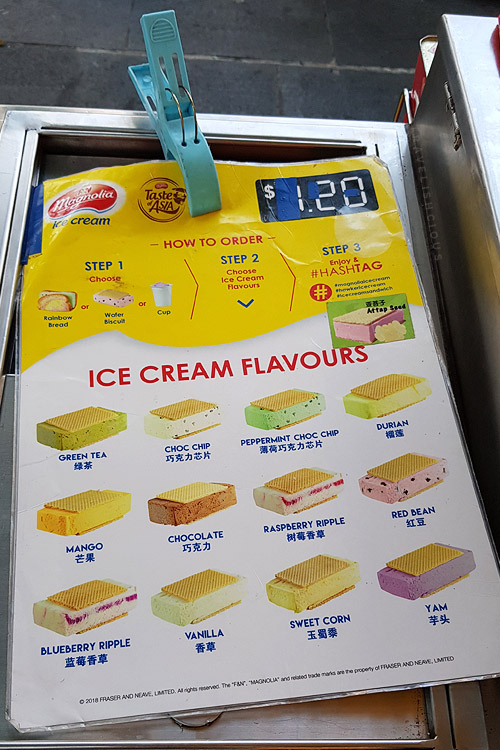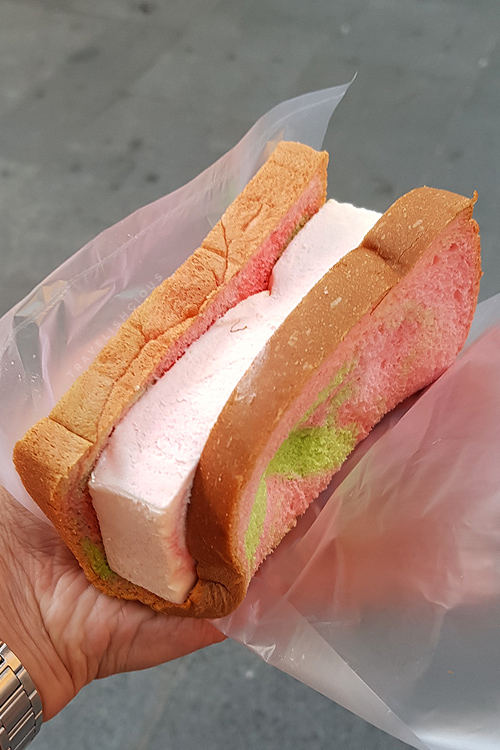 I picked a slab of raspberry ice cream in rainbow bread (SGD 1.20 = AUD 1.24). The bread was Asian style bread so it was pretty soft and light, and went fine with the ice cream. Cheap thrills on Orchard road!
We hit up a few malls and saw lots of familiar brands like Boost Juice and even a Guzman and Gomez! We visited lots of familiar shops like Roxy, Seafolly, Billabong and Uniqlo. In the end I was happy with a bikini top from H&M. Easy and cheap and ACTUALLY FIT well.
Maxwell Food Centre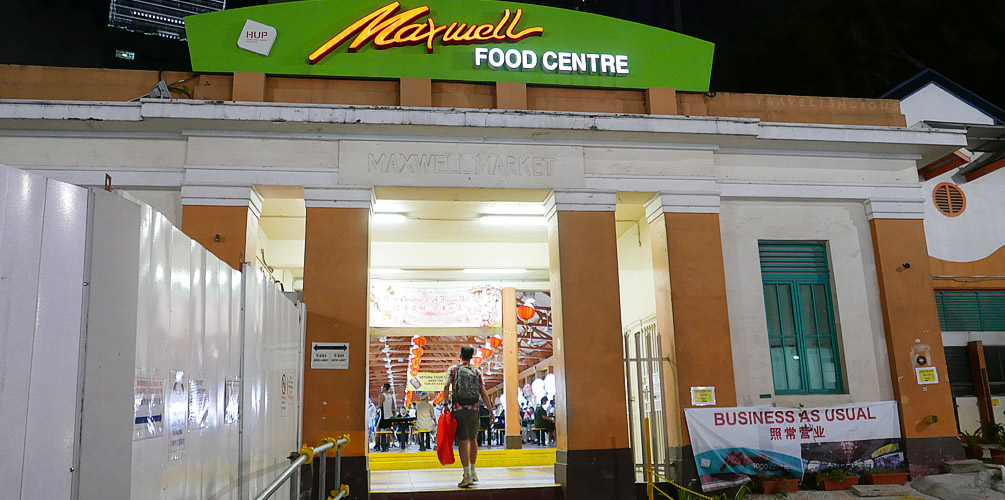 It was getting late and we needed dinner so we headed back to Maxwell food centre for some of that Hainan Chicken. Unfortunately it was closed when we got there! :(
There weren't that many stalls open, actually. So we had to quickly decide what we wanted to eat. I picked a Char Kway Teow from a place that did a lot of wok fried things. You could hear them stir frying frantically in the background. I didn't get the name of the shop. The CKT was decent, with a little bit of wok breath. I was surprised to see two different types of noodles but that made it more interesting. The only downside was that it could do with more meat.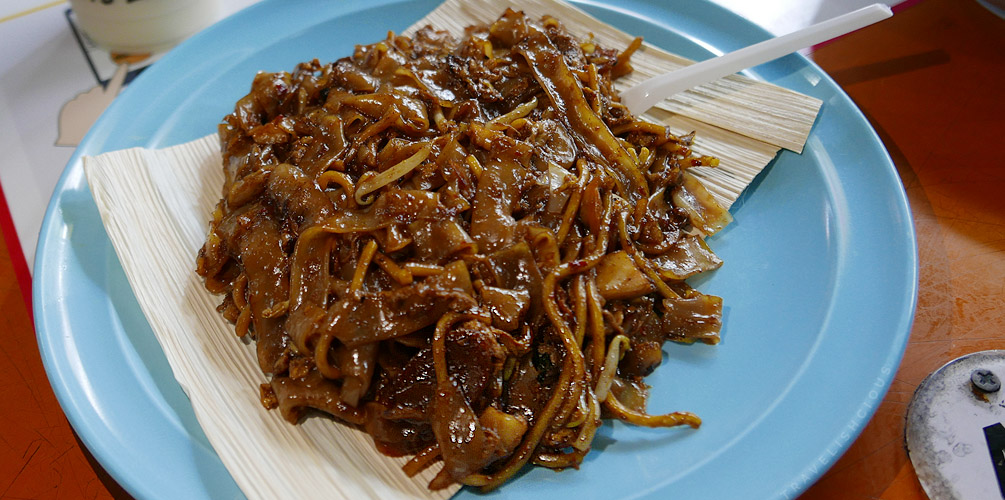 A picked pepper chicken over noodles for dinner. It was nice, very peppery, just as you would expect. Nothing special but it was still a good feed.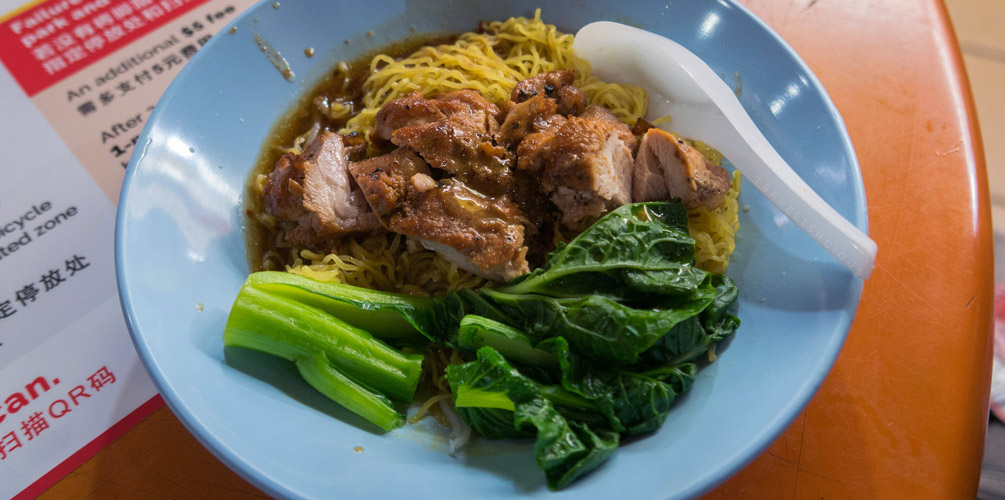 I was still disappointed we weren't able to try Tian Tian :(
Final Thoughts on Singapore
As I expected, Singapore was… just a city. Sorry if I offend anyone. Kind of like how Hong Kong is just a city, although I'm pretty biased and my ties to it does make it more interesting to me. Like, I'm more interested in its history than your average person. And I guess I could say the same here, I wasn't that interested in Singapore.
Many people have told me you only go to Singapore to shop, and I could see how that could be. But we were not there to shop :)
The food was definitely good. That laksa…. Sydney does not have anything like it. Not even close.
The weather really sucks.
The metro is slower than what I'm used to.
Pricey place to hang around, and not a whole lot to do to boot