Day 1 of Asia 2019 trip / Day 1 in Singapore

Supertree Grove at Gardens by the Bay
We'd joked that Singapore was the last time we'd see a high standard living and that it was all going to be down hill from here, until we hit Hong Kong (whenever that may be). But we also anticipated that there wouldn't be a whole lot to see so you win some, you lose some. It was also why we weren't staying for long - accommodation is not cheap!
Ya Kun Kaya Toast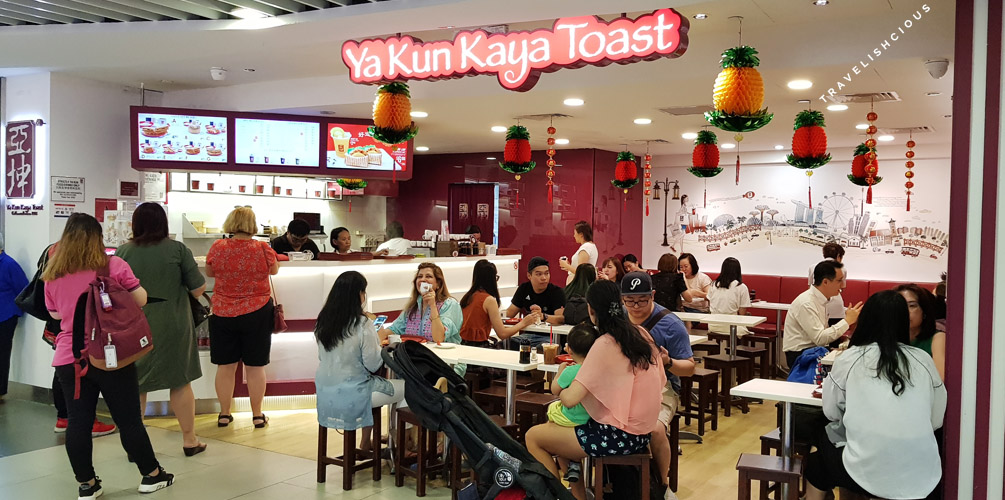 For breakfast, I couldn't pass up an opportunity to eat a Singaporean classic - Kaya toast. We ordered a "Kaya toast with butter" set meal (center, SGD 4.80 + 0.20 for Teh C) and a French Toast (left, SGD 2.00) and an extra iced milo (SGD 2.80) from the popular chain restaurant, Ya Kun Kaya Toast. The set meal came with a side of soft boiled eggs, which A enjoyed. I found it a bit too runny for my taste.
The Kaya toast was pretty nice, although sweet. It was a bit too small :( Kaya is a coconut jam made from coconut milk and is a SEA thing. Sometimes they add pandan to it too! I'd never had it before but I know now that it is readily available back home. Teh C was Tea with condensed milk which again, was a bit sweet. The milo was nice but had a bit too much ice.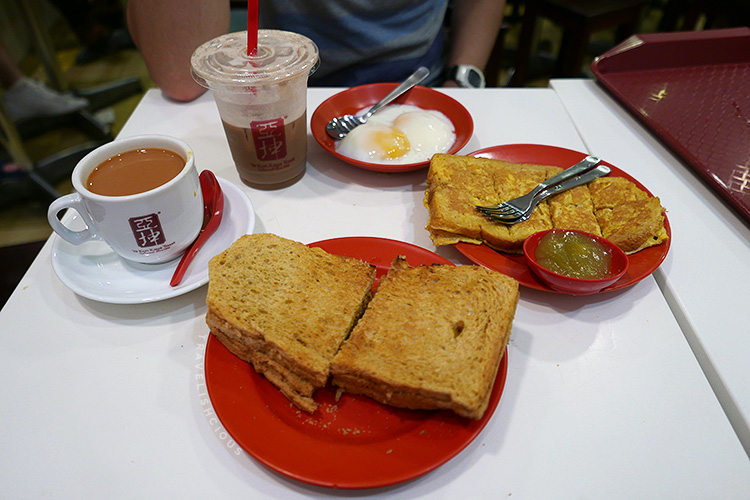 After breakfast, we walked to a shopping centre nearby, Suntec City. It was really hot and humid and so some air conditioning was a welcome respite. On the way, we hit up a supermarket to get some water. I noticed that things were quite expensive (or maybe it was because I was basically in downtown?) I found 1L of A2 Milk being sold for SGD 7.70, the horror! It's normally about AUD 5 for 2L (you would never buy 1L).
To A's dismay, at Suntec City, we spent some time looking at a Xiaomi store, Uniqlo and H&M. I was looking for a bikini top for Thailand.
We headed south towards Marina Bay and ended up at Esplanade/Theatres on the Bay. There, we saw some public art exhibits. My favourite was an ink art exhibit: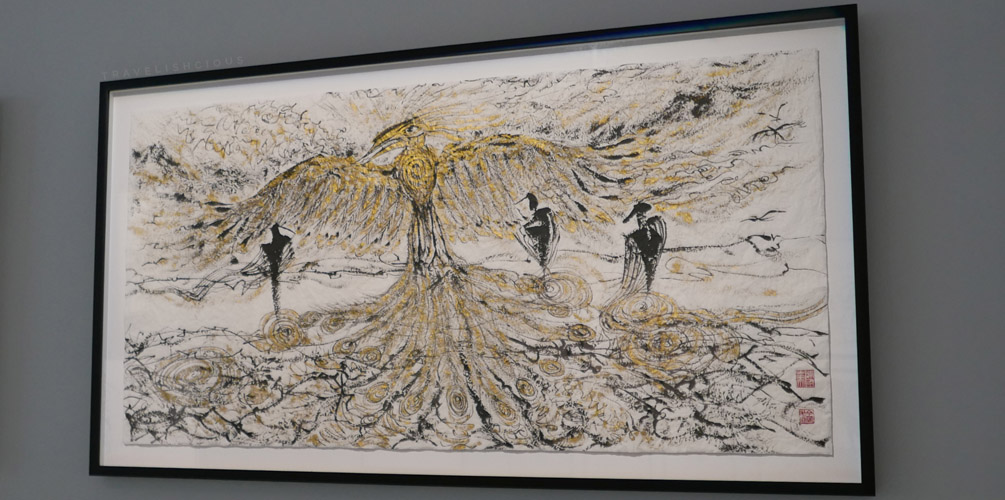 We sat outside for a bit in the Esplanade's Outdoor Threatre where I took some panoramas. It was very very hot but I had my umbrella.
(Best viewed on desktop and in full screen mode)
Of course then we walked over Esplanade bridge to take a look at the Merlion, the symbol of Singapore. We hadn't encountered many tourists until now, and there was a good amount of them here, along with lots of stalls selling nibblies like ice cream and potato on a stick.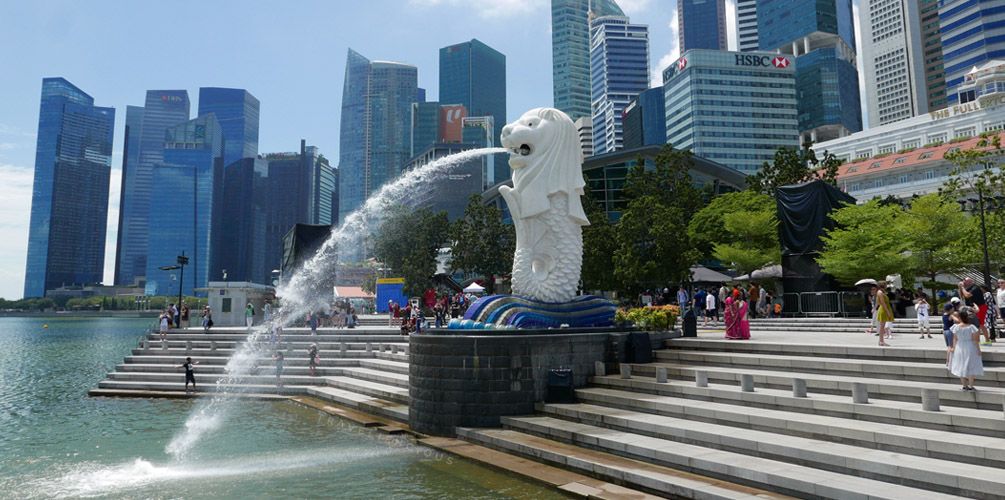 Continuing south along the foreshore brought you along rows of restaurants and a Starbucks. Here, we stole some wifi to find out what to do next and where to eat ;) Yes, we hadn't bothered getting SIM cards so we were going without Internet access.
Hong Lim Food Centre
Walking to Hong Lim Food Centre, Chinatown from the Merlion took us through the Financial District of Singapore, which was a complete concrete jungle. Lots of glass skyscrapers. It was SOOOO hot and there were lots of office workers out and about, getting lunch. They were all going to be very sweaty in their work clothes but no one looked bothered by the heat. I have no idea how anyone could live like this 365 days a year.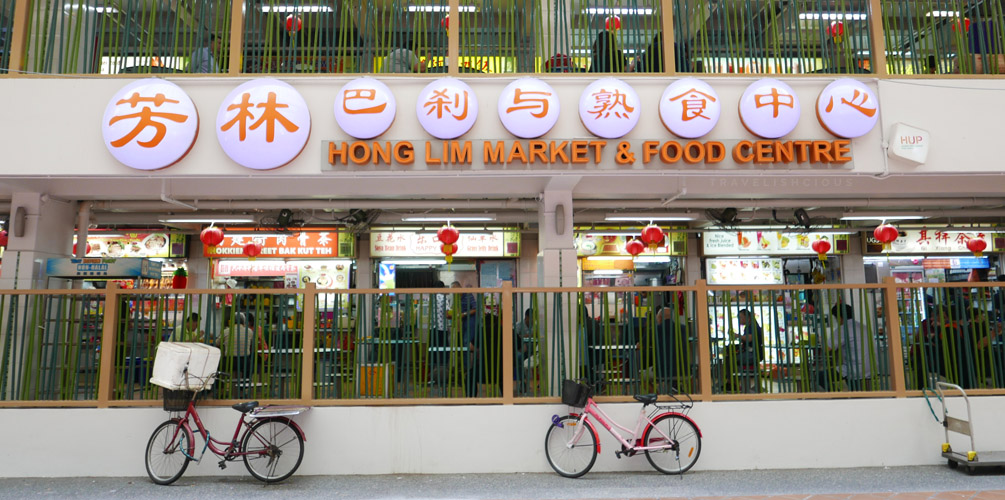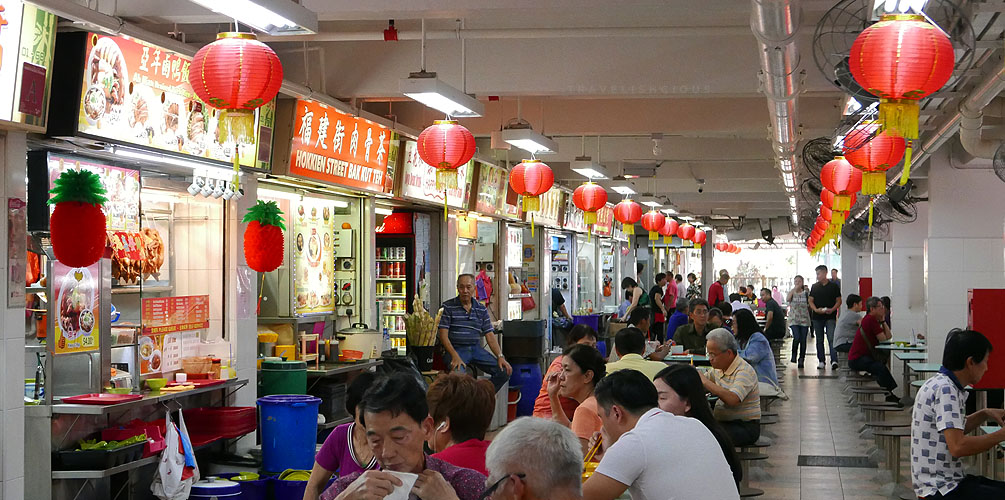 At Hong Lim, I was very overwhelmed. There were rows and rows of stalls. It wasn't super busy being just past lunchtime but there were still a good number of people around. A few months ago, I had a Singaporean coworker who had recommended I try Bak Kut Teh some day. I suppose my chance was now.
Hokkien Street Bak Kut Teh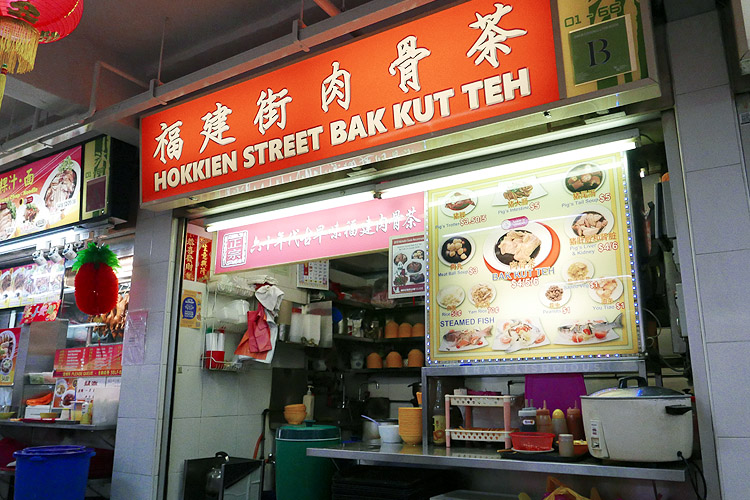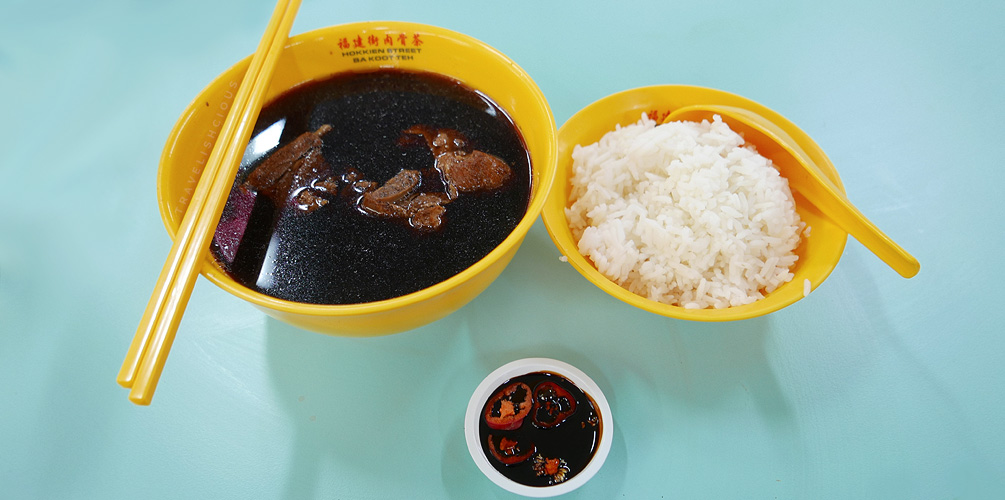 Bak Kut Teh (SGD 5.50) is actually a really classic Singaporean dish, although I had never heard of it before my coworker recommended it to me. I guess it is because I am not too familar with Hokken/Teochew culture. Bak Kut Teh literally means meat bone tea and is a meal of pork ribs cooked in a broth of herbs and spices for many hours. The tea in the name refers to the idea that one should consume tea alongside the dish.
The ribs were quite good; the meat fell off the bone easily and there was a good amount of it. The broth was indeed quite herbal and quite light. It's honestly nothing I've ever had before. I think it is quite a homely dish, one you would eat if you were under the weather. 7/10
Heng Kee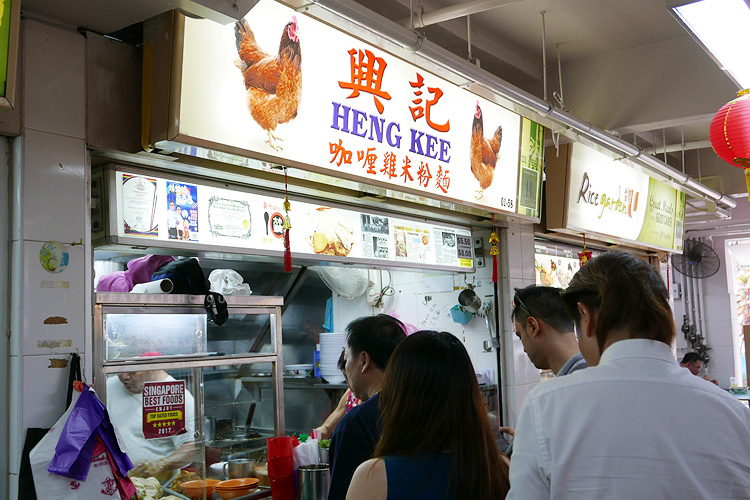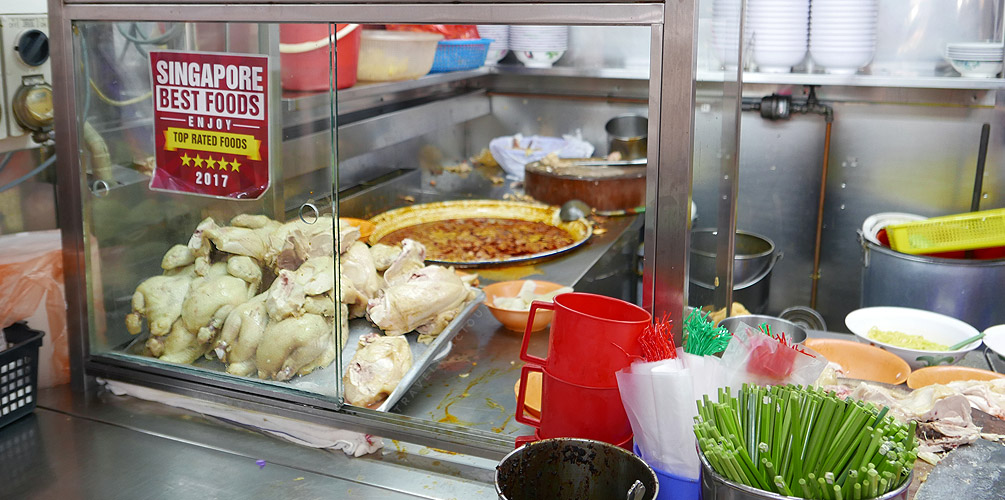 A took a while to decide what he wanted to eat but then he spotted a stall with a small line so he went and joined it. There was no menu; the sign above mostly featured articles about the stall and the accolades they had received. However there was an image of noodles in the middle and 2 prices, which we (correctly) assumed it to be the price for small and large portions. I was trying to figure out what language the shop keepers were speaking to their customers when the guy in front of us (who presumably heard us talking), told us what was up. The stall sold chicken curry noodles and it was "the best". He said it was lucky how there was a small line right now; usually the wait is about 30 minutes. He offered to order for us and of course we said yes!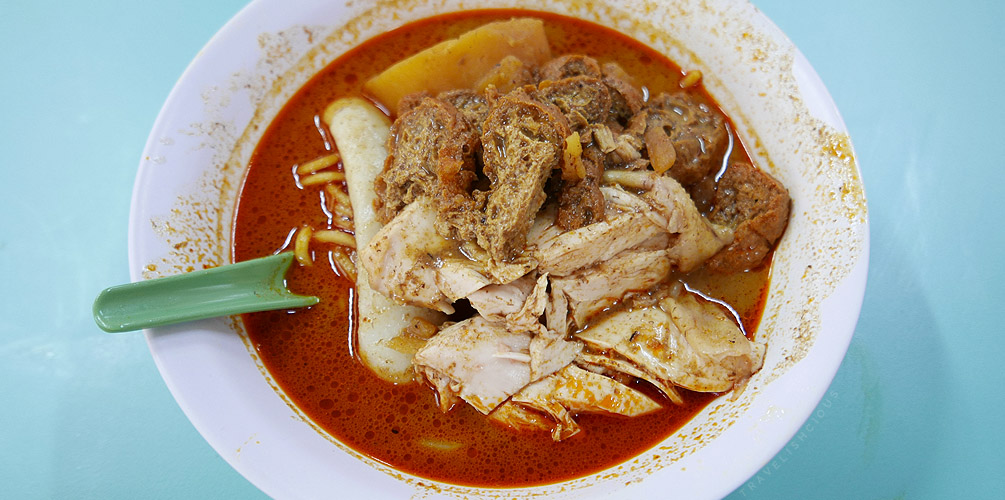 A asked the guy to get him a small bowl for SGD 5.50. The smell coming from the store was intense, I was starting to regret my Bak Kut Teh a bit!
A's opinion
Not gonna lie, this simple curry restaurant found in a regular busy food court served one of the best curries I've had in my life. The flavour was intense and it had spice to it as well. Very rich smell and depth to it. This was not something regularly found back in curry restaurants in Sydney, this had punch and was simply amazing. I will be back here if I ever come back to Singapore. My personal rating is 9/10.
I also got us some drinks from a drinks store to go with our food. A cold milo and a cold grass jelly drink were a delicious and cheap at only SGD 2.70.
Our first experience at a hawker centre was awesome! Cheap, cheerful and good food. What more could you want?
Chinatown
After lunch, we walked around Chinatown a bit. There were still some decorations up from Chinese New Year celebrations for the year of the pig.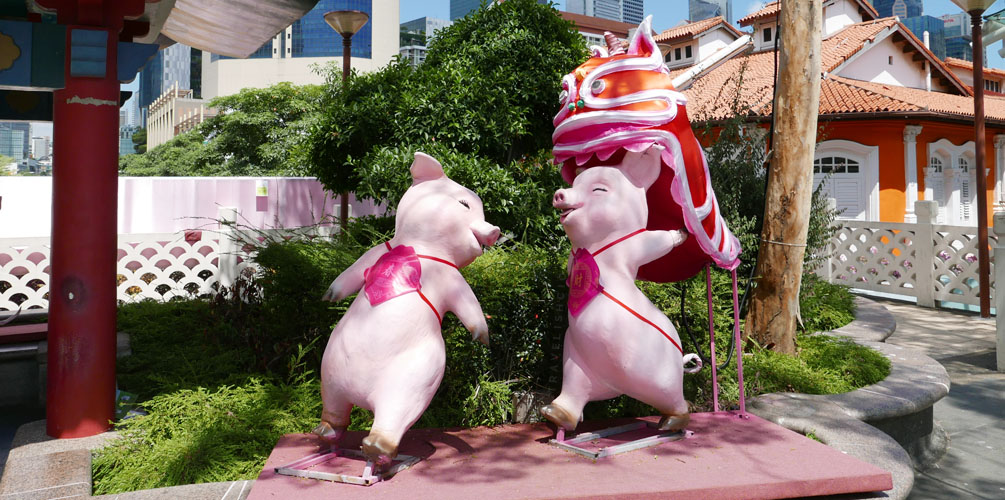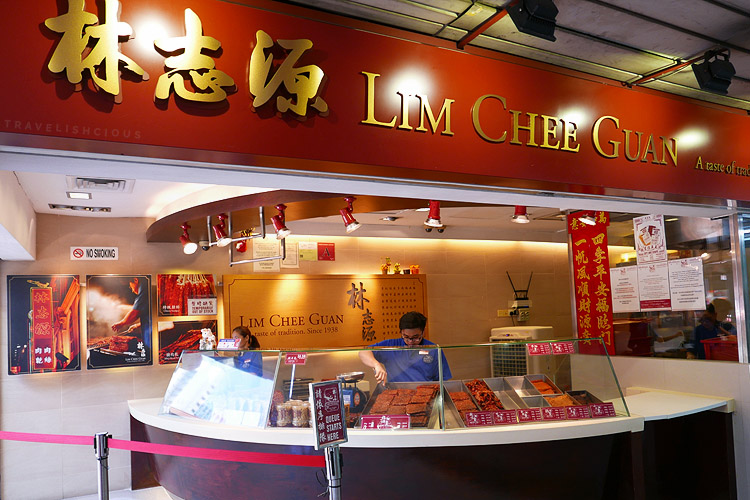 I directed us to Lim Chee Guan, a pretty famous store that sells bakkwa, which I like to call "Asian jerky". I was recommended this store by a different Singaporean colleague. Now, I absolutely love bakkwa and my favourite store is another Singaporean chain, Bee Cheng Hiang. But I was eager to try a different store. Bakkwa is slices of meat marinated in spices, honey and soy sauce are sort of smoked at medium temperature. It's so delicious, especially the crispy or caramelised bits. I like my bakkwa to be a little chewy, not too soft.
I didn't take any pictures but it looks exactly like any other bakkwa. Unfortunately, it was a bit too soft for me and therefore did not dethrone Bee Cheng Hiang as my number one.
We continued onto Pagoda st, which was where the Chinatown night market was except the markets looked open already. We were really just there for a gander but came across the Chinatown Heritage Centre, a museum but we did not go beyond the lobby as it wasn't free. We got a map with a bunch of things marked on it and used it as a guide. Coming to the end of Pagoda St (and yes, the market stalls looked very uninspiring), we came across South Bridge Road, where there was a Hindu Temple, Sri Mariamman Temple. The entrance looked very ornate but we didn't go inside, I think we weren't allowed.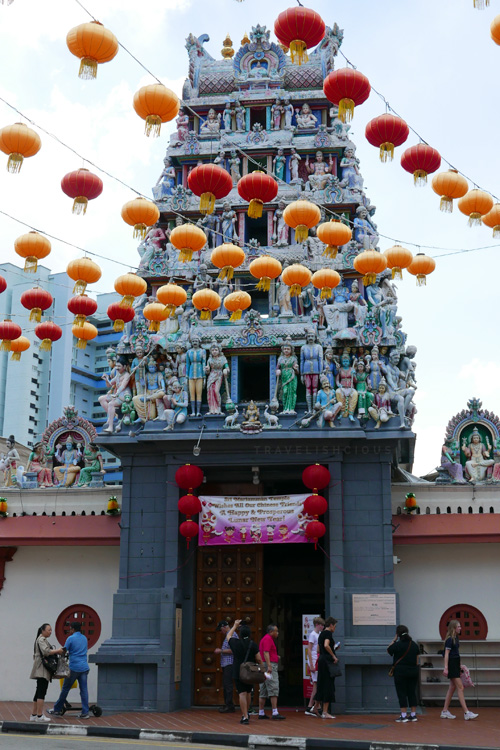 Continuing down South Bridge Rd took us to another temple, the Buddha Tooth Relic Temple. It looked quite new. Inside was full of large statues of Buddha and some dieties and a prayer hall. Apparently all floors of the temple can be visited and the rooftop houses a garden! Oops!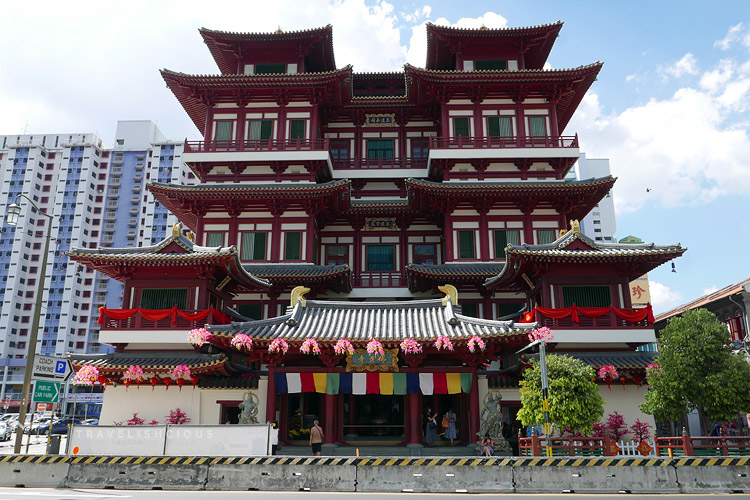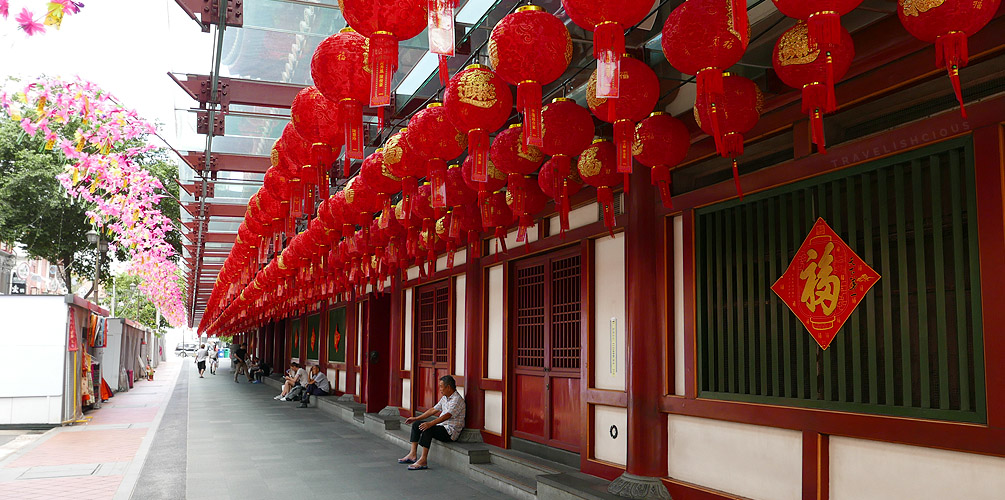 We walked a few blocks away and found ourselves on Amoy St, at a Taoist temple, Thian Hock Keng Temple. I have seen quite a few Taoist temples in my time so this was nothing new for me. These places are always smokey with incense.
Amoy St and Club St had lots of examples of old Colonial arhitecture which I found quite charming.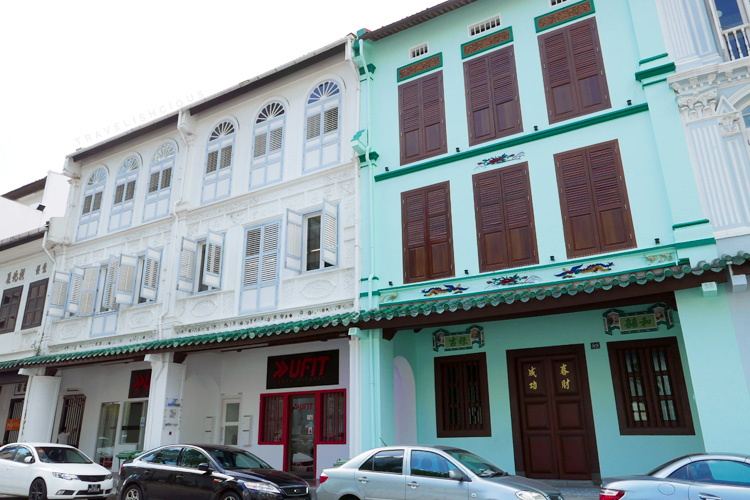 Back on South Bridge road, we found the Masjid Jamae Mosque. We went inside (and had to put on robes to cover my sinful knees and ankles) but there was not a whole lot to see. It was a very small mosque.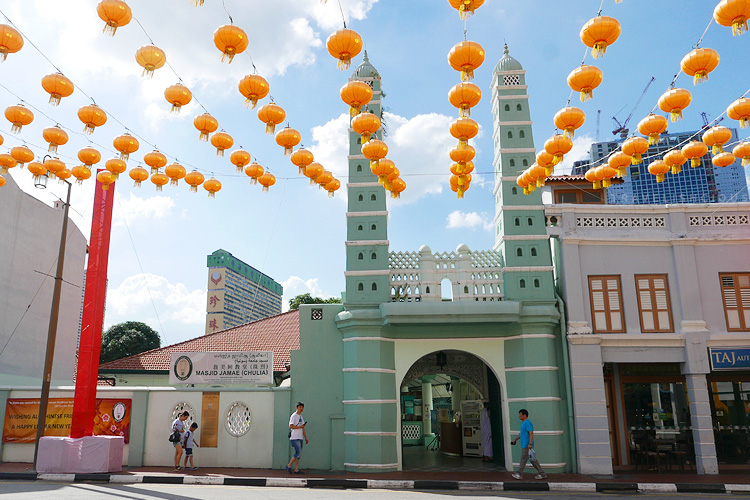 What's interesting is that three of the four religions represented above all live on the same street, all within a couple of hundred meters of each other. It's so nice to see peaceful coexistance. Where else on Earth would you see this?
After our little tour of Chinatown, we decided to visit a big tourist attraction - Marina Bay Sands and Gardens by the Bay. We used the MRT for the first time to take us there (yay less walking!). The MRT looked very similar to Hong Kong's MTR but was a little slower. The announcements were made in three languages - Malay, Mandarin and English.
Marina Bay Sands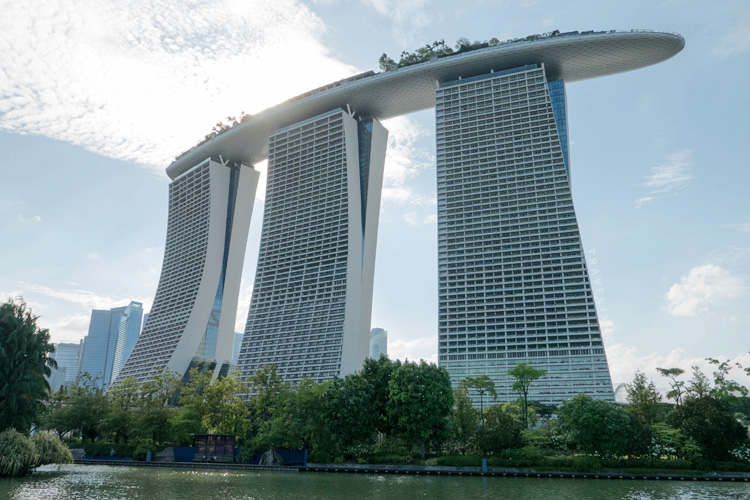 I've never really liked the way the Marina Bay Sands looked. I just don't get the appeal. To me it looked like three towers were holding up a spaceship, or a boat. At 194 meters tall, it was a very large building. We had a look inside and I guess it was quite nice. It was a five star hotel after all. There were lots of shops and a massive casino hidden inside. We walked quite a bit just wandering around before needing to utilise the bathroom, which took a while to find.
Gardens by the Bay
After getting a good dose of Marina Bay Sands we walked over to Gardens by the Bay, which was just next door. All the pictures I saw online looked really pretty but we weren't really interested in dropping $$ (as it wasn't cheap) to visit the super duper nice parts. The gardens even boast the world's largest greenhouse in the world, but nah. So we wandered around the free parts :)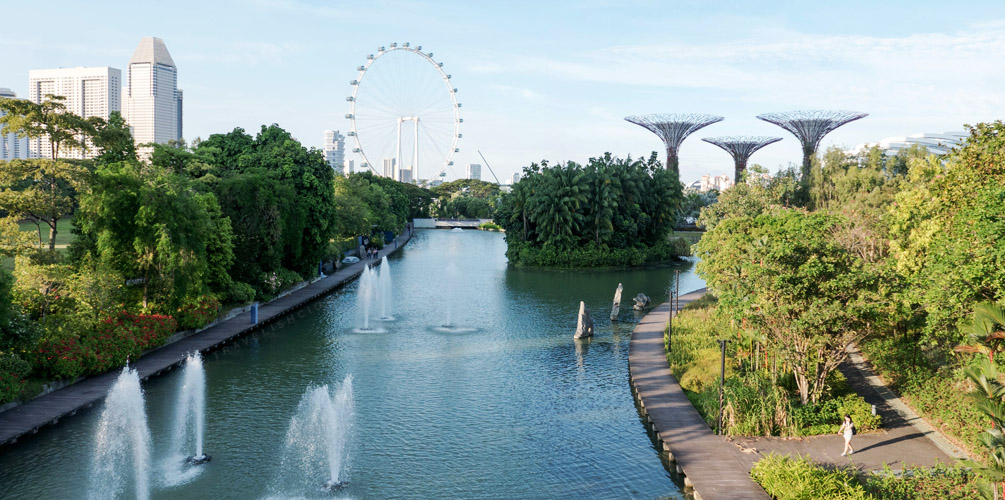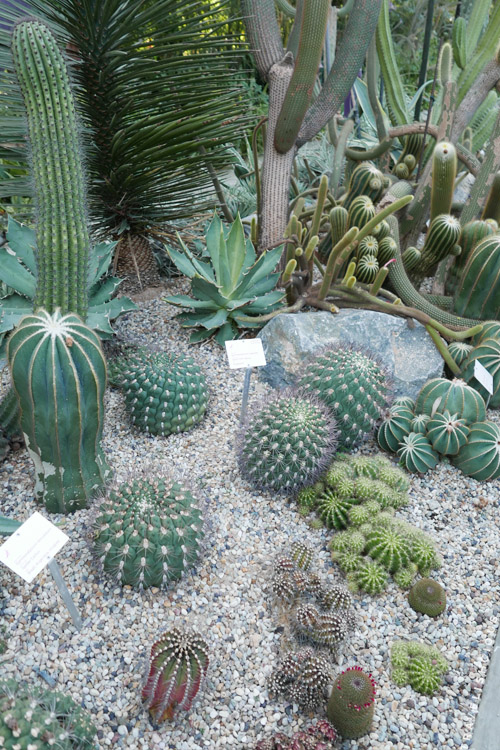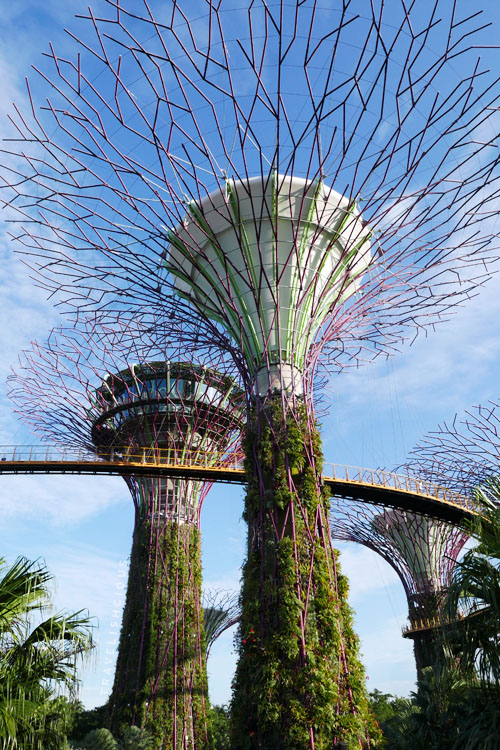 It was early evening and time to meet up with A's cousin, who currently lived in Singapore with his family. We took the metro to Toa Payoh where he met us and took us to a local food court to pick up food for dinner. His baby wasn't feeling well so we were going to eat at his place. We picked up some Thai and Chinese food and some drinks.