The Merlion at Marina Bay, Singapore
We are embarking on a trip of a lifetime, one that has been in the back of our minds for a few years now! A quit his job, I told my job "see you later", our rental agreement ended, we got rid of basically all our furniture and are now ready to spend the better part of a year on the road. Living simply, living out of our backpacks.
Prior to this trip, I had visted 27 countries but only 3 were Asian. This was deliberate - I had always wanted to do a massive Asia trip all at once. Asia is rather close to Australia, yet it's taken this long for me to finally do this. But better late than never.
The Plan
We had a pretty solid plan - we knew for certain what countries we wanted to visit and a good number of the cities/towns we wanted to visit. I had drawn a rough path covering almost the first half of our trip (starting in Singapore):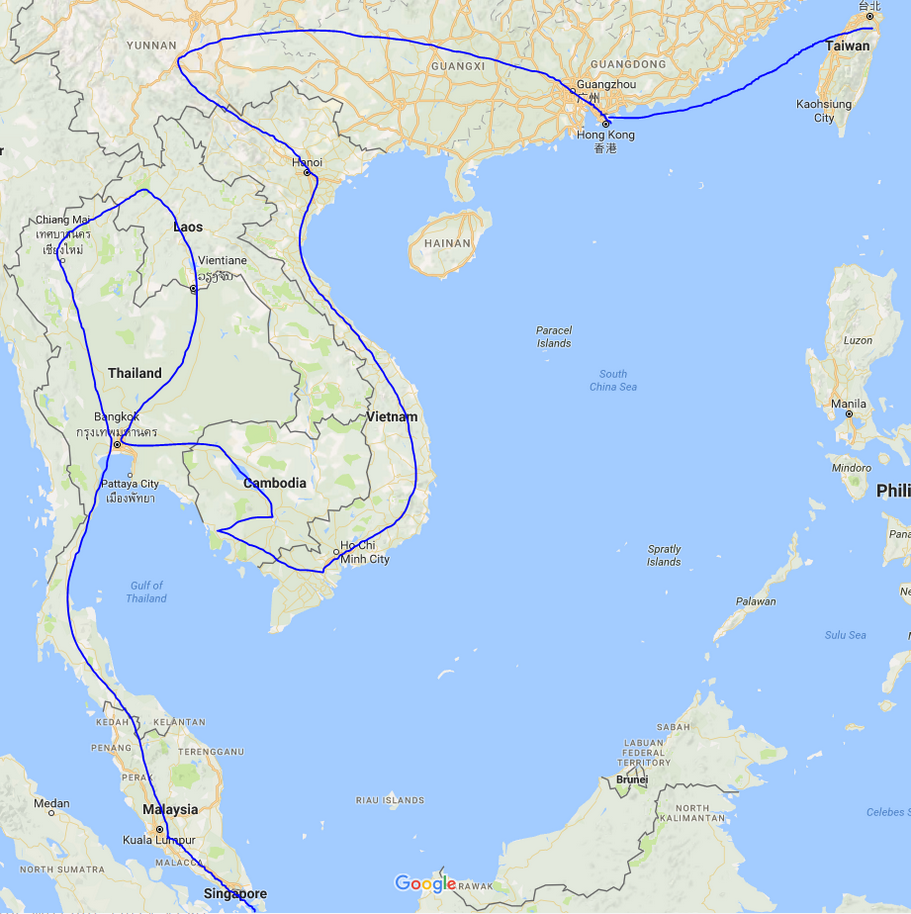 NB:
Taiwan was not originally part of the plan but as we got closer to the trip, I kept telling A that we should tack on Taiwan, which is why it is included in this path.
That path in China is not as random as it may seem - the plan was indeed to enter China at the border checkpoint in Yunnan, then head to Guangxi province before entering Hong Kong via Guangzhou.
After Hong Kong (or Taiwan), we would head back to China but I am not really sure what path we would take. I know I want to visit Huangshan, Beijing and Gansu Province. How? I haven't a clue!
After China we would visit Mongolia and Russia. Our tentative end point is St Petersburg.
A had researched all the overland border crossing we were to experience and which ones needed visas and what their requirements were. As for accommodation, haha we had only booked Singapore, which was where we were starting our trip. For flights, we had three booked - Sydney to Singapore, Johor Bahru to Kuching and Kuching to Kuala Lumpur. Flying from JB to Kuching was cheaper than flying from Singapore to Kuching as it would be a domestic flight. JB is very easy to get to from Singapore.
But we were open to detours (from picking up information on the road from other travellers or from the internet, for example) and staying at certain places longer, if need be. We were flexible as we had a year but we weren't going to be foolish about it. February was not the most ideal time to start, being late summer (not that there are seasons near the equator). Starting in December would've been better, but alas. We did have a couple of constraints -
We MUST do Tiger Leaping Gorge, and we MUST do it before the wet season (around 1st June).
Want to avoid winter in Mongolia and Russia. I kind of hate the cold and we weren't going to carry winter gear with us.
My budget was AUD 100 per person per day (on average). Which I personally think is A LOT and that we'd never hit this.
SYD -> SIN (TR13)
Singapore was a natural choice for the start of our journey. There are daily flights from Sydney on Scoot, a low cost carrier, which meant we could get ourselves a great distance away from home very cheaply. We paid AUD 199 each for the one way fare plus AUD 55 for baggage.
The flight departed at 7:15 pm in the evening, so we decided to get some dinner at McDonald's before boarding. LLCs don't provide any food for free and it was going to be a long flight at 8 hours and 25 minutes. The Maccas at Terminal 1 of Kingsford Smith airport had recently renovated so that the kitchen was above the registers and front of house, so food had to be transported down on a conveyor belt. It was pretty cool and apparently a world first. We got 24 McNuggets for only AUD 10… mmm healthy dinner.
TR 13 was serviced by a Boeing Dreamliner. We were able to sit right at the front of the economy section, just behind Business class. The flight was quite full and pretty standard, nothing much happened except when we were halfway through our McNuggets (about 45 min into the flight), we were spotted by the flight attendant who promptly told us off. She demanded we hand her our food and I declined, insisting that we had almost finished. We got told off two more times before we finished our meal. Again, I told them we were almost finished, whilst shoving them in my gob as fast as possible. Gosh, how rude. I don't even see the point of them telling us off. It wasn't like our food smelt because it was quite cold by the time we started eating. But ultimately I was glad we were able to avoid forking out $20 or so dollars for some small and crappy looking nasi lemak. That said, there were plenty of people buying whatever Scoot was serving. Honestly, if their prices were more friendly I may have been inclined to by a drink or snack shrug.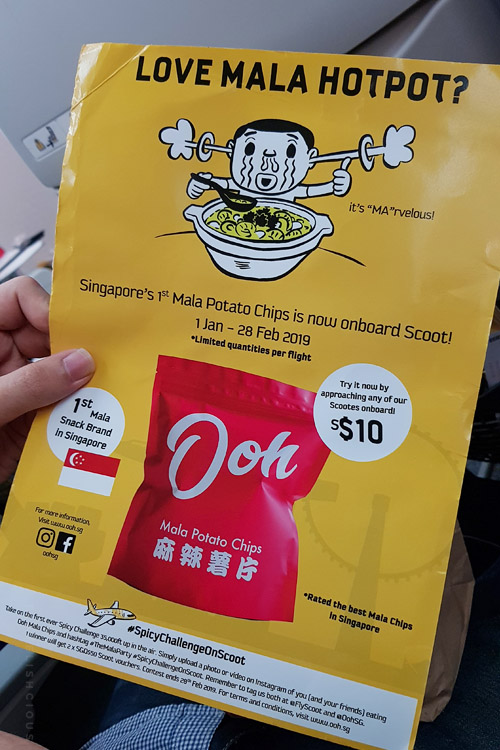 Singapore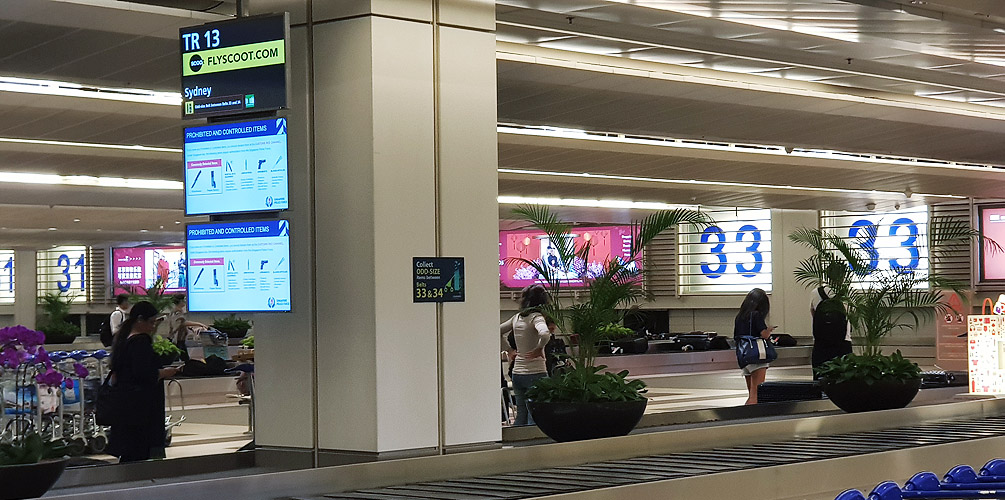 We landed on time at 12:25 am the next day. Technically this should be in the next post but nothing exciting happened, so we'll cover it here.
Singapore, being the global city it is, has a metro system but it doesn't run late at night. And apparently 1am was late. So we couldn't possibly take the metro in. Shuttle busses came very irrelgularly and we had just missed one, with the next one an hour away. So we had to get a taxi to our hostel, which cost SGD 25.65. Technically that's not TOO bad for a 19km journey. In Sydney it would cost just a bit over $50.
The InnCrowd Hostel was located in Little India, which isn't too far from the hot spots in Singapore. At SGD 41 a night for two bunks, it was pretty expensive for what it was (the hostel has seen better days) so you were really paying for the location. Check in was straightforward and were in our bunks in no time. Unforunately there was a night club next door that blasted Hindi dance music until 4 am, which was just perfect.