Day 104 of Asia 2019 trip / Day 6 in China

Jade Chicken Arch
Kunming (昆明) is the capital of Yunnan province and naturally we had to head that way to get out of the province. We decided not to stop in the popular Dali (大理) because it didn't interest us that much. It didn't seem like there was much to see apart from the famous Three Pagodas.
Known as the city of eternal spring because the weather is moderate, Kunming has a long history, with humans settling around Kunming during the Neolithic period. The area around Kunming (and Dali) are home to the Bai people, an ethnic group first mentioned in texts in 3 BC. Eventually they went and established the Dali Kingdom, which fell in the 13th Century when the Mongols invaded. During this time, a Uzbek guy became governor. The Ming dynasty defeated the Mongols in 14th Century and established control. The Bai people have not been in power since. In modern times, Kunming has remained important due to its proximity to South East Asia and has enjoyed wealth from its manufacturing industries.
Arrival in Kunming
We arrived at 9 am in the morning. Sleep was fine in third class but I imagine future train rides would not be this peaceful. We made the long walk from the platform through to the exit and on to street level. The first thing I noticed was there were a lot of police wielding assualt rifles and cement bollards. Then a patrol lookout came into view, complete with a machine gun nest. Kind of overkill. Then I remembered that there was an attack at this very place (well, inside the concourse) of Kunming station back in 2014. Obviously the Chinese thought it was appropriate to up security to the max.
We walked to the bus stop to take the bus to our hostel, Kunming Cloudland International Youth Hostel. Unlike Lijiang, we had to wait quite a long time for a bus. By the time it came, there were a lot of people waiting to board. Eventually, we got to the hostel, where we booked ourselves a double room as we were spoilt people. It actually quite pricey (AUD 36/night) but it was very clean and looked new.
It was now time to eat lunch, so time to do some research. I remembered that Yunnan's most famous dish was something called "Crossing the Bridge noodles", so I looked for a place that served this. There was a place in the middle of town that looked up for the job. We took a bus back out and found that the restaurant right by a pair of arches - a Golden Horse arch and a Jade Rooster arch 金馬碧雞坊, which marked the centre of town. The arches were built in Ming dynasty and are a symbol of Kunming.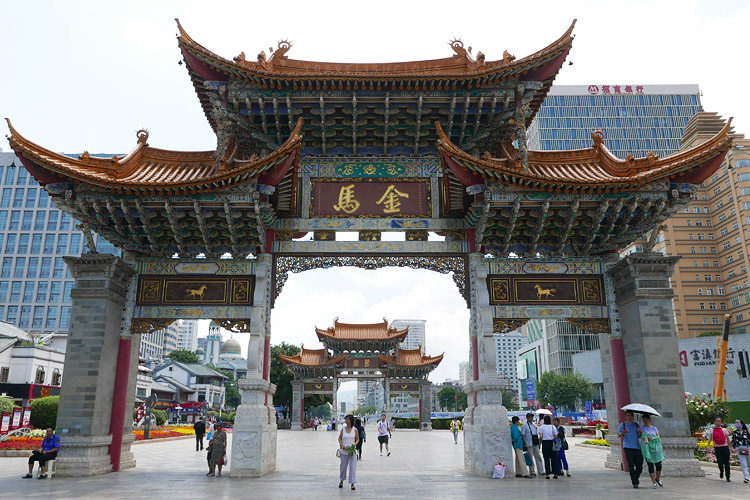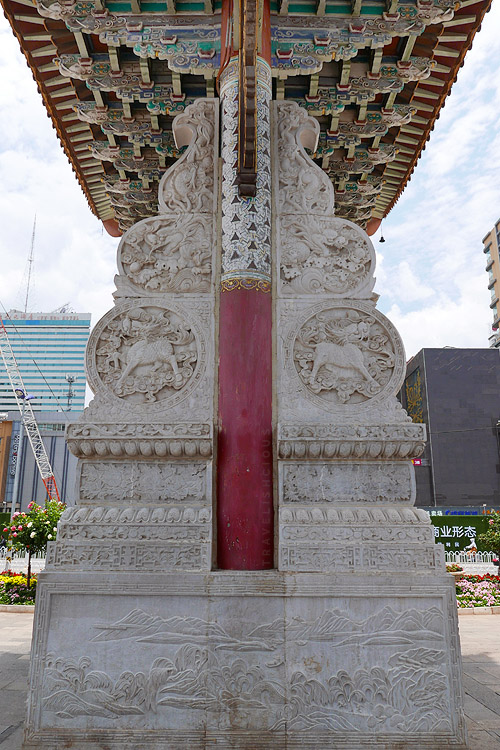 Qiao xiang yuan (Jinma Biji Store) 橋香園 (金馬碧雞店)
My own translation for 橋香園 would be "fragrant bridge garden".
The restaurant was quite big for a casual establishment. We walked in and saw lots of tables and an open kitchen. There was no one there to greet us so we sat down at a table. Some time passed before I got the attention of a staff member who pointed at something outside and said something in Mandarin. Puzzled, we walked outside and A found two ladies in their 20s standing at POS registers with a menu high above their heads. Of course it was all in Chinese but each item had an accompanying image, although this did not make deciding easier. The ladies were both shocked neither of us could speak Mandarin. They were talking amongst themselves and laughing, and one kept hiding behind the other. I think they did not know what to do with us.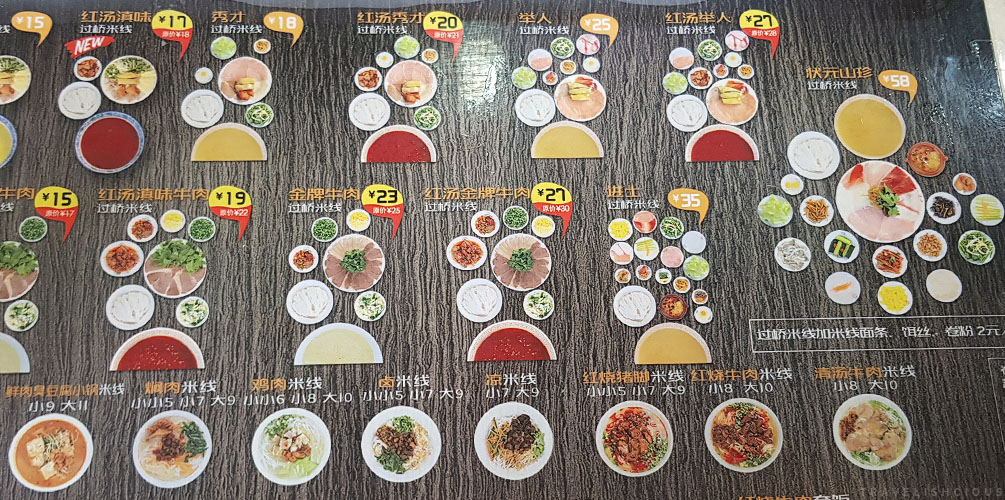 Meanwhile I was trying to translate the menu lying on the counter but Baidu Translate was coming up short. It didn't help that the font was hard to read. Finally I used Baidu translate to ask the ladies which one was the best, and one of them pointed to the most expensive option, which looked like it had everything you could possibly have with the noodles. So we picked this and picked a beef one that came with spicy soup (i.e. phrases I could actually read). The ladies looked relieved, processed our transaction and one of them led us inside (I guess she didn't know we'd already been inside before!)
What are "Crossing the Bridge noodles" (過橋米線)?
Basically it is dish consisting of three parts - a big bowl of chicken soup, noodles and an array of ingredients (vegetables and meat). Each part is served separately and you pour it in to the soup yourself when it's time to eat up. The name comes from a story about a man who is working hard on an island accessible via a bridge. Everyday, his wife would deliver him his noodle lunch, crossing said bridge to do so. However, the man's lunch would no longer be hot by the time she reached him. She then realised that if she split the aforementioned three parts and coat the soup with a layer of oil and combined them together before her husband was ready to consume the noodles then his lunch would still be hot.
We didn't have to wait long before a waiter came with our food. The bowls of soup were HUGE (so there was a lot of soup) and it was indeed very hot. He placed all the side ingredients on our table and gestured to us what we were to do.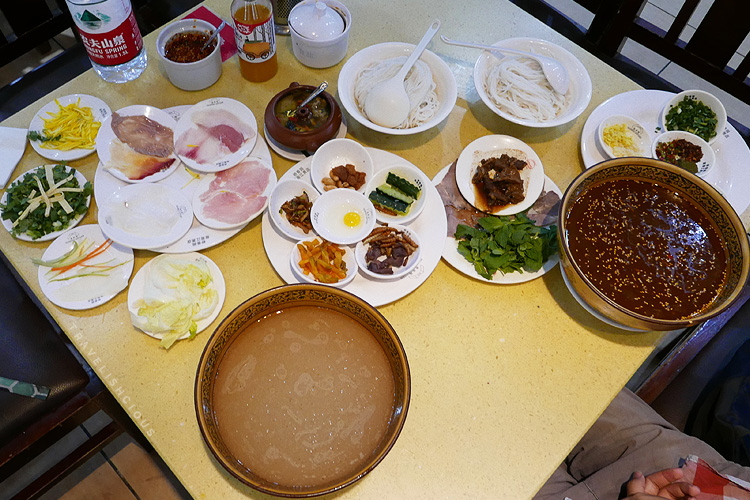 My "best" noodle set (CNY 35) came with 15 items but I was only able to name about 80%. There was sliced pork, sliced beef, sliced fish, chinese cabbage, raw egg, pickles, coriander, peanuts, other pickled veg (lol, I have no idea), pork jerky, maggots, sliced offal (but not sure which part!), some freaking flower petals (!!) and finally a pot of.. something that was really oily. I poured the noodles, egg and meat and offal in the soup in that order. The soup was indeed quite fatty but it was very light, it didn't have any strong flavours.
A's spicy soup happened to be sour as well. It came with beef and tendon and some aromatics as well as extra chilli. He really enjoyed this.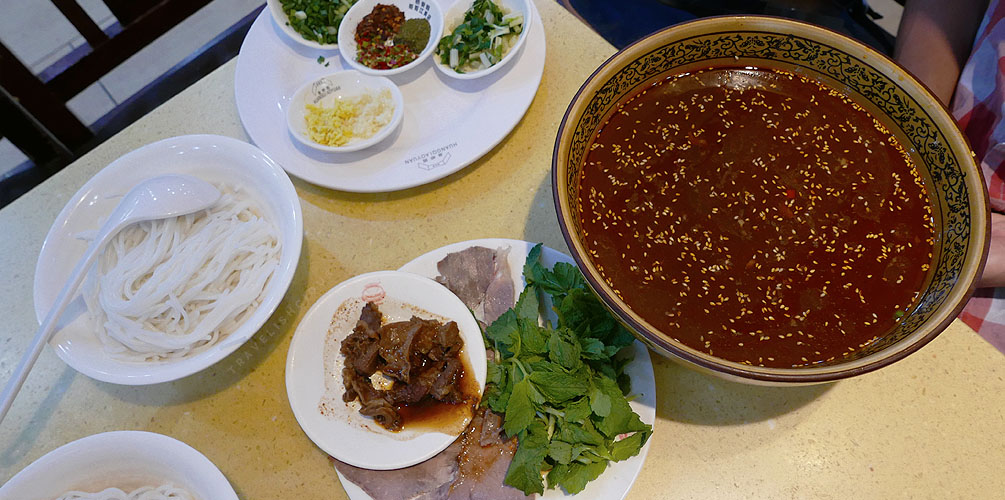 Overall I think mine was overkill (I did NOT need those maggots!) but it was a good introduction to the dish. That said, the soup was a little too boring for me :P The noodles itself was again the thickish rice flour type of noodles, ones that have little texture and are quite tasteless.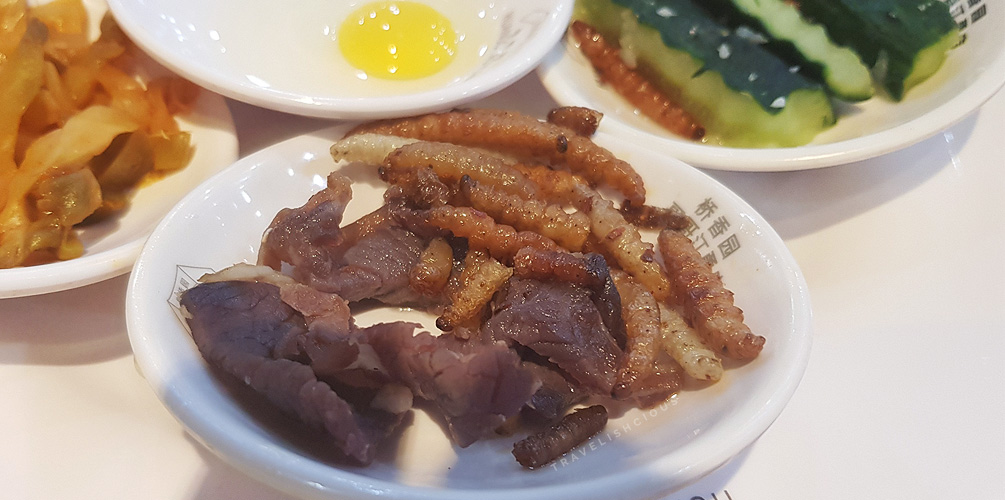 Around Town
After lunch, we walked around this part of town for a bit. There were lots of restaurants and a couple of large shopping malls. It was all very developed and commercial. We came across a KFC and saw they sold Cremia soft serves so we caved and bought one. Cremia is a soft serve from Japan made from Hokkaido milk. It's my favourite soft serve! Unfortunately it was a little too watery and wasn't as thick and creamy as its supposed to be. It also melted quickly because of the heat!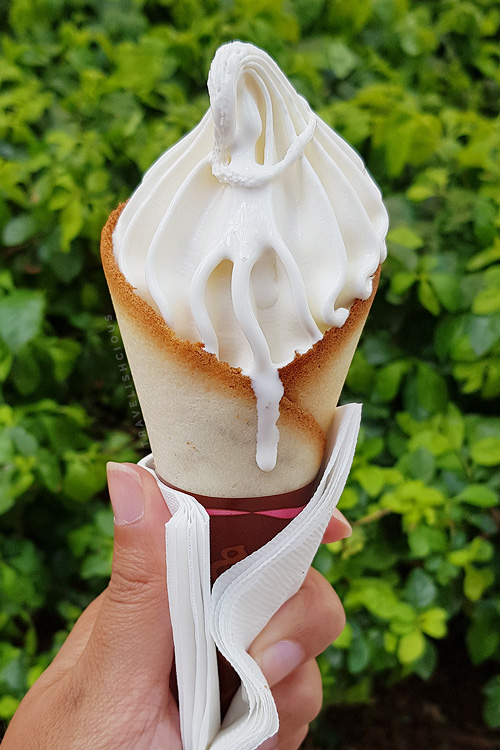 We came across a Coco milk tea shop in the main shopping mall area and A couldn't resist and despite the fact that we had just had a soft serve, we got a milk tea. It was the first Coco we'd seen in China. I'm sure there will be more in future. We got a Oolong milk tea with sago. The milk tea was a little weak and the sago sucked but it wasn't too bad. Not that I would buy it again!
We walked around some more and didn't really see much of significance except Fulintang pharmacy (Bianguo Branch) 福林堂 (彼岸國藥店), which is the oldest Chinese medicine store in Kunming, having opened in 1857. Apparently this building is still in its original state.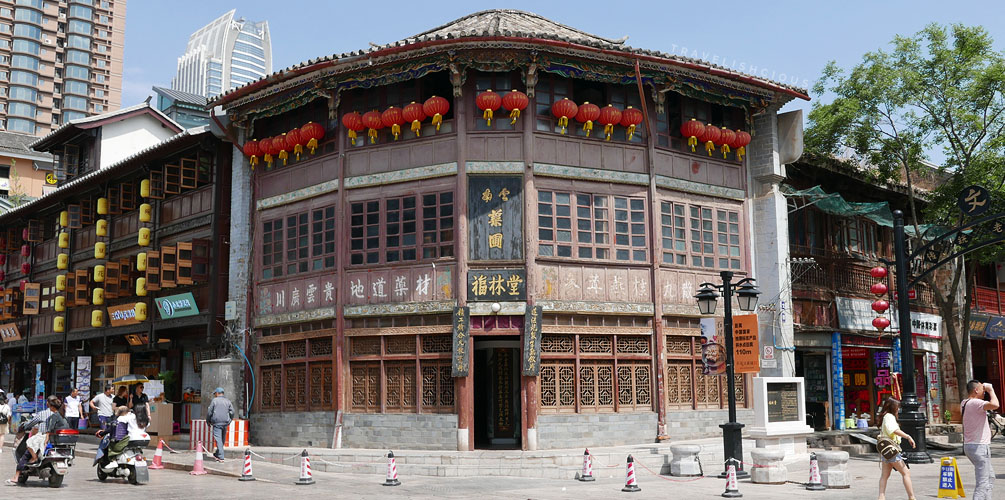 Across the road from the pharmacy was a Huawei store, where I checked out the Huawei P30 Pro, which had a fancy Leica lens capable of 10x zoom but the software could digitally zoom to 50x. We had some fun trying to take pictures of people far away from us at 50x. It was very pixellated and blurry but you could still make out their faces. It was really hard to actually take a shot because we kept laughing!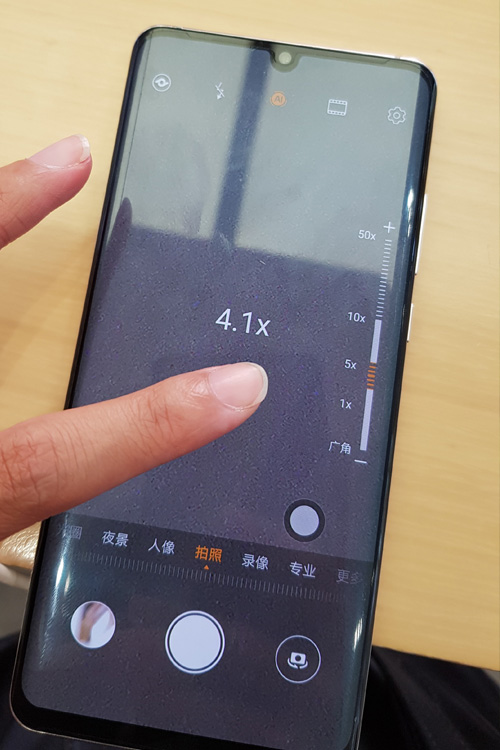 Guandu Ancient Town 官渡古鎮
Kunming has its own ancient town too! Guandu Ancient Town was established in Tang Dynasty and was part of the Dali Kingdom. We took a metro to Xingyao Road (星耀路) Station on Metro Line 1 and then swapped to a bus.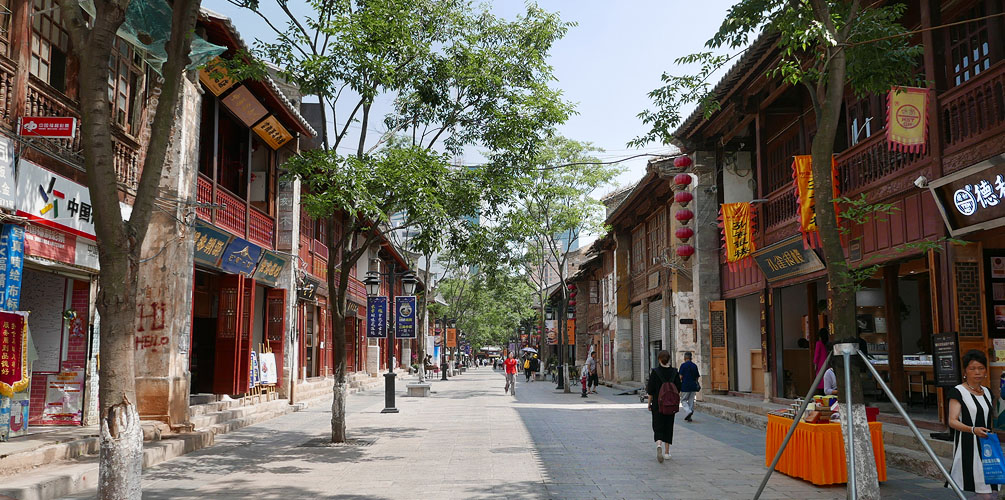 In the middle of the ancient town is the Vajra Pagoda, which is a Tibetan Buddhist style Pagoda. It was built in 1457 and has sunk into the ground over the centuries but was raised in 2002. It was good to see that they had fenced it off from public access.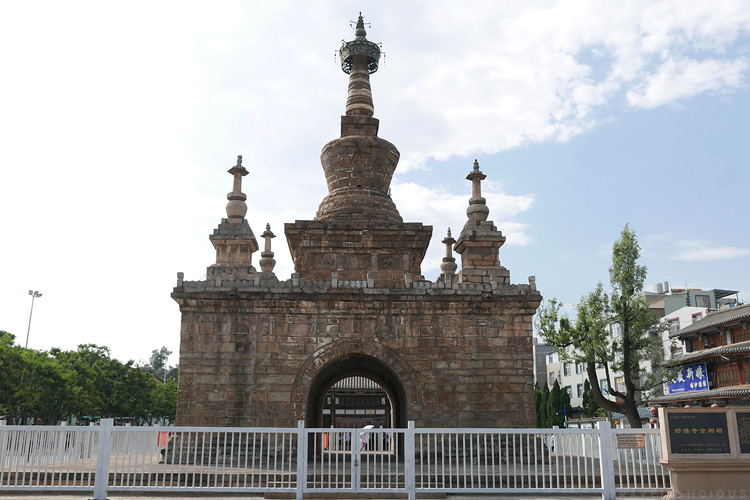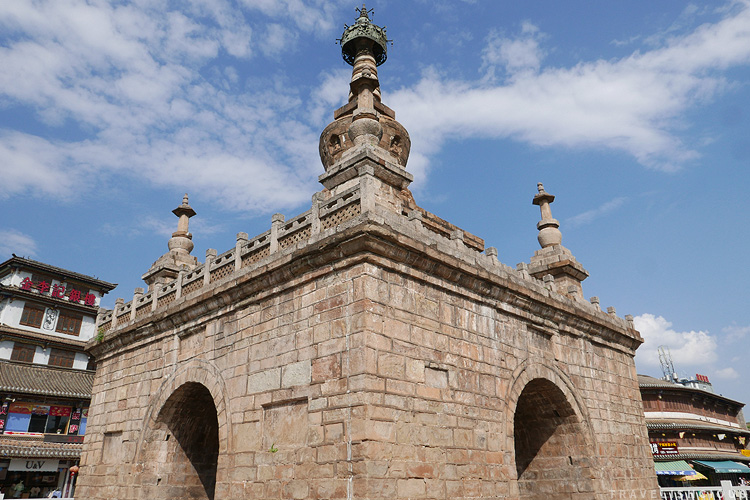 We looked at a few more "Chinese" Buddhist temples. Miaozhan Temple (妙湛寺), a buddhist temple is apparently now a Shaolin temple.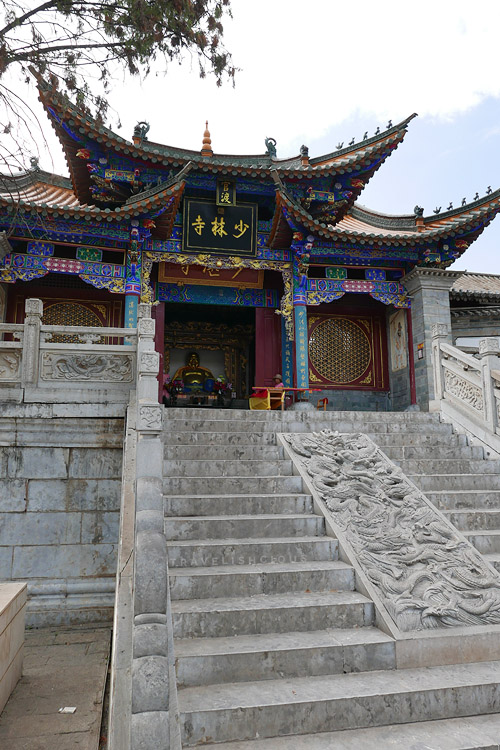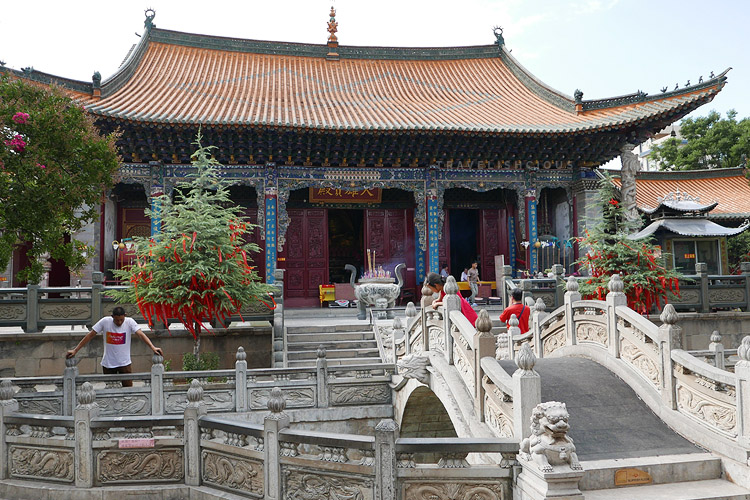 This is Fa'ding Temple (法定寺) built in Song Dynasty: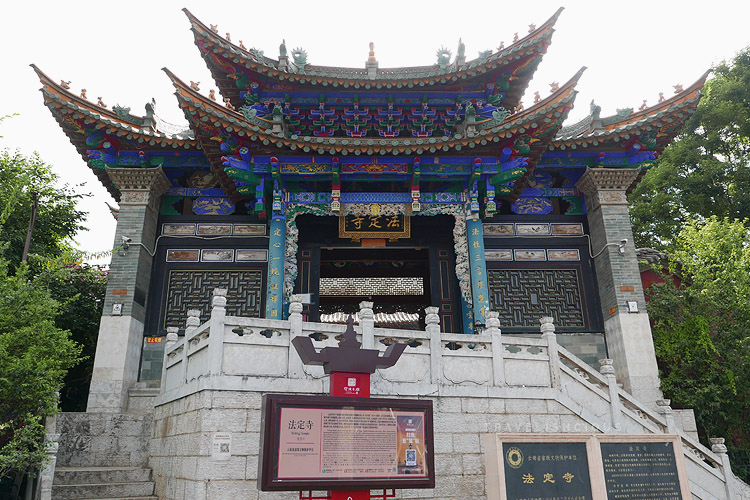 Spotted this fake tree…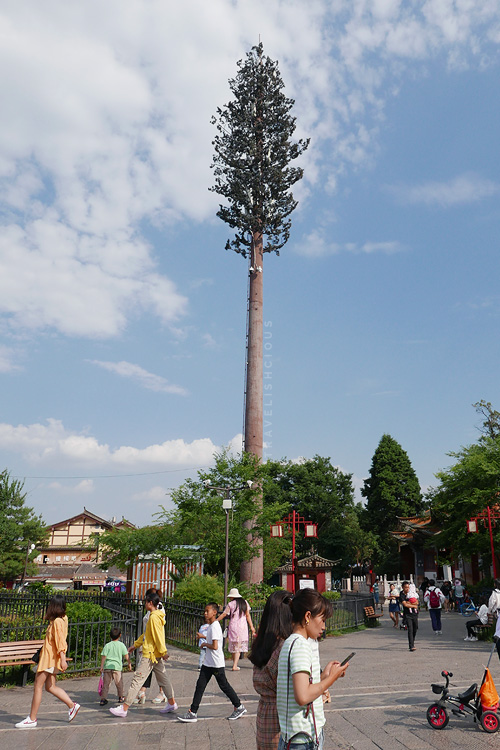 Walking down the streets of the ancient town led you to many souvenir shops, restaurants and stalls selling snacks. But ultimately, it wasn't a very big place and there wasn't much to do.
Before we left, we stopped at a Naxi Baba shop (眼鏡粑粑店) and bought one. I had noticed a lot of people lining up for it before and thought we may as well try it. There weren't many flavours left as it was getting late so we kind of randomly picked one from the list. We ended up with a sugary one (白糖糊麻). It was ok, a bit too sweet and I'm not entirely sure what the black stuff was.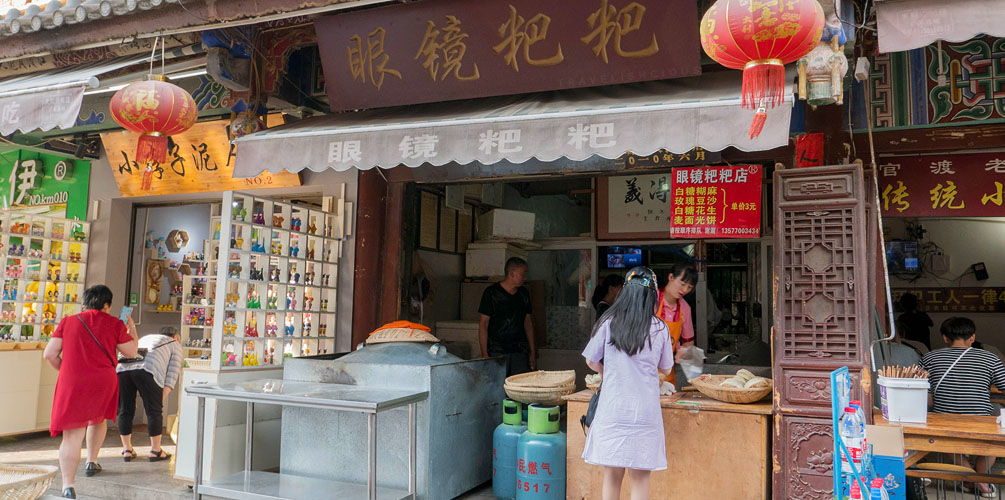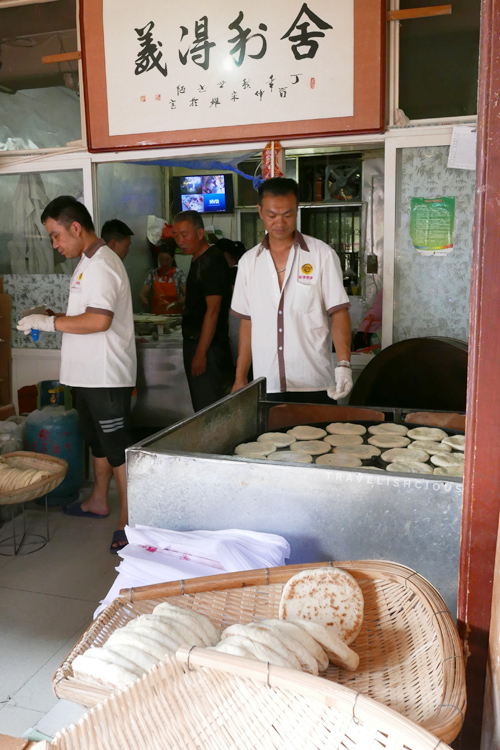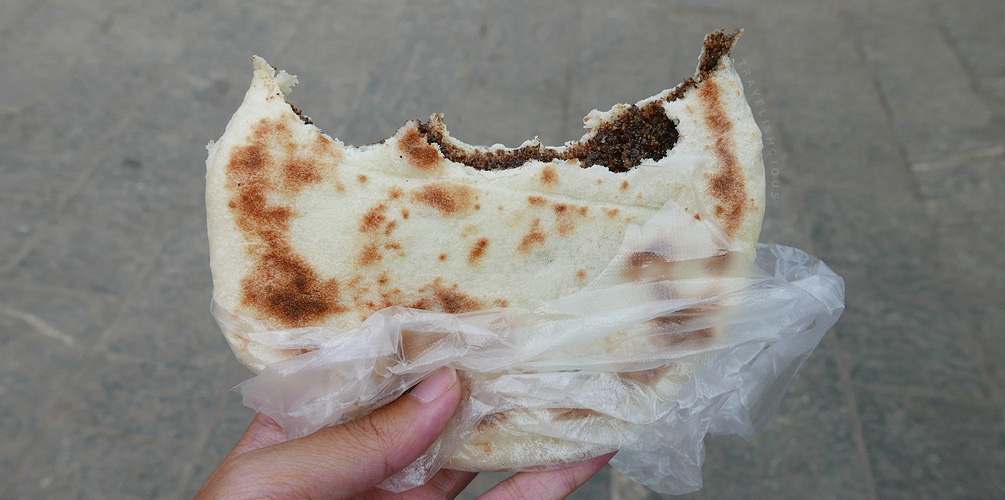 Munching on the baba, we looked for dinner on our phones. I had previously read that Kunming was a good place to find and try Dai food, Dai being another ethnic minority. Dai cuisine is characterised as very spicy and sour.
The Dai people now live mostly in the extreme South of Yunnan and Western Yunnan. Both areas make up their own autonomous prefectures. The Southern one (Xishuangbanna) is the more famous one these days and is very close to Vietnam, Laos, Thailand and Myanmar and hence their culture has a lot of influences from these countries and is quite different to "Han Chinese" culture. We didn't make a stop down in Xishuangbanna as I read that it was now a popular destination for Chinese tourists and that the government has overdeveloped it and reduced the town to a sort of "Dai Disneyland". Apparently it used to be a nice little laidback little town but not anymore.
We tried to take the bus back to the metro but got frustrated waiting for the bus (there was a traffic jam) so we walked back to Xingyao Road metro station then took the metro to South Ring Road station (环城南路). I noticed people actually lined up on the platform!!!! Then we took a bus to Green Lake (翠湖), a rather large park. The restaurant we were after was on the North West side of the lake.
Yingjiang Dai Wei Yuan 盈江傣味園
For dinner we arrived at Yingjiang Dai Wei Yuan (which I've translated as "Yingjiang Dai Flavour Garden". Yingjiang is a town in the Dai Western Yunnan province), which was housed in a building constructed of wood. Inside had a bit of a tropical shack kind of vibe. There were lots of people inside but we were able to be seated in the back, where the ambience was rather plain. We took a long time pouring over their large menu before deciding on the following:
Beef and potato 香辣牛肉片 (CNY 46) - oooft this was actually a bit too spicy for me. This dish was definitely a little sour. Unlike any beef and potato stir fry I've ever had.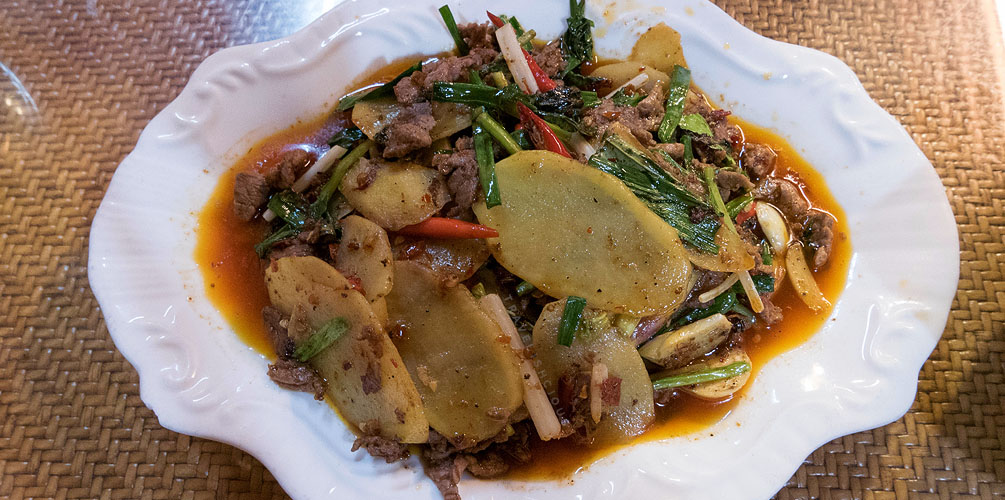 BBQ fish (CNY 32) - this tasted pretty good, was a little spicy and crispy but unfortunately the fish was rather skinny. We demolished it pretty quick.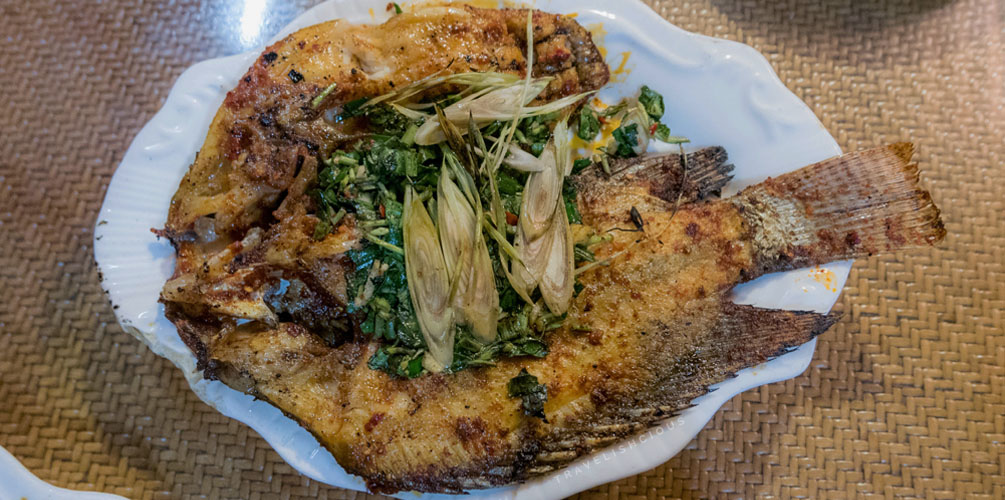 We also got a side of choi sum (CNY 22) and milk tea (CNY 12). Overall, it was an interesting meal. I'd be willing to try Dai cuisine again! 7/10 #ipinions