Hinokinai River from Kakunodate
Today I planned to visit the old Samurai town of Kakunodate then later the famous Nyuto Onsens. To do this required a really really early morning start.
Leaving Yamagata for Kakunodate
I had originally planned to try and attempt to traverse the inner part of Honshu via rail using a combination of the Yamagata shinkansen and the Ou main line. But to do that and see Kakunodate would require I wake up at 5am or so to catch a 6am train from Yamagata station. Seeing as I had a long day yesterday and Yamagata station was an unattractive walking distance away with a large bag from my accommodation, I opted instead to wake up at 6am. My route today would consist of taking the Senzan line back over the mountains to Sendai, the switching to a Komanchi Shinkansen to get to Kakunodate.
I was kinda glad I didn't go for my initial plan as it would've been pointless. I ended up sleeping the whole 1hr trip to Sendai anyway. Getting to Sendai I decided to get myself some breakfast prior to the trip to Kakunodate. I stopped over at the New Days and this time avoided the bento and shit sushi. I went for an egg and chicken sandwich and a hot Kirin Milk Tea. It was decent for the price and decided I should just get sandwiches from New Days from now on if I needed to.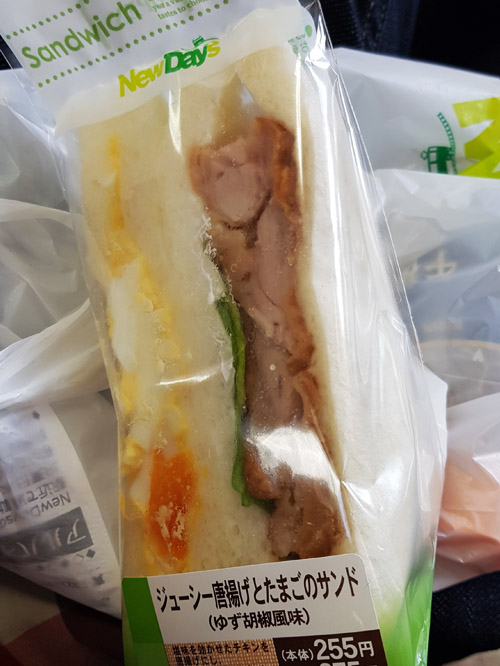 The Komanchi Shinkansen to Akita is actually 2 trains put together. It shares this route with the Hayabusa which goes to Aomori/Hakodate. At Morioka the 2 trains split, with the front part of the train the Komanchi heading off to Akita on regular tracks and the back part heading north to Aomori/Hakodate.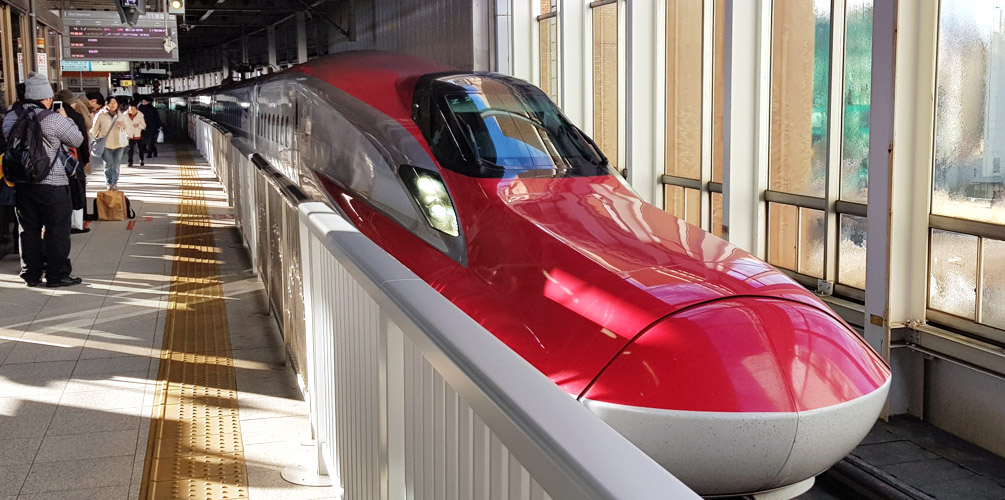 The surrounding countryside was fascinating and I took note of the increasing snow cover as I headed north. If I thought Yamagata was bad, then further up north is gonna be even worse in terms of snow.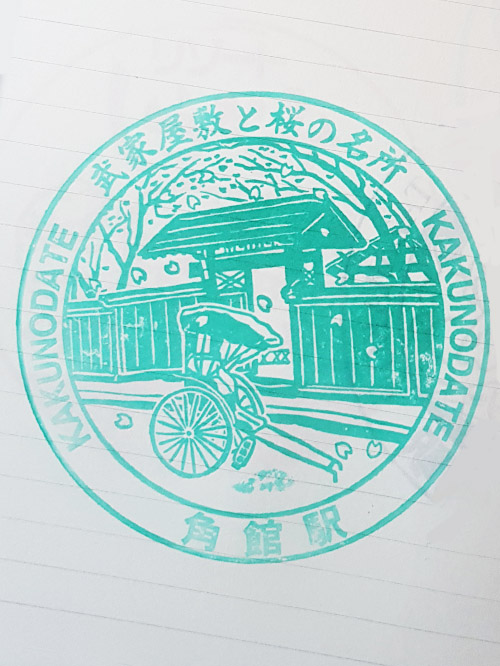 An old Samurai town, just add snow.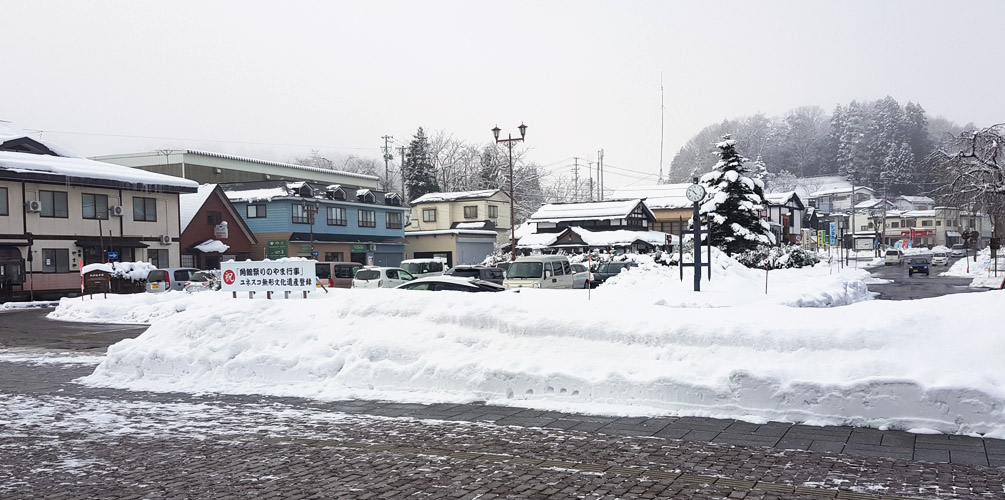 After arriving at Kakunodate I got my station stamp and by coincidence decided to go see the visitors centre outside the station. I was lucky because if I hadn't I wouldn't have found out they rent out free snow boots to visitors! These were a godsend because the town streets are covered with snow. Walking past some of the streets I saw some hoses with holes cut in them which spread out salted water to keep the snow off.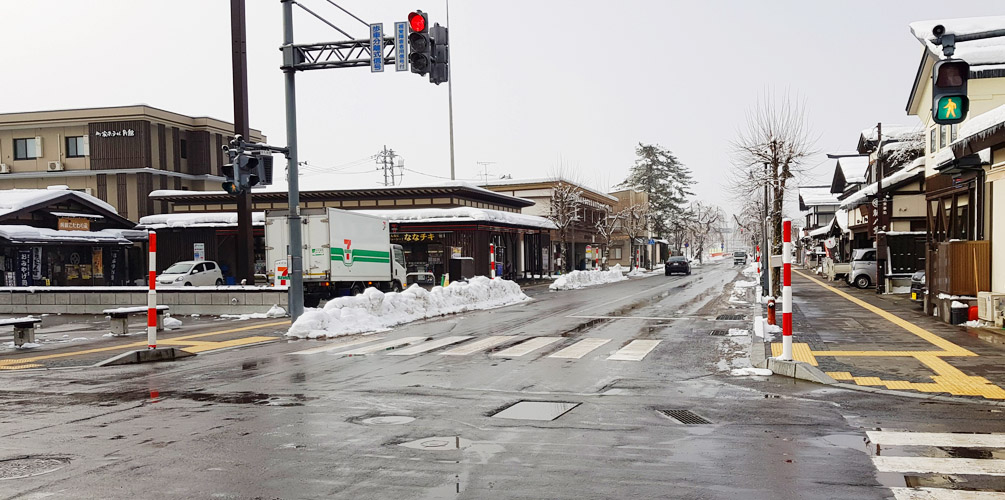 The town of Kakunodate is one of the few surviving examples of where you can find original Samurai houses still intact. This town seems to have survived war and fire and still has the original houses dating from 200-300 years ago. I had my day in Kakunodate semi-planned out. First stop would be to climb the hill of the Kakunodate castle ruins. The castle doesn't exist anymore but it offers a fantastic view of the town. Walking there from the station would take 30mins. The visitors centre said due to winter, climbing the hill may prove difficult, but I had got these snow boots. How hard can it be?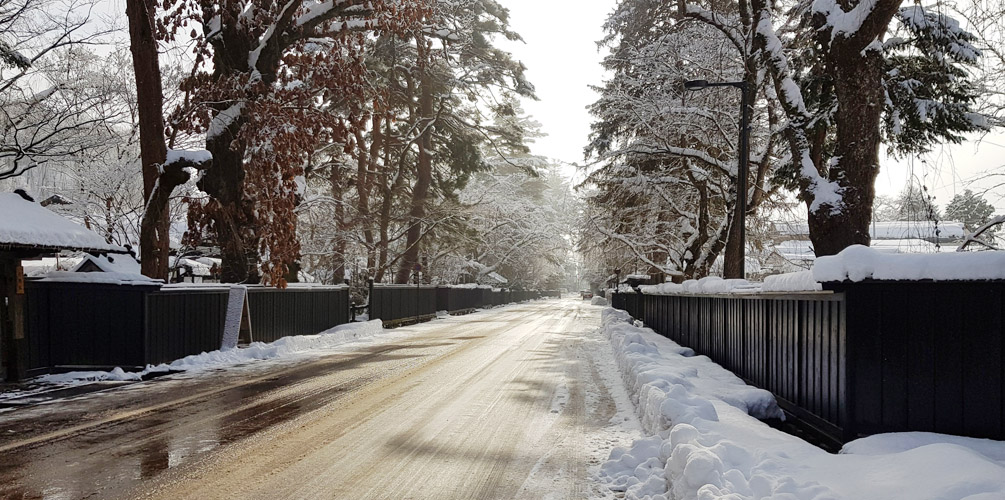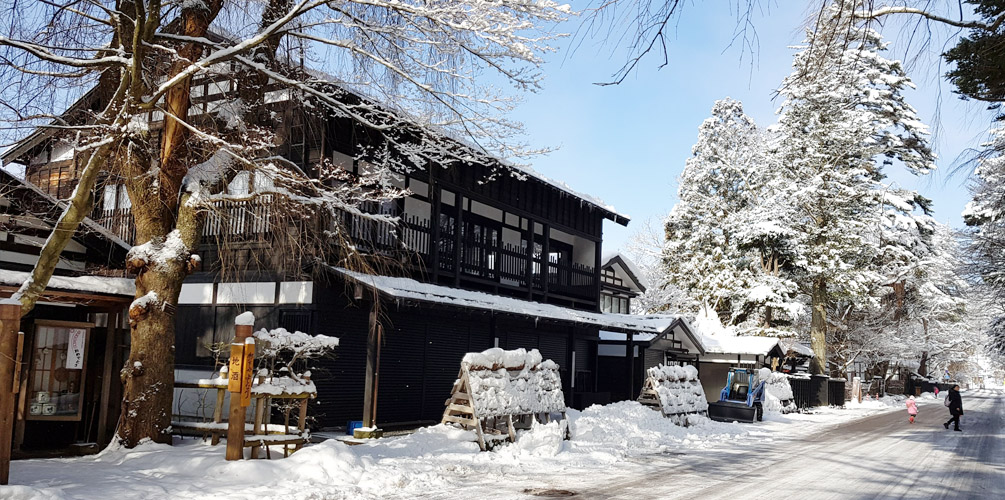 A silly idea to hike the Kakunodate Castle trail in winter
Walking through town on the way to the castle I could already see some of the houses with their traditional architecture covered in snow. It made for a great ambience to the town. I could see some of the path to the castle and it was half clear with some melt water from the mountain sort of clearing it for me. So far so good. I noted that there were footprints in the snow too which means I can't be the only one here so it must be ok. Then the path disappeared and the snow started getting deeper. Good thing for the snow boots because my normal shoes would be freezing and soaking wet after this. Trekking further up, the snow is getting deeper and I can no longer see footprints which I've been using to step on the hard packed snow. Now I gotta make my own footprints in the powder. I decided I would push through and try and make it to the top. The snow was getting ridiculously deep and was now higher than the rim of my snow boots with snow now going into my boots. Walking through powdery snow is physically tiring too. What was meant to be nice walk up a trail was now some snowy expedition.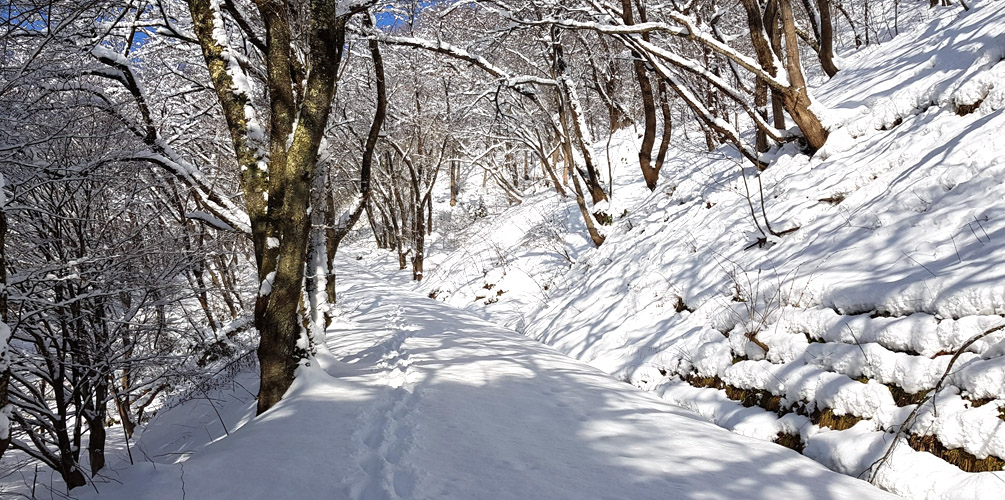 I gave up after a quarter of the way as the snow was way too much now. Heading back I stepped in my own footprints to make it easier to traverse through the snow.
Ishiguri House
I came back along the main street of Samurai houses and decided to go into one. The house I came into was called Ishiguri house. Entry fee was 400 yen and I was given a tour of the house by Mr Ishiguri. He was a 14th generation descendant of the Samurai that built the house. He lived with his parents in a private closed off section of the house. His elderly father was around and still giving tours of the place.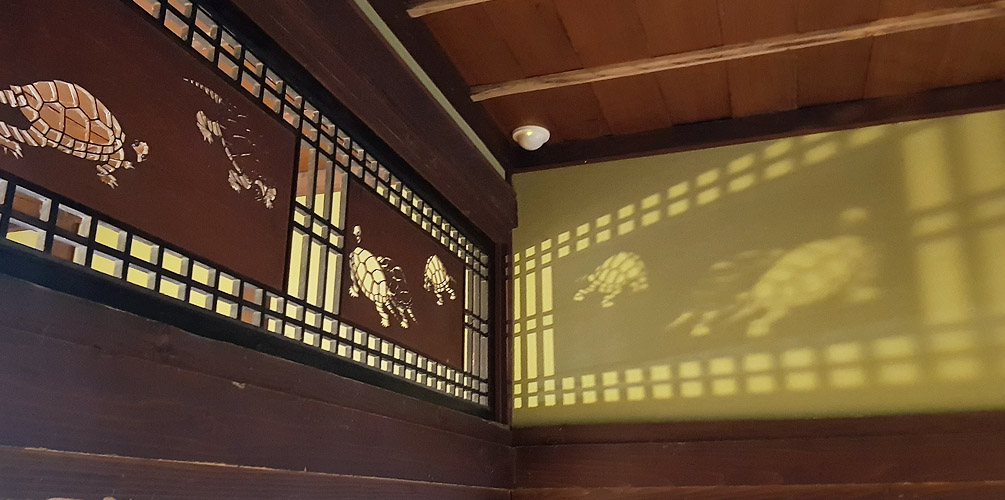 Mr Ishiguri stated that the house was built 160 years ago and that after the Samurai were no longer needed, his ancestors transitioned from Samurai to other trades. In his families instance they turned into financial accountants. The tour was informative and I learned about different entrances of the house for different people of certain classes; I learned about the tatami mats and where you must sit in the room according to your class; the multifunctions of the house in spring and winter and so on.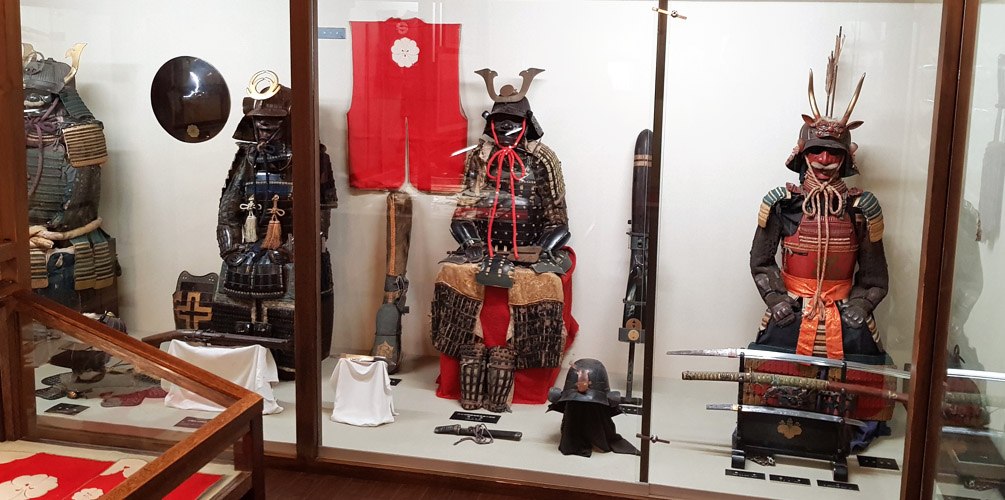 Aoyagi House
My next visit was to the Aoyagi house and this one was more grand and had a 500 yen entrance fee. No personal tour though, this one you had to do yourself.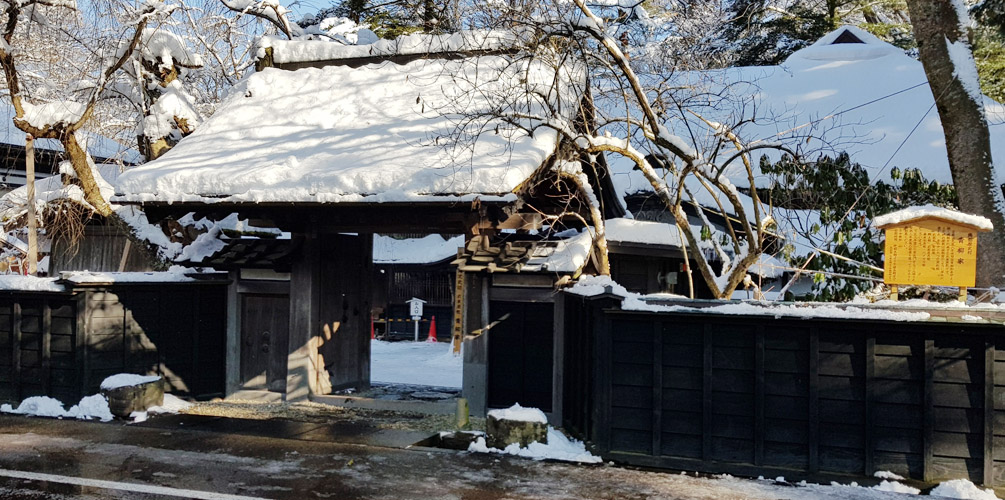 Their exhibits were a bit more grand and they had various swords on display surrounded in a glass case with holes that your could hold onto and try to lift up. Lots of suits of armour and artifacts from centuries ago including old maps of Japan and tools and kitchenware. I did prefer however the personal tour offered by the Ishiguri house.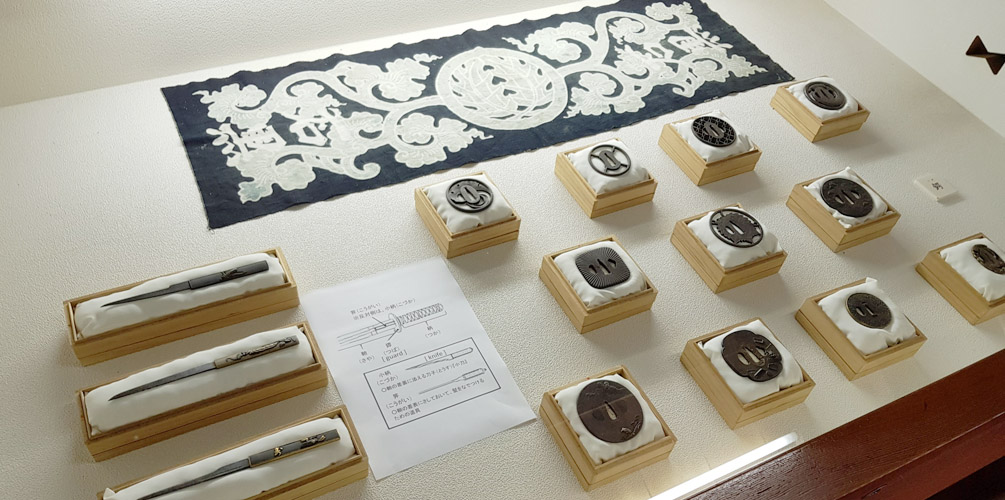 For lunch I opted for some Udon and found a local udon place. This place specialised in Inawari Udon which are basically a skinnier version of Udon. Because it was so cold outside I opted for hot noodles this time in a nice set with rice and japanese pickles. The texture of the Udon was smooth to taste, but I'll be honest when I say I do prefer the original thicker Udon noodles. The rice was seasoned with what I think were plums and basil and provided a great slightly salty side dish to go with the Umami rich flavour of the Udon broth.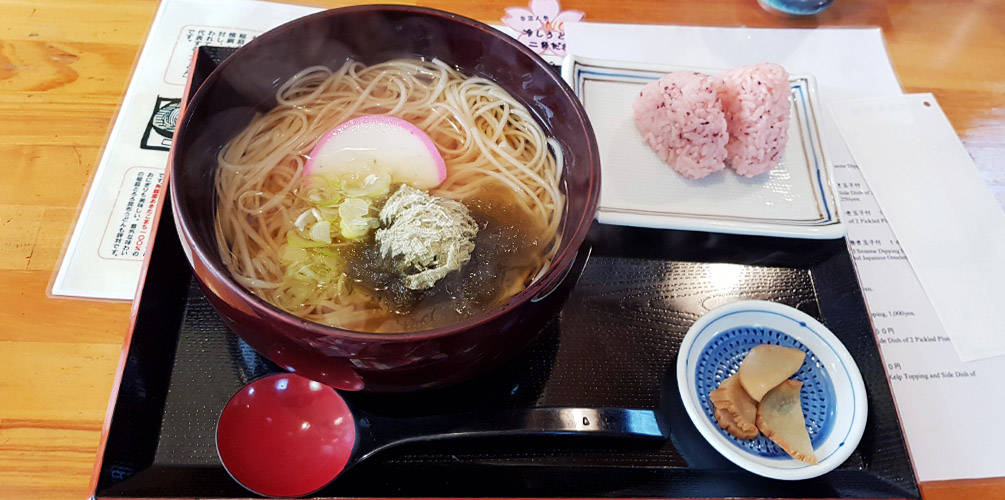 Hinokinai River
After lunch I took a brief walk on over to the riverside and captured the amazing winter scenery.
Before heading back to the station, I stopped by a museum run by the city and had a quick browse before my train was due.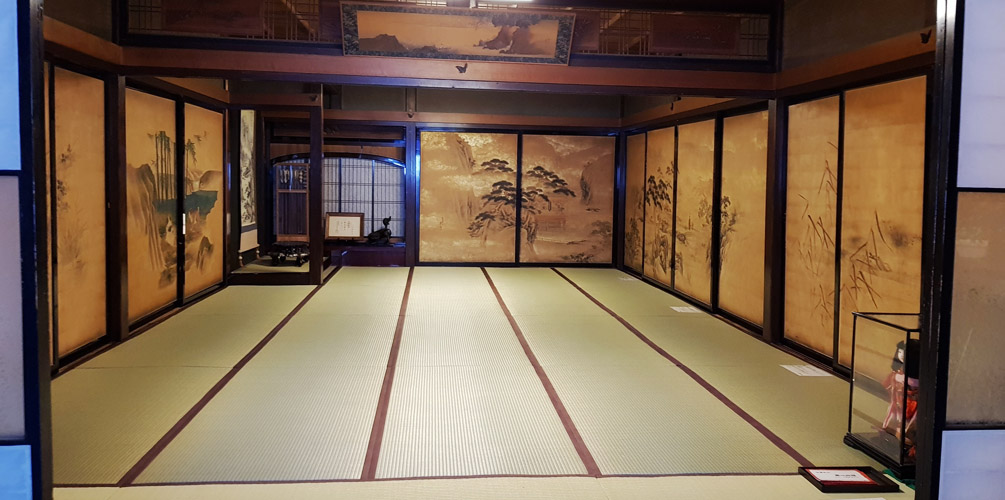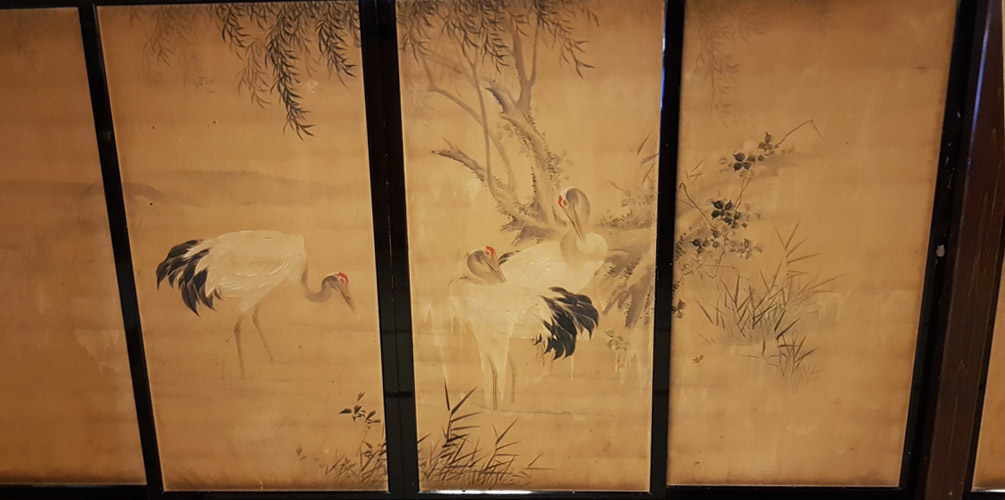 Journey to Tazawako
Getting to the station after returning my boots and retrieving my large backpack from the station locker, the station attendant was kinda too lazy to give me a reserve seat to Tazawako station and I don't blame him too much seeing as it's the next stop after Kakunodate. Tazawako station was my next stop where I would intend to catch a specific bus at 3:35pm to make it in time to the Onsen before 5pm. If I didn't make it before 5pm I would get no dinner that was included with my stay. This evening I would be staying at Tsurunoyu, a very famous mixed bath onsen that has been used for centuries.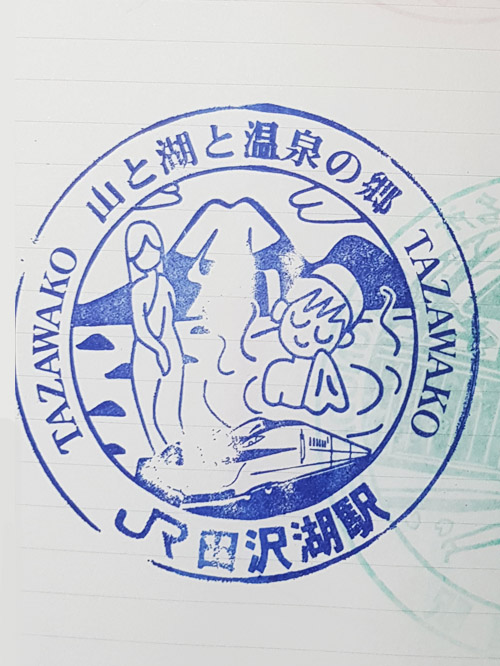 The town of Tazawako itself serves as a base for travellers going to see either Lake Tazawa or the more famous Nyuto Onsens. Nyuto itself means nipple, and it's meant to refer to the mountains in the area but I guess some could make a cheeky allusion to people in the onsens themselves.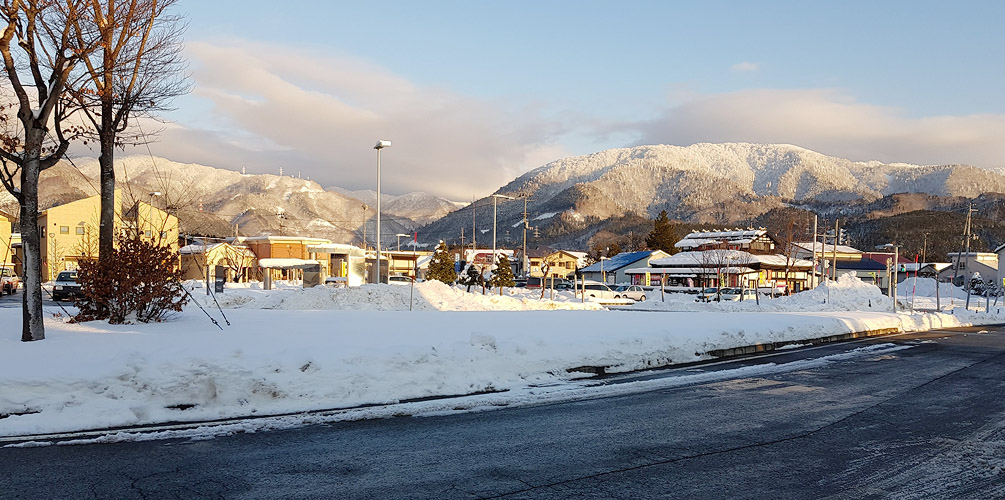 After buying a bus ticket from the Ugokotsu bus counter, I went to the tourist information desk and asked them to call Tsurunoyu to pick me up in their shuttle when I got to the bus stop named "Alpa Komakusa". The bus itself was another one of those rural buses where you take a ticket and such then pay later. As I got on the bus, I noticed I was only one of 3 people on the whole bus. The bus snaked its way around the small town and briefly Lake Tazawako itself before making its way up into the mountains. I'm not really familiar with driving in snow, but I took note that the road was completely covered in snow. The bus tyres I'm wondering must be pretty decent to have such good grip on the road. After picking up a senior gentlemen midway, the bus made its 30min trip up the mountain.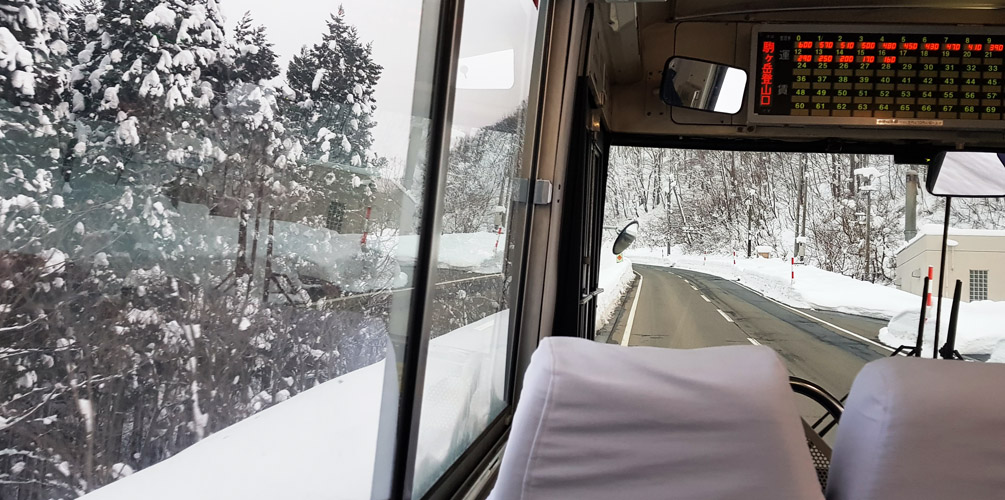 Waiting at Alpa Komakusa was the shuttle bus for Tsurunoyu and I later found out that the 2 other travellers on the bus were also going to Tsurunoyu. The shuttle bus took a smaller much more snow packed road than the bus. I put my seatbelt on because it honestly looked kinda scary.
An evening at an Onsen
When we arrived I was expecting there to be a lot of people but it was not as crowded as I expected it to be. Perhaps in other months it would be more popular as I've heard that you need to book several weeks in advance. I would've thought winter would be more popular for a hot spring but oh well. Checking in I was given a personal tour of the place including directions to the baths, the private baths, the showers then onto my room itself. All shoes are placed on a rack near the entrance and you are encouraged to utilise the snow boots provided for going outside and the slippers provided for using indoors.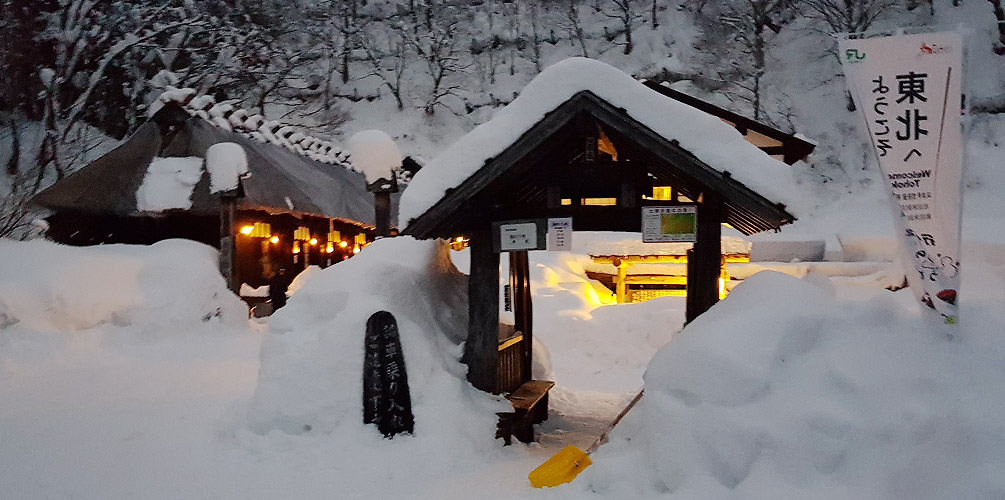 Included in my tatami mat lined room was my personal Yukata, towels, a tea set with boiling water provided, sewing kit, toothbrush and the all important winter Yukata-like coat to put over my Yukata due to the cold. The Yukata is a notable feature in Japanese onsens and basically it is your uniform during your stay here. Not only is it comfortable to lounge in I found it less cumbersome to take off when going to the baths than regular clothes. Guests at the onsen frequently wear this basically everywhere to breakfast and dinner.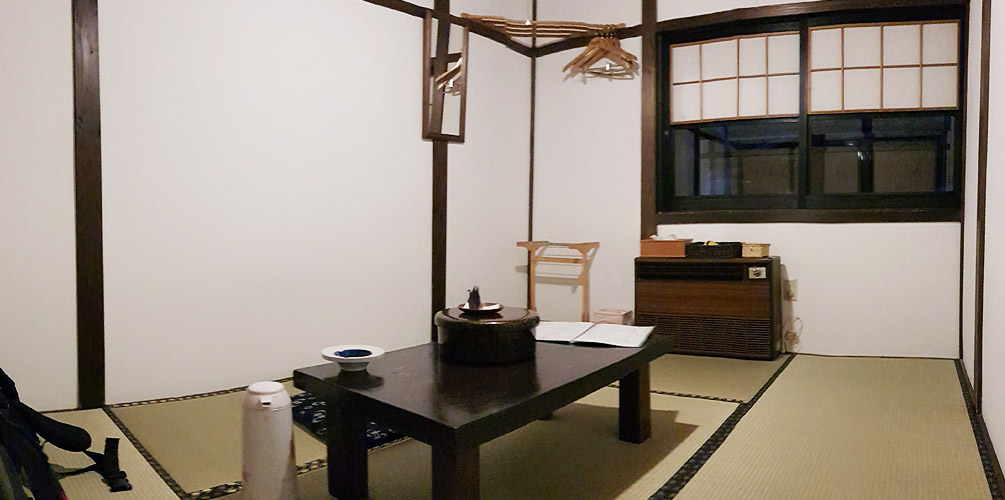 Speaking of dinner, dinner was served in the next building at 6pm. I found out that all meals were laid out according to room and I was directed to sit on the floor near a label with my name on it. Dinner at this onsen was to be served using local ingredients in the area. The dinner consisted of about 70% mushrooms/fungi and this was difficult to me as I'm not the biggest fan of mushrooms. I tried nonetheless.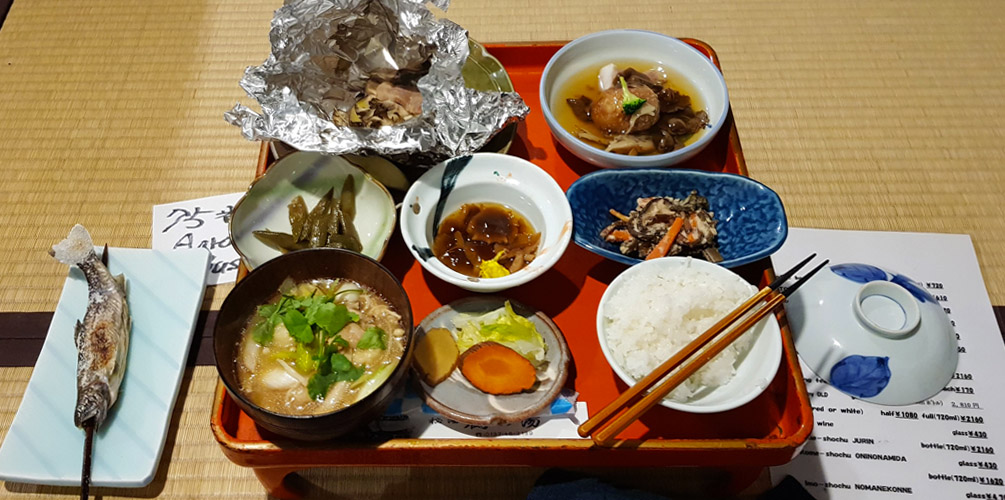 The food served just seemed to keep coming and I opted to fill myself up on the self-service rice to feed myself. A few minutes into dinner out comes more food, a salted and smoked fish. A few minutes more, some "mountain miso soup" the chef called it. The fish and the soup were definitely excellent and hearty. I take note that some of the Japanese people ate the whole fish bones, head and all. I ate about 1/3 of my dinner then had to quickly duck out in shame.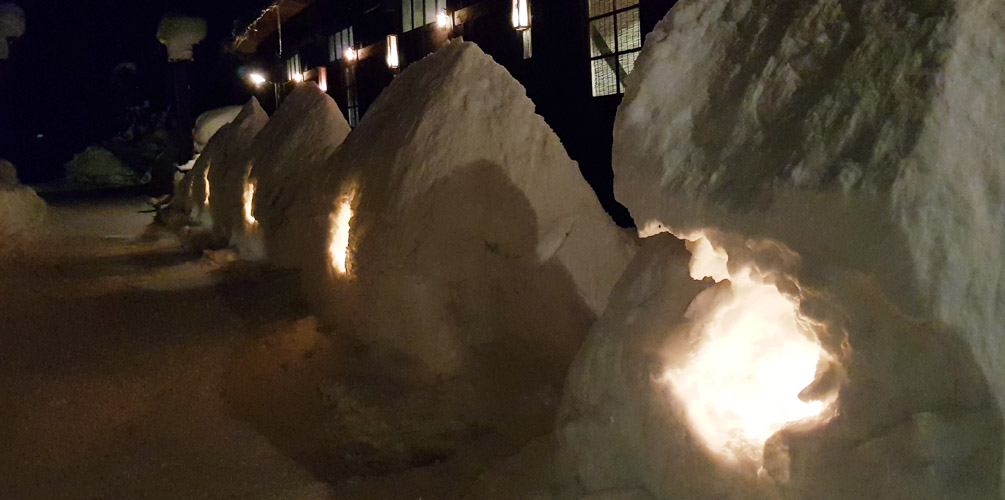 Despite being to Japan before I had never visited a Japanese onsen. I had visited hot springs in the past in New Zealand but this would be the first time visiting a Japanese one for me. Japanese onsens differ from other hot springs around the world in that you aren't allowed to wear any clothes when you get into the bath. Even more interesting was that Tsurunoyu was one of the rare onsens around Japan that had both genders in the one public bath. I'll admit the prospect of stripping naked in front of other people as well as strangers of the opposite sex was a bit daunting to me. I decided to go to one of the male-only indoor baths first to try and warm myself up to the idea. The first indoor bath was incredibly hot. Almost too hot for me. Probably about 40-42 degrees. But fortunately I was the only one there. I felt a bit silly because I knew that there was meant to be a small modesty / wash towel that I take with me to the bath but I could not tell whether I was given one or I had to ask for one so I brought along the big towel I was provided. Later I realised that this was for drying yourself off after getting back into the change room, not for taking to the bath with you.
I spent about 45mins in the indoor bath and decided to go head back to my room to chill down for a bit and dry the big towel that I managed to get wet in the bath. I also note that the staff in this time had set up my bed. A futon that was laid on the ground. Onsens typically prepare their guests bed during dinner time I read which is convenient I suppose. Later in my room wrapped in plastic was the small modesty towel that I was reading about. It was tiny and I could definitely not wrap it around my waist. It was getting darker at this stage and it was snowing lightly and I had worked up enough nerve to go to the outdoor bath.
Women get their own outdoor bath at Tsurunoyu but men only have access to the mixed one. There were a small amount of Japanese people in the pool already and whilst covering my parts with the small white modesty towel I headed for a dark spot to slip in to the outdoor bath. Easy peasy I thought. Women entering the bath get their own sort of private entrance away from everything where they can slip in in private. The water is a murky milky colour so you can't really see anyone's privates once they're in the water. The men don't really get the same luxury, they must get into the bath in full view of everyone else. In fact the men's changeroom even has clear windows that anybody can see in.
The outdoor bath was a better temperature and the cool winter air outside did soothe the heat a bit. Sitting in a hot spring whilst it's also snowing is also and interesting experience. Some Japanese men later entered into the bath, and unlike me they were not shy at all and made no effort to cover their parts at all. Some would even stand up in the bath and just wade through without doing anything to cover up. Nudity is a different thing here I guess.