Day 1 of EU 2017 trip / Day 1 in Stockholm

Eastern side of Gamla Stan, Stockholm
A 7am arrival into Stockholm's Arlanda airport meant that I had the whole day ahead of me to see some sights and take in the city.
The first thing I noticed was how cold it was (11C). Sydney was the same temperature not so long ago but I am really not one to get used to the cold.
Arlanda airport was not very big but immigration took a long time. There were two queues - EU passport holders and non EU passport holders. You were not required to fill out any forms and instead, they really scrutinised you. It was pretty much an interview; I had to tell her I was here for a holiday, I didn't know anyone here and I was going to a whole bunch of other EU countries too. She seemed a bit stern and I was getting over it and just wanted to GTFO so I finally pulled out my phone and said, "Here look-" opens booking.com app "I have a bunch of bookings." She barely even looked at it but said, "Oh you're staying in hostels, that's ok" STAMPS passport. Immigration is weird -_-
I took a coach in to Stockholm city. It was kind of like a greyhound/megabus bus but cleaner and with working wifi, which was very useful as I had realised I lost my debit card (sighhhh) and needed to do some Googling to find a workaround.
Walking to the hostel, it really struck out to me how clean the streets were. There weren't many cigarette butts on the ground. Not as many as Sydney, anyway. But there wasn't much trash around the place either.
The hostel I had booked refused to let me in my room early (well, it was worth a try, right?) even though I told them I had been travelling for like almost 36 hours and hadn't showered at all. And then they wouldn't store my luggage, telling me to hire one of their expensive lockers. I feel stupid for even going through with it.
After dumping my stuff, I headed out. I was keen to just walk around and take it in. I hadn't intended to, but I ended up walking all the way to Gamla Stan (Old town). It didn't seem very busy at all. There weren't many cars around either, which was surprising as this was a central part of town.
Gamla Stan (Old Town)
It was very apparent upon entering Gamla Stan that this was a touristy place. This area was founded in the 13th Century but the architecture doesn't seem that old at all. The narrow and windy cobblestone streets were quite charming however, but as I went on to visit Sodermalm, the only difference to me was the building height and the width of the streets.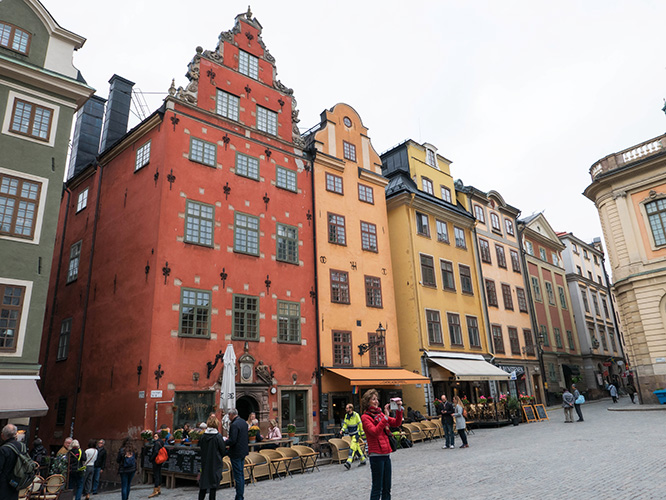 As with all touristy areas, a lot of the shops were uninteresting to me. Stortorget, the oldest square in Stockholm (located in Gamla Stan, of course), didn't have much happening at all. Just lots of tourists crowding in the middle of it, trying to take photos of the surrounding buildings, which all now featured restraurants or cafes. One side of the square was the Nobel Museum, which I didn't end up visiting.
I tried to walk off the main street (Västerlånggatan, running north south. It had a freaking Ben and Jerry's!) but I wasn't really sure where to go. I did manage to get some good shots and experience some peace and quiet which was nice.
Stockholms Gästabud
For lunch, I found a highly rated place on the internet (Stockholms Gästabud) and decided to go in and have some meatballs. I got there a bit before they opened and there were people waiting around already.
Well, I had to have Sweden's national dish as my first meal in Sweden - Meatballs. I hadn't even had Swedish style meatballs before, not even ones from Ikea. But how different could they be to the meatballs I've had before (Greek koftas, Italian polpettes, Cantonese Chinese beef sui mai or Spanish albondigas)?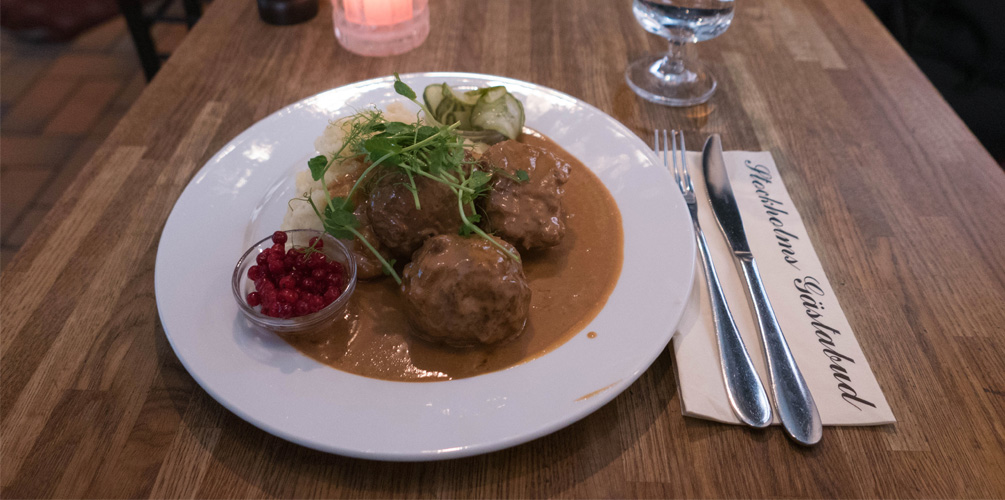 These were pretty good. I couldn't exactly tell what kind of meat was used (I read that sometimes it's a mix) but there wasn't much filler and there was loads of black pepper visible. The sauce was not like any other gravy I've had before, it was indeed creamy and went well with everything on the plate (yes, including the pickles). Pickles were fantastic and lingonberries were sharp but sweet. I had never had lingonberries before and wasn't sure how to eat it so I asked the waitress, who told me to eat it alongside everything on the plate. They were a bit similar to cranberries but they have the same tartness but doesn't linger on your palette. Light and sharp. The mash was pretty good but I don't really prefer pureed potato, because it's too similar to baby food. I do like my potatoes to be less mashed (for texture). But overall, solid meal. 8/10 #ipinions
After lunch, I went to buy myself a 72 hour travel pass which would allow me to utilise all of Stockholm's public transport. It was really bloody expensive at SEK240 (AUD38) but I suppose that is on par with Sydney prices? A single ticket was more brutal (75 mins on any PT) at SEK40 (AUD6).
Vasa Museet (Museum)
There was a ferry that takes passengers from Gamla Stan over to Djurgården, an island east of Gamla Stan where Vasa Museet was located. It's not the fastest way to get there but I figured it would be interesting so off I went. The views on the way were great, Stockholm is definitely a pretty city. I also got a good glimpse of Gröna Lund, a small amusement park on Djurgården. It looked rather tame to be honest!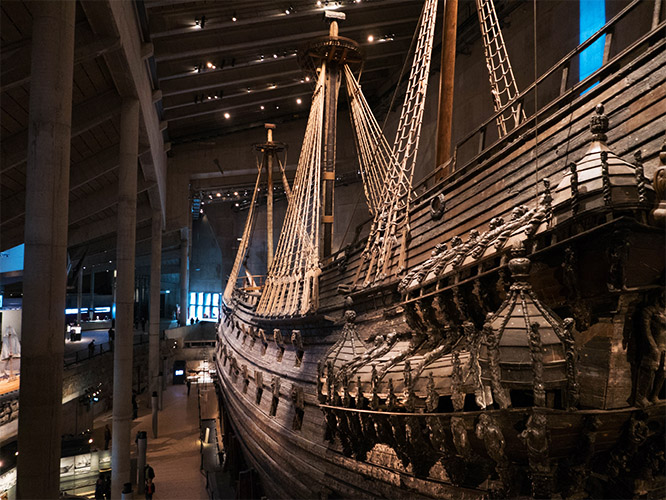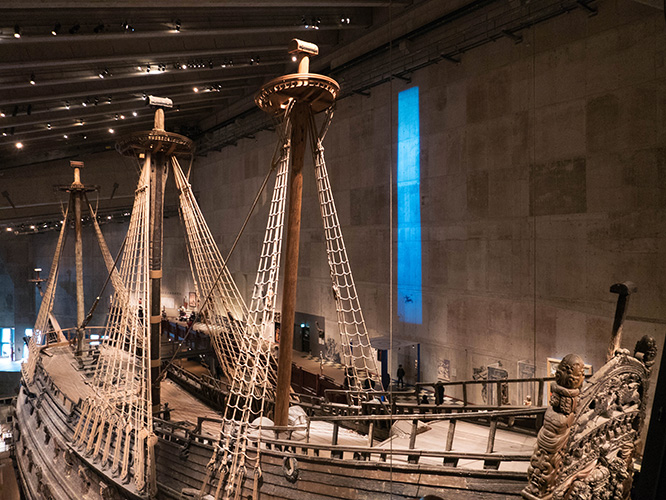 Entering the Vasa Museet, the first thing you are greeted with is the Vasa itself, a 17th Century Swedish warship. It's HUGE, you have to see it for yourself. The significance of the Vasa is that it was a huge fail - on its maiden voyage, it hadn't even sailed 2km when it sunk unexpectedly. (Spoiler alert: it was badly designed; its centre of gravity was far too high, so it tipped over easily). The Vasa lay there, submerged in Stockholm harbour for 300 years before it was raised in the 1950s. I'm not really interested in maritime history or anything like that but I really enjoyed the Vasa Museet.
Upon leaving, I bought a postcard (SEK5 = AUD 0.80) with a credit card. I had asked the lady if this was possible, and she looked at me like a mad person: "This is Sweden, you can pay for everything with a card!!!" I told her where I came from, we had minimums and she laughed. What a dream. This is going to be really handy as I lost my debit card :\
I had spent 2.5 hours in the Vasa Museet, so I took the tram with the intention of checking out the park in Djurgården. The trams here are a bit slow and require you to push a stop button if you want to disembark and an 'open door' button when the tram has stopped. I didn't know this and stood there at the door until someone pushed the button for me. How embarrassing.
I walked around a bit but wasn't really sure where I was going, so I gave up pretty quickly :\ it was getting colder and I was itching to go back to the hostel for a shower.
I took the tram to Nybroplan stop and walked up to Östermalmstorg train station. It was a pretty swanky area, with lots of designer brand stores.
The hostel was ok - it looked modern and the bunks have their own lights and wall charger (including USB) but the shower was a bit small. The staff were quite rubbish to be honest, not very friendly. Tonight was a good night, only had 2 other roomies out of 5 :p