Here I go again… but this time I get to type it out instead of physically writing on pen and paper. I have such shit handwriting and I've gotten really slow at writing anyway. But I think I'll still go out and buy a notebook to stick things into it (e.g. boarding passes, tickets, etc.)
So I'm off to Europe and taking all my annual leave to visit a bunch of places I'd never been before - Sweden, Denmark, Germany, the Netherlands, Belgium. This is also a bit of a research trip but I will go into that later.
Here's the plan:
I got pretty good flights during Thai Airways' sale, AUD1200 all up. SYD->BKK->ARL and LDN->BKK->SYD. I have never flown with Thai before.
SYD -> BKK (TG476)
Flight THA476 was on a Boeing 747-400. It was probably an oldish aircraft but it didn't seem too bad. The inflight entertertainment system worked fine and it had the rotating flight map and flight information feature which I enjoy looking at. The seats had power outlets including USB. The provided headphones were pretty old school though. The speaker above me made crackling noises every few hours which was a tad annoying.
I was seated in the tail of the plane and I was surprised to see no less than 6 toilets right at the end. SIX!!!!
I had picked seat 65D - aisle seat, 7 rows from the rear emergency exit. I was very fortunate to have the row all to myself, yep that's 4 seats all for me to lie on. Completely flat on my back. It was seriously comfortable; I'm already dreading my next leg, which is a red eye and I'll have to actually sleep :(
The service was mostly friendly but brisk. I got ignored a couple of times and had to chase them down (once I suppose they thought I was sleeping and the second time they just completely skipped over me when they were handing out Thailand arrival cards for Immigration).
Take off was a bit after 10am (AEST); the flight ran on time. Drinks were served quite early. Not even an hour in to the flight, the Captain was announcing that it was lunch time!!! Um, hello I had just ate maccas! 11am is not an acceptable lunch time!!!! That said, the food wasn't too bad. According to the menu, the food is "certified for its [sic] authentically taste of Thai". I picked the chicken option which was green curry chicken. It tasted a lot like food court Thai I used to have at the Asian food courts on Pitt St in Sydney CBD. I ate it all. Skipped the average tasting potato salad and dessert. Flight attendants came past twice (I did say they were brisk!) for more drink orders.
By 11:30am (AEST) all the rubbish was all packed and by 12pm, the lights were turned off, which I found strange for a day flight. The FAs all disappeared. I slept some and watched some videos.
At 5pm (AEST) the lights went back on and we were handed our second meal (noodles with chicken). We had 2 hours left into the flight at this stage. I didn't want to eat much as I was saving my stomach for Bangkok. The food was cold anyway :\
Bangkok layover
You knew you were in the tropics when you get off the plane and the heat hits you like a tonne of bricks. It was 36 degrees and super humid. And I was wearing pants, ugh.
So I had a few things planned for this layover -
Get some Garrett's Popcorn
Get a Thai milk tea (I only discovered this recently, whoops, and I am in love)
Buy some things I had left at home from Tesco
Get a massage
Dinner
They're not very interesting things because my layover was between 4pm - 1am Bangkok time. The main sights would be closed by then. But I was still pretty excited as I had never been to BKK before.
Immigration was REALLY quiet when I got there (such a long walk from the gate). The last time I had a layover in BKK, it took almost two hours to clear immigration and it prevented me from leaving the airport. This time I didn't even have to wait.
To tick off No. 1, I had to go to Siam Paragon shopping mall which was near Ratchaprarop station on the Airport express line. I thought it would be walkable, but in the end I walked close to half an hour. It was very hot and I was carrying two bags. Along the way I noticed there were LOADS of people on the road and people in cars were in bumper to bumper traffic.
I passed many shopping malls along the way, all boasting foreign (mostly American?) brands. It was a bit overkill! Siam Paragon was also full of foreign brands; the ground floor was like a massive food hall with lots of shops/stalls. They had KFC and Maccas but also things like CoCo milk tea (from China), Haagen Dazs, Le Tao (fancy Japanese cake shop) and the thing I was after - Garrett's Popcorn (from Chicago). I got a small bag of caramel and cheese popcorn mix :D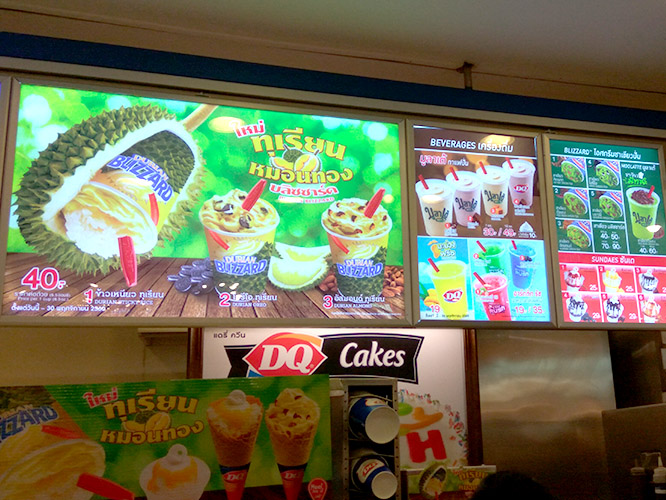 I was hoping to knock off No 2 at the same time but I couldn't find it so when I walked past a Dairy Queen, I couldn't resist. I find it funny when they serve you the ice cream and they tip it upside down to show you it's super cold. But that didn't last long. It melted FAST outside.
So then I walked to Tesco, I had read it was massive and it had everything. Kind of like a Walmart. Again I thought it would be walkable from Siam Paragon but yeah… it was a long walk. 15mins in the heat. After buying some things, I noticed a stall selling drinks and yep, they sold Thai milk tea. It was delicious and only 25THB.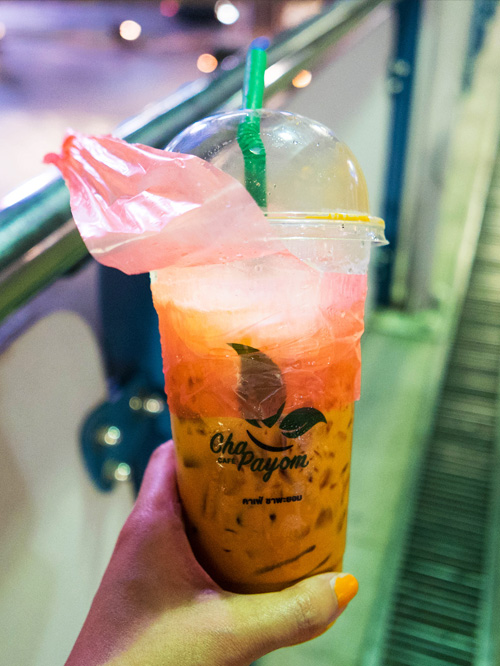 Time for No 4. I walked a bit to a place I had found whilst googling and they offered a 1 hour Thai massage for THB 250 (AUD 10). I was really only after a shoulder and back massage, but what the hell, time to give the the whole deal a go. It was basically a head to toe massage. There was a lot of prodding and pulling and poking. I didn't feel as refreshed as other times where I've only had a back massage, so maybe I will stick to the latter (or maybe I need a 2 hour massage? Lol. I felt she skimped out on my legs a bit. My quads could've done with a bit more TLC). It was a very interesting experience however. I think she stabbed my shoulders so much they were sore the next day.
After my massage I was given some tea which was really nice. But it had started pissing down HARD. I did not have an umbrella so considered waiting it out. I was getting twitchy and concerned about the time so I decided to try and leg it back to the nearest station (also Ratchaprarop). Yeah nah. I got drenched real quick. I made it halfway down the road and stopped a bit at a 7/11 for shelter but when a taxi came by, I stopped him. His taxi was really comfortable. It cost just as much as the train ride to to airport but what the heck, the rain sucked. And besides, it really wasn't much money at all.
BKK -> ARN (TG960)
My flight was due to depart at 1am so I had planned to get back at around 11. I was pretty good with time even though immigration took a bit of time. When I was booking my flights I hadn't really considered the time properly; I just wanted a longish layover. I had failed to realise that 1am meant 4am AEST, so when I got to the airport at 11pm local time (2-ish am AEST) I was super tired and ready to sleep. It was pretty bad. I hadn't had dinner at all either. I wasn't that hungry. The airport didn't offer much and I didn't really feel like subpar Thai or Burger King or Subway.
At the gate I ended up pretty much sleeping. I had even left my phone unattended to charge nearby at a freebie charging station…
Finally I hauled my ass on to the plane. There weren't many passengers on this flight at all. The waiting area at the gate was only really half full. The flight was full of empty seats but that did not mean that I had a whole row to myself again :( I had picked a window seat and there was a bloke sitting in the aisle seat, so it wasn't all that bad, there was a bit of room to stretch out. However, some time in the night I woke up to his damn feet poking at me!! He had tried to lie down over TWO seats, um rude much?!?! And he was a tall (pretty sure he was Swedish) bloke too, go away! Anyway, to my relief, he quickly got the point when I poked him back.
I had immediately fallen asleep right after take off. It was almost 4:30am AEST by then and it was killing me. I kind of drifted out of sleep not long after the crew started serving meals to everyone; just like the previous flight, they had their trolleys out and ready to serve customers less than an hour into the flight. They were serving chicken green curry again but I was super tired so I didn't really care for it. And what the hell, who eats a meal like that at 1am (Bangkok time)?? It was strange… loads of people gobbled it up, including my neighbour.
I slept ok. I did sleep quite a bit but it wasn't the best; I was constantly drifting in and out of sleep. The most interesting part of the flight was when we were flying over somewhere near New Delhi and I opened my window shade a bit. I could see a network of lights below, it was quite beautiful actually. It was kind of like those satellite images of cities taken from space.
Breakfast was served about 2 hours before landing. It was not that great; I had some cheesy omelette thing.
Hmm I am really wondering if this "going digital" thing is the best idea after all! Look how long this post is :|