Day 2 of EU 2017 trip / Day 2 in Stockholm

Western side of Gamla Stan, Stockholm
Staying in a hostel can be really unpredictable. There's always the early risers who get up and start making a fuss so they can be out the door by 8am. This time, I was that early riser, but I had gotten up at around 9:30… hardly early.
For breakfast, I had my first kanelbullar (cinnamon scroll) from 7 Eleven, which wasn't my first choice for breakfast! I was in a hurry, but it was actually really good. Heaps better than the ones I've had in Sydney.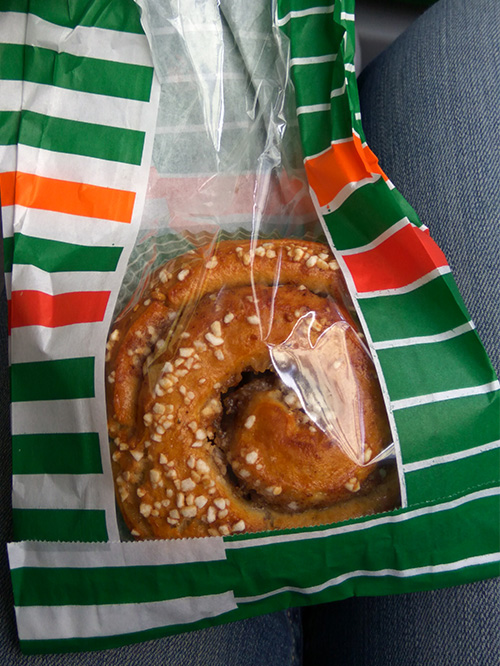 In Sweden, cinnamon scrolls are a thing. They go so far as to say that they invented it and they are commonly consumed for afternoon tea (fika) with coffee or tea. My scroll (SEK 18 = AUD 2.88) had tonnes of cinnamon and I think cardamom in it too. It was really tasty, so you know what? I'll give it to them. I was really surprised by 7 Eleven! Is this another case of 7 Elevens in other countries actually being decent? 8/10 #ipinions
Stadshuset (Stockholm City Hall)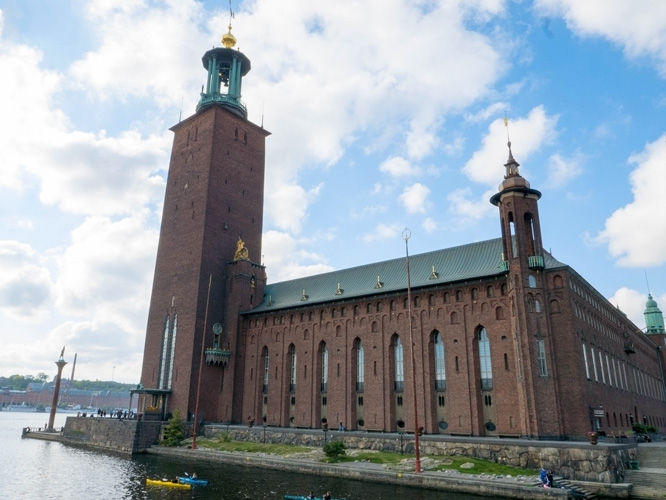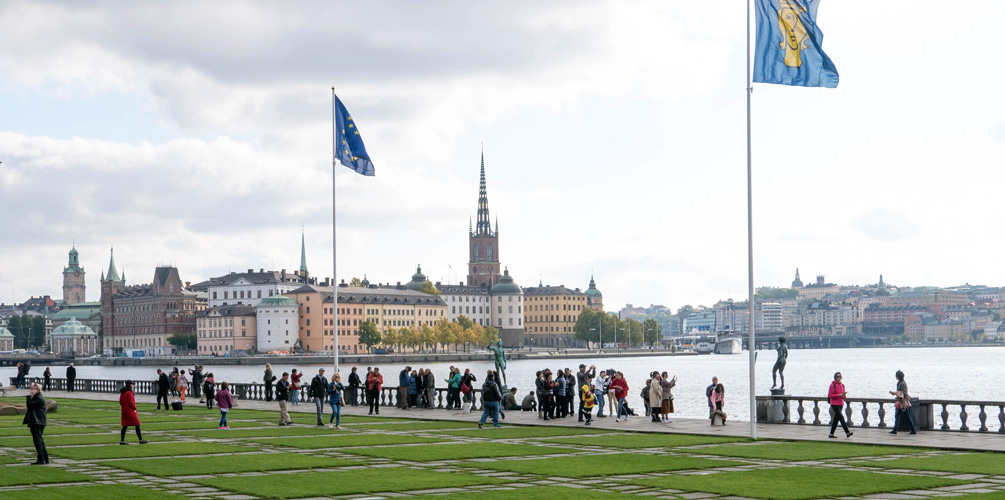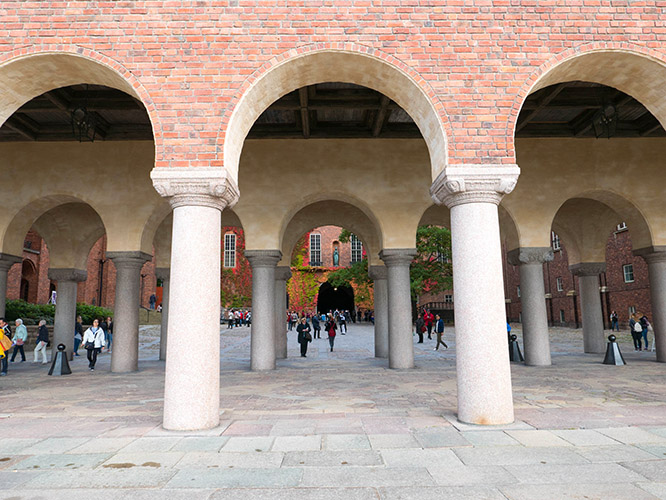 I had wanted to get up early so I could make the 10am city hall tour but then decided against it so I could have a bit of a sleep in. Nah, not really, I read it wasn't worth it. And to be honest, it was expensive and I wasn't super interested. Instead, I went up the city hall tower, which is 106m high. I had to buy a timed ticket because only 30 people are allowed in the tower at any given time, which I found to be ridiculously strict. The tower steps up to the stop were quite spacious and looked quite new. I have been in other towers where it was absolutely a claustrophobic experience with deteriorated steps but no people limit.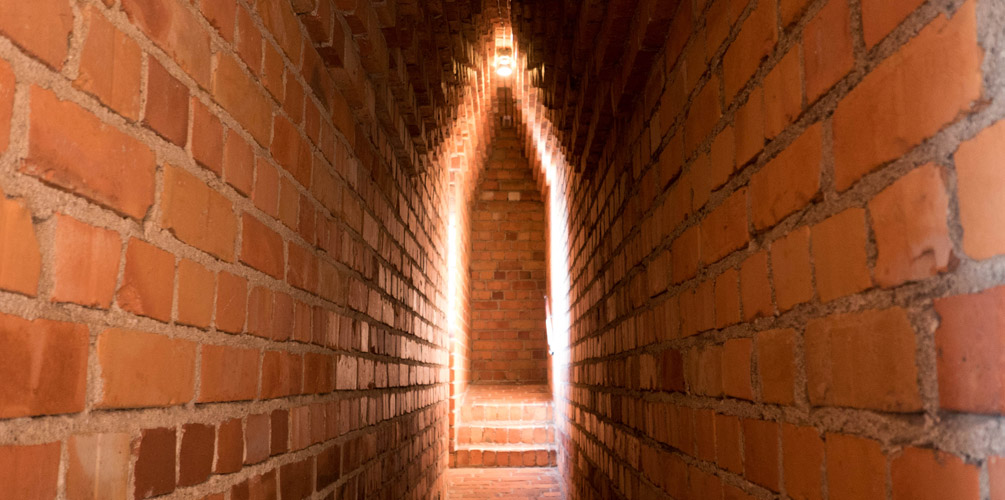 The tower was an easy climb with about 300 steps. The steps were nicely spaced apart and looked quite new. There was an option to take the lift halfway but I don't think anyone did this.
The view was great, but I'll let the photos speak for themselves.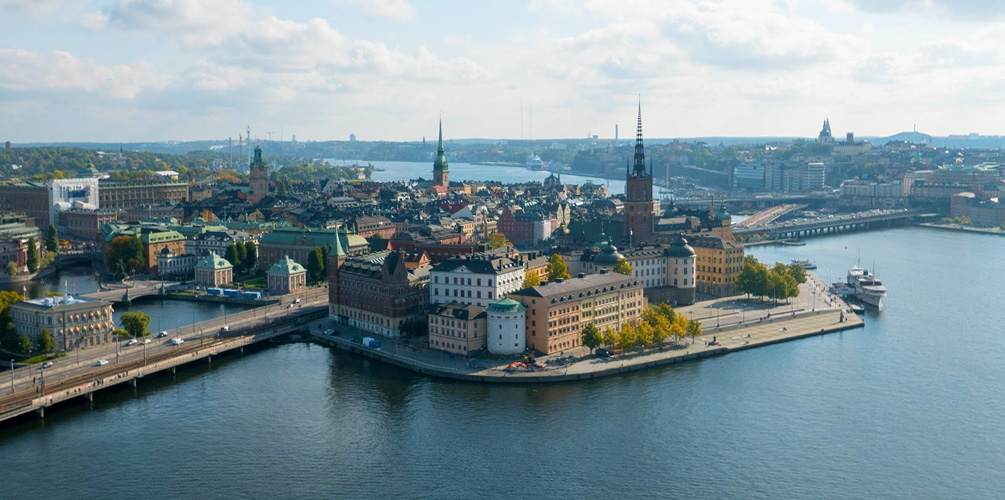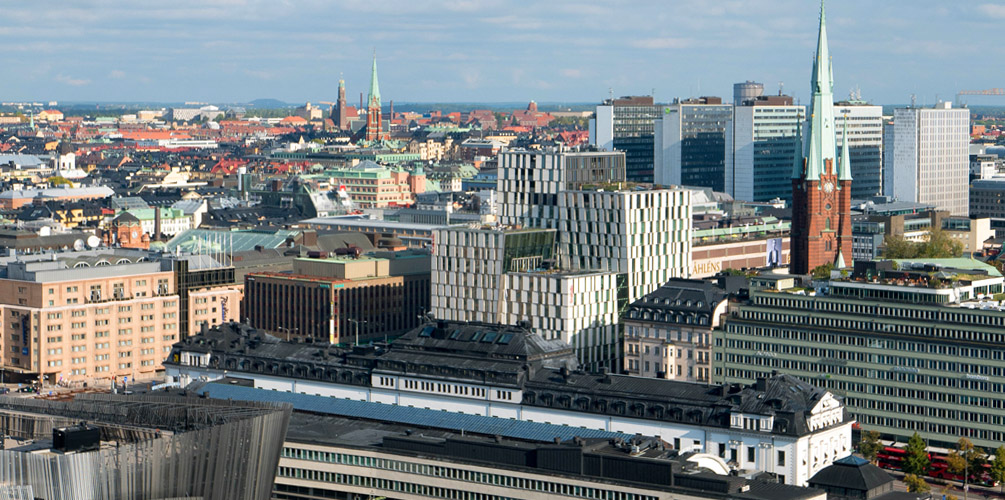 Södermalm
Södermalm is an island just south of Gamla Stan and is known for being recently gentrified, and like many gentrified neighbourhoods around the world, it has become a "hipster paradise" (not my quote). So of course I had to check it out.
Nystekt Stromming
For lunch I had to visit Nystekt Stromming, which is a longstanding food truck just outside Slussen metro station. I overheard a local tell her foreigner friend that this was the best fast food in Stockholm (and the only fast food you should have!) It was good to see a local rate it, but when I visited, all the customers were foreign. It was interesting to see so many Europeans in one place. I guess I don't usually see this much diversity in one place (or rather, I don't see much "Western/European" diversity, I am of course used to seeing diverse Asian cultures in one place). I love how food has the power to bring people together. We had all come here to try the fried herring -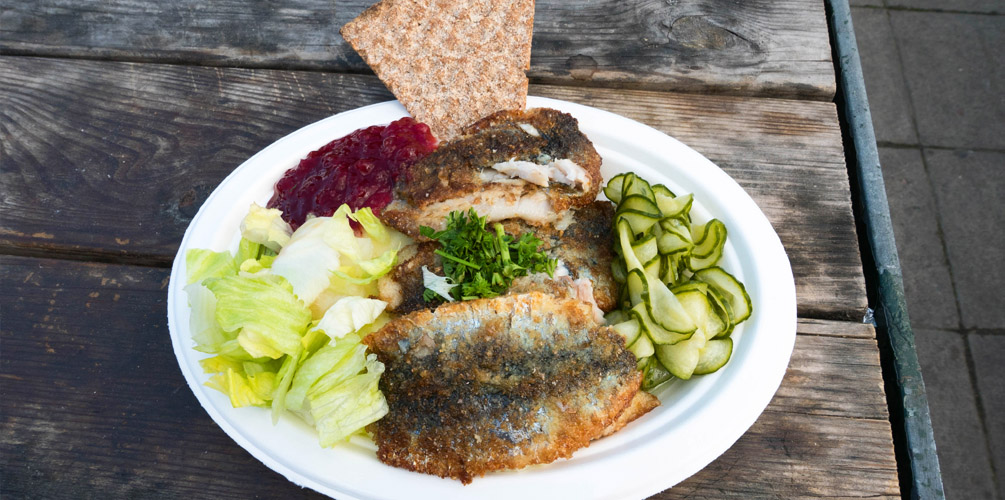 The herring plate (SEK75 = AUD 12) came with three pieces of fried herring, crispbread and mashed potato. Then you had a choice of three sides; I picked lingonberry, pickles and lettuce. The latter was a bit of a weird choice on my behalf; I had wanted to increase my vegetable intake lol. I think you are supposed to pick red onion…
The fish was fresh and tasty and it was cooked nicely. Everything tasted well together, just like the meatballs I had yesterday. The crispbread was intersting with the fish, the textures were so different. I would've never thought to put these two together. The crispbread felt so healthy, like I was eating a bunch of grains. And yes, the lingonberry went well with the fish and crispbread. Perhaps it really does goes with everything (quoting the Sweden govt website here!)
I was however, getting a bit sick (already!) of eating potatoes made for babies. It was starting to bother me. Again with the pickles, I couldn't get enough. I was given a good helping of pickles, nom nom nom.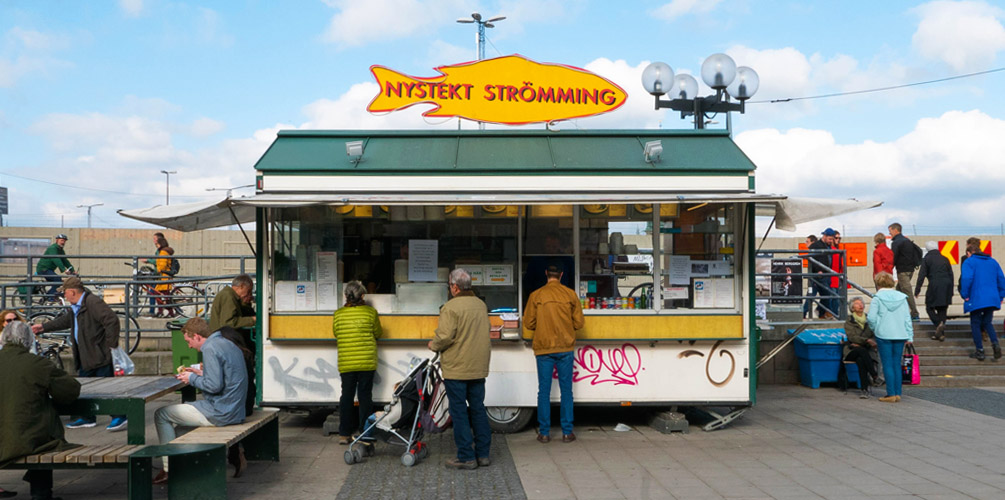 Decent meal 8/10 #ipinions
Exploring Södermalm
Walking around the "main hipster" area Södermalm was ok. They started calling it "SoFo" (South of Folkungagatan). In my opinion, it wasn't that hipster. There were some hipstery shops, but most were just restaurants. I did like the architecture in this area though. All the buildings were medium rise and were painted in bright but rather neutral colours. They were quite uniform though, unlike SoHo, NYC. I sort of got the SoHo vibe here but NYC is heaps more bustling, it's not even a contest.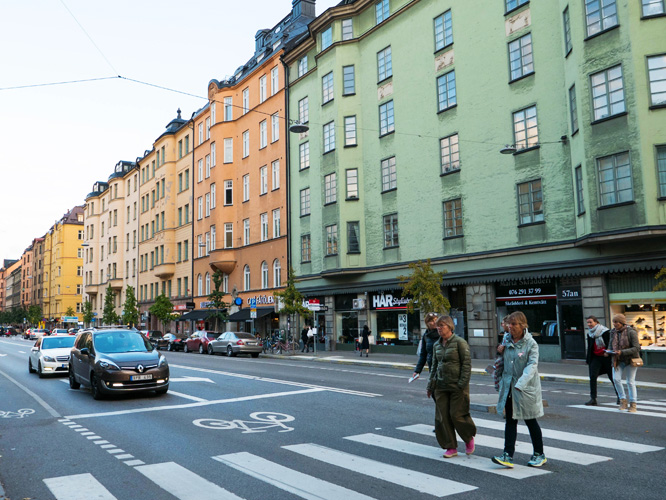 I stopped at Medborgarplatsen, a large public square, just as a bunch of older blokes were starting a (musical) set. They had drums and everything set up and they sounded pretty good. After the first song, some coppers in segways zoomed up to them and stopped them for a while, which actually caused people to gather around the band. I walked off to visit a nearby supermarket (something I like to do in other countries) but found that most things were quite familiar. There were some interesting confectionary and lots more fishy products than an Australian supermarket. Stuff like caviar in a squeezy tube, fish paste and other condiments in tubs. Mayo and tomato sauce was also available in squeezy tubes. I noticed vegetables were pretty expensive.
I came back out into the square and the band had started up again. I bought an ice cream from a nearby stand (Lejonet & Björnen). The guy was pretty stingy, he only gave me one sample (and it was the tiniest thing ever). I tried honey and saffron but found no saffron in it. In the end I got one scoop of tiramisu, which was decent, but yeah he couldnt even be bothered to scoop it up in a nice ball.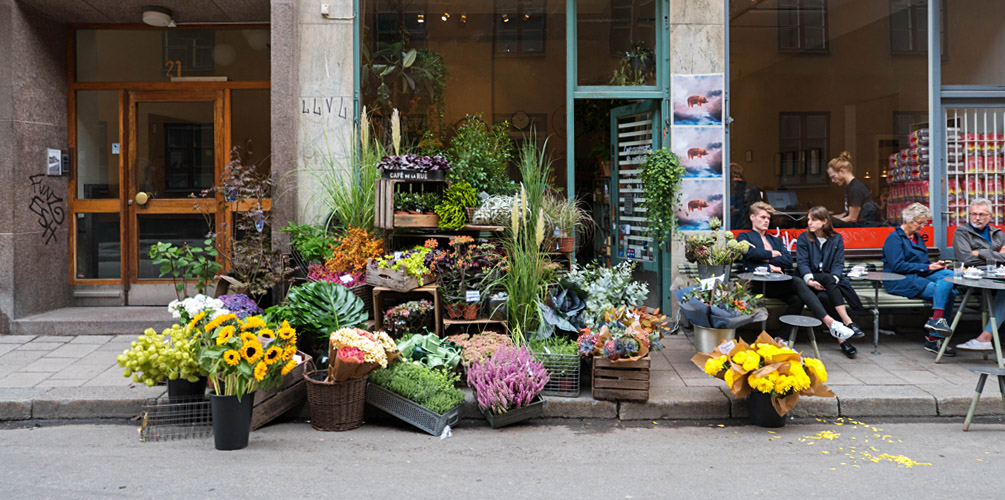 I came across a nice little farmer's market where there was some really lovely looking produce was sold. Again, the prices weren't great. There were some strange looking yellow mushrooms on offer from a lot of stalls. I wonder if people just picked them from random places to sell. In Sweden, everyone has access to everywhere (except private property). So people go out into the forest and pick berries and other things to eat.
When I had gotten enough of "SoFo", I decided to walk to a viewpoint just along the northern edge of Södermalm to get a view of Norrmalm and Kungsholmen. What a view:
(Full screen for best experience)
Research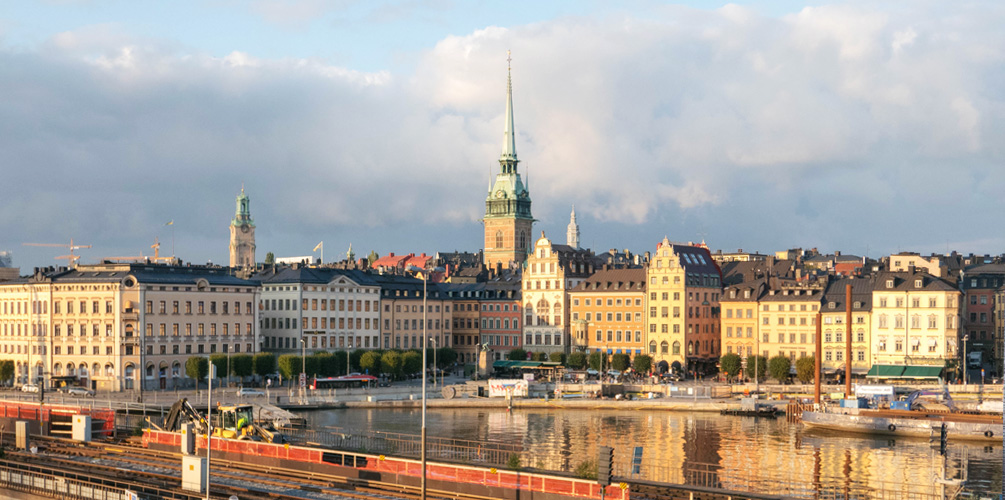 Time for some research now. I headed off to the Liljeholmen region (took the metro to Liljeholmen station) to scope out where people live. The immediate area near the station seemed quite civilised; there were lots of shops and no less than 3 super markets. I walked over to the Årstadal and it reminded me a bit of Rhodes, except the buildings weren't as high. There were no houses here, just units, and they looked quite new. The streets were very clean. There wasn't a whole lot going on I suppose, it was just a place you lived in.
I continued east to Årsta by bus where it was medium to low density living. Units were older. It seemed very quaint. Very quiet area, very suburban.
The bus ended at Gullmarsplan station, where I got off and went back to my hostel to chill out a bit.
Dinner time
My plan was to go to a restaurant located at Stockholm's eastern station (literally, Östra Station Järnvägsrestaurangen). I had read it was a very old school place, serving up Swedish classics. It took a while to get there from my hostel (busses are less frequent at night) and when I did, I spent about 5 mins standing near the entrance waiting for staff to come talk to me. Oh they saw me alright, and there weren't many customers at all. I spent that time reading the menu (which was in Swedish). I got sick and tired of this, so I left :(
I had noticed a nice restaurant on the way over but they told me they were fully booked. Mate, I can see a bunch of empty tables behind you, but ok. He sent me to their bar but I couldn't find a seat :(
Midan
By now it was 9pm and cold and I just wanted a feed. I wasn't desperate enough to eat take away pizza. Finally I came across a Middle Eastern casual looking place, Midan and I sighed (I eat a lot of Lebanese food back home, but even then I'd rather Lebanese than crappy fake pizza) and walked in. I ordered a chicken plate (SEK 125 = AUD 19.50), which was absolutely huge. It didn't come on a regular size plate. It came on one of those ceramic pizza plates you see non take away pizza restaurants use. Goddamn. Shame I didn't take a proper photo with scale.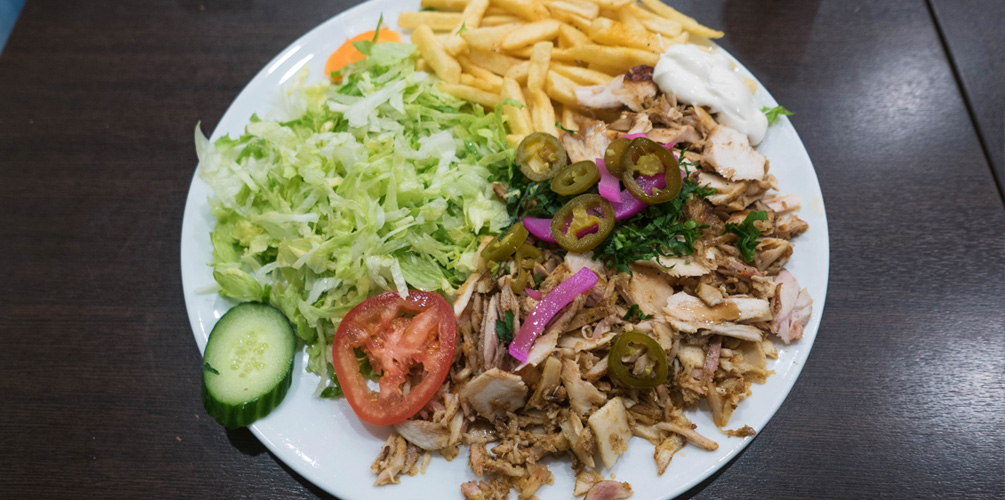 The chicken was seasoned a bit different to what I was used to back home in Sydney. But it was good. There was SO much food, but really, when it came down to it, it was mostly Chicken, lettuce and chips :P I finished about 2/3 of it. Crazy. 7/10 #ipinions