Day 3 of Italy-Croatia 2018 trip / Day 1 in Croatia

Dubrovnik Old Port
Time to cross the Adriatic Sea! This will be the only only other flight we are taking during the whole trip.
After sleeping approximately 4.5 hours, we got up and left our accommodation at the ungodly hour of 5:10 am. We had only ONE train we could catch to make it to the airport - the 5:21 am - which was also the first train of the day. Luckily, everything went without a hitch and we got a bit lucky. We did cut it a little fine with the bag drop but in the end, the queue sped up really quickly. I guess they knew that the flight was leaving and they needed to haul everyone on ASAP.
Rome -> Dubrovnik (VY 6736)
This was my first time flying with Vueling, a Spanish low cost carrier. The flight was quite empty, a little over half full. We had both been assigned seats in the emergency exit row, which was a surprise. We were seated with another young man and as soon as we were seated, a flight attendant came and asked us (in English, with a lovely Spanish accent) if were up to the job of assisting in an emergency. We all nodded and he told us to read the instruction card. The other emergency exit row was empty, and the flight attendant asked us if we were together (affirmative) and that we could go sit in the other row if we wanted. We did.
The rest of the flight was pretty uneventful. I went to sleep and there were no emergencies to assist in :)
Dubrovnik
We took the airport shuttle to the Pile gate. It wasn't too expensive but it was really the only (cheapish) option into Dubrovnik old town. The views on the way were awesome.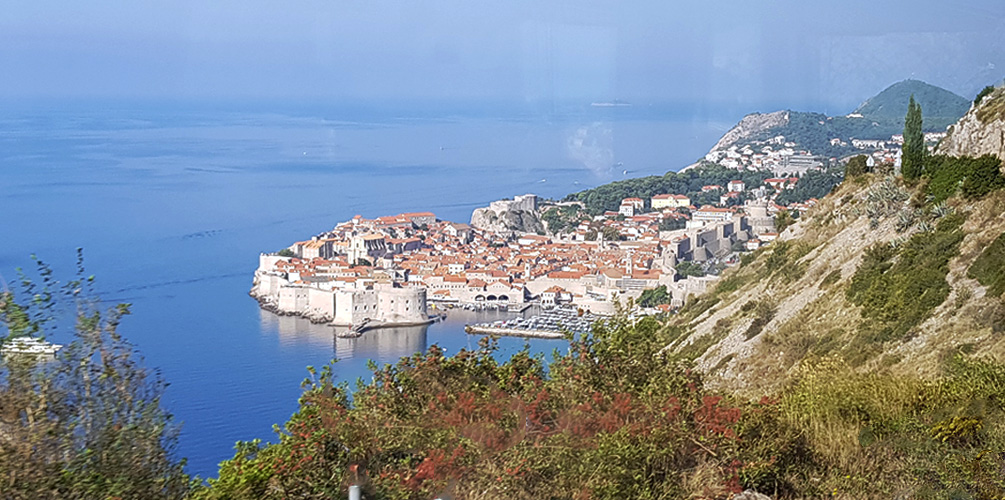 For some reason (I guess we though it was a good idea), we booked a place within Old Town. We lugged out things all the way from the Pile gate; which was about a 8 minute walk, slowed down by the amount of people out and about. The accommodation, Rilati Old Town Palace, turned out to be just around the corner from the "shame stairs" that are featured in Game of Thrones. There were already a few people posing on the stairs for photos.
Our room was VERY small and faced an alleyway. It kinda stank outside of horse shit for some reason. I didn't recall seeing any horses. Didn't smell anywhere else. It was VERY expensive at 81 euro (AUD 130) for one night! D:
A Walk Around Old Town
The morning was dedicated to walking around Old Town. I had a route on my phone, and we roughly followed this. There's not a whole lot to say; the following photos will do the talking for me. Dubrovnik was a beautiful town, no wonder it gets so many tourists all year round. The buildings and walls seem to be made of limestone. The floor was so polished, no doubt from over use, which made it slightly slippery if you weren't careful. When bathed in sunlight, the whole place looked like it was gleaming. It was also very obvious how clean Old Town was, which was great to see, despite all the tourists. But enough from me, I'll let the photos do the talking:
We started our walk with a chicken burek at Mlinar bakery.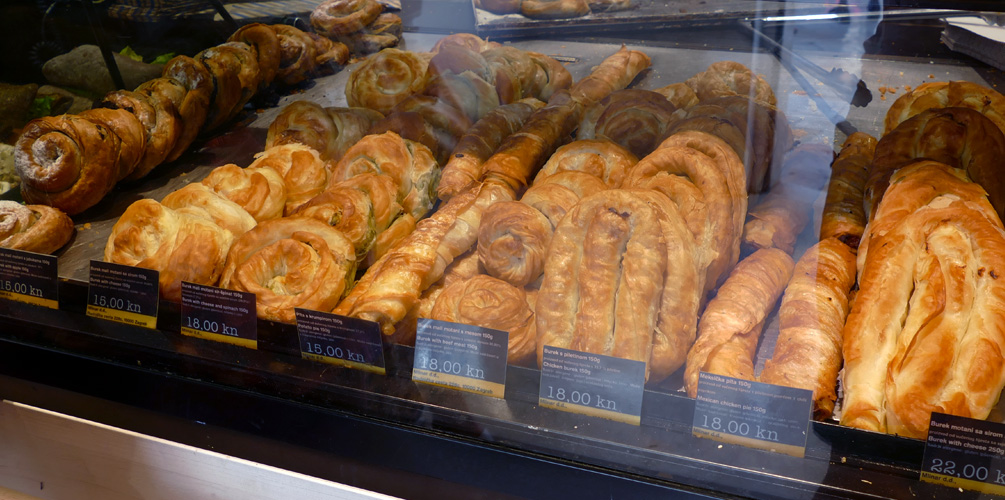 It was really hot so off to the fountain for a cool drink!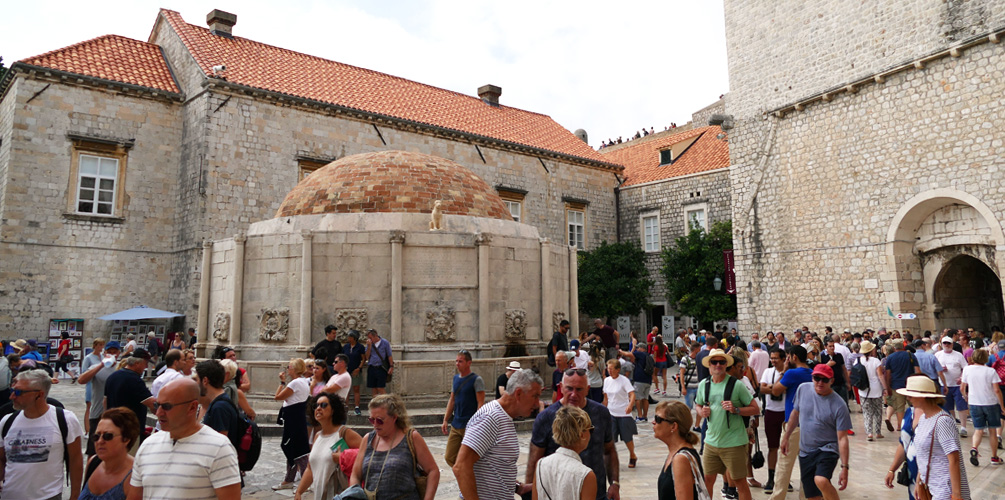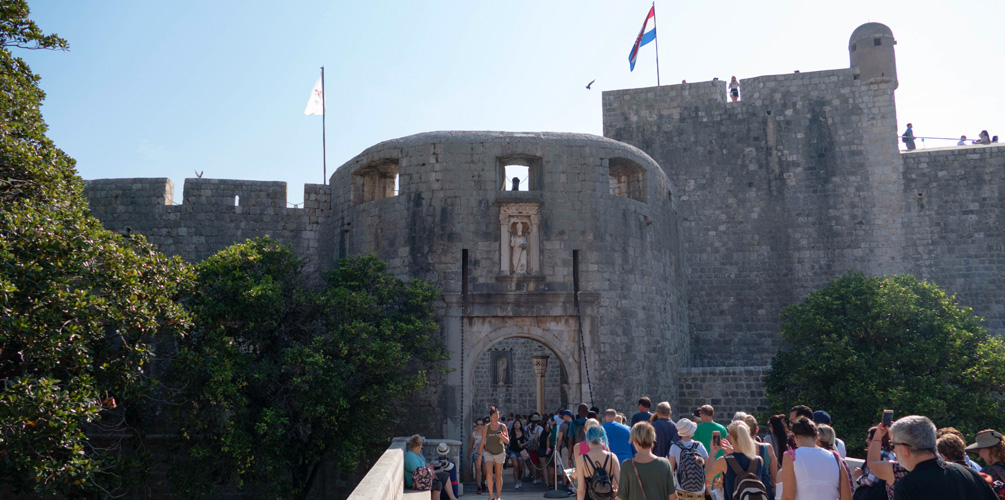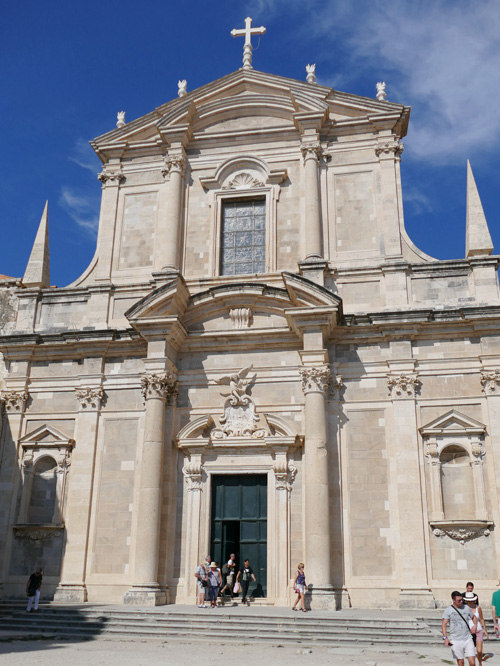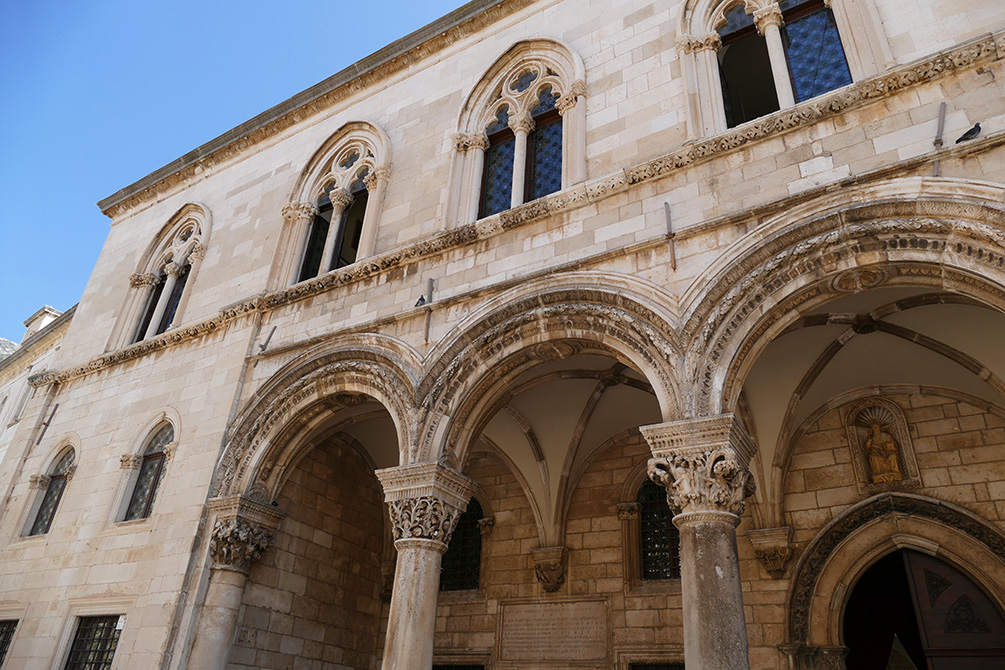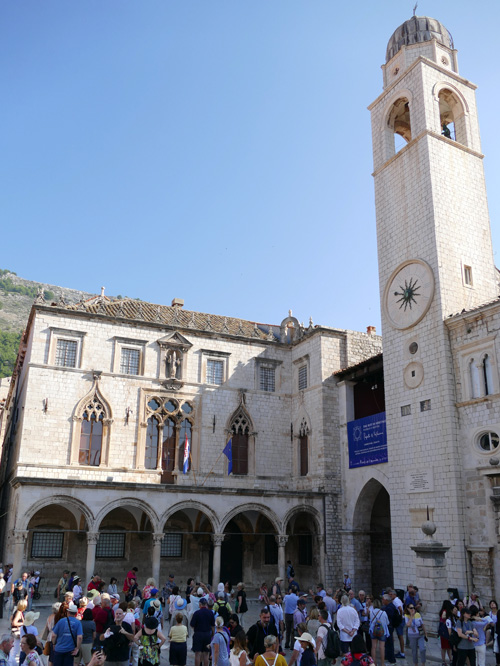 Walked around the old port.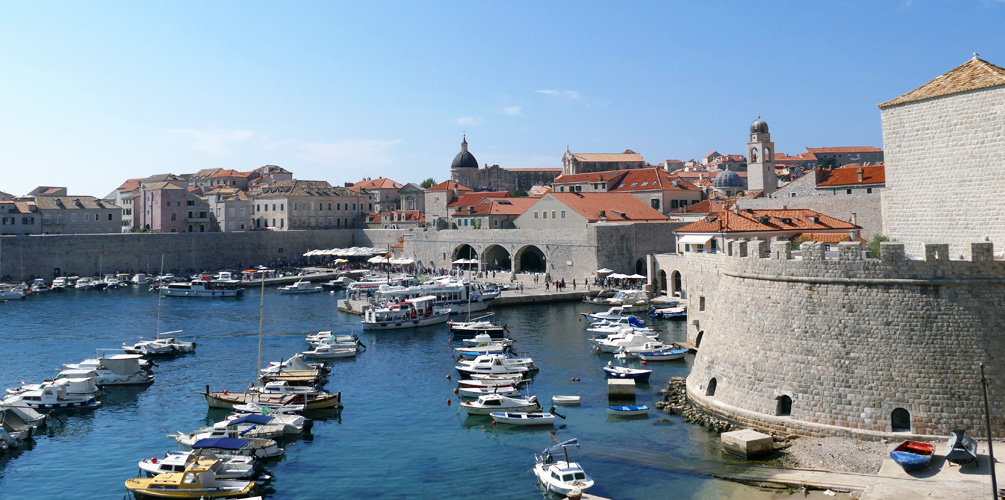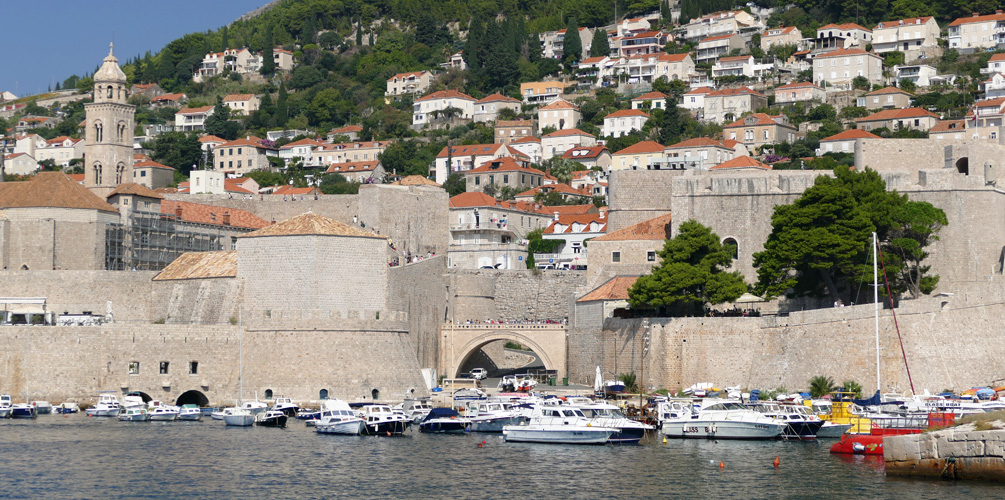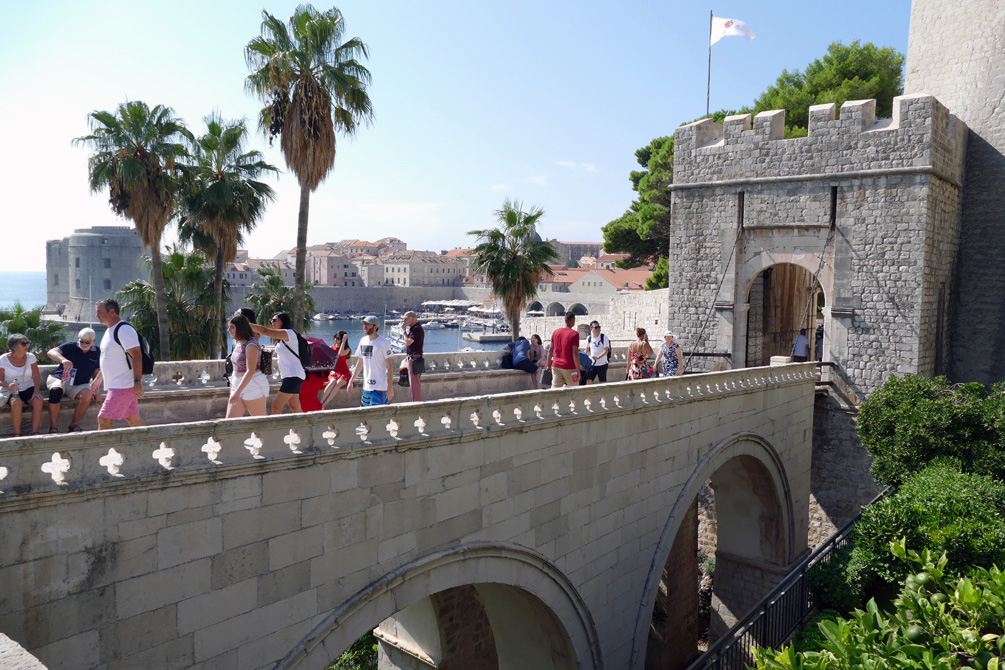 As with Rome, however, it was very crowded. Old Town is not a very big place, we walked around most of it in a few hours. The town gets cruise ships almost every day (yes, I checked) while there's less than 2000 people (and decreasing) that actually live in the town. Thousands more visit daily. Game of Thrones has been one of the biggest factors contributing to this. It's mass tourism gone bad.
Preša
We had a late lunch at Preša, which was a really casual establishment. A picked Ćevapi (85 kuna = AUD 18.22), a Balkan classic. This was a first for both of us. Ćevapi are basically little fingers of minced meat, spiced and grilled. You usually get a whole bunch of them (in this instance, 10 pieces!) and it is served with bread, onions and something called ajvar, a capscicum dip. The Ćevapi were quite tasty!
Meanwhile I decided to be healthy and ordered a Chicken salad (55 kuna = AUD 11.80), which was quite good too. 7/10 #ipinions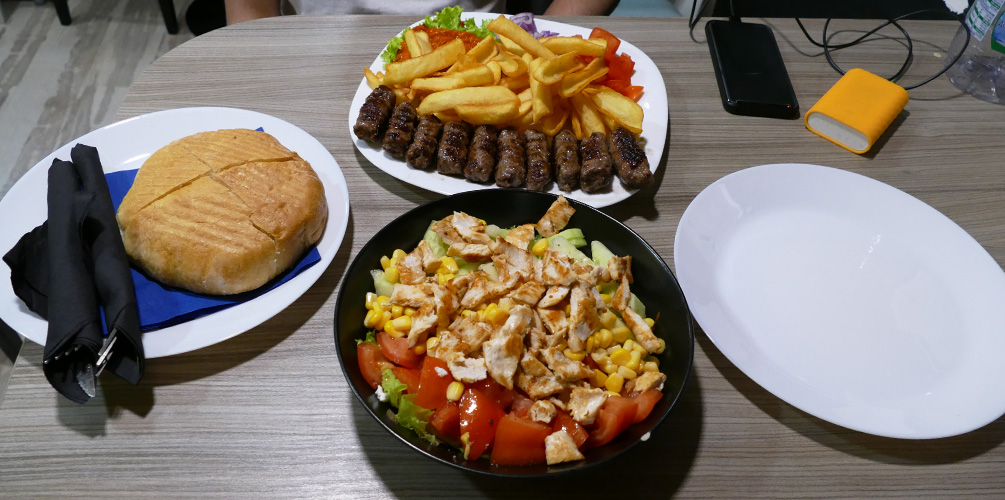 I had spent the whole day wondering if we should go and do THE thing to do in Dubrovnik - walk the city walls, which are elevated and surround the old town completely. The main thing prohibiting us from doing it was the cost, which was 150 kuna (AUD 32) each. To be honest, this sounded like a bit of a cash grab to me. There was also the inevitable crowd of people that would be up there doing the walk as well. I had looked into whether there were parts of it accessible to the public but that didn't seem to be the case, unfortunately. A was pretty adamant that we could skip it, and instead we could climb…
Mount Srđ
Mount Srđ is a mountain that overlooks Dubrovnik Old Town, which made it a perfect vantage point. It was only 412 meters high, so not very high at all and could be accessed via a series of switchbacks. At the top was Fort Imperial, which was built in the early 1800s by the French. You could easily reach the top of Mount Srđ via a quick cable car ride but that was - you guessed it - another 150 kuna! And besides, where's the fun in taking a comfortable 20 second cable car ride? :P
After lunch, we made our way up to Mount Srđ to where the track started. We left the Old Town and headed north, where there were lots of residential houses, all built into the slope. There were quite a few steps along the way. We had a small detour to make, a lookout consisted of a small open space with some benches. It was really quiet here and there were no tourists, although it was marked on Google Maps. A nice man appeared not long after we did and took photos for us.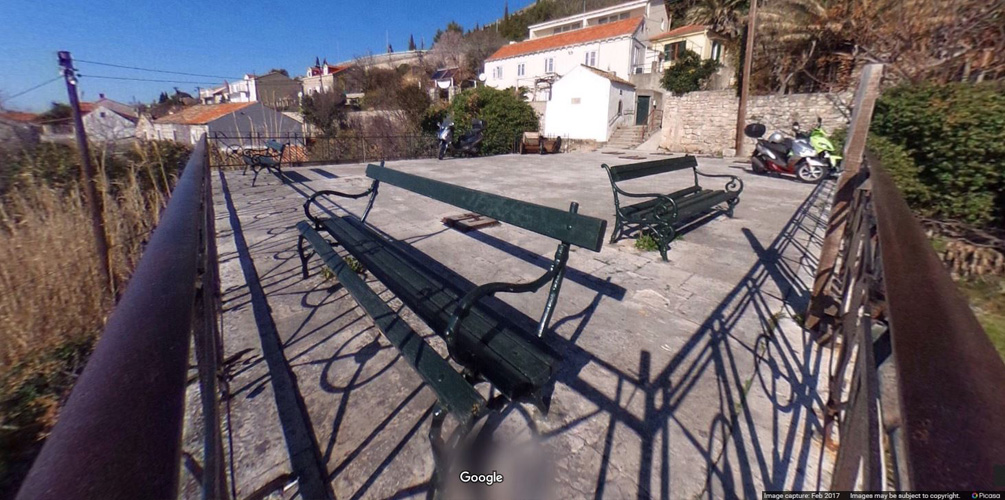 The track to the top of Mount Srđ was adjacent to a main road. The beginning had lots of trees so there was plenty of shade. The track itself was quite pebbly and not smooth so I would recommend wearing some real shoes instead of thongs, which I saw people wearing and subsequently complaining about!
The other thing I would recommend was to do it later in the day. We tackled it at around 3pm and the sun was still high up in the sky, so it was really hot. It took us 1.5 hours to get to the top, 15 switchbacks in total. Each switchback had a metal art installation; collectively they depicted Jesus on the way to his crucifixion (known as the Stations of the Cross). I guess the Croats are a religious people.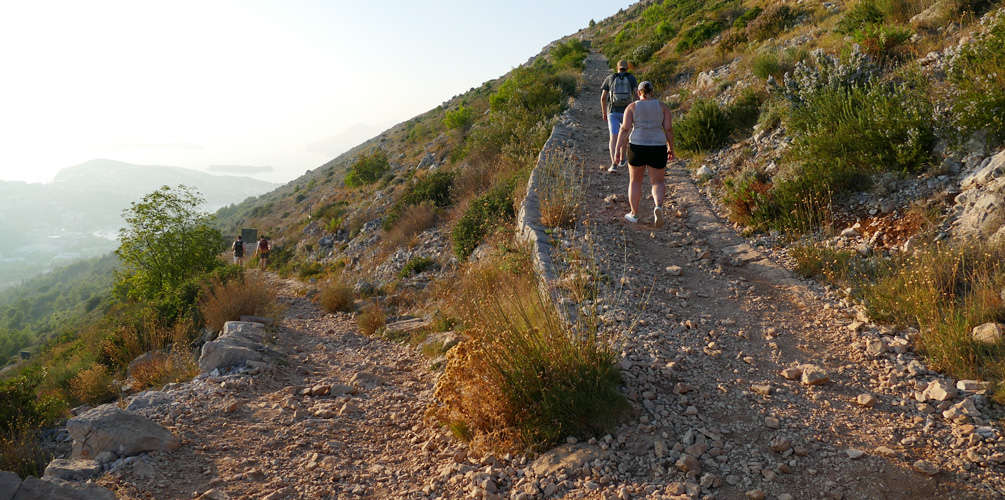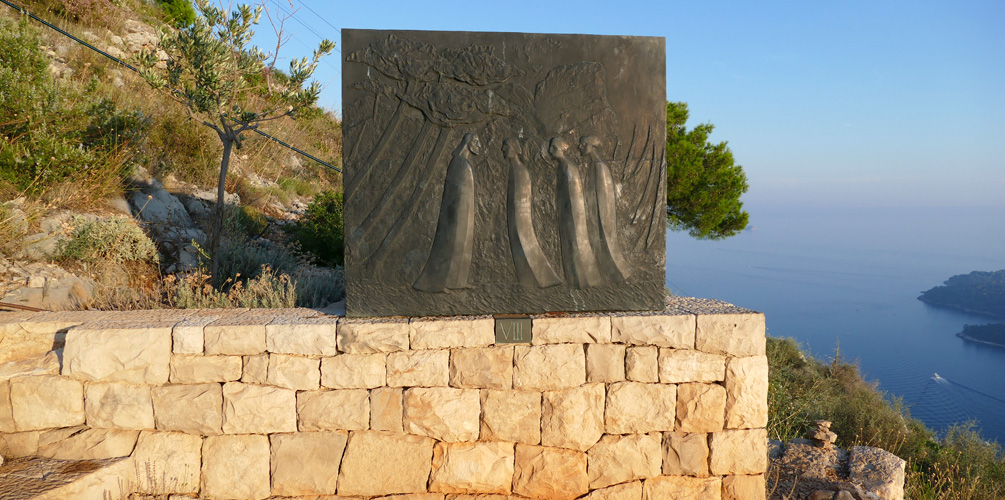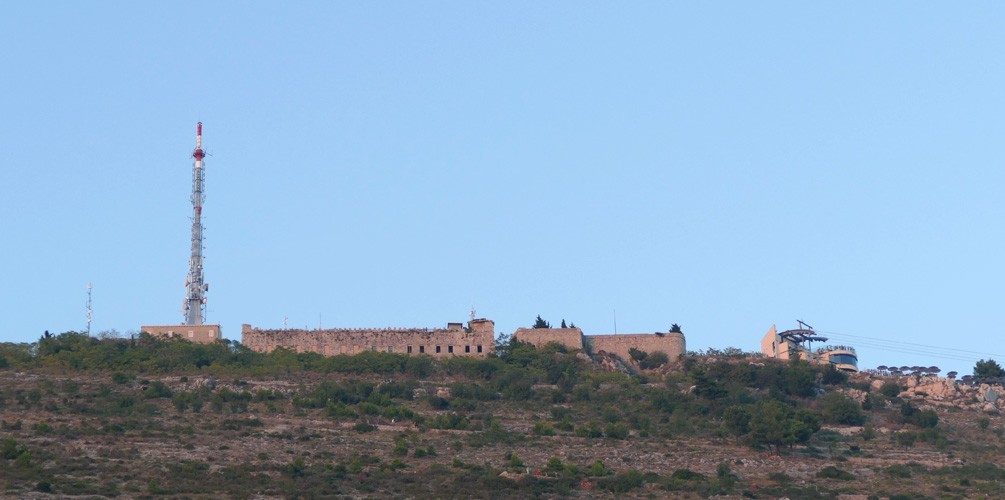 Situated at the end of the trail is the Fort. We did not go inside but it housed the Museum of the Homeland War. There was also a huge TV tower and kind of looked like a rocket. We kept walking along the dirt road, reached the cable car station and Mount Srđ restaurant. This was where the nice built up lookout point was. And what a sight it was:
From the top, you could see all of Old Town, Adriatic Sea and Lokrum Island.
After taking numerous photos, we headed the way we came. At the fort we did not turn to head down the trail immediately, but kept walking to see more of the coastline. You could see more islands in the distance which was nice. However, there was a lot of glare and my noob photography skills didn't quite capture it very well.
The sun was setting but there were lots of people still coming up the trail. I wouldn't recommend doing this in the dark, you could easily trip over the pebbles and rocks.
We headed back to the lookout we were at previously and again, barely any tourists. Only one couple sitting on a bench, enjoying the sunset. We watched the sunset and the moon rise from the East. It was a full moon!
It was definitely shower time after that. We were both stinking hot from the workout. In fact, some American chick even said out loud that there were stinky people around at the top of Mount Srđ. We had breezed right past her so I had no time to make a retort, but I would've told her that had her fat ass walked up the mountain, she'd smell too.
We walked through Old Town back to the accommodation. The crowds had died a bit but there were still plenty of people around. The cruise shippers must've left.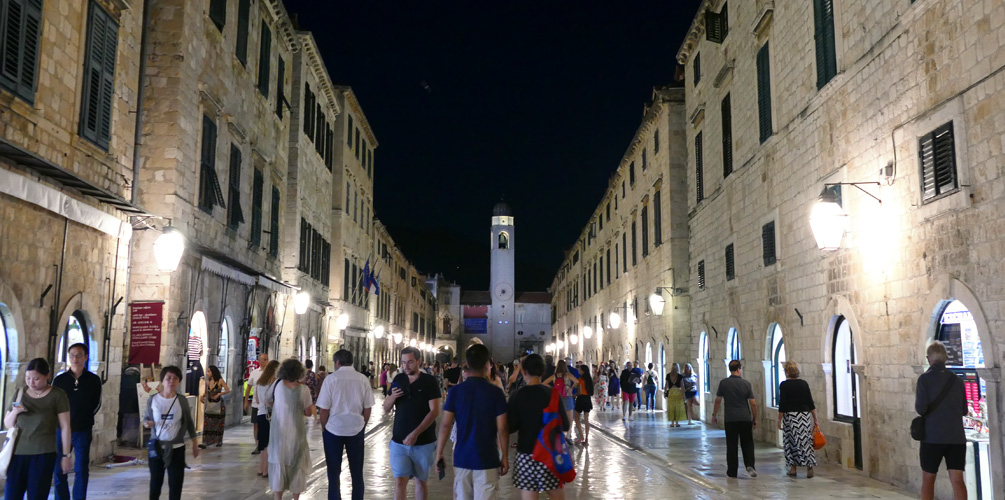 Barba
For dinner, A had googled a place and insisted we must visit. Barba billed themselves as "Seafood Street food" when all they sold was some deep fried seafood and some burgers. They did have a lot of good reviews, so off we went.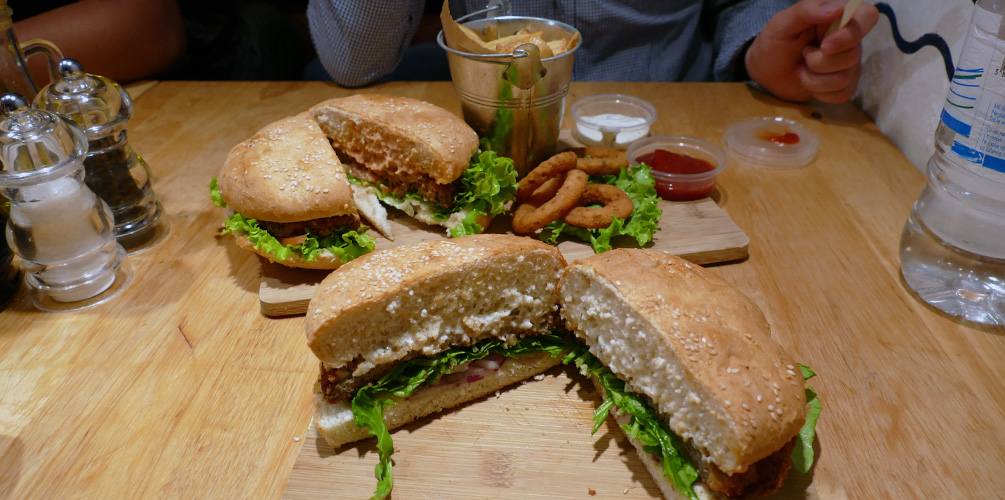 A got the Octopus burger combo (109 kuna = AUD 23.40), which came with onion rings, some chips and sauce. I got the shrimp burger by itself (63 kuna = AUD 13.50). The burger was quite a decent size until I realised the bread to filling ratio was pretty bad. It was quite a bready experience. The patties were not very good, they felt cheap. You couldn't make out chunks of octopus or prawns, it was all mashed to hell (and no doubt had filler mixed in). You couldn't even tell that you were eating octopus or prawns. Unfortunate. The sides were kind of small (I could do with more chips), but then I was pretty full from eating all that bread. Overall it was expensive and a let down. 5/10 #ipinions
For dessert, we had 2 scoops of ice cream at a place a few doors down. It was kind of pricey and not that good, so not really worth talking about!