Day 4 of Italy-Croatia 2018 trip / Day 2 in Croatia

Dubrovnik coast line and Lokrum Island
So, the decision was made. We weren't going to do the Dubrovnik City Wall walk. But to make up for it, we would have to get out of Old Town to get some good views of Old Town.
We indulged in a but of a sleep in and stumbled out for lunch. It was Monday but Old Town was still bustling. Tourists don't know what a weekday is!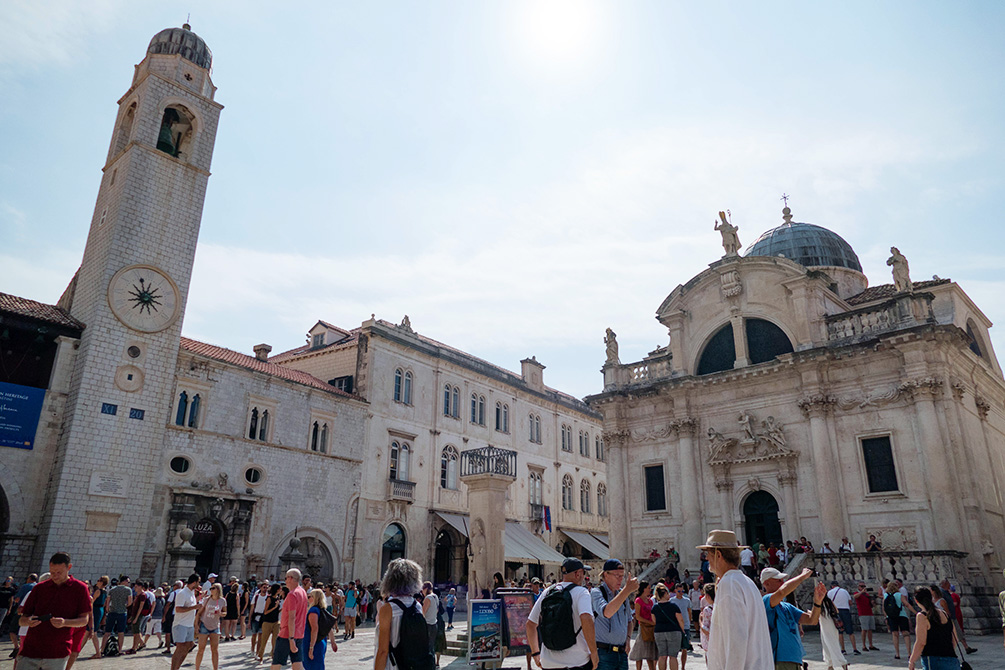 Pizzeria Skalin
For lunch, we left Old Town in search for a cheaper feed. I found a pizzeria via Google that sounded ok. Pizza isn't really something I'd usually have on holiday (unless I'm in Italy or USA) but it's slim pickings in a touristy town.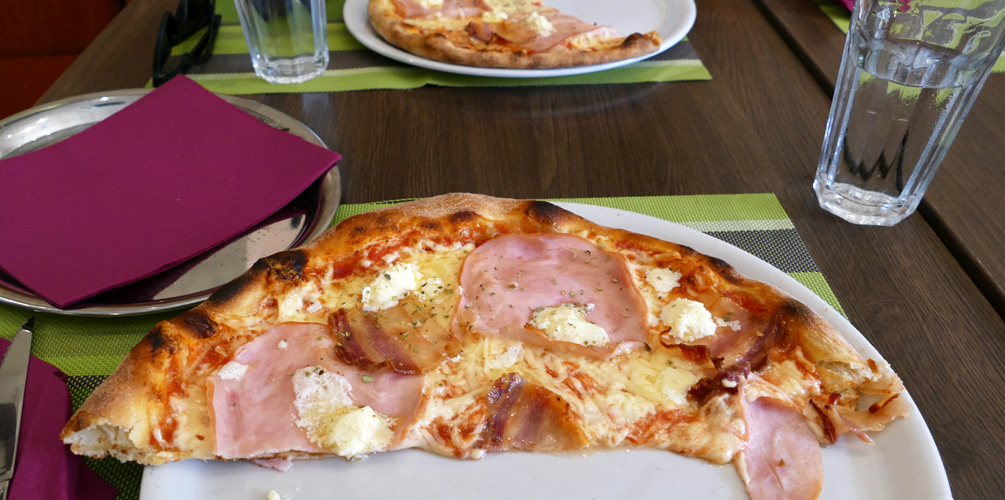 We shared a Dimljena pizza (tomatoes, cheese, smoked ham, bacon, kajmak). Kajmak is a savoury and fatty cream that is common in the Balkans. Kind of like clotted cream. It was really the only reason why we picked this pizza; as it was different. Surprisingly the kajmak actually went well with the pizza! 7/10 #ipinions
West side of Old Town
After lunch, we bought a couple of bus tickets to the main bus station as we were leaving town later in the day. There appeared to be only one bus ticket kiosk and naturally it had a long line.
We then headed to the places on my list for the day. The plan was for us to hang out and enjoy some scenery, with the aim of reaching Fort Lovrijenac (AKA The Red Keep in Game of Thrones). Along the way we reached the pier that was a filming location used by Game of Thrones (full disclaimer: wasn't on my list!). Funnily enough, there weren't actually that many people around. I of course took that opportunity to have my photo taken.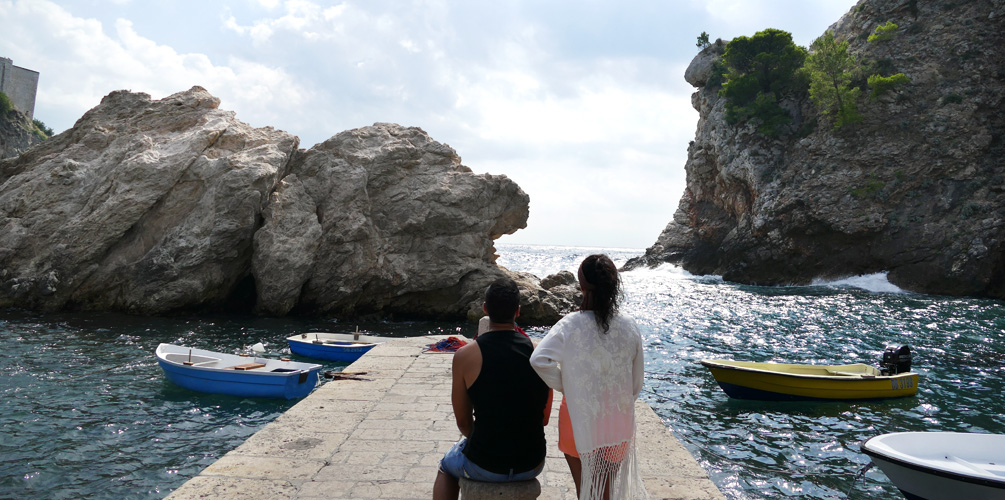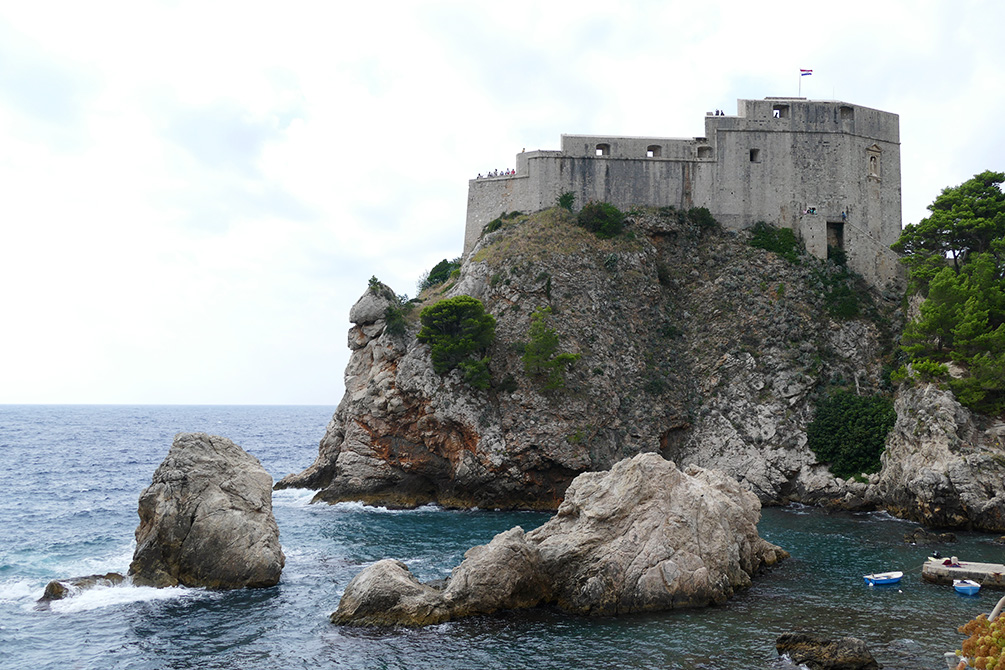 Fort Lovrijenac was perched on a top of a small hill, but was easily accessible via stairs. I poked my head into the entrance and decided that this too, could be missed. Most tourists visit the Fort as it is included in the entry price for the City Wall walk. The entrance already provided us with a great view, without having to pay at all, so what more could we want?
(Best viewed on desktop and in full screen mode)
On to the next vantage point! Continuing west along the coast line took us to Park Gradac and a car park, which was strangely situated atop a hill with great views of the sea, Dubrovnik and Fort Lovrijenac. Walking to the edge of the cliff was quite simple; there was no fence and only some shrubs and short trees separates the car park from the edge. Hidden amongst the greenery was a bench, which faced directly at Fort Lovrijenac. Although it was occupied by two girls, we were able to sit on some rocks to enjoy the view. It was quite windy, so a little care was needed but I was able to take some photos and a panorama. We saw no other tourists here.
There were certainly a few more tourists in Park Gradac, which was unfortunately a bit of an unremarkable park. Grey clouds were rolling in, so we decided to head back to Old Town. I found the sky to be a nice contrast to the limestone buildings so I took some time to take some photos… and got pooed on by pigeons. Yep, I forgot to be careful about the pigeons that sit three stories high, hanging around in the gutter :(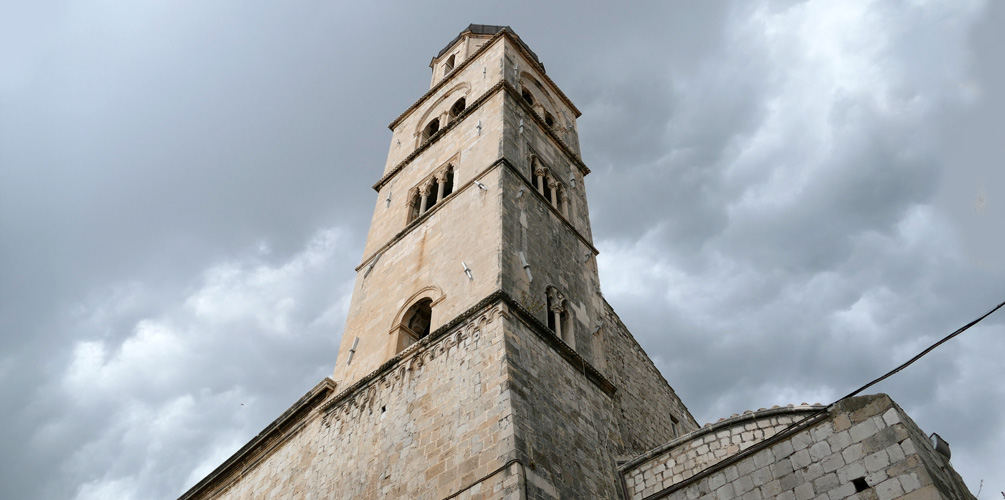 It started raining so off we went to the nearest building, which happened to be the Dubrovnik Cathedral. It wasn't a bad choice as there were seats inside :P We didn't stay long as we decided we may as well head off to the main bus station. That turned out to be a good decision…
Rolling my luggage back to the Pile Gate was a bit annoying in the rain. It was a bit slippery but there were still lots of people out and about. Dodging them was really not that fun. The bus stop was outside the Pile Gate. By now, it was also time for cruise shippers to head back to their boats, so there were actually a lot of people waiting around. There was only one bus that took us out of Old Town to the bus station and it seemed everyone was eager to catch the same bus. It was an absolute shit fight getting on, and I had to be pretty aggressive as I had luggage with me. I was able to snag a seat.
On the Road to Mostar
Traffic was unbearable. There were SO many cars leaving the Old Town and there was only one road out, which was one lane only for about a kilometer. I could see the locals getting antsy and annoyed about the delay. I felt pretty bad for them. It's sad that it's late September but yet there were so many people around.
It took 50 minutes to get to the bus station, which was only 3.2km from Pile Gate. It was so ridiculous but at least we still had time before the bus to Mostar arrived. The bus station was incredibly basic and didn't seem very clean. I expected nicer for Dubrovnik! The WC was of course not free.
The bus arrived on time and loads of people rushed to get on. There was an additional charge for luggage! I had never seen this before. 8 Kuna per bag.
The trip was quite long, scheduled for 3 hours but took 4. The bus crossed the border three times: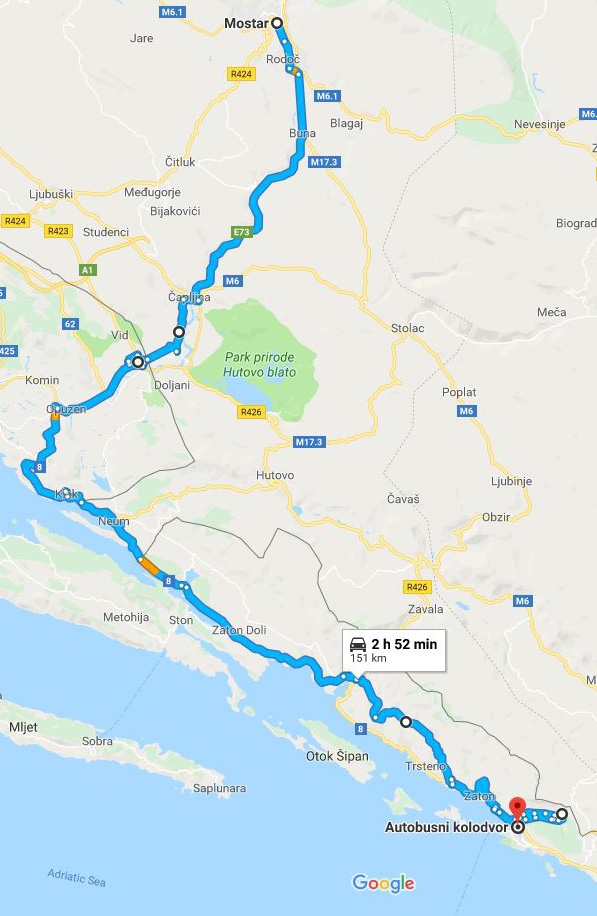 Left Croatia to get traverse into a small tidbit of coastal Bosnia and through the town of Neum. At the border crossing, an immigration official boarded the bus and took everyone's passports. They were pretty quick about it and returned it to us not long after. Another official boarded the bus and came along for the ride. The bus headed north, along the coast and they got off when we arrived at the second border crossing.

Entered Croatia again near Klek. Again, our passports were collected and redistributed back to us rather quickly.

Left Croatia again near Metkovic. This stop was the worst, they took a WHOLE hour processing our passports and they couldn't even give us a stamp. I would've liked a Bosnia and Herzegovina stamp. The Croats stamped our passports here though.
To make our lives easier, we had a SIM card that was actually issued by the telco '3' from the UK. It allowed us to roam throughout all of the EU as well as Hong Kong. Now unfortunately, Bosnia and Herzegovina was not part of the EU, so we would lose reception for a while. Now, normally this wouldn't be a problem but we were in touch with the lady running the B&B we had made a booking at. Her name was Alissa and she had informed us to keep her posted so she could give us a ride from the bus station, as it was quite a walk to her B&B. We told her what was going on but unfortunately could not anticipate that we would be stuck at the border for a whole hour.
By the time we arrived at the Mostar Bus Station, it was quite late. I was kind of anxious as we were instructed to find Alissa's car and it was quite dark. A went around to each car in the car park and thankfully found her car! She had been waiting for us and we were so apologetic. Her English was really top notch and she was lovely to talk to. So hospitable. She was very thorough and had lots to tell us. We checked in and A asked her for recommendations for dinner. She immediately had a couple places to recommend but insisted we go to a certain place close by that she thought was really good but cheap. She handed me a flier (ha ha as if I could read it! But I could understand a menu with prices on it, and the prices were good) and asked us if it sounded ok to us. A agreed and she informed us that she would call the owner and tell him to expect us! She gave us directions and off we went.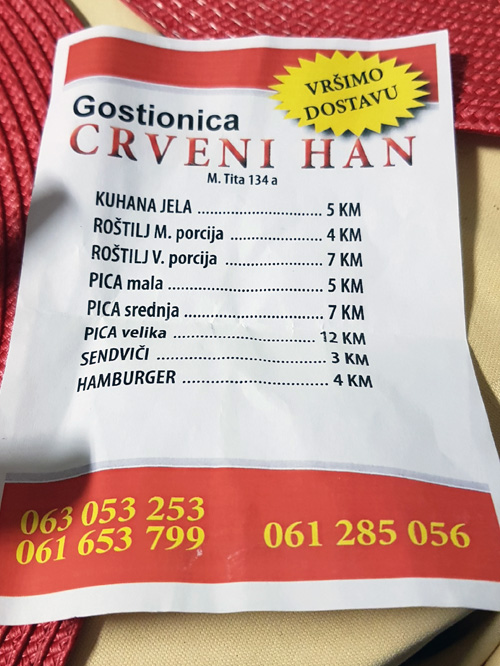 Crveni Han
The walk to the restaurant was not too bad, but was very quiet. There were very little people around. Alissa had said we only needed to walk 500 meters but it ended up being closer to 1km. It was a good thing we didn't quit looking for it, but we were close to as I was growing impatient. The place looked quite nondescript: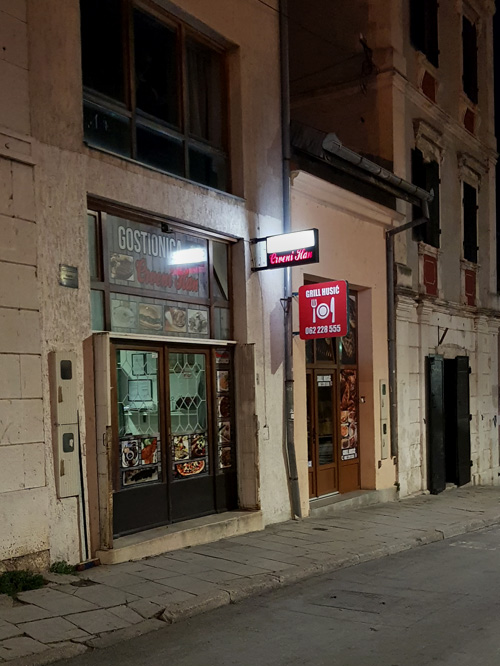 Walking in, we were welcomed by an older gentleman who asked us if we were the people Alissa had sent. I replied in the affirmative and he sat us down and told us not worry about the menu lying on the table. His English was pretty good and he seemed very nice and friendly. There was another couple in the restaurant, seated next to us.
The owner said he would get A a "manly stew" and for myself a "chicken schnitzel", which I was a bit taken aback by because schnitzel is not Bosnian. He insisted so I went along with it but I expressed I wasn't very hungry so I wanted a small portion. He handed the kitchen our order and reappeared to ask us what we would like to drink. I stared at the fridge and was really unsure of what to pick; nothing was familiar to me (which is the best part, right? But unfortunately I am an indecisive person as well). A picked an ice tea of sorts, and the owner grabbed it for him. He looked at me, with the fridge door open, waiting for my decision. I stammered and he asked me if I liked beer or soft drink. Choosing the latter, he pointed at the soft drinks in his fridge and suggested one that "tasted like Coca Cola". Lol, I felt like such a gringo when he said that! Especially when I picked it. And no, he did not actually have Coke in his fridge. The drink looked like this: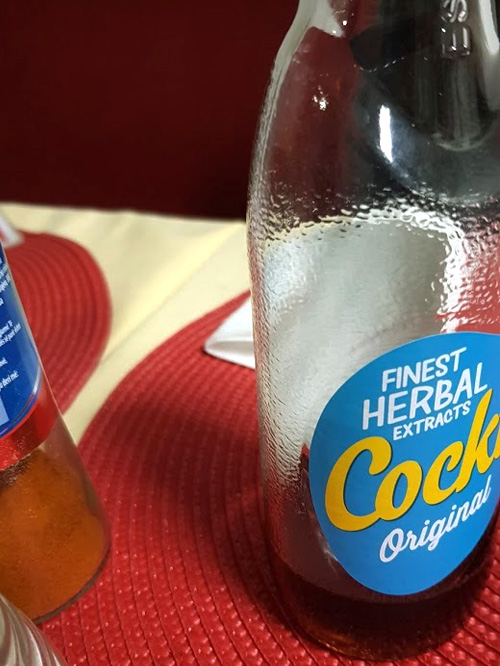 ;) Yes, very mature. It's actually called "Cockta". Unfortunately it was not Bosnian, but Slovenian. It didn't taste like Coke AT ALL, and yes, it was actually rather herby. A teeny bit floral.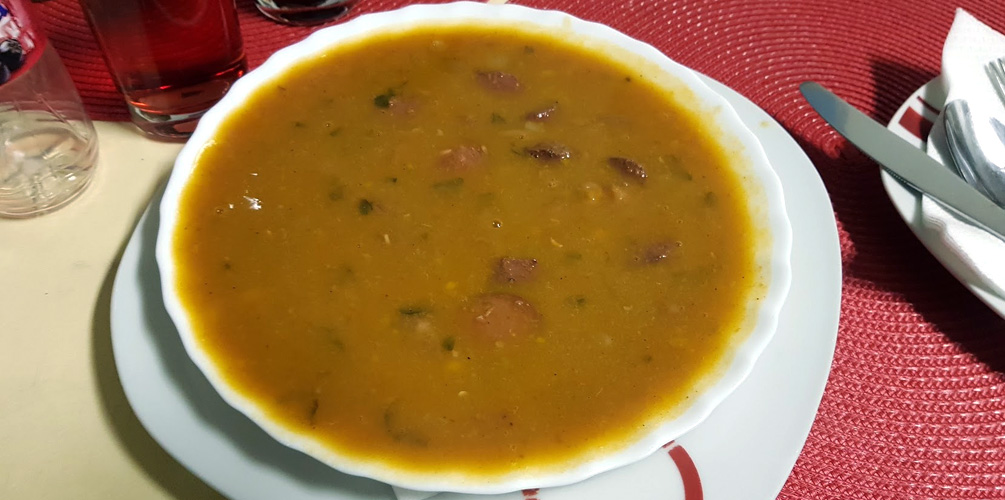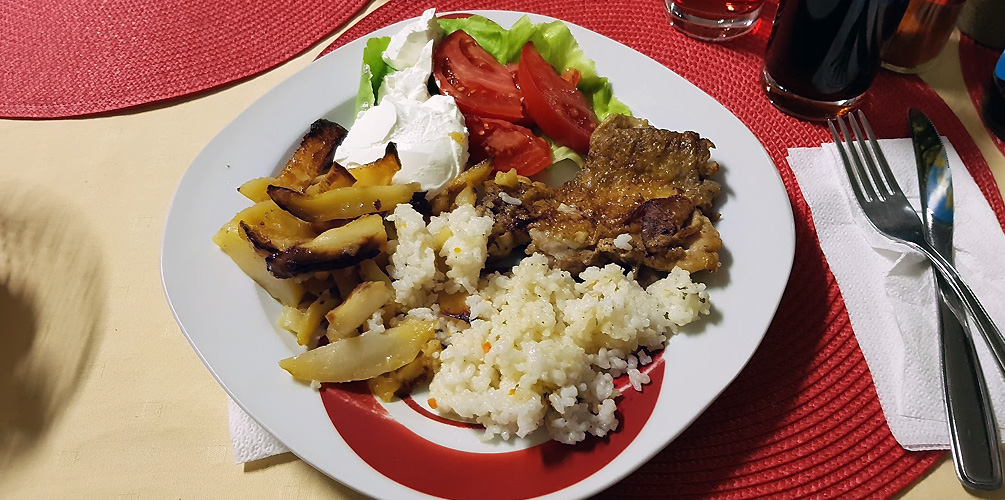 The stew was very hearty and tasty; had meat and beans. May have been a Pasulj, if my Googling skills are any good. My "schnitzel" was actually just some chicken thigh that had been sautéed. It was decent, nicely seasoned. Came with rice and potatoes, which were a bit on the plain side. I noticed the couple at the table next to ours received the same food as us, except with more chicken, so I suppose he did heed my request. He must've also given them the speech about ignoring the menu, except I think they were able to communicate in a language other than English.
All up it cost 7.50 euro (AUD 12) which I thought was very good value for two. Cynical me had thought maybe Alissa would get kick backs from this place but I really doubted it, with prices like that. It's so sad that I have become this cynical! 8/10 #ipinions
Final Thoughts on Dubrovnik
Beautiful place but SO crowded and quite expensive. Really clean.
Dubrovnik can be done cheaply, IF you choose to do so. I do not feel like I missed out much by not doing the city wall walk.
We shouldn't have spent so much on accommodation (i.e. staying inside Old Town).
Ultimately not a whole lot to do. I know we didn't leave the Old Town much but I did Google for things to experience beyond the Old Town and there wasn't a whole lot to be honest.
Beautiful but do not feel the need to return.