Day 2 of Central Australia 2018 trip

Kata Tjuta taken from the road just after sundown
Today was our first full day at the rock. I had a big plan ahead of me - see the sunrise, climb Uluru and possibly do the base walk as well.
Sunrise
Nope. It was cloudy and even a bit windy.
The sunrise viewing area is a good 30km away from Yulara, it's on the other side of Uluru. You could of course, go to the sunset viewing area to observe sunrise, but this would mean the rock would be dark but then you'd possibly get a beautiful sunrise in the background. But little chance of that today, it was pretty cloudy, clouds were covering up the sun. We arrived at 7:15am, 15 mins before sunrise.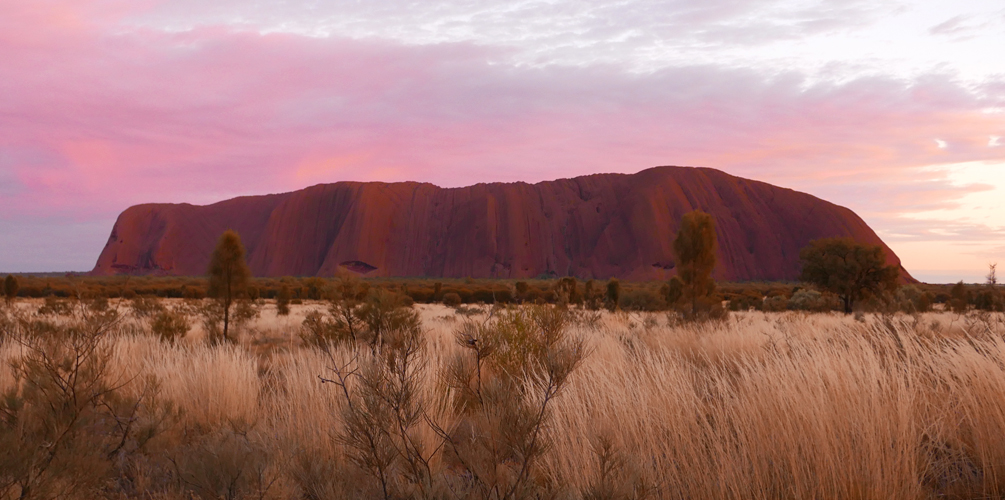 This was prob the only sunrise-y photo I was able to capture. And believe me, those pretty pink clouds disappeared in a blink of an eye. The viewing area was a large sectioned off area where you could stand at ground level or there was a platform which gave you a bit of height. The latter was crowded with people: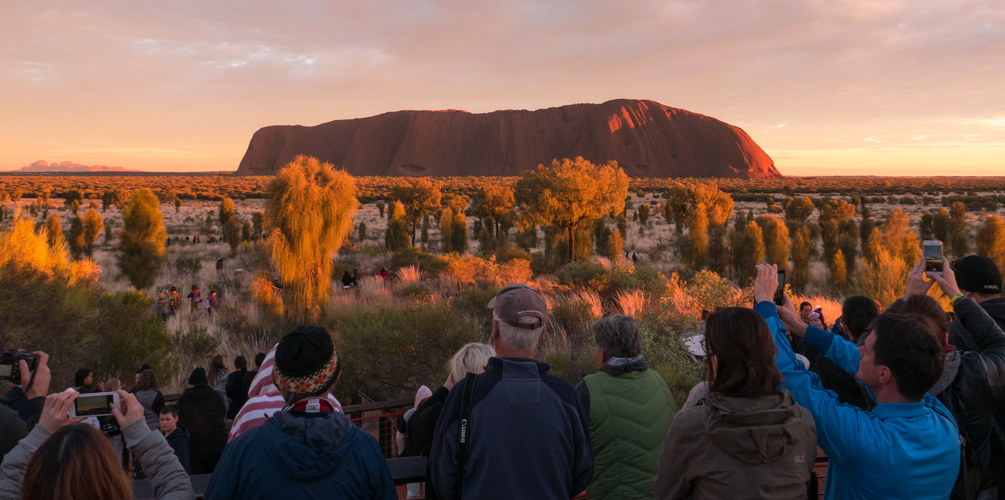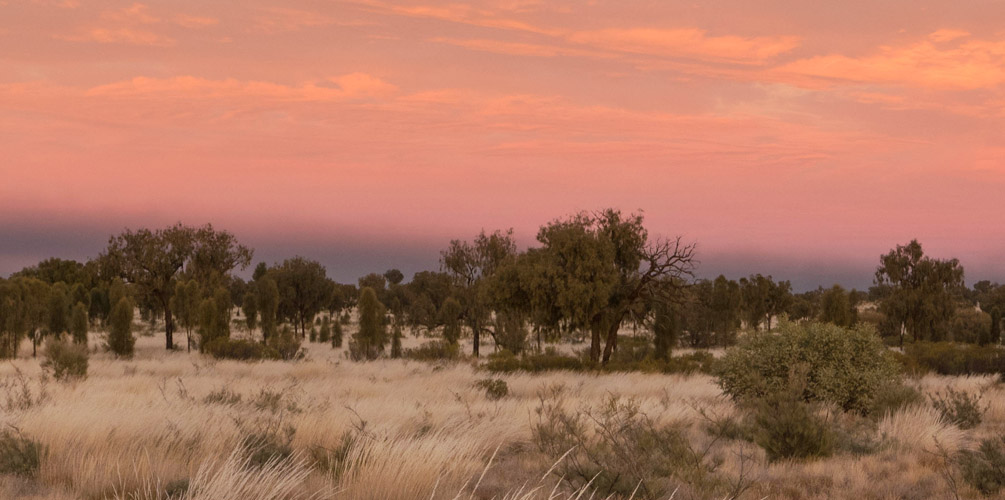 By 8:00am the crowds disappeared. I suppose it was because it was a pretty underwhelming sunrise.
Uluru base walk
We drove back to the Mala carpark and it was immediately obvious that the Uluru climb was closed. To be fair, it was pretty windy. The jacket I was wearing was actually a bit too big for me and I was shivering as the wind easily blew into my jacket.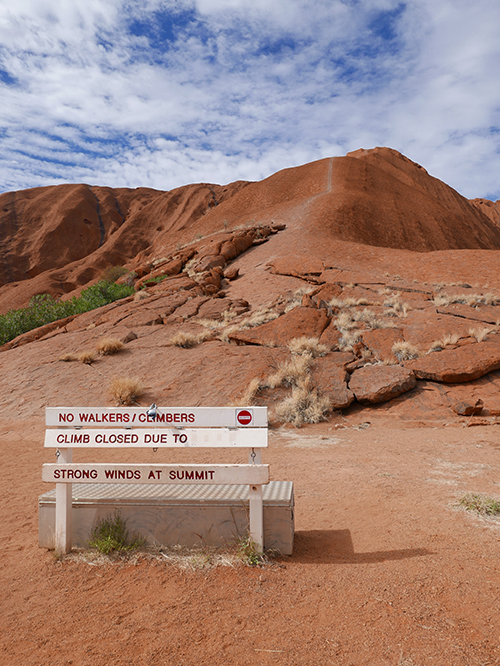 So… plan B. Do the Uluru base walk. This was a 3 hour loop walk around Uluru on flat ground, so it was pretty easy to do. Here is the map again for your convenience: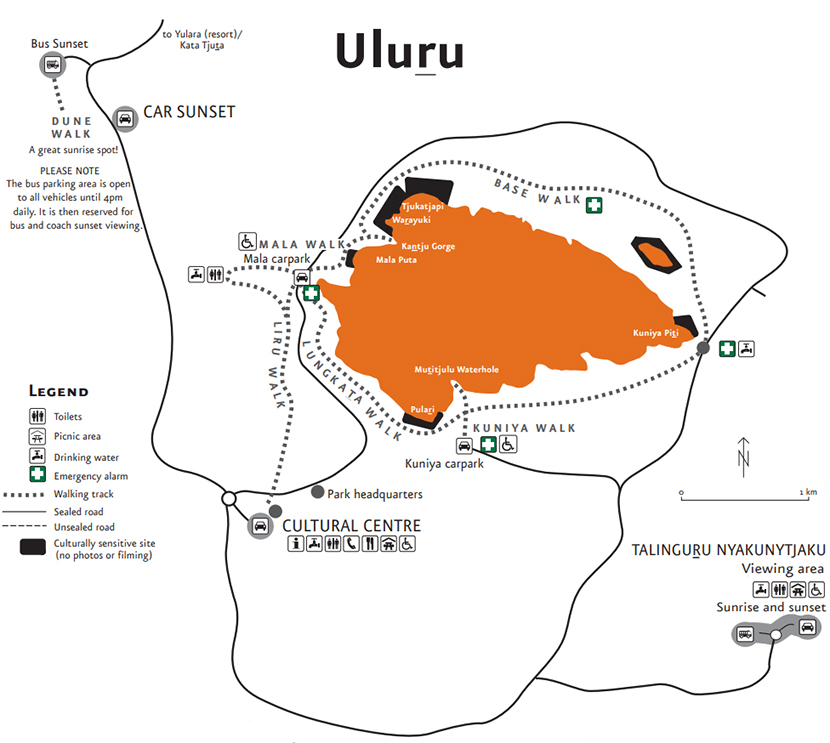 It was fascinating to see all the different sides of Uluru. Because you were up close, you'd see little parts of Uluru at the same time. It was kind of odd seeing all the different sides and angles and realising that this is all part of one big monolith. I'll let the photos explain what I mean: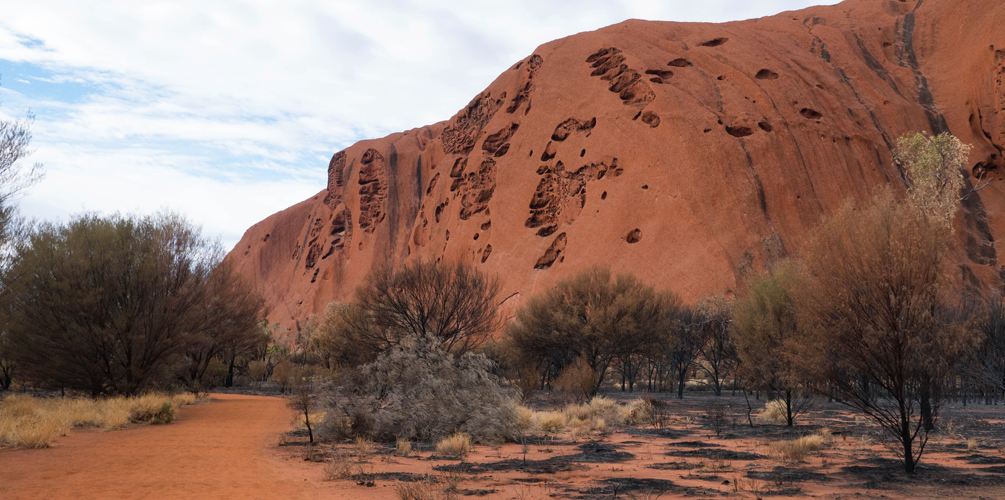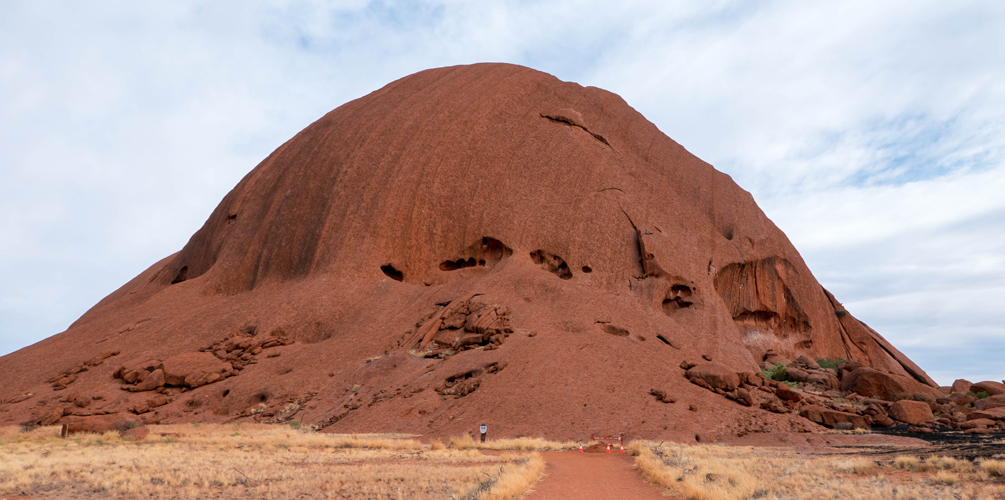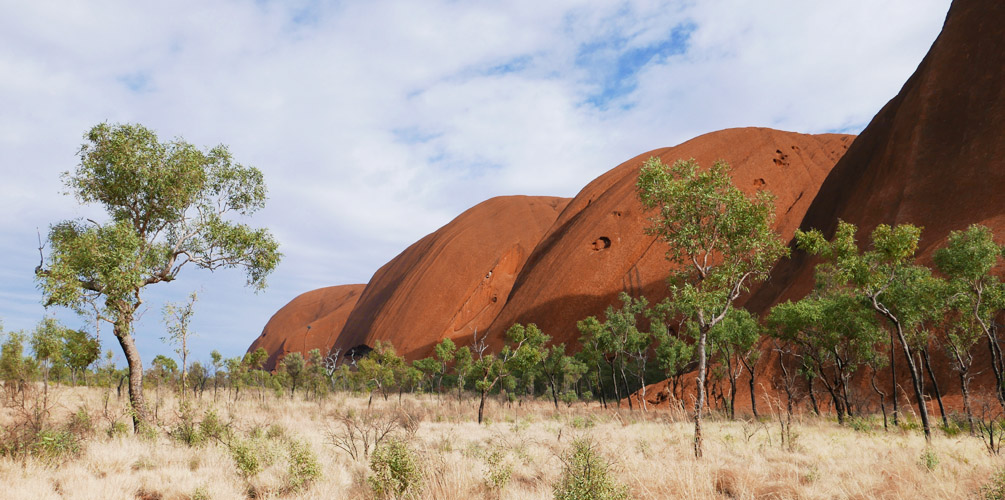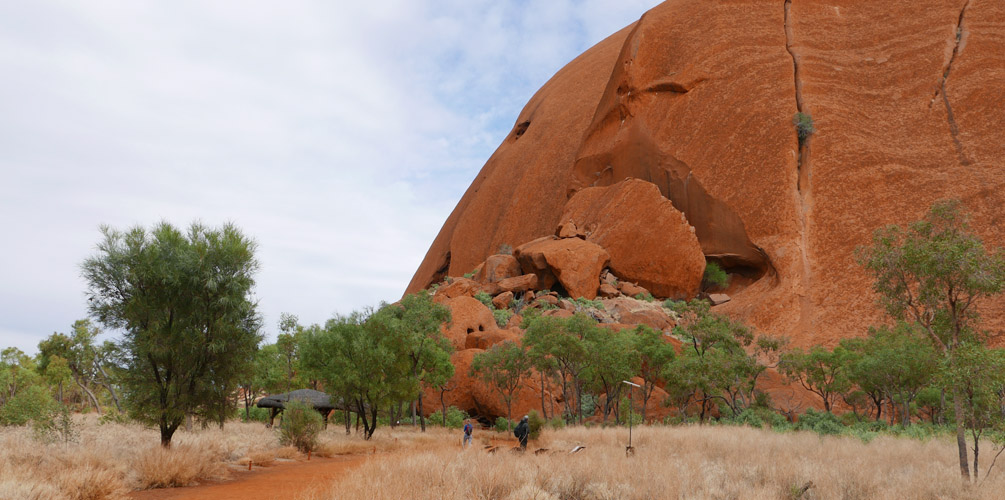 You'll notice theres black stuff all over the rock. This is actually algae from the water that comes down the rock after rain. During the wet season, rainfall creates waterfalls on Uluru. I'd imagine it would look pretty cool then too.
There were also large slabs of rock that had clearly cracked off the main structure and just rolled away. I wonder if Uluru was under threat of mass erosion. Would it split one day right through the middle?
Lunch
We ended up back at the Mala carpark and yep, the climb was still closed due to wind. Not really sure what to do, we decided to go back to town to get a real lunch at Kaluta Academy cafe instead of eating our canned food. The staff at this cafe were in training looking to further their career in hospitality. I ordered a "lamb yeeros" pie which came with sauce and a side salad.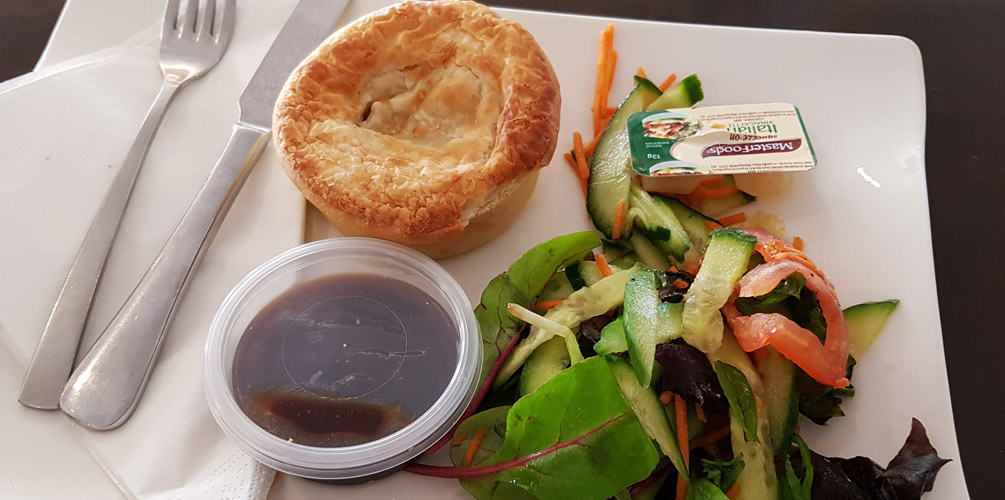 Unforunately, I picked this as that was the only pie available from their menu. It was disappointingly small and the filling had some chunky meat but it was all in this white sauce. Never figured out what that was but it tasted kinda average. The salad was an alright portion and they chucked in some Italian dressing for free. It was pretty expensive at $10.50. #ipinions 5⁄10
During lunch I then decided we should just visit Kata Tjuta. What else were we going to do? We still had a whole day ahead of us. Looking at the weather forecast tomorrow, it was likely the Uluru climb would be closed again due to wind, but on Friday the forecast has no mention of wind so I should probably do then climb then.
Kata Tjuta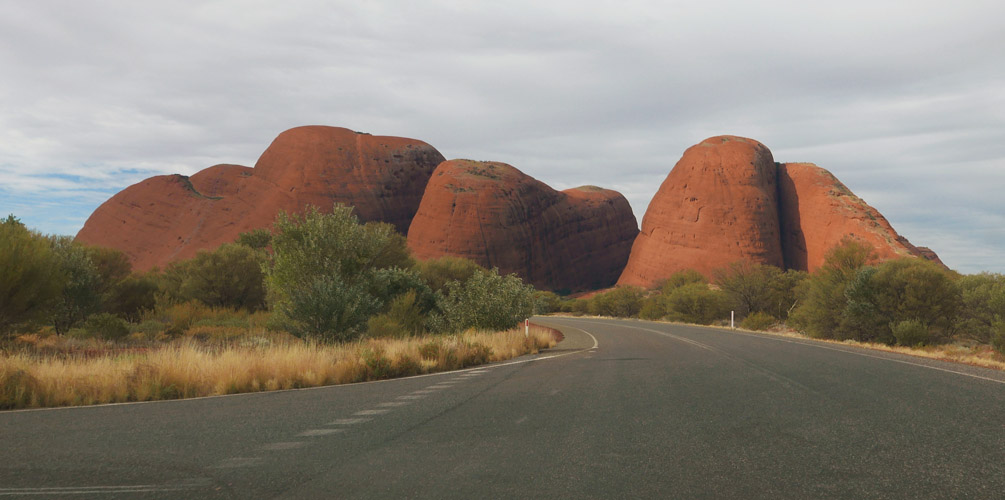 My parents agreed with that plan so we set off to Kata Tjuta. It was a 55km drive (45 mins) and again, the road was sealed. Aaron (who had visited the area about 5 years prior) had told me he didn't enjoy Kata Tjuta as much as Uluru but honestly, I thought it was pretty cool. Kata Tjuta is a collection of large domed rocks. There are 36 of them (not that I was counting!) all sitting there, the highest one being 546m tall (taller than Uluru). The road to Kata Tjuta takes you round the south of it and you can see many of the rocks but then you end up on the west side of Kata Tjuta, and this is where the largest rocks (monoliths) were. Tall AND long. Huge rocks!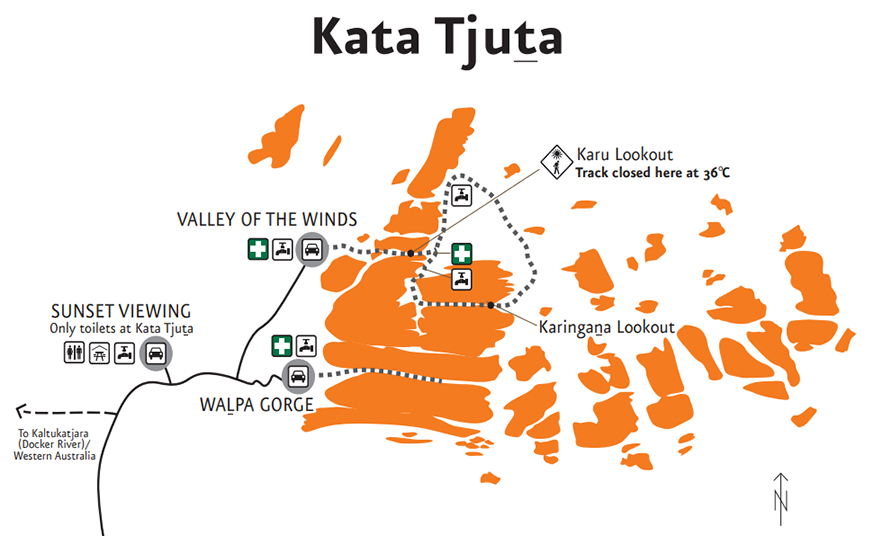 There are two hikes here at Kata Tjuta:
Valley of the Winds walk - a circuit which takes you around rock and right in the middle of Kata Tjuta
Walpa Gorge walk - a walk that takes you in between two big monoliths
Now my plan was to do both. Valley of the Winds was rated Grade 4 (difficult, but I had read it wasn't that difficult at all) and given an approximate time of 4 hours to complete. I had read that this was very generous timing and so I planned for 3 hours. Then we could spend about 30-40 mins doing the Walkpa Gorge walk (i.e. this would mean not completing the whole walk, but doing about half then turning back). Then we hit up the Kata Tjuta sunset viewing area at sunset.
Valley of the Winds walk
The walk wasn't that hard (just as I had read). The first third of the walk was the "hardest" part. There were steps here and there and a couple of steep-ish rock faces which may require you to use your hands to help but overall it wasn't that hard. You use momentum to help you. The last two thirds was mostly flat. Unfortunately the walk did tire my parents out and we took a total of 3 hours. Flies didn't really help, they were quite annoying.
Overall, I thought it was a great walk. I really enjoyed it and thought all there domes were cool and almost endearing. They were a bit oddly shaped and like Uluru, there were lots of holes; both reminded me of honey comb. The walk was really quiet bar the sound of birds twittering away. Unfortunately we did not see any wildlife. It would've been nice to see a wallaby or something!
Here are some photos: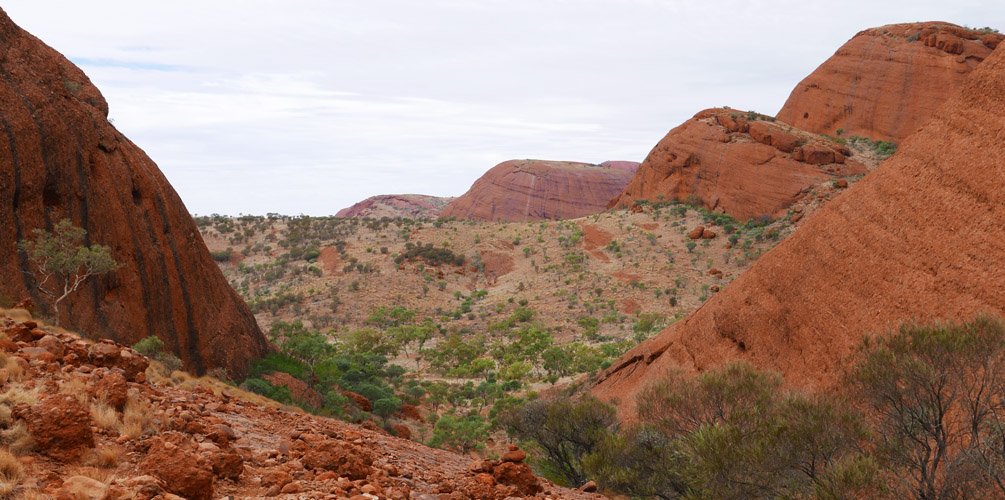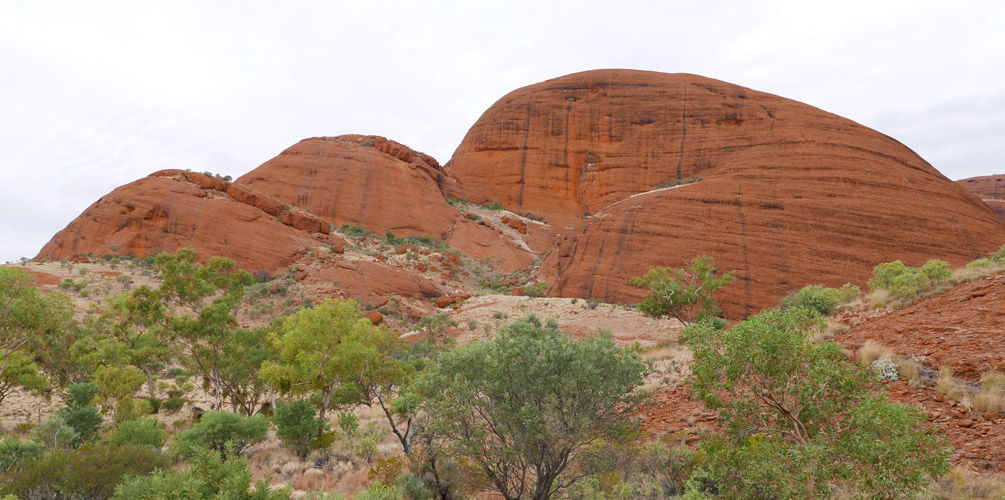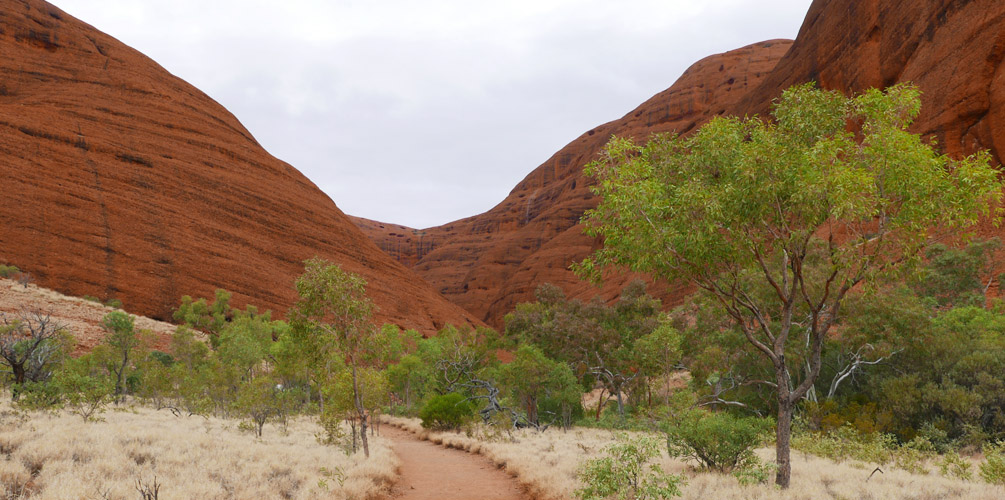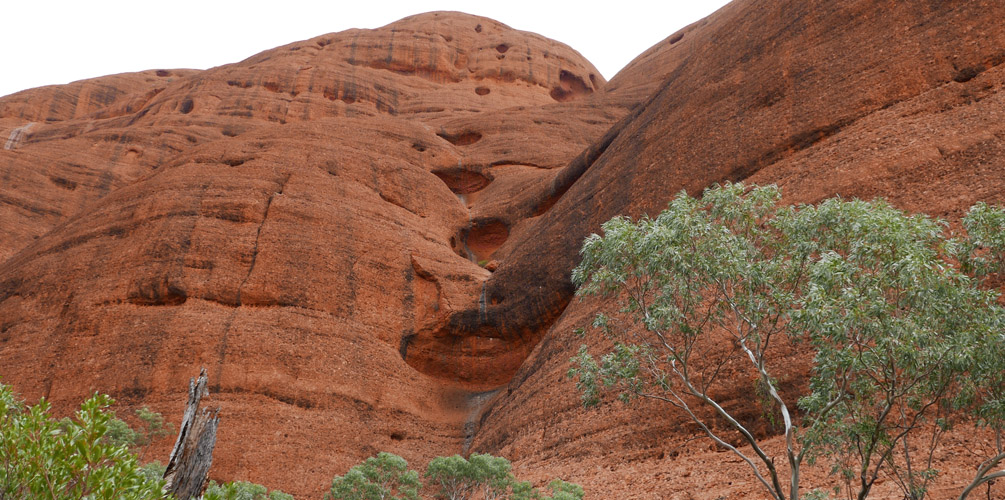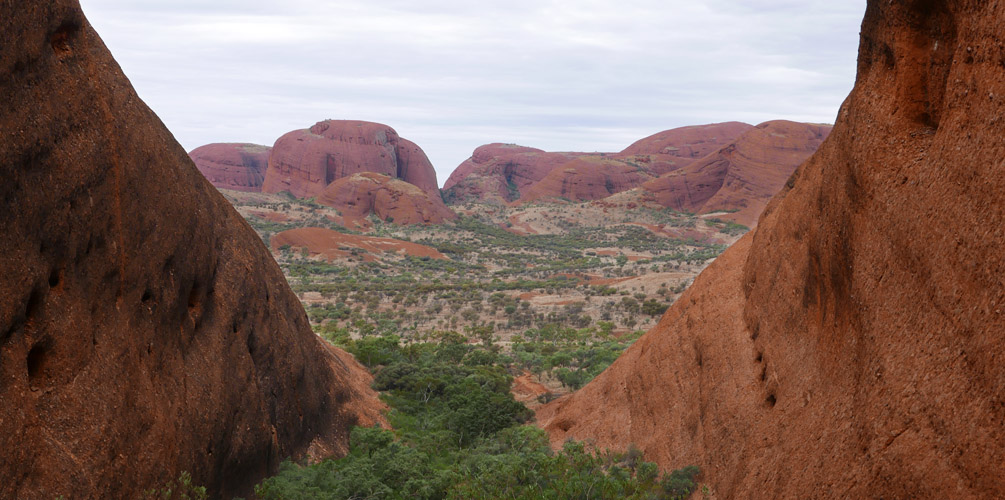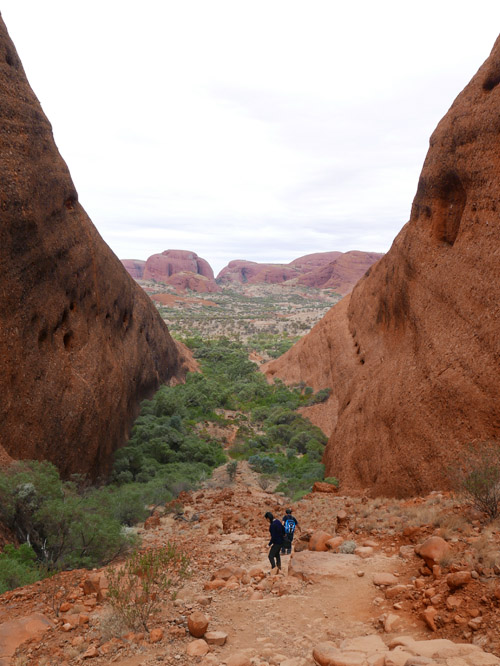 (Full screen for best experience)
On the last stretch of the walk (less than 1km from the carpark), I was approached by a German tourist. He had been walking in the opposite direction but when he reached me, he turned around and walked along side me. He asked me if I was ok and I replied in the affirmative. Then he started talking about how he was glad to see me and that the tour was about to leave. I laughed and told him I was not part of his tour. He stopped and stared at me and said he was looking for me. I reassured him that I was not the person he was looking for. He looked a bit disappointed and then thanked me and turned around again and walked off. Poor guy, imagine looking for someone here!
At this point I was ahead of my parents and was alone. I reached the carpark and to my disappointment, there was no toilet. I waited for my parents and they arrived not long after, telling me a young guy had asked them if they had seen "an Asian girl" and that he was looking for her. It was then I reaslied I had seen an Asian girl, and that she was walking the wrong way when I passed her. My dad told him about that same girl I was remembering but damn, if she had continued walking in the direction she was heading it when I passed her, then it would take ages to find her.
Walpa Gorge walk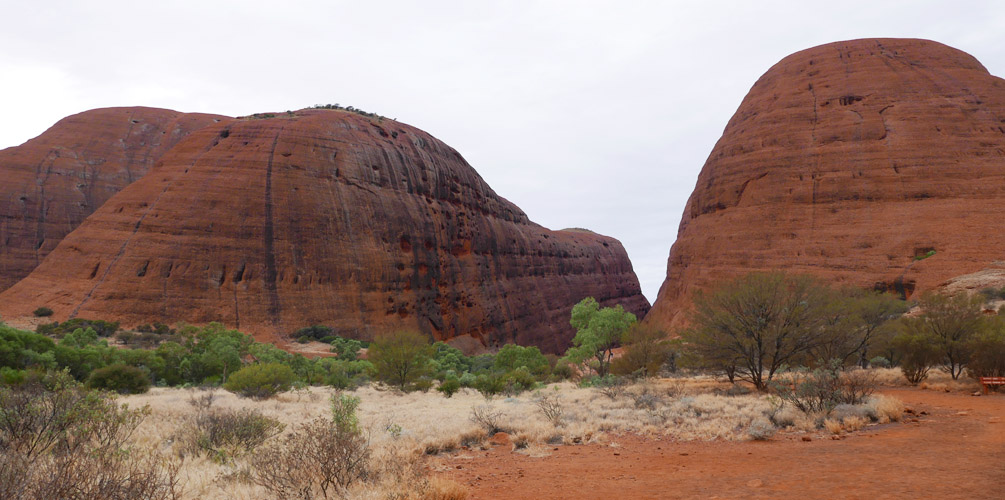 We got out of the Valley of the Winds carpark and made our way to Walpa Gorge. My mum decided to wait in the car. My dad was saying he was very tired but would come with me. The view in front of us was of two very large monoliths and the walk just to get up to the "entrance" of the gorge (i.e. the gap in between the two monoliths) was a solid walk already.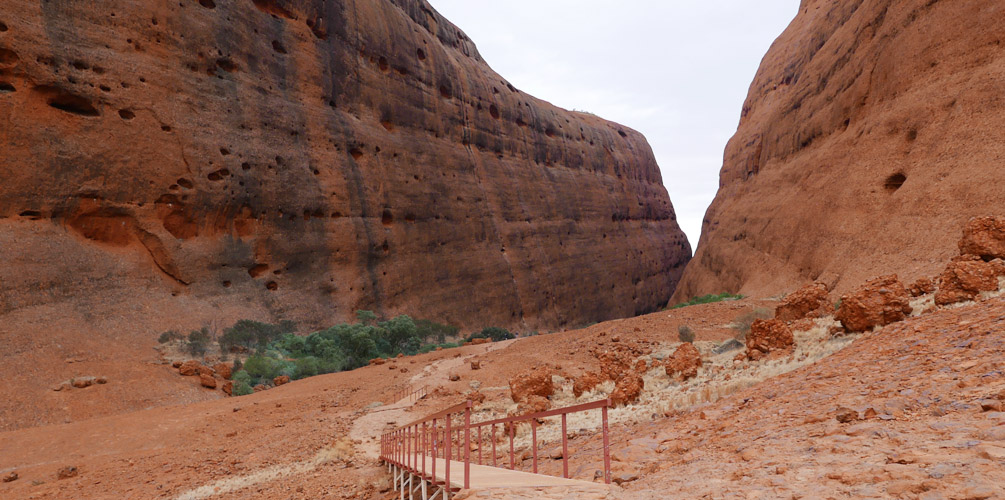 We made it about 200m into the gorge and decided to call it a day. Whoops I think pushed my parents a bit too much. You can see the path into the gorge in the photo above. If you think that looks short, think again! The monoliths were HUGE (yep, I keep repeating myself!).
Seeing photos from Aaron and ones online makes me think I didn't miss a whole lot. But it would've been nice to complete everything (that's the completionist side of me talking!)
Kata Tjuta sunset viewing area
There were hardly any car park spots (not that they were full) here. It was clear Kata Tjuta gets very little love! At the actual viewing area (a flat area where they removed some trees), there was a party of older adults having a bit of cheese and wine, a young family, a couple and us. Not very many people at all, 25 max :(
That said, AGAIN there wasn't really a sunset because of all the clouds. Very disappointing. We didn't really get to see Kata Tjuta all bright and orange at all today. And I probably won't be coming back :( because it's one of those things you see once.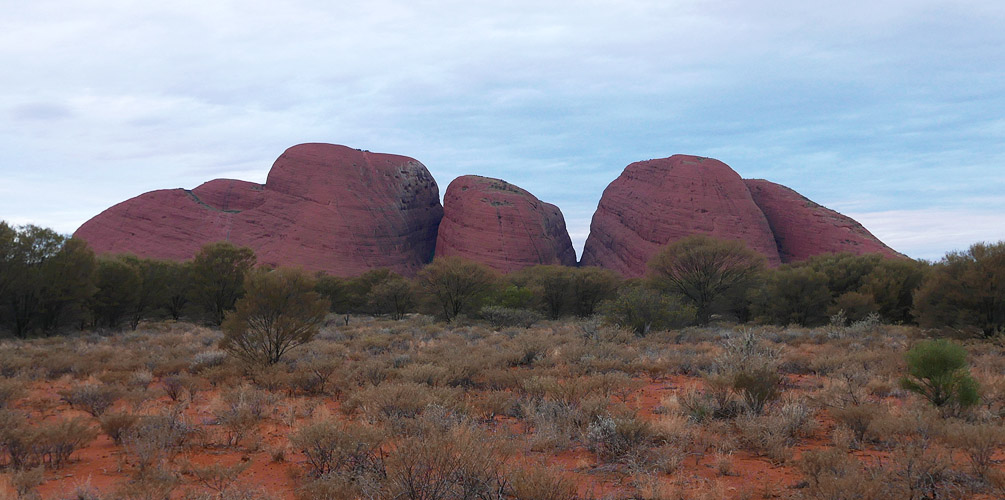 Outback Pioneer Kitchen
So last night I had done a little exploring and found that our accomodation housed a bar, a casual eatery, a cook your own meat establishment and an expensive restaurant ($42 for 3 ravioli + unlimited entree buffet - lol 3 ravioli! Or for the same price you can get the buffet and a steak.) I suggested we get a pizza at the casual eatery and some salads from IGA supermarket, which my parents agreed to. We hit the IGA, I got a salad with a little chicken in it and my parents got a kale quinoa salad (very leafy but it looked super boring and dry to eat). We got a meat lovers pizza with BBQ sauce base, which was a thin crust pizza. Very typical "Aussie style" pizza. It tasted alright but at $24.50 it was again, expensive. #ipinions 5⁄10
I had also discovered there was a disabled toilet (with a shower in it) and I used that today. It was so much warmer but still not great. I gotta take this for 2 more days….