Day 3 of Central Australia 2018 trip

Kings Canyon as seen from Cotterill's Lookout
Today we went on a day trip outside of Yulara/Uluru-Kata Tjuta National Park. We were supposed to do this on our last day (tomorrow) but I pushed it up to accomodate for a possible Uluru climb tomorrow (fingers crossed!)
I had asked reception first thing in the morning if the Uluru climb was open or not. I was actually too early as lady behind the counter said they hadn't recieved that bit of intel yet! I went back at 8am and she told me that it was closed due to wind. She was pretty friendly about it too.
Kings Canyon was about 300km away from Yulara, so we were in for a 3 hour drive one way. It was mostly an uneventful drive, but we made a couple of interesting stops -
Curtin Springs Cattle Station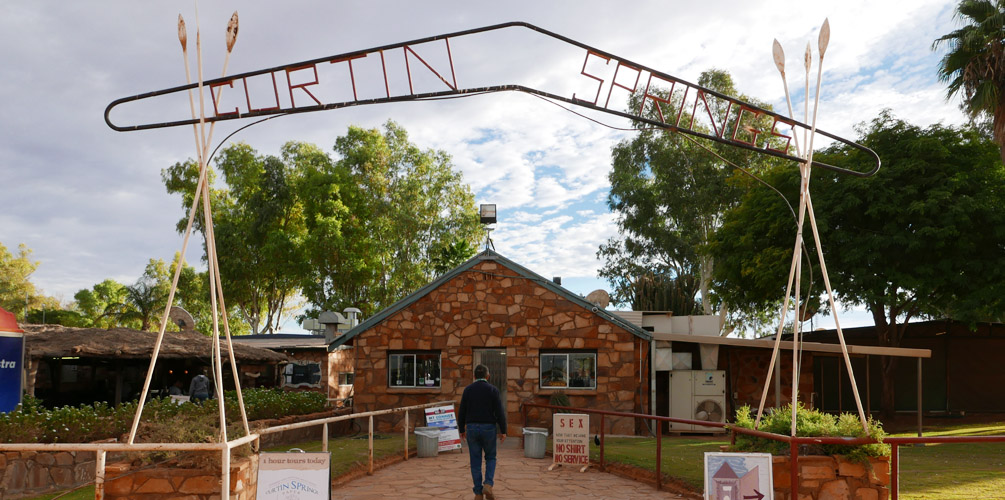 We had originally planned to get petrol in Yulara but then decided last minute to get it on the road. Curtin Springs Cattle Station had a servo so we hit up that instead. Take a look at the price of unleaded: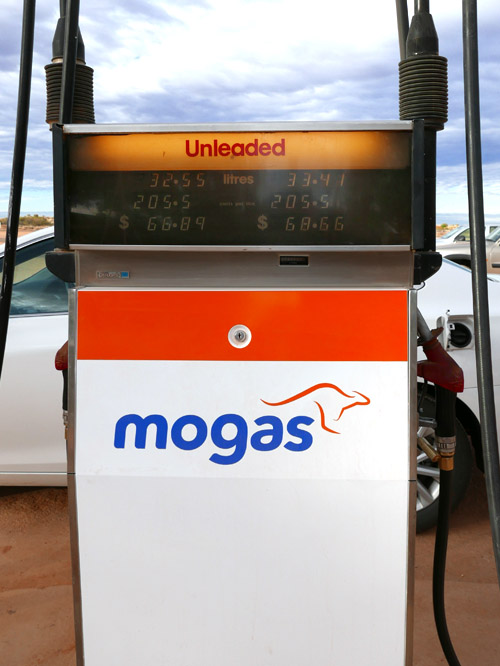 205.5c!!!!! And who knows what kind of unleaded you're getting?! Well, it's not like you had a choice. The interesting thing was the pump was locked down. A guy promptly came out and unlocked it for us and my dad filled up the car. I had a short conversation with him; he said he had to come out because he had to write down how much petrol was taken from the pump as there was no system to keep track inside the store. So I asked him if the lock was there to prevent people from stealing petrol and he said, "well, yes I guess that helps with that too". Yeah nah, it was totally to prevent stealing (as there is an issue in NT where Aboriginal Australians are addicted to sniffing petrol) but he was too polite to say so, I bet. He also told me he had been at Curtin Springs for all of three weeks (and lived out back) and confirmed my suspicion that he was a pom. He had been backpacking around the country but had so far avoided the east coast, which is kind of admirable but we too have plenty of natural beauty back east too. I asked him about WA and Ningaloo reef and he confimed it was a wonderful place to visit, as well as Broome. He wasn't that big of a talker I suppose so I didn't pry too much, but I was really dying to know more :(
Mount Conner
Across the road from the servo and far off into the distance was Mount Conner, another huge monolith, or more accurately, a mesa or tableland. It was pretty big and red/orange, like Uluru, except it had a flat top and sloped sides. I thought it deserved to be a tourist attraction in its own right and I gotta say I was impressed with it too. A had told me he didn't recall seeing it at all but to be honest, he must've been blind because I spotted it on the road quite easily. It stood out like a sore thumb. I later read the Mount Conner is on Curtin Springs Cattle Station and therefore, is privately owned. There is a tour company that can take you up close and a helicopter tour company that can fly you there and land on the top! Both tours were very expensive!
Mount Conner is known to locals as 'fool-uru' as tourists driving into Uluru (from Alice Springs, I presume) mistake it for Uluru. The problem is they look nothing alike!! But I suppose if you were from Europe or something and were super excited to see Uluru and were tired of driving on this boring stretch of road and you saw this huge rock, you'd probably mistake it for Uluru.
There was a Mount Conner lookout which was a bit further up the road. It seemed a bit further away than viewing it from Curtin Springs but what can you do. We took some photos and then I crossed the road and walked over a sand dune (which was composed of super bright red sand). At the top of the dune I could see a large salt lake. I wondered how to walk there but I couldn't see a clear trail. (I later discovered on google maps satellite view that there was a clear path to it :( Oh well).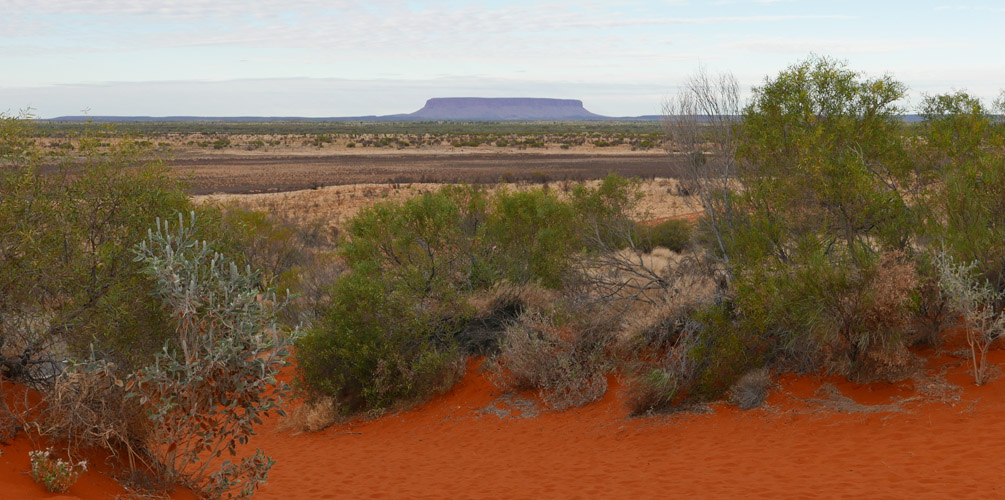 I scooped up some sand at the dune as a souvenir. It was a vibrant red/orange colour, yes just like in the photo above. I'll put it in a nice glass bottle when I get home!
Back on the road and we were well on our way to Kings Canyon when we approached a group of camels on the road! All but one had crossed the road pretty abruptly and my dad was worried that the lone camel was going to quickly run out on the road and crash into us, but it didn't. After that, the drive was pretty uneventful apart from the changing landscape, where we were driving alongside a massive canyon/cliffs/rock structure (sorry, I am not a geologist!) for about 20-30 kms.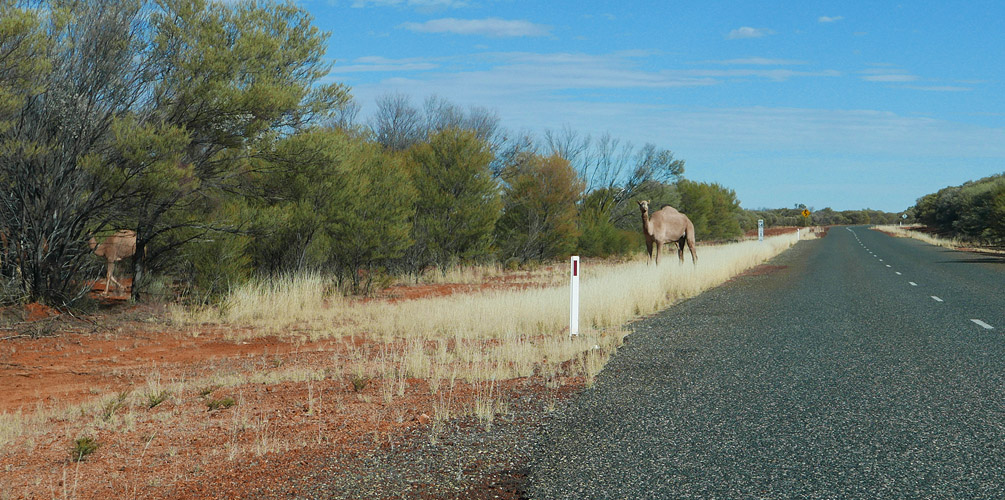 Kings Canyon
Kings Canyon is made of two layers of sandstone - the bottom one is 440 million years old and the top layer is 400 millions years old. I can barely comprehend that amount of time. That's like, before the dinosaurs. What the hell was even around then???
The canyon walls rise up 100m which isn't really that deep (the Grand Canyon has a max depth of 1857m) but the canyon itself was still quite impressive. There were lots of interesting features, like lots of lumpy rock domes with grid pattern cracks (which used to be sand dunes!) and completely flat cliff faces. I haven't found out why they are flat and smooth looking but you could see that rock must've split off and rolled down into the canyon. They're sitting right there.
There were two main walks here, the Kings Canyon rim walk and the Kings creek walk. The former was the one we were here for, and it whilst it wasn't that difficult, it was kind of long. Again it would've been nice to to both but I'm afriad the rim walk wore out my parents. The creek walk just took you inside the canyon floor and you could observe the canyon walls.
Kings Canyon Rim Walk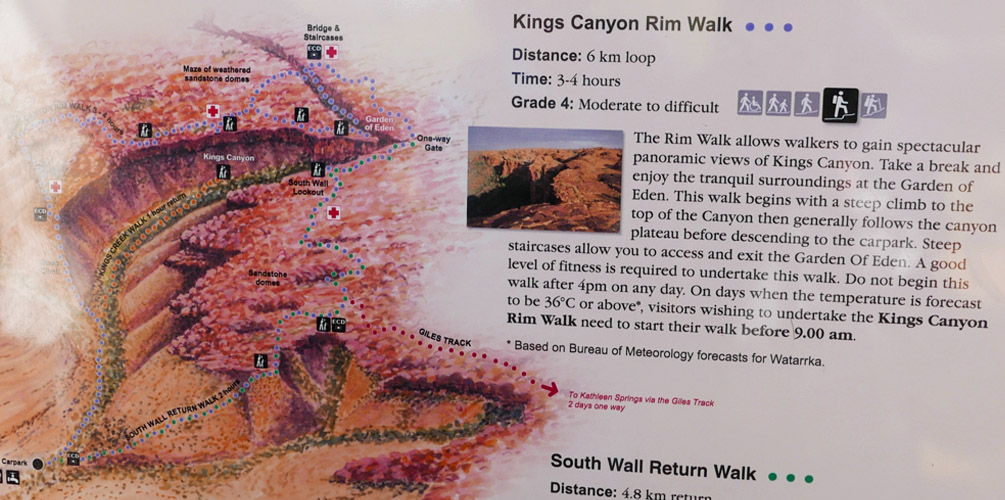 The rim walk started off with a tonne of steps up to get to the top of the canyon. Looking at the map, you start from the carpark and go clockwise. The walk took you up 100m and then you were at the top and the rest was pretty flat and easy. Coming down was a nice easy slope back to the carpark. It was a 6km walk and recommended to take 3-4 hours. We took 4 hours but I think this was because we stopped a lot for photos and we had a 20min lunch break eating our tinned food.
Here are some photos from the walk, in chronological order: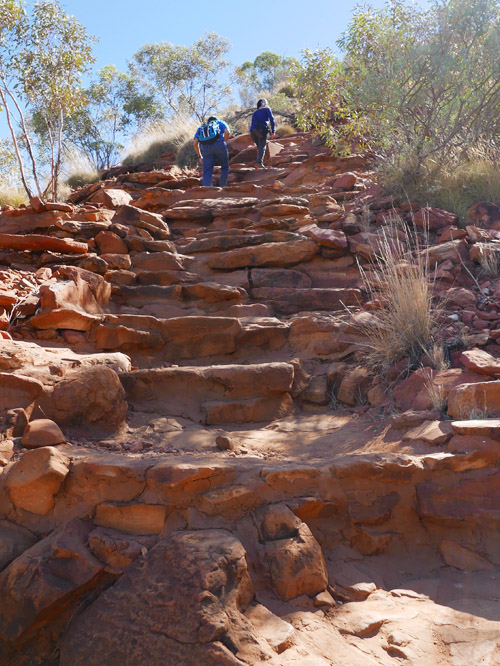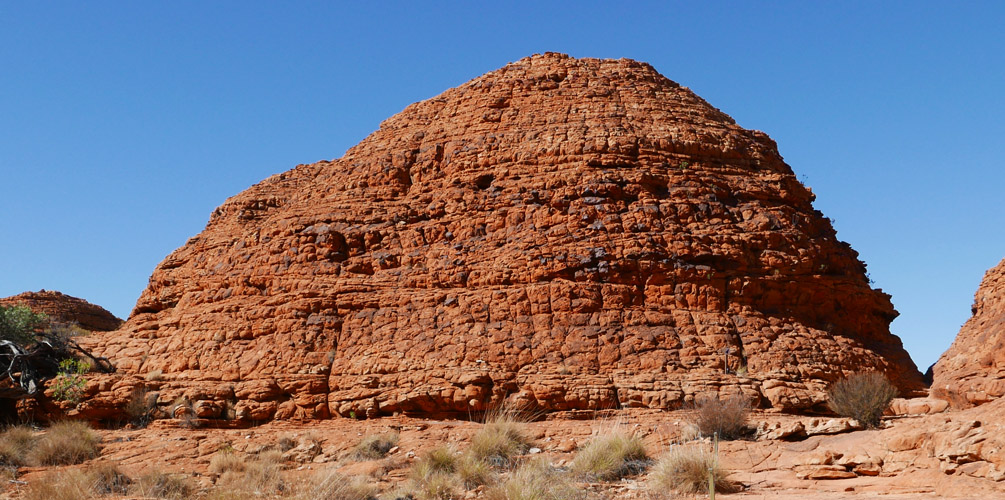 The domes here at Kings Canyon werem't smooth; they featured what is known as 'cross-bedding'. It is evidence that these domes used to be sand dunes, 400 million years ago. Sand was deposited by wind from different directions, causing different layers to form.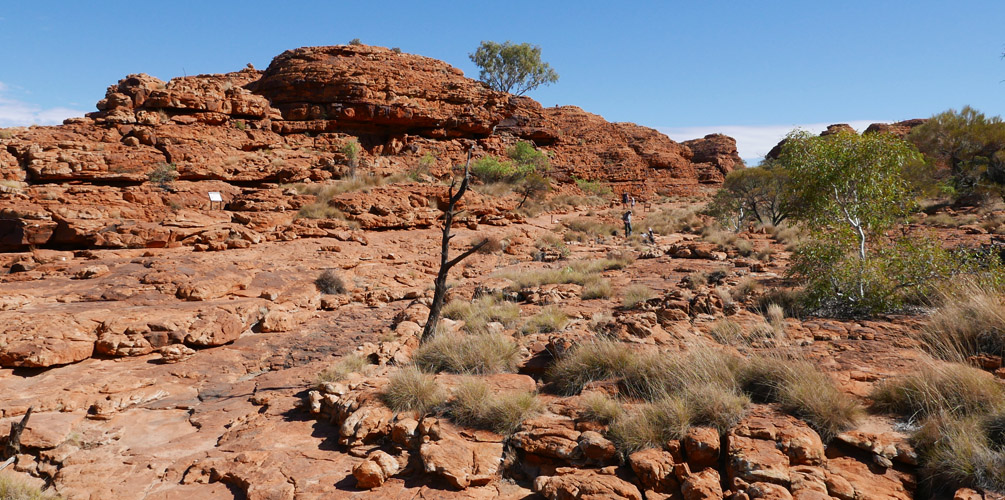 The other side is sooo smooth!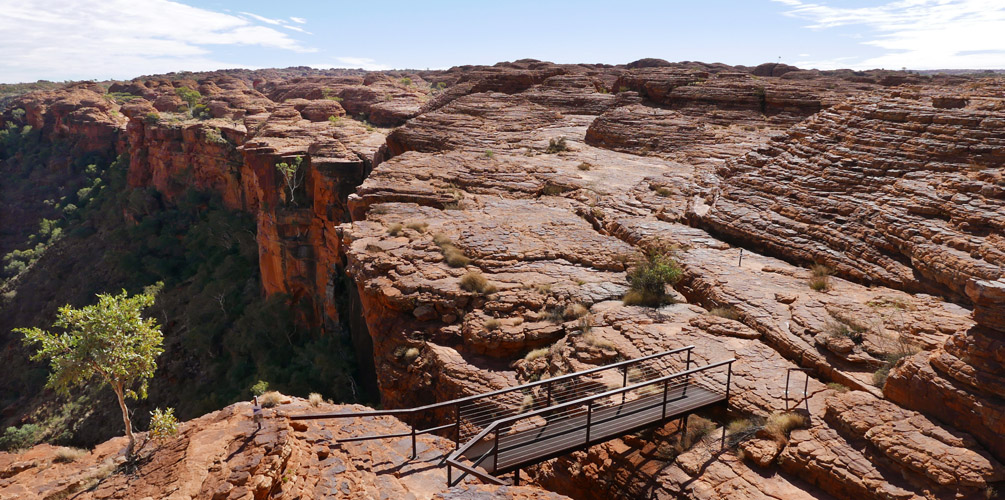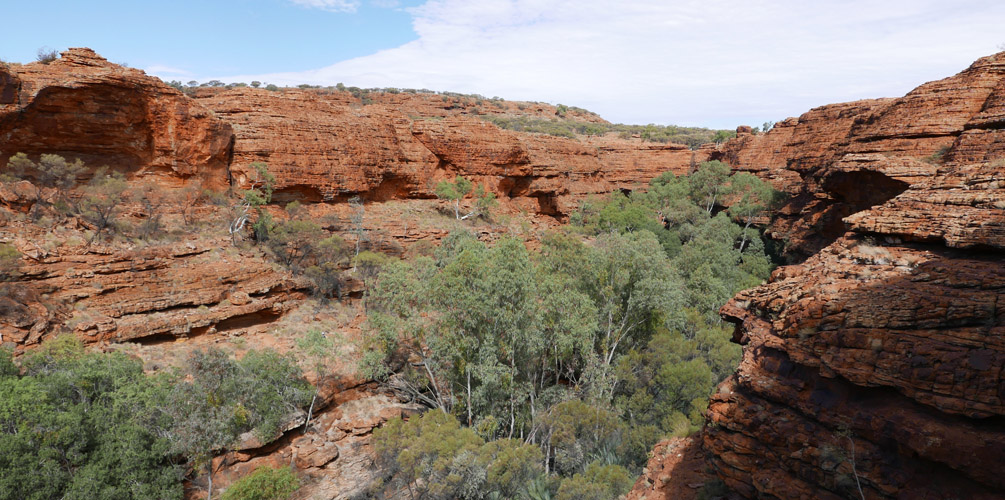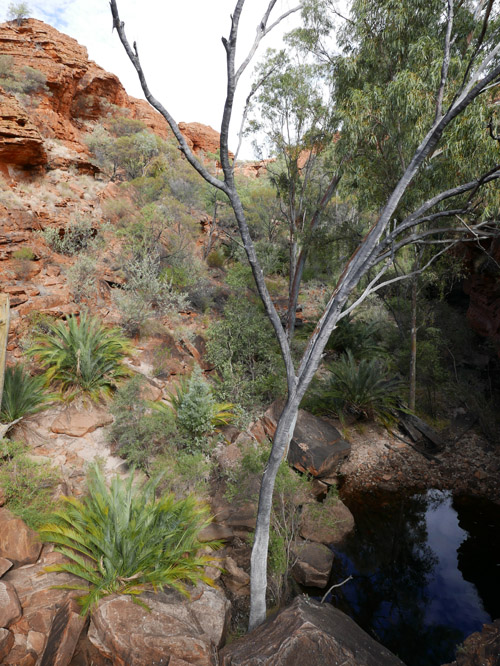 At the end of the canyon was something called the Garden of Eden. This was where there was a water hole and a lot of trees. Unfortunately my parents were too tired so we didn't visit, we just trudged on. There were stairs that took us down and back up to the other side of the canyon. To get to the Garden of Eden, you were supposed to keep descending.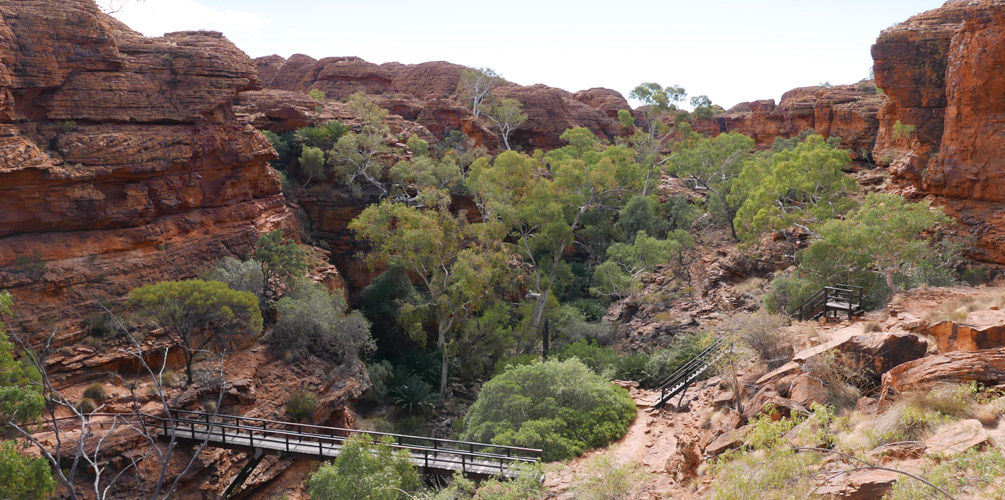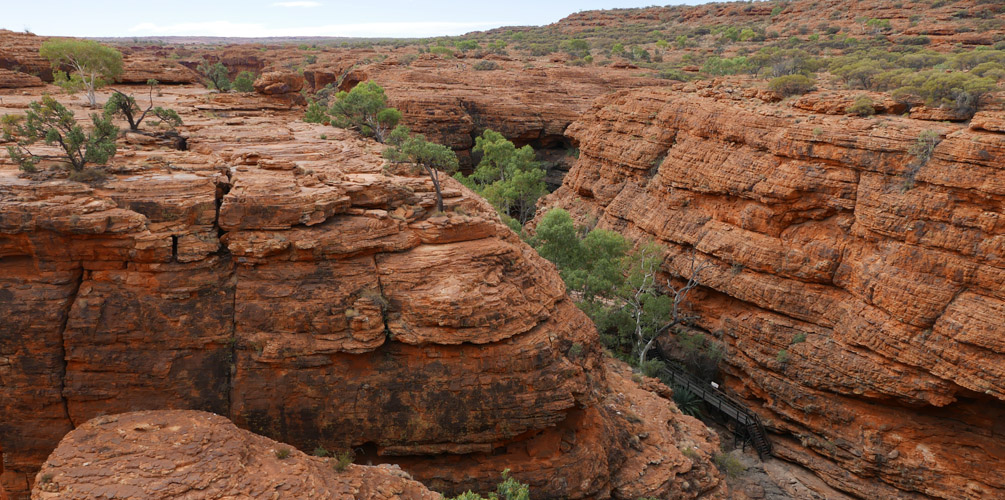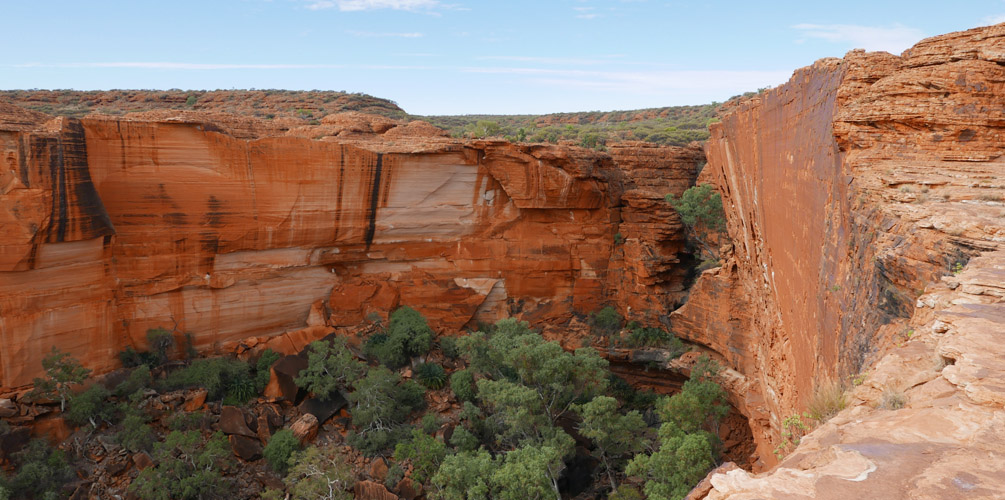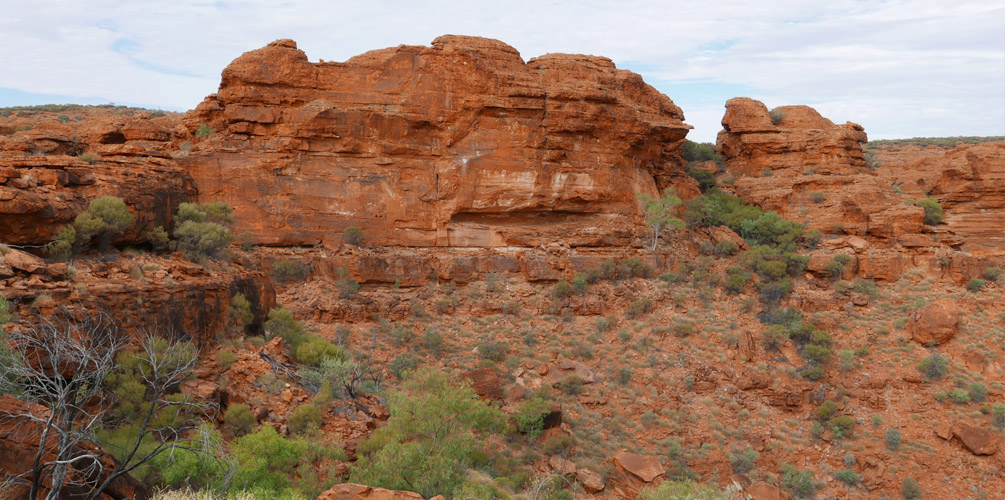 When the wet season comes, this becomes a waterfall!
Kings Canyon resort
After finishing our hike, my dad needed coffee to help him drive back to Yulara. Damn it really sucked I couldn't drive back. My mum was listed as an additional driver but for reasons I won't go into, my dad didn't want her to do the drive. So we headed to Kings Canyon resort which was a bit further north (i.e. further away from Yulara by road) to find coffee. We reached the Kings Canyon resort property and easily found a servo/general store and a bistro/bar next to each other. I had a browse at the general store and hollllyyyy hell the prices were worse! A 600ml coke was $5.50 and a powerade was $6.50. I actually had a hankering for a coke but I was after a can and they didn't even sell those. And there was no way I was spending $5.50 for a coke, so I got a Nippy's iced chocolate (375ml, $3.50). It was pretty disappointing to be honest as it didn't taste very good.
My dad got his coffee at the bar as the general store only sold instant and he wasn't going to shell out a pretty penny for instant.
The road back to Yulara
Back on the road again and my dad was worried about sundown. I told him not to worry as he would be using high beams anyway but he should probably slow down once the sun disappeared completely (which he didn't end up doing, by the way). This time, we encountered couple of natives! A dingo appeared in the middle of the road and slinked away as we approached. I'd never seen a dingo in the wild before! Later on, an emu quickly ran across the road which was kinda cool to see. Again I had never seen a wild emu before. Both sightings occured before sunset. Unfortunately they happened too quickly and I wasn't able to get photos :( Whilst trying to snap a photo of the emu I accidentally sent an emergency message to A (a Samsung feature that activates if you press the power button 3 times and it sends a front camera photo, coordinates and a short sound clip to a trusted contact that you've previously configured. I didn't realise until A called me an hour later asking me if I was ok. I guess the message sent when I got back into mobile reception range. Poor thing, he was worried upon receiving the message! Sorry!!!
We came across Mount Conner again just at golden hour but we did not stop. However I was able to get some nice shots in the passenger seat: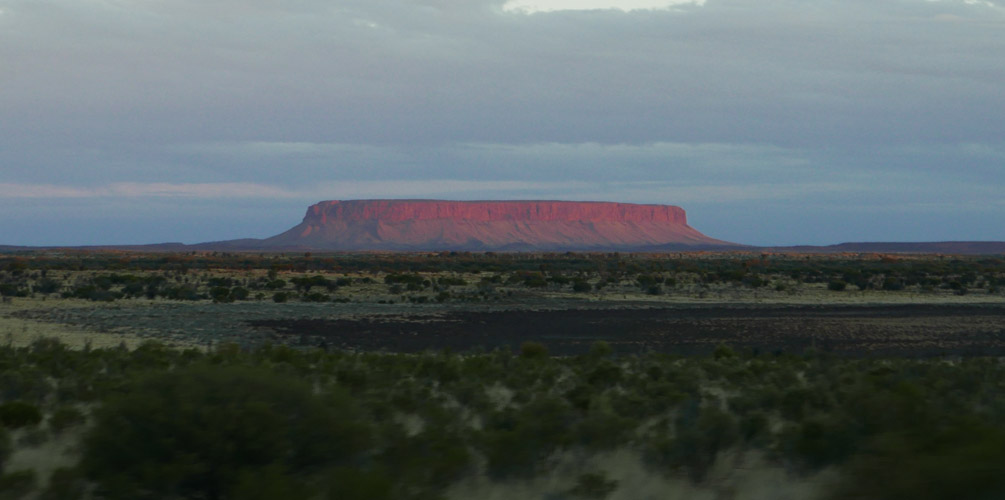 Finally we were able to see some reddy orange reflection action!
Whilst passing through Curtin Springs we came across some cows on the road. I managed to snap a blurry pic but to be honest, it's not very exciting. Cows are boring.
Gecko's Cafe… again
Well, as you know by now (if you have been reading this), there are very little options at Yulara for dinner. Ayers Wok was NOT an option, according to my dad (and to be honest, I too, would rather die than be caught purchasing food from that "Asian" takeaway place). Sure, it's the cheapest thing around at $17ish and had a cute name but no, I just couldn't. So, back to Gecko's cafe we went. I didn't really want to go back there but my mum said she didn't mind (despite ordering that crap "Wagyu" burger last time!) and I had no other ideas so off we went.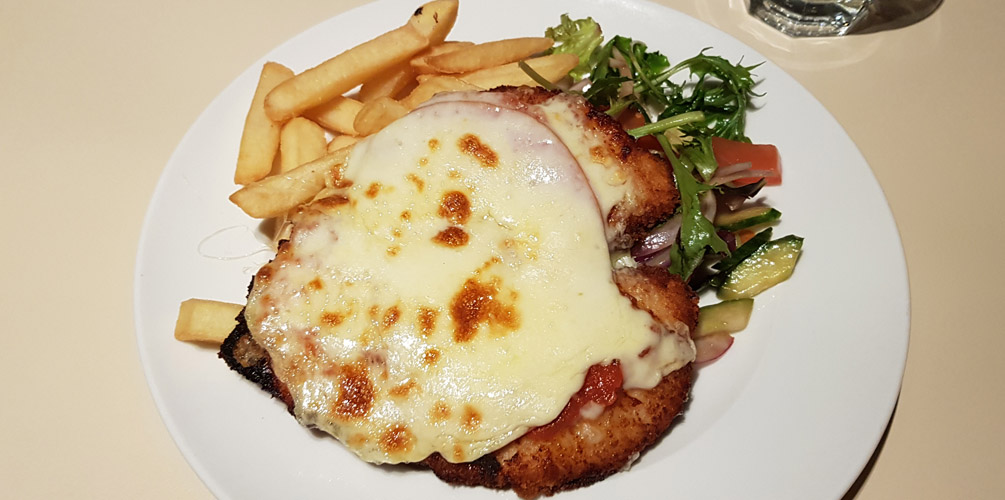 Again, my dad and I happened to order the same thing; this time we ordered Chicken Parmy. However he had to have his without the tomato sauce. The parmy was a decent size. It tasted ok, there wasn't much to complain about, no surprises. Like the other day with the burger, they're a bit stingy with the chips. My mum ordered a lamb ragu pasta and unfortunately it was also not that great. It had no tomato sauce!!! What kind of ragu has no tomato sauce?! There was some liquid (cough oil) but no visible tomato sauce. And there were peas. What kind of ragu has peas?! 5/10… again #ipinions
After dinner we went back to the IGA to get more supplies. Whilst browsing the freezer aisle, I noticed a big bunch of frozen kangaroo tails (with skin on!). Unfortunately there was no price tag. They were quite heavy actually, the one I picked up was 2.4 kg! I wonder if you can cook them like oxtail.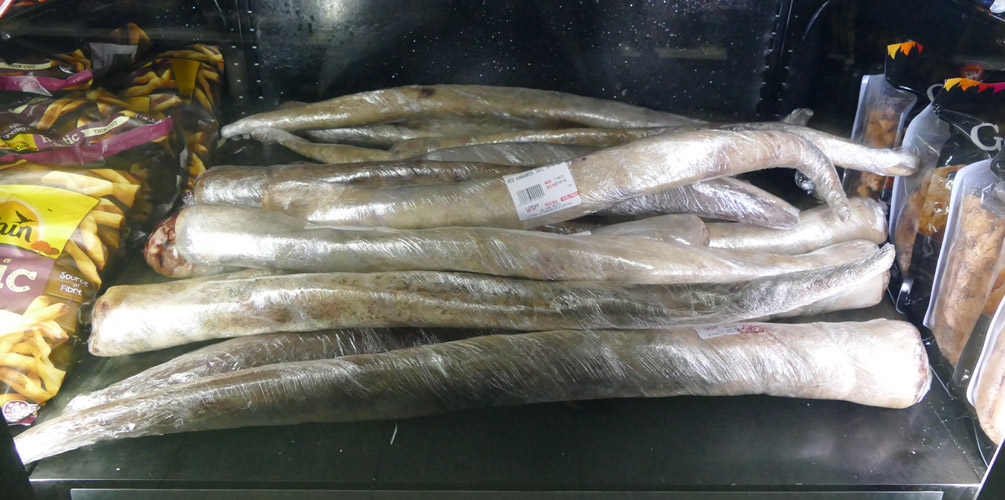 Back at the accomodation I went outside and had a look at the night sky for a bit. It was hard finding a spot with little light pollution (even though there wasn't much already in this small town) but I did see more stars than usual. We didn't have a tripod so we couldn't take a long exposure. I look back really fondly at the time I saw a night sky FULL of stars. It was the most amazing thing ever and I want to experience that again…