Day 1 of Central Australia 2018 trip

View of Uluru from the Uluru-Kata Tjuta National Park cultural centre
This was another one of those unexpected trips which occurred due to the timing of certain events. Jetstar was having a sale (50% off!), I was pretty stressed out at work and needed something not related to work to look forward to, my parents also wanted to visit Uluru and it was just announced that the Uluru climb was closing on Oct 2019. So off we went!
I'd say I'd ventured to a fair bit of the Australian east coast (ok yes I've not done the Sunshine Coast and barely any of Victoria) but venturing west? The most "west" I've been is Dubbo, NSW, which is about a 5 hour drive from Sydney. Which is not yet halfway across NSW. Apart from that, I've flown into Perth before on the way to Europe. But that's not really counted. And ok yes, technically Melbourne is west of Dubbo but everyone's been to Melbourne and when I'm talking about 'heading west' I'm talking in relation to where I live, when we talk about Melbourne, we talk about heading south.
SYD -> AYQ (JQ660)
Flight JQ660 was on an Airbus A330, pretty standard 3x3 aircraft. The seats were quite cramped, seemed more cramped than the last time I flew a low cost carrier (easyJet). Flight time was 3 hours 30min. That's a tenth of the time to drive there! A had driven there with his dad about 5 years ago (of course they stopped at many places along the way, it wasn't a direct drive to Uluru).
Upon boarding they told us that they had reissued our boarding passes because they moved us from the middle of the plane to the end. But I soon realised that it was because the flight was half full and they probably needed to distribute the weight better. It was all good because then I got to have a row of seats to myself! Which I used to nap on.
Yulara, Northern Territory
I caught a small glimpse of Uluru and Kata Tjuta whilst landing into AYQ (Connellan airport). They were huge! I couldn't wait to see them properly. The airport was small but not too shabby. It had only one runway. I immediately noticed the red sand and the Northern Territory flag flying - yep I was definitely in a different state! We got to the lobby of the airport pretty quickly (a small airport and having carry on baggage only affords this convenience) and went to the Thrifty car hire stall. I had made a reservation the week before so the process was pretty simple. We were given the keys to a 2016 white Toyota Camry and spent some time inspecting the exterior and documenting every scruff mark and scratch before driving off. On the road, there was a sign advising drivers that we drive on the left hand side in Australia :) I never saw such signs anywhere else (i.e. signs at LAX for example telling drivers that in America, you drive on the right) but I suppose left hand drivers are sort of a minority in the world.
The town of Yulara was established when the government decided to clean up the structures that had sprung up very close to Uluru as a result of tourism. It was decided to move all that away from Uluru and to establish a national park around Uluru and Kata Tjuta to help preserve both sites. Therefore, Yulara was born, some 15km away from Uluru. Today, basically everything in Yulara is operated by one tourism operator, making it a monopoly. At least they do provide some options. We were staying at the Outback Pioneer Lodge, which was a very basic accomodation (2 bunk beds and a shared bathroom - no ensuite!) but camping was an option if you were so inclined. And of course they have nice 5 star accomodation as well.
First taste of Uluru
After checking in and dumping all our luggage, we drove off to Uluru. The plan was to do a short walk to kill time before sunset at 6pm. We were given some maps and brochures at Thrifty which informed us that we should go to the cultural centre first, so off we went. Upon entry into Uluru-Kata Tjuta National park, we had to purchase park passes for each person (which provided 72 hour access to the park). You were supposed to carry the pass on you at all times whilst at the national park as rangers can ask you for it, and you had to show it to prove you had paid.
I noticed the national parks people were doing some backburning :( there was black smoke behind Uluru and it was kind of ruining my photos. But you could not deny it, Uluru was great, even from the road. It's huge, it's the very definition of a monolith. Uluru is 348m tall.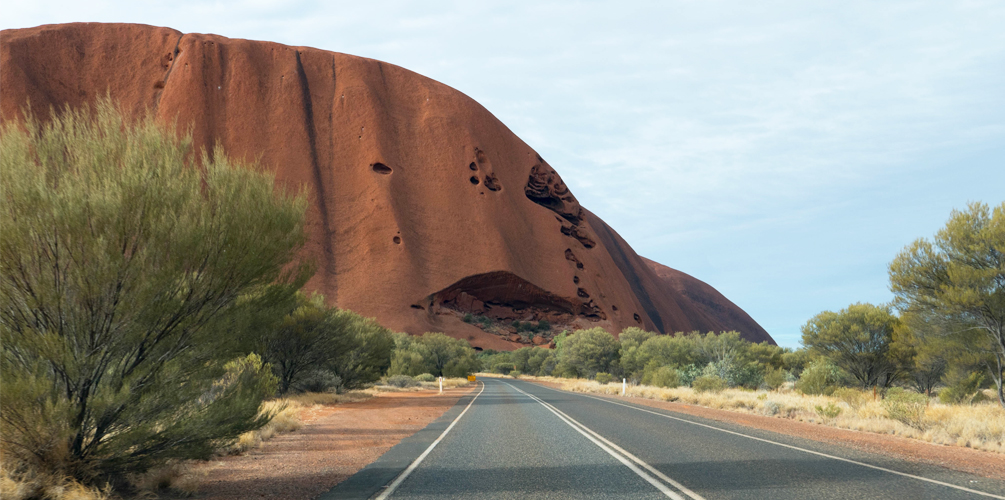 The cultural centre housed a lot of information about the Anangu nation (traditional owners of Uluru and Kata Tjuta) in regards to their beliefs, culture and history. We watched a video about the handback of the land to the Anangu. There was footage from that day as well as interviews with people. It was interesting I guess but the fact is, the land was handed back and promptly leased back to the government for 99 years.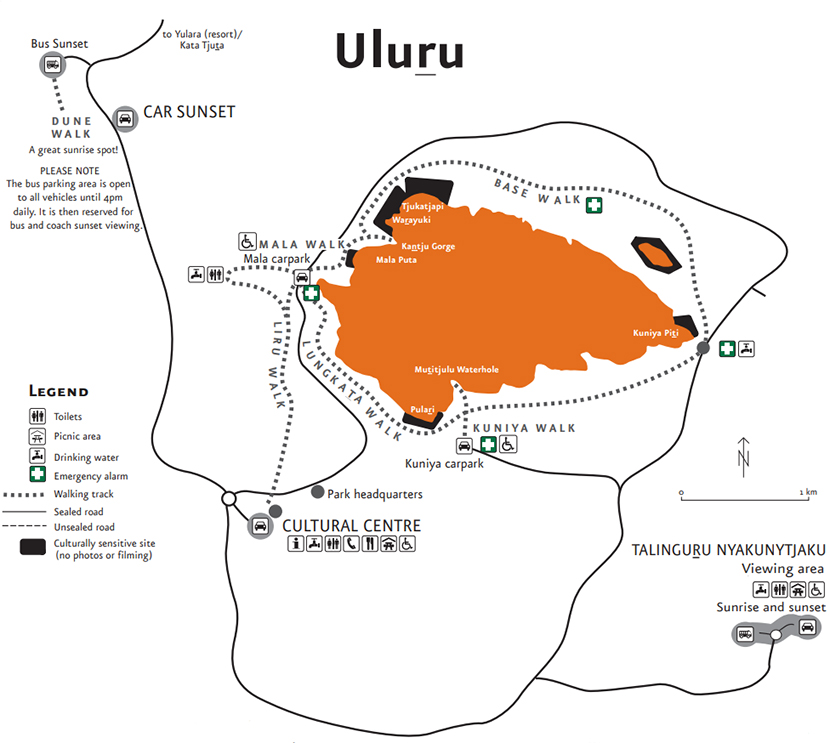 We jumped back into the car and drove to the Mala carpark as we were going to do the Mala walk to Kantju Gorge. When we arrived you could see that this was where you do the climb. This was not advertised at all on any of the maps or brochures I had (which I was not expecting). The climb was open and there were a decent amount of people on the rock.
It did not take long after leaving the car for us to realise that flies were going to be annoying. I had completely forgotten that there were flies everywhere and neglected to bring my insect repellent. They were pretty annoying and I would imagine summer would be worse.
Mala walk
The Mala walk was quite easy and not very long at 2km (return). The walk takes you along the base of the rock to a waterhole. Along the way there are some interesting features, like wave shaped caves and some very eroded rock paintings.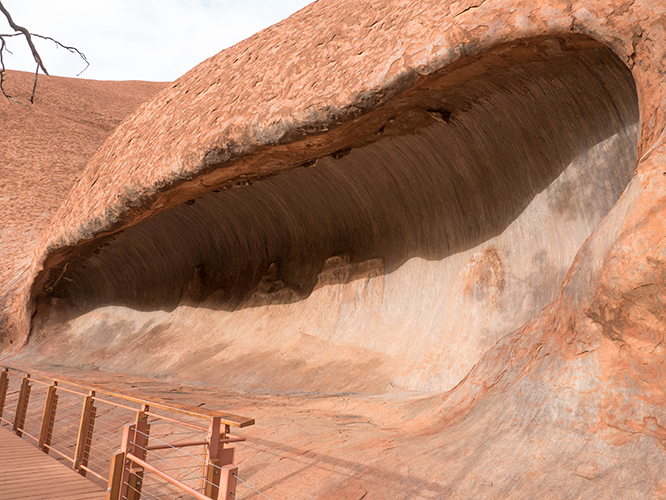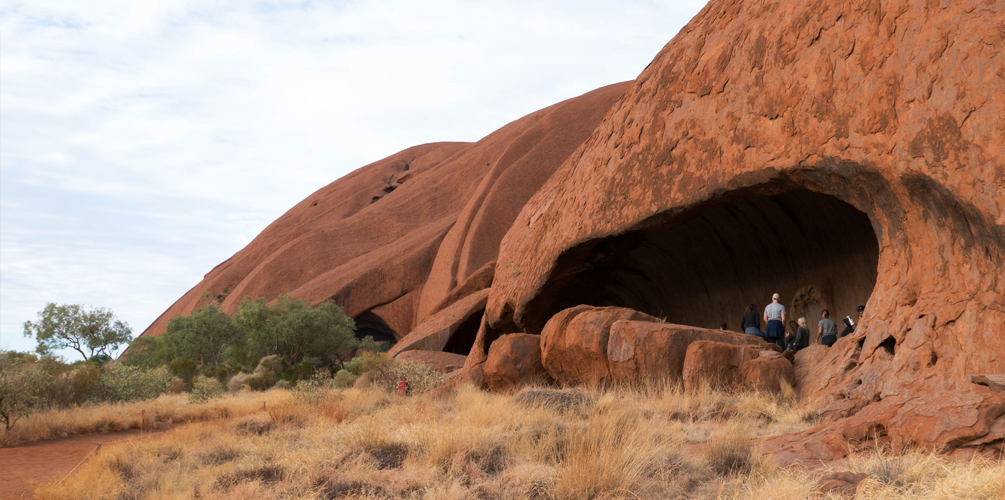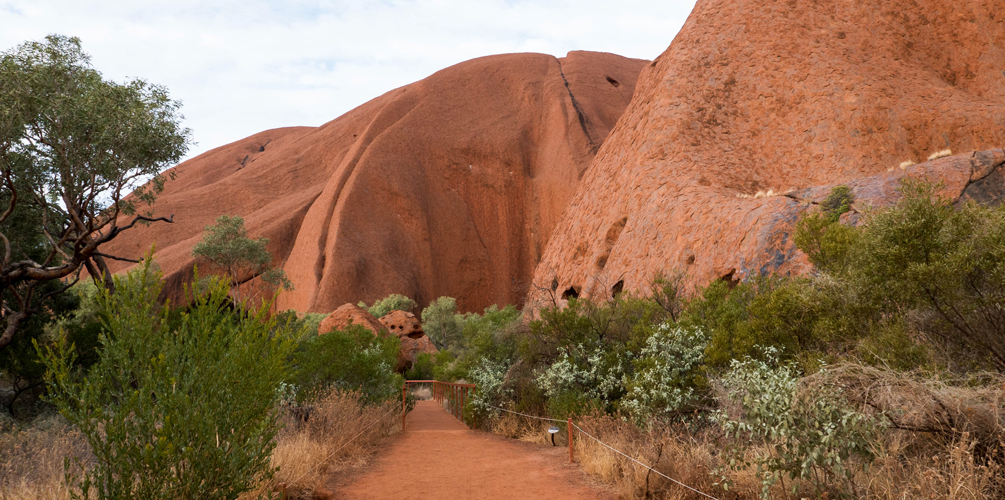 At the end of the trail was a waterhole, which was barely filled with water. There were signs saying 'Don't swim!' which was a bit amusing but I have no doubt that they fill right up during the wet season.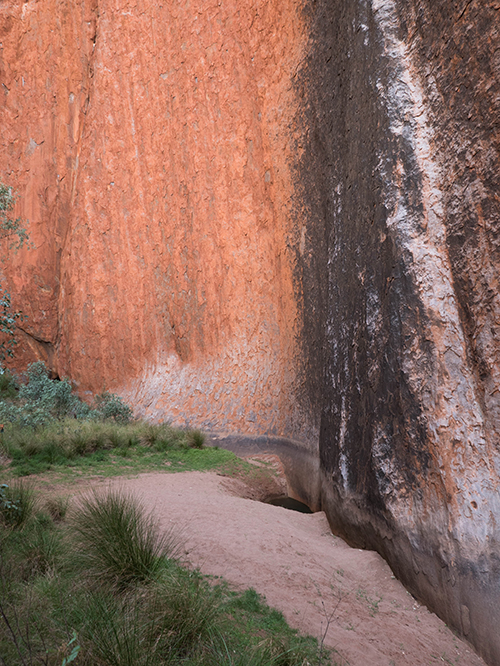 Uluru sunset viewing area
We made our way back to the car and set off for the sunset viewing area. This was a dedicated area with a long row of car park spots and you basically park your vechicle in one of those spots and admire the view. This is where you will find the most famous side of Uluru: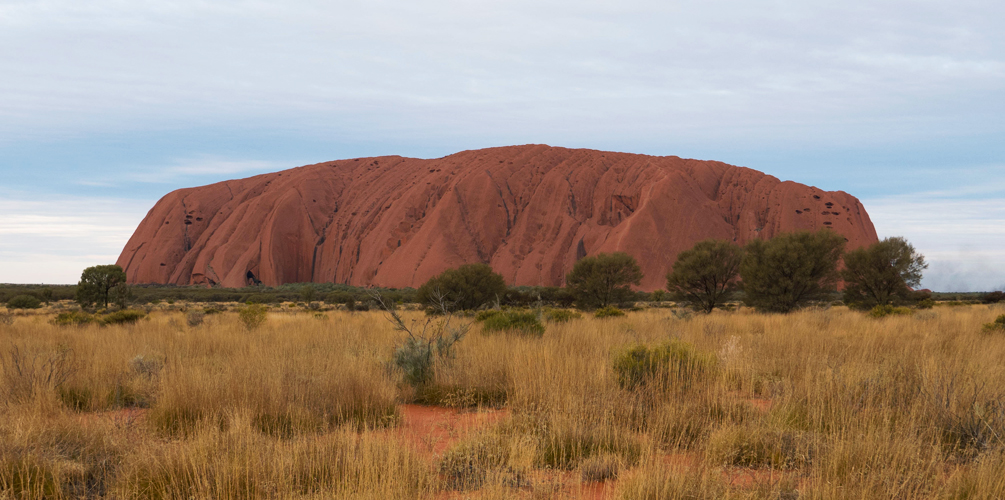 Sunset (6:00pm) was pretty underwhelming. It was pretty cloudy which blocked the sun. The idea behind observing Uluru at sunrise and sunset is to watch Uluru change colour. As the sun reaches the horizon, the orange sunset shines on Uluru which makes it appear red and orange. Unfortunately I did not really observe this :( maybe tomorrow…. but the weather forecast for the rest of my stay doesn't look good.
Isn't it funny how Uluru has so many holes and ridges and it's not that smooth really. This is because the rock that Uluru is made of is soft and therefore susceptible to the wind and erosion.
Gecko's Cafe
After taking a tonne of photos, it was time to get some dinner. We drove back to Yulara and stopped at the "town square", which was really, the smallest town square ever. It had one bank, an auspost shop, an IGA supermarket, a souvenir shop, a shop where you book tours, one restaurant, one day time cafe and one "Asian" takeaway shop which had a pretty good name - Ayers Wok (not that I use the term 'Ayers Rock'). The restaurant here happened to be the cheapest restaurant around.
We sat down and all happened to pick burgers. Kangaroo burger for my dad and I and a Wagyu burger for my mum. The latter was ok… it wasn't super tasty but it was appealing enough. They could've given us some more chips, the burger was just a smidgen too small. Meanwhile the Wagyu burger was pretty shocking, the patty was kinda terrible to be honest, it tasted very processed (and odd) and had a bad aftertaste. I had no idea how she ate most of that. 5/10 #ipinions
After dinner we did some shopping at the IGA. Things were sooo expensive in there! I mean yes, I get it, Yulara is in the middle of nowhere but it was a bit mind boggling. And the bread came in frozen I think, as it was wet and cold when you picked it up. We bought a bunch of canned food, bread, some apples (at $6.49/kg!), water and some biltong. This was meant to feed us whilst we were away from town.
The accomodation was really basic. I had booked a 2 bunk private room but with shared bathroom, which was in a separate building that was pretty exposed, like the walls aren't attached to the roof so there's a lot of air that comes in. This is a bit of a problem as it is cold at night in the desert! And unfortunately the water that came out of the shower was lukewarm, which was practically freezing when you account for the breeze that comes rolling in. Well, at least the room had heating.