Day 5 of Asia 2019 trip / Day 3 in Malaysia

Yummy
So, we haven't seen any Orangutans yet. I had really wanted to see one and knew where we would be guaranteed to see one but wasn't entirely sure we should go.
Kim Joo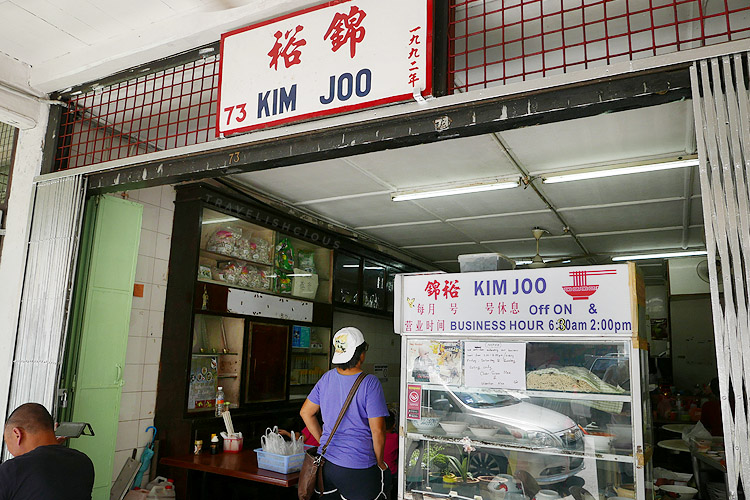 We woke up kind of late and went straight to lunch at Kim Joo, a place known for their Kolo Mee (egg noodles), yet another Kuching dish. Kolo Mee was a Chinese influenced dish, so it wasn't very exotic to me, personally. A ordered a Special Kolo Mee and asked only for tongue and stomach (offal!) whilst I got a tame Cha Siu Kolo Mee. I ordered them "dry" so that soup would be separate and require me to manually add it myself.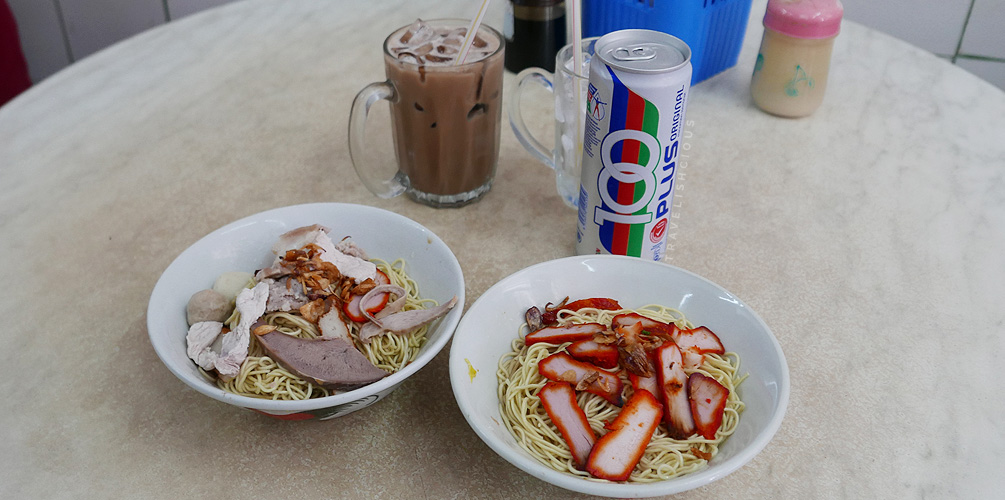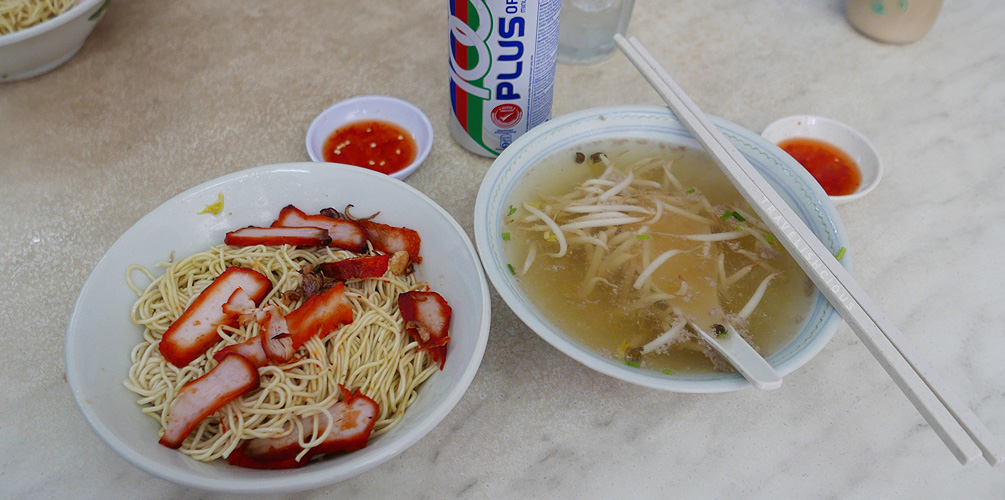 Initially, the Kolo Mee seemed to be quite uninteresting and even bland. The only noteworthy thing I could come up with was that the noodles were thin but very springy, which I enjoyed. The noodles were tossed in pork lard and shallot oil, not that I could tell at the time. The soup was a clear soup and seemed equally uninteresting but once added to the noodles, the flavour came out at the end, a nice pleasant savoury flavour, not too overwhelming.
My cha siu was unfortunately nothing to write home about. It was dry, meaning it was overcooked. I've had way better cha siu during my time. Can't wait for real cha siu in HK (even though I eat it back home every now and then).
A's offal was nothing offensive. It was fine, and probably better than the cha siu.
For drinks, we got a milo and a 100 Plus, which I found out was a Malaysian drink. Not quite a soft drink though, it is an isotonic sports drink, kind of like Gatorade. It was quite refreshing on a hot day such as today.
6/10 Unfortunately I didn't really get the hype or love for this dish. It was probably too 'familiar' for me. For the record, a decent wonton noodle soup wouldn't blow me away either. #ipinions
Matang Wildlife Centre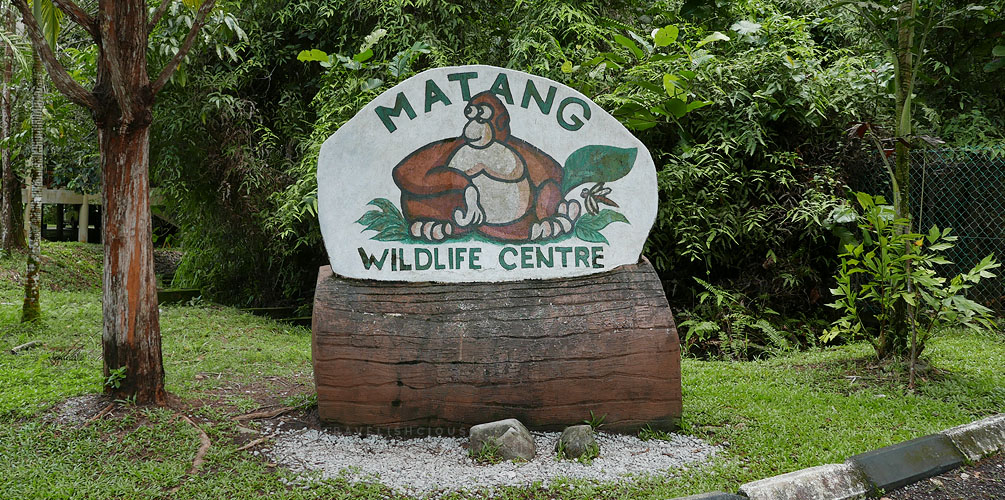 After lunch, we decided to go to Matang Wildlife Centre, a place where wildlife, particularly Monkeys and Orangutans are brought to live their days. Unlike Semenggoh, the animals here are unable to be reintroduced into the wild. Many were originally illegally obtained and kept as pets, therefore becoming too friendly with humans and would probably not survive in the wild on their own.
I had read many reviews online about Matang and many people were rather disguted at the premise behind Matang and the way they kept their animals (mostly in cages). I too, was horrified initially, even a zoo like Taronga back home kept their animals in better conditions but it seemed Matang does not receive much funding.
So, we kept our expectations low and decided to pay a visit. Again, we ordered a Grab. It was a 40 minute drive to Matang, which was located at the edge of a national park. We negotiated with him for him to wait for us for an hour so he could drive us back.
Matang was indeed rather poorly maintained. A lot of the cages did seem quite small and restricting. It was sad that the animals had to live in this way.
We saw many animals: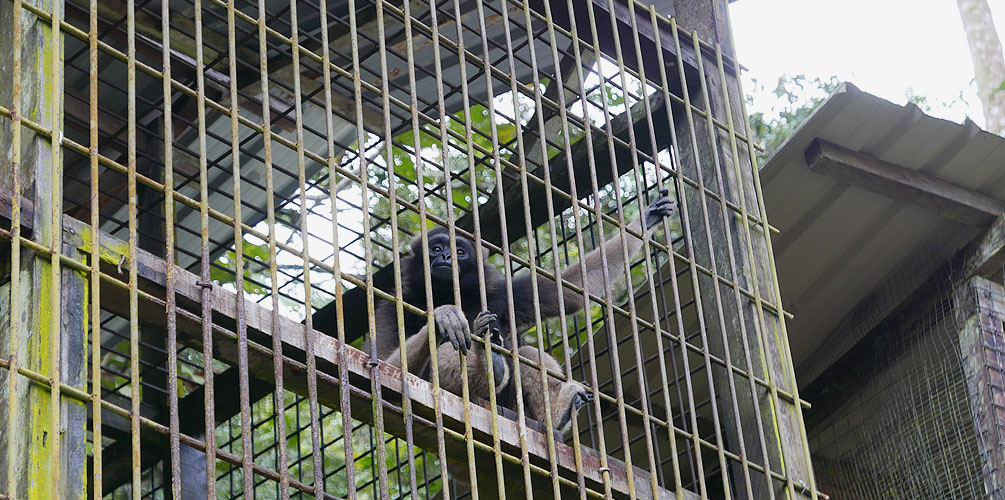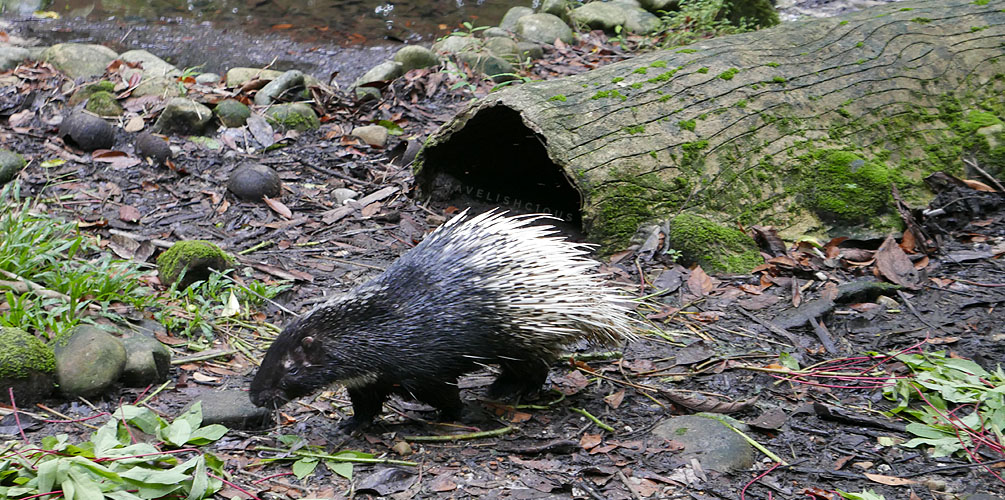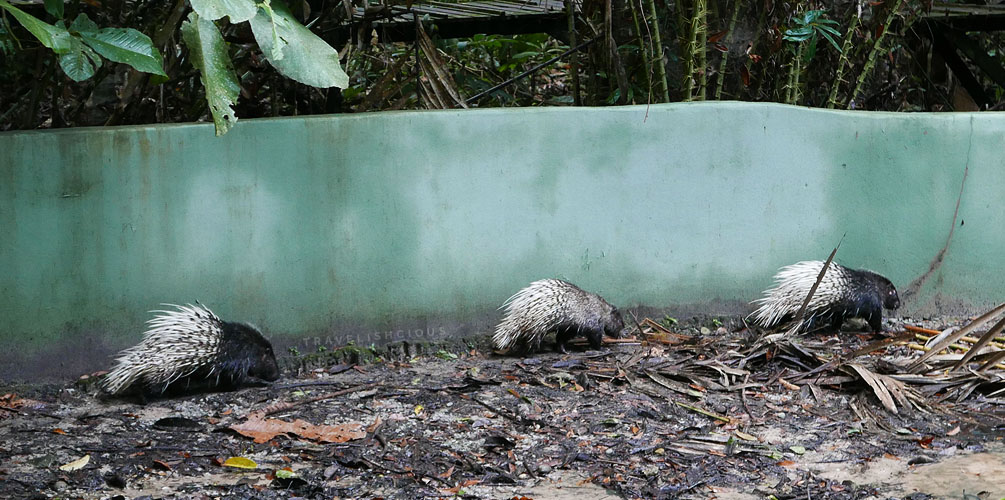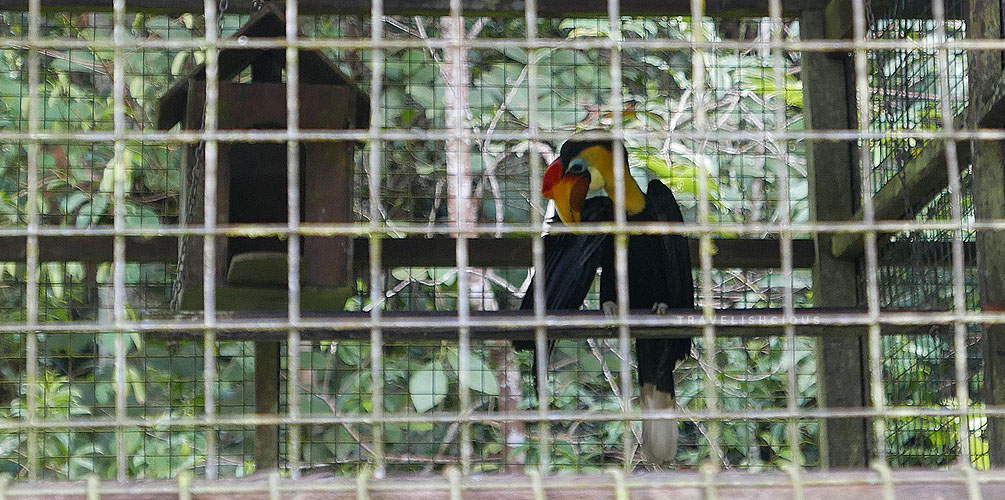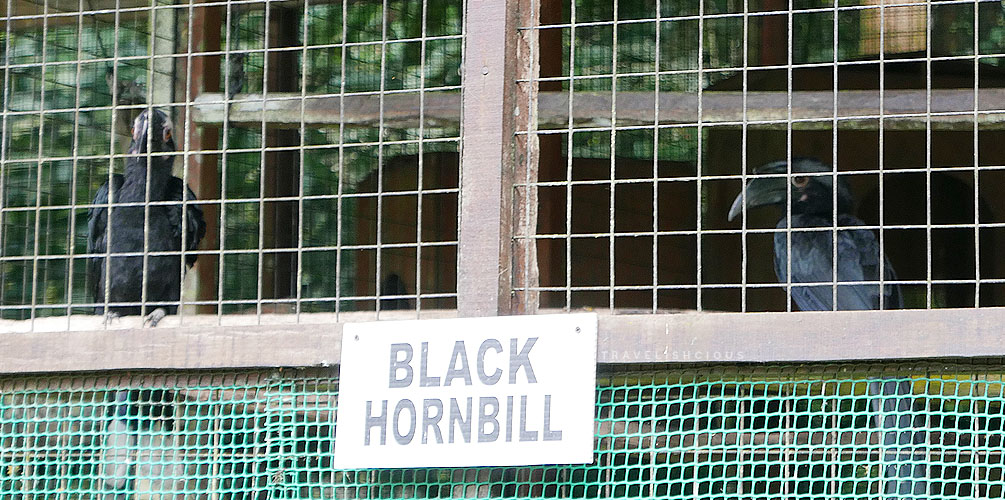 Hornbills are now very endangered. Sarawak is known as the land of Hornbills but these days it's rare to see them in the wild. Our Grab driver from yesterday said back in his youth at his childhood home (in Miri I think), he saw one in his backyard. You would never witness this today.
Finally, we saw Orangutans.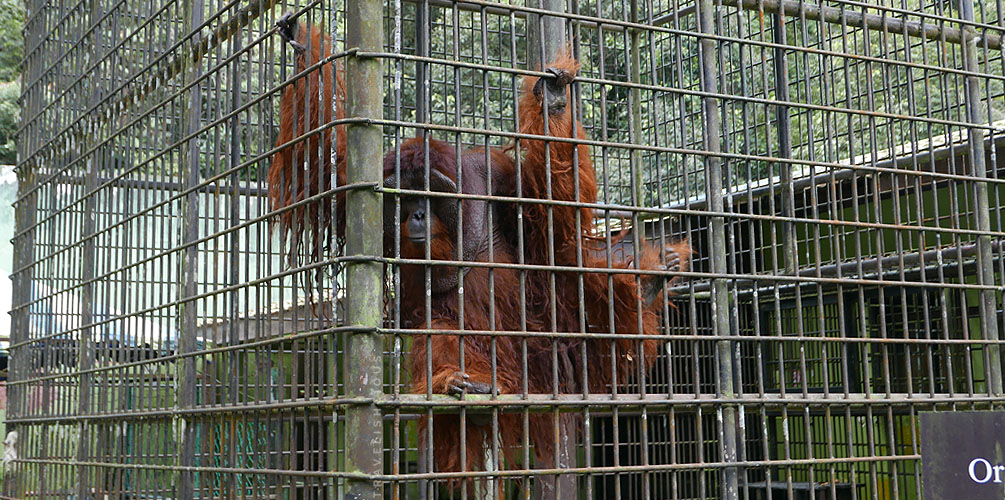 There were two large males being kept alone and in big cages. I thought this was rather sad to see. They looked pretty lonely. Ammar was just hanging from the cage when we approached him, and didn't really move at all. Peter, however was initially in a hammock, apparently sleeping when he decided to come down and moved around a huge tyre, proving his strength. He was quite big.
Turning the corner, there was an open air enclosure with more Orangutans, this time smaller (and younger?) ones. They had some space to move around, some grass to pick at and wooden scaffolding to climb on, but no trees. There was a bunch of people (volunteers, I think) standing on a platform observing the orangutans and blowing bubbles at them. We watched as a couple of orangutans popped the bubbles with their mouths and fingers.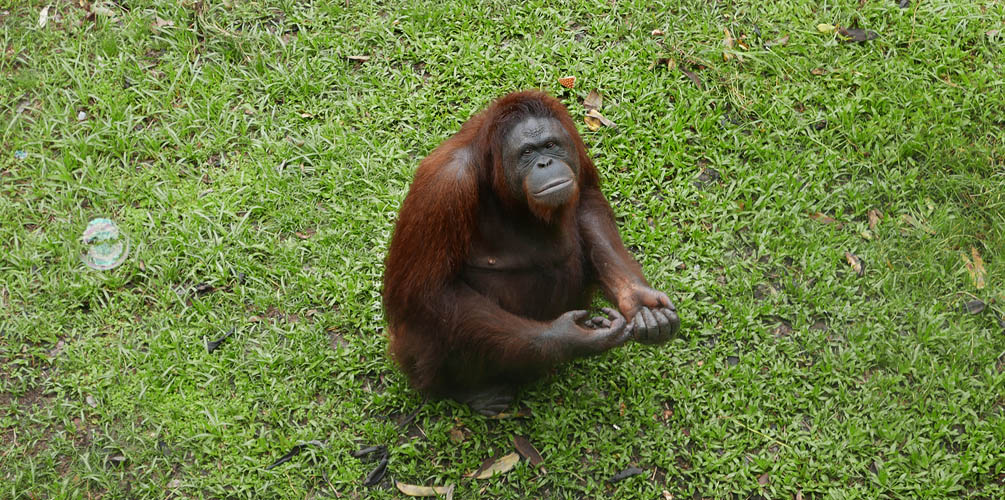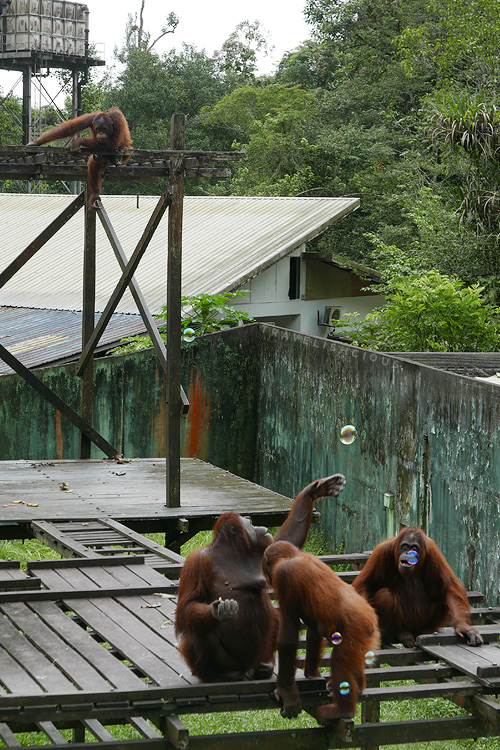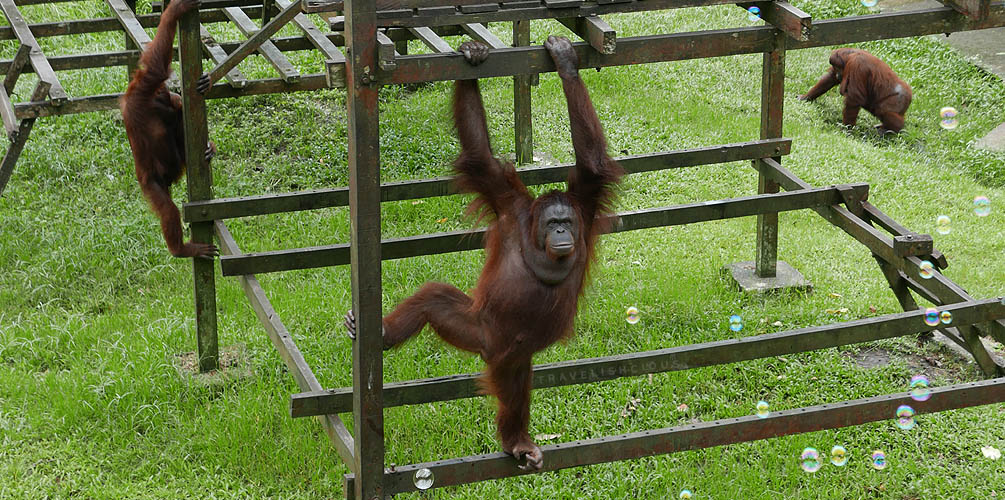 The next exibit was some sun bears. It was also open air and they had lots of foilage to run around in.
Then our hour was up, so we made our way back to the driver. We had seen everything though.
The driver dropped us off at our accommodation and we paid him in cash (MYR 36).
Swee Kang Ais Kacang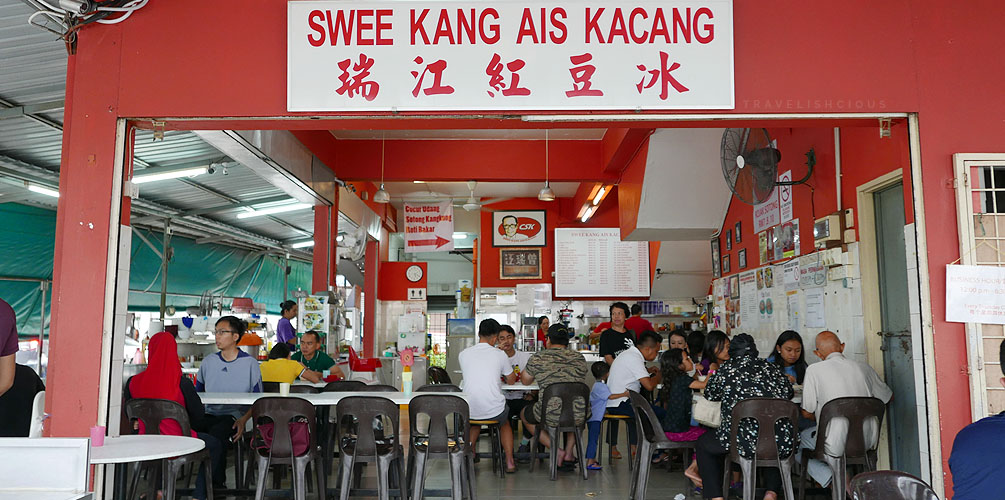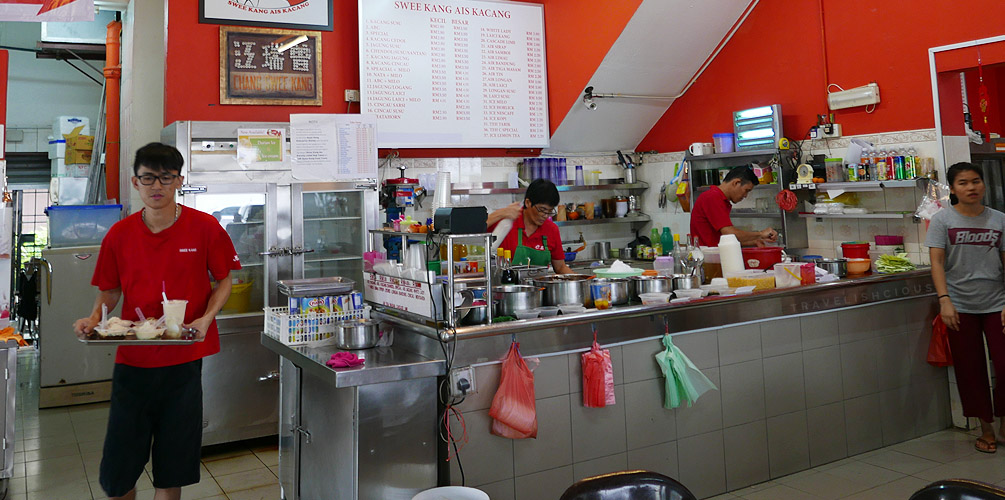 I picked up my laptop and we went out for dessert at an old school Malaysian place, Swee Kang Ais Kacang. It's been around since the 50s, serving up a classic Malay dessert, Ais Kacang (bean ice). This was originally, like its name suggests, just a dessert of red bean and shaved ice. Today, Ais Kacang comes in lots of different varieties, with lots of different toppings, dressings and fruit.
We found a table and sat down, trying to decipher the menu, which was a long list of stuff I had no clue about. Half the items were written in Malay. A waitress showed up not long after to take our order. A knew less than I did, and I told him I knew of 2 things we could try, 2 things that were pretty popular. So we ordered them.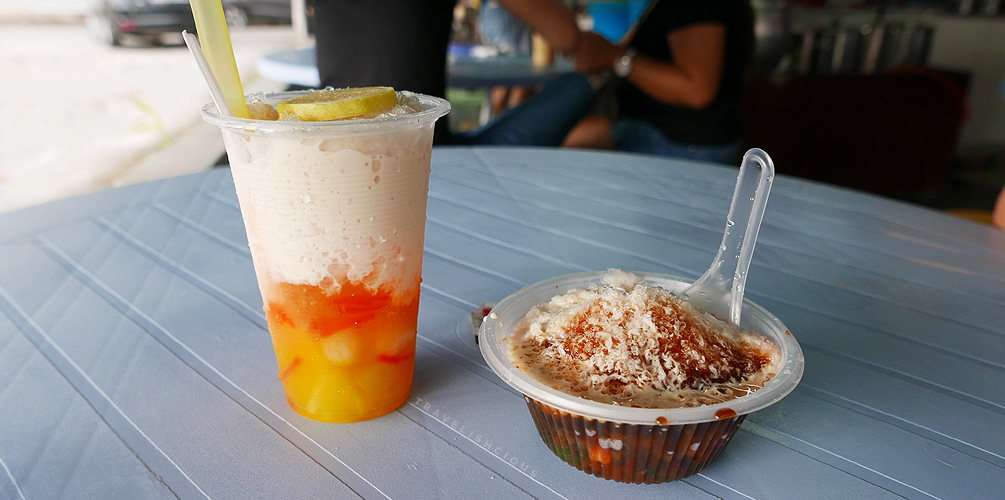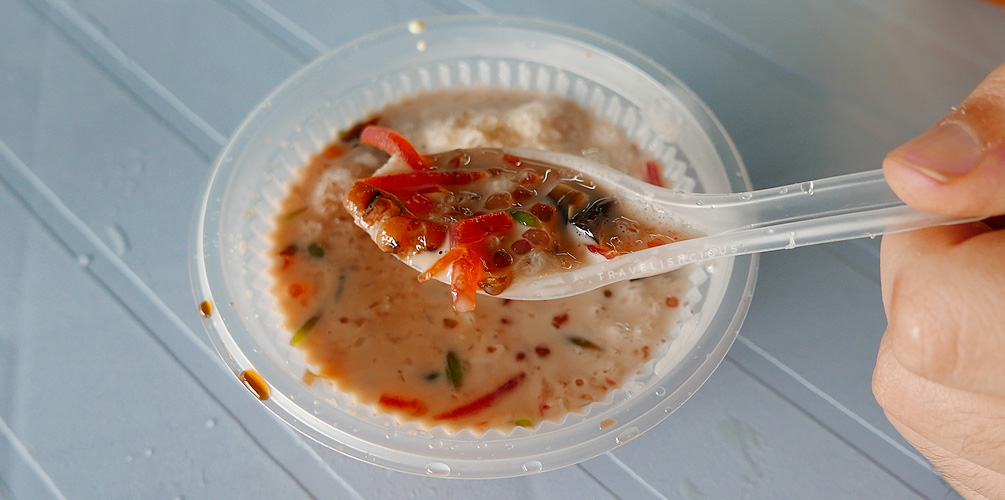 ABC (Air Batu Campur - in English: mixed ice) - this came with all sorts of hidden goodies. It, of course had red bean along with a whole bunch of colourful jellies, all doused in evapourated milk, sugar and topped with shaved ice. It was quite good actually. To be honest, I've never had shaved ice before and it was good to see that the ice was grinded down so much that it wasn't substantial.
White Lady - I ordered a White Lady as I knew it was a popular item and again, it was a Kuching special. The bottom layer had syrup, fruit pieces (mango, pineapple, longan) and jellies. The next layer was evaporated milk which was also topped with shaved ice. White lady was also quite nice, albeit the fruits were too sweet (having being soaked in syrup).
Great refreshing desserts, 7/10 #ipinions
After dessert, we walked to Plaza Merdeka and sat in Maccas. I had some documenting to do on my laptop, so we did that. Besides, it was quite hot outside :/ A ordered a side of Curly Fries, which was ok… (I've had better).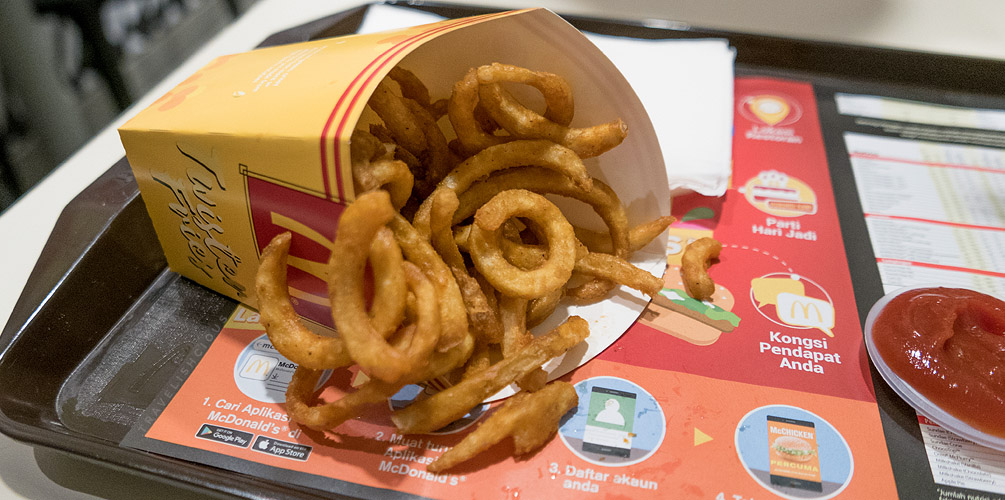 Borneo Delight
For dinner we went to Boreno Delight, which wasn't far from our accommodation. It was a simple, casual restaurant.
A ordered a curry assam chicken rice while I order a black pepper noodle. Again, we order drinks - a teh tarik and a calamansi juice, which was described to me as a fruit that is a little sour. It wasn't that bad (I usually hate sour things) but it wasn't sweet at all.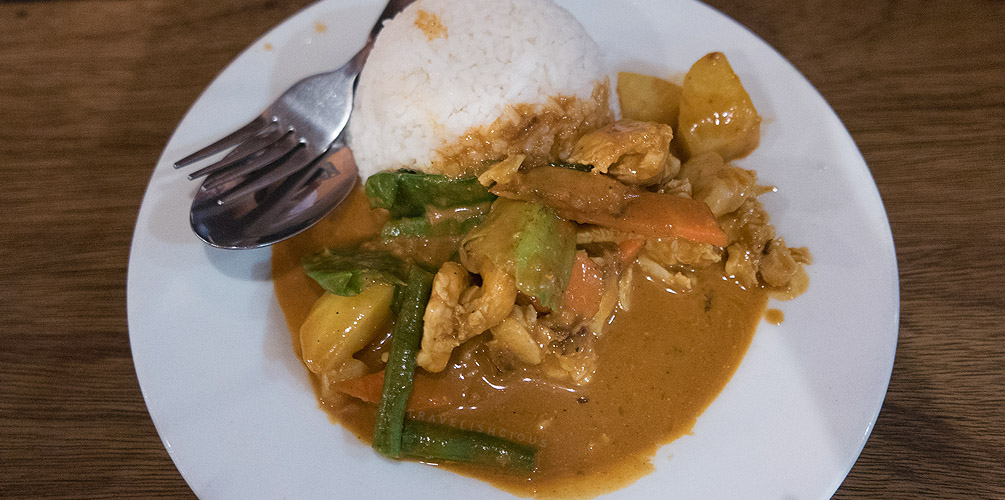 The curry assam chicken wasn't bad, it was quite spicy. Nothing too unfamiliar.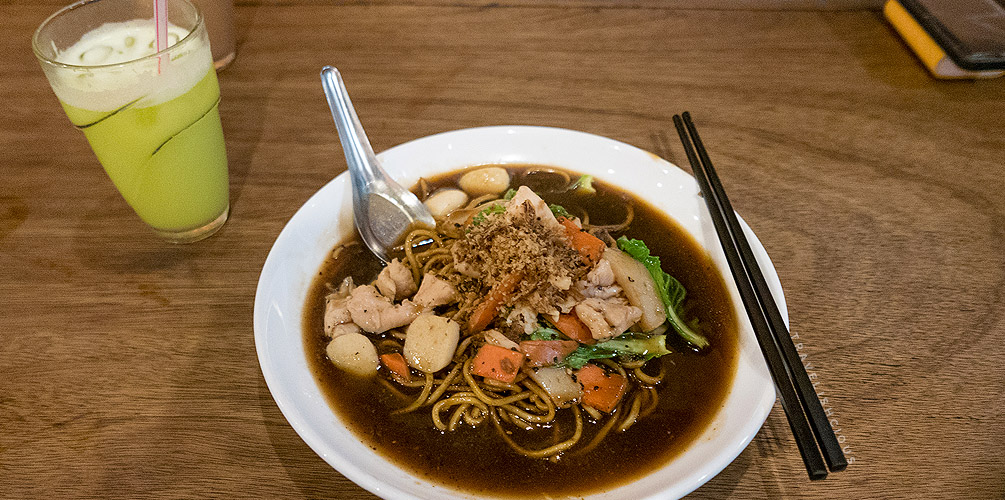 The black pepper noodle was quite good, it was quite a large serving. The noodles were sitting on a pool of slightly thick pepper sauce, which was very peppery. There were lots of vegetables which was great.
7/10 #ipinions