Day 6 of Italy-Croatia 2018 trip / Day 3 in Croatia

Split as seen from Matejuška port
We had a pretty good 24 hours in Bosnia and Herzegovina but it was time to move on. It was a decent side trip and I'd love to see more of Bosnia another time.
At 6 AM, an older woman knocked on our door, waking us up. We were given some tea and cordial and eggs for breakfast. The reason for this early morning wake up was because had a bus to catch, which would take us back to Croatia to Split. The breakfast wasn't much but at least it was hot as it was quite cold.
Alissa had promised we would get a ride back to the bus station. There were two other guests of hers that also needed a ride anyway, and they were taking the same bus as us, so that was great. The two people were English and we chatted with them for a while. They were really fascinated about Australia and we talked about Brexit.
The bus ride to Split was scheduled to take 3 hours and 50 minutes. Halfway through we had to switch busses. The bus was not full at all. We were held up at the border for only 15 minutes and got our passports stamped by Croatian immigration but not by the Bosnians :( In the end our bus was 30 minutes late.
At Split, we dragged our luggage to our accommodation, which was actually someone's unit. It was a bit far away from the centre of Split on foot but not too bad. Accommodation was pricey in Split so of course we couldn't stay in the middle of town. Our host was a man called Branko and clearly he had renovated his place to fit 2 rooms with ensuites. It was clean and tidy though, so no real complaints.
Popaj
For lunch we went to a "fast food" place nearby called Popaj (pronounced as 'popeye') which was near our accommodation. They sold all sorts of things, like pizza, sandwiches, wraps and grilled meats. I had a chicken wrap (HRK 25 = AUD 5.40) which seemed rather healthy but was full of mayo. It tasted quite fresh, however. A had cevapi (HRK 28 = AUD 6.08) - there were 7 which was plated inside pita bread with onions. We also tried a Schweppes Tangerine which was quite nice.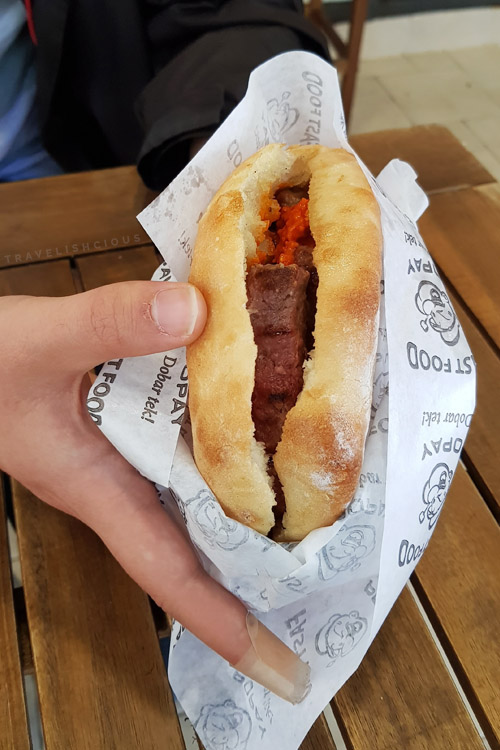 Old Town
Long ago, in the 4th Century, the Roman Emperor Diocletian had a palace and fort built at what is known today as the city of Split. It was MASSIVE and intended to be his home during retirement. He abdicated after a 20 year long reign and moved down to his new palace in Split. He didn't get to live there long as he died a few years later.
The palace continued to be used by later Emperors but it was until the 7th Century when it was basically repurposed when the nearby town of Salona fell and its inhabitants fled to Split. They took refuge at the palace and started living in its numerous buildings. Diocletian's mausoleum became a cathedral, for instance. But ultimately, the main outer walls and the central peristyle remains standing today in its original condition thereby laying claim as today's most intact Roman palace.
So Split's Old Town (basically housed in Diocletian's palace) was not as big as Dubrovnik's and not nearly as charming. It too was a coastal town but Split had a huge ugly port, which was filled to the brim with cruise ships. I was not as impressed with Riva, the waterfront promenade that faced the bay, and ran alongside the palace's outer south wall. It was full of overpriced restaurants and bars and was not very original.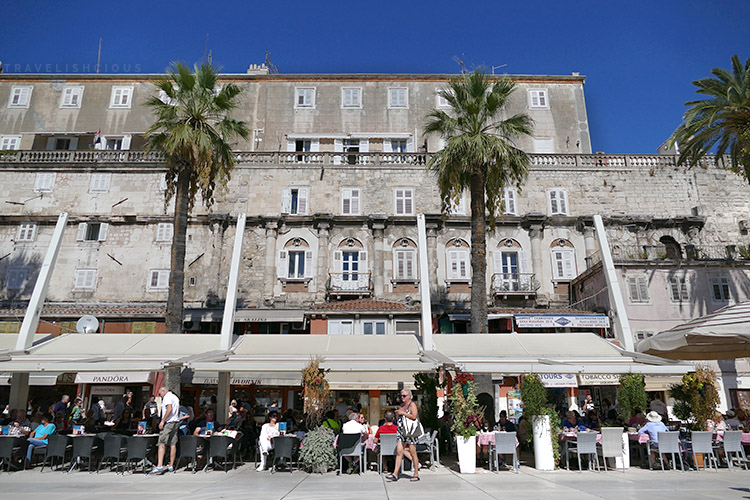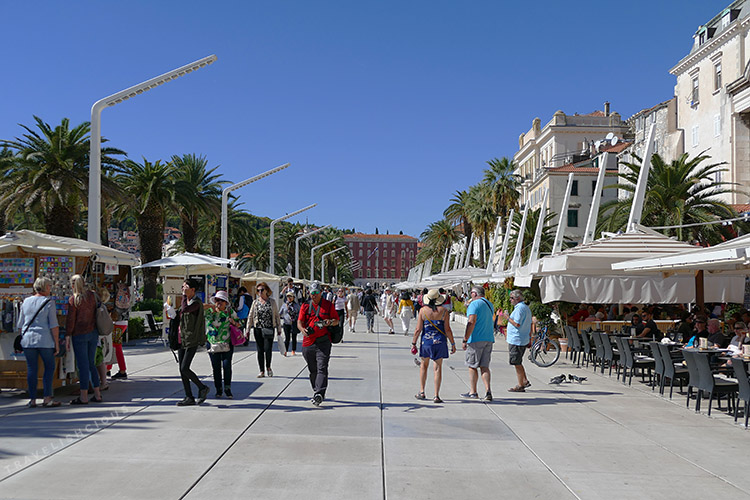 We turned right to wander into Old Town. Easily found out way to People's square, which was very similar to Dubrovnik Old Town with its limestone walls and smooth floors.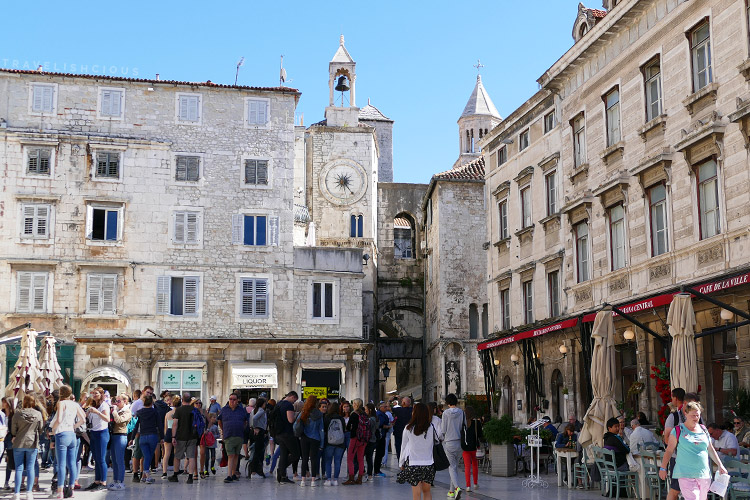 The whole area was a little touristy. There were lots of cafes and stores, the latter of which were mostly retail (but strangely there was a good mix of stores, it wasn't just souvenir stores). However, we did encounter the strangest looking store ever: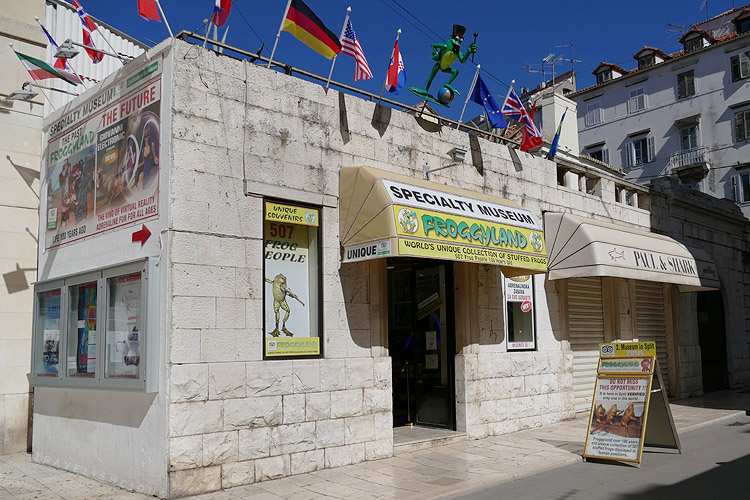 But no, we did not go inside. We eventually ended up in front of the National theatre and decided to to turn around to get to the biggest attraction in town - the peristyle of the Diocletian's Palace. It was CROWDED.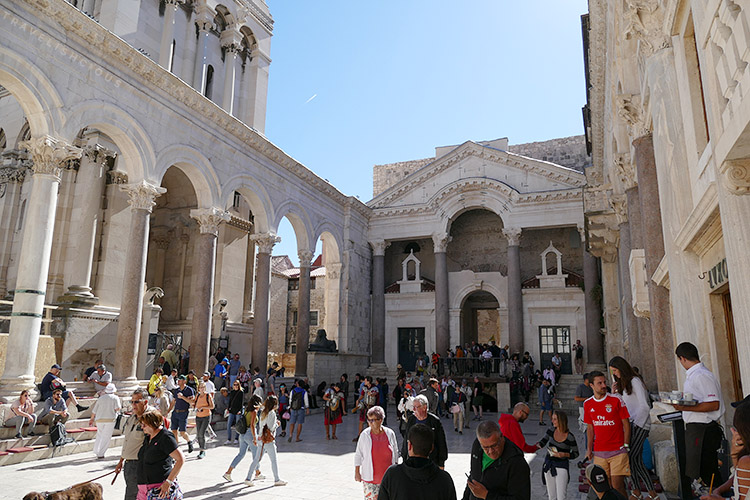 Thankfully, this part was still free but there were parts that were not, like the Campanile (Split Bell Tower), the Saint Domnius Cathedral Treasury and Jupiter Temple. I forgot the prices for this but we felt it was too pricey. Usually I like climbing bell towers but upon doing a little research, I found the view was not that great and besides, I had planned to get a good view of Split elsewhere.
We walked around the Saint Domnius Cathedral and then found ourselves in the basement, which looked oddly familiar. Ah, of course, Game of Thrones was filmed here. Specifically it was where Daenerys locked up her dragons in Meereen. But instead of an empty dungeon, we found the basement full of stalls, all selling stuff for tourists.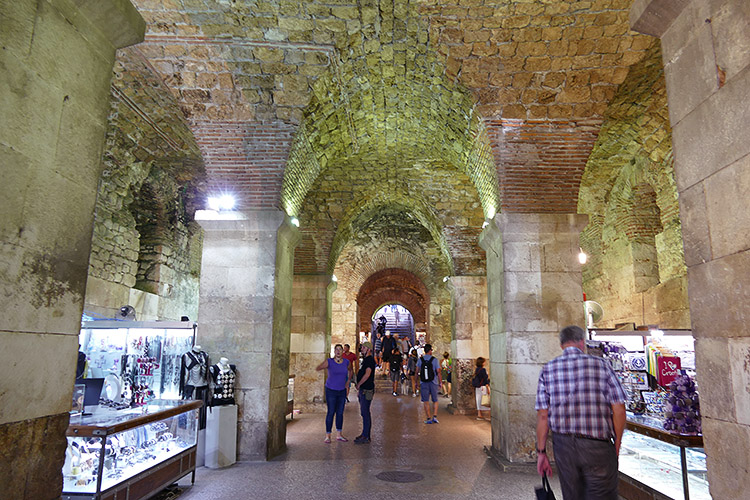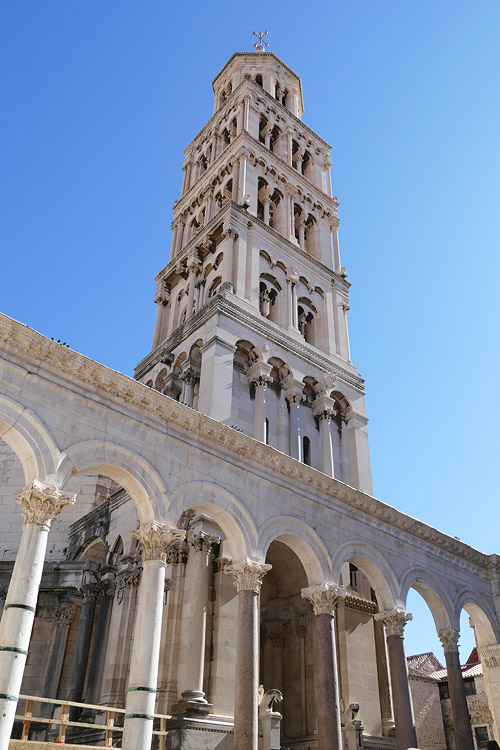 It was a pretty hot day, so we decided to go to Slastičarnica Hajduk to get some ice cream. Getting there took us back to the foreshore and we saw some nice architecture along the way.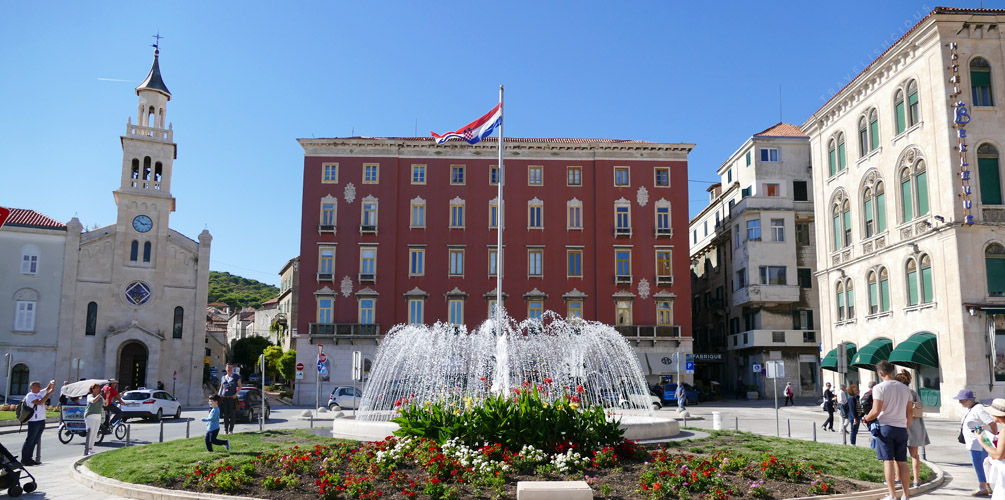 At the ice cream shop, unforunately the guy behind the counter would not allow us to try any! Pretty ridiculous, to be honest but we did buy two scoops in the end. It didn't taste all that great so let's leave it at that.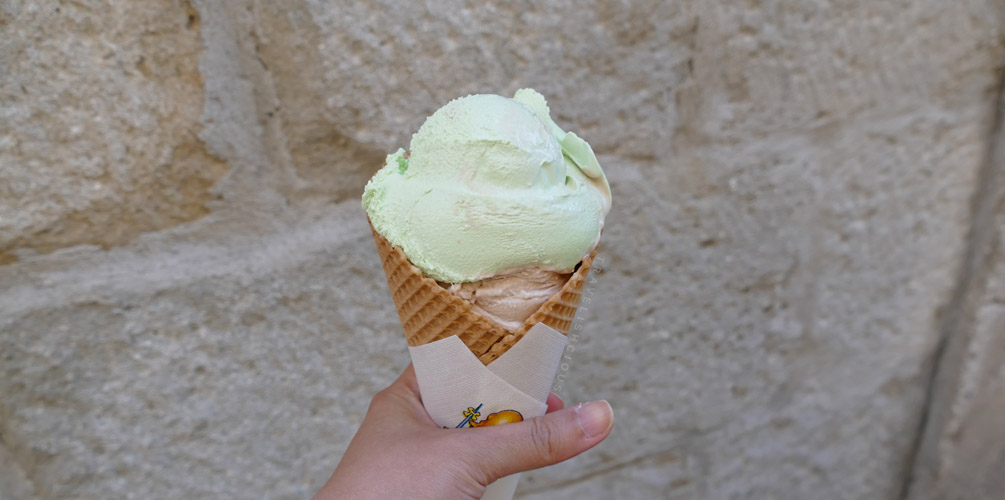 Marjan Hill
We headed back to the foreshore with the aim of walk to Marjan Hill. On the way I spotted a little pier in Matejuška port, so we walked there to take some photos of Split.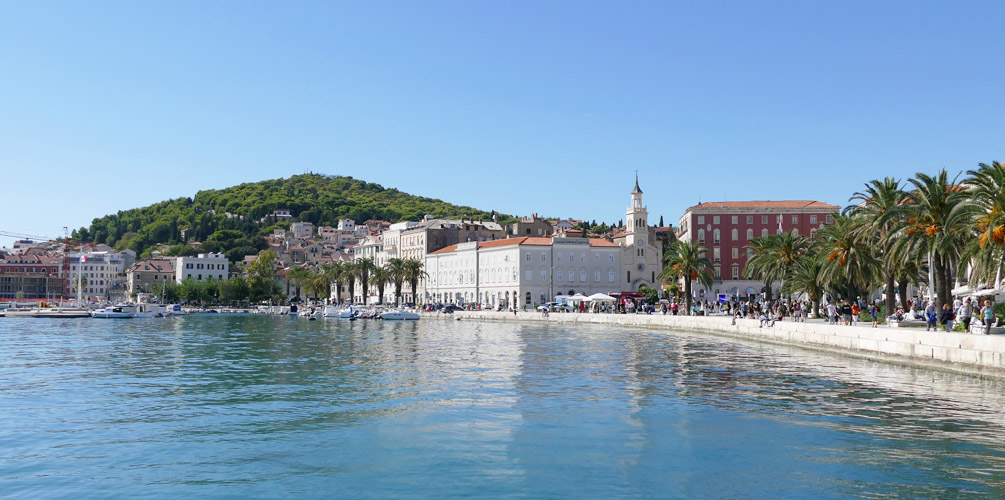 The walk up to Marjan Hill wasn't too tough. The pronblem was mostly the heat, but otherwise it was pretty standard, just stairs going up. The view from the viewpoint was pretty great, blue skies, clear day with excellent visibility. You could see the mountains in the distance!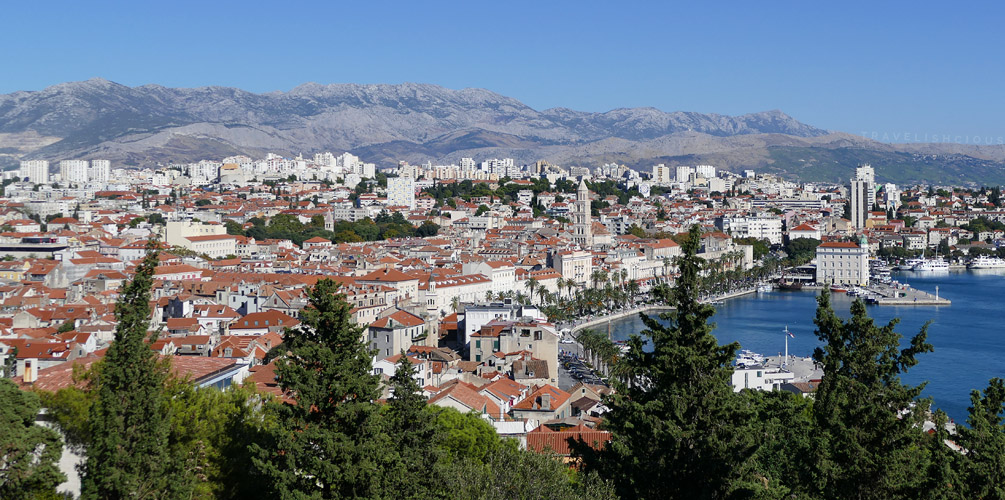 The viewpoint was just the first part. We kept walking up Marjan Hill, and ended up following the road up to the top, which was actually the long way up. We probably shouldn't have spent so much time up there as there wasn't a whole lot to see.
So then we decided to do some errands and bought ferry tickets to Korčula for the next day. We went back to our accommodation to grab clothes for the laundromat, which was actually a girl sitting at a stall with 3 washing machines and 3 driers. She loaded our stuff in, I paid her 50 kuna, and told she told us to to collect it in 1.5 hours.
To pass the time, I bought a postcard from a nearby "market" which sold mostly souvenirs and then we went to something called a caffebar (called Senna), which is like a cafe and a bar combined in one except it was more like a bar (complete with pool tables) and there was no food. A ordered some apertivo which smelt of licorice. I ordered a Prosek which was quite strong and good!
Konoba Otprilike Ovako
For dinner we splurged and went to a niceish establishment. The chef was also a fisherman, who of course, cooked what he caught. His daughter ran front of house, so it was a family business.
The Octopus salad (HRK 95 = AUD 20.65) was refreshing and tasted quite good. I would've liked more cherry tomatoes though.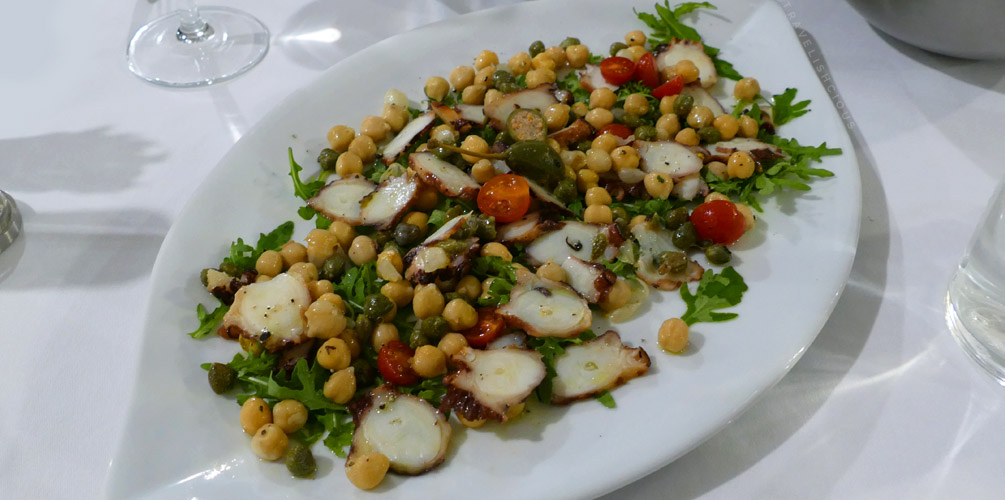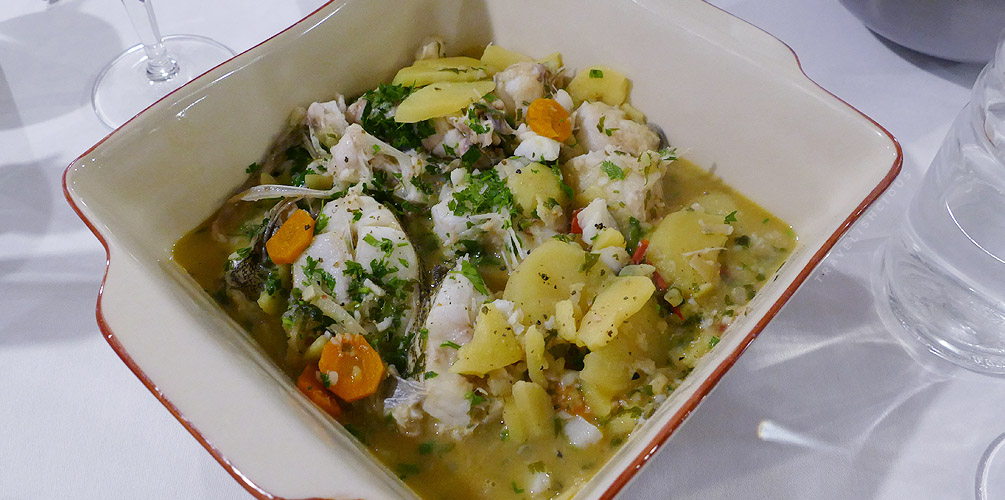 The Gregada (HRK 331.20 = AUD 72), was described in the menu as "[A] Dalmatian traditional dish prepared with poatoes, onion, garlic, parsley, white wine, olive oil and fish stock. Bake in the overn with the butter, olive oil and fish stock (sic)". I found it was more brothy than stewy; it was sooo light and delicate but still full of flavour. The fish they used was sea bass, which wasn't fishy and was so tender. 9/10 #ipinions
Overall, our meal was a little pricey but I enjoyed it. Unfortunately there was a cover charge of 15 kuna on top as well!!! The rest of the menu was similarly priced, but the Gregada was the signature dish so we felt compelled to try it.