Day 8 of Italy-Croatia 2018 trip / Day 5 in Croatia

Hvar Town
Hvar wasn't originally part of the plan but it was an island A wanted to visit (but Korčula had won out). Because we had nothing else we wanted to do in Korčula, we decided to leave Korčula early and visit Hvar before staying overnight back in Split.
For breakfast, we headed to Cukarin, a pastry shop. It was a bit of an inappropriate breakfast but we had been unable to visit it the night before as Google Maps had the wrong opening hours. So we popped in before heading on the ferry. Cukarin had lots of glowing reviews on Google Maps, a lot of them saying that the lady who runs the shop gives out lots of samples. Unfortunately we were not given the same privileges but she did take the time to explain what she was selling. There were about eight pastries on offer.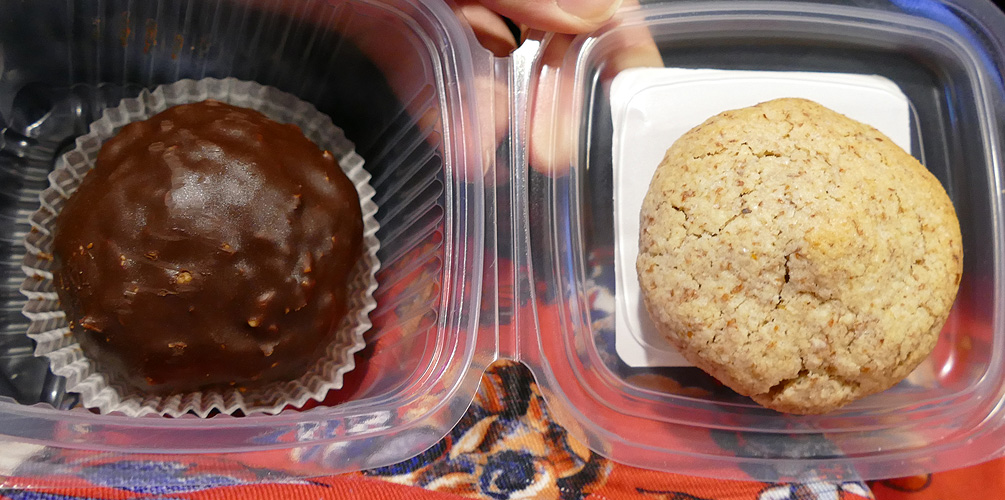 We chose a Marco Polo Bombica (a chocolate bomb) and the Amareta (Almond ball) (25 kuna total = AUD 5.34). Both were gluten free (not that gluten bothers us) and both were delicious! They were both quite sizable at 6 or 7cm diameter. The Chocolate Bomb is a ball of chocolate cream (or mousse? It kinda tasted a bit moussey), covered with chopped walnuts and then covered with a layer of chocolate. It was really good, but really bad for you!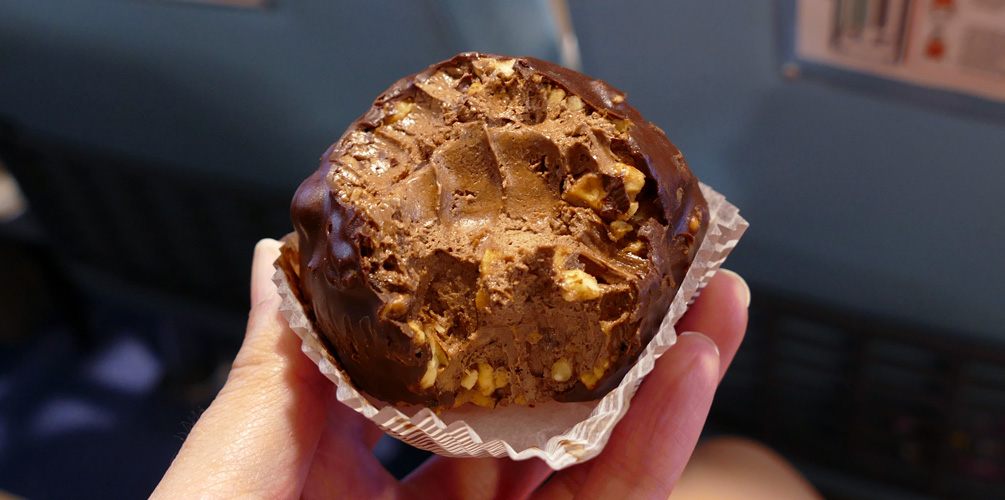 The Amareta was a ball of almonds but had a lemon and orange armona to it. I couldn't tell you what it was made of, if it wasn't gluten, then what was it? My eyes kept telling me it must be some type of biscuit but it wasn't. It also wasn't dry at all and was sweet and tasty.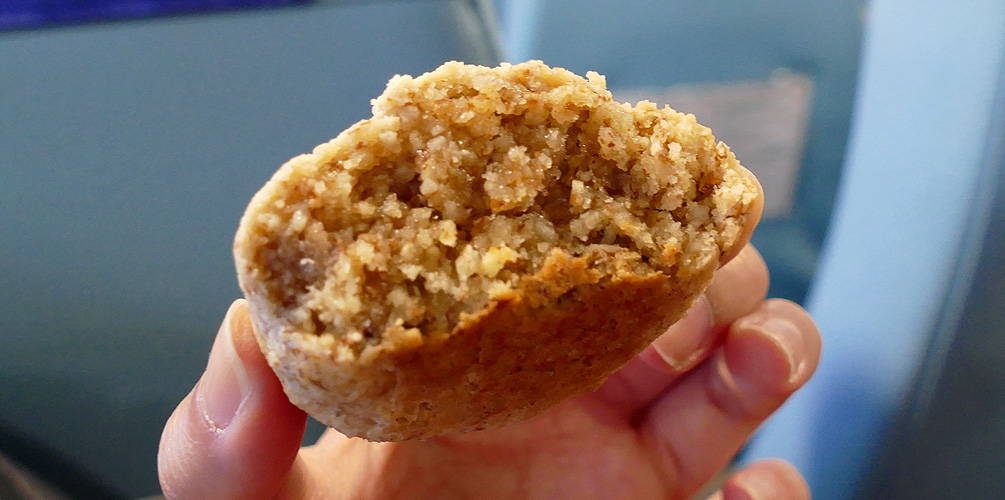 We ate these on the ferry ride to Hvar. Not much else happened during the ride over. It cost 240 kuna (AUD 52.27) for the both of us.
Hvar Town
There's two main ports on the island of Hvar - Hvar Town and Hvar Stari Grad (Old Town). Unfortunately, public transport is not great on Hvar Island and unfortunately we could not visit both towns or we would miss our ferry to Split. And there were less ferries departing from Stari Grad back to Split. This is unfortunate as the towns are not far apart and on the surface it seemed like we would be able to visit both. A total shame as Stari Grad is supposed to be one of the oldest towns in Europe. That said, Hvar Town has a lot of history as well. It too was part of the Venetian empire for 500 years (13th - 18th century) and the town served as a naval base.
Stepping off the ferry, it was immediately apparent that it was more popular for tourists than Korčula (and Hvar Stari Grad, for that matter). There were lots of tourists walking around. Lots of boats and expensive looking yachts in the port.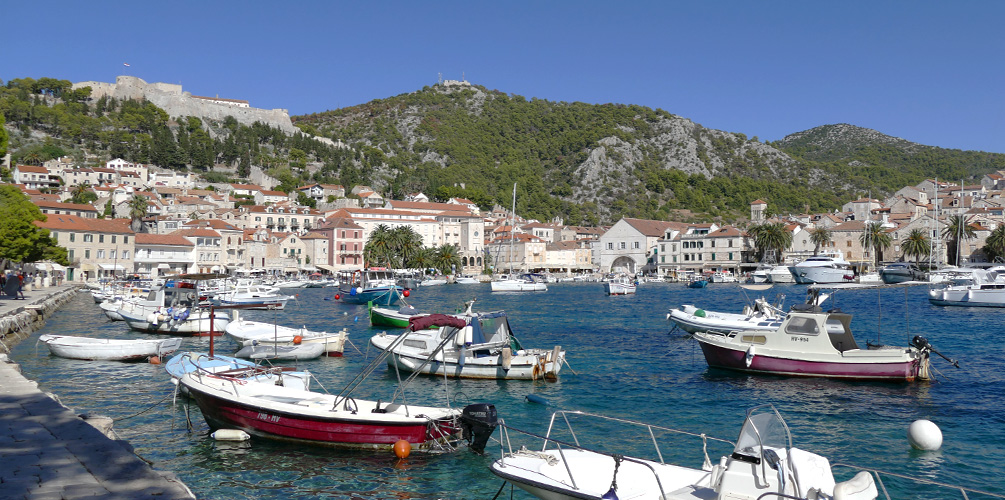 Our only real stop was the Hvar fortress, situated at the top of a hill, above the port. The fortress, circa 16th century was built by the Venetians.
Heading up there took very little time at all; we went up some stairs to gain some height, walking past numerous restaurants and hotels, and finally, a couple of easy switchbacks.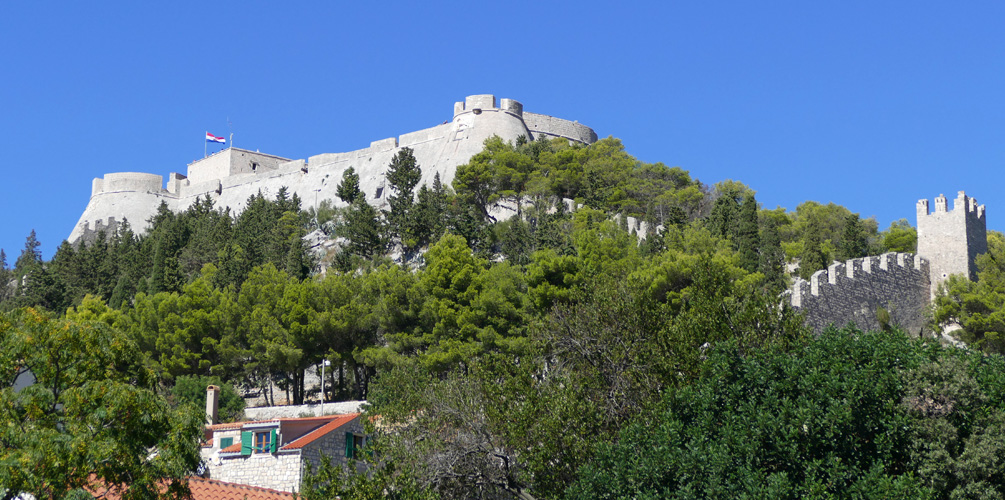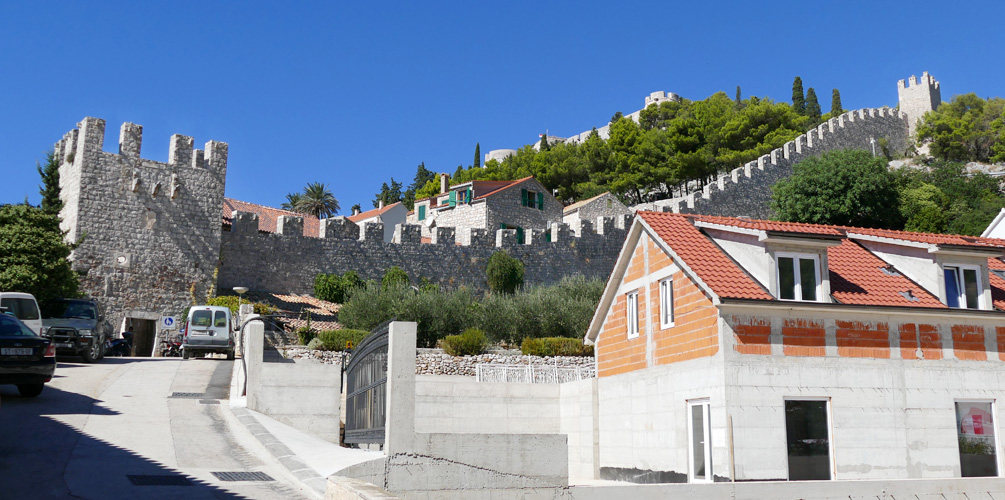 This was the view from above: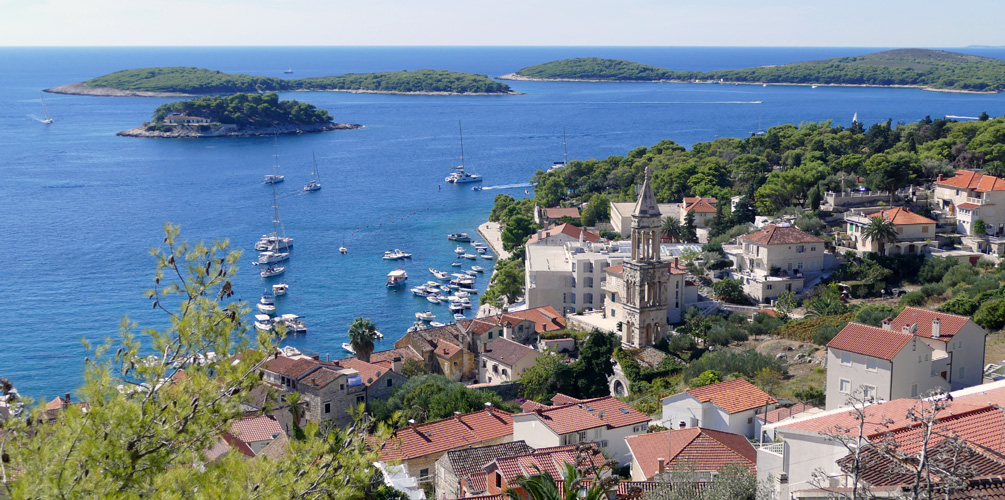 (Best viewed on desktop and in full screen mode)
Konoba Menego
For lunch we stopped at Konoba Menego, which we had passed on the way up to the fortress. We had spent some time wandering around looking at other restaurants' menus before deciding on Konoba Menego. Hvar town was a bit touristy after all.
I ordered the Pašticada with Gnocchi (HRK 120 = AUD 26). Usually Pašticada is made with beef but the waitress informed me that at this restaurant, it was made with tuna. I agreed to this (well, I had never tried Pašticada before anyway). Pašticada is a classic Croatian dish, kind of like a stew cooked in a sauce made of tomatoes and Prošek. I quite enjoyed my dish, although it was a bit smaller than I expected. The stew was rich and tasty, and the tuna came in big chunks, so it was kind of similar to beef.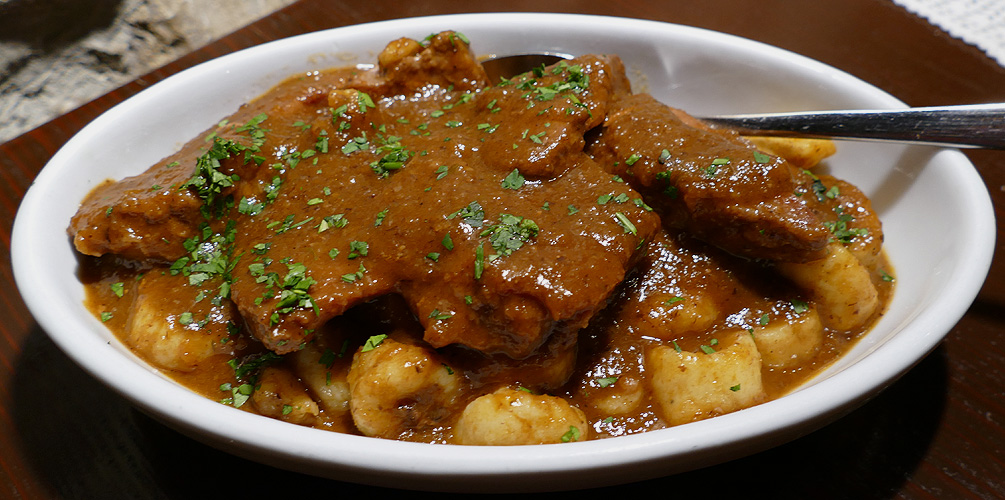 A picked a fish fillet (HRK 115 = AUD 25). He was disappointed to see a fish fillet and a handful of vegetables on a plate. But this was exactly what I expected would come out of the kitchen. A was disappointed that it was a pretty regular dish. But at least it wasn't overcooked or cooked badly!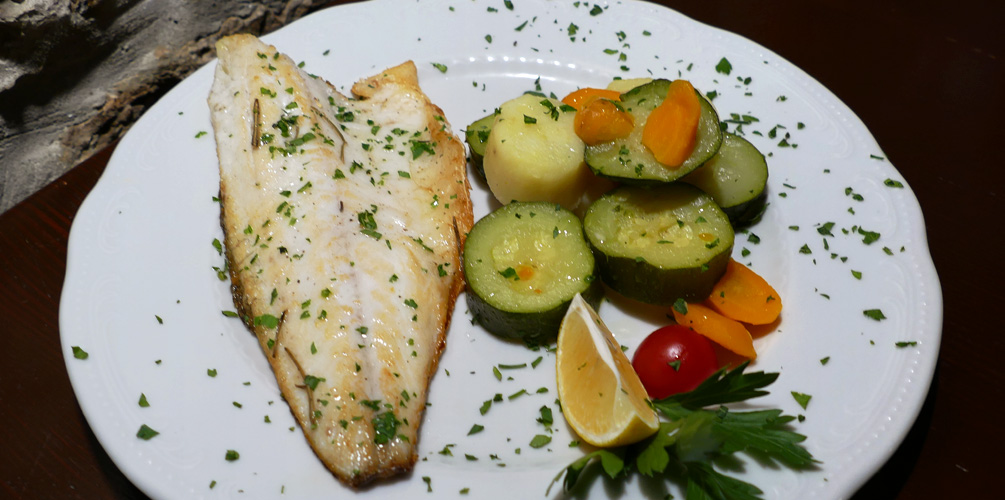 Hvar Foreshore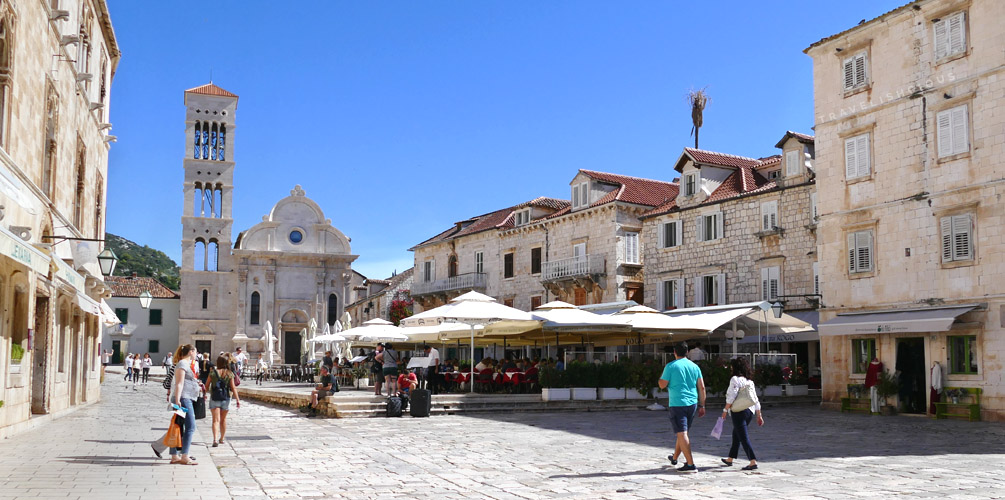 After lunch we walked along the foreshore, heading west towards the beaches. I was more interested in taking in the view than actually seeing what the beach here was like, as I knew it would be crap. I was able to take some great pics of Hvar port.
(Best viewed on desktop and in full screen mode)
Before heading to the ferry to take us back to Split, we stopped at Slastičarnica Hvar and bought a scoop of Lavendar ice cream (HRK 10 = AUD 2.17). It was true to its name in smell but taste wise there was not a whole lot going on, it was rather bland!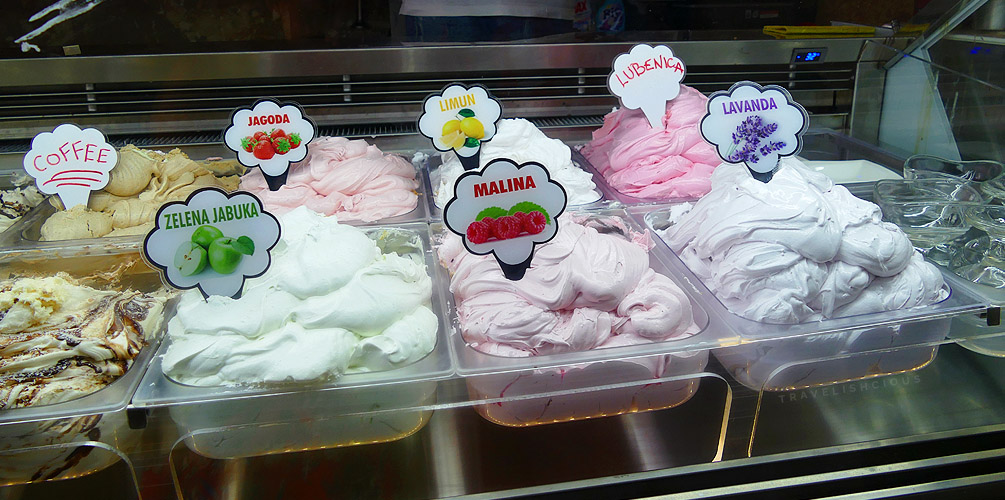 Back to Split
We boarded our ferry headed to Split. The ride back was pretty uneventful.
I had found a place that does cheap cocktails so off we went when we disembarked. Sanctuary bar does 35 kuna cocktails (AUD 7.60) and they had quite a list. We got a drink each - a Hurricane and a Margharita and both were done well. It was a nice way to relax :)
Đir Restaurant
For dinner we went to Đir Restaurant. My first impression was that it was a huge restaurant with some odd decor - canvas prints of famous pop culture figures on exposed brick, ununiform tablecloths and chairs! But looking past all that, the experience was very good. Our server had personality and was making jokes with us.
A ordered a Punjena pljeskavica (stuffed pljeskavica) i.e. grilled spiced meat patty stuffed with feta (HRK 65 = AUD 14.13). It came with a side of "blitva na dalmatinski", which was just chard and potatoes. We expected cheese to ooze out but silly us, feta doesn't ooze. It was rather delicious - meat and cheese, what more could you want? The chard and potatoes werent' bad and there was a lot of it to fill us up.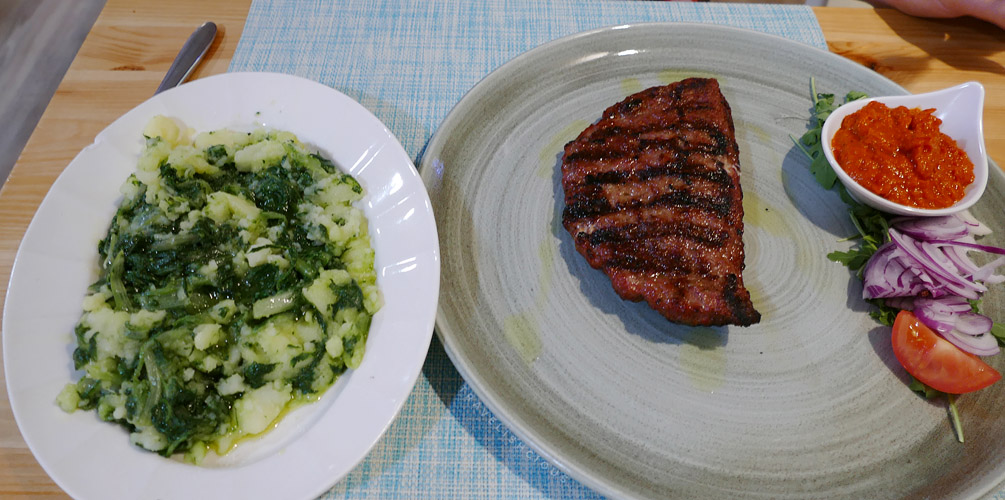 I ordered a ravioli filled with fish stew in a prawn and prosecco sauce (HRK 85 = AUD 18.47). It came with an unexpected mountain of rocket, which I hate! So A got to eat it all). The ravioli was pretty tasty, the fish stew was rich. Unfortunately I've had better tasting prawns. The sauce was nice though so that helped. 7/10