Day 1 of Italy-Croatia 2018 trip

St Peters Basilica as seen from Castel Sant'Angelo
We landed at 7:35 am at Rome (Fiumicino airport) and tried to get to the sights on our to do list as quickly as possible. Go go go, get through immigration, get luggage, get into town and leave our luggage with our accommodation, easy peasy.
But of course it took longer than expected. We also had to take the slow train in as we were staying in Trastevere, a neighbourhood in Rome. I always find suburban trains to be so odd in Europe, they're always double decker but they're these huge, heavy things which no doubt take longer to slow down. The seating is always so awkward as well. I feel like even though the trains back home are double decker, they feel a bit more compact and better organised and have less stairs. And a conductor checked our tickets, which is such a European thing.
Upon booking our accommodation, we were told to collect our keys at a different building to the one quoted. We went there and rang the buzzer but no one responded. Luckily, the door man knew what was up and had someone on the phone talk to me. We were to come back in the afternoon to collect the keys.
Vatican City
On my last trip to Italy, I had of course visited the Vatican. I didn't mind going back there but we hadn't exactly decided what we were going to do. I'd already been to St Peter's and Sistine Chapel and had little interest in re-visiting both. St Peter's impressed and disgusted me at the same time when I visited it last. It's HUGE and crazy opulent for a place of worship.
I'd only visit the former if there was no line, which I was only a little hopeful about (It was already late morning). I also sort of wanted to climb up the dome of St Peter's, but it was a little pricey. It would all depend on what the queue looked like.
We went back to Trastevere train station and took the train to Roma San Pietro station. The station and the area around it was a bit grubby looking, but it was obvious where we needed to go. Everyone was headed in the same direction, not to mention you could already see the dome of St Peter's Basilica.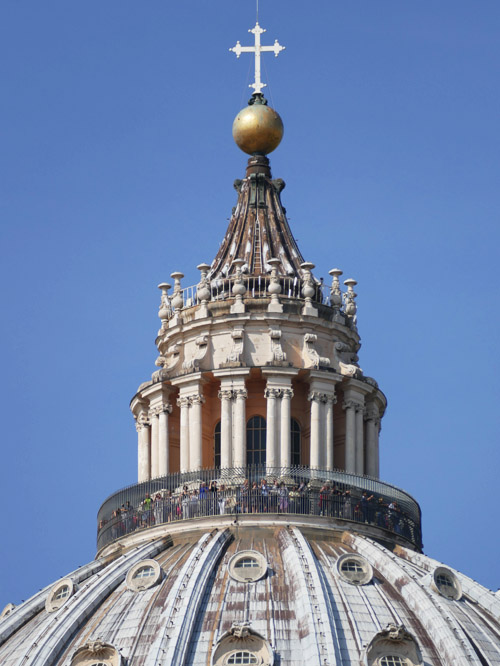 The queue for St Peter's was insanely long. Possibly the second longest queue I'd ever seen in my life, the first being the queue up to Cristo Redentor in Rio de Janerio back in 2013. You can see in the panorama that the queue goes all the way around the square. A immediately noped at the queue so we ended up walking around a little and taking photos instead. I couldn't believe this! When I was here back in 2011, there was. no. queue. What the hell has happened?! Literally, my friend and I walked right up the steps leading to St Peter's and walked right in. And that was in July, the height of summer. It looked like you couldn't even do that anymore. It looked like the queue led took people through the colonnade to the side of the Basilica, where you'd get your belongings scanned. It was insanity; it would take hours to get through the line, and no way I was lining up for a Basilica.
(Best viewed on desktop and in full screen mode)
A was still curious about the Sistine Chapel, so we walked to the entrance to see how bad the queue was. I told him it would be a waste of time but we went anyway, just to appease his curiosity. Of course I was right :P the line was also impossible, but not only that, there were lots of people trying to sell us tickets to jump the queue. Lots of people saying "I work for Sistine Chapel, no need for you to wait if you buy ticket from me". Uhhh no thanks. Last time I did actually buy a "jump the queue" ticket and it was obscenely expensive, but I bought it at the tourist info kiosk, not from a rando on the street.
Castel Sant'Angelo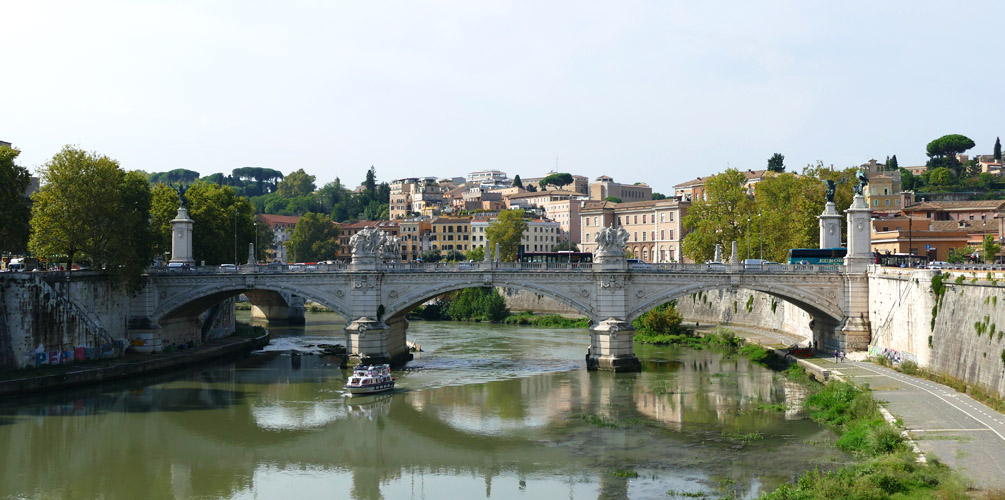 We headed east, walking down Via della Conciliazione. I turned around at one point and St Peter's still looked quite grand from a distance away. We were headed to Castel Sant'Angelo, one of my favourite buildings in Rome. It was interesting architecturally, and looked great if you were approaching it from the River Tiber, as you would see the castle with its bridge in front of it, which was flanked by Angels. I also enjoyed its appearance in Assassin's Creed: Brotherhood :D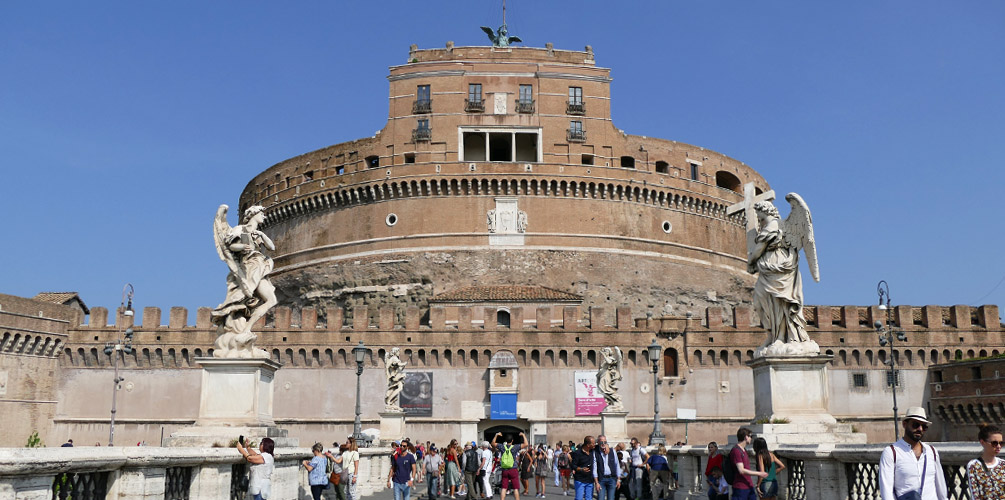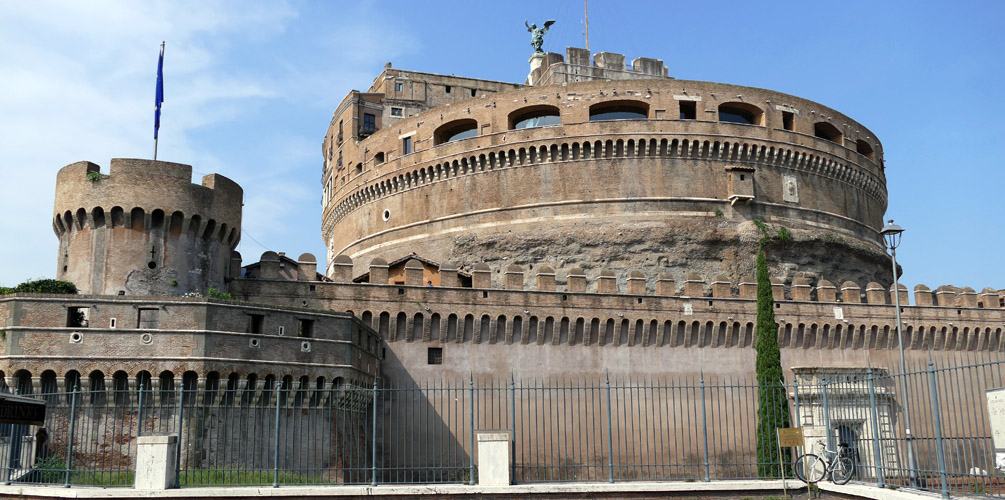 I too had visited this back in 2011, so I didn't really want to visit again, mostly because of its rather expensive entry price of € 14. Looking back, we may as well have. But I didn't want to go and A wouldn't go without me. So we walked around it a little and then walked over Ponte (bridge) Sant'Angelo.
We kept walking to our next stop. It was quite a warm day, yes, even in late September. We came across Piazza Navona, which was a beautiful square but oh my god, it was FULL of people. It was packed. I was so shocked to see this. I swear it was not like this, back in July 2011…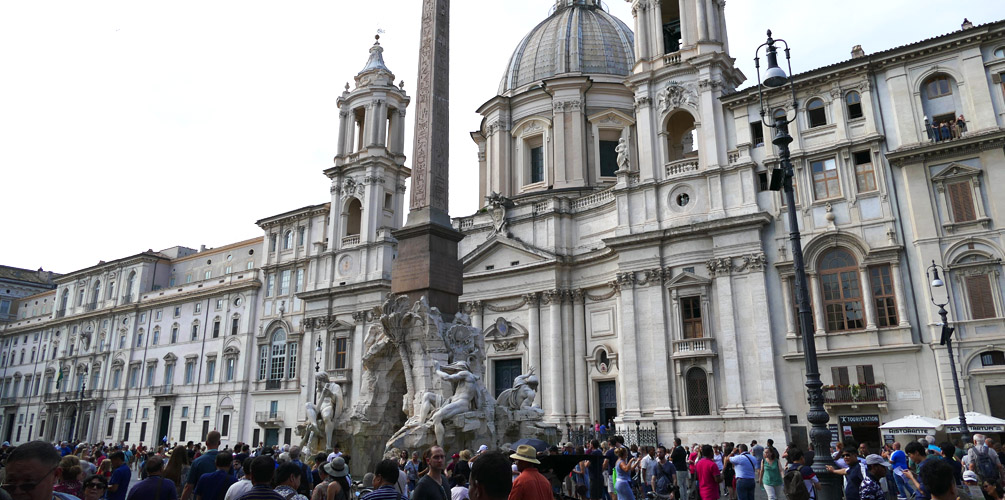 Pantheon
Our destination was the Pantheon. I had also picked out a place near it for lunch as well (yes, I can hear the siren bells ringing in your head, never ever eat near a tourist destination, but no this one was supposed to be legit).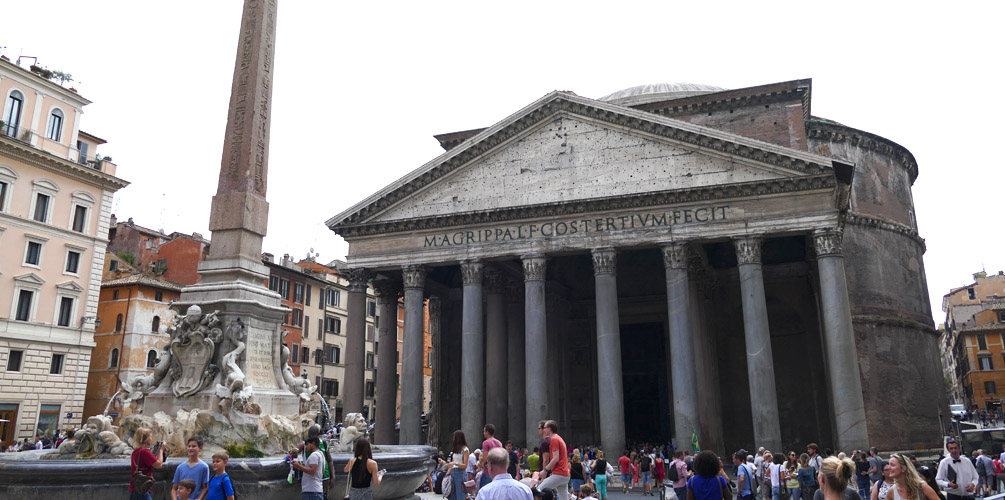 There were bouncers outside the Pantheon, who were tasked with staggering the flow of people going inside. I guess it would be too crowded if they allowed a constant stream of people in. Again, this did not happen in 2011 :( Fortunately, we only had to wait 5 minutes before we were allowed in.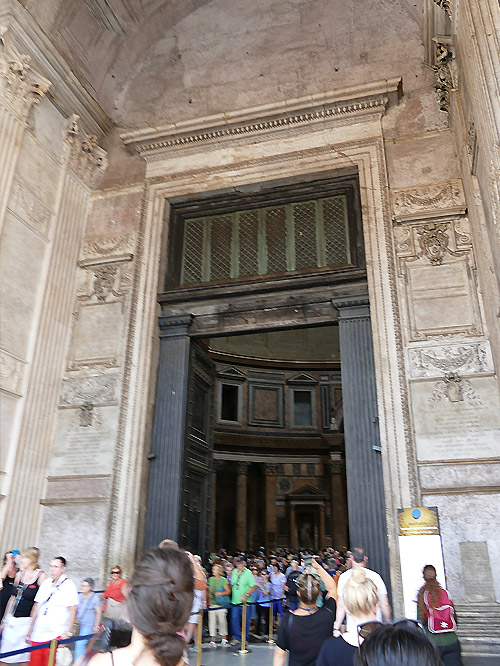 The Pantheon is such an impressive building, it's one of the best preserved from Ancient Rome, meaning it's been standing for almost 2000 years. One of the most interesting things about it is its round skylight (not official terminology! My words!). It was originally a Roman Temple, and a unique one at that as had a large circular chamber, which was not common at the time. It is a bit annoying how it was given away a few centuries later to a Pope, who converted into a church. But apparently if they hadn't done that, and didn't keep utilising it through the centuries then it would have been left to rot. So maybe it was a good thing after all.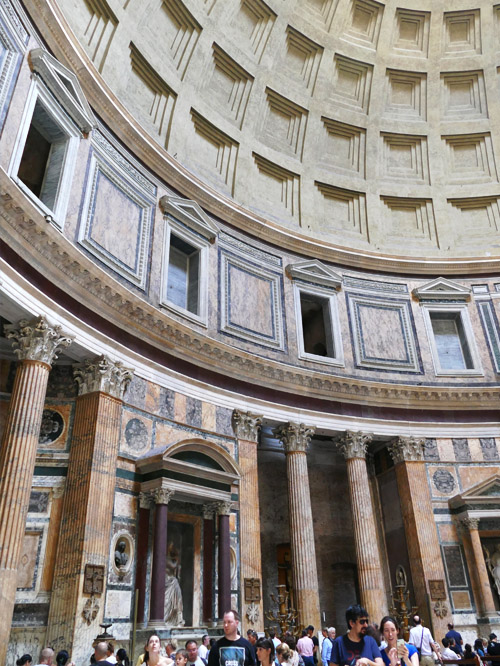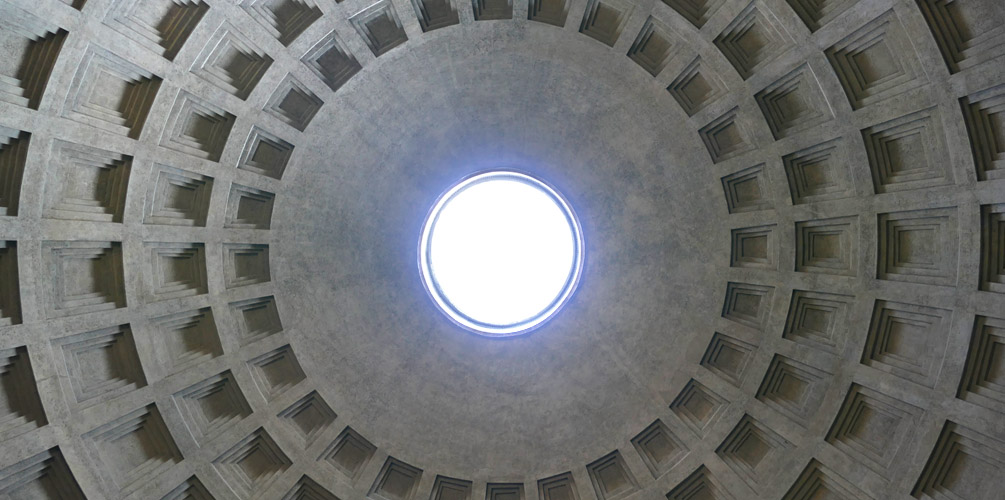 Armando al Pantheon
Like I mentioned above, I make a point not to eat near tourist attractions. But I had done my research, and it said this place was solid and visited by locals. It opened at 12:30 PM, so at 12:25 PM, we walked over. There was already a group of people hovering around the entrance waiting for it to open. It didn't open until 12:45 PM, which made me rather fidgety as I was hungry. We were lucky enough to get the last walk in table. Everyone else after us were politely turned away.
When in Rome, you eat Roman food. Carbonara is as Roman as you can get, so that was my pick. A picked Rigatoni con la pajata, which had baby cow intestine in it. We also spontaneously decided to order one of their specials for an entree. This would be A's first meal in Italy. I explained how there was a coperto charge (4 euro here for the both of us), how water wasn't free (2.50 euro), how Europeans enjoyed frizzante acqua (sparkling), how you only get one bread basket and how service can be very slow (or relaxed, if you want to be positive about it).
The entree, a fish special (10 euros), was quite tasty. The dish was baked and had layers of sardines, veg and tomato sauce. It was good but small for the price.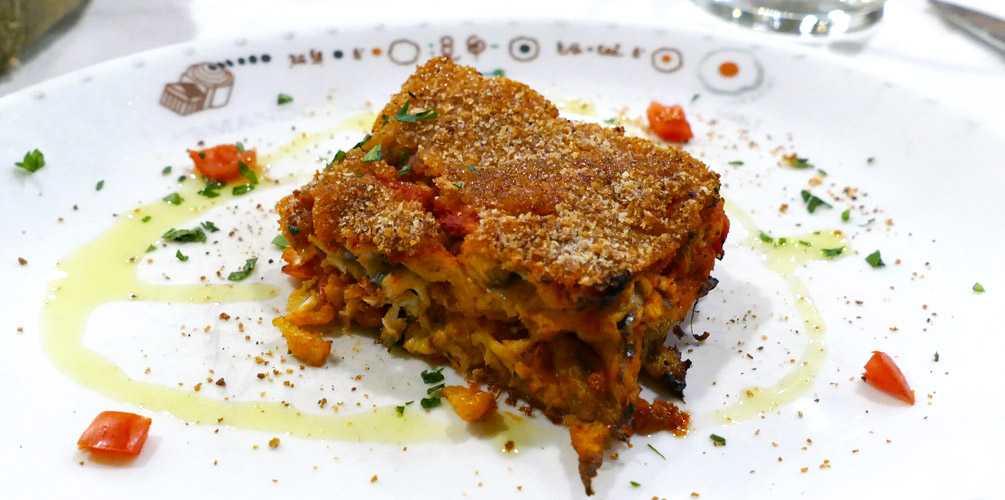 My Carbonara (13 euros) started off good but I forgot that it had semi cooked egg in it and failed to keep stirring it at the table to prevent it from cooking further, which is happened. I ended up with bits of scrambled egg throughout my pasta, which was NOT a nice experience :( However, eating this was allowed me to taste guanicle (Italian smoked pork cheek) for the first time. Carbonara is supposed to be made with guanicle, not bacon, which is what I use when I cook Carbonara because I cannot be bothered to seek out guanicle. Besides, it would probably be expensive.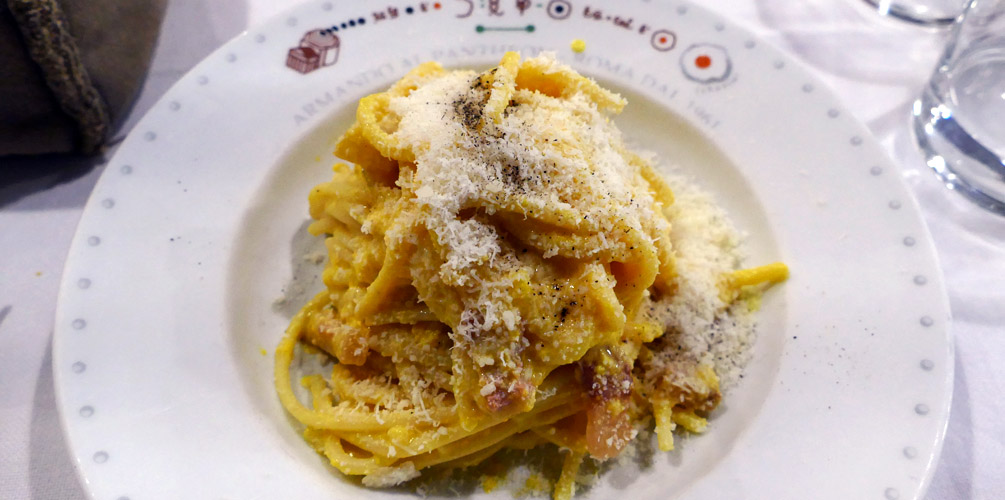 The Rigatoni con la pajata (14 euros) was… super funky. It is a very traditional dish, which is why A picked it. It wasn't anything you'd see on the menus of Italian restaurants in Sydney or even Melbourne. He thought it started off ok, where the offal seemed subtle enough to give the dish a little something extra but as he ate more and more of it, whole bits of intestine showed up. Eating it was kind of unpleasant, as he wasn't used to it I suppose. I have to say, it was very very pungent and not like anything I'd tasted before.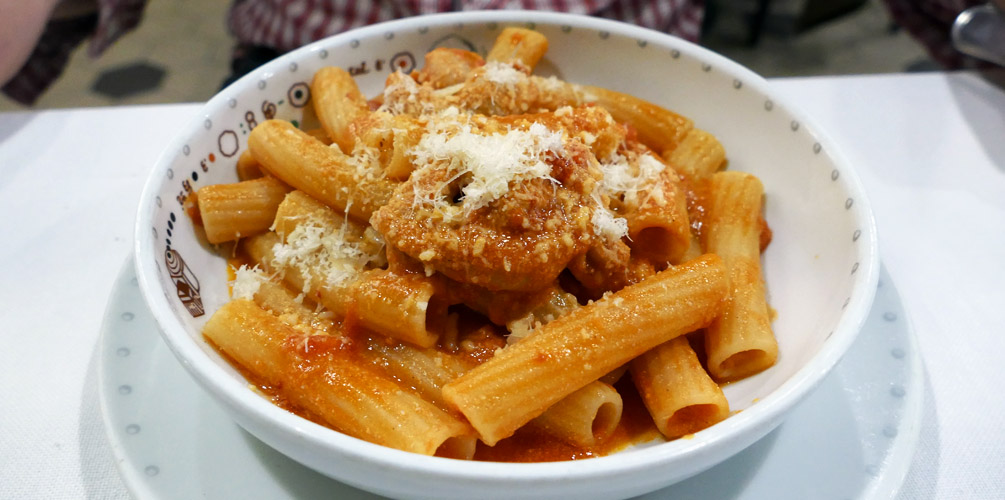 According to Wikipedia, the intestine would have had something called chyme inside it, which is "semi-fluid mass of partly digested food that is expelled by the stomach". How disgusting. It has a pH of 2, which means it's quite acidic. This stuff is left inside the intestine as it helps create a thick creamy cheese like sauce when cooked. Ugh.
After lunch we headed to our next stop, Trevi Fountain. On the way, we walked by Chiesa di Santa Maria Maddalena, a Catholic church. We had a quick sticky beak: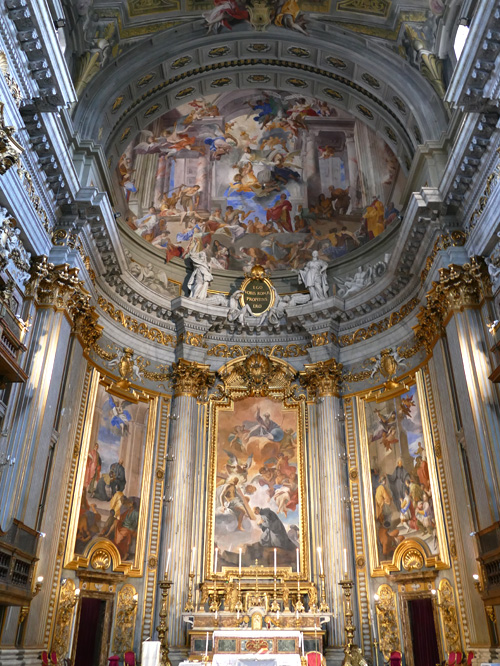 Fontana di Trevi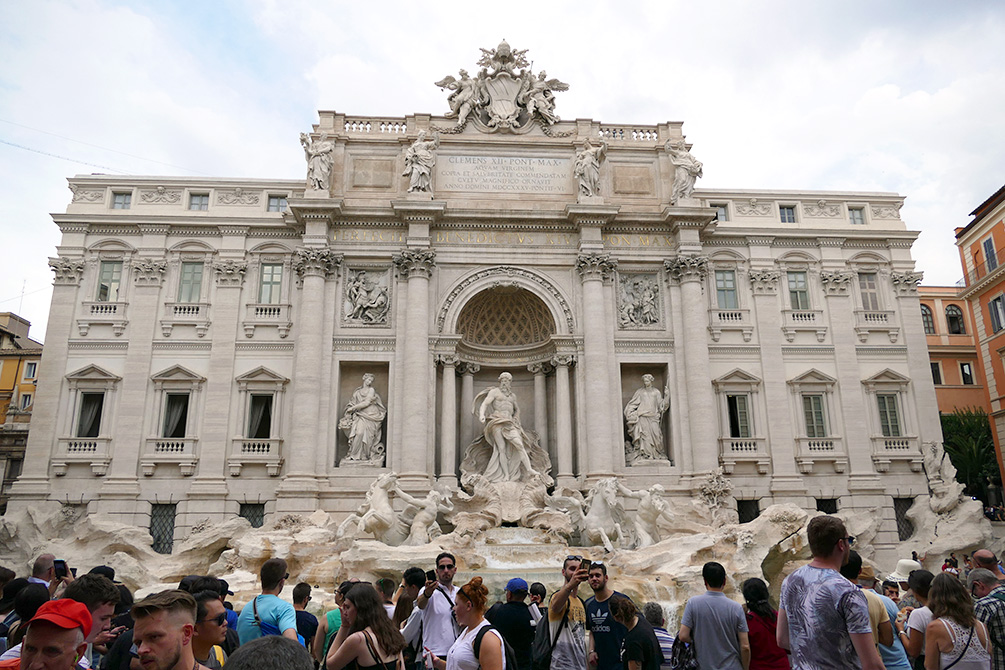 Holy hell. It was absolutely haemorrhaging people. I am going to sound repetitive and say that it was not like this 7 years ago. It was like a damn mosh pit, so it was quite uncomfortable.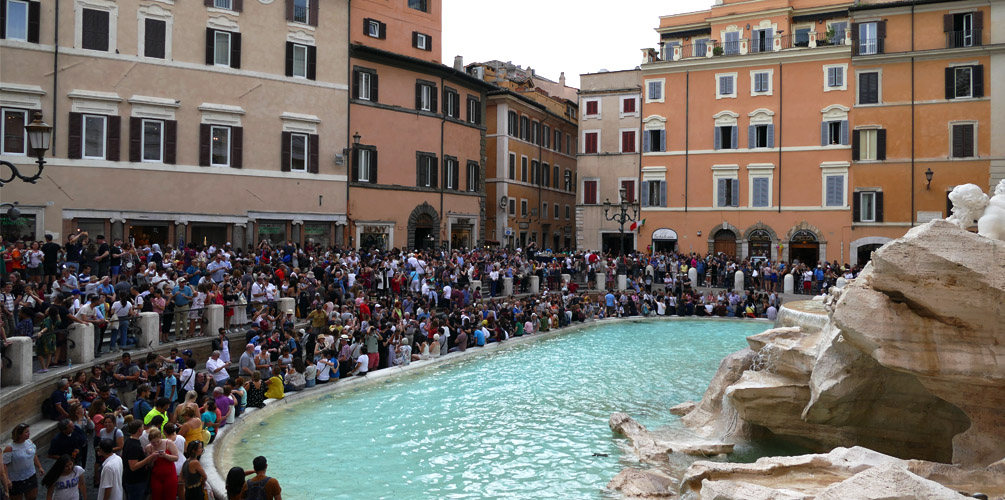 Trevi Fountain is actually another one of my favourite monuments here in Rome. The first time I came here I was really astonished at how big it was. And how loud the water was. It was great to see it again in person, especially after huge restoration works were done between 2013-2015. Not that I could tell the difference!
It was really tiring trying to take a good photo of the fountain as there were lots of people walking around. A got pretty bored so to make him feel better, we off to our next stop, gelato!
Grom
Grom was my favourite gelato shop the last time I visited Italy. It was a chain then but they are much larger now, and they have expanded internationally, to cities in the USA and Europe. We went to the nearest Grom and got a cup each as we were greedy. A got a fior di latte and mango, whilst I had a Crema di Grom (their signature, which had cream, biscuit and choc chip) and Stracciatella. It was yummm.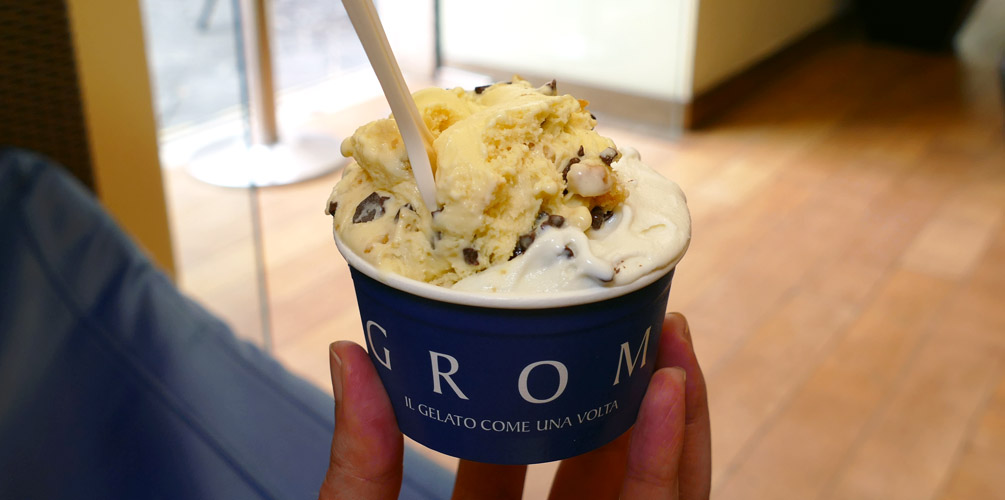 It was getting late in the afternoon and so it was time to go back to the accommodation like we said we would, to pick up the keys. We resolved to take the tram back to Trastevere. On the way, we came across the Largo di Torre Argentina, where the ruins of four Roman temples lay. It's quite sad how not much of the temples remain today.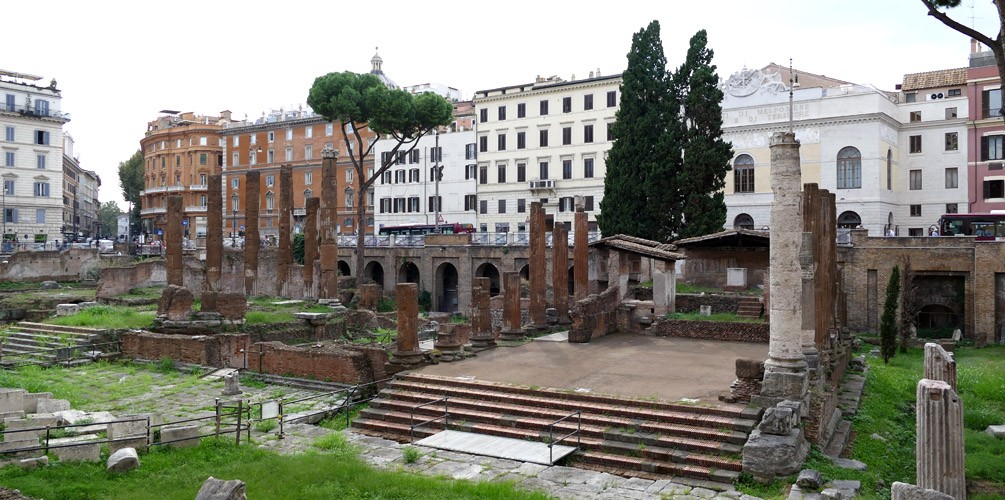 We took the tram to our accommodation and the doorman called down the lady who managed our "B&B", which turned out to be a unit with 2 rooms and a shared bathroom. The room was quite spacious but had no air con, which was a bit annoying.
We took a "nap" which turned into a sleep… and slept for 16 hours. So we didn't have dinner :(