Day 4 of Central Australia 2018 trip

Road signs on Uluru road
Today was our final full day on holiday and I had one last thing I needed to cross off on my list - climbing Uluru. It was basically the whole reason I went on this trip, as they were closing it at the end of 2019. I had never really thought I would visit Uluru this young but circumstances demanded it! (that's not the first time I've said that about a specific location, the other place I'd never thought I'd visit before 30 was USA and would you look at that - I've visited it twice now.)
Sunrise
I had discovered yesterday that there was a lookout RIGHT outside our room (ok it was like a 30m walk but still). You could see Uluru pretty well but unfortunately… there was a lot of cloud. Golden hour came and went quickly and the sun was hidden behind cloud. No view of brightened up Uluru for us :(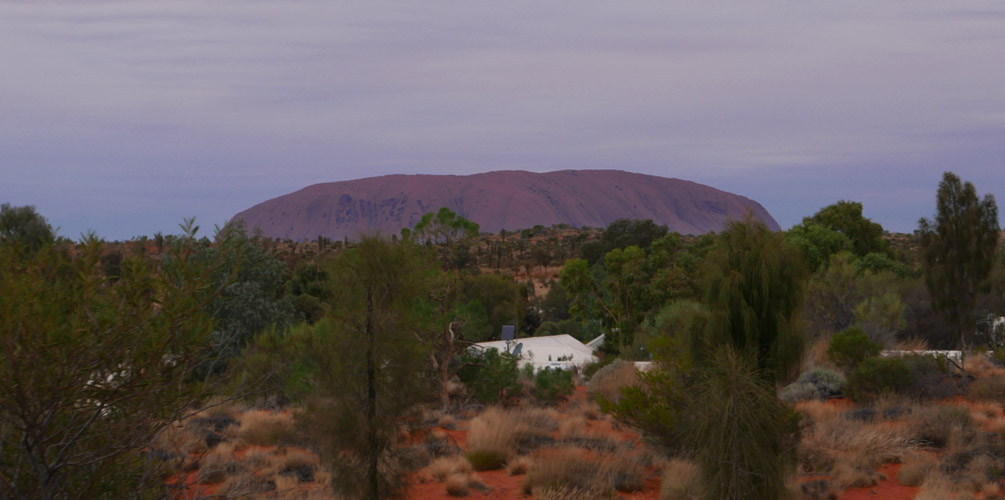 I went to reception again in the morning and SUCCESS, it was open. So off we went, back to Mala carpark. My parents were not going to the climb for I had worn them out :\ So they were going to wait for me.
This would be the final time we would enter the national park, as our passes would expire at 3pm. Not that anyone was checking.
The climb
Uluru is 348m tall and it was recommended that it would take 3-4 hours return. But I took 1.5 hours to get up and 45 mins to come back down, and to be honest, I was a bit on the slow side. There were people flying past me, most notably, a German couple who were marathon runner skinny who told me this was their third time doing the climb. They made it look so easy! They passed me TWICE (on the way up and on the way down) and I would estimate they did it in 1.5hrs or less. Probably less.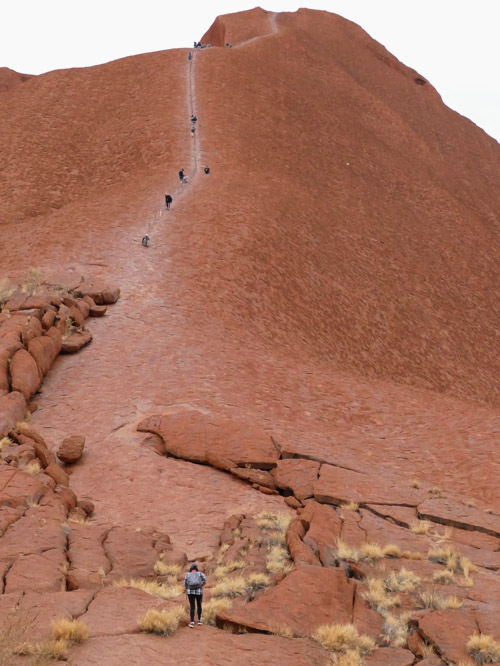 So the first 50m or so is already a rather steepish gradient but it was unchained. I was kinda chicken shit and I ended up using my hands to help me up, just the last 10m or so where there were no boulders to guide you. The chain was a welcome addition, and I held on for dear life as I climbed up. Some people didn't even need to hold on (like that German couple…). People were pretty friendly, I said hello to everyone and people would reply by saying that I could do it! There were lots of Aussies but I noticed there were a good bunch of Japanese people. They were all wearing white gloves. Probably to protect their hands. Probably a good idea!
I also noticed that very few people brought backpacks, let alone water. Yes my backpack seemed to weigh me down initially (and for a little while, it felt like I was going to fall backwards instead of climb up!). Many many Aussies did not have water. I have no idea how they do it. I mean, sure it wasn't HOT but still. And there was a kid who did the climb barefoot.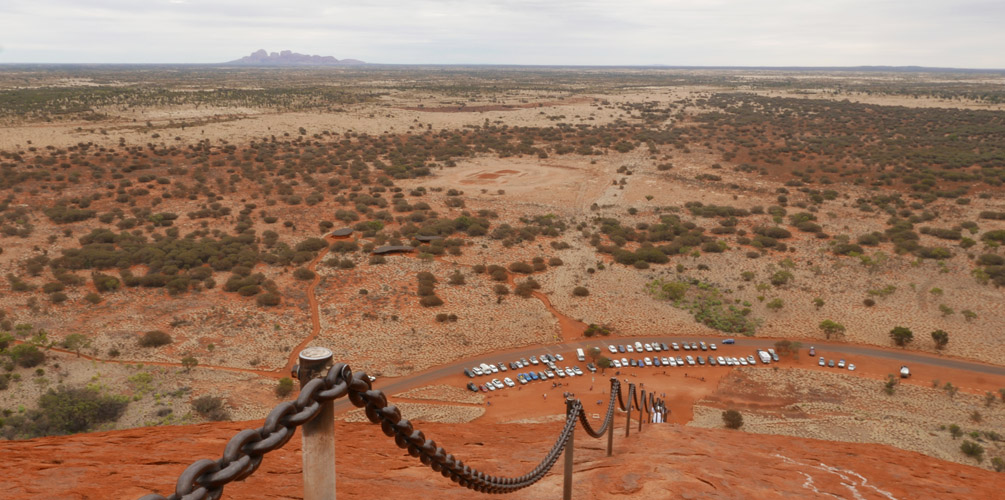 Up and up and up…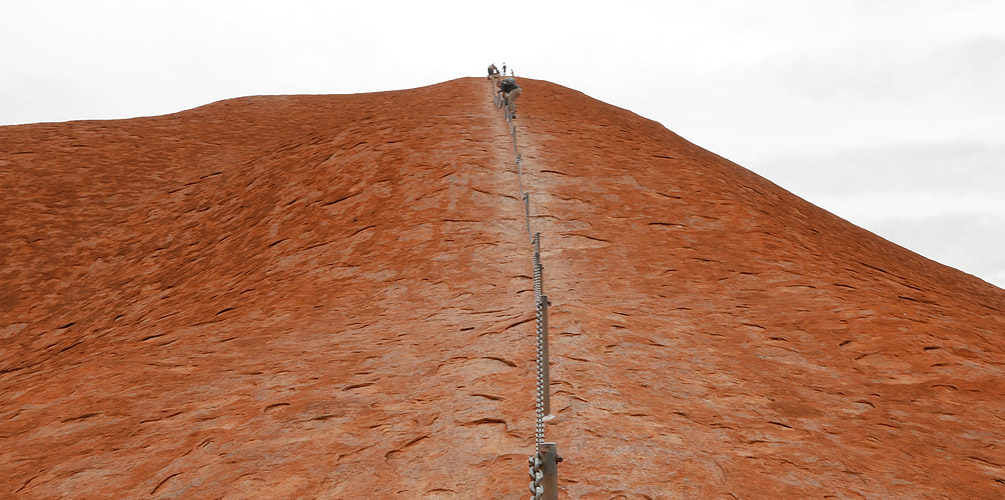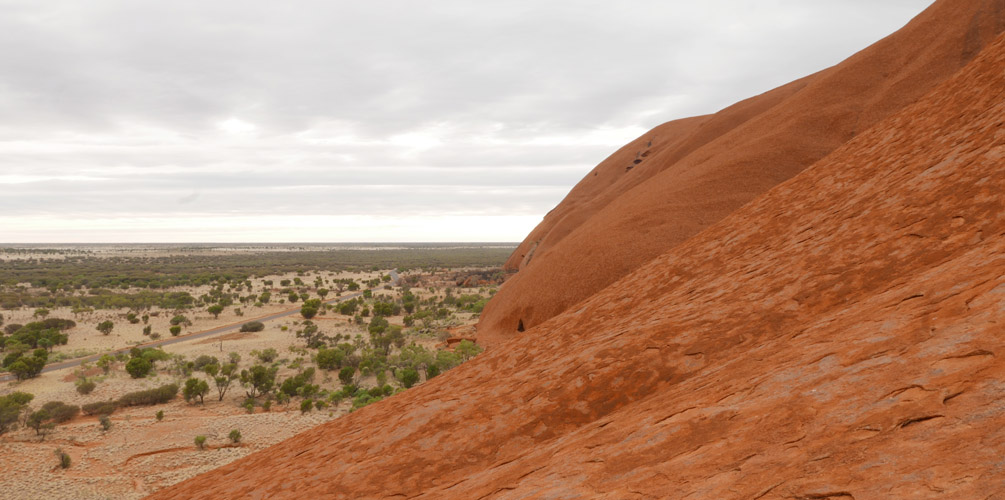 At the end of the chained section I was kinda tired and was looking for the finish line. Haha, joke's on me, I was just ONE THIRD of the way up! But everyone told me the rest was way easier so, I had it in the bag. The end of the chained bit was a flat area where I sat down and gathered myself for a bit: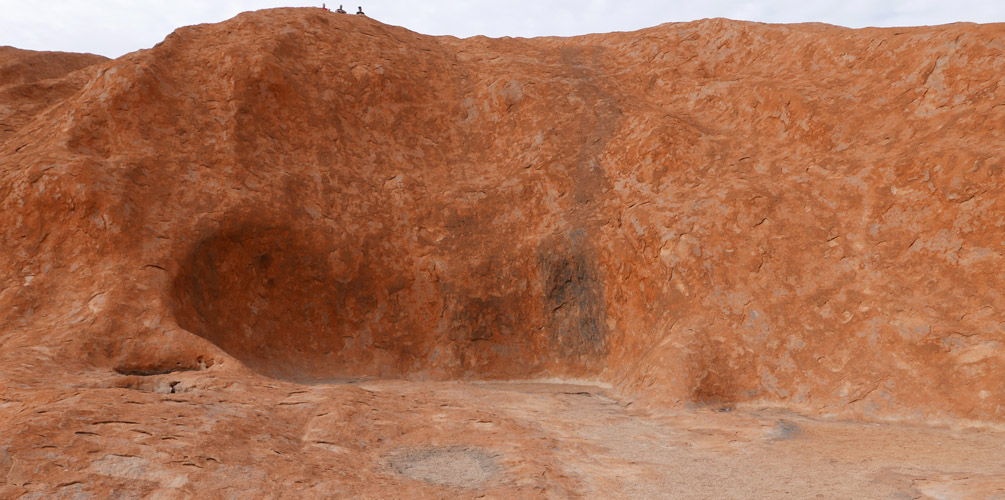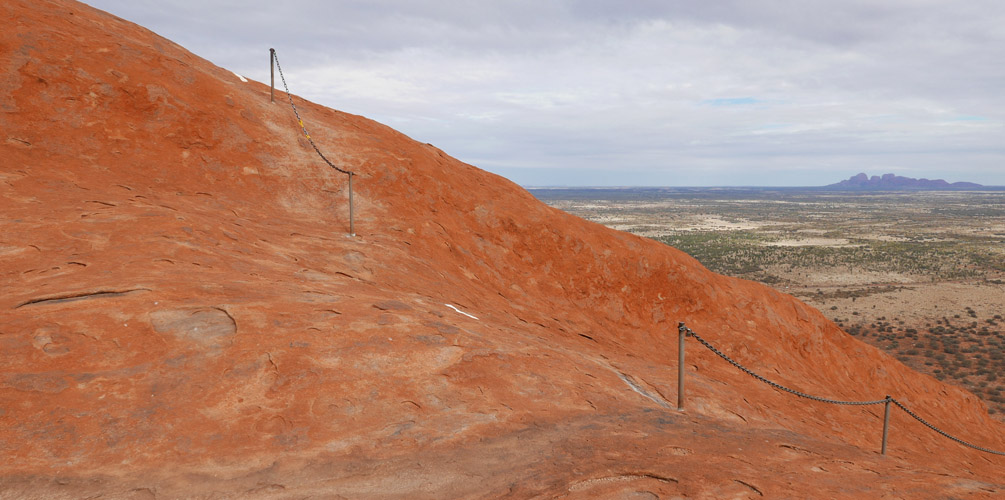 Then up and up again. This time you follow the clearly marked white paint on the rock: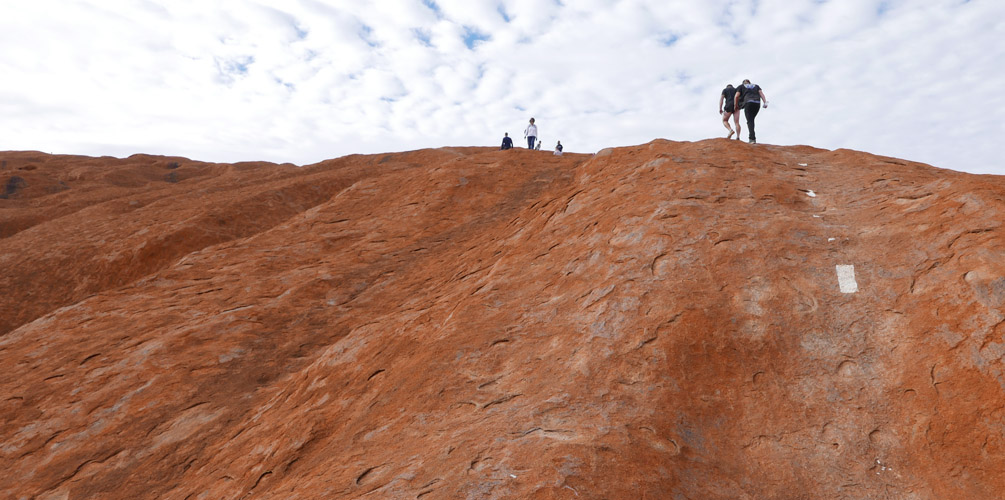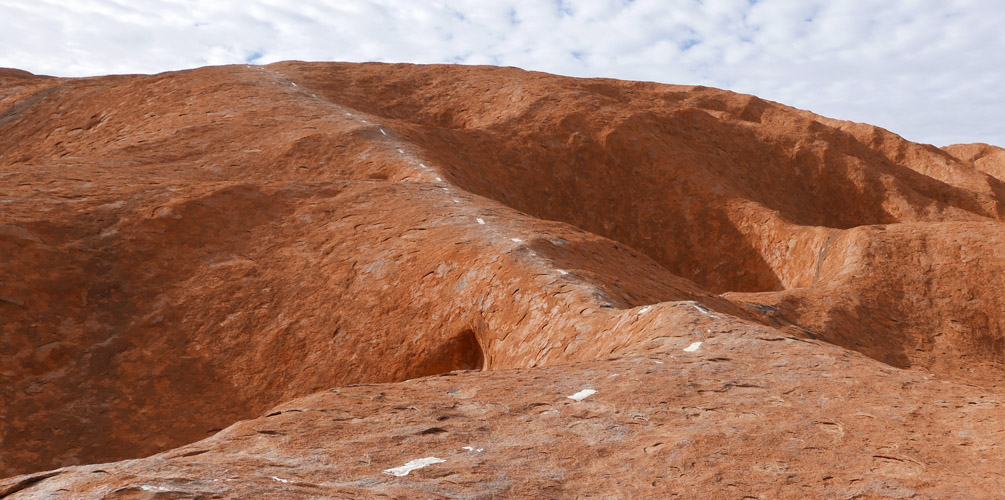 This part started off just climbing up (more or less a slope up) but then during the last third of the climb, it became up and down, like you were going up and down hills, except this was Uluru. So Uluru wasn't flat at the top or anything, it was quite bumpy I guess. At this section, I kept up with an older couple from Melbourne and an older guy who kinda helped me a little but I told him I'd be ok. Some of the 'bumps' or 'hills' were 2m high and I did actually go on my hands again to climb up. But mostly, keeping your momentum helped too. You ran down a 'hill' and then ran up the the next hill.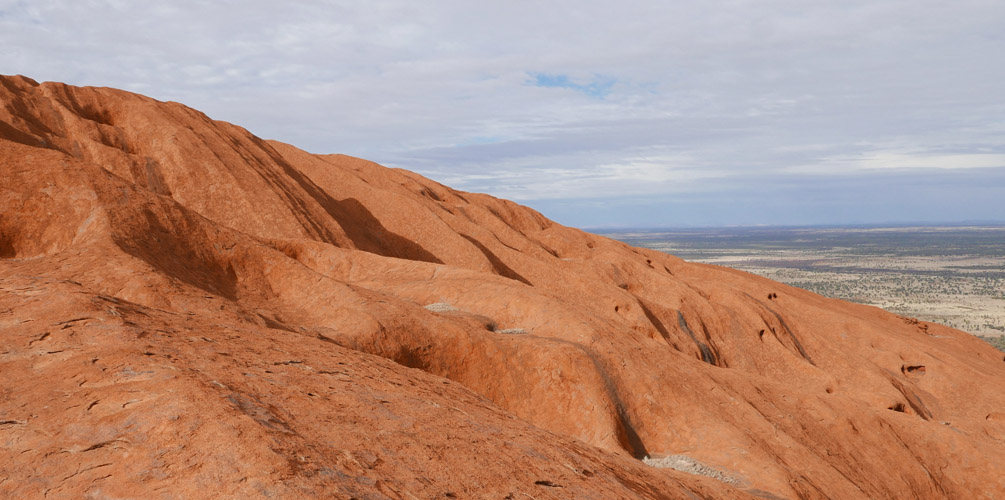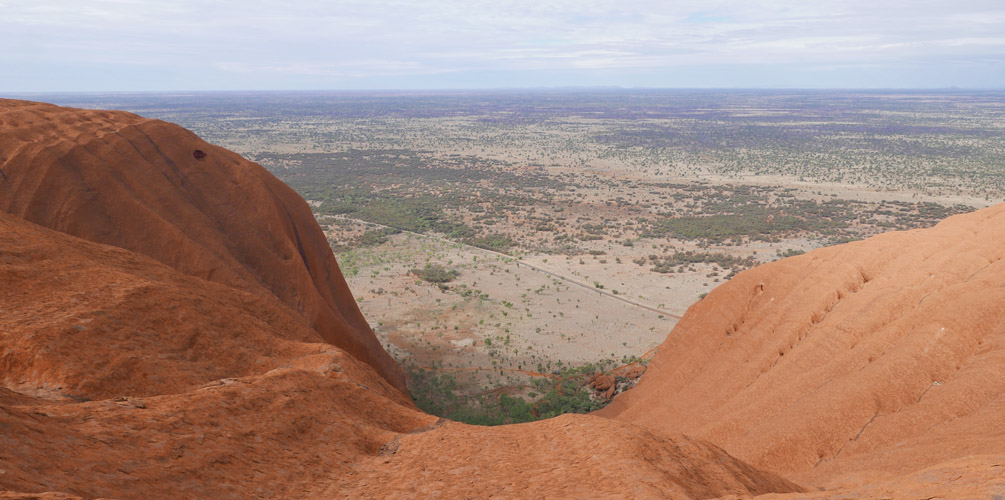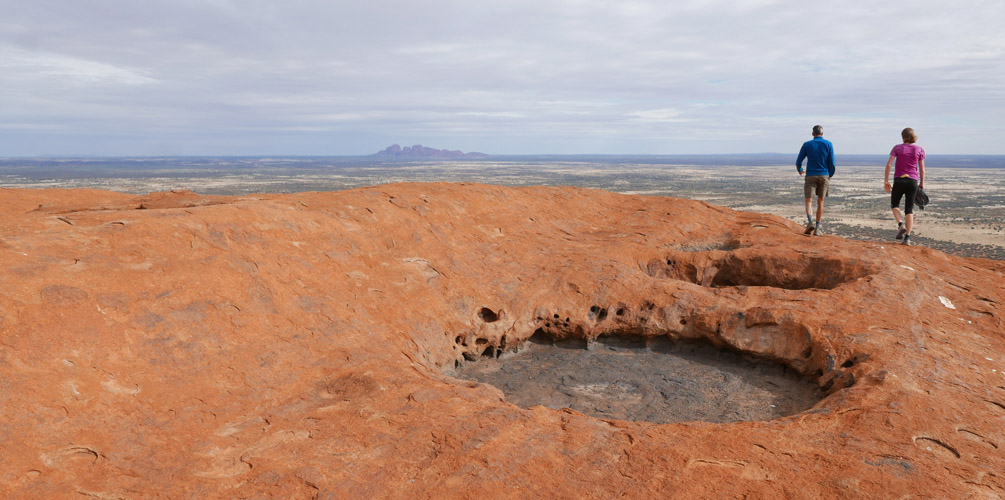 After doing this a few dozen times or so, I made it! Here's the marker: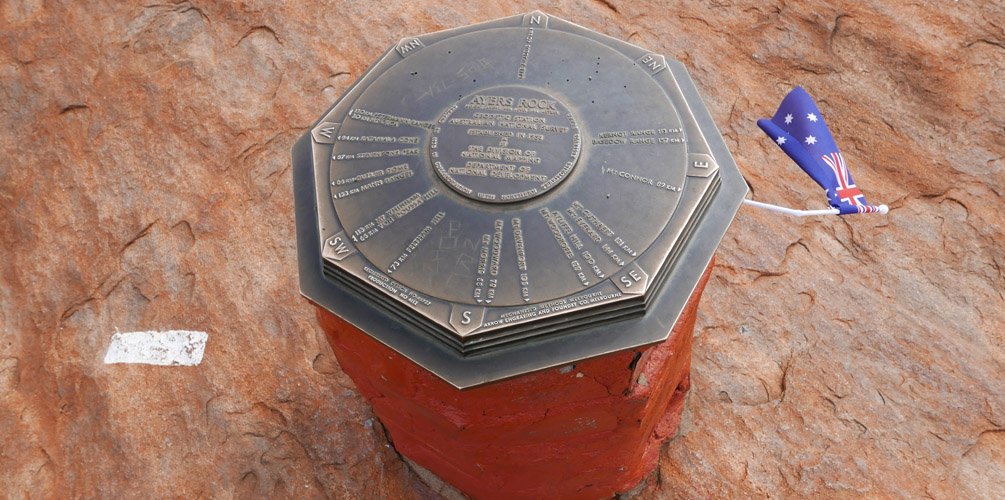 And of COURSE someone had stuck an Australian flag at the top.
I took photos for a few people and a man took photos of me too. He kindly obliged my request to have Kata Tjuta visible in the background :)
The view at the top was pretty good. It was clear enough that I could make out Mount Conner and even possibly Kings Canyon (or at least the mountain range it is a part of, George Gill Range). But really, the view was a great reminder that I was in the middle of nowhere. There were plenty of vegetation though, if I didn't know any better, I wouldn't even identify this area as a desert… But again, I am not a geologist!
Coming down was way easier but I was still rather slow. People over took me. The older couple from Melbourne had a sister that decided to come up after they did and even she caught up to me. She also told me she dropped her phone half way up and someone picked it up, which was wild. So it bounced off Uluru and someone grabbed it and was able to use it. Lucky lady. When she was back on the ground, a Park Ranger gave her a stern talking to and handed her back her phone.
I came down the chained section backwards. It seemed easier than walking straight down on my tippy toes. Ok, to ME anyway. There were plenty of people flying by on their tippy toes. My shoes were not the best for this activity, yes they were running shoes but I didn't think they had the best grip.
At the bottom, I noticed that the climb was closed again, due to a 20% chance of rain.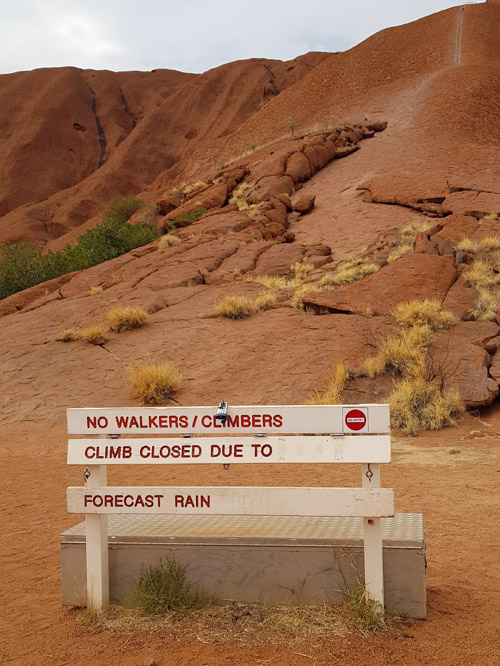 Honestly that seemed a bit ridiculous to me, I wouldn't plan my life around events that had 20% chance of occurring. (Edit: It never ended up raining.) I met up with my parents and sat and just people watched. I told them of my experience and mentioned that my dad probably would've been able to do it. Then he told me that a couple tried to jump the gate after the walk was closed and that they were really pissed off. To be honest, I don't blame them. But it's a $600 fine if you ignore the sign and we found that there was a CCTV pointed directly at the walk entrance.
My parents didn't really want to go anywhere else and they didn't take up my suggestion of doing the guided Mala walk where a park ranger took you on the walk and explained things, for free.
So we left the National Park. But before we left the park completely, we stopped twice to take more photos of Uluru: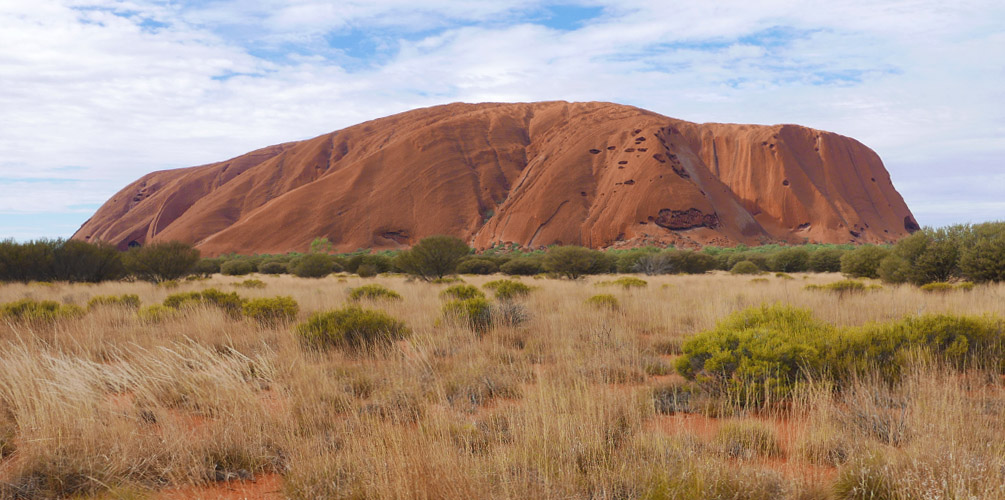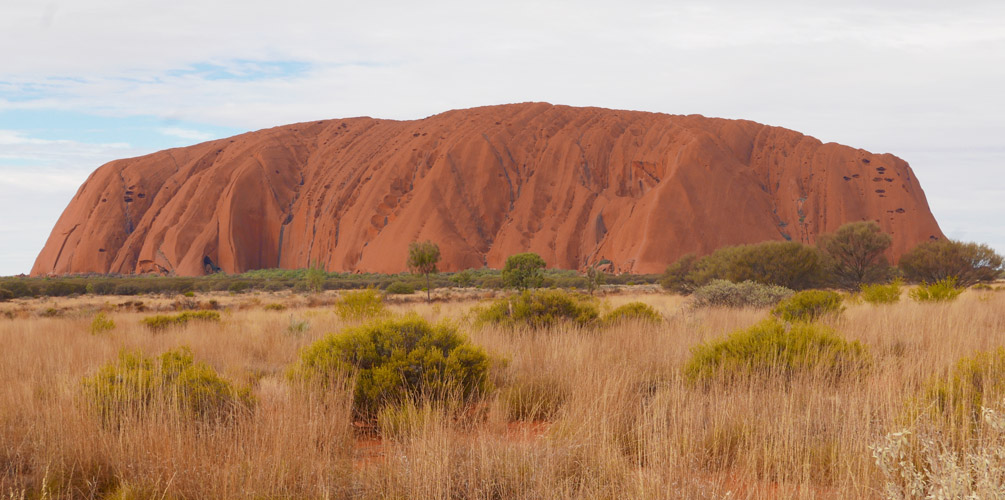 I know this image of Uluru looks really weird. Like the colours are all wrong and there's some weird compression going on. It makes me go cross eyed. But it really does look like this, it's all lumpy and holey and just not smooth at all.
Back at Yulara
We had lunch again at Kaluta Academy Cafe. I had a Chicken panini which was ok but damn, $10.50 for a bloody sandwich? Sigh. At least it was heart shaped?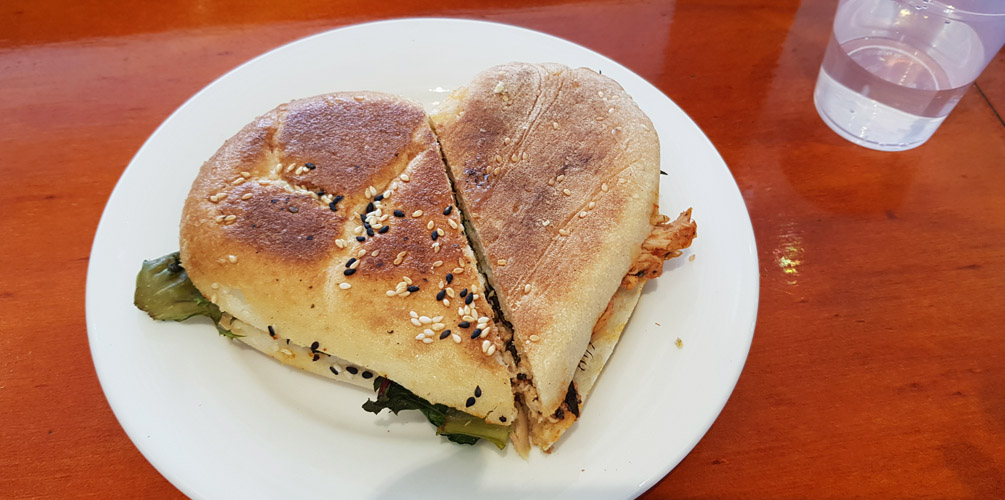 I was eager to find other options for dinner tonight so I did a search on Google and found there was another moderately priced restaurant in Yulara. However, they did not have a menu online and we had nothing much to do, so we walked to the restaurant to have a read of their menu. Along the way, we came across Emu Walk Apartments, which was a snazzy looking 4 star accomodation. We stopped at Wintjiri Arts + Museum (which was neither, and mostly a shop) where my parents took a great interest in their displays of stuffed animals such as a red Kangaroo (boo I had wanted to see one in the wild) and some birds. There was also a tour going on where a man was talking about Aboriginal culture and other things and I think they were listening to that too.
I also noticed there were some wall displays talking about Uluru and Kata Tjuta. There was one section where it mentions the Anangu know how both were formed, but it is a secret and they cannot tell us. And that "geologists have their own explanation". Hmmm, okey dokey…
The explaination they presented was a bit too brief. I'll have to hit up Wikipedia later.
Finally we reached the restaurant I was interested in. The menu looked ok, the interior looked plush (strange for the price point of the menu!) and it was decided we would go there for dinner.
We headed back to the accomodation to kill time (cough wait for dinner). We went back to the lookout and watched the sun set but again there were a lot of clouds, so there was no sunset. AGAIN.
We all had showers and they were ACTUALLY hot this time. Oh my goodness. I again used the disabled toilet and had a good shower. Afterwards, I witnessed the biggest walking stereotype ever.
I utilised a sink (the disabled toilet was actually in the laundry area, where there were washing machines, driers and sinks) to wash some clothes. Out of nowhere, this Aboriginal woman storms into the laundry really loudly and I take a quick glace at her direction (which probably took half a second - not even) and she started rambling loudly:
"WHATCHU LOOKIN AT FUCKING TOURISTS"
"It's my FUCKING RIGHT"
She hadn't even reached the disabled toilet and she was already screaming. And the distance between the entrance of the laundry and the disabled toilet was like… 3 meters. And she was stomping in quickly too.
Maybe she was yelling at me or maybe she was yelling at someone else, who knows? I wasn't going to hang around. I was still cleaning my stuff when I heard:
"This is my fucking land you're on MY LAND, FUCKING TOURISTS, WHY YOU LOOKIN' AT ME?"
Oh dear, what a stereotype mess.
I went back to my room and discovered I had left my body wash in the disabled toilet. Goddammit. Like hell I was going back there though. My dad kindly did and waited until she came out. He reported that she was still yelling random abuse.
Outback Pioneer BBQ
My mother didn't want to eat at that restaurant we visited earlier today, in fact she didn't want to eat at all (because reasons) so I went out by myself. A had told me he ate at a 'Cook your own meat that you purchased at the counter for an exorbitant price' place. Usually, I am of the opinion that if I was gonna pay to eat, they better cook it for me. Unfortunately I was at the end of my rope with the bloody food options around this town and I conceeded. For $22, I got myself a trio of sausages (Chilli Cheese Kransky, Italian and Chicken). What a rort. It was the cheapest thing they had (apart from the vegtarian option) and it came with an 'all you can eat' salad bar.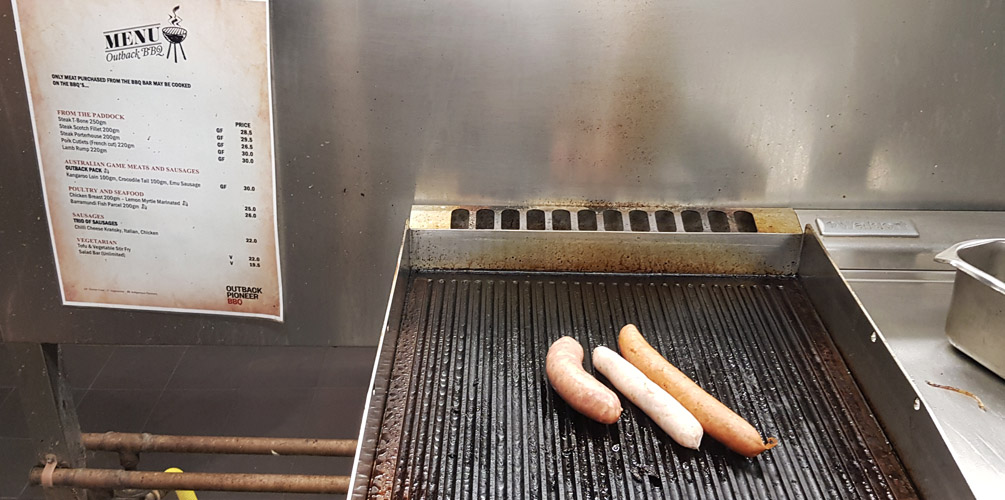 I grilled my damn sausages and helped myself to the salad bar. The options were a bit sad actually, there were roast potatos, cold fried rice (so cold that the rice was hard), cold fried noodles, green salad, cobs of corn, pineapple rings, stacks of cheddar cheese, coleslaw, button mushrooms in this balsamic vinegar sauce. I tried it all (except the noodles) and it was very average. The only ok things were things you couldn't screw up, like the corn, potatoes and green salad.
There was an eating area facing a stage where a man was playing a guitar and a Didgeridoo. The bar was right behind this area, so yes there were plenty of people drinking. The guy playing was quite good, but I only recognised 50% of the songs he played, but I suppose he did play some originals. My favourite was his rendition of "Down Under". His arrangement of the song was great; he played it with both the Digeridoo and guitar. Not at the same time though!
I was just chilling out by myself with my food when I was accompanied by an older dude who engaged with me in conversation, which was mildly annoying. I was far too polite to him.
He left and I went to get some peach and pear crumble from the salad bar. I was looking forward to this but it was pretty gross. The crumble part was tasteless filler. I picked out the peaches and pear, which were of course canned.
Day 5 (09/06/2018)
I decided to put this here and not in another post because it was so uneventful. We woke up early for one last sunrise and it was ok, it delivered a little. Better than the previous day, at least. Our flight was at 2:15pm so we sat around not doing much.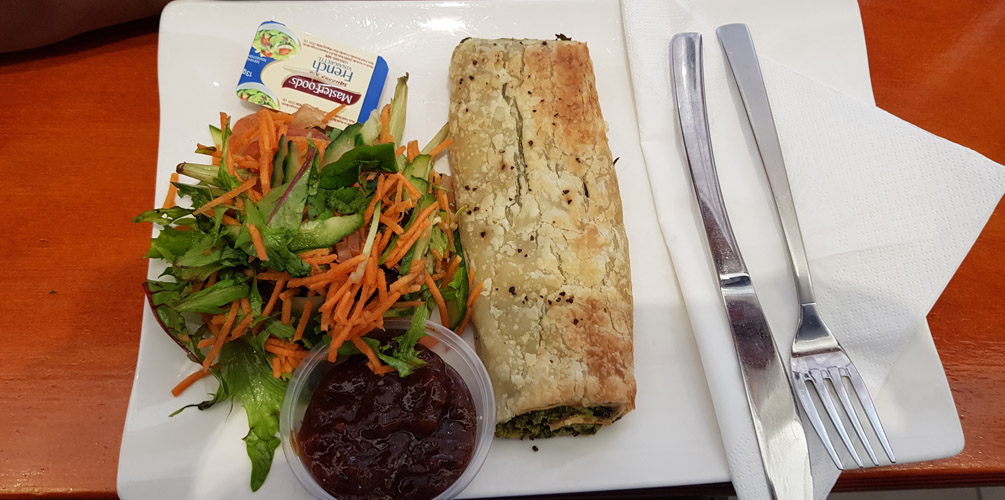 For lunch we went BACK to Kaluta Academy cafe and I got a spinach and feta roll (which came with side salad). It was ok. Then at the IGA, I found they had individual (heated up) meat pies and sausage rolls for sale for like $4. Goddamn, I would've ate that. I bought a small Sistema container to house the red sand I scooped up from the side of the road 2 days prior.
Then we returned the car to the Thifty at the airport. The bill was a bit of a shocker. I later found out how they calculated it and yes, I guess it was legit. It cost AUD513 all up for 4 days.
Flight JQ661 to Sydney was rather uneventful. Wasn't able to see Uluru from above at all. Thanks Captain! But the first officer did make an announcement when we flew over Lake Eyre, which was absolutely massive. And surprise surprise, it was NOT dry!