Day 0 of Italy-Croatia 2018 trip

Sunset at Hong Kong International Airport
I'm hitting the road again with A! Last year we did not holiday together at all so it's been 2 years since we've been on a holiday together. We're headed to Europe this time (yes yes, Europe for me again?!) but it's only the second time we've been to Europe together. The first time we only visited Spain.
The plan
We're spending most of our time in Italy, but we are also going to Croatia, a day in Bosnia and Herzegovina, a few days in Slovenia, a day in Germany and about a half day in Austria (mostly transiting through). Starting in Rome, we are heading east across the Adriatic Sea, heading north via the Croatian coastline and then looping back into Italy, travelling south and overshooting Rome to visit Naples and the Amalfi coast.
I've been to Italy before (back in 2011) but overall, we are going to a LOT of new places and there's really only 3 places on our list that I've been to before - Venice, Florence and Rome.
This time we were flying Cathay Pacific (CX) to Rome via Hong Kong return. It cost AUD 1402.14 each, which was ok, but not the cheapest. I hadn't flown with CX in over 10 years so I was curious to see how they were faring. They weren't doing so well recently, especially with the rise of Chinese carriers.
I'm also from Hong Kong but it's been 5 years since I last visited, so I was pretty eager to have (even a quick) sticky beak to see how it was now and to eat some good food.
SYD -> HKG (CX162)
The flight to Hong Kong was on an Boeing 777, pretty standard plane with 3x3x3 configuration. The seats were unremarkable and not noticeably cramped. Having had only 5 hours of sleep I was really eager to get some shut eye but there was a lot of activity going on and the lights were pretty bright. I ended up "watching" (literally watching, no sound) both A's movie and whatever the little girl in front of him played. She couldn't make up her mind and kept switching movies every 30-60 minutes.
I decided to sleep after lunch. The flight attendants took their sweet time (and I was seated just behind the wing, as usual, funny how that has become my default position. Anyway, I was seated behind the wing, so it wasn't like I was at the back of the economy section) to get to us. I picked the chicken with black bean sauce, rice and broccoli. It was ok. The meal came with a mini dark chocolate block and a chocolate Movenpick ice cream, which was actually pretty good despite having only 6% chocolate. I don't usually enjoy Chocolate flavoured ice cream.
I went to sleep after lunch for a while. The rest of the flight was pretty underwhelming (which is of course, a good thing). There was a little bit of turbulence over the Philippines but that's kind of to be expected. I watched the Lara Croft movie, which was allllrighttttt (i.e. not shockingly bad and better than the Assassin's Creed movie :( ) but they really changed the story and not in a good way.
A layover in Hong Kong
The heat hit me straight away upon exiting the plane. You could feel it in the sky bridge. It was about 30C, which was rather unpleasant as it was around 15C when I left Sydney. We made our way to immigration. I didn't have my HKID card with me this time so I entered HK with my Australian passport. There was a bit of a wait, but not too bad. The immigration official didn't stamp my passport :(
Then we walked straight past baggage collection and right into the arrivals hall. The plan was to take the Airport Express train to Hong Kong MTR station located on Hong Kong Island. The train is rather expensive and I don't think my parents have even taken it before (as they have never really needed to). The train ride wasn't bad. It took around 24 minutes to get to HK station. For a train that came every 10 minutes, we were both able to get seats. The wifi barely worked, however.
Because we both did not eat the second meal provided by CX in preparation for this layover, we decided to immediately go and have a smallish meal. My plan was to go to Tim Ho Wan, the world's cheapest Michelin star restaurant. I had previously been twice (one of which was to the original store which used to be in Mong Kok) and really enjoyed their signature dish, the baked BBQ pork bun. A had never been before (not even in Sydney, where they had set up a few stores but had now crashed and burned) so I thought it was a good choice, not to mention that there was a store right above Hong Kong station.
We made our way up a couple of escalators and bam, it was closed. There was a sign stuck on the door but I couldn't really read Chinese so it will forever remain a mystery as to why they were closed. A found that there was free wifi and we discovered there was another store on Hong Kong Island, but it required some travelling. It was located in between MTR stations (Fortress Hill and North Point), so we took the MTR to the former and walked.
As I mentioned before, I hadn't been to Hong Kong in 5 years. But as I was walking in the streets, the smells of Hong Kong really hit me - the air was thick with humidity, had undertones of sewage and there was a slight stale smell. This was exactly what I remembered about HK and it really solidified the fact I was back here.
Tim Ho Wan
A short while later, we had arrived at Tim Ho Wan. There was no line out the front. I stepped inside and a waitress immediately gestured to a free table. We sat down and it was a bit cramped, but not as cramped as the original store. I knew the drill here, you are given a slip of paper with the menu and you had to select which dishes you wanted. We picked 4 and tea.
The food came out rather quickly. Too quickly, to my disappointment. In order:
Baked BBQ Pork Bun - Unfortunately I felt this was slightly undercooked. The bun itself was rather pale and was not golden brown, which meant it could've done with a little more time in the oven. It was also too soft. I was expecting a good, crispy bite with a bit of resistance but I did not get any of this. The filling was fine but overall I was disappointed. This was not the bun I vastly enjoyed all those years ago. This is supposed to be their signature dish but they did not deliver.
Chiu Chow Fun Gor - Decent, well made. No complaints here. I haven't had this in years as it is hard to find in Sydney for some reason (too funky for the masses? Ridiculous. We were seated next to a couple of ladies who spoke Spanish and they ordered it. Although they had little idea what it was).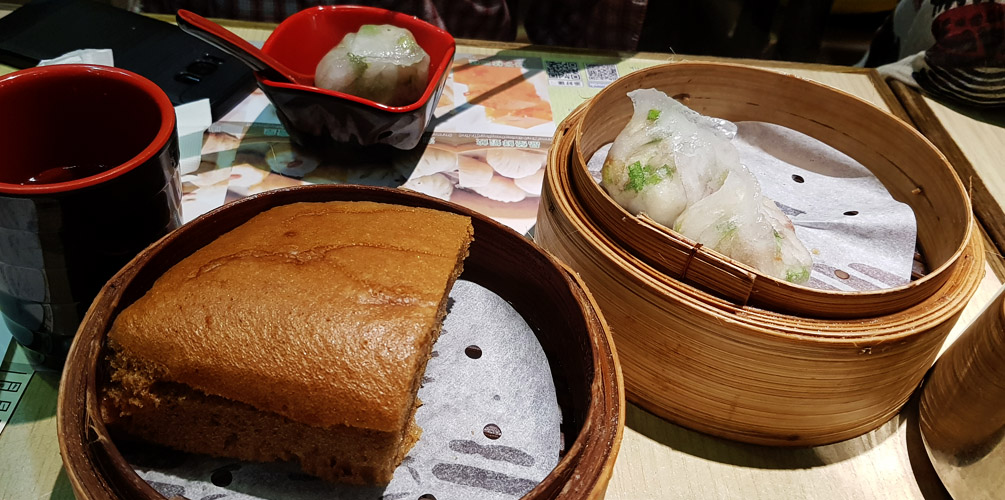 Malay cake - Also disappointing. Small and I was expecting it to be more dense than it actually was. Dense but with some elasticity (or bite). They skimped out on this. I also haven't had a good malay cake in years for the same reasons above.
Prawn Cheung Fun - Again, decent. Silky smooth cheung fun. No complaints here.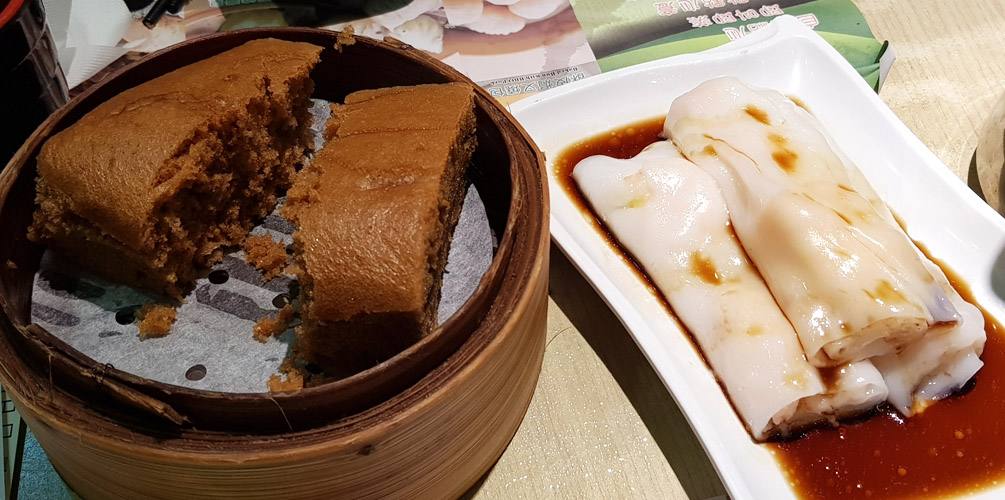 2⁄4 dishes were good. What a let down. A was not impressed… too much hype, I suppose. 6⁄10 #ipinions
We took the ding ding to Causeway Bay. It was still super cheap, at HKD 2.60 (AUD 0.47) and super frequent. You can see a bunch of trams all backed up on the line. They still don't move very fast, however :p but that's ok.
Snack time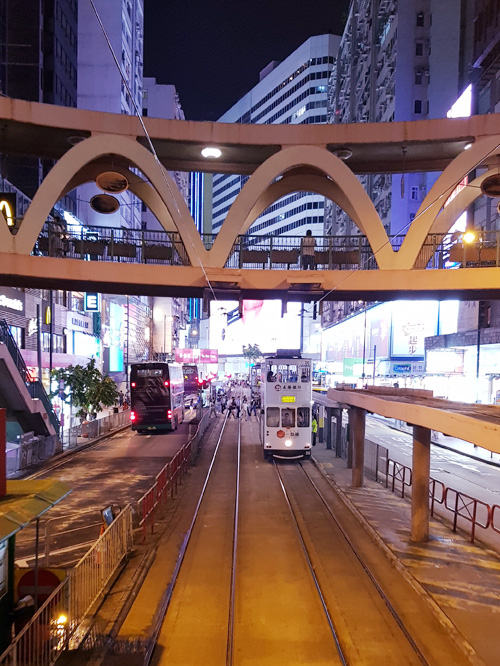 At Causeway Bay, we got off and walked around a little. There were lots of giant ads in super HQ LEDs which light up the main road, Hennessy Road. I didn't feel much has changed around here. There were lots of pedestrians out and about and most of them were quite slow.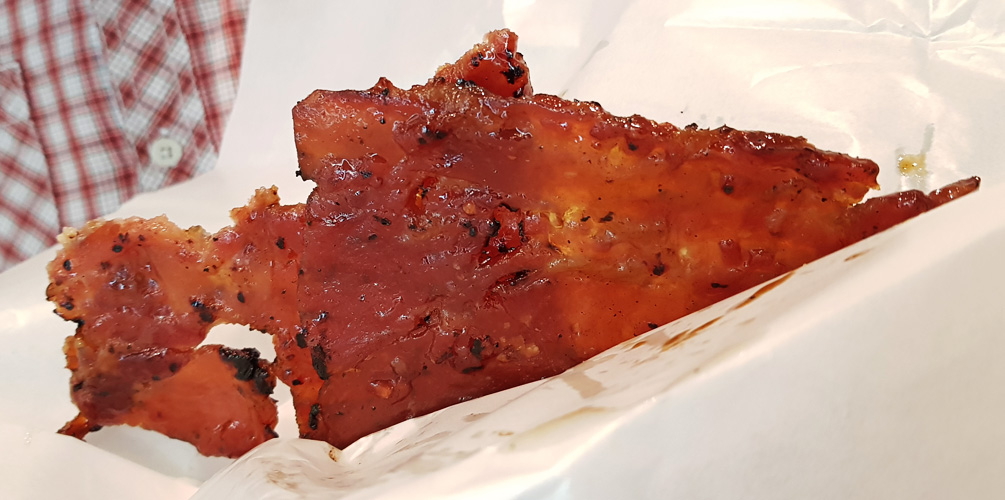 I had to stop at Bee Cheng Hiang to pick up some Asian pork jerky (ju yook gon). 2 slices came up to AUD 10, which was NOT a cheap snack but I enjoyed it a lot. I love this stuff. It was thin, crispy, smoky and sweet. 10⁄10 Best Asian pork jerky ever #ipinions
Getting some eggettes (a HK classic) was also part of the plan. We decided to walk to a place I had found on the internet, which took us West along Hennessy Road. On the way, A noticed a Jolibee and got super excited. I had never been in a Jolibee before or even knew what they sold but did know what it was, a fast food chain from The Phillippines. I'd never seen them in HK before, but it made sense that they had a presence here, seeing as there were quite a few Filipinos here. We walked in and A laughed about how he used to eat their Spaghetti. At that moment, I noticed a patron lifting Spaghetti out of a cardboard box with a fork. What a strange thing to sell at a fast food restaurant.
The menu seemed rather long but A said he would be happy just getting some cheese fries. He ordered and found they did not accept credit card. I also noticed all the staff were Filipino. Many of the patrons were not Filipino, which was good to see.
The cheese fries were shoestring fries (not unlike Maccas' fries) with a good dusting of cheese powder. They were quite addictive, actually.
We continued along Hennessy Road and stopped at a Maccas. They were doing an Ovaltine drinks special and I happen to love Ovaltine (which is quite ubiquitous in HK, actually), so we got one. :( It was small and expensive. Tasted just ok but at least they used real milk.
After all this I was rather tired and not really in the mood to eat anything else so we did not get the eggettes. But we will on the way home!!!! We must, I haven't had one in years.
By now, we had actually reached Wan Chai. So back on to the ding ding we went and off to Hong Kong MTR station where we took the Airport Express train back to the airport. By now, all the shops were closed.
HKG -> FCO (CX293)
This flight was serviced by yet another Boeing 777, but this one was newer than the last one. It offered a better touchscreen and newer seats but that's the only difference I could tell. The flight was full.
There was a camera located under the body of the plane which you could watch from your seat. I was watching this upon take off, and it was vaguely interesting to watch the lines on the tarmac speed away and blur… until SPLAT. Something hit the camera and splattered across the lens, rendering the video useless. Boo.
The flight attendants actually served a meal at about 1:30 am Hong Kong time, which was 3:30 am Sydney time. Screw that! According to the menu, they had cha siu but I was not bothered to find out whether it was any good or not.
I was able to sleep through most of the flight, which was good, as we were landing in at Rome early in the morning and we had planned to see some sights.
Breakfast was nothing to talk about; just your usual powdered scrambled egg and other savouries that you get with a "western" breakfast. They had congee with some sort of carp (?!) for "Asian" breakfast.